---
Posted: 02 Mar 2013 04:00 AM PST

Photo: Tim Dustrude/Dustrude Photography
I would've answered "fleshy deliciousness" (sorry, vegetarians!). That, or magic. But the folks at the USDA spoiled the fun by explaining it with science.
From Taylor Orci's post over at The Atlantic:
According to the USDA, "When light hits a slice of meat, it splits into colors like a rainbow." This is something called a "diffraction grating," essentially what happens when light waves bend or spread around a surface and create a pattern. It's the same thing that happens to make rainbows on the surface of a DVD. It's understandable that folks mistake diffracted light as a sign of spoilage, especially since the main color created by meat diffraction gratings is green. There is a reason why in Dr. Seuss's Green Eggs and Ham, the central conflict of the protagonist is his strong apprehension against eating green meat.
Posted: 02 Mar 2013 02:00 AM PST
(YouTube link)
You can't beat Japanese TV for coming up with weird competitions. This one pits different types of tires against each other to see which will fly the furthest off a ski jump. But of course the actual competition matters less than the fun of just watching tires fly through the air. Don't miss the big tire at the end! -via b3ta
Dr. Seuss Stuff at the NeatoShop
Posted: 02 Mar 2013 12:00 AM PST

Cat in the Hat - Dr. Seuss Laplander Hat
From there to here, from here to there, neat things are at the NeatoShop. Today, celebrate Dr. Seuss' 109th birthday with these neat stuff:

Cat in the Hat - Dr. Seuss 18 oz. Acrylic Cup
Posted: 01 Mar 2013 11:00 PM PST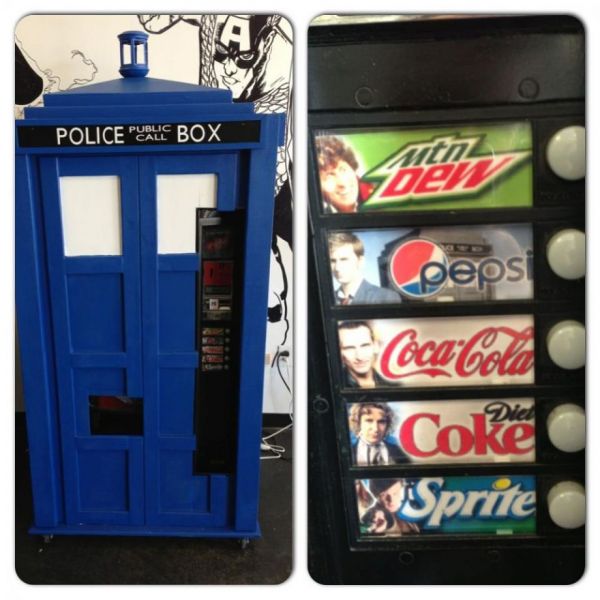 Epic Comics in Orlando, Florida has the most epic soda machine ever grown. (Doctor) Who wants a drink? Given the options, I'll take a Pepsi.
How often do you think the owners have to refill it?
Link -via Nerd Bastards
Posted: 01 Mar 2013 10:00 PM PST

Photo: ~db~/Flickr
Now that the Oscars are over, let's turn our attention to another kind of art. New York-based artist (or is it artists) TrustoCorp stenciled these stars on the sidewalk in Los Angeles, dedicated to the little people that make it all possible.
Posted: 01 Mar 2013 09:00 PM PST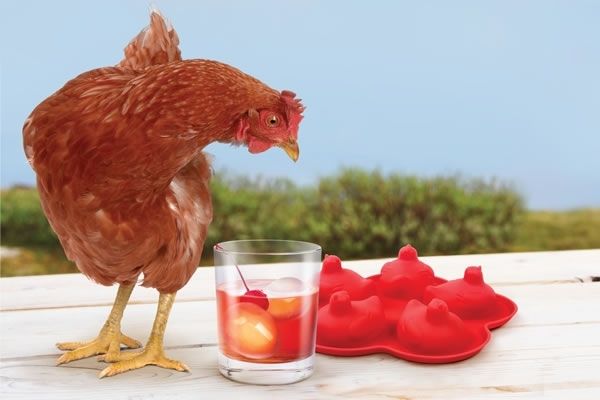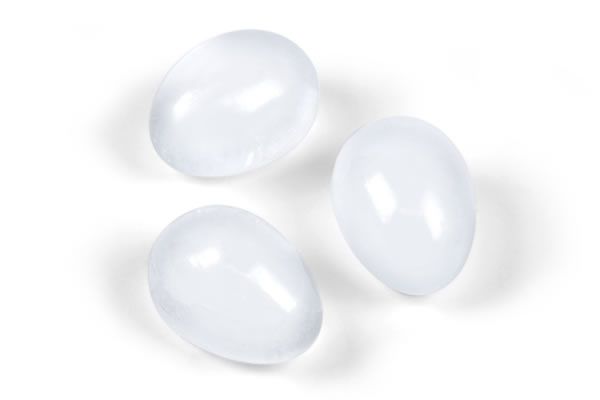 Easter is coming. Are you planning an egg-cellent celebration. You need the egg-citing Hatched Egg Ice Tray from the NeatoShop. This egg-stroidinarily fun tray looks like 5 little red hens, but makes 5 egg shaped pieces of ice. The Hatched Ice tray is a real crack-up.
Be sure to check out the NeatoShop for more great Kitchen Stuff.
Posted: 01 Mar 2013 09:00 PM PST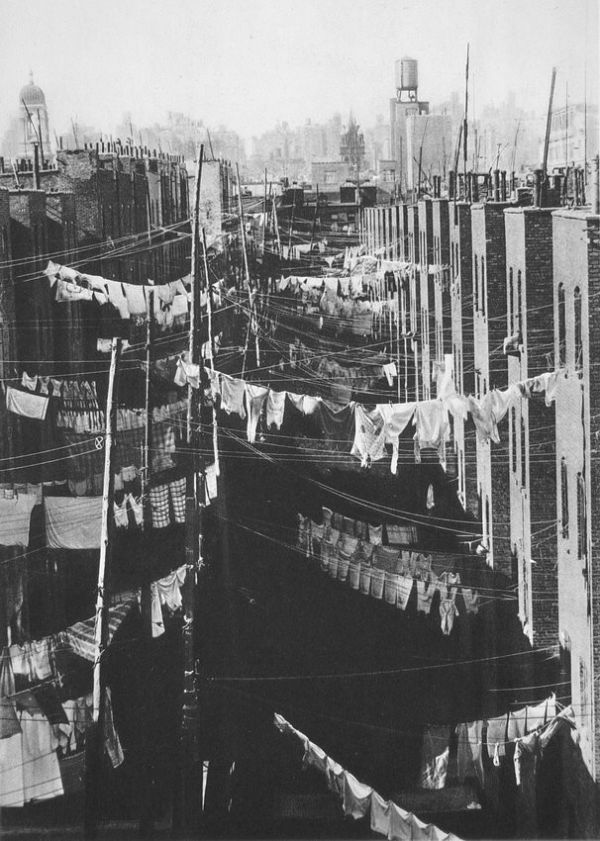 Seeing all those clothes hanging out before dryers became common, you have to wonder if everyone really did their laundry on Mondays, or did you see this kind of thing every day? Buzzfeed has a collection of 15 pictures of laundry day in New York City in the 1930s. Link

(Image credit: Marjorie Content)
Girlfriend Leads Photographer around the World
Posted: 01 Mar 2013 08:00 PM PST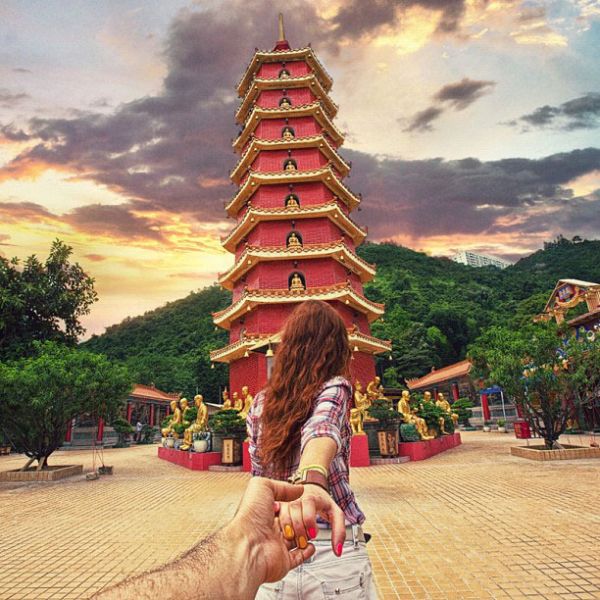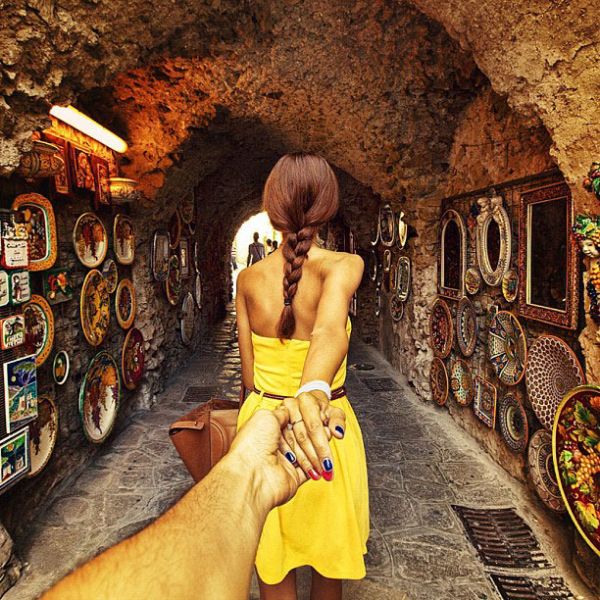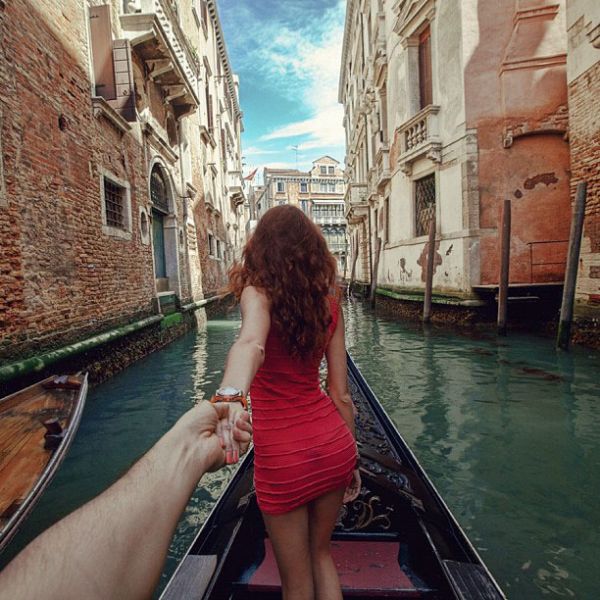 Murad Osmann, a Russian video producer, would follow his girlfriend anywhere. As they travel the world, Nataly Zakharova leads him by the hand on grand adventures. You can see more of their travels at the link.
Link -via Twisted Sifter
The True-Life Horror that Inspired Moby-Dick
Posted: 01 Mar 2013 07:00 PM PST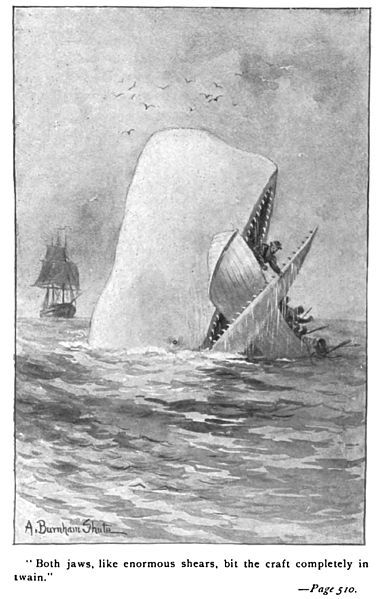 In November of 1820, a seafaring expedition went all wrong when a whale repeatedly attacked and sank the whaling ship the Essex. The young captain, George Pollard Jr. and the crew were stranded on three 20-foot boats for months. A few of them survived.
Pollard had told the full story to fellow captains over a dinner shortly after his rescue and to a missionary named George Bennet, and to Bennet it seemed like a confession. Certainly, it was grim: 92 days and sleepless nights at sea in a leaking boat with no food, his surviving crew going mad beneath the unforgiving sun, eventual cannibalism and the harrowing fate of two teenage boys, including Pollard's first cousin, Owen Coffin. "But I can tell you no more—my head is on fire at the recollection," Pollard told him. "I hardly know what I say."
The story of the Essex crew inspired Herman Melville to write a novel about a whale hunter, which was not well received and only sold a few thousand copies in his lifetime. Read the whole story at Smithsonian's Past Imperfect blog. Link
Banknote Portraits by Philippe Pétremant
Posted: 01 Mar 2013 06:00 PM PST

Timide (Shy)
In his 2010 series Les Sept Mercenaires (The Magnificent Seven), photographer Philippe Pétremant folded bank notes from various countries' currencies to create fantastic final portraits.
Description of his artwork from Circulations Festival:
His «The magnificent seven» series «plays with the ordinary and the banal to make the life come out, not the still life, which would mean accepting life and the presence of objects. Far beyond a simple representation, he dismantles the nature of reality. It is like that the artist has given still life a new twist: these pictures drift away from their subjects. Their pure states take the place of their object to offer the spectator the forms of the latencies, the vacuities and the qualms of the photographer. These photographs move, put the mode of their presence in state of crisis, their plastic beauty, questioning what is decorative and its close corollary, kitsch.» - Jacques Damez
Or we can just enjoy the artwork:

Prof

Grincheux (Grumpy)

Atchoum (Atchoo)

Joyeux (Happy)

Dormeur (Sleeper)

Simplet (Simple minded)
And here's a bonus one (anyone know the title of this piece?):
Posted: 01 Mar 2013 05:00 PM PST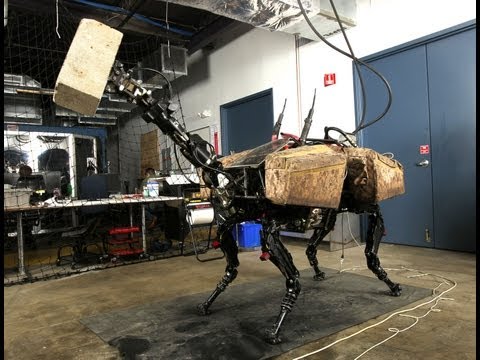 (YouTube link)
Remember BigDog, the robot that Boston Dynamics developed for the military to use as a mechanical pack animal? Now it can throw cinder blocks! This may have been designed as a show of strength, but it's even more liable to provoke nightmares than ever. Are you ready to welcome your new robot overlords? Link -via Metafilter
Previously: More BigDog videos.
Star Trek Away Team Has Never Been This Stylish!
Posted: 01 Mar 2013 04:00 PM PST
Set phasers to stunning! Tumblr blogger glayish (Kirk), hentaigirl82 (Uhura), izunadrop247 (Sulu) and Technoranma (Bones) make one heckuva stylish Star Trek Away Team for the Katsucon 2013 in Maryland!
Via Geekleetist
Celebrity and Pop Culture Clothespin Dolls
Posted: 01 Mar 2013 03:00 PM PST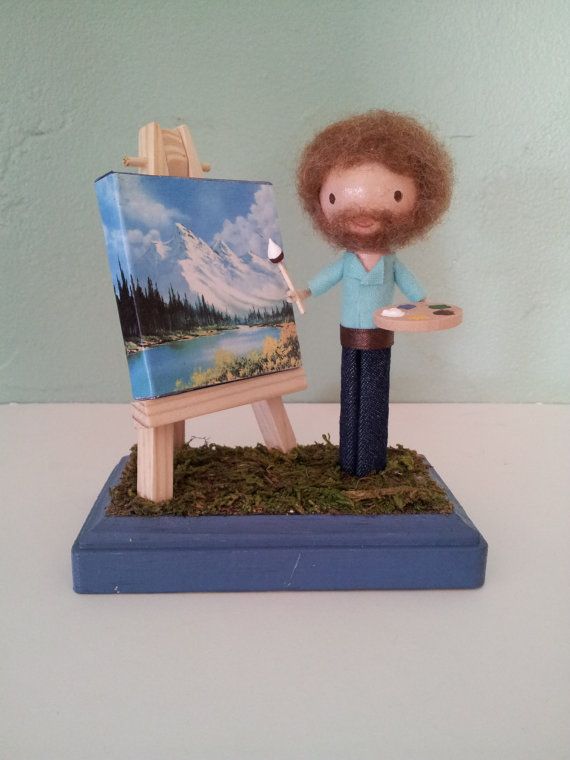 LittleBun makes clothespin dolls and sells them through the Etsy store. Of course, you recognize painter Bob Ross, painting his happy little trees! Other real-life celebrities include Charles Darwin, Albert Einstein, Bob Marley, and Frida Kahlo. Then there are the pop culture clothespin dolls like Walter from The Big Lebowski, the twins from The Shining, and the Knights Who Say Ni! You can get a clothespin doll made to order as well. Link -via Pleated-Jeans
Posted: 01 Mar 2013 02:00 PM PST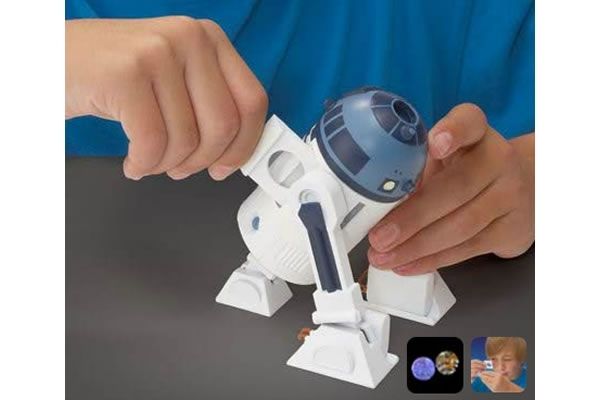 Attention Star Wars fans. Are you fascinated by what life may be like in a galaxy far, far away? Now you can learn more about your beloved Star Wars universe with the R2-D2 Microviewer from the NeatoShop. This fantastic toy magnifier is shaped like R2-D2. Use your favorite droid to study Star Wars micro-specimen slides. The slides include images of:
Lightsaber crystal
Thread from Yoda's robe
Chewbacca's fur
Leaf from Endor
General Grievous lung tissue
And much, much more.
Be sure to check out the NeatoShop for more great Star Wars items.
Posted: 01 Mar 2013 02:00 PM PST
Pandas are cute, and people love cute stuff, so why not take that to its logical conclusion? That's probably the reason behind the latest theme hotel to open in China:
A new hotel in China has taken the idea of pandering to its customers to new heights – opening a panda-themed retreat in Sichuan province.

Local media say the hotel, near Mount Emei, is the first of its kind in the world.
Photos show rooms littered with panda soft toys, panda artwork, and even costumed employees. [...]

Sichuan is a popular tourist destination because of its panda breeding sanctuaries. The province is home to more than 30 percent of the endangered breed.
3 News has more pics: Link - via Gearfuse (Thanks Andrew!)
Posted: 01 Mar 2013 01:00 PM PST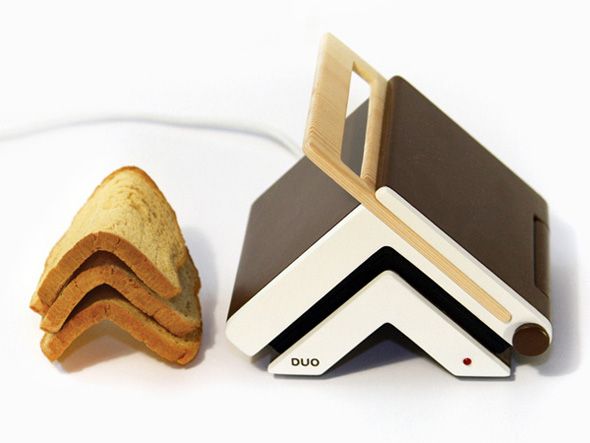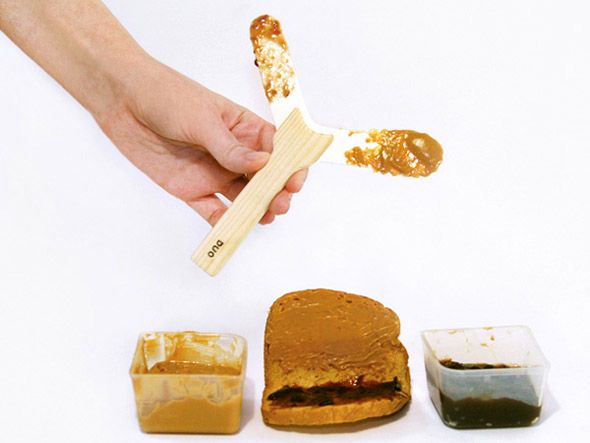 Zlil Lazarovich has solved a specific problem that you may not even be aware of. Let's say that you want to eat a peanut butter and jelly sandwich on one folded slice of toasted bread. How can you do this with a piece of bread that has been toasted flat? With the Toaster & Knife! This gadget toasts bread in a V-shape.
Now, the next problem for the peanut butter and jelly sandwich perfectionist: icky cross-contamination from using one knife to apply both peanut butter and jelly to the toast. Now, with the double-headed spreader, you can keep both ingredient reservoirs clean and tidy.
Link -via Foodiggity
Most Helpful Subway Ticket Machine EVER!
Posted: 01 Mar 2013 12:00 PM PST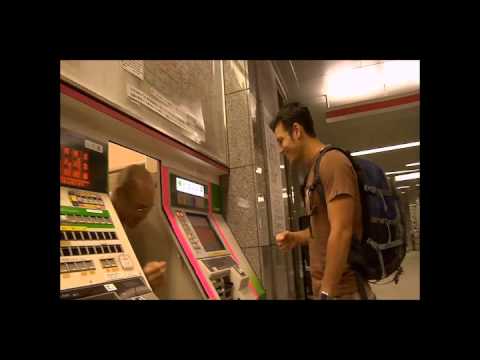 Here in the United States, pressing the "Help" button on machines would give you - at best - a disembodied crackly voice over the intercom and no help whatsoever. But not in Japan! Here's what happened when Scott Wilson from Departures (Season 1, Episode 6) attempted to purchase a subway ticket but got confused ...
Hit play or go to Link [YouTube] - via Yababoon
Fresh Prince Theme Song Prompts School Lockdown
Posted: 01 Mar 2013 11:00 AM PST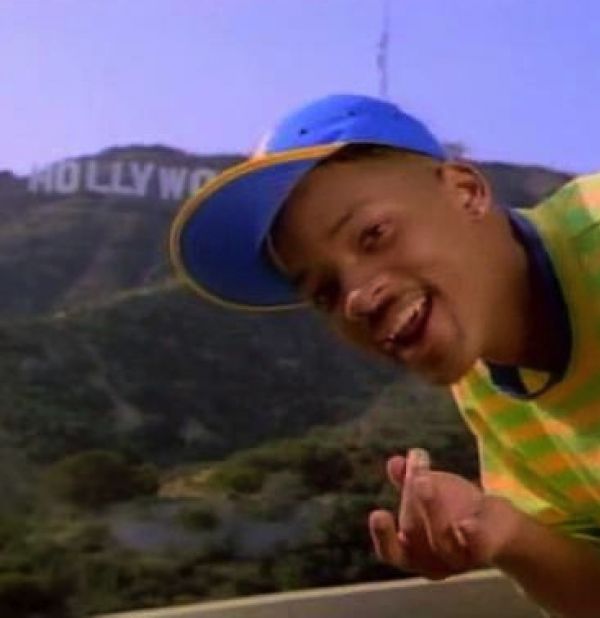 Travis Clawson's life got flipped, turned upside-down. A receptionist at an eye doctor's office in Pennsylvania called 19-year-old Clawson to confirm an appointment. Instead, she got an outgoing message that alarmed her. The receptionist then called Sewickley police, who contacted the Ambridge Area High School, where officials put the school on lockdown. Police found Clawson at the school and arrested him. An investigation determined that the outgoing message on the phone was Clawson singing the theme to the TV show The Fresh Prince of Bel Air.
All schools in the county were advised to lock down for about 20 minutes while police searched for a 19-year-old Ambridge Area High School student whose greeting to callers was mistakenly taken as a threat about "shooting people outside of the school."

The actual line from the song is "And all shooting some b-ball outside of the school." It is unclear from listening to Travis Clawson's phone message whether he inadvertently twisted the words or it just was misheard by the receptionist from his Sewickley eye doctor's office who sent the day's events in motion.
Clawson was released and has not been charged with any crime, but his parents were urged to have him change the outgoing message on his phone. Link -via Fark
<i>Doctor Who</i> Crocheted Fingerless Gloves
Posted: 01 Mar 2013 10:00 AM PST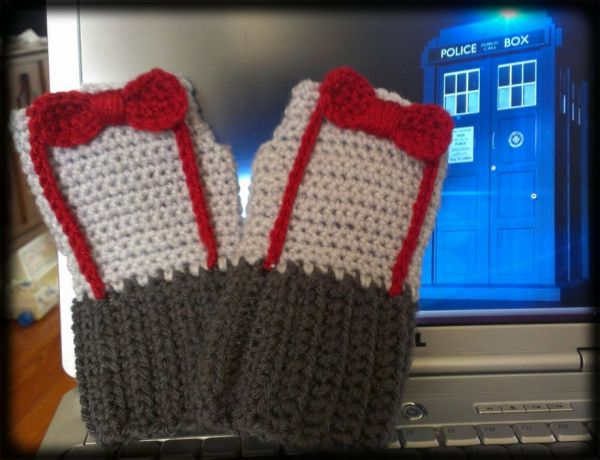 "Time catches up with us all, Doctor."
"Well, it has never laid a glove on me!"
That may change, Doctor. Bobbie Bomber crocheted these fingerless gloves to match the outfit of the Eleventh Doctor.
Link -via Doctor Who Crafts
How Many Languages is it Possible to Know?
Posted: 01 Mar 2013 09:00 AM PST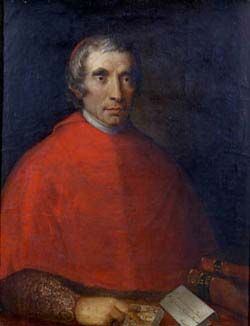 Graham Cansdale is a professional translator at the European Commission in Brussels. He is considered fluent in the 14 languages he uses in his work, but he has studied other languages. Cardinal Giuseppe Mezzofanti was a linguist who died in 1849; he was said to have known between 40 and 72 languages. Is this even possible?
There are millions of people, even in the mostly monolingual US, who speak more than one language at home. Competence in three languages is not unusual, and we've all heard stories of grandmas and grandpas who had to master four or five languages on their way from the old country to the new. In India it is common for people to go about their business every day using five or six different languages. But what about 10, 20, 30, 100 languages? What's the upper limit on the number of languages a person can know?

Michael Erard, in his fascinating book Babel No More, travels around the world in search of hyperpolyglots, people who study and learn large numbers of languages. He sheds light on the secrets of their success, and explains why it can be hard to put an exact number on language knowledge.
Mental_floss introduces us to seven hyperpolyglots, although how many languages they know depends on the meaning of "know," as there are different levels of fluency. Of course, only a polyglot would really understand how different those levels are. Link
Posted: 01 Mar 2013 08:00 AM PST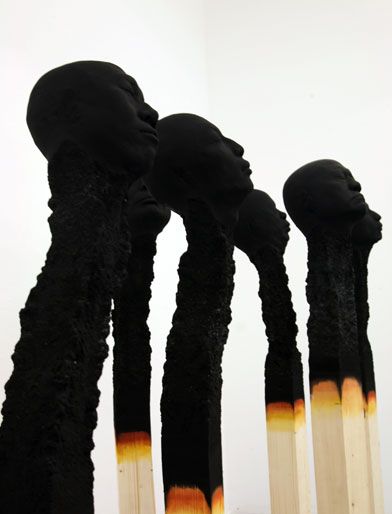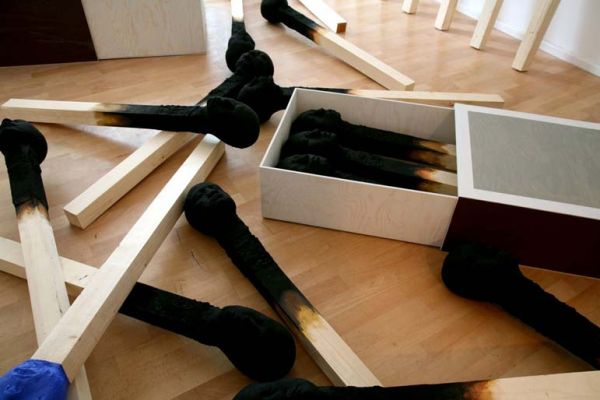 Wolfgang Stiller's Matchstick Men series consists of enormous matches shaped and burned to look like human heads, as well as matchboxes to scale. He gave an interview with Michael Corbin about the project, discussing the development and exhibition of his Matchstick Men. But it was this statement that grabbed my attention:
It might sound conservative, but I'm much more interested in matured artists and not so much into really young artists. Nowadays artists start showing right after graduating or even during their studies. The art world became a bit like the pop industry. One has to be "young and fresh." No one wants to miss the newest trend. I really don't care for that. An artist needs time to develop his or her own language and to be quite frank, I think someone who is 23 rarely has anything substantial to offer.
Do you agree or disagree with Stiller?
Gallery and Interview -via Lustik
Posted: 01 Mar 2013 07:00 AM PST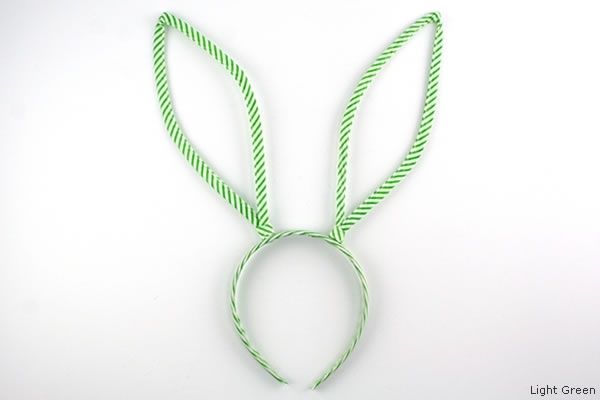 Hippity. Hoppity. Easter is on the way. Are you looking for the perfect way to release your inner Easter Bunny? You need the sweet and sophisticated Rabbit Headband from the NeatoShop. The headband features bendable ears for a more customized look. This fantastic accessory fits most kids and adults.
The Rabbit Headband is available in blue, green, pink, and purple. Buy one or collect all 4 colors.
Hop on over to the NeatoShop for more great Rabbit items.
Star Wars Rock - Interjections
Posted: 01 Mar 2013 07:00 AM PST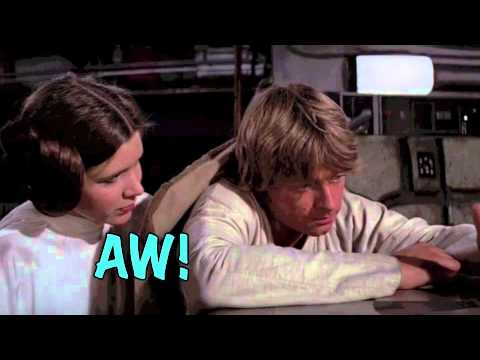 (YouTube link)
The Schoolhouse Rock episode "Interjections!" is illustrated by the familiar characters of Star Wars in this clever mashup by One Minute Galactica. One interjection is a slightly-disguised swear word in text, so preview before sharing this with your children. Contains spoilers for those who haven't seen the original trilogy (don't laugh, there are young children who don't yet know about Luke and Leia). -via Geekdad
Sailor Moon vs. The Incredible Hulk
Posted: 01 Mar 2013 06:00 AM PST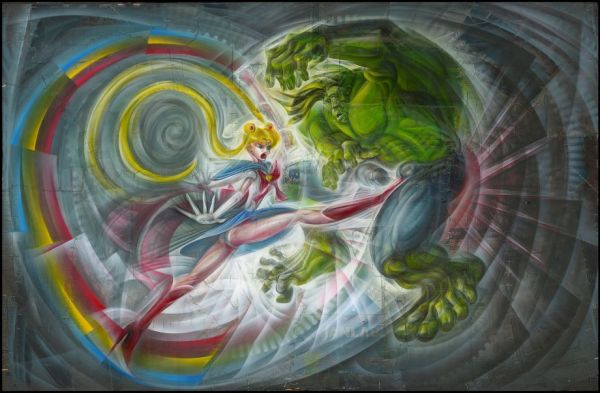 With airbrushes and spraypaint, Tom Thewes creates vivid, fractal murals and images on wood. This painting, entitled "GRRLpower," is rather formulaic. No, really. Here's how he describes it:
(Wrath) = aerosol enamel + airbrushed acrylic + toner + staples + Grandma's cedar closet + toy boxes + instructions + other found paper + store-bought frame + screws + screweyes + glass + wire = DEADLY sin #4 = 44" x 30"
Link -via Hi-Fructose
Posted: 01 Mar 2013 05:00 AM PST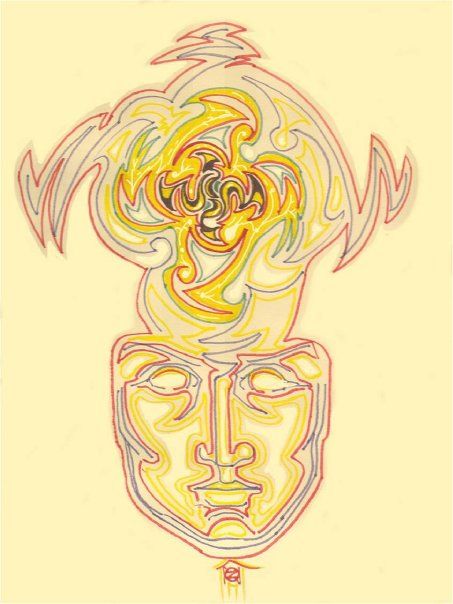 As medical marijuana gains acceptance across the country, one scientist thinks LSD should be next.

Long before he was a scientist, long before he wrote more than 100 journal articles, held six patents, or became an investigator for the NIH's Alzheimer's Disease Research center, Juan Sanchez-Ramos was an acid-dropping street artist. He had come to Paris in 1967 from Venezuela, intent on soaking up all the jazz and culture the city had to offer. His father, his two uncles, and his older brother were all doctors, and Sanchez-Ramos was expected to follow the family blueprint. Instead, he chose art. When student riots in Paris shut down his school and his father cut off his funds, a defiant Sanchez-Ramos decided to stay, hawking tourist portraits across Europe for pocket money and immersing himself in the psychedelic counterculture of the era. That's when he took his first hit of LSD.

For Sanchez-Ramos, dropping acid was an intensely intellectual experience. He was fascinated by the vivid Technicolor hallucinations, warped perception of time and space, and the temporary dismantling of the ego. "You see the relationship between time and matter, body and soul," he recalls. But what intrigued him most was his brain's chemistry. "I was extremely curious about how the brain generated consciousness, how images occur in [the visual system of] the brain," he says.

Since casual experimentation wouldn't answer his questions, he grasped for the science. As others of his generation "turned on, tuned in, and dropped out," Sanchez-Ramos's mind-altered state inspired him to drop into graduate school in pharmacology, landing him right back on the academic track his parents had wished for him.


Today, Sanchez-Ramos is a clinical neurologist who's been studying neurodegenerative disorders for more than 30 years. Slim and youthful, his dark hair streaked with gray, you can still see hints of the Latin playboy he once was. He delights in regaling visitors with tales of his youthful adventures. And he brings the same exuberance to his work.

Although research on psychedelics still hovers on the fringe of social acceptance, Sanchez-Ramos has never yielded to popular sentiment. Instead, the artist-turned-scientist has aggressively pushed for the study of illegal drugs, hopping to force regulatory agencies to acknowledge the the million suffering from neurodegenerative diseases deserve every chance at a cure. "Our whole drug policy is fundamentally mistaken in that it tries to ascribe good or bad qualities to the drugs themselves and ignores the relationship people have with these drugs," says Rick Doblin, one of Sanchez-Ramos's colleagues and the founder of the Multidisciplinary Association for Psychedelic Studies. It's not the drug that matters -it's how it's used.

BORN IN A LAB IN 1938, LSD was first prescribed in the 1950s to treat psychiatric disorders. Doctors became interested in LSD because of its chemical similarity to serotonin, one of the neurotransmitters linked to anxiety and depression. Serotonin molecules work by pairing with receptors in the brain to regulate mood. But when LSD bonds to those same receptors, it disrupts the tightly-controlled communications system.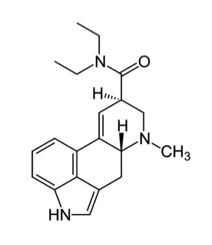 "LSD is like a chemical microscope that allows you to amplify signals that don't normally come into everyday consciousness," Sanchez-Ramos explains. Initially, doctors and academics were incredibly optimistic about LSD's clinical value. Between 1950 and 1965, more than 1,000 research papers were published on the therapeutic benefits of LSD. A California radiologist named Herman Hartman teamed up with psychiatrist Arthur Chandler to set up the Psychiatric Institute of Beverly Hills, charging $100 a pop for acid-augmented sessions. At its peak, treatment rooms were crowded with Hollywood luminaries like Cary Grant and Esther Williams. Canadian scientists were equally enamored with the drug. In the late 1950s, researchers gave LSD to World War II veterans who were chronic alcoholics; when they followed up one year later, they found that a staggering 55 percent were still sober.

But as people began experimenting outside the lab and LSD entered the mainstream, a culture war ignited. Stories of horrific trips, temporary psychosis, and flashbacks became commonplace. Hysteria was further stoked by the antics of Timothy Leary, a Harvard psychology professor who was fired in 1963 for his experiments with psychedelics. As the government clamped down, the lingering stigma associated with LSD would hamper its scientific study for the next 40 years.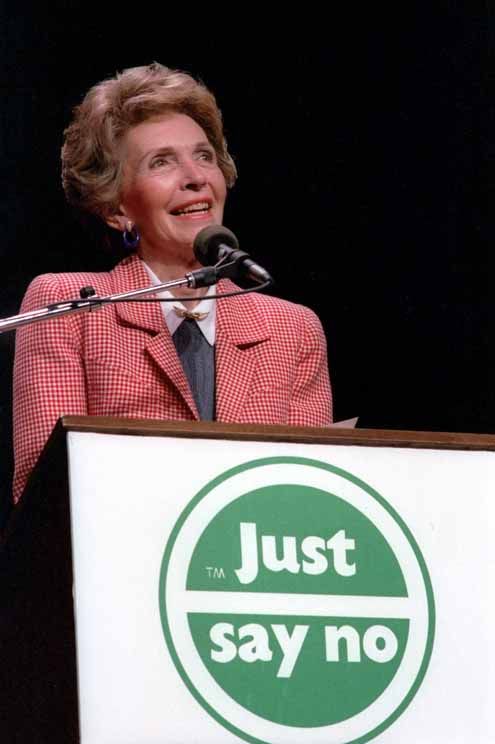 Today, it isn't just LSD that Sanchez-Ramos is interested in. He believe its siblings- 3,4-methylenedioxymethamphetamine (ecstasy); psilocybin (magic mushrooms); mescaline (peyote); and dimethyltryptamine (ayahuasca) -hold untapped medical benefits. As he told the New York Times, "You have to take this out of the realm of mythology. A drug that is taboo may be extremely useful. But if it's taboo, you'll never find out."

Currently, most psychedelics are illegal, classified by the U.S. Drug Enforcement Agency as Schedule I substances with "no medicinal value." This makes getting federal funding and the drugs needed for trial studies virtually impossible. But through the efforts of a handful of scientists -including Sanchez-Ramos- research into psychedelics is experiencing a budding renaissance. Today, a growing number of labs all over the world are exploring the use of such drugs to treat tough-to-combat diseases like cluster headaches, alcoholism, post traumatic stress disorder, depression, and anxiety. But Sanchez-Ramos is primarily concerned with a different pathology.

WHEN SANCHEZ-RAMOS began his graduate studies in neuropharmacology at the University of Chicago, opportunities to analyze LSD's effects on the brain in a scientific setting were few and far between. Instead, he focused his attentions on opiates and addiction.

In 1982, there were several cases of drug addicts who had injected a street drug called China White, a contaminated homemade form of the high-dosage pain medication Demerol. The addicts showed signs of early-onset Parkinson's disease. This fascinated Sanchez-Ramos. The culprit, it seems, was a chemical compound in the concoction that destroys dopamine neurons in the brain -just like Parkinson's. In fact, Parkinson's patients' characteristic muscle tremors stem from a drop in dopamine, a neurotransmitter that's necessary for muscle function. As Sanchez-Ramos dug further into the research, he realized that roughly 25 percent of Parkinson's patients experience hallucinations as a side effect of their medication. Was there a connection between psychedelics and the kinds of drugs used to treat Parkinson's?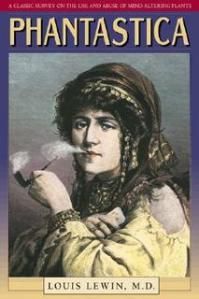 Intrigued, he decided to leave pharmacology for clinical neurology. In 1990 he stumbled upon the decades-old work of a German pharmacologist Named Louis Lewin, who had become fascinated by the South American ceremonial brew ayahuasca in the 1920s. In the spirit of scientific study, Lewin had ingested the drug and found that he didn't experience the usual hallucinations or altered states of perception, because the psychoactive compound (DMT) was absent. Rather, he felt strong and vigorous, with an increased appetite and improved motor control. Lewin concluded that a compound he called banisterine, found in ayahuasca, might be an excellent treatment for Parkinson's.

What piqued Sanchez-Ramos's interest was the fact that in the 1950s, years after Lewin's studies, banisterine was found to be a monoamine oxidase (MAO). MAOs are a class of drugs used widely to stave off the most debilitating effects of Parkinson's by boosting dopamine levels. But their effectiveness decreases over time. In 2000, Sanchez-Ramos and several other scientists conducted their own rigorously controlled study on banisterine as a potential treatment. Because of legal restrictions in the United States, they set up shop in Ecuador. Like Lewin, they found the drug improved motor function in those suffering from Parkinson's, even after a single dose. (There were also some nasty side effects -namely, nausea and vomiting. At ayahuasca ceremonies, participants are often advised to bring a bucket.)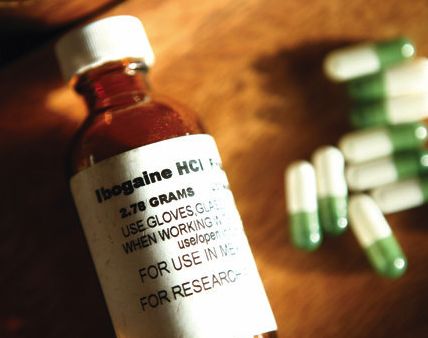 But regulatory roadblocks stalled the research, and Sanchez-Ramos soon found himself looking for Parkinson's treatments in other forms. He began collaborating on a clinical study led by Deborah Mash at the University of Miami for the use of a lesser-known psychoactive, ibogaine, to treat drug addiction. Derived from the root bark of the African shrub called Tabernathe iboga, ibogaine had been popular in 19th century Paris as a diet drug. In 1962, a 19-year-old junkie named Howard Lotsof scored some ibogaine and noticed an unusual effect: He no longer craved his usual bit of heroin, nor did he experience any withdrawal symptoms. He became a powerful advocate, convincing the National Institute on Drug Abuse to undertake an ibogaine research project. A number of studies have since borne out Lotsof's experience: Ibogaine blocks cravings and alleviates withdrawal symptoms for many drugs, especially opiates.

When the FDA killed the Miami study after another research group found that ibogaine destroyed neurons in rats brains, Mash set up a clinic to treat addicts and alcoholic in St. Kitts, where the drug is legal. Today, her clinical trials are on pace for eventual FDA approval. There is also preliminary evidence from other studies that ibogaine, as Sanchez-Ramos hoped, might actually improve the function of the remaining dopamine neurons in Parkinson's patients. In the end, ibogaine could turn out to be the magic bullet -the psychedelic treatment for Parkinson's that Sanchez-Ramos had spent his career hunting.

DESPITE HIS FORAYS into psychedelics, Sanchez-Ramos's best-known contribution to medicine is the development of a method for repairing damaged neurons. His process uses bone marrow cells rather than the more controversial embryonic stem cells. And while it isn't yet possible to harvest the bone marrow cells in sufficiently large quantities for practical treatment, Sanchez-Ramos's discoveries remain promising. With a half-million plus Americans already affected by parkinson's and baby boomers hitting the average onset age of 60, Sanchez-Ramos expects his studies will help lay the groundwork for future solutions. Now approaching 67, he's scheduled to retire next year. At least, technically. The scientist still plans to keep his hand in psychedelic research, hoping to study how psilocybin impacts cognition and the regenerative neurons of the brain. He attended Burning Man this past year, as part of a medical team organized to treat revelers experiencing bad trips. He's working on a picaresque novel based in part on his own globe-trotting adventures. And his most recent contribution to the fight against his longtime nemesis? A series of limited-edition prints called "Neon Neurons." The artworks, which were inspired by the branching patterns of neurons and their dendrites, were featured at a recent exhibit to benefit the Parkinson's Research Foundation. If science can't defeat Parkinson's on its own, Sanchez-Ramos is happy to have his art share the load.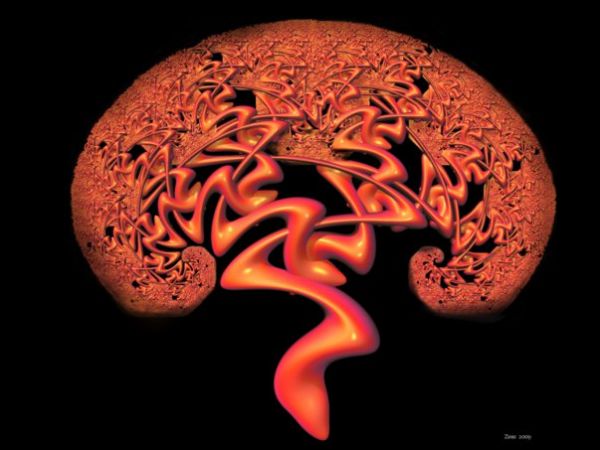 (Artworks by Zeno Sanchez-Ramos)
___________________________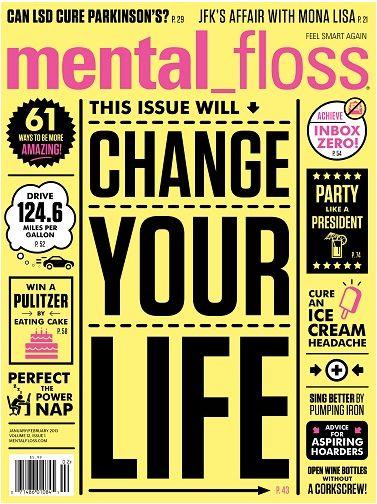 This article by Jennifer Ouellette is reprinted with permission from the January-February 2013 issue of mental_floss magazine.
Be sure to visit mental_floss' entertaining website and blog for more fun stuff!
You are subscribed to email updates from Neatorama
To stop receiving these emails, you may unsubscribe now.
Email delivery powered by Google
Google Inc., 20 West Kinzie, Chicago IL USA 60610