---
What Can Be Done with Albania's 750,000 Cold War-Era Bunkers?
Posted: 16 Mar 2013 04:00 AM PDT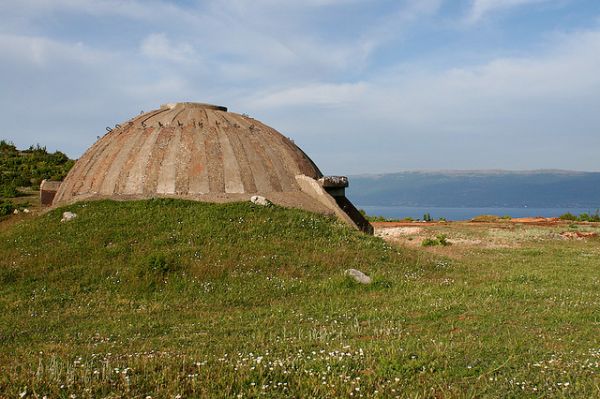 During the reign of Communist dictator Enver Hoxha (r. 1944-1985), Albania built 750,000 bunkers. That's 1 bunker for every 4 citizens. They're still around and are something of a nuisance. Wired's Pete Brook reports:
Today, Albanian authorities are at a loss for what to do. The reinforced concrete domes are as difficult to repurpose as they are to destroy. Tourists are fascinated by the bunkers strewn like confetti across scenery, but for locals they're a largely uninteresting, if obstructive, part of the landscape.
They're eyesores and obstruct new construction. Still, some Albanians have tried to find some value from the old concrete and iron slabs. Expatica's Briseida Mema writes:
Some Albanians have tried to remove them on their own, but their efforts usually end in vain, leaving them resigned to living with the structures they refer to as "mushrooms."

Some have converted them into sheds, toilets or even "zero-star hotels" for lovers, as they sometimes call the bunkers.
What would you do with a bunker in your backyard?
Wired Link and Expatica Link -via Smart News | Photo: ilmotorediricerca
Posted: 16 Mar 2013 02:00 AM PDT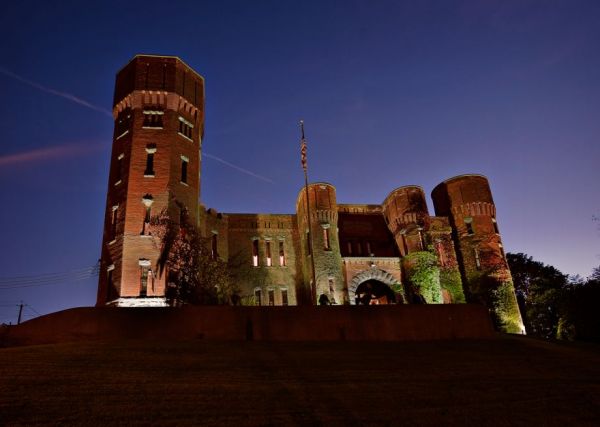 This castle in Amsterdam, New York, is for sale for only a million dollars. It has quite a history.
Built in 1894 by the state of New York for the National Guard, Amsterdam Castle is a 36,000 square foot private residence listed on the National Register of Historic Places New York originally built 100 of these armories, of which nearly 50 are still in use by the National Guard. Other "sister" armories uses include a military museum (Saratoga), art gallery (Manhattan East Side), and a concert hall (Albany). This armory was decommissioned in 1995 and is the only armory converted into a home.

This magnificent building has 2 suites (featuring King sized beds in each turret) for overnight guests in addition to a 10,000 sq ft gymnasium, a rifle range, a fallout shelter and billiard room. The current owners bought the building in 2005 and embarked on an extensive renovation and redecoration. In addition to returning the building to its lush Victorian decor, the renovation featured environmentally friendly building materials such as low VOC paints and repurposed wood. The castle has Wi-Fi, cable TV and high speed internet, onsite parking for 40 and ample street parking. The gymnasium can hold 1000+ (and 500 seated), making us the largest event and reception facility in the county. The 18" brick walls hold the temperature at a surprisingly ambient level, making it pleasant in summer and heat-effective in winter.
The sale is being handled by Sotheby's International Realty. At the home's website, you can read about the building's history and browse through pages and pages of photographs. Link -via Boing Boing
Why You Shouldn't Jump in Puddles
Posted: 16 Mar 2013 12:00 AM PDT
Posted: 15 Mar 2013 11:00 PM PDT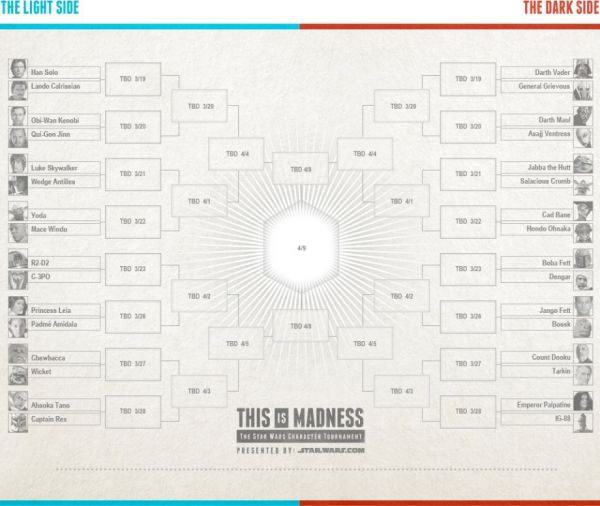 March Madness is never limited to basketball. Lucasfilm is presenting their own tournament to determine who is the favorite character in the entire Star Wars universe. The bracket is divided into the Light Side and the Dark Side, guaranteeing a matchup between the two in the final round. No seeds or odds are apparent, but the way the brackets are laid out, Yoda, Obi-Wan, Luke, and Han are all in same region, so only of those can make it to the final four, but Darth Vader vs the Emperor will be a possibility. Voting in the first round will begin Monday, and the final matchup is on April 9th. Link -via CNET
Parents Name Their Son Bane after the Batman Villain
Posted: 15 Mar 2013 10:00 PM PDT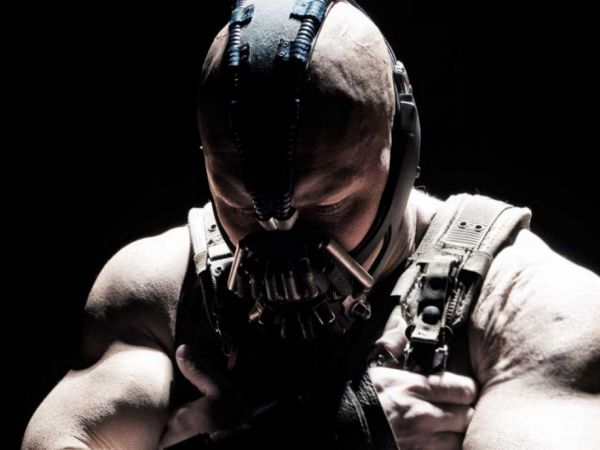 British rugby player Jamie Jones-Buchanan and his wife have named their new son after Bane, the masked villain from the Batman franchise:
The Leeds Rhinos' player said he and his childhood sweetheart always intended to give their future children unusual names.

He said: "I've known Emma since school and we always said that if we had kids we would call our first one Lore as I used to be a bit of a Trekkie.

"We are delighted with the new addition and he is sleeping well. I came up with the idea and my wife had the final say, as usual."
This isn't the first baby name that Jones-Buchanan has taken from fiction. His son Lore is named after Data's evil twin brother. Kurgan gets his name from the primary antagonist of the first Highlander movie. The Sun also reports that one child is named Dacx from Star Trek, which I think actually refers to Dax.
I contemplated Bruce Wayne and Nick Seafort as names for my own children. What science fiction characters do you think could offer good baby names?
Link -via The Mary Sue | Photo: Warner Bros.
A Brief History of 7 Baby Basics
Posted: 15 Mar 2013 09:00 PM PDT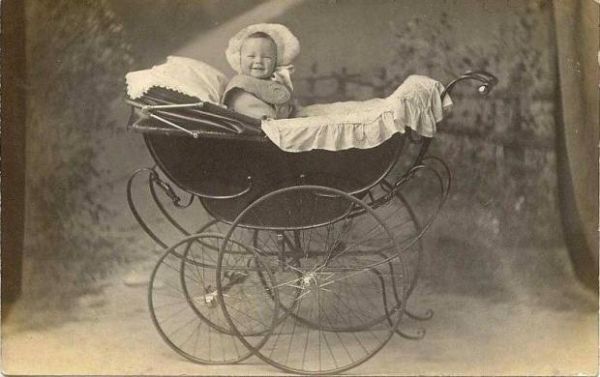 When Valerie Hunter Gordon developed a disposable diaper called the Paddi in 1947, consisting of flushable cellulose padding held inside a nylon shell, she made things easier for herself and her friends, but manufacturers didn't see the genius in the product. The executives probably didn't wash many diapers.
The Paddi was a major hit with her homemaker friends, and she wound up sewing over 400 sets for them at her kitchen table. Although the diapers proved popular, Gordon couldn't convince a company to manufacture them because it was thought there was little market for them. Finally, in 1949, Gordon was able to sell the idea to Robinson and Sons, a company that was one of the first to make disposable sanitary napkins. After a slow start, Paddi's became quite popular, which led other companies to tweak Gordon's two-part design and release their own disposable diapers. In fact, it wasn't until 1961, when Pampers were introduced, that the completely disposable diaper became the norm.
Read the rest of the story of the disposable diaper, plus the history of other baby products such as the pacifier, stroller, and baby monitor at mental_floss. Link
Braided Book Art by Math Monahan
Posted: 15 Mar 2013 08:00 PM PDT
20 Haunting Ghost Towns of the World
Posted: 15 Mar 2013 07:00 PM PDT
Abandoned communities exist all over the world, and the reasons they are empty are quite varied. Some were abandoned because of natural disasters, others because of war, disease, or economic decline. Butugichag, Russia, was home to thousands of people in its time, but no one wants to go back.
The atrocities of the former Soviet Union's gulags are forever enshrined in world history; Butugichag, a corrective labour camp open for a decade between 1945 and 1955, forced its prisoners to mine dangerous nuclear materials and experimented on them mercilessly. It's estimated that up to 400,000 people perished in these horrific conditions, mostly through exposure to radiation. The Russian government still refuses to recognise Butugichag on its list of abandoned settlements, shamelessly attempting to avoid investigating the tragedies which occurred in this remote corner of eastern Russia. Today, the sparse, icy camp is barely reachable by road, its abandoned workhouses, mines and experimental facilities hidden away by a nation which wants to forget its brutal past.
Butugichag is just one of twenty fascinating stories of ghost towns from all over, which you can read at Urban Ghosts. Link

(Image credit: Oxonhutch)
Area 51 Passport Pocket Notebook
Posted: 15 Mar 2013 06:00 PM PDT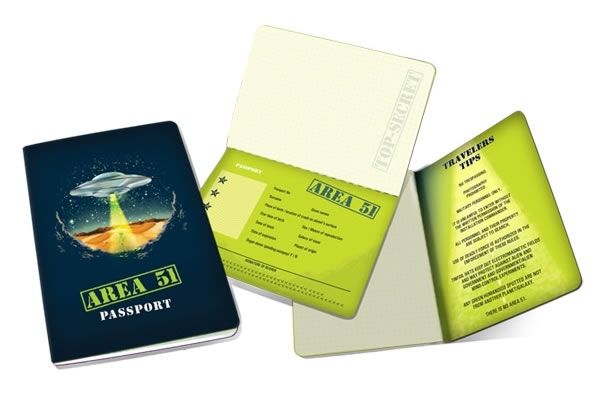 Area 51 Passport Pocket Notebook
Are you looking for the perfect place to jot down all your experimental, obscure, and quite possibly out of this world thoughts? You need the Area 51 Passport Pocket Notebook from the NeatoShop. This great little pocket journal has 64 pages for your writing pleasure.
Be sure to check out the NeatoShop for more great Stationery.
The Very Hungry LEGO Caterpillar
Posted: 15 Mar 2013 06:00 PM PDT
LEGO artist Bruce Lowell grew up with Eric Carle's children books, so he found it a fitting tribute to make a LEGO version. Fantastic! Link - via brick [something]
RIP Harry Stamps, The Man with the Greatest Obituary Ever
Posted: 15 Mar 2013 05:00 PM PDT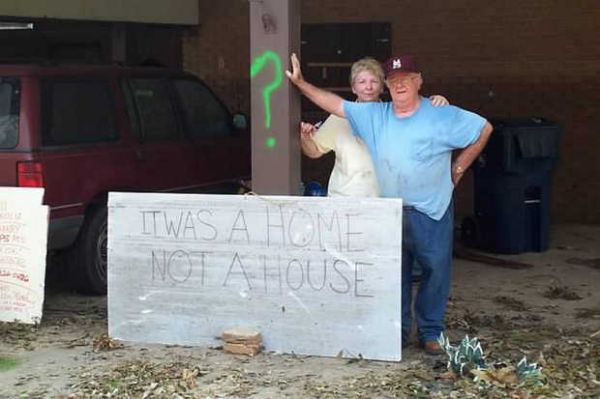 Harry Stamps of Long Beach, Mississippi died a week ago at the age of 80. His cause of death was most likely an overdose of awesomeness, as you can perceive from his obituary:
The women in his life were numerous. He particularly fancied smart women. He loved his mom Wilma Hartzog (deceased), who with the help of her sisters and cousins in New Hebron reared Harry after his father Walter's death when Harry was 12. He worshipped his older sister Lynn Stamps Garner (deceased), a character in her own right, and her daughter Lynda Lightsey of Hattiesburg. He married his main squeeze Ann Moore, a home economics teacher, almost 50 years ago, with whom they had two girls Amanda Lewis of Dallas, and Alison of Starkville. He taught them to fish, to select a quality hammer, to love nature, and to just be thankful. He took great pride in stocking their tool boxes. One of his regrets was not seeing his girl, Hillary Clinton, elected President. [...]

He despised phonies, his 1969 Volvo (which he also loved), know-it-all Yankees, Southerners who used the words "veranda" and "porte cochere" to put on airs, eating grape leaves, Law and Order (all franchises), cats, and Martha Stewart. In reverse order. He particularly hated Day Light Saving Time, which he referred to as The Devil's Time. It is not lost on his family that he died the very day that he would have had to spring his clock forward. This can only be viewed as his final protest.

Because of his irrational fear that his family would throw him a golf-themed funeral despite his hatred for the sport, his family will hold a private, family only service free of any type of "theme." Visitation will be held at Bradford-O'Keefe Funeral Home, 15th Street, Gulfport on Monday, March 11, 2013 from 6-8 p.m. [...]

Finally, the family asks that in honor of Harry that you write your Congressman and ask for the repeal of Day Light Saving Time.
Thy will be done, Harry.
Be sure to read the rest of Mr. Stamps' fantastic obituary at the link.
Link -via Glenn Reynolds | Photo: Amanda Lewis
Posted: 15 Mar 2013 04:00 PM PDT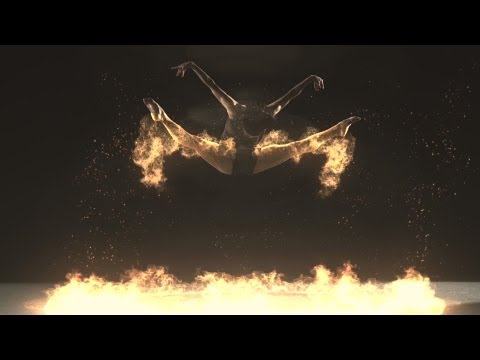 (YouTube link)
The dancers of the Phoenix Dance Theater in Leeds, England, are on fire! Well, just on fire with energy and talent, as the effects were added in afterward. Editor Ben Daure sat in front of a computer for six months putting the fire in. Which is, of course, a much better idea than setting the dancers alight. -via b3ta
15 Generations of a Single Family Have Slept In This Bed
Posted: 15 Mar 2013 03:00 PM PDT
Now that's craftsmanship! A 400-year-old bed has been identified as the oldest piece of furniture that has remained in continuous use by the same family the longest. It has been slept in by 15 generations of the Berkeley family:
The antique four-poster with its ornate carved headboard has been providing a good night's rest for residents of the Berkeley Castle estate in Gloucestershire since 1608.

Far from being roped off into retirement like many pieces of historic furniture, John Berkeley, 81, and his wife Georgina, 73, still use the bed in the castle's Great State Bedroom.
Posted: 15 Mar 2013 02:00 PM PDT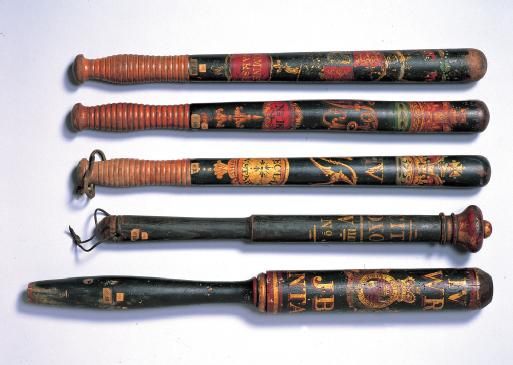 Before British police officers wore uniforms, they carried staffs marked with government insignia as badges of their authority:
Staffs, or truncheons, were used by the police force for practical and ceremonial purposes. They were both a weapon and a badge of office. Constables did not begin wearing uniforms until 1829 or carrying warrant cards until the 1880s; before this time, the staff indicated the constable was acting under the authority of the crown by displaying the royal crown and cipher on the staff. The crown and cipher were standardised on constable staffs under William IV, but additional decoration could be added. Staffs might also have displayed the royal coat-of-arms, the coat-of-arms of the local town or village, and the owner's initials.
Link -via TYWKIWDBI | Photo: Horniman Museum and Gardens/Heini Schneebeli
Posted: 15 Mar 2013 01:00 PM PDT
The secret to building wealth through real estate is buying properties when they're cheap. Before things get built up and all - I mean, imagine if only you had the foresight to buy Manhattan for a mere $24 ...
Think that opportunity has passed you by? Well, perhaps you want to buy an acre or two in the next great real estate frontier, the Moon. Like we told you before on Neatorama a few years ago, you can still buy plots of land on the Moon and Mars!
Simon Ennis created this entertaining New York Times op-docs video about Dennis M. Hope, 65, of Lunar Embassy, who spent the last 30 years selling lunar real estates: Link
Posted: 15 Mar 2013 12:00 PM PDT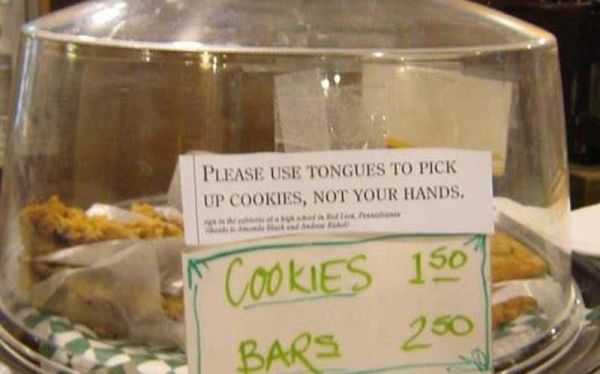 Want a cookie? Before you take one, read the sign. And then consider the possibility that the person before you may have followed the directions literally. -via Arbroath
Posted: 15 Mar 2013 11:00 AM PDT

There it is! Where's Higgs Boson T-Shirt by Mike Jacobsen | More Higgs boson T-Shirts
After the big announcement last year, physicists have made it official. They have indeed found the Higgs boson:
Physicists announced on July 4, 2012, that, with more than 99 percent certainty, they had found a new elementary particle weighing about 126 times the mass of the proton that was likely the long-sought Higgs boson. The Higgs is sometimes referred to as the "God particle," to the chagrin of many scientists, who prefer its official name.

But the two experiments, CMS and ATLAS, hadn't collected enough data to say the particle was, for sure, the Higgs boson, the last undiscovered piece of the puzzle predicted by the Standard Model, the reigning theory of particle physics.

Now, after collecting two and a half times more data inside the Large Hadron Collider (LHC) — where protons zip at near light-speed around the 17-mile-long (27 kilometer) underground ring beneath Switzerland and France — physicists say the particle is a Higgs.
Jeanna Bryner of LiveScience has the full story: Link
To Avoid Wearing Seat Belts, Chinese Drivers Wear Shirts Like These
Posted: 15 Mar 2013 10:00 AM PDT
According to Car China News, a blog about the automotive industry in China, many Chinese drivers hate wearing seat belts. They'll go so far as to wear special t-shirts to fool police officers:
Drivers hope the T-shirts will fool a busy policeman when he looks quickly inside. The shirts attracted attention from Chinese media who asked the police what they thought about all this.

Spokesman Xue Fengxian from the Shanghai Public Security Bureau Traffic Police Detachment said the driver of a vehicle is required by law to use seat belts. Wearing the T-shirt however, is not illegal in itself. Another spokesman, this time in Heilongjiang Province, called wearing the T-shirts "self-deceptive", but also said wearing the shirts for "entertainment purposes" was allowed.
Link -via Marginal Revolution | Photo: Sohu
Posted: 15 Mar 2013 09:00 AM PDT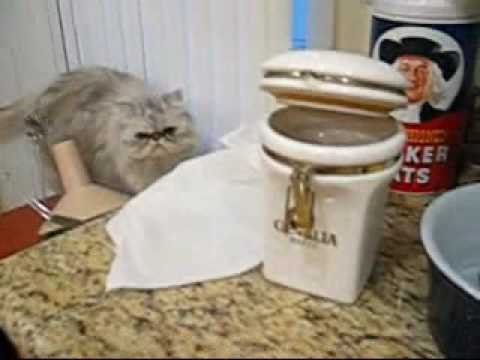 (YouTube link)
Poor Molly is just a dog, and lacks the agility and the dexterity to jump up on the counter and raid the cookie jar for treats. Meggie, despite the expression on her face, is a good friend and willing to help out. Either that, or Meggie is just showing off. -via Daily Picks and Flicks
Coffee Date with Kermit and Miss Piggy Salt & Pepper Shakers
Posted: 15 Mar 2013 08:00 AM PDT
Coffee Date with Kermit and Miss Piggy Salt & Pepper Shakers
Are you a lover and a dreamer looking for that rainbow connection? Find it with the Coffee Date with Kermit and Miss Piggy Salt & Pepper Shakers from the NeatoShop. This dreamy set is made of glazed ceramic and includes 3 separate highly detailed pieces. Kermit and Piggy are both shakers. It is a great way to add a little spice to your kitchen decor.
Be sure to check out the NeatoShop for more great Salt and Pepper Shakers and fantastic Muppet items.
Posted: 15 Mar 2013 08:00 AM PDT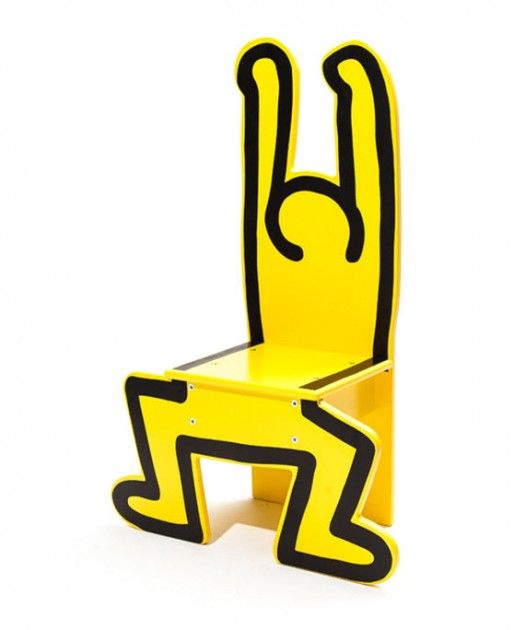 Simple and monochromatic human figures like this one are among the iconic images left by Keith Haring, the famous lowbrow and street artist. French furniture maker Vilac made child-size chairs using six colors commonly used by Haring.
Posted: 15 Mar 2013 07:00 AM PDT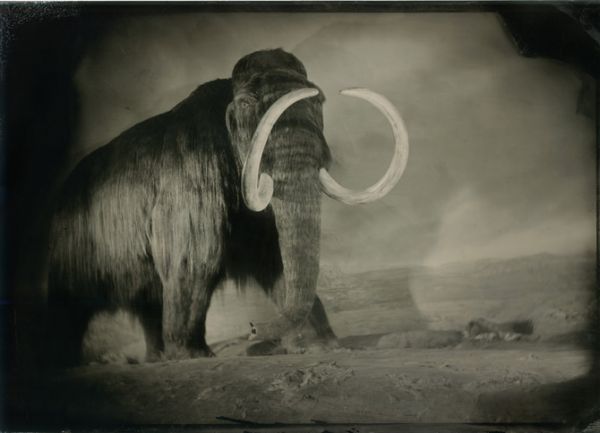 Since we saw Jurassic Park in 1993, research on DNA and cloning has brought the idea of bringing back extinct species forward from fantasy to practical possibility. Cloning livestock is easier than ever. Scientists delivered a clone of the extinct Pyrenean ibex, using living cells of the last specimen years after it died. Frozen mammoth DNA holds promise, and there are other schemes to reverse-engineer DNA from thylacines and passenger pigeons. The process of bringing back extinct species is called de-extinction. Considering the scientific progress, it's only a matter of time before success. The question is: should we be doing this?
"If we're talking about species we drove extinct, then I think we have an obligation to try to do this," says Michael Archer, a paleontologist at the University of New South Wales who has championed de-extinction for years. Some people protest that reviving a species that no longer exists amounts to playing God. Archer scoffs at the notion. "I think we played God when we exterminated these animals."

Other scientists who favor de-extinction argue that there will be concrete benefits. Biological diversity is a storehouse of natural invention. Most pharmaceutical drugs, for example, were not invented from scratch—they were derived from natural compounds found in wild plant species, which are also vulnerable to extinction. Some extinct animals also performed vital services in their ecosystems, which might benefit from their return. Siberia, for example, was home 12,000 years ago to mammoths and other big grazing mammals. Back then, the landscape was not moss-dominated tundra but grassy steppes. Sergey Zimov, a Russian ecologist and director of the Northeast Science Station in Cherskiy in the Republic of Sakha, has long argued that this was no coincidence: The mammoths and numerous herbivores maintained the grassland by breaking up the soil and fertilizing it with their manure. Once they were gone, moss took over and transformed the grassland into less productive tundra.
Some are leery of the idea, because if those animals went extinct because of changes in their environment, how will they ever thrive again? Others believe resources spent on de-extinction would be better aimed at preventing endangered animals from disappearing. National Geographic magazine looks at the progress we've made in de-extinction, and the ethics of the practice. Link -via The Loom

(Image credit: Robb Kendrick)
Posted: 15 Mar 2013 06:00 AM PDT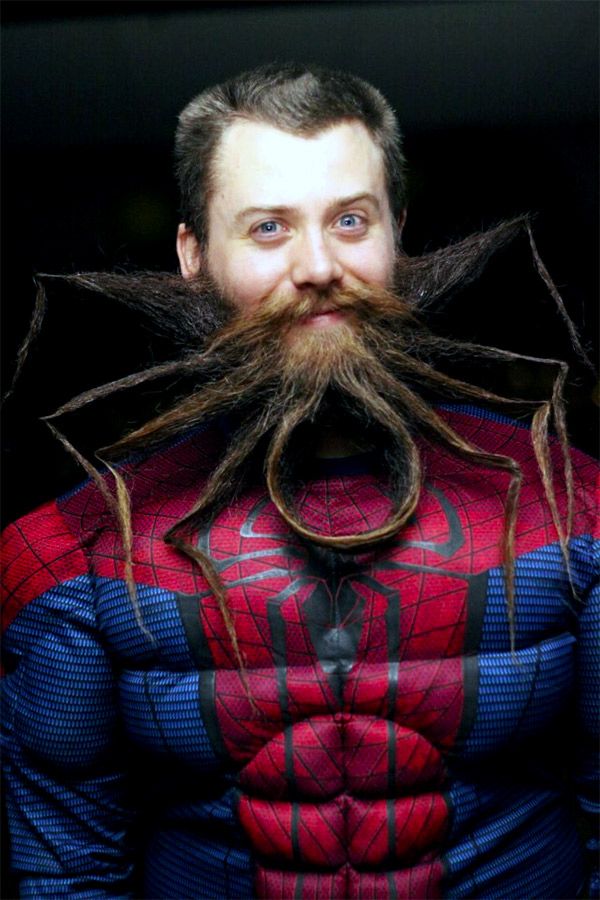 You may remember Chad Roberts, an expert beardist, sporting an X-wing beard. He's back, this time as the legendary web-slinger. Be careful, Mr. Roberts. With great facial hair comes great responsibility.
Link and Facebook Page -via Nerdcore
When Opposites Attack: 5 Artistic Rivalries That Got Ugly
Posted: 15 Mar 2013 05:00 AM PDT
1. Vex, Lies, and Literary Debate: Lillian Hellman vs. Mary McCarthy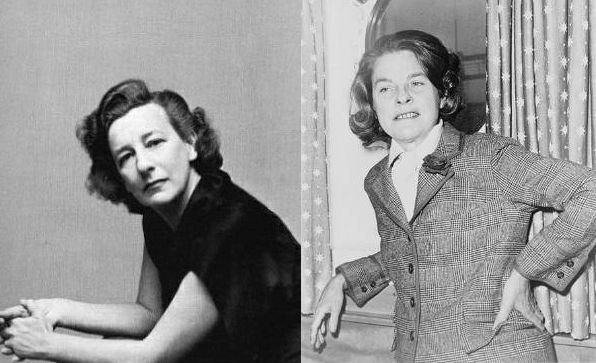 One January night in 1980, playwright Lillian Hellman (The Children's Hour, The Little Foxes) sat up in bed while watching The Dick Cavett Show. Novelist and critic Mary McCarthy was on the program discussing books when Cavett asked her which writers she considered overrated. "Lillian Hellman," McCarthy promptly replied. "Everything ...every word she writes is a lie, including 'and' and 'the.'"
Hellman may have been 74 years old, nearly blind, and unable to walk, but she could still use the telephone. She called her attorney and ordered him to sue McCarthy— along with Cavett, the show's producer, and the station—for $2.25 million in libel. The result was a public slug-fest, with all of America's writers taking sides. Norman Mailer tried to act as a peacemaker via an article in The New York Times, but it only proved to annoy both sides. Hellman even offered to drop the suit if McCarthy publicly apologized, to which McCarthy responded, "But that would be lying."
To the surprise of everyone, including Hellman's attorneys, the New York Supreme Court refused McCarthy's request to dismiss the case on May 10, 1984. Sadly, Hellman didn't have long to enjoy her victory; she died less than two months later. McCarthy, who'd been facing financial ruin, was less than satisfied, complaining, "I didn't want her to die. I wanted her to lose in court." Since then, the case has been remembered in legal circles as raising important free speech issues. As Harper's magazine quipped, "If you can't call Lillian Hellman a liar on national TV, what's the First Amendment all about?"
2. 100 Years of Attitude: Gabriel García Márquez vs. Mario Vargas Llosa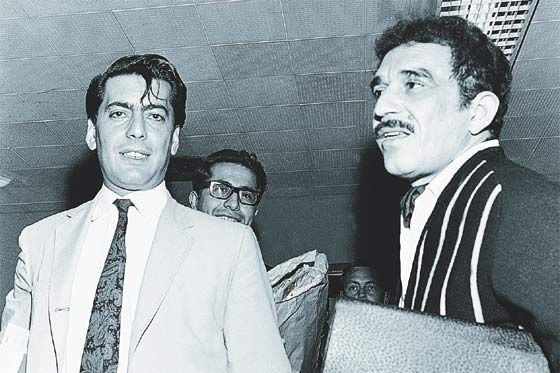 It was the beginning of a beautiful friendship. Colombian Nobel-prize winning novelist Gabriel Garcí­a Márquez and Peruvian writer Mario Vargas Llosa together helped to revolutionize Spanish-language literature with their forays into magical realism. The two met in 1967 and immediately became inseparable. In 1971, Vargas Llosa wrote a book-length study of Garcí­a Márquez' work. Garcí­a Márquez became the godfather of Vargas Llosa's son.
Then, at a 1976 film premiere in Mexico City, Garcí­a Márquez spotted his pal Vargas Llosa sitting a few rows back and went to greet him. "Mario!" he exclaimed with open arms, just before Vargas Llosa punched him in the face.
The two authors have neither spoken to, nor seen, each other since. For years, that is all anyone has known about it. What hasn't been known, however, is why. The men have only said the quarrel was "personal." Much of the speculation has focused on politics. (At one time, both were supporters of Fidel Castro, but Vargas Llosa grew disillusioned with the dictator.) Others have suggested Vargas Llosa was jealous of his friend's world fame. But the cold war hit the papers again after a Spanish newspaper announced that the 40th-anniversary edition of Garcí­a Márquez' One Hundred Years of Solitude would include an introduction by Vargas Llosa. Headlines announced that the feud was over—except that it wasn't. Garcí­a Márquez' literary agent explained that Vargas Llosa had only allowed an out-of-print 1971 essay about Garcí­a Márquez to be included in the volume. Hardly a reconciliation, but it meant the feud was news once again. And that's when the story behind the Mexico City fight started to come out. Turns out, the quarrel wasn't about literary fame or political leanings. As we all should have guessed, it was about a woman.
The trouble started, sources say, when Vargas Llosa fell madly in love with a Swedish stewardess. He ran off to Stockholm with her, leaving behind his wife, Patricia (who was, incidentally, also his first cousin). Devastated, Patricia went to her husband's best friend for advice. The first thing Garcí­a Márquez reportedly did was suggest she divorce her husband. Then he "consoled" her. (It has been suggested this "consolation" involved more than a pat on the back.)
Eventually, Vargas Llosa returned home from Sweden and reconciled with his wife. Apparently, Patricia told all. The authors' next encounter was at the theater. After landing his punch, Vargas Llosa supposedly shouted, "How dare you come and greet me after what you did to Patricia in Barcelona!" And while neither author has confirmed this version of the events, the brouhaha had Latin American literary types buzzing yet again.
3. Dueling Pianos: George Frideric Handel vs. Johann Mattheson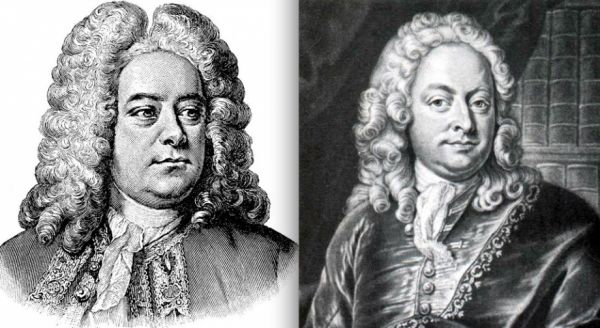 Johann Mattheson met fellow composer George Frideric Handel in 1703, when the 21-year-old Handel moved to Hamburg to take the position of violinist and harpsichordist for the opera-house orchestra. This made Handel something of a young celebrity, but Mattheson was something of a celebrity himself, being a former child prodigy and a popular local composer. The two hung out quite a bit, and Mattheson even gave Handel advice on writing his first opera.
But the friendship hit a roadblock in December 1704, when Mattheson premiered his third opera, Cleopatra. Mattheson not only wrote and conducted the piece but also sang the part of Antonius. (Busy guy, Johann.) During the first three-quarters of the performance, Mattheson was on stage. But half an hour before the end, Antonius commits suicide, which left Mattheson at loose ends. Deciding to take over at the harpsichord, he headed for the orchestra pit and whispered to Handel, then tickling the ivories, to scoot over. A very much miffed Handel refused to give way.
History doesn't note the effect of the musicians' brawl on the performance, but it does record that Mattheson challenged Handel to a duel. According to Mattheson, the two retired to the street, took up swords, and started slashing. Also according to Mattheson, his sword broke when it struck one of Handel's large metal coat buttons, which is the only reason George's life was spared. Either way, Handel went on to bigger and better things (The Messiah, for one), while Mattheson remained in Hamburg churning out oratorios. Watching Handel's rise from afar, he once complained that Handel had stolen the melody from one of his operas. (Probably a true charge, actually, as Handel was notorious for "borrowing" melodies.) Finally, toward the end of his life, Mattheson filled his autobiography with stories of his world-famous buddy, taking as much credit as possible for himself.
4. Domed for Failure: Lorenzo Ghiberti vs. Filippo Brunelleschi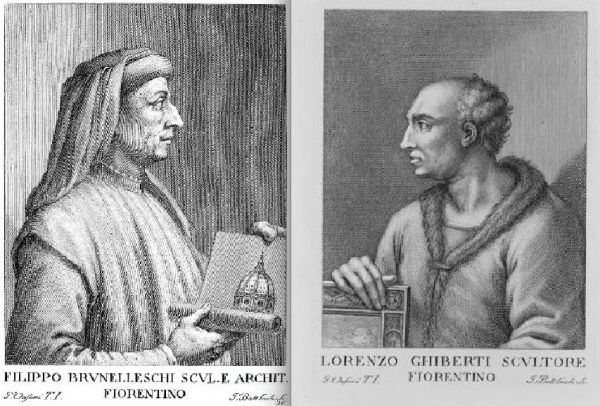 The trouble between famed sculptors Filippo Brunelleschi and Lorenzo Ghiberti started in 1401, and, according to some art historians, the Italian Renaissance started then, too. It was the year the two up-and-coming artists were among those asked to enter a competition to design a pair of bronze doors for the baptistery at the Florence Cathedral. Ghiberti ended up getting the job, but the details are debatable. He claimed the committee voted unanimously in his favor, but there's evidence that when officials asked the two artists to work together on the project, Brunelleschi scoffed at the offer and stormed off to Rome to study Classical architecture.
Who would have known, then, that Ghiberti and Brunelleschi would find themselves in competition again in 1418—this time to design a dome for the same cathedral. When the artists displayed their models, it was no contest. Brunelleschi's dome was not only architecturally elegant, it was structurally superior. Ghiberti, however, was the town's golden boy, so while Brunelleschi was given the main responsibility for the project, Ghiberti was awarded the same salary just for assisting.
That's how matters stood at the dome until 1423, just as a major piece of structural support was to begin construction. Armed with a cunning plan, Brunelleschi began complaining of a pain in his side and staggered home to bed. Naturally, the workmen turned to Ghiberti. While the bewildered artist tried to figure out Brunelleschi's model, the supposedly ill artist sat at home issuing reports of his imminent death. Then, miracle of miracles, Brunelleschi made a complete recovery. Rising from his bed a healed man, he inspected Ghiberti's work and announced it a shoddy piece of construction that would cause the entire structure to collapse. He ordered Ghiberti's work demolished and executed his own plans, which elegantly solved the structural problem.
Soon thereafter, Ghiberti was fired from the cathedral project. He never again attempted architecture, concentrating instead on refining his sculptures. Meanwhile, Brunelleschi saw the cathedral completed in 1436. It was the first dome ever built without a supporting frame, the largest dome in existence at the time, and remains the largest masonry dome in the world.
5. Voltaire vs. Jean-Jacques Rousseau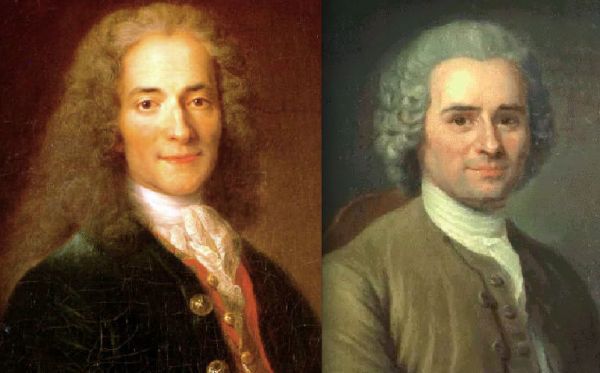 They say you're not paranoid if someone's really out to get you. Jean-Jacques Rousseau was paranoid, but Voltaire was really out to get him, too. The two philosopher/writers started sniping at each other in the 1750s. At the time, Voltaire was an established leader of French philosophical circles and Rousseau (yet to write The Social Contract and Émile) was just a newbie. But the balance of power began to shift when Voltaire moved to Rousseau's native city of Geneva in 1754. Although Rousseau had left Geneva in 1728, he remained devoted to the city's strict Calvinist standards, which included a ban on public plays. So when he heard Voltaire was not only putting on private dramas but also urging city authorities to admit plays into the city, Rousseau wrote an outraged letter condemning theatricals. In return, an annoyed Voltaire wrote to his philosopher friends saying that Rousseau had only criticized the theater because Rousseau had written a bad play.
Rousseau went off the deep end. He dipped his pen in vitriol and scratched out a letter to Voltaire that began, bluntly enough, "I do not like you, sir." He went on to outline all the (perceived) slights he'd received from Voltaire and concluded, "In a word, I hate you." Voltaire thought Rousseau had lost his mind and publicly advised his fellow philosopher a course of soothing baths and restorative broths. Henceforth, Voltaire would miss no opportunity to slam his enemy. He mocked the plots of Rousseau's novels, insinuated Rousseau had inflated his resume, and bashed Rousseau's book Julie as "silly, middle-class, dirty-minded, and boring." Finally, in 1764, Voltaire wielded the most powerful weapon he possessed—a secret about Rousseau he'd picked up in Geneva. Using a pseudonym, Voltaire wrote an open letter accusing Rousseau of abandoning his five children at the door of an orphanage. The accusation was shocking—and true.
Rousseau, in a politician-worthy statement of denial, could only claim, "I have never exposed, or caused to be exposed, any infant at the door of an orphanage." He was telling the truth, but only because the children had been taken inside the orphanage. Further scrambling to justify his actions, Rousseau responded with his book Confessions, now recognized as one of the first true autobiographies. An ugly quarrel, it seems, marked the invention of a new literary form.
___________________________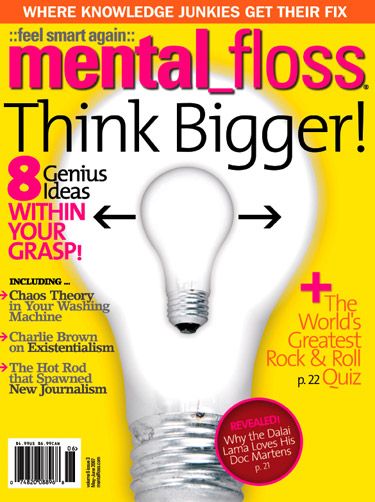 This article by Eliizabeth Lunday is reprinted with permission from the May-June 2007 issue of mental_floss magazine.
Be sure to visit mental_floss' entertaining website and blog for more fun stuff!
You are subscribed to email updates from Neatorama
To stop receiving these emails, you may unsubscribe now.
Email delivery powered by Google
Google Inc., 20 West Kinzie, Chicago IL USA 60610