---
Posted: 14 Mar 2013 04:00 AM PDT

Manhole cover in Hiroshima, Japan (Photo: MRSY/Flickr)
Who says that manhole covers have to be ugly? As this huge Manhole Cover Flickr group pool shows, they can be both fun and functional (and not always round, either!). Here are some of our favorites:

Manhole cover in Ako, Hyogo Prefecture, Japan (Photo: towel_man/Flickr)

Manhole cover in Copenhagen (Photo: Jassy-50/Flickr)

Manhole cover in Kasaoka City, Okayama Prefecture, Japan (Photo: MRSY/Flickr)

Manhole cover in Fukuyama, Japan (Photo: towel_man/Flickr)

Manhole cover in Nagoya, Japan (Photo: towel_man/Flickr)

Manhole cover in Strzegom, Poland (Photo: korom/Flickr)
More at the Manhole Cover Flickr Group Pool: Link - via Oblog
Doctor Who TARDIS Mini Bobble Head
Posted: 14 Mar 2013 03:00 AM PDT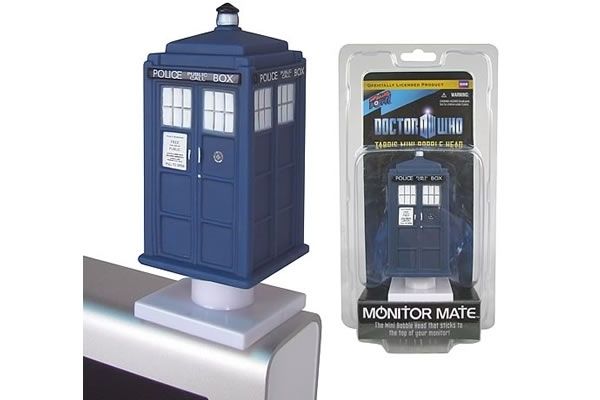 Doctor Who TARDIS Mini Bobble Head
Attention Doctor Who fans! Are you tired of your computer monitor blending in with the surroundings. Transport it to a fun and exciting place with the Doctor Who TARDIS Mini Bobble Head from the NeatoShop. This fantastic monitor mate is shaped like your favorite advanced piece of technology.
Be sure to check out the NeatoShop for more great Doctor Who items.
Who Really Invented the Smiley Face?
Posted: 14 Mar 2013 03:00 AM PDT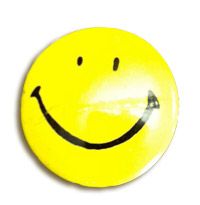 Fifty years ago, a graphic artist named Harvey Ross Ball designed a smiley face on a yellow background to raise morale at his company. It was a hit, but neither Ball nor his company sought a copyright or a trademark.
In the early 1970s, brothers Bernard and Murray Spain, owners of two Hallmark card shops in Philadelphia, came across the image in a button shop, noticed that it was incredibly popular, and simply appropriated it. They knew that Harvey Ball came up with the design in the 1960s but after adding the the slogan "Have a Happy Day" to the smile, the Brothers Spain were able to copyright the revised mark in 1971, and immediately began producing their own novelty items. By the end of the year they had sold more than 50 million buttons and countless other products, turning a profit while attempting to help return a nation's optimism during the Vietnam War (or provide soldiers with ironic ornament for their helmets). Despite their acknowledgment of Harvey's design, the brothers publicly took credit for icon in 1971 when they appeared on the television show "What's My Line."

In Europe, there is another claimant to the smiley. In 1972 French journalist Franklin Loufrani became the first person to register the mark for commercial use when he started using it to highlight the rare instances of good news in the newspaper France Soir. Subsequently, he trademarked the smile, dubbed simply "Smiley," in over 100 countries and launched the Smiley Company by selling smiley T-shirt transfers.
That was a long time ago, but when Loufrani's company finally sought a U.S. trademark in 1997, they ran up against Walmart, who was using the symbol already. And what about Ball, the original designer? Find out all about the history of the smiley face at Smithsonian's Design Decoded blog. Link
Posted: 14 Mar 2013 02:00 AM PDT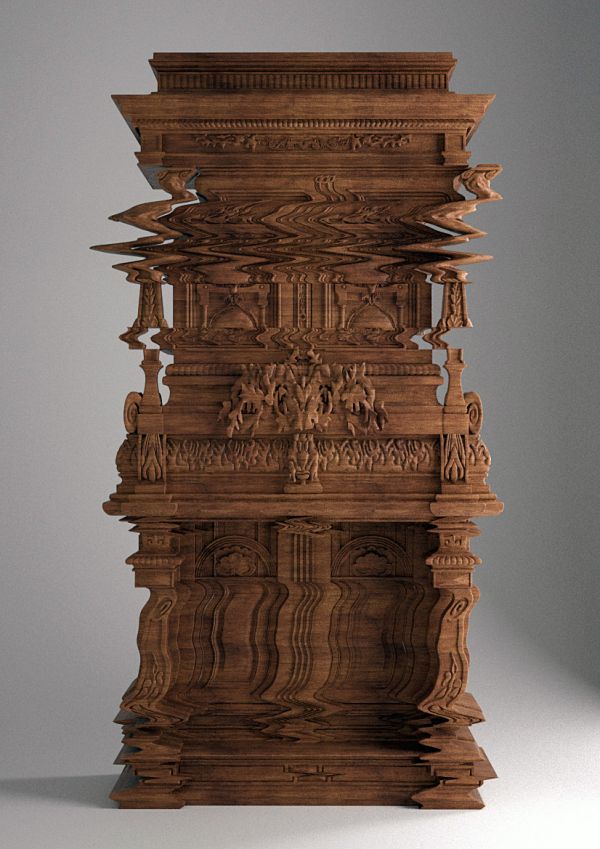 There's nothing wrong with the image. Italian artist Ferruccio Laviani carved his Good Vibrations cabinet to make it look like a glitchy photo. Don't stare at it for more than 30 seconds or you may get a headache.
Link and Artist's Biography -via Nerdcore
How <i>You Bet Your Life</i> was Saved
Posted: 14 Mar 2013 01:00 AM PDT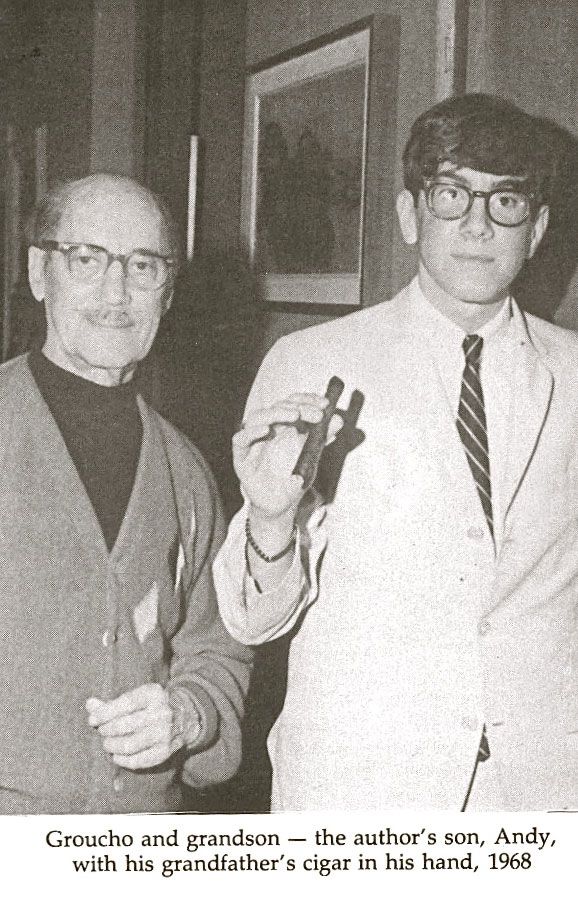 You Bet Your Life was a game show hosted by Groucho Marx that aired from 1950 to 1961. In 1973, Andy Marx was 21 years old and having lunch with his grandfather Groucho Marx. Also at the lunch were Marcel Marceau, Eliot Gould, and Jack Nicholson. When the phone rang, Andy answered it.
"Grandpa Groucho, there's a man calling from the NBC warehouse in New Jersey, who says they've got several boxes of reels of 'You Bet Your Life' they're going to destroy unless you want them."

"Tell him to burn them for all I care," my grandfather said, eliciting laughs from his guests. These days it was hard to tell if he was just doing his grouchy act for his invited audience or truly didn't care.

"Grandpa, you don't really want them doing the same thing they did to Oscar Levant's show," I said, referring to what had happened to all the copies of his good friend, Oscar Levant's classic show from the '50s, "Information, Please," when all of the kinescopes that existed were destoyed.

"He's right," Nicholson chimed in. "Groucho, that stuff is classic. Listen to your grandson. Let them send the reels to you."

"Alright," my grandfather said. "Maybe it'll be fun to watch them again."
And if the ball had been dropped by any of those people, we wouldn't have the TV show archived and available at Netflix and YouTube today. Read the rest of the story at Boing Boing. Link -via Metafilter
<i>A Nightmare on Elm Street</i> House Sold
Posted: 14 Mar 2013 12:00 AM PDT

Photo: Realtor.com
The price tag didn't scare away buyers. The home featured in the 1984 horror film A Nightmare on Elm Street (which is actually on Genessee Avenue in West Hollywood, Los Angeles) has just been sold for $2.1 million:
Bearing a signature red door as the two-story did during its days as a Freddy Krueger haunt, the now-updated 1919 traditional-style house features a classic center hallway, an open plan kitchen and family room, wide-plank wood floors, three bedrooms, 3½ bathrooms and 2,700 square feet of living space.

There also are a guest house and a swimming pool on the property.
We'll wait to see if the new owners survive their first night at the house (sweet dreams!) ... Link - Thanks Tiffany!
Posted: 13 Mar 2013 11:00 PM PDT
(YouTube link)
In this Pepsi ad, race car driver Jeff Gordon takes a Camaro out for a spin, with a hapless car salesman in the passenger seat, who supposedly doesn't know who is driving. Does it matter how "real" it is, when it's this funny? -via Viral Viral Videos
Posted: 13 Mar 2013 10:00 PM PDT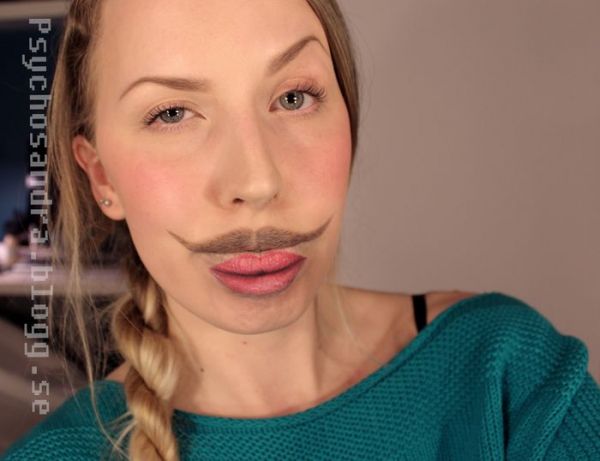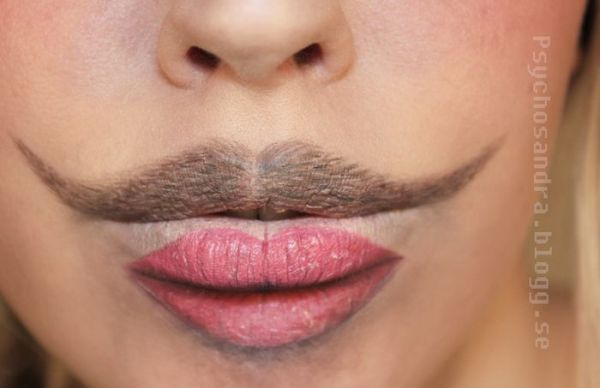 The blog of Sandra Bolmhom, maker of the eyeball lips makeup, is a cornucopia of wonderful optical illusions. From a distance, it looks like she's sporting a dapper mustache, but her mouth is actually higher up on her face.
Link -via Paul Overton
Posted: 13 Mar 2013 09:00 PM PDT
Stairs are so plebeian! The Manhattan elites rock climb up and then slide down tubular steel slide in this gorgeous penthouse apartment dubbed the Skyhouse, as designed by architect David Hotson.
First, climb up the steel beam in the middle of the living room:
Then enter the gleaming stainless steel slide, which entrance is cut in a hole on a seamless glass wall:
Then you go down, down, down ...
... till you pop out the slide in the bedroom landing:
Take a look at more pics over at the architect's website: Link - via Dezeen
Posted: 13 Mar 2013 08:00 PM PDT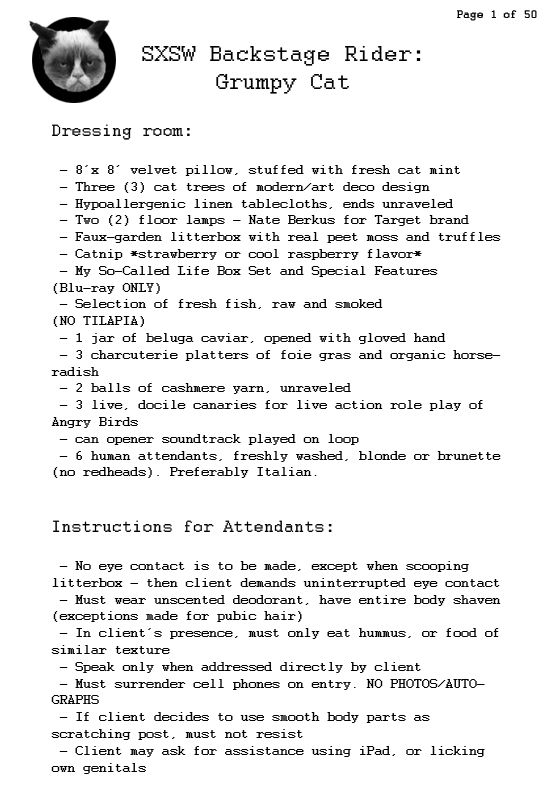 Sometimes fame brings with it an inflated ego and exacting tastes, but you have to cater to the big names if you want them at your event. The Soup has "uncovered" a page of Grumpy Cat's agreement to appear at SXSW. Note this is one of fifty pages! Link -via Laughing Squid
The Striking Photography of Joseph Francis
Posted: 13 Mar 2013 07:00 PM PDT
Neatoramanaut Joseph Francis is a professional photographer and visual effects artist. He was kind enough to share with us some of his eye-catching work and approach to the craft:
I work in visual effects where a lot of the work is overt and obvious. Nobody doubts the digital nature of a giant robot, no matter how well it's done, because we all know giant robots don't exist. But a lot of what the VFX artist does is invisible and subtle and in the service of storytelling. Nobody talks about the model miniature work in Driving Miss Daisy, but it's there. (work cited to illustrate a point - that movie is unrelated to me, btw). One might think that invisible VFX work such as adding the perfect clouds to a scene to assist the storyteller is not exciting, but in the case of my own work I'm the storyteller, as well as the VFX artist, so if I feel that adding some dishes on a shelf in a dark corner adds to the piece, I'll do it.
Artist's Website (warning: some artistic nudity)
Posted: 13 Mar 2013 06:00 PM PDT
You can have the rest of the house, but the garage is mine. Especially if it's as cool as this one designed by Holger Schubert for a ranch style home in Los Angeles:
It is located on the upper floor of a new addition to a 1953 ranch style home on a down-sloping hillside lot overlooking the western part of Los Angeles. Access is via a driveway bridge separate from the main entrance to the property's motor court. The 1,200 square foot space provides a designated spot for the car and a large open area for a couch, a slide-away TV, a built-in book shelve in front of a large storage room, as well as a small kitchen, a bathroom and a library.
So how do you back the car out without starting it indoors (and fuming up the garage?). By clever use of a ramp:
An area of 8' x 12' is made of sandblasted aluminum grating that is set flush into the concrete floors. It hides a 9' long steel ramp, which the driver raises five inches by remote control to create a slope sufficient for the car to roll out and be started outdoors.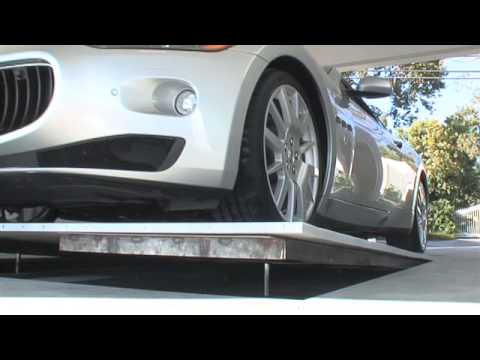 Posted: 13 Mar 2013 05:00 PM PDT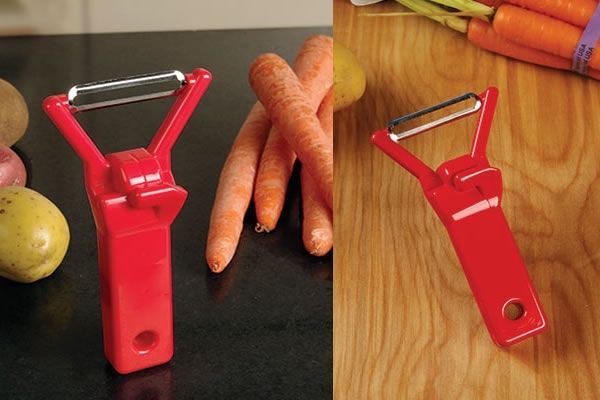 Could you use a little help around the kitchen? Make your next meal sing with the Rockin' Veggie Peeler from the NeatoShop. This fantastic kitchen gadget is made of plastic with a stainless steel blade. It is sure to help your next culinary adventure really rock.
Be sure to check out the NeatoShop for more great Kitchen Stuff.
Posted: 13 Mar 2013 05:00 PM PDT

A thread at reddit posed the question, "If money wasn't an issue, what would you make sure to have in your dream house?" Thousands of comments held hundreds of great ideas. Movoto Blog took some of those ideas and designed a house. It appears that many people would live like a supervillain if they had the chance. Link -Thanks, Sally!
Posted: 13 Mar 2013 04:00 PM PDT
Well, the Fortress of Solitude ain't gonna pay for itself! Superheroes, like the rest of us, also have to pay the bills (their liability insurance must be sky high!) so art director Roberto Vergati Santos invited artists from all over the web to come up with brand endorsements for "Sponsored Heroes."
Some of our favorites:
View more over at Roberto's Behance page: Link - via Twisted Sifter
Japanese Politician Banned from Wearing Wrestling Mask to Council Meetings
Posted: 13 Mar 2013 03:00 PM PDT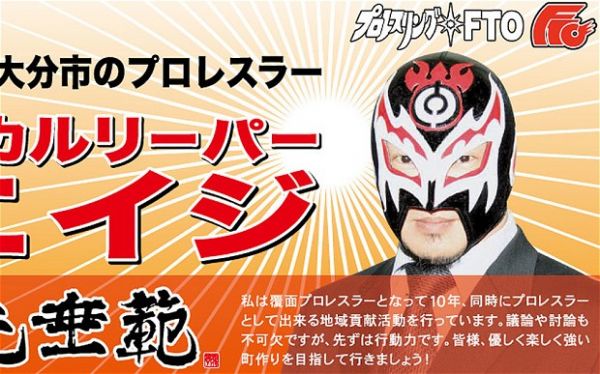 Mr. Skull Reaper A-ji campaigned on a platform of educational and social welfare reform and was duly elected to the city council of Oita, Japan. But before he could even attend the first meeting, other council members insisted that he remove this mask:
But 44-year-old Skull Reaper A-ji resisted their requests that he remove his trademark item of clothing, a red-and-black leather mask similar to the "lucha libre" masks affected by wrestlers in Mexico.
"People find it easy to come up and talk to me because I have a mask on," he told the Nishinippon Shimbun, adding that he has done a lot for the community for more than a decade, including visiting institutions for people with physical disabilities.
The chamber apparently declined to take his charitable work into consideration, however, and refused to allow Skull Reaper A-ji to take part in a meeting on Monday on the grounds that he was contravening a rule that states "a person taking the floor shall not wear items such as a hat."
Link -via Ace of Spades HQ
Posted: 13 Mar 2013 02:20 PM PDT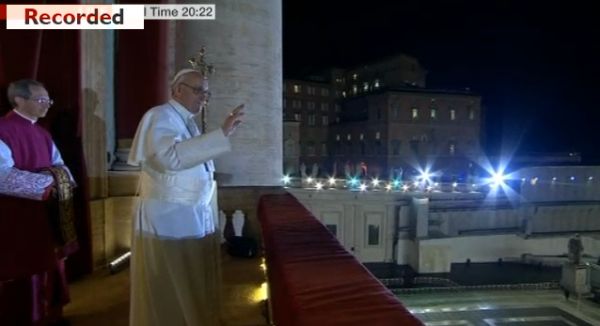 The papal conclave has elected Cardinal Jorge Mario Bergoglio of Buenos Aires, Argentina, as the new pope. A few things about him: He

* is 76 years old.
* has a chemistry degree.
* rode the bus to work in Argentina.
* lost one lung to an infection as a youth.
* came in second when Benedict XVI was selected eight years ago.
* is the first Jesuit elected pope.
* is the first non-European elected for more than 1,000 years.
* will take the name Francis I.

In his first appearance as pontiff, Francis I told the crowd,
"As you know the duty of the conclave is to give Rome a bishop. It seems that my brother cardinals went almost to the end of the world."

Link -via Fark

See a video of his first appearance at St. Peter's Square. Link
(Image: BBC video)
Posted: 13 Mar 2013 02:00 PM PDT
In America, you can't keep a good ol' indestructible Golden Sponge Cake with Creamy Filling down for long. That's right: Twinkies are coming back, baby!
The bankrupt Hostess bakery has sold Twinkies and other snacks to Apollo Global Management for $410 million. The new owners are working to restock the shelves by this summer: Link
(Image: Twinkie the Kid Twinkie Container from the NeatoShop)
The Ghosts of Antarctica: Abandoned Stations and Huts
Posted: 13 Mar 2013 01:00 PM PDT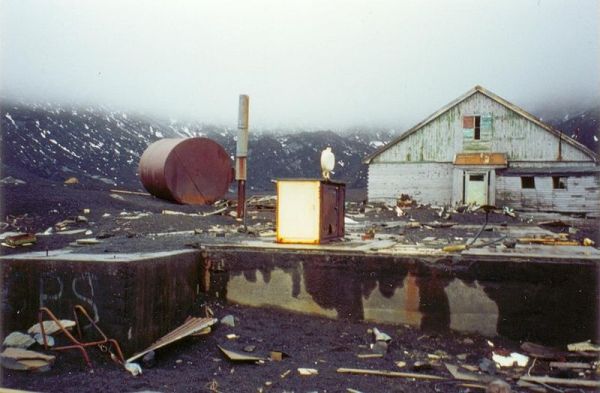 Antarctica has an abundance of abandoned structures for several reasons. No one stays there long, there are few (if any) looters, and while the environment might wreck buildings, they won't see mold, bacterial rot, or damage from plants. Shipping old equipment, ships, and buildings off the continent is usually more trouble than it's worth. And those abandoned camps and towns each have a fairly well documented history. Some even contain their original supplies! Take a little tour and see some of the more interesting abandoned places in Antarctica at Dark Roasted Blend. Link

(Image credit: Lyubomir Ivanov)
Posted: 13 Mar 2013 12:00 PM PDT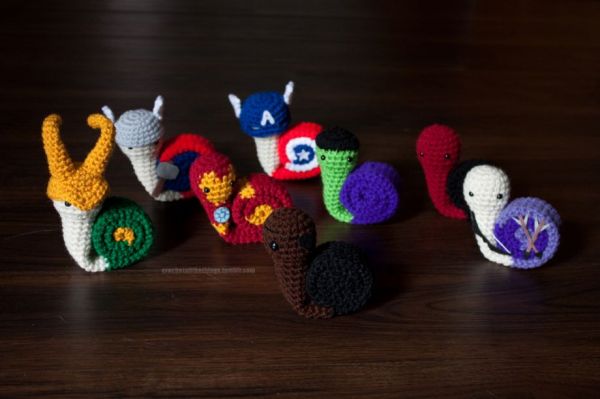 Avengers, assemble slowly! Laura Partridge's Snail Avengers are chasing down Loki through the streets of New York City. This time, I suspect, the repair bill will be smaller.
Link and Etsy Shop -via Comics Alliance
Posted: 13 Mar 2013 11:00 AM PDT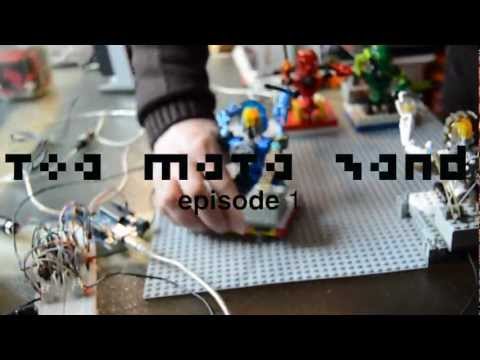 (YouTube link)
These LEGO Bionicles have rhythm! Giuseppe Acito linked them up with Arduino Uno, a MIDI sequencer app for iPad, a drum pad, and some xylophone keys. You can read more about it at his site, if you can read Italian. Link -via Design Taxi
Study: Babies Delight in the Suffering of Others
Posted: 13 Mar 2013 10:00 AM PDT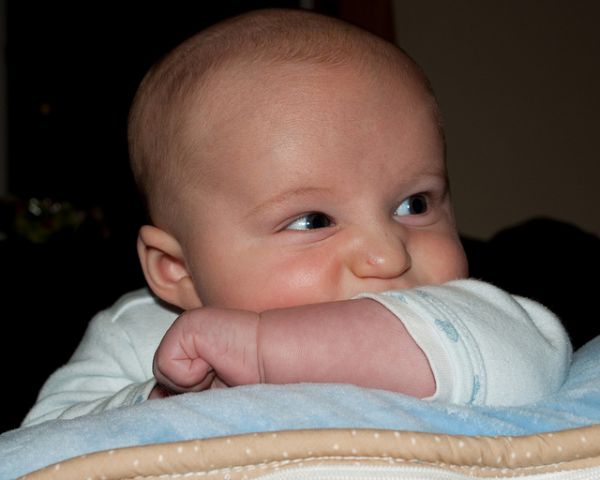 Before my children were born, I held with Thomas Sowell's view that "Each new generation born is in effect an invasion of civilization by little barbarians, who must be civilized before it is too late." Practical experience as a parent has only confirmed this view. Now a psychological study provides evidence that babies may look innocent, but aren't:
A University of B.C.-led psychology study found that infants as young as nine-months-old embrace those who pick on individuals who don't share their preferences.

Study lead author Kiley Hamlin said the findings reveal that babies are constantly busy assessing their surroundings, trying to determine who their friends and enemies are. [...]

The youngsters were then shown a puppet show where the character demonstrated the same food preference as the baby. Another puppet demonstrated the opposite preference.

The puppets harmed, helped or acted neutrally towards the puppets with different or similar food preferences.

Results showed that the babies far preferred the puppets who harmed the puppet with the opposite food preferences to their own. One baby even planted a kiss on the puppet she liked. [...]

Hamlin said the findings suggest that babies feel something like schaudenfreude, a German term describing the pleasure experienced when someone you dislike or consider threatening experiences harm.

Link -via Dave Barry | Photo: Tom Check
Posted: 13 Mar 2013 09:00 AM PDT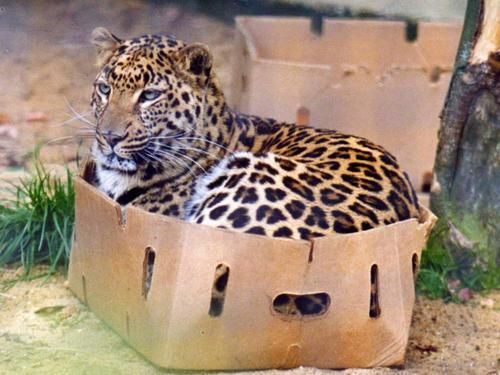 All cats like boxes. Link -via Metafilter
You are subscribed to email updates from Neatorama
To stop receiving these emails, you may unsubscribe now.
Email delivery powered by Google
Google Inc., 20 West Kinzie, Chicago IL USA 60610