---
Posted: 08 Feb 2013 04:00 AM PST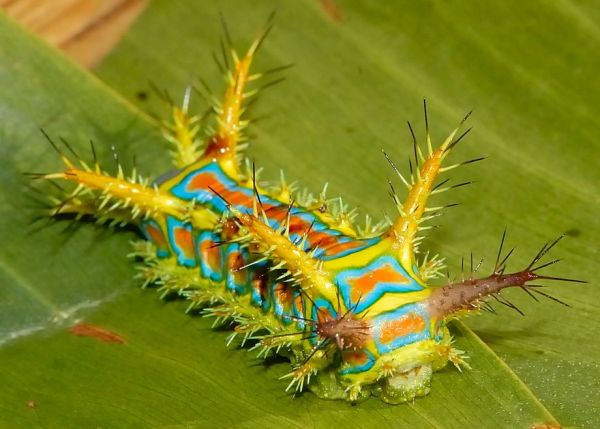 "Don't hate me because I'm beautiful." We don't, Wattle Cup Caterpillar. But we are a bit envious of the splendor that this creature in Australia's Karawatha Forest sports. You can view more photos at the link.
Link -via WTF, Evolution? | Photo: Brisbane Insects
Posted: 08 Feb 2013 03:00 AM PST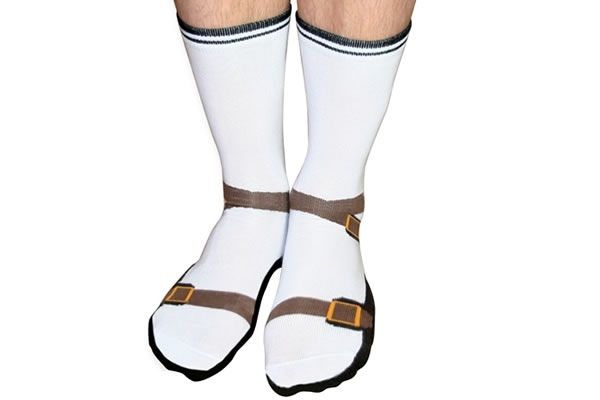 Do you love the look of wearing socks with your sandals? Brace yourself! Now you can wear sandals on your socks even when you are not wearing shoes with the Sandal Socks from the NeatoShop. This fantastic pair of socks is printed to look like you are wearing your beloved sandals. They are quite the fashion statement.
Be sure to check out the NeatoShop for more great Footwear!
Posted: 08 Feb 2013 03:00 AM PST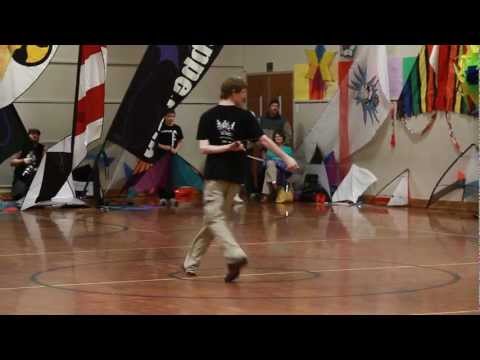 (YouTube link)
Spencer Watson competes in the Open Individual Indoor Unlimited competition at the 12th Annual Windless Kite Festival. This is a new thing to me -sort of like dance mixed with puppetry, but it's mesmerizing to watch. -via Metafilter
The Perfect Chair for <i>Inception</i>
Posted: 08 Feb 2013 02:00 AM PST
Couples That Drink Together Stay Together
Posted: 08 Feb 2013 01:00 AM PST
Proven by science: couples that share the same drinking habits actually tend to stay together, except when both are heavy drinkers:
Researchers reviewing data collected from 19,977 married couples in one county in Norway reported that spouses who consume about the same amount of alcohol were less likely to divorce than pairs where one partner is a heavy drinker and the other is not — especially when the wife is the one doing the drinking. [...]

They found that divorce was generally more common in couples with high rates of alcohol consumption, but that the highest divorce rates were found in couples where only the woman was a heavy drinker. Among couples where the wife reported being a heavy drinker (a measure that including admission of an indication of "hazardous drinking") and the husband a light drinker, the divorce rate was 26.8%; when the positions were switched and the husband was the heavy drinker, the divorce rate was 13.1%.

In couples where both members were heavy drinkers, the divorce rate was 17.2%.
Posted: 08 Feb 2013 12:00 AM PST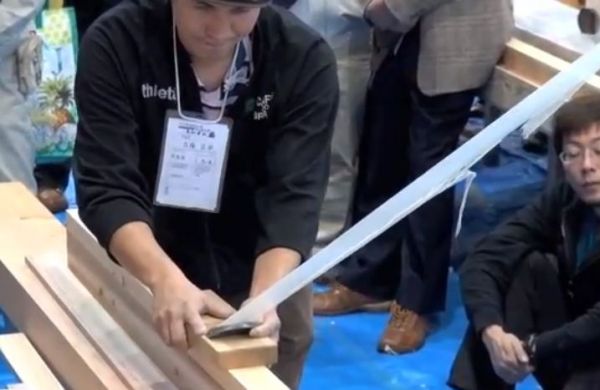 Watch and marvel at what these craftsmen can do. The wood plane is a tool that woodworkers use to reduce flat surfaces. In Japan, the use of the wood plane is a competitive sport by masters of the craft. At the link, you can see them cut long slices of wood in sheets as thin as 9 microns.
Video Link -via Nag on the Lake
Scientists Predict Which Cities Around the World Will be Underwater in 100 Years
Posted: 07 Feb 2013 11:00 PM PST
Image: emin kuliyev / Shutterstock.com
Living in Sydney, Tokyo or Buenos Aires? If you think that your home are underwater (price-wise) now, just wait till 2100: it may be underwater literally, thanks to rising sea levels. A new study predicted which cities will be hit the hardest:
Sea levels have been rising for over 100 years - not evenly, though. Several processes are at work, says Mahé Perrette of the Potsdam Institute for Climate Impact Research in Germany. Some land is sinking, some is rising. Stronger currents create slopes in sea surface, and since all things with mass exert a gravitation pull, disappearing ice sheets lead to a fall in sea levels in their surrounding areas.

Perrette has modelled all of these effects and calculated local sea level rises in 2100 for the entire planet. While the global average rise is predicted to be between 30 and 106 centimetres, he says tropical seas will rise 10 or 20 per cent more, while polar seas will see a below-average rise. Coasts around the Indian Ocean will be hard hit, as will Japan, south-east Australia and Argentina (Earth System Dynamics, doi.org/kbf).
From The New Scientist: Link
Posted: 07 Feb 2013 10:00 PM PST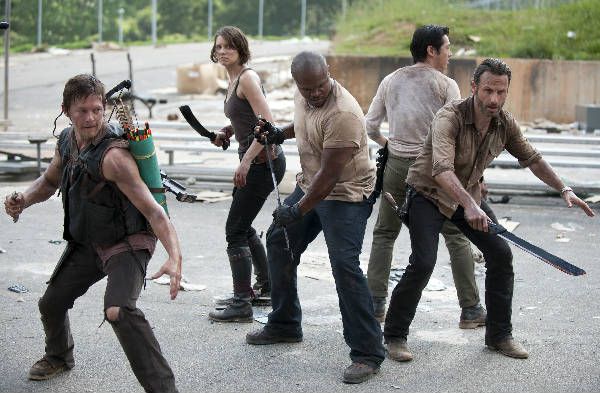 Three days until the TV series The Walking Dead returns after a three-month absence! To get you ready, mental_floss presents a quiz that will clue you in on just how much you've already forgotten about seasons one and two. Here's the challenge: can you name all the named characters who died in seasons one and two? There are sixteen of them. I have to admit that I recall their deaths better than I recall the names, because I could only come up with eight. Maybe you'll do better: you have five minutes from the time you enter the first answer. The picture here won't help; it's from season three. Link
Posted: 07 Feb 2013 09:00 PM PST
Posted: 07 Feb 2013 08:00 PM PST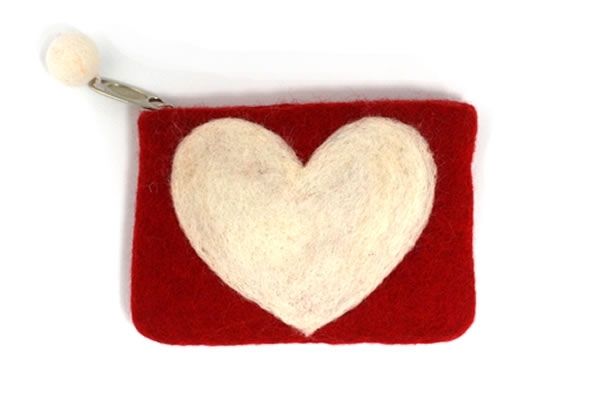 This Valentine's Day give someone your whole heart with the Heart Coin Purse from the NeatoShop. This beaustiful and functional felted bag features a big heart and a whimsical pom-pom zipper pull.
The Heart Coin Purse is available in White with Red Heart. Red with White Heart, and Pink with White Heart.
Be sure to check out the NeatoShop for more great Wallets, Purses & Coin Bags.
Posted: 07 Feb 2013 08:00 PM PST

Image: Samuel Deats
Are you a gamer girl? Maddy Myers is, and she wrote an interesting article over at The Phoenix about growing up playing video games against boys: the violence, the sexism, the gender politics ...
So, this question still troubles me: why do I enjoy Counter-Strike, Call of Duty, Gears of War, Power Rangers, and even Fight Club? All of these games and movies and TV shows indoctrinate us all with the idea of what "masculine" means, by showing men (and a token "special" woman, or two) on the battlefield. Shouldn't I hate these reinforcements of those gender demarcations, as a liberal/progressive feminist/gender egalitarian/bleeding heart/whatever? Shouldn't I hate violence anyway, even just depictions of violence, since — gender-role indoctrination aside — violent media keeps enforcing the narrative that hurting other people is okay, and maybe even cool and fun?

I know that many of my female friends can't find anything to relate to in these games, that I am still a little "weird," a little "special" for enjoying violent video games and power fantasies. Especially since most of my friends are also progressives, feminists, gender egalitarians, people fighting the good fight against the sort of crap that I'm not "supposed" to keep on liking if I want to roll with them: the fetishization of gun violence, of masculine-oriented violent behaviors, of violence apologists.

And yet, here I am, engaging in a power fantasy and loving it.

Is there something wrong with me?
Read the rest over at The Phoenix: Link
Lastly, hats off to Samuel Deats (deviantARTist poojipoo) who created the fantastic art above.
Calvin and Hobbes in Our World
Posted: 07 Feb 2013 07:00 PM PST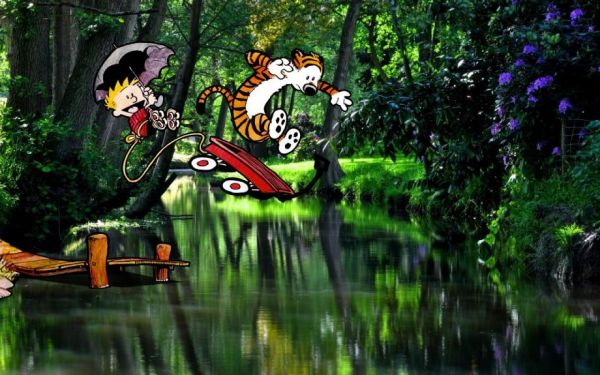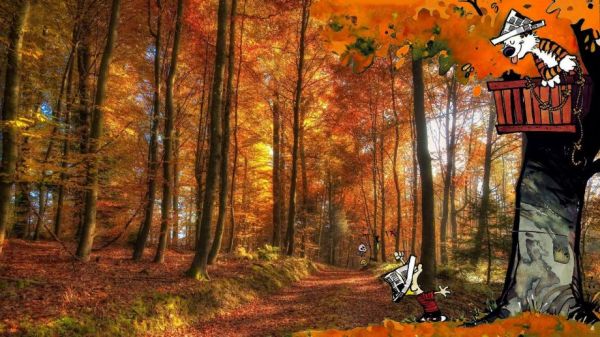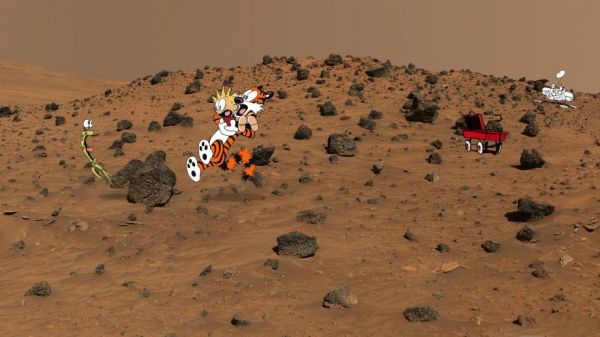 With a bit of skilled photo manipulation, redditor nite4awk placed Calvin and Hobbes in the real world. The results are delightful. You can view 7 more images at the link.
Link -via Nerd Approved
New Wedding Trend: You're Not Invited
Posted: 07 Feb 2013 06:00 PM PST
You may be really happy that a friend is planning her wedding, and you might even have a gift picked out -but then comes the news: you didn't make the cut for the guest list. Trend-watchers are seeing more and more weddings that include the wedding planner sending out notices to friends to confirm that they are not expected to attend. The most likely reason is that smaller guest lists mean fewer costs.
"Nine out of 10 times, it's because of lack of space – and the couple feels super guilty," Tatiana Byron, founder of event planning service The Wedding Salon, told TODAY.com. "These are usually people they're friendly with, but not close to."

Tatiana's clients have done everything from personally e-mailing and sending cards to acquaintances to having their wedding planner do the dirty work for them – call and apologize on the couple's behalf. The response? An unsurprising mix of disappointment and anger.

"Some of their friends complain and criticize the couple, thinking the planner won't tell the client," explained Byron. As for those who deliver the bad news personally, it usually becomes a game of throwing the significant other under the bus. "The groom blames the bride, and the bride blames the groom."
How about this idea: don't plan such an expensive wedding that you can't have all your friends there. Link -via Digg

(Image credit: Flickr user Flower Factor)
Posted: 07 Feb 2013 05:00 PM PST

Photo: Vincent Yu/AP
If you think your house is small, consider this: for some of the poorest people in Hong Kong - one of Asia's wealthiest cities - a home is a 16-square feet metal cage.
The 67-year-old former butcher pays 1,300 Hong Kong dollars ($167) a month for one of about a dozen wire mesh cages resembling rabbit hutches crammed into a dilapidated apartment in a gritty, working-class West Kowloon neighborhood.

The cages, stacked on top of each other, measure 1.5 square meters (16 square feet). To keep bedbugs away, Leung and his roommates put thin pads, bamboo mats, even old linoleum on their cages' wooden planks instead of mattresses.
Kevin Chan of AP has the post: Link - via MSN Now
Posted: 07 Feb 2013 04:00 PM PST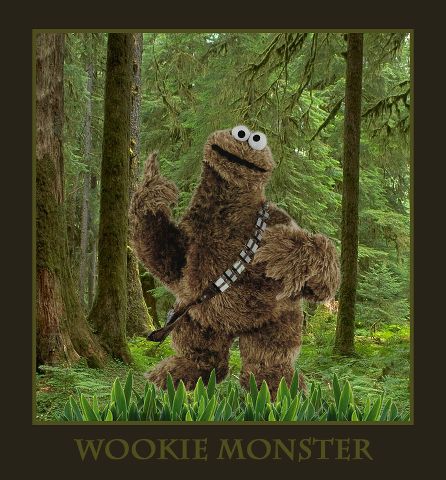 It isn't the first time this joke has been made, but there's something very appealing about the image. Does anyone know who created it? Link -via Geeks Are Sexy

Posted: 07 Feb 2013 03:00 PM PST
Water wasters beware! Your days of wasting water (or worse, hot water) is numbered thanks to this device by Philip Hwang and colleagues.
Behold, the Water Lock:
From reddot design award:
Water Lock is both a water meter and a locking device for use on bathtub taps. It allows the user to set the desired volume of water for their bath, and leave the flow of water unmonitored. The flow will be automatically stopped when the set volume has run through the tap. The purpose is to avoid the wastage of water through the over-filling of the bathtub.

Water Lock simultaneously records and displays the water volume. When the water is flowing, it is 'on'. When the flow is terminated, Water Lock is 'off'. It uses the principle of a combination padlock for its operation. It is expected that the device would increase users' awareness of their water consumption while helping them to avoid wastage.
Link - via Yanko Design
Posted: 07 Feb 2013 02:00 PM PST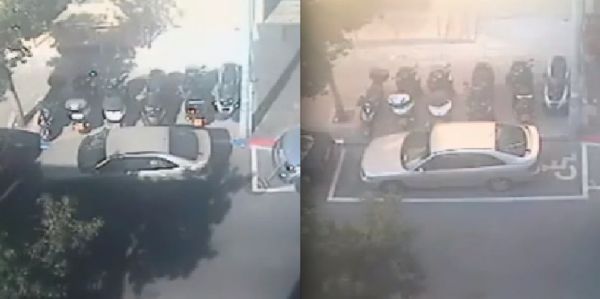 Hila Ben-Baruch parked her car on the street outside her home in Tel Aviv, Israel. Later the same day, she was shocked to find that her car had been towed away, and the parking spot was now designated as a handicapped parking space! Apparently, the lines had been painted while her car was still parked in the spot. When she called the municipal call center about it, they accused her of lying and said she would have to pay 350 shekels ($95) to get her car back, plus the fine for parking in a handicap space.
Ben-Baruch's Facebook post about the incident went viral. Refusing to give up, Ben-Baruch went to an office building overlooking the parking spot and obtained security camera footage.

In the footage, a pair of Tel Aviv municipal workers are seen painting the spot with Ben-Baruch's car still there. Shortly thereafter, a tow truck comes to take Ben-Baruch's car away.
Confronted with the evidence, city officials rescinded the fine and towing fee, and apologized. Link -via Arbroath
Posted: 07 Feb 2013 01:00 PM PST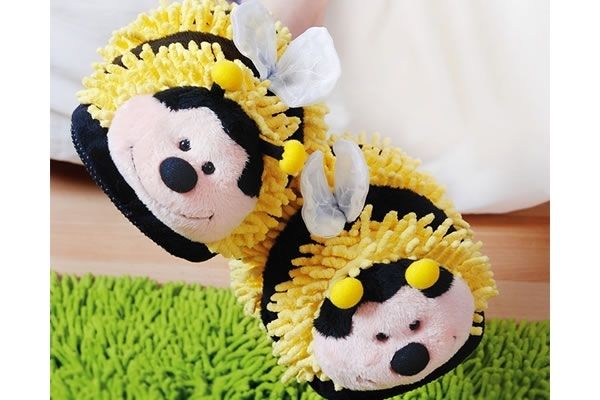 Valentine's Day is almost here. Are you looking for the perfect gift for the person who makes your heart go buzz buzz buzz? You need the Bee Fuzzy Friends Slippers from the NeatoShop. This super cute pair of slippers is shaped like a bee. The Bee Fuzzy Friends Slippers are proof that gifts can "bee" fun and functional.
Be sure to check out the NeatoShop for more great Footwear.
Scientists Found Bacteria in Lake Under Half a Mile of Antarctic Ice
Posted: 07 Feb 2013 01:00 PM PST

Photo: Alberto Behar/JPL/ASU
Under a half-mile of Antarctic ice, there's a cold and dark lake sealed off from the rest of the world for hundreds of years - and when scientists drilled through, they found bacteria living happily there:
"It transforms the way we view the Antarctic continent," said John C. Priscu of Montana State University, a leader of the scientific expedition. [...]

Dr. Priscu said that every precaution had been taken to prevent contamination of the lake with bacteria from the surface or the overlying ice. In addition, he said, the concentrations of life were higher in the lake than in the borehole, and there were signs of life in the lake bottom's sediment, which would be sealed off from contamination.

Much more study, including DNA analysis, is needed to determine what kinds of bacteria have been found and how they live, Dr. Priscu said. There is no sunlight, so the bacteria must depend on organic material that has drifted into the lake from other sources — for instance, decaying microbes from melting glaciers — or on minerals in the rock of the Antarctic continent.
James Gorman of the New York Times explains: Link
Posted: 07 Feb 2013 12:00 PM PST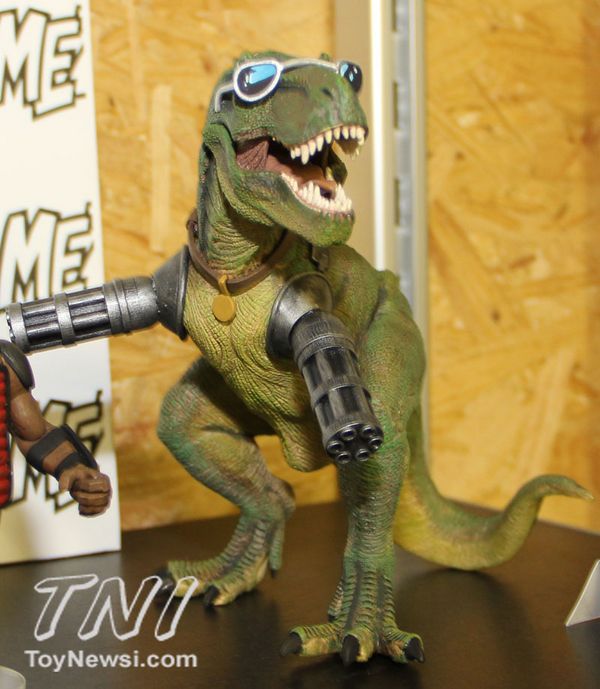 It's been three years since we first told you about Axe Cop, the collaboration between then-5-year-old Malachai Nicolle who made up the stories and his comic artist brother Ethan Nicolle. The idea went from webcomic to print to an internet animation series and soon it will be on TV. A new line of toys was unveiled at the New York Toy Fair in conjunction with the new Fox cartoon Axe Cop. The toy company Mezco will produce 3.75 inch figures and plush characters. Shown here is the T. rex with machine gun arms. See otehrs at Toys News International. Link -via Boing Boing
Here's a Good Reason Not to Eat Your Vegetables: They Can Kill You!
Posted: 07 Feb 2013 11:00 AM PST
Veggie haters, rejoice! There's finally scientific proof that your fastidious avoidance of eating leafy greens is paying off. You see, instead of being good for you, vegetables are actually dangerous and may kill you:
According to a new study by the CDC, the greatest number of foodborne illnesses in the U.S. are not caused by raw cookie dough or undercooked meat or questionable shellfish, but by leafy green vegetables.

Of the 9.6 million cases of food-borne illness reported each year, 51 percent are caused by contaminated plants; leafy greens alone contribute 23 percent of the total, more than any other commodity. All the meat and poultry commodities combined--beef, game, pork, and poultry--were responsible for 22 percent of illness, and dairy carried 17 percent.
Now, celebrate by eating a pound of bacon! Link
Posted: 07 Feb 2013 10:00 AM PST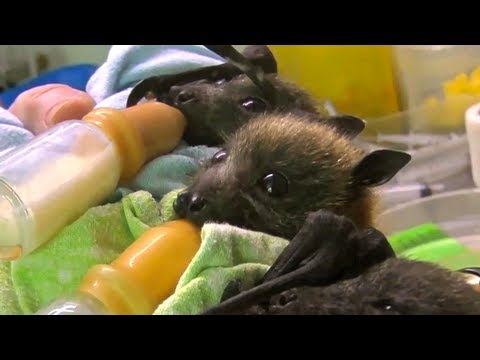 (YouTube link)
See what goes on at the Australian Bat Clinic and Wildlife Trauma Center. Trish Wimberley cares for orphaned baby bats that need 24-hour care. It's a tough job, but infinitely rewarding. Baby bats can be so cute! Link -via Viral Viral Videos

Posted: 07 Feb 2013 09:00 AM PST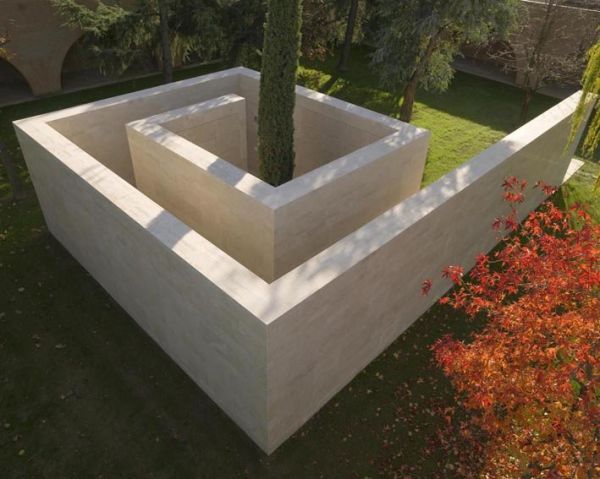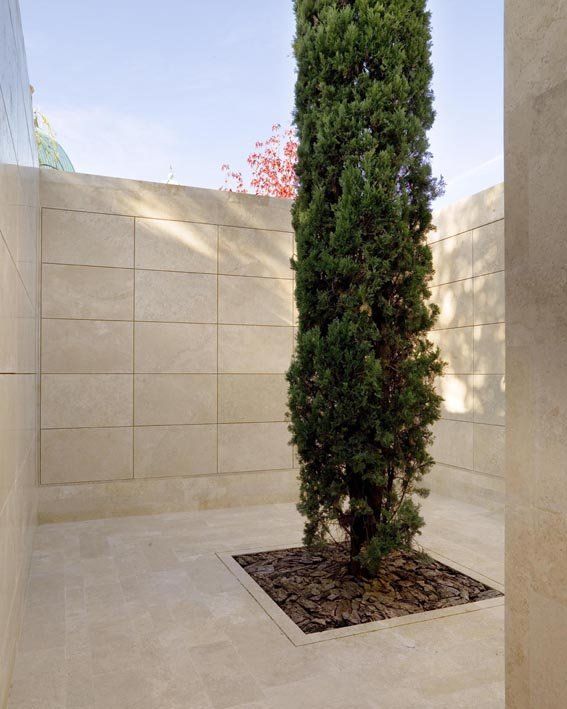 This simple but beautiful structure is a quiet place on the grounds of a convent in Lucca, Italy. The design firm, Pietro Carlo Pellegrini Architetto, calls it the Wall of Memory:
The wall of memory originated from the wishes of the enclosed nuns of S.Gemma to have a space where they could remember and pray for their deceased sisters, through means of a path which, in the project, is represented through the tectonic language of the wall.

The wall of Rapolano travertine, which conceived as a "rationalist seashell" unwinds from the entrance to the end of the route, marking in plan and elevation the symbol of memory, where the verticality of the stone represents the contrast between past and present.

The contrast concludes in a square space at the end of the path, "Sancta Sactorum", with a cypress tree in its centre, a perfectly proportioned tree culminating skywards along the path of prayer.
Posted: 07 Feb 2013 08:00 AM PST
Supersleuth and Bathroom Reader Institute stalwart Jay Newman has a batch of simple yet compelling puzzles. See if you can figure them out before you peek at the answers!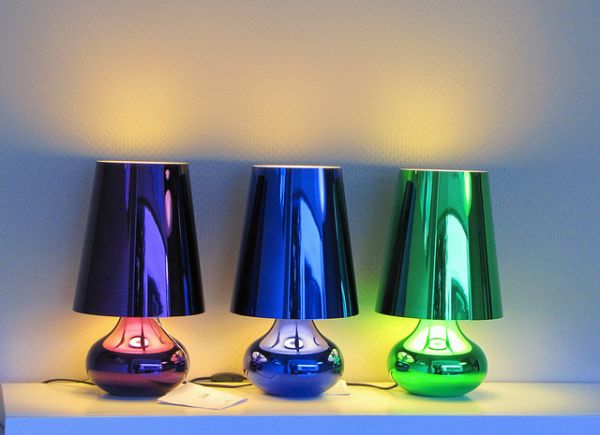 (Image credit: Flickr user Giedre Zitkauskaite)

1. BRIGHT THINKING

Uncle John gave Amy this challenge: "In the hallway there are three light switches," he said. "And in the library there are three lamps. You may enter the library only once -the lamps must be turned off when you do. At no time until you enter can you can you open the door to see into the library. Your job is to figure out which switch corresponds to which lamp."

"Easy," said Amy.

How did she do it?

2. MYSTERY JOB

Brian works at a place with thousands of products, some of them very expensive. People take his products without paying for them -as many as they can carry- and then just walk out. All that Brian requests of his customers is that they keep their mouths shut.

Where does Brian woirk?

3. SIDE TO SIDE
Uncle John stood on one side of a river; his dog, Porter, stood on the opposite side. "Come here, Porter!" said Uncle John. Although there were no boats or bridges, Porter crossed the river without getting wet. How?

4. SPECIAL NUMBER

Math usually stumps Thom, but when Uncle John showed him this number, he knew right away what makes it unique. Do you?

8,549,176,320

5. TIME PIECES

"Everyone knows that the sundial is the timepiece with the fewest moving parts," Jay told Julia. "Do you know what timepiece has the most moving parts?" She did. Do you?

6. WORDPLAY

"Weird Nate sent me this list of words," said Uncle John. "He says there's something unusual about them. But what?" Jay figured it out. Can you?

revive, banana, grammar, voodoo, assess, potato, dresser, uneven
Continue reading if you are ready to check the answers.
THE ANSWERS

Highlight the text after the riddle title to see the answer.
1. BRIGHT THINKING
Standing in the hallway, Amy turned on the first light switch. She waited two minutes and then turned on the second light switch. Then after another minute she turned them both off. When she walked into the library, one light was very hot, the other was slightly warm, and the other was cold -making it easy for her to tell Uncle John which switch turned on which lamp.
2. MYSTERY JOB
Brian works at a library.
3. SIDE TO SIDE
The river was frozen.
4. SPECIAL NUMBER
8,549, 176, 320 It contains each number -zero through nine- in alphabetical order.
5. TIME PIECES
An hourglass. It is filled with many thousands of grains of sand.
6. WORD PLAY
If you remove the first letter of each word and place it on the end of the word, it will spell the same word backwards.
Leave a comment if you would like to see more quizzes and brain teasers at Neatorama.
---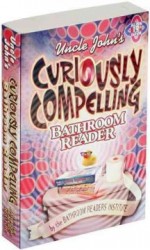 The article above is reprinted with permission from Uncle John's Curiously Compelling Bathroom Reader, a fantastic book by the Bathroom Readers' Institute. The 19th book in this fan-favorite series contain such gems like The Greatest Plane that Never Was, Forgotten Robot Milestones, Ancient Beauty Secrets, and more.

Since 1988, the Bathroom Reader Institute had published a series of popular books containing irresistible bits of trivia and obscure yet fascinating facts. If you like Neatorama, you'll love the Bathroom Reader Institute's books - go ahead and check 'em out!
Julia Harrison's Beautiful Carved Facial Features
Posted: 07 Feb 2013 07:00 AM PST
They almost seem alive, but the facial features that Julia Harrison makes are actually carved into wood. Her craftsmanship is perfect and, in many pieces, fits seemlessly into the grain of the wood. Harrison lives in Seattle and says that she travels "with more chisels and wood than is reasonable or advisable."
Artist's Website -via Fishy Inspires
Valentine's Day Box of Chocolates Lip Gloss
Posted: 07 Feb 2013 06:30 AM PST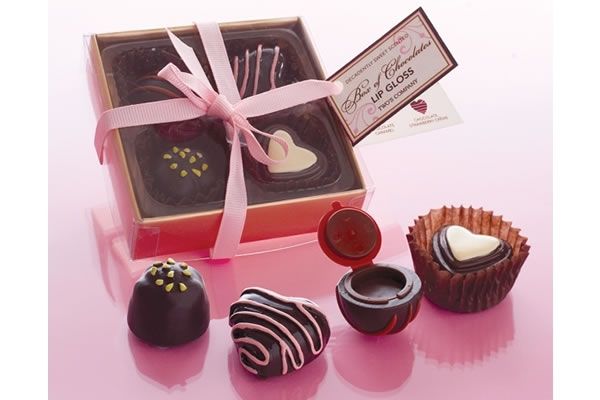 Valentine's Day Box of Chocolate's Lip Gloss
Valentine's Day is right around the corner. Are you looking for a sweet treat for your sweet? You need the Valentine's Day Box of Chocolate's Lip Gloss from the NeatoShop. Each set includes 4 lip glosses shaped like chocolates packed in a candy box.
Be sure to check out the NeatoShop for more great Valentine's Day items and fun Lip Gloss.
Posted: 07 Feb 2013 06:30 AM PST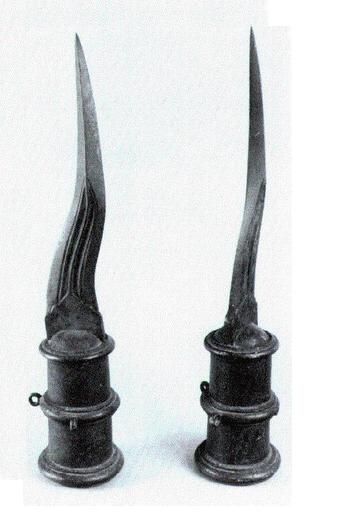 Hey look! It's time for our collaboration with the ever-entertaining What Is It? Blog! Do you know what the object in this picture is? Guess and win a t-shirt from the NeatoShop! But first, read the rules:

Place your guess in the comment section below. One guess per comment, please, though you can enter as many as you'd like. Post no URLs or weblinks, as doing so will forfeit your entry. Two winners: the first correct guess and the funniest (albeit ultimately wrong) guess will each win a T-shirt from the NeatoShop.

Please write your T-shirt selection alongside your guess. If you don't include a selection, you forfeit the prize, okay? May we suggest the Science T-Shirt, Funny T-Shirt and Artist-Designed T-Shirts?

There are more mystery items at the What Is It? Blog. Good luck!
Posted: 07 Feb 2013 06:00 AM PST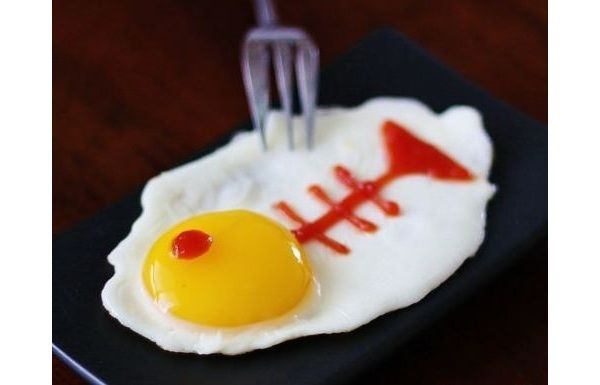 Bite into this bit of morning glory by an unknown chef. Just have a glass of milk handy to put out the fire once you're done.
-via Foodbeast | Photo: unknown
Posted: 07 Feb 2013 05:00 AM PST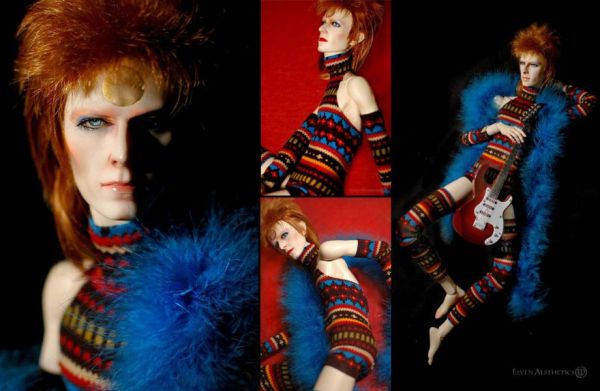 DeviantART member Katyok customizes dolls. This one of David Bowie in his Ziggy Stardust phase is awesomely detailed!
Ziggy's outfit is made to resemble the glorious Kansai Yamamoto design as portrayed in the famous Sukita photosession.
This work is in honor of Bowie's 66th birthday last month. Link -via Everlasting Blort
You are subscribed to email updates from Neatorama
To stop receiving these emails, you may unsubscribe now.
Email delivery powered by Google
Google Inc., 20 West Kinzie, Chicago IL USA 60610