---
10 Foods That (Thankfully) Flopped
Posted: 22 Feb 2013 05:00 AM PST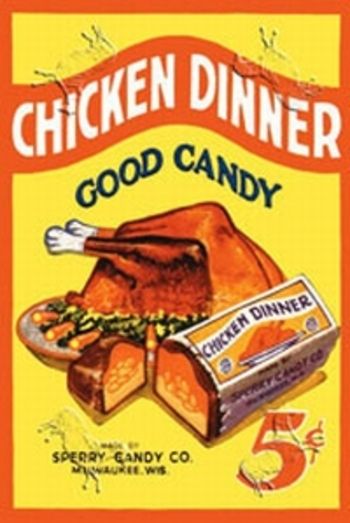 No, we don't miss them, but it's fun to read about these failed food products. What were they thinking?
1. The Chicken Dinner Candy Bar
Fortunately for gastrointestinal tracts worldwide, this candy bar didn't actually include chicken in its list of ingredients. And equally lucky for Sperry Candy Co., which introduced the "treat" in the 1920s, consumers actually figured this one out on their own. The company introduced the chocolate-and-peanut butter bar right before the onset of the Depression, hoping the name would give consumers the feeling they were about to have a big home-cooked meal at Grandma's house—hence the juicy roast chicken on the advertisements. Strangely, the gimmick worked, even well after the economy recovered, and Chicken Dinner candy bars were available until the 1960s. Does this mean it qualifies as a true marketplace "flop"? No. Did we put it on the list anyway because it sounds like it really should have been? Absolutely.
2. Cereal Mates
Sometimes, new products fail because they're simply bad ideas (ahem, New Coke). Other times, it's because they're just impossible to market. Such was the case for Cereal Mates. Beating the dead horse of über-convenient breakfast foods, Kellogg's introduced Cereal Mates in 1997. The idea was simple: a small box of cereal, a container of specially packaged milk (no refrigeration required!), and a plastic spoon. It was the perfect A.M. answer for the person on the go ...who enjoys warm milk on cereal. Trying to patch up one mistake with another, Kellogg's then moved the product to the dairy section, where no sane person looks for cereal. On top of all that was the price. At about $1.50 for only four ounces of the stuff, Cereal Mates was deemed too expensive for most consumers. After two years, Kellogg's pulled it from the shelves.
3. Flower-Flavored PEZ®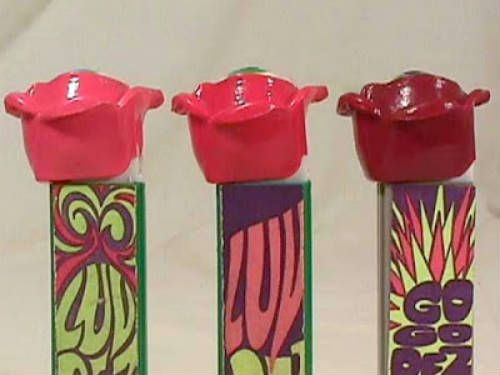 No, that's not a typo. Although it would be equally disgusting, we're talking about flower, not flour. Introduced in the late 1960s, flower-flavored PEZ was designed to appeal to the hippie generation—complete with a groovy, psychedelic dispenser. But even in the decade of free love, no love could be found for the flavor power of flower. Floral scents make for great perfume, but nobody eats perfume, and apparently, there's a reason why. The flower version flopped, and became the next addition to PEZ's long and disturbing list of flavor failures. Since its introduction in 1927, the company has also sold coffee, licorice, eucalyptus, menthol, and cinnamon flavors.
4. "I Hate Peas!"
For as long as children have been shoving Brussels sprouts under mashed potatoes and slipping green beans to the dog, parents have been hunting desperately for a way to end the vegetable discrimination. Finally, in the 1970s, American Kitchen Foods, Inc. came to the rescue (or at least tried) with the release of "I Hate Peas!" Since kids love French fries so much, the company decided that disguising peas in a fry-shaped form was a sure-fire way to trick tots into getting their vitamins. Not a chance. Children all over America saw through the ruse. After all, a pea is a pea is a pea, and the name of the product was more than apropos, no matter what it looked like. There were other thinly disguised vegetables in the company's "I Hate" line, but kids hated those, too.
5. Reddi-Bacon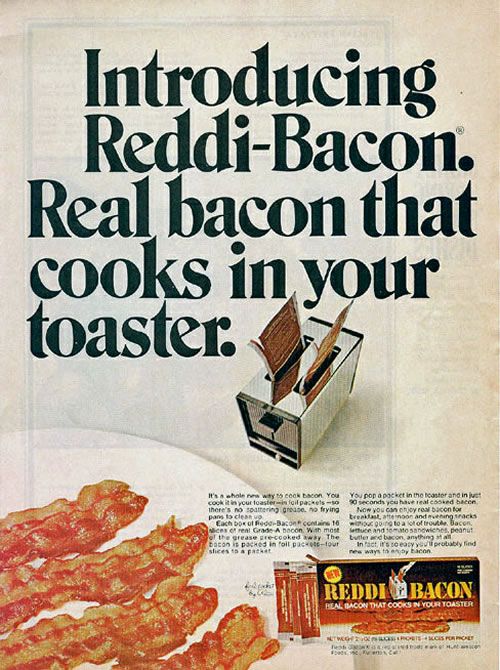 Any company smart enough to bless mankind with sprayable whipped cream—the sort that promotes direct-to-mouth feeding—has got to know a thing or two about immediate gratification. But sadly, the makers of Reddi-wip® were unable to meld their keen understanding of human laziness with one of processed meat. They figured, if you're cooking breakfast in the morning and you've got a hankering for bacon, why dirty up a pan you'll only have to clean later? The solution: foil-wrapped Reddi-Bacon you could pop into your toaster for piping-hot pork in minutes.
While it seemed perfect for the busy 1970s household, the absorbent pad designed to soak up the dripping grease tended to leak, creating not only a fire hazard, but also a messy (if not totally ruined) toaster. Ultimately, the product lasted about as long as it took to cook; the company scrapped it before it went to market nationwide.
6. Coffee-Flavored Jell-O®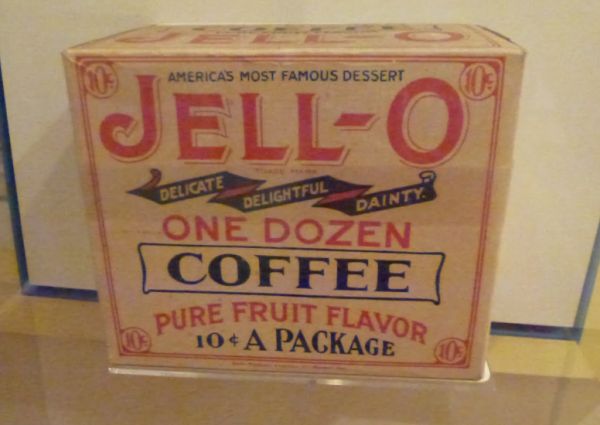 (Image credit: Travels With Mary & Elaine)
In 1918, the makers of Jell-O introduced a new flavor: coffee. Its release was ostensibly based on the logic that, since lots of people like to drink coffee with dessert, they'd be game for combining the two after-dinner treats. Not the case. The company soon realized if anyone wants dessert coffee, they're going to have a cup of it. In fact, if anyone wants coffee at all, they're going to have a cup of it. Not surprisingly, this realization came about the time they yanked the product off the shelves. Coffee wasn't Jell-O's only misstep: Cola-flavored Jell-O was sold for about a year starting in 1942, and for a brief while, the clear, wiggly dessert was sold in celery and chocolate flavors, too.
7. Heublein's Wine & Dine
In the mid-1970s, Heublein introduced Wine & Dine, an upscale, easy-to-make dinner that included a small bottle of vino. How refined. How decadent. How confusing. Consumers knew Heublein for their liquor and wines, so how were they supposed to know the wine included in Wine & Dine was an ingredient for the pasta sauce? Hasty consumers who didn't read the directions closely ended up pouring the contents of the bottle into a nice glass and getting a less-than-pleasant mouthful of salted wine.
8. Funky Fries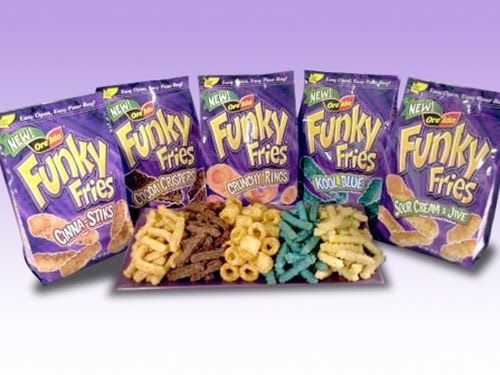 In 2002, hoping to follow the success of Heinz's new "kiddie" ketchup versions (in green and purple), Ore-Ida introduced Funky Fries: chocolate-flavored, cinnamon-flavored, and blue-colored French fries. An awful lot of money was sunk into the product, but after a year of marketing, consumers still found the idea funky—in the bad way. Funky Fries were pulled off the shelves in 2003, and images of blue fries with green ketchup were once again relegated to the world of Warhol-esque pop art.
9. Pepsi A.M.
Creating a super-caffeinated soda worked well for the makers of Red Bull, but not for the folks at Pepsi. With 25 percent more caffeine than a cup of Joe, PepsiCo introduced the cola-flavored product in 1989, only to discover that most people just couldn't bring themselves to drink soda with their cornflakes. For those who wanted a Pepsi in the morning, regular Pepsi did just fine, thankyouverymuch. Pepsi A.M., like the coffee-flavored Pepsi Kona before it, was scrapped after just a few months.
10. Gerber Singles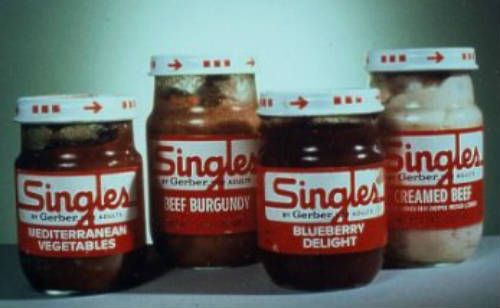 At some point in time, almost every adult has tasted baby food and discovered that the stuff isn't half bad. But that doesn't mean people want to make a meal out of it. For some reason, Gerber had to learn that lesson the hard way. In 1974, the company released Gerber Singles, small servings of food meant for single adults, packaged in jars that were almost identical to those used for baby food. It didn't take long for Gerber execs to figure out that most consumers, unless they were less than a year old, couldn't get used to eating a pureed meal out of a jar—particularly one depressingly labeled "Singles." Baby food for grown-ups was pulled from the marketplace shortly after its birth.
___________________________
This article by Terri Schlichenmeyer is reprinted with permission from the March/April 2005 issue of mental_floss magazine.
Be sure to visit mental_floss' entertaining website and blog for more fun stuff!
Posted: 22 Feb 2013 04:00 AM PST
Posted: 22 Feb 2013 03:00 AM PST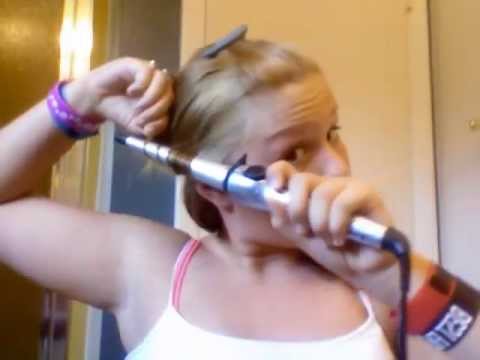 (YouTube link)
Thirteen-year-old Tori Locklear was making a tutorial about curling hair last October when things went really wrong. A few months later, she got up the nerve to put the results on YouTube. This is so perfect I'm not totally convincved it isn't viral advertising, but it is funny! -via reddit
Brick from the Roman Empire Discovered in Washington State
Posted: 22 Feb 2013 02:00 AM PST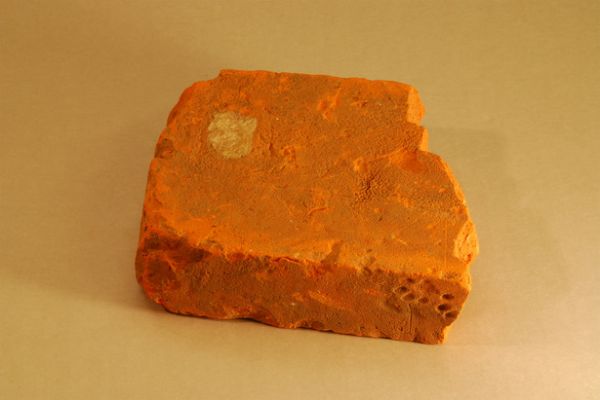 Chemical analysis indicates that this brick--embelished with a cat's pawprints--is of Roman origin. How did it end up in the western United States? It is likely that the Hudson's Bay Company, a British corporation that explored and settled the Pacific Northwest, shipped it to Fort Vancouver all the way from Britain. Alexis Madrigal writes in The Atlantic:
While there were roughly 25 Native American tribes in the region, there were not any brickmakers among them, which meant there weren't any bricks. So, the Hudson's Bay Company, which ran the Fort, had to order them from a world away.

"You can certainly bring over brickmakers to look at the local lays and the Columbia River silts are great for making common brick. But at the time, when they are out there establishing their post, if they want some brick for their chimney, there just isn't any," Gurcke said, when I reached him at his job with the Park Service in Skagway, Alaska. "So they ship them from, in this case, England. We do have some records of them shipping bricks very early from England."
Link | Photo: Fort Vancouver Historic Site
Dig In Pail Measuring Cups & Shovel Measuring Spoon Set
Posted: 22 Feb 2013 01:00 AM PST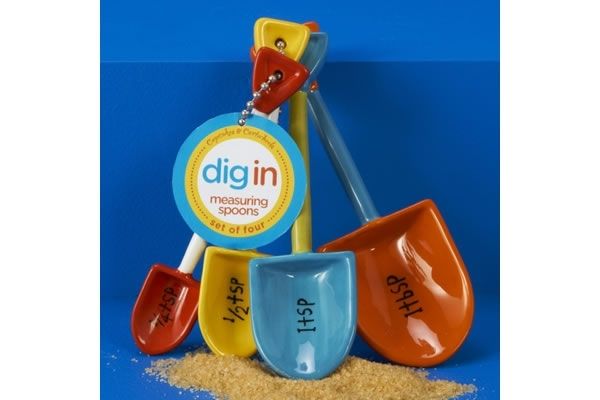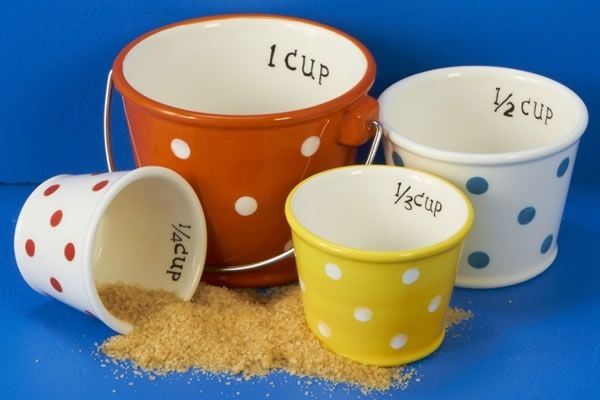 Do you wish spending a day in the kitchen was like spending a day at the beach? Now it can be with the Shovel Measuring Spoons and the Dig In Pail Measuring Cups from the NeatoShop. These adroable kitchen sets help make chore-like activities fun-time activities.
The Shovel Measuring Spoons are made of glazed ceramic. The set includes: 1/4 tsp, 1/2 tsp, 1 tsp, and 1 tbsp.
The Dig In Pails Measuring Cups are also made of glazed ceramic. The 4 measuring cups nest together for easy storage. The Dig In Pails Measuring Cups include: 1 cup, 1/2 cup, 1/3 cup, and 1/4 cup.
Shovel Measuring Spoon Set and Dig In Pails Measuring Cups are sold Separately. Buy one or buy both and make is sunny set.
Be sure to check out the NeatoShop for more great Kitchen Stuff.
Posted: 22 Feb 2013 01:00 AM PST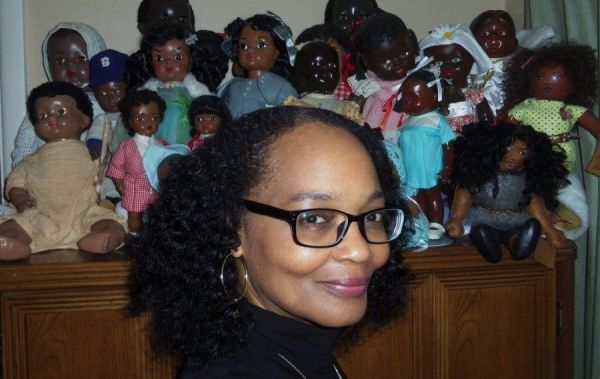 Collectors Weekly has a pretty comprehensive article on the evolution of black dolls, from homemade dolls to racist caricatures to darker versions of white doll molds to specialty doll companies to what's available today. Because children should have dolls that reflect who they are -and that reflect the people around them. One of the people who contributed to the article is Debbie Behan Garrett, author of the book Black Dolls: A Comprehensive Guide to Celebrating, Collecting, and Experiencing the Passion.
"Because of the false belief that anything white was better than anything black, some early dolls that black parents and children made from household items were often in the image of white people," Garrett says. "I didn't personally make any dolls as a child, but I have heard of those who used a Coke bottle as the doll's body and undyed rope as hair. The undyed rope represented blonde hair.

"In the early movies and television, there were not very many positive images of black people," she continues. "White characters always had positive roles: There was Shirley Temple, 'Leave It to Beaver,' and Opie on 'The Andy Griffith Show,' to name a few. Black people had Buckwheat in 'The Little Rascals' and other characters that were not positive images for young children. The negative characterization of black people not only affected black children. It was a way to embed in the minds of young white children that all black people were like the ones seen in the media."

The end of World War II in 1945 brought about a boom in U.S. manufacturing featuring new plastics developed during the war. Suddenly, vinyl and hard plastic dolls were cheap and easy to churn out of the factory. These manufactured dolls were so affordable that middle and lower class people didn't have to hand-make their dolls anymore.

The mass-production of plastic dolls was so streamlined that, for manufacturers, making special molds of dolls with African American features seemed like an unnecessary cost. That's why most of the vinyl and hard plastic dolls were white. The black dolls that were sold by companies like Horsman or Terri Lee were most often white dolls painted brown or dipped in brown dye, Garrett explains. "You couldn't look at the doll and classify it as a true representation of a black person," she says. "Because it was just a brown counterpart of the white doll."
You'll also read about Samantha Knowles and her new documentary Why Do You Have Black Dolls? and the many companies that sprung up over the years to fill the need for authentic black dolls. Link
The Shortest Possible Game of Monopoly is 4 Turns Long
Posted: 22 Feb 2013 12:00 AM PST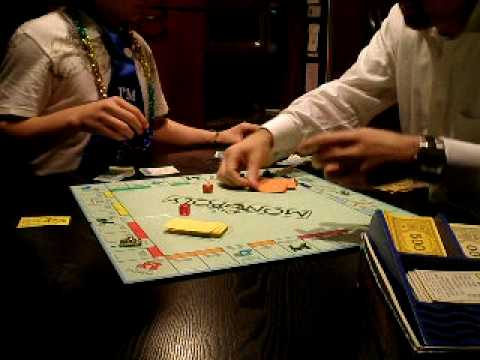 (Video Link)
Got 21 seconds to spare? You can play a complete game of Monopoly. Dan Myers worked out the shortest theoretically possible game between two players. The winner bankrupts the loser within 4 rounds. You can find a complete list of the necessary dice rolls, Chance and Community Chest cards and player actions at the link.
6 Non-Existent People Who Were Nominated for Oscars
Posted: 21 Feb 2013 11:00 PM PST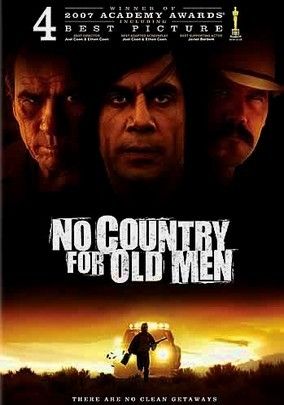 The Academy of Motion Picture Arts and Sciences nominates people for their specific contributions to specific films in a number of disciplines and crafts. Those people are in the credits of the films -except when they aren't. Sometimes the names the Academy has available really had nothing to do with the motion picture, or they aren't even real people. That doesn't stop them from getting nominated.
Roderick Jaynes is a pretty talented guy for not being a real person. Jaynes has edited all of the Coen Brothers movies and was even nominated as one of Entertainment Weekly's Smartest People in Hollywood in 2007. Joel Coen explained that Jaynes probably wouldn't be making an appearance at the 2008 Oscars, despite the nomination. "He's very old—late 80s, early 90s—so I don't know if he'd make the trip." In actuality, the Coen Brothers edit all of their own movies and use the elderly Brit as a front. Jaynes didn't win for No Country, and when asked how the awardless editor was dealing with the loss, Ethan Coen replied, "We know he's elderly and unhappy, so probably not well."
Some of the other non-existent people in this list have sadder stories, and there's one that exists, but is a dog. Real all those stories at mental_floss. Link
Posted: 21 Feb 2013 10:00 PM PST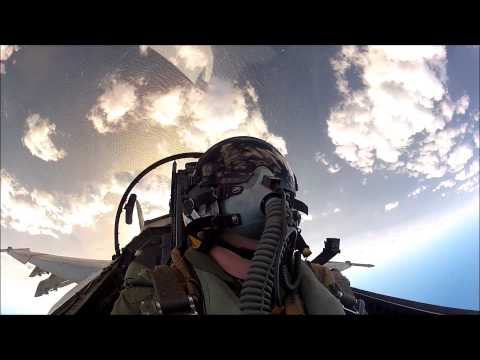 What does flying an F18 fighter jet feel like? This may be the closest you'll ever get to flying the $67 million machine. Page Maverick and Goose, then hit play or go to Link [YouTube] - via Trending Now
Douglas Mawson's Trip Into the Unknown
Posted: 21 Feb 2013 09:00 PM PST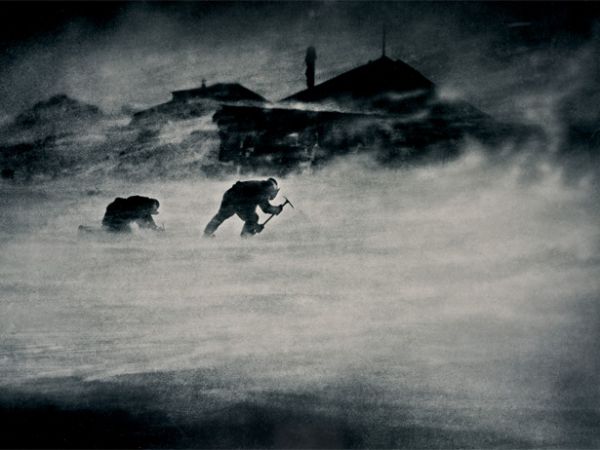 In 1912, Douglas Mawson and 31 other men set out to explore the uncharted territory of Antarctica in the Australasian Antarctic Expedition (AAE). They traveled in teams of three men each, with sleds, sled dogs, and supplies. But Antarctica, unmapped and with no wireless communication, was a treacherous place to explore. Mawson's team suffered from weather and calamities, until Mawson was alone, trying desperately to get back to the staging area before the annual supply ship left. But then he fell into a crevasse.
Miraculously, the sledge stuck fast in the deep snow, anchoring him. But as his eyes adjusted to the semidarkness, Mawson saw how hopeless his predicament was. He dangled free in space, the crevasse walls too far away to reach even with the wild swing of a boot. His first thought came as a searing regret that he had not had the chance to eat the last ounces of his food before he died.

His only chance to escape was to pull himself hand over hand up the harness rope. Providentially, he had tied knots in the rope at regular intervals. He seized the first knot and pulled himself upward, then lunged for the next. Even for a fit, healthy man, such a feat would have been barely possible; yet Mawson pulled, rested, and lunged again. He reached the lip of the crevasse and tried to roll onto the surface above.

That effort broke loose the overhanging lip. Mawson fell all the way to the end of his harness rope. Despair overwhelmed him. He pondered slipping out of the harness to plunge to the bottom of the crevasse, ending things at once rather than by strangling or slowly freezing. At that moment, a verse from his favorite poet, Robert Service, flashed through his mind: "Just have one more try—it's dead easy to die, / It's the keeping-on-living that's hard."
Read the story of Mawson's first Antarctic expedition at National Geographic magazine. Link
Will the Universe End in a Bubble of Doom?
Posted: 21 Feb 2013 08:00 PM PST
We may have survived the Large Hadron Collider, but the Higgs boson still has a trick up its sleeves. According to new findings on the "Higgs-like" particle discovered last year, the universe will end in a bubble of doom.
"If you use all the physics that we know now, and we do what we think is a straightforward calculation, it's bad news," Lykken said. "It may be that the universe we live in is inherently unstable. At some point, billions of years from now, it's all going to be wiped out."

He said the parameters for our universe, including the Higgs mass value as well as the mass of another subatomic particle known as the top quark, suggest that we're just at the edge of stability, in a "metastable" state. Physicists have been contemplating such a possibility for more than 30 years. Back in 1982, physicists Michael Turner and Frank Wilczek wrote in Nature that "without warning, a bubble of true vacuum could nucleate somewhere in the universe and move outwards at the speed of light, and before we realized what swept by us our protons would decay away."

Lykken put it slightly differently: "The universe wants to be in a different state, so eventually to realize that, a little bubble of what you might think of as an alternate universe will appear somewhere, and it will spread out and destroy us."
But you've got time, it likely won't happen for a few billions of years: Link | Image: I Survived The Large Hadron Collider
Posted: 21 Feb 2013 07:00 PM PST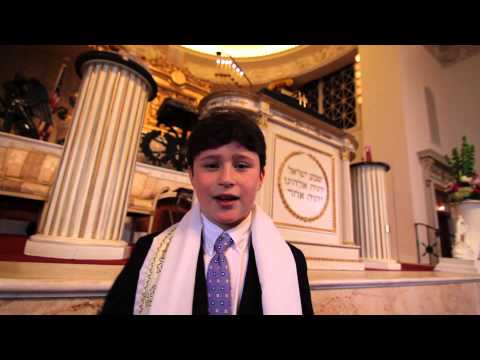 Today you are a man. Tomorrow you go back to junior high school an internet rap sensation.
Meet Daniel Blumen. This May he is set to have his Bar Mitzvah. That is the day that this 13-year-old boy will read from the Torah and become a man. This right of passage is a huge accomplishment. Most families plan big parties and send out written save-the-date cards, but not Daniel. Daniel and his family created a beautifully made video of him rapping. Oh, and did I mention that the video also includes cameos by several celebrities. The save-the-date video has gone viral and now Daniel has become a celebrity in his own right.
Hit play or go to Link.
Posted: 21 Feb 2013 06:00 PM PST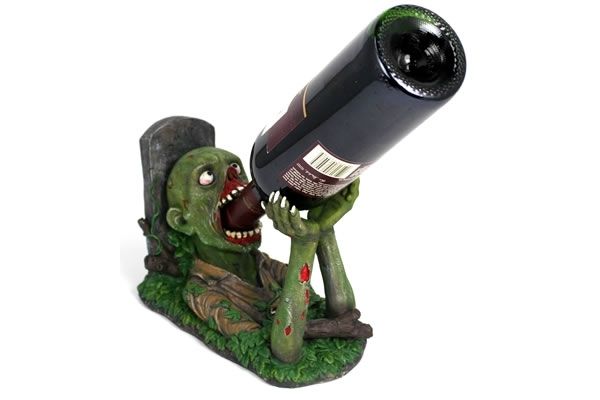 It is a little known fact that zombies love to lend a hand kitchen. Don't believe me? Just check out the Zombie Wine Bottle Holder from the NeatoShop. This zombie is just dying to hang on to your favorite bottle of wine. Zombies just live to be useful.
The Zombie Wine Bottle Holder features a zombie popping out of a grave. This hand painted bottle opener makes a devilishly fun conversation piece.
Be sure to visit the NeatoShop for more great Zombie items.
Posted: 21 Feb 2013 06:00 PM PST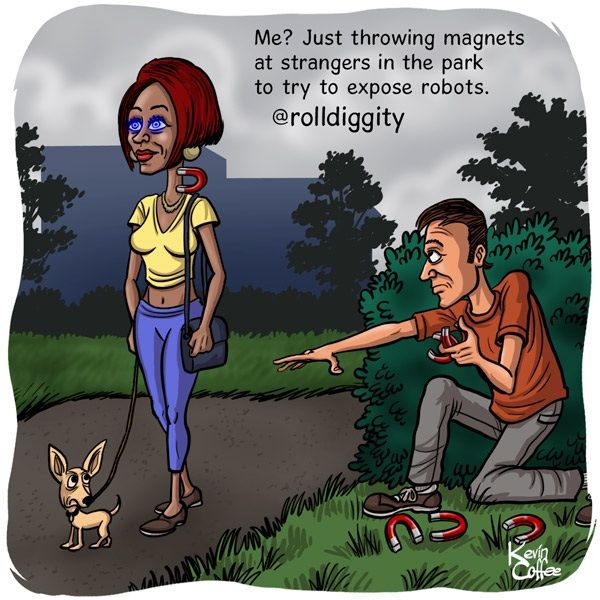 I wonder what he'd do if he ever really found a robot that way. This Twaggie was illustrated by Kevin Coffee from a Tweet by Matt Roller. See more new illustrated Tweets at Twaggies! Link
Posted: 21 Feb 2013 05:00 PM PST
The computer, tablet, or smart phone you're reading this post on comes from a factory in Asia on a cargo ship. In fact, most things you buy come on such ships - and because of rising demand in Europe and the US, cargo ships get bigger and bigger. How big? Read on:
What is blue, a quarter of a mile long, and taller than London's Olympic stadium?

The answer - this year's new class of container ship, the Triple E. When it goes into service this June, it will be the largest vessel ploughing the sea.

Each will contain as much steel as eight Eiffel Towers and have a capacity equivalent to 18,000 20-foot containers (TEU).

If those containers were placed in Times Square in New York, they would rise above billboards, streetlights and some buildings.

Or, to put it another way, they would fill more than 30 trains, each a mile long and stacked two containers high. Inside those containers, you could fit 36,000 cars or 863 million tins of baked beans.
William Kremer of the BBC has the post: Link
How to Make a Sandwich in Space
Posted: 21 Feb 2013 04:00 PM PST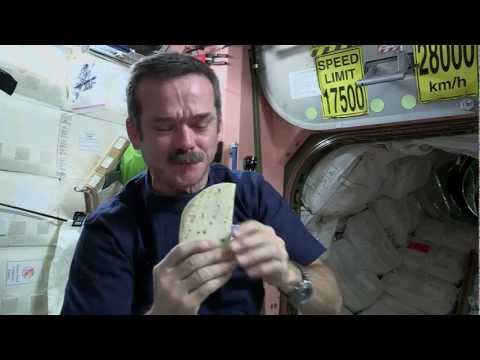 (YouTube link)
Astronaut Chris Hadfield, the International Space Station's ambassador to the internet, shows us how to make a sandwich without the aid of gravity. The Canadian Space Agency has more about eating in space at their website. Link -via Viral Viral Videos
Tropical Island Inside a Hangar
Posted: 21 Feb 2013 03:00 PM PST
Sandy beach, palm trees and clear, blue water. But if you think that these vacationeers are lounging on a warm tropical island, you'd be wrong. They're inside a giant hangar in snowy Germany:
The 'resort' is actually located on the site of a former Soviet military air base in Krausnick, Germany. Tropical Islands is inside a hangar built originally to house airships designed to haul long-distance cargo. And despite it looking like temperatures are through the roof - outside the giant hangar it is actually snowing.
The Daily Mail has more photos: Link (Photo: Getty) | Tropical Islands official website
A First-grader Judges Oscar-nominated Movies by Their Posters
Posted: 21 Feb 2013 02:00 PM PST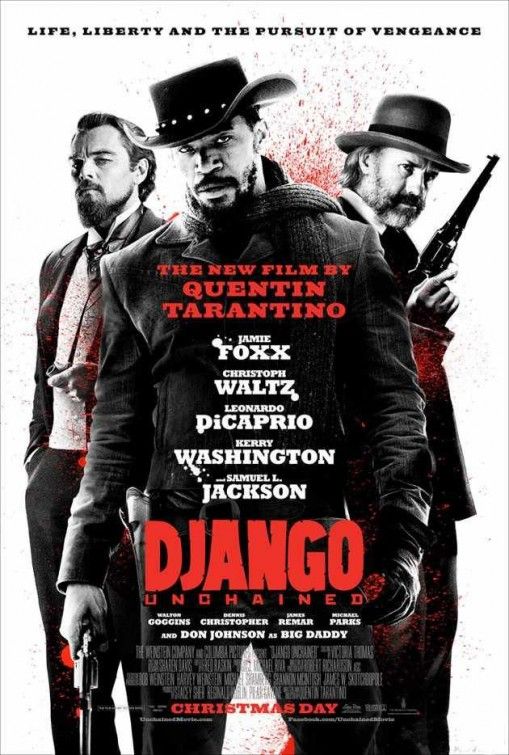 Sunny Chanel's 7-year-old daughter is too young to see any of the nine films up for a Best Picture Oscar. But she took a look at the posters for each film and gave her assessment of what the movie is about from that. This is what she said about Django Unchained:
"It's a wild west movie! But I don't know why there is a 'D' in the name. It should be just Jango, just with a 'J' not a 'D'. That's weird. The guy in the middle is a good guy and the other guys are bad guys. The guy on the left always plays bad guys. In the movie they dance a lot and then they kill bad people and the bad people kill the good people because they are mean. Really mean."
Leonardo DiCaprio would get a kick out of her assessment of his roles. After judging all nine movies, the youngster says that Lincoln will win the Academy Award. Link -via Laughing Squid
Posted: 21 Feb 2013 01:00 PM PST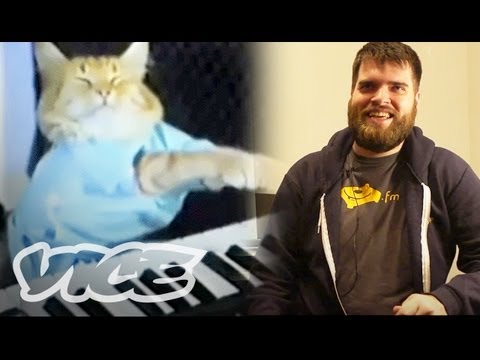 How do you make a viral YouTube video turned Internet meme that's been viewed over 29 million times and spawned hundreds of parodies? First, obtain a cat video (that's right, you don't actually need a real live cat)
Here's the story of how Brad O'Farrell came up with the Keyboard Cat meme, as told by VICE (plus, cameos of a whole bunch of other memes). Hit play or go to Link [YouTube] - Thanks Juliette!
Posted: 21 Feb 2013 12:00 PM PST This web toy has autoplay music and may be a trigger for certain epileptics. That said, if you choose, bring in the cats! Link -via Metafilter
Posted: 21 Feb 2013 11:00 AM PST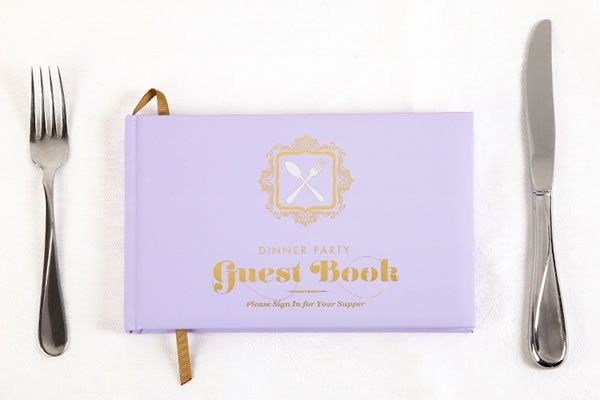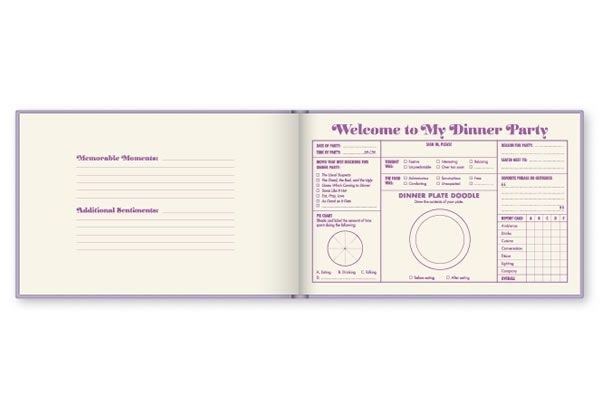 Make your dinner party an affair to remember with the Dinner Party Guest Book from the NeatoShop. This beautiful padded book includes 112 pages for guests to share their true feelings about your entertaining skills. Dinner guests are encouraged grade their dining experience, describe the food, and even draw a doodle of their dinner plate. Be brave! Let your guests eat, drink, and be witty.
Be sure to check out the NeatoShop for more great Party Supplies.
Do Children Owe Anything to Their Abusive Parents?
Posted: 21 Feb 2013 11:00 AM PST
Many children who suffer from neglect or abuse from their parents nonetheless manage to grow up into decent adults. Question is, do they owe anything to these bad parents?
What do we owe our tormentors? It's a question that haunts those who had childhoods marked by years of neglect and deprivation, or of psychological, physical, and sexual abuse at the hands of one or both parents. Despite this terrible beginning, many people make it out successfully and go on to build satisfying lives. Now their mother or father is old, maybe ailing, possibly broke. With a sense of guilt and dread, these adults are grappling with whether and how to care for those who didn't care for them.
Emily Yoffe of Slate wrote an interesting article exploring the question of whether grown children of neglectful or abusive parents have any obligation to take care those who didn't even fulfill their own: Link - Thanks facetedjewel!
Posted: 21 Feb 2013 10:00 AM PST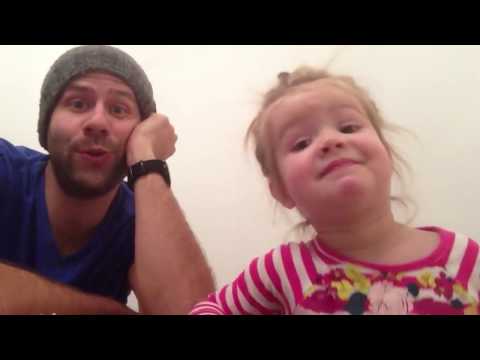 (YouTube link)
Jesse Teeters and his two-year-old daughter unveil their first duet for the public. He calls it "The culmination of 2.5 years of parenting." Adorable! On the off chance you're not familiar with the song, see the most popular performance here. -via reddit
Bicycles Made from Scrapped Cars
Posted: 21 Feb 2013 09:00 AM PST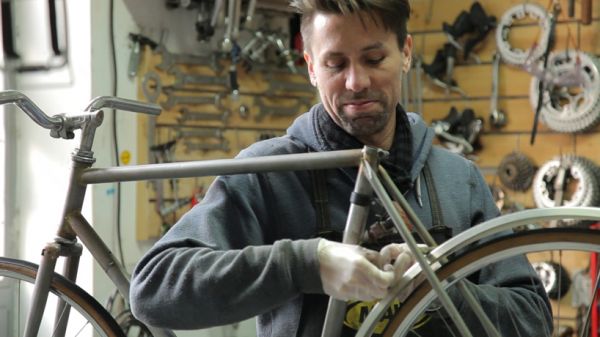 Now here is an eminently sensible art project. The craftsmen at Lola Madrid are developing a highly marketable post-apocalyptic skill: turning useless old car parts into bikes. Transmission belts become drive chains, car seats become bike seats and turn signals become reflectors. Each one is a unique, handmade machine that will transport you across future wastelands.
Link -via Designboom
Posted: 21 Feb 2013 08:00 AM PST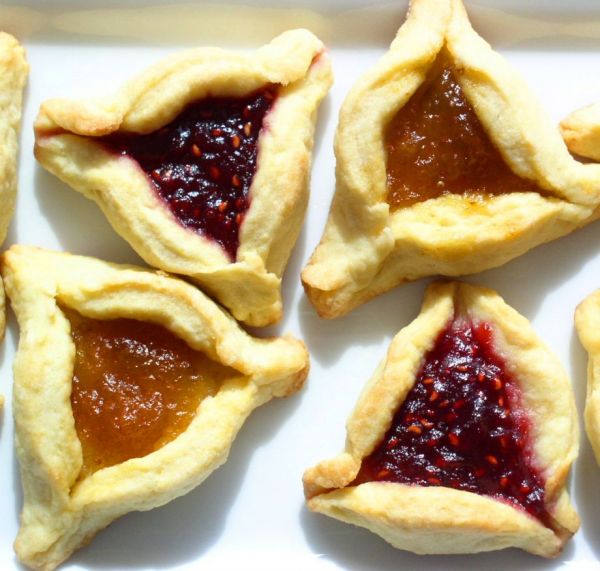 Purim, coming up this weekend, is a Jewish holiday celebrating how Esther averted the slaughter of her people at the hands of Haman. His name survives in the triangular treat called Hamantasch (Hamantaschen is the plural), which means "Haman's pockets." Buzzfeed has links to 32 different recipes, with Hamantaschen made of fruit, meat, vegetables, candy, nuts, chocolate, cheese, and pretty much anything you might want to put in them! Link

(Image credit: Treat A Week Recipes)
This Barber Can Cut Your Hair Blindfolded
Posted: 21 Feb 2013 07:00 AM PST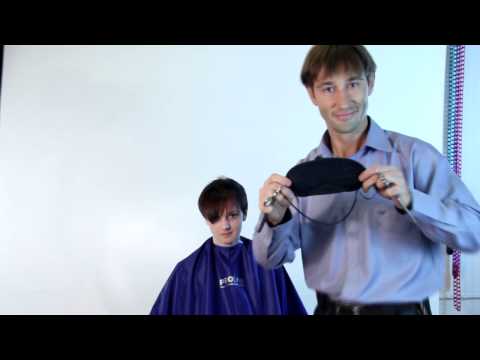 (Video Link)
Actually, I suspect that most barbers could, but Ukranian hairdresser Olek Maksakov will cut your hair blindfolded and do a good job of it. Even better: Maksakov usually charges customers for haircuts. But if you agree to let him wear the blindfold, he'll cut your hair for free (he needs the practice).
Posted: 21 Feb 2013 06:30 AM PST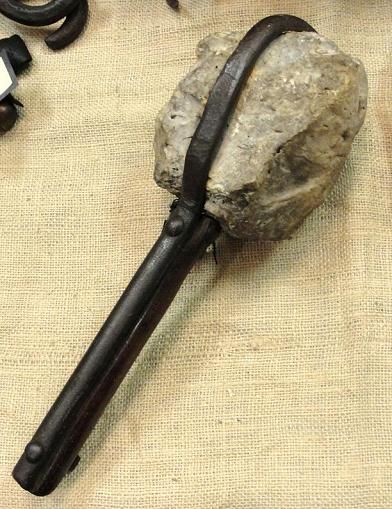 W00t! It's time for another collaboration with the always-excellent What Is It? blog. Can you guess what this strange object is?
Put your guess in the comment section below (click the +). One guess per comment, though you can enter as many guesses as you'd like. Please do not post any web link or URL - doing so will void your entry. You have until the answer is revealed on the What Is It? Blog tomorrow.
Two prizes: the first correct guess and the funniest yet wrong one will win a T-Shirt from the NeatoShop.
IMPORTANT: Please write your prize selection alongside your guess, so visit the NeatoShop and take a look around. If you don't write your prize selection, then you don't get the prize. I think you'll like the selection of funny t-shirts and science t-shirts -or even t-shirts of your favorite blogs and websites.
For more mystery items to bend your brain, see to What Is It? Blog. Good luck!
Fruit Gushers Wrapped in Fruit Roll-Ups and Fruit by the Foot
Posted: 21 Feb 2013 06:00 AM PST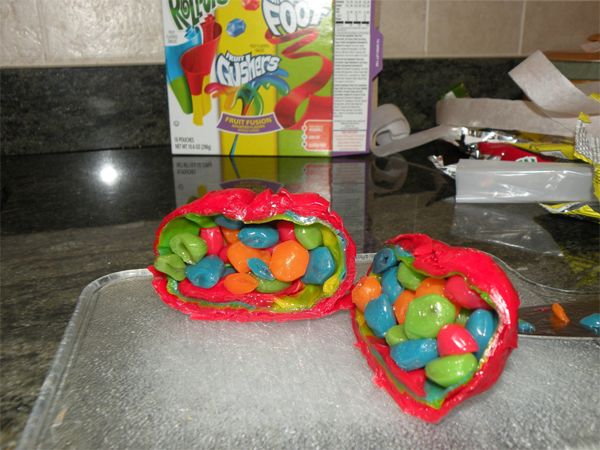 Dominique Zamora of Foodbeast describes this ball of sugar as "a dentist's worst nightmare." I doubt it. A prudent dentist sees opportunity in this work of mass dental destruction. As the One Hundred and Second Rule of Acquisition says, "Nature decays, but latinum lasts forever."
Link -via Foodbeast | Photo: unknown
You are subscribed to email updates from Neatorama
To stop receiving these emails, you may unsubscribe now.
Email delivery powered by Google
Google Inc., 20 West Kinzie, Chicago IL USA 60610