---
The Keeper of Traken Doctor Who Collector Set
Posted: 21 Feb 2013 05:00 AM PST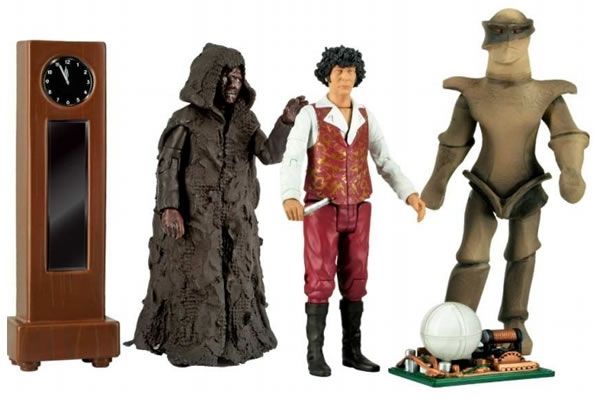 The Keeper of Traken Doctor Who Collector Set
Attention Doctor Who fans! Behold The Keeper of Traken Doctor Who Collector Set from the NeatoShop. This amazing set features 4 action figures from the Doctor Who series. Included are:
Fourth Doctor,
Master Decayed
Melkur Statue
and Source Manipulator Sphere
Some of the figures have articulated arms and legs.
Be sure to check out the NeatoShop for more great Doctor Who items.
Posted: 21 Feb 2013 05:00 AM PST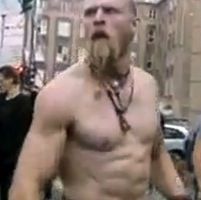 The still-unnamed star of the hit video known as Technoviking is suing Matthias Fritsch, the filmmaker who recorded him dancing in 2000. The lawyers involved and the court in Germany are not very forthcoming with the facts of the case, but Technoviking wants all videos and images bearing his likeness stripped from the web. If not, he wants Fritsch to pay up and spend time in jail. Judges in the case proposed a compromise, which Technoviking has rejected. A German blogger doesn't think Technoviking can win.
Under the common law... the Technoviking video can be legally shared. Technoviking went out into a public festival, where certainly knew he might be filmed, and started dancing. He was sharing his image with thousands of strangers, and obviously enjoyed himself doing so. The artist was not using the Technoviking's image to sell a product, and the money he earned from it was merely incidental to its unexpected success. And it was, of course, money for something he created—the video of an interesting person dancing on the street.
But if the courts side with the plaintiff, the repercussions could affect artists, photographers, and videographers in profound ways. Link
Posted: 21 Feb 2013 04:00 AM PST
The Worst Oscar Production Number Ever
Posted: 21 Feb 2013 03:00 AM PST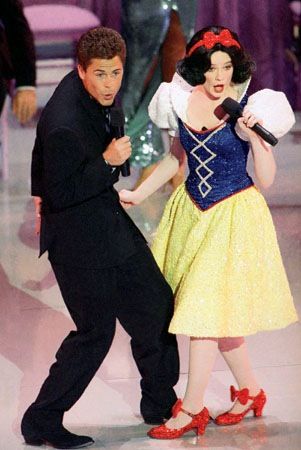 At the 1989 Academy Awards ceremony, the show opened with a 15-minute production featuring Snow White, Rob Lowe, and Merv Griffin singing and dancing along with disembodied stars and tables. It was such a disaster that its producer, Allan Carr, never worked in Hollywood again, and Disney sued the Academy. Twenty-four years later, actress Eileen Bowman talks about what should have been her big break, but instead became a Hollywood joke.
As a costume-clad Bowman made her way through the Shrine Auditorium, chirping a high-pitched take on "I Only Have Eyes for You" and greeting such mortified stars in the audience as Tom Hanks, Dustin Hoffman, Michelle Pfeiffer and Sigourney Weaver, it quickly became obvious that Carr had laid a dinosaur-size egg.

"She had a look on her face, if I remember correctly, of pain," Martin Landau tells THR. Nominated that year for best supporting actor for Tucker: The Man and His Dream, Landau, now 84, was one of the few who gave Bowman a warm reception. "It wasn't her fault," recalls Landau. "I empathized with her. Poor Snow White. She didn't have the dwarves to support her."
There's also a mercifully short video of the act's highlights. Link -via FilmDrunk

(Image credit: AP/Reed Saxon)
Lowra's Perfectly Staged Papercraft Scenes
Posted: 21 Feb 2013 02:00 AM PST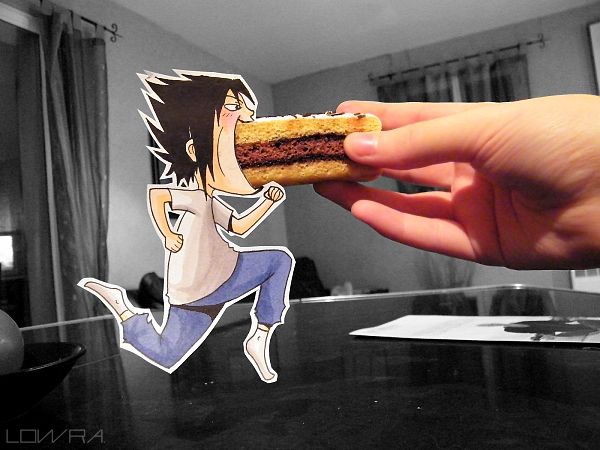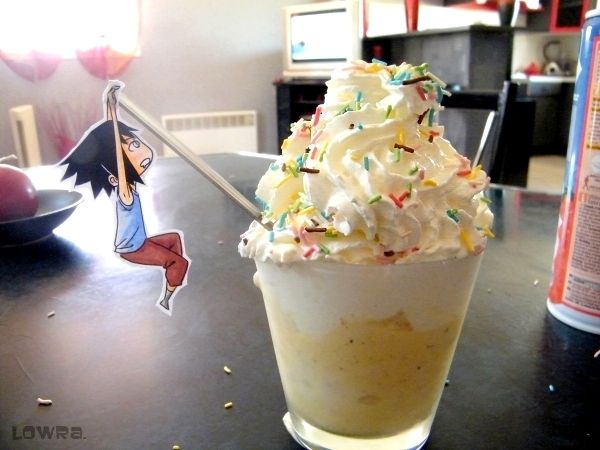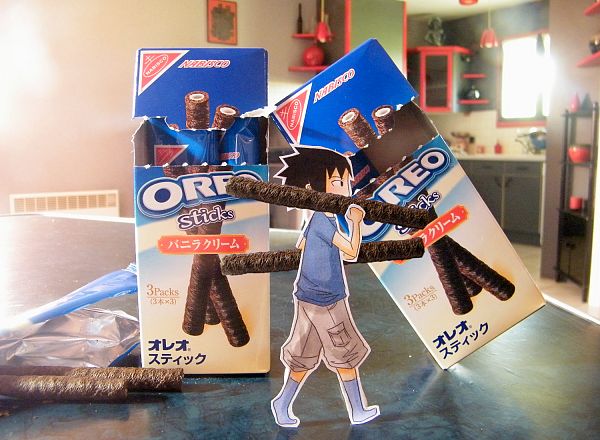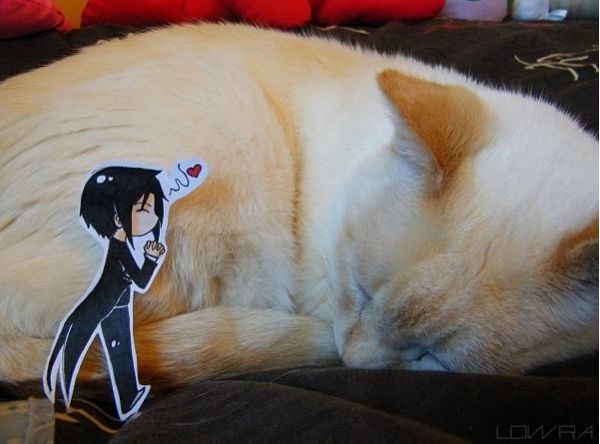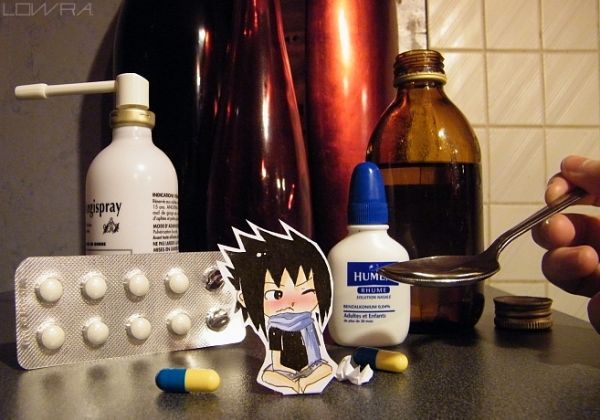 French artist Lowra cuts out her cartoon characters so they can interact with the real world. She's nice enough, but I'd be careful around the cat. You're bite-sized to him.
Link -via Pleated Jeans
40-square-foot Apartments in Hong Kong
Posted: 21 Feb 2013 01:00 AM PST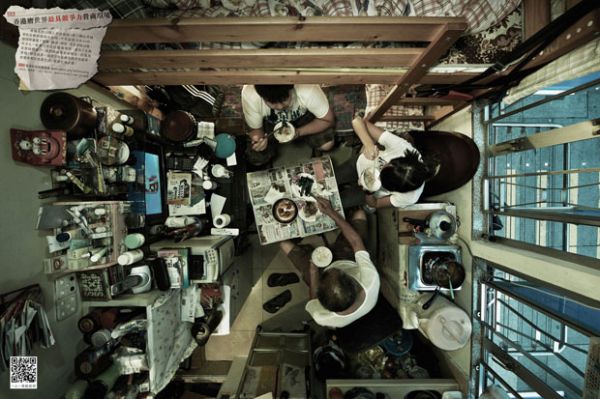 Can you imagine an entire family living a space that's smaller than a king-size bed? A large number of Hong Kong residents live in super-subdivided spaces. The only way to really see how crowded these apartments are is to photograph them from the ceiling.
In an attempt to draw attention to the issue, human rights organization Society for Community Organization recently commissioned a series of photographs showing what a number of unacceptable living spaces look like when viewed from directly overhead. (Here's a larger version of the photo above.)

According to the SoCO, over 100,000 people live in tiny "cubicle apartments" in the city. These are 40-square-foot living spaces created by dividing already-small apartments into multiple units.

Residents go about their lives in these confined spaces, sleeping on one corner, eating in another, storing their belongings in a third, and perhaps watching a TV that's found in a fourth.
It's not the smallest living spaces in Hong Kong, but it is pretty cramped. See more pictures at PetaPixel. Link | Original link (in French) -via reddit
Posted: 21 Feb 2013 12:00 AM PST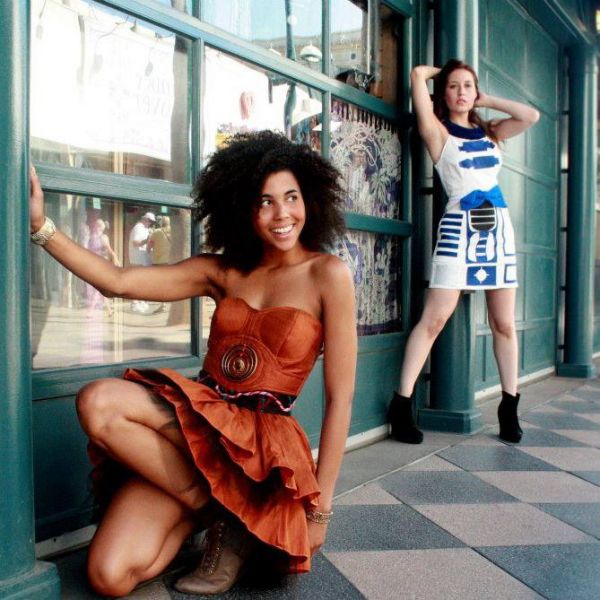 Khalil Marenco turned a tedious droid into a striking outfit. The wiring around the waist is a nice touch. This dress can't translate anything, but it communicates well enough.
Link -via When Geeks Wed
Best Picture Oscar Winners: the Supercut
Posted: 20 Feb 2013 11:00 PM PST
(vimeo link)
The 85th Academy Awards will be handed out this Sunday. That's a lot of history! This supercut from Nelson Carvajal has clips of all the previous Best Picture winners for your enjoyment. How many have you seen, and how many can you identify? The answers are at the end of the video; you will probably have to see them full-screen to read them. The music is "November" by Max Richter. -via Slate
Rolling Penguins Salt & Pepper Shakers
Posted: 20 Feb 2013 10:00 PM PST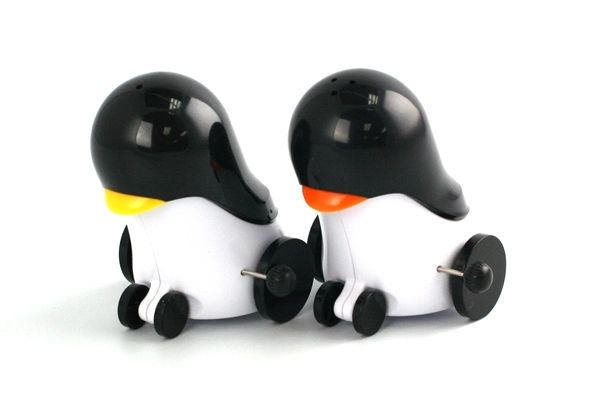 Rolling Penguins Salt & Pepper Shakers
Oh the weather outside is frightful, but your home cooking is so delightful. Let the salt and pepper shakers roll, let them roll, let them roll.
Race away your winter blues with the Rolling Penguins Salt & Pepper Shakers from the NeatoShop. This adorable salt and pepper shaker set doubles as a wind-up toy. Forget passing the salt. Wind the penguins up and send the salt zooming across the table.
Be sure to check out the NeatoShop for more fun and functional Salt & Pepper Shakers.
Posted: 20 Feb 2013 10:00 PM PST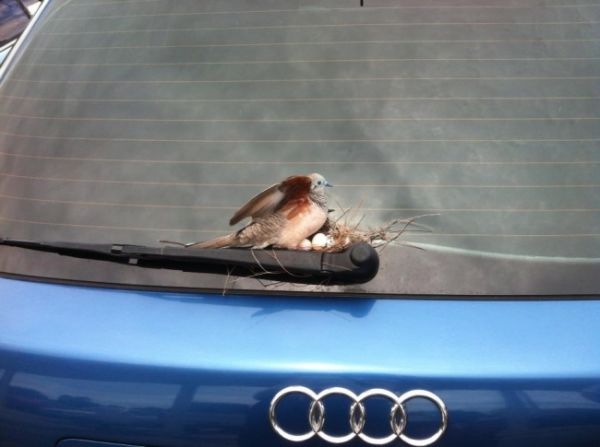 "It's perfect! I can't believe the deal I got with the realtor!" Redditor gorbok writes that a friend of his found this on his car after he had left it in a parking lot for six days. What did he do with the bird and her eggs? You can find out at the link.
Link -via Blame It on the Voices
Surreal Landscapes by Jim Kazanjian
Posted: 20 Feb 2013 09:00 PM PST
Vintage Celebrity Passport Photos
Posted: 20 Feb 2013 08:00 PM PST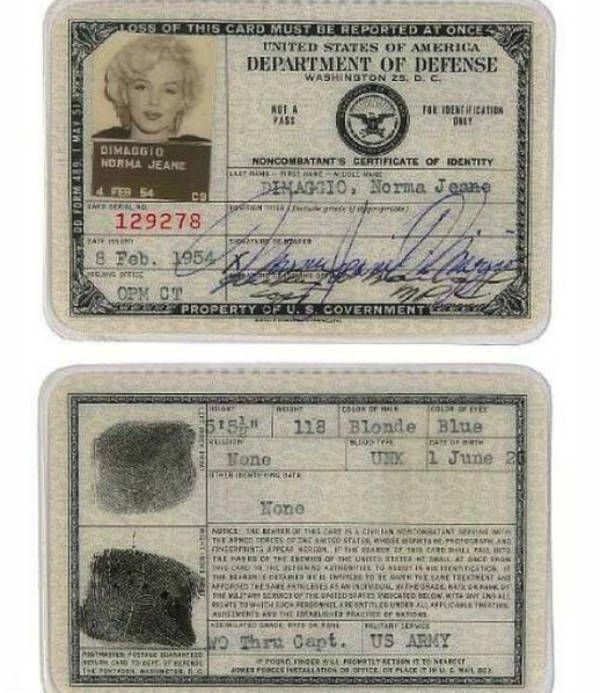 Vintage Everyday has a collection of passports belonging to celebrities. See Albert Einstein, David Bowie, Janis Joplin, Muhammad Ali, and more, with plenty of stamps showing they were well used. Shown here is a military ID card issued to Norma Jeane DiMaggio in 1954, presumably for the purpose of entertaining troops abroad. Link -via Nag on the Lake

How Much Would the Sea Level Drop if Every Ship Was Removed from the Oceans at Once?
Posted: 20 Feb 2013 07:00 PM PST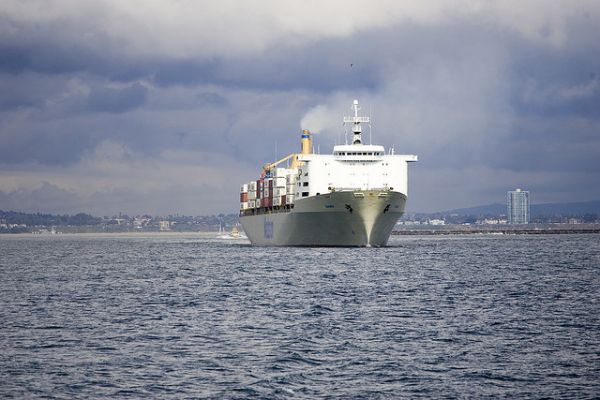 Randall Munroe, the cartoonist behind xkcd and a profoundly brainy guy, answers bizarre physics questions submitted to his What If? blog. His most recent question pondered the effect of the sudden absence of the water displacement of all of the world's oceangoing vessels:
Archimedes' principle tells us that the water displaced by a ship weighs as much as the ship itself. If we can figure out the total weight of all the world's ships, we can figure out how much water they're displacing, then divide that volume by the surface area of the ocean to figure out how much the water level would drop.
And his answer to the question? The sea level would drop 6 microns. But because the world's sea level is rising anyway, it would return to the previous level within 16 hours.
Link -via VA Viper | Photo: RightIndex
Legion of Doom for Real Life Supervillains
Posted: 20 Feb 2013 06:00 PM PST
Brazilian illustrator Butcher Billy (previously on Neatorama) is back at it again! This time, he has recreated the world's most brutal dictators (and other unpopular public figures) as comic book villains:
Some might say all art is a reflection of the times we live in.

If back in the day comics and movies were pretty naive and faced only as pure escapism, today's fiction has to evoke reality to create something truly meaningful... and frightening.

This series is an experiment where a dictator, a psycho, a murderer (sometimes they are the whole package) or even a suspicious figure from real life is mashed with a comics bad guy - strangely related some way or the other with his counterpart.
The Legion of Doom for Real Life Supervillains feature Mao Zedong as Darkseid, Bin Laden as the Green Goblin, Gaddafi as Bizarro, Hitler as Galactus, and so on:
Link - via So Bad So Good
Posted: 20 Feb 2013 05:00 PM PST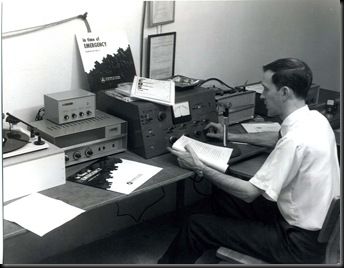 On Saturday, February 20, 1971, a civilian teletype operator grabbed the wrong recording tape and instead of a test, inadvertently sent an Emergency Broadcast Alert to radio stations across the U.S. I've told stories about the Cold War and how seriously everyone took the Emergency Broadcast System (EBS). Activation of the system meant nuclear war to almost everyone who heard it.
Station managers, broadcasters and listeners across the country were thrown into a tizzy. David Skinner, the news director of WEVA in Emporia, Virginia recalled the experience for a reporter: "I thought I was going to have a heart attack trying to open that damned envelope [containing the code words that authenticate the message from Cheyenne Mountain]. I haven't felt that way since John Kennedy was killed."

Chuck Kelly of WWCM in Brazil, Indiana took his station off the air for twenty-two minutes and told a reporter, "I saw the authenticated message and thought, 'My God! It's December 7 [1941] all over again!'"
It took 40 minutes of panicky fumbling before the alert could be properly killed. The audio of the incident from WOWO radio in Fort Wayne,m Indiana, is available along with the story of what happened at CONELRAD Adjacent. Link -via Metafilter
Mom Hired Strippers for 16-Year-Old Son's Birthday
Posted: 20 Feb 2013 04:00 PM PST
Best mom or best mom ever?
Thirty three-year-old Judy Viger faced up to a year in jail for child endangerment after she hired strippers to perform lap dances t her 16-year-old son's birthday party:
A New York mother has been charged with five counts of endangering the welfare of a child after she allegedly hired two strippers to perform lap dances on the guests at her son's 16th birthday party.

Judy Viger, 33, hired the women from a company called Tops in Bottoms and arranged for them to perform in a private room at the Spare Time Bowling Center in South Glens Falls on Nov. 3.

At the party, the women performed what police describe as "personal and intimate" dances with the party guests, some of whom were as young as 13.
David Knowles of the New York Daily News has the story: Link (yes, with photo of the, um, performance, party. Don't worry, no nudity.)
Transformer Xi 12-in-1 Multi-Tool
Posted: 20 Feb 2013 03:00 PM PST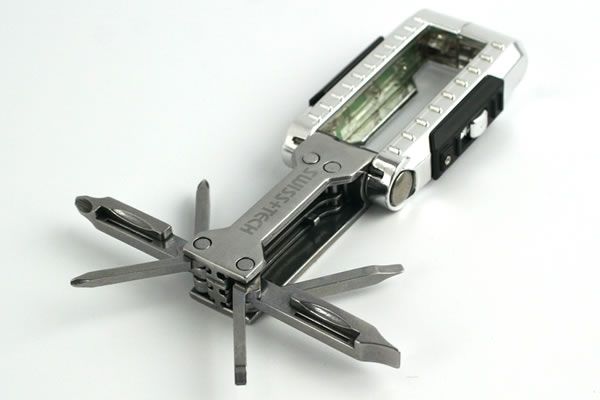 Do you love gadgets, gizmos, and thingamabobs? Behold the Transformer Xi 12-in-1 multi-tool from the NeatoShop. This amazingly useful multi-tool includes:
6 screwdrivers
Bright white 2-LED flashlight
Inch/mm marks
Straight Edge
Work light
Key Ring
The Transformer Xi 12-in-1 is made of beautiful solid stainless steel and comes in a handsome metal case. It makes a truly fun and functional gift.
Be sure to check out the NeatoShop for more great Home & Garden items.
Posted: 20 Feb 2013 03:00 PM PST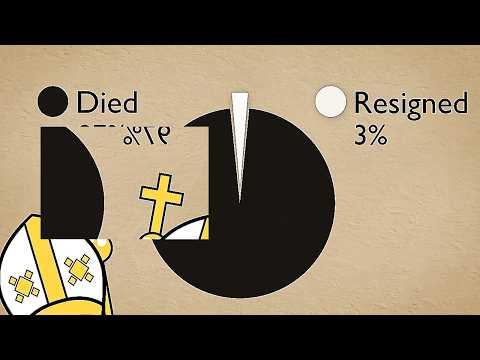 (YouTube link)
C. G. P. Grey tells us how you can work your way up to the job of replacing Pope Benedict. It's pretty difficult. It may even be too late to get started, at least for the next conclave. -via mental_floss
Guppies Use Ugly Friends to Make Themselves Look Better
Posted: 20 Feb 2013 02:00 PM PST

Photo: Clelia Gasparini
It's like The Hottie and The Nottie, fish-style! Italian researchers have discovered that a school of guppies can be quite as shallow and vain as popularity-obsessed high schoolers:
When it comes to mating, guppies treasure their ugly friends – because they look so good by comparison.

An article published Wednesday by Britain's Royal Society says that male guppies prefer to associate with their drab-colored counterparts when females are around.

"Males actively choose the social context that maximizes their relative attractiveness," the article said. Or, as lead author Clelia Gasparini put it, "If you are surrounded by ugly friends, you look better."
Posted: 20 Feb 2013 01:00 PM PST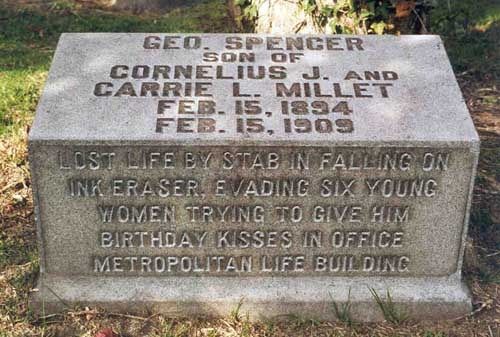 The strange epitaph on the tombstone makes us want to know more about poor George Spencer Millet, cut down in his adolescence by cupid's arrow, so to speak.
George Spencer Millet worked as office boy for a well-known insurance company in Manhattan, and the rather shy teenager enjoyed in spite of himself an enviable success with his female coworkers. A picture of him, published after the accident in the New York Evening Telegram, shows him as an Edwardian Macaulay Culkin, a radiant blond cupid with a naïve expression and a gentle, seraphic presence. George had yet another thing that made him even more adorable: he was born on the 15th of February, just a day after Valentine's Day, a sweet and sour element for this quiet, grotesque tragedy.

1909 - To celebrate his 15th birthday, a pack of stenographers are said to have teased the young George with threats of a birthday kissing spree, promising to execute their love trap once office hours were over. Later that day, they struck, charging lips first at the golden-haired kid who, overwhelmed and panicked, dodged the furies and fell on the floor, crying "I'm stabbed" before he collapsed, unconscious in a pool of his own blood. Confused and shocked by the tragedy of a scene that began as a Benny Hill chase, the office members called an ambulance, but unfortunately George died on his way to the hospital.
One of the office women was even arrested for murder! Read the rest of Millet's story at Atlas Obscura. Link
Posted: 20 Feb 2013 12:00 PM PST

Photo: Michael Dalder/Reuters
Like its name implies, underwater ice hockey is played on ice ... but with a little twist (technically, a 180° twist). Photographer Michael Dalder was on assignment to cover the 2013 Underwater Ice Hockey Championships and took amazing photos:
Underwater Ice hockey is not played on top of the ice like ice hockey is usually played but underneath it. That's where diving comes into the game because the underwater ice hockey players are in fact apnea divers who want to give their sports an additional sportive kick. [...]

After checking the equipment we jumped into the water and went down. There I could see the field of play. It was underneath the ice approximately 3 x 6 meters square; each side fronted by a goal. The puck was 10 inches wide and made of Styrofoam so it didn't sink but floated right under the ice.

The teams consisted of two players (men and women) who took turns with the hockey stick trying to score. Each time they succeeded in scoring the apnea divers came back to the surface to breathe. In total, the game lasted three periods with a ten minute break.
And yes, the water is obviously freezing cold (Michael noted that it was 35 °F). Read more over at Michael's blog post, preferably from your toasty office or home: Link - via NBC News Photo Blog
Posted: 20 Feb 2013 11:00 AM PST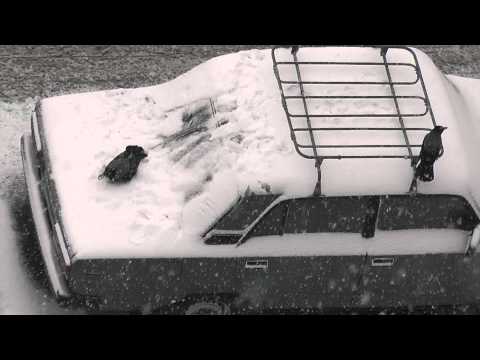 (YouTube link)
One crow is taking full advantage of a snow-covered car, not only by sliding on the window, but also by making snow angels! Before the day is over, he'll have that entire back window cleared. -via Arbroath
University Stadium to be Named for Prison Company
Posted: 20 Feb 2013 10:00 AM PST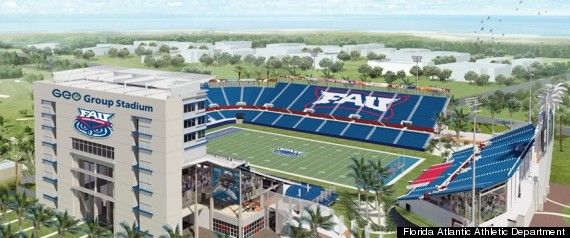 Florida Atlantic University has sold the naming rights to its new football stadium to the GEO Group Inc. If the name is not familiar to you, they run the second-largest chain for for-profit prisons in the U.S. This brings up some interesting observations. First, the $6 million the corporation "gifted" to the university in exchange for the naming rights represents profits from taxpayer money. Second, why does a prison corporation need the publicity of having its name on a stadium?
"It appears to be a charitable gift that is trying to be a marketing vehicle, and it just doesn't make a lot of sense," said Paul Swangard, managing director of the Warsaw Sports Marketing Center at the University of Oregon's business school. "To link themselves with an athletic department when their business is locking people up, it just doesn't connect to me really well."

Critics of the private prison industry said the donation to a public university in Florida falls in line with efforts to gain influence with state and local public officials who decide whether to hand out contracts.

"The company is dependent on public dollars for all of its profits," said Bob Libal, executive director of Grassroots Leadership, a criminal justice advocacy group. "When you look at other things that GEO gives to, it's generally in communities where they either have contracts or are seeking contracts, and certainly Florida is a state where GEO has tremendous interest."

Link -via Metafilter
(Image credit: Florida Atlantic Athletic Department)
Posted: 20 Feb 2013 09:00 AM PST
(vimeo link)
Life can be difficult when you are not only round but extremely buoyant! This is one of four delightful animated trailers produced to promote the 2013 Stuttgart Festival of Animated Film, all featuring peculiarly inflated animals. See the rest of them at vimeo. Link -via the Presurfer
Update: Read more about how these films were made. Link
Leprechaun So Lucky Salt & Pepper Shaker
Posted: 20 Feb 2013 08:28 AM PST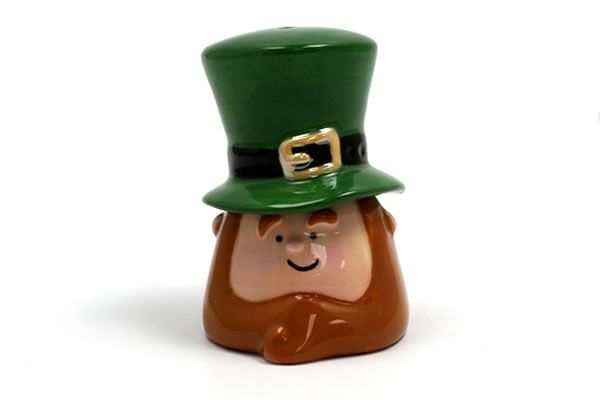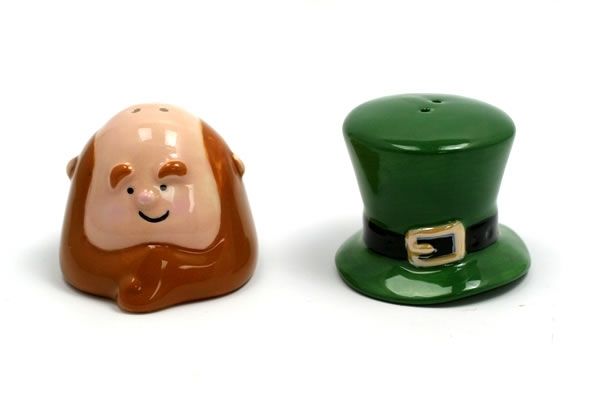 Leprechaun So Lucky Salt & Pepper Shaker
St. Patrick's Day is coming. Could you use a little luck in the kitchen. You need the Leprechaun So Lucky Salt & Pepper Shaker set from the NeatoShop. This adorable set is stackable. The Leprechaun is one shaker and the hat is another.
Be sure to check out the NeatoShop for more great Salt & Pepper Shakers.
Texas Woman Gives Birth to Two Sets of Identical Twins
Posted: 20 Feb 2013 08:28 AM PST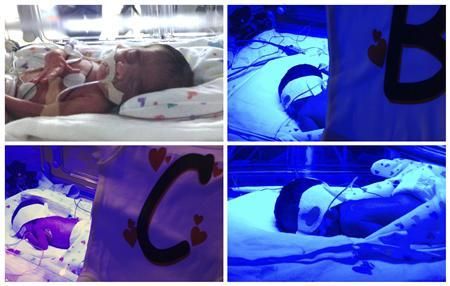 I saw this headline a couple of times yesterday before I realized that what made the story so rare is that she gave birth to two sets of identical twins all at the same time! Tressa Montalvo had a Cesarian section on Valentine's Day at Women's Hospital of Texas and produced four boys, each weighing between three and four pounds. She had conceived fraternal twins, then each embryo split into identical twins. Montalvo and her husband used no fertility drugs.
The odds of delivering two sets of naturally occurring identical twins is somewhere in the range of 1 in 70 million, according to the hospital. Two boys shared one placenta and the two other boys shared another placenta.

Ace and Blaine were born at 8:51 a.m. on February 14 and weighed 3 pounds, 10 ounces (1.64 kg), and 3 pounds, 15 ounces (1.79 kg), respectively. Cash and Dylan followed a minute later, weighing 2 pounds, 15 ounces (1.33 kg), and 3 pounds, 6 ounces (1.53 kg), respectively.

"We tried to stick to the A-B-C-D theme when naming them," Tressa Montalvo said. "We didn't expect it, we were trying for just one and we were blessed with four."
The quadruplets join a two-year-old brother. The boys' father said they were going to try for a girl next. That's easy for him to say. Link -via Holy Kaw!

(Image credit: Reuters/The Women's Hospital of Texas)
Into the Cave of Chile's Witches
Posted: 20 Feb 2013 08:00 AM PST
The Island of Chiloé in southern Chile has always been a remote and isolated place of legend. In 1880, it was the site of the last significant witchcraft trials.
Who were they, these sorcerers hauled before a court for casting spells in an industrial age? According to the traveler Bruce Chatwin, who stumbled over traces of their story in the 1970s, they belonged to a "sect of male witches" that existed "for the purpose of hurting people." According to their own statements, made during the trial of 1880, they ran protection rackets on the island, disposing of their enemies by poisoning or, worse, by sajaduras: magically inflicted "profound slashes." But since the same men also claimed to belong to a group called La Recta Provincia—a phrase that may be loosely translated as "The Righteous Province"—and styled themselves members of the Mayoria, the "Majority," an alternative interpretation may also be advanced. Perhaps these witches were actually representatives of a strange sort of alternative government, an indigenous society that offered justice of a perverted kind to indians living under the rule of a white elite. Perhaps they were more shamans than sorcerers.
The defendants readily admitted to witchcraft and sorcery, as well as kidnapping, murder, and all sorts of outlandish activities. Sorting through their motivations is difficult, as the political struggles of the people of Chiloé intertwined with the existence of the magical society of shamans who ruled by terror. And the cave where many of these deeds were supposedly performed was never found. Read the entire story at Past Imperfect. Link
"Madman" Newman's Brainteasers
Posted: 20 Feb 2013 07:00 AM PST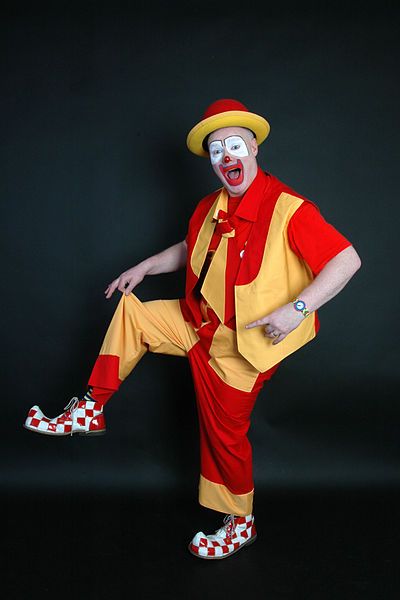 Every summer, Uncle John makes a pilgrimage to the Siskiyou Mountains to confer with his puzzle guru, crazy Ol' Man Newman. He came back with another collection of mind-bending logic puzzles.

1. RAPID AGING

The day before yesterday, Johnny was 9 years old. Next year he'll be 12. How is this possible?

2. TIME AFTER TIME

After a power surge disrupted all the electronic devices in Brian's house, he had to go over to Amy's to find out what time it is. After she told him, Brian walked home and set all of his clocks. Even though Brian didn't know how long it had taken him to get home, he was able to set his clocks to exactly the right time. How?

3. A BAD FLIGHT PLAN

Uncle John was about to leave on a morning flight to the World Toilet Summit when he realized he left his Bathroom readers at the BRI office. He rushed back to get them, but the night watchman said, "Do not get on that plane! I had a dream last night that it's gonna crash!" Not wanting to tempt fate, Uncle John followed the watchman's advice. Sure enough, the plane crashed. That evening, Uncle John thanked the man for saving his life, then fired him. Why?

4. STORMY WEATHER

Five men were leaving church together when it started to rain. The four who ran got wet; the fifth, who didn't move, stayed dry. How?

5. A CLOWN-UNDRUM

Plungy the Clown had just earned three gold bricks after working a kid's party. While walking home, he came to an old foot bridge. The sign said, "Weight Capacity: 150 pounds." Plungy weighs 148 pounds, the three bricks weigh one pound each. How did Plungy make it across safely in one trip with all of his gold?

6. PUZZLING BUS TRIP

A bus full of people is traveling over a bridge on its way to Las vegas. No one gets on or off, but when the bus reaches the other side, there's not a single person on the bus. How can this be possible?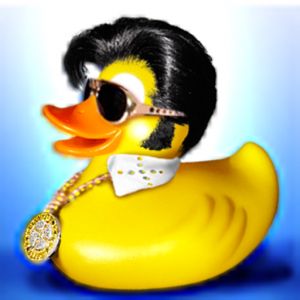 7. COUNT DUCKULA

Julia and Viola were comparing their rubber ducky collections. Julia said, "If you give me one of your ducks, I will have double of what you have remaining."

Viola replied, "Oh yeah? Well, if you give me one of your ducks, then we'll both have the same amount."

How many ducks does each girl have?

8. MARITIME QUERY

Gordon sailed his sailboat, the Uncle John, across the Pacific Ocean. When he reached the coast, he asked me, "Which part of my boat traveled the longest distance?"

9. BRIGHT THINKING

One day, Thom found himself trapped in a room with two doors. Behind the first door was a room made of thick glass that would magnify the Sun's heat to fry whoever went in. Behind the second door was a fire-breathing dragon that would do the same. How did Thom escape unscathed?

10. RELATIVITY

Some people are riding in a car. They consist of a mother, father, brother, sister, son, daughter, niece, nephew, aunt, uncle, and two cousins. What is the minimum number of people that can be in the car?

11. AND THEY'RE OFF!

Malcolm and Jahnna competed in a strange horse race. Whoever's horse reached the finish line last is the winner. After we waited four hours for them to go a few feet, Uncle John walked out, called them off their horses, and told them something. Immediately, Malcolm and Jahnna jumped up on the horses and rode them as fast as they could to the finish line. Uncle John swears he didn't call off the race or change the rules, so what did he tell them?

Continue reading for the answers, but try to figure them out on your own first!


Highlight the area after the title of the brainteaser you want answered.

1. RAPID AGING

Today is January 1; Johnny's birthday is December 31. The day before yesterday he was 9, yesterday he turned ten, this year he'll turn 11, and next year he'll turn 12.

2. TIME AFTER TIME

Amy gave Brian a watch.

3. A BAD FLIGHT PLAN

By telling Uncle John about his dream, the watchman unwittingly admitted he'd been sleeping on the job.

4. STORMY WEATHER

The four men were pallbearers carrying a coffin.

5. A CLOWN-UNDRUM

Plungy juggled the bricks while walking across the bridge, keeping one in the air at all times.

6. PUZZLING BUS TRIP

They are all married.

7. COUNT DUCKULA

Julia has seven ducks; Viola has five.

8. MARITIME QUERY

Because of the curvature of the earth, the mast, which is located at the top of the sailboat, actually traveled the farthest.

9. BRIGHT THINKING

Thom waited until nighttime and then left through the magnifying-glass room.

10. RELATIVITY

Four -two adults and two children. The two adults are brother and sister, and each one of them has one of their children with them, making them mother and father as well. They are also aunt and uncle to the two children (a boy and a girl), who are cousins, and well as the nephew and niece of one of the two adults.

11. AND THEY'RE OFF!

Because the horse (not the rider) that finished last would win the race, Uncle John told Malcolm and Jahnna to get back up on each other's horses.
___________________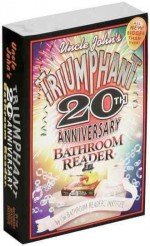 This article was reprinted with permission from Uncle John's Triumphant 20th Anniversary Bathroom Reader.
Since 1988, the Bathroom Reader Institute had published a series of popular books containing irresistible bits of trivia and obscure yet fascinating facts. If you like Neatorama, you'll love the Bathroom Reader Institute's books - go ahead and check 'em out!
Posted: 20 Feb 2013 06:00 AM PST
Posted: 20 Feb 2013 05:00 AM PST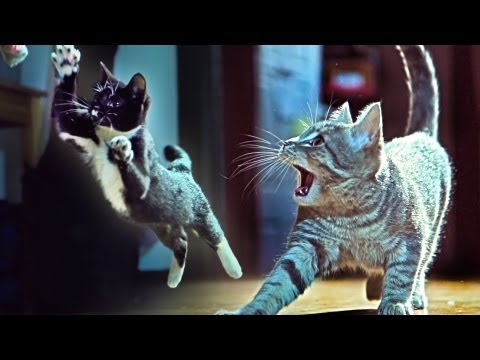 (YouTube link)
When gremlins invade your home and try to steal socks, cats Roto and Bowie spring into action! After all, losing your socks is their job! Music by Savant. -via Tastefully Offensive
You are subscribed to email updates from Neatorama
To stop receiving these emails, you may unsubscribe now.
Email delivery powered by Google
Google Inc., 20 West Kinzie, Chicago IL USA 60610