---
Posted: 02 Feb 2013 04:00 AM PST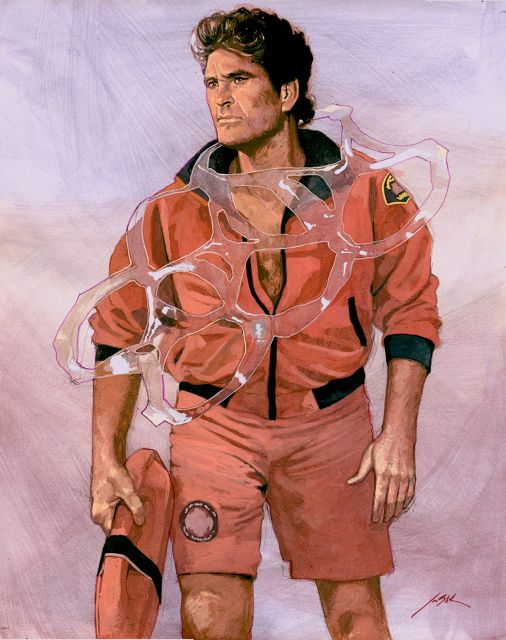 You messed with the Hoff. Oh, you might have thought that a six-pack ring would kill him. But you'd be wrong. Now he's coming to Hoff you. Jon Stitch's painting entitled "Hooked on a Feeling" refers to the (in)famous David Hasselhoff music video of the same name.
Link -via Ian Brooks
Icelandic Girl Won Court Fight to Use Her Birth Name
Posted: 02 Feb 2013 02:00 AM PST
Creative names are a no-no in Iceland, so it's big news when a 15-year-old girl was finally granted the right to legally use her birth name, despite opposition from the government:
Reykjavik District Court ruled Thursday that the name "Blaer" can be used. It means "light breeze."

The decision overturns an earlier rejection by Icelandic authorities who declared it was not a proper feminine name. Until now, Blaer Bjarkardottir had been identified simply as "Girl" in communications with officials. [...]

Like a handful of other countries, including Germany and Denmark, Iceland has official rules about what a baby can be named. Names are supposed to fit Icelandic grammar and pronunciation rules — choices like Carolina and Christa are not allowed because the letter "c'' is not part of Iceland's alphabet.

Blaer's mother, Bjork Eidsdottir, had fought for the right for the name to be recognized. The court ruling means that other girls will be also allowed to use the name in Iceland.
In an interview earlier this year, Eidsdottir said she did not know the name "Blaer" was not on the list of accepted female names when she gave it to her daughter. The name was rejected because the panel viewed it as a masculine name that was inappropriate for a girl.
Link (Photo: Anna Andersen/AP)
Romanian Ads Encourage Immigration from Britain
Posted: 02 Feb 2013 12:00 AM PST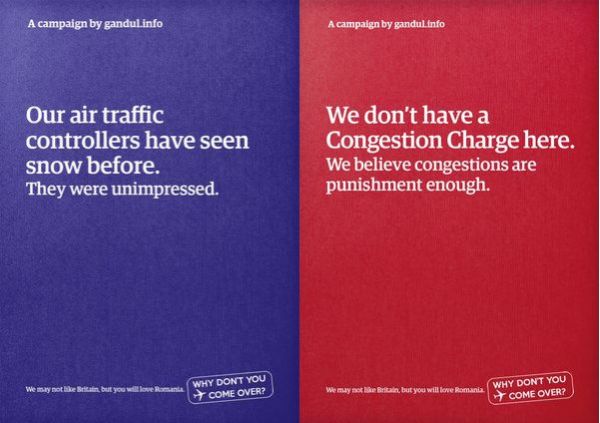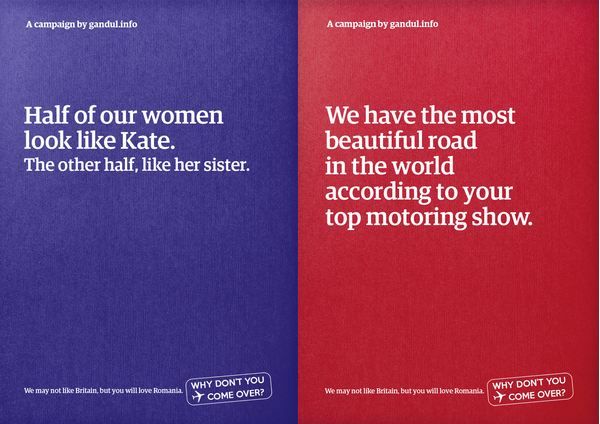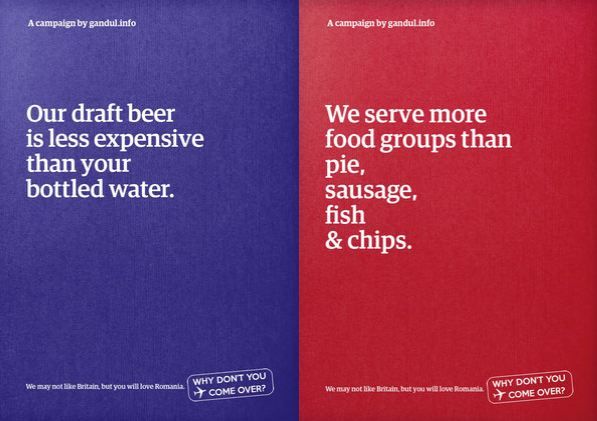 Do you remember the British ad campaign that discourages immigration from Romania and Bulgaria? That peeved some Romanians. They responded with their own ads that encourage Britons to immigrate to Romania. That nation, the authors of the website Gandul claim, is a land filled with beautiful women, lovely roads and palatable food.
Link -via Marginal Revolution | Images: Gandul
Posted: 01 Feb 2013 11:00 PM PST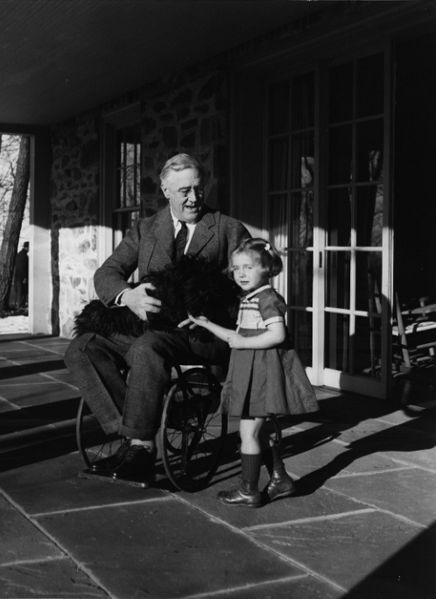 Medical diagnoses from history usually reflect the best medical science could do at that time, but sometimes are found to be incorrect in light of later discoveries. Could that have been the case with President Franklin Roosevelt and the "infantile paralysis" that left him in a wheelchair?
Despite trying his best to hide his handicap during his lifetime, it's now common knowledge that Franklin Delano Roosevelt was in a wheelchair because he was paralyzed by the polio virus. But a new study suggests that the president may have actually been paralyzed by Guillain-Barre Syndrome. If true, it would make his polio diagnosis one of the most famous misdiagnoses in history.
Read the story of how Roosevelt's original diagnosis and the modern suspicions surrounding it at mental_floss. Link
The Spy Novelist Who Knows Too Much
Posted: 01 Feb 2013 10:00 PM PST
You've heard the phrase "truth is stranger than fiction," but in case of spy novels by French novelist Gérard de Villiers, his fiction is often a vehicle for real spies to tell the truth.
Robert F. Worth wrote a fascinating article about de Villiers in The New York Times:
"I don't consider myself a literary man," [de Villiers] said. "I'm a storyteller. I write fairy tales for adults. And I try to put some substance into it."

I had no idea what kind of "substance" until a friend urged me to look at "La Liste Hariri," one of de Villiers's many books set in and around Lebanon. The book, published in early 2010, concerns the assassination of Rafiq Hariri, the former Lebanese prime minister. I spent years looking into and writing about Hariri's death, and I was curious to know what de Villiers made of it. I found the descriptions of Beirut and Damascus to be impressively accurate, as were the names of restaurants, the atmosphere of the neighborhoods and the descriptions of some of the security chiefs that I knew from my tenure as The Times' Beirut bureau chief. But the real surprise came later.

"La Liste Hariri" provides detailed information about the elaborate plot, ordered by Syria and carried out by Hezbollah, to kill Hariri. This plot is one of the great mysteries of the Middle East, and I found specific information that no journalists, to my knowledge, knew at the time of the book's publication, including a complete list of the members of the assassination team and a description of the systematic elimination of potential witnesses by Hezbollah and its Syrian allies.

I was even more impressed when I spoke to a former member of the U.N.-backed international tribunal, based in the Netherlands, that investigated Hariri's death. "When 'La Liste Hariri' came out, everyone on the commission was amazed," the former staff member said. "They were all literally wondering who on the team could have sold de Villiers this information — because it was very clear that someone had showed him the commission's reports or the original Lebanese intelligence reports."
Read the rest over at the New York Times: Link (Photo: Denis Rouvre/NY Times)
Posted: 01 Feb 2013 09:00 PM PST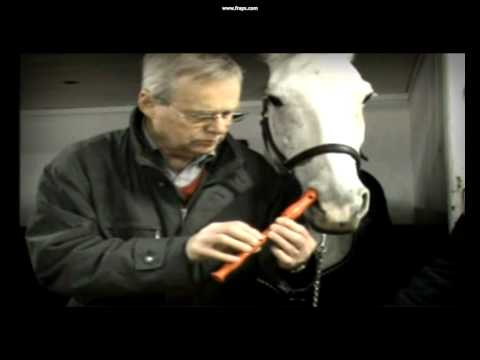 (Video Link)
Share the gift of music with your horse. Just alternate the recorder between your mouth and the horse's nostril. This video shows one man helping his horse play "Twinkle, Twinkle, Little Star." Here's a much longer video in what I think is Swedish.
-via Yababoon
Totoro with Seed Pouch 27 inch Plush
Posted: 01 Feb 2013 08:00 PM PST
Totoro with Seed Pouch 27 inch Plush
Attention Totoro fans! Valentine's Day is right around the corner. Are you looking for the perfect companion to cuddle up with on the cold winter nights? You need the Totoro with Seed Pouch 27 inch Plush from the NeatoShop. This super cute large plush features Totoro wearing a leaf hat, holding a large white pouch, and carrying a seed packet.
Be sure to check out the NeatoShop for more great Totoro items.
Posted: 01 Feb 2013 08:00 PM PST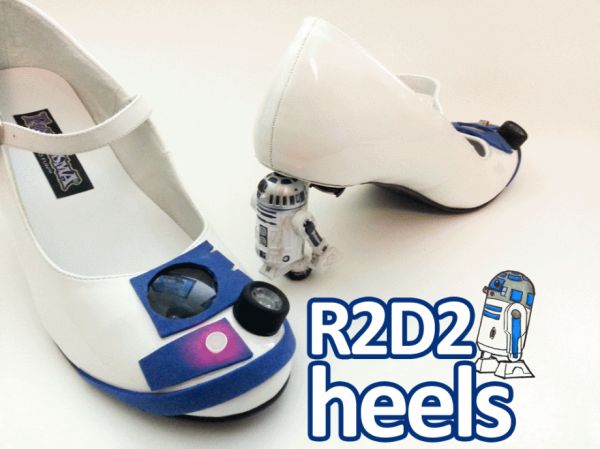 These are the droids, er, shoes you're looking for! They aren't for sale, but you can make your own.
The wide heel of these shoes was removed and replaced with a steel bolt to provide strength and support, but at a fraction of the size. An R2D2 toy covers the heel bolt, and the toes have been decorated with lenses, blue accents, and a blinking red LED to let everyone know just how this droid rolls.
Instructables member mikeasaurus (previously at Neatorama) has step-by-step instructions. Link -via Geeks Are Sexy
Posted: 01 Feb 2013 07:00 PM PST
Yawn! Is it time for your daily mid-afternoon office nap? Nick DeMarco has got your back. Or, technically, your front with this comfy Daydreamer Desk.
Nutella and Banana Stuffed French Toast
Posted: 01 Feb 2013 06:00 PM PST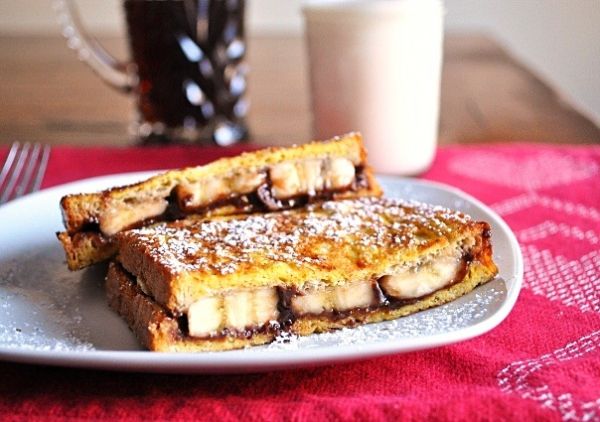 Little B writes:
The first bite got a "Mmmmm", then the second bite got "Oh my god, this is amazing!"
I can believe it! This looks like a great idea for a breakfast treat. You can find the recipe at the link.
Link -via Tasteologie
William Shatner is Answering Questions on Reddit Right Now
Posted: 01 Feb 2013 05:26 PM PST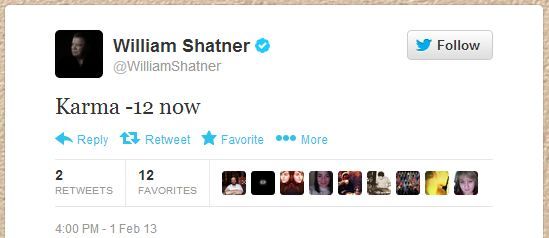 Get over to /r/startrek immediately because The Shatner himself is there. He's thinking about doing a formal AMA (ask me anything). Go give him some encouragement.
Posted: 01 Feb 2013 05:00 PM PST
(YouTube link)
Budweiser's ad for the 2013 Super Bowl is cute and sweet and has nice music and may make you cry. And yes, it's a beer ad. -via Tastefully Offensive
Posted: 01 Feb 2013 04:00 PM PST
No one, apparently. When pilot for Dutch airline Transavia returned from the bathroom, he realized that he was locked out of the Boeing 737 cockpit, with the first officer inside asleep!
According to a Dutch Safety Board report released Wednesday, the pilot stepped out of the cockpit to take a bathroom break about 2½ hours into the flight.

When he returned a short time later, the pilot used an intercom to ask his first officer to open the door. There was no answer, the report said.

Eventually, the pilot alerted the crew and was able to open the door himself. That's when he found the first officer asleep, according to the report.

"It's a serious incident," said Wim van der Weegen of the Dutch Safety Board, "What makes it serious is the combination of the pilot being unable to access the cockpit and the first officer being asleep.

"By 'serious incident,' I mean the flight was in danger," he said.
Thom Patterson of CNN reports: Link
Posted: 01 Feb 2013 03:00 PM PST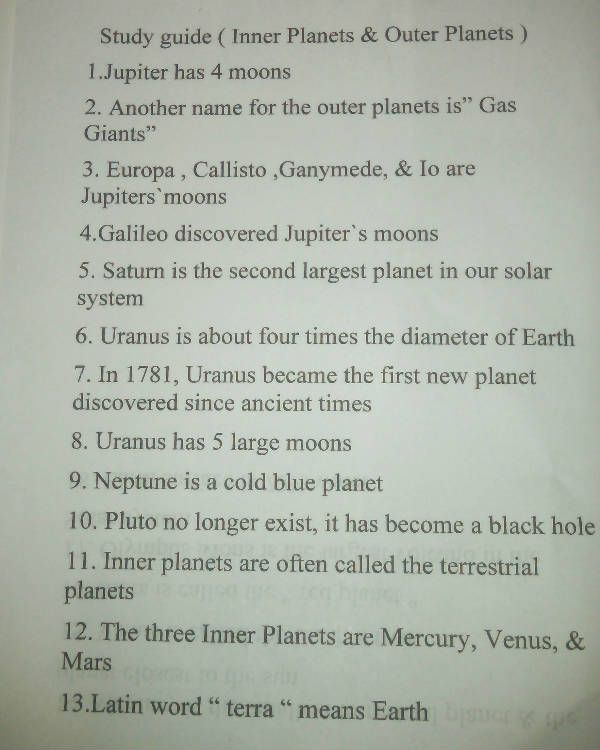 A 6th grade teacher handed out this study guide to her students. Redditor Dixichick13 corresponded with the teacher and determined that it was not a true or false quiz or a "find the incorrect statements" quiz. The teacher was unaware of any errors. How many can you spot? Link
Posted: 01 Feb 2013 02:00 PM PST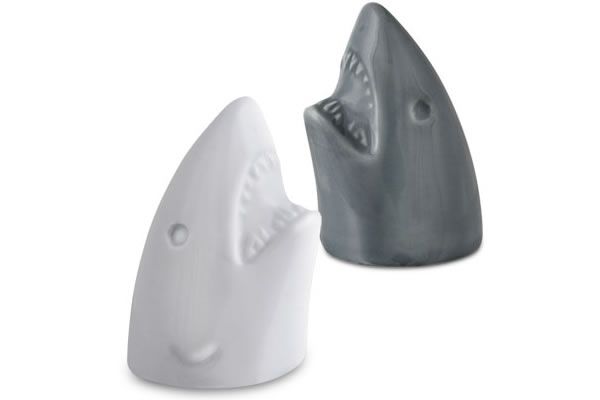 Are you looking for a fin way to spice up your kitchen table? You need the Shark Salt & Pepper Shakers from the NeatoShop. This fierce set is a great way to take a bite out of bland kitchen decor.
Be sure to check out the NeatoShop for more great Salt & Pepper Shakers and Shark items.
Doritos To Make Taco Bell Flavored Chips
Posted: 01 Feb 2013 02:00 PM PST
So. It has come full circle. First, Taco Bell launched the Doritos Locos Tacos, a taco with shell made from Doritos chips. Now, Doritos is making chips that tastes like the Taco Bell taco!
A variety of flavors were tested for the Doritos Locos Tacos before executives settled on Nacho Cheese, which is by far the most popular Doritos flavor (Cool Ranch is second). But Frito-Lay didn't want its Doritos name on just any taco shell, so it created a special, crunchier shell for the Doritos Locos Tacos.

''They wanted it to have that teeth-rattling crunch,'' Creed said.
POLL: Would you eat it, Neatoramanauts?
Hell yes! It's a match made in culinary heaven
Hell no! It's the spawn of the culinary devil
Posted: 01 Feb 2013 01:00 PM PST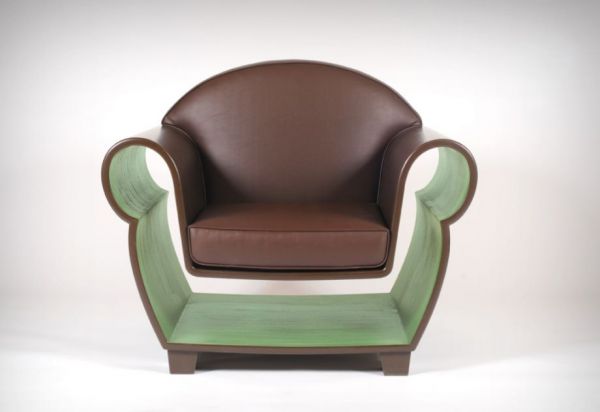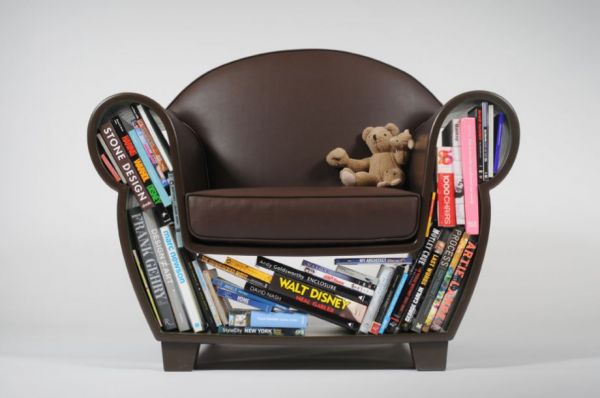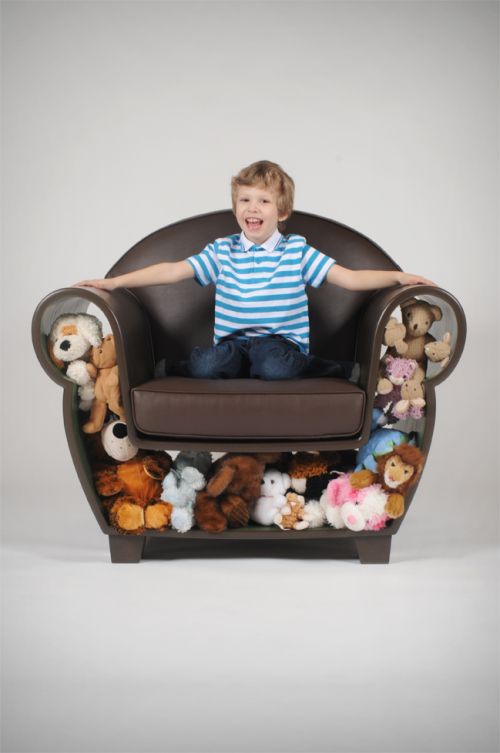 Judson Beaumont's clever chair design offers accessible storage and display space:
It was constructed from 618 individually cut pieces of Baltic Birch plywood, and upholstered in vinyl. The pieces were designed on a computer to be cut out via CNC so that they would each be identical, to ensure the seamless joints would accommodate the stress-load of everyday use.
How Does an Owl Rotate Its Neck Almost Full Circle?
Posted: 01 Feb 2013 12:00 PM PST
Hoo wants to know? Owl tell ya!
A study published in the Science journal found that blood vessels at the base of owls' heads are able to balloon outwards when blood flow increases.

This enables them to create "reservoirs" of blood which are needed to supply the animals' out-of-proportion heads and eyes while their heads are turned, researchers explained.

In contrast, humans' arteries tend to decrease in size and do not swell to accommodate greater blood flow, creating the risk of clotting after sudden neck movements such as whiplash or botched chiropractic therapy.

Owls were also found to have especially large cavities in their neck vertebrae through which arteries pass, leaving extra space for movement when the neck is twisted, and to have small connections between the carotid and vertebral arteries which allowed blood to pass from one to the other in the case of one becoming blocked during extreme neck rotation.
Posted: 01 Feb 2013 11:00 AM PST
(YouTube link)
The festival known as Up Helly Aa happens in Lerwick, Shetland, Scotland, on the last Tuesday in January, which was the 29th this year. The celebration is led by the elected Guizer Jarl, or head Viking, and his Jarl Squad, clad in different historic uniforms each year. The squad performs various ceremonial duties during the day, and at night the town's lights are turned off while they lead a procession of up to a thousand men carrying torches while thousands more watch. The public is not allowed to watch the end of the procession, in which the torches are used to ceremoniously burn a Viking galley. After the boat is burned, the guizers return to the village for parties and merrymaking. The festival began in the 1800s as rowdy street parties around Christmas evolved into more civilized rituals. A group of young men introduced the Viking theme into the celebrations around 1870. The oldest and biggest Up Helly Aa is at Lerwick, but other towns in Shetland carry on the rituals as well. There is yet no video of the 2013 fire procession on YouTube, but this report from the BBC from Tuesday gives you a good idea of what happened. Link -via the Presurfer
Aakash Nihalani's Fractured World
Posted: 01 Feb 2013 10:00 AM PST
Aakash Nihalani makes wonderful optical illusions in public spaces with just masking tape. Now he's doing the same with animated .gifs. You can view three more at the link.
The Wacky World of Chinese Bootleg Movies
Posted: 01 Feb 2013 09:00 AM PST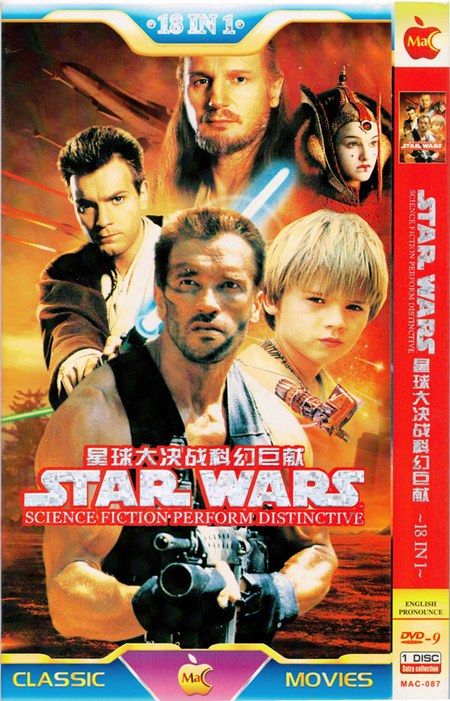 Funny, I saw all the Star Wars films and I don't recall Arnold Schwarzenegger being in any of them! This is a pirated copy manufactured in China, where accuracy takes a backseat to fast volume production. They may be cheap, unauthorized, and hang up in your DVD player, but they are good for a laugh.
I mean, I can understand a bad translation to Chinese, but how the hell did they come up with these English slogans? Are they the product of a chain English-Chinese-English Google translation? Why did they put these next to the Chinese text? And why are they pasting negative quotes from film reviews on the covers? The one for rom-com The Perfect Man says "The Perfect Man takes its idiotic plot and uses it for scenes of awesome stupidity." I'm sure the critic was right, but how is this honesty a selling point?

The covers' Photoshop jobs, however, are pure genius: I really want to see Star Wars with Predator's Arnold, Indy with a broadsword, and Thor in Games of Thrones. Oh, and Harry Potter in Lord of the Rings would be formidable.
My theory is that instead of attempting to translate whatever information they have, the cover artists use a lot of copy-and-paste from random movie sources that may or may not have anything to do with the movie at hand. Read more at Gizmodo. Link -via Digg

See more pictures at the original article in Spanish. Link
Posted: 01 Feb 2013 08:00 AM PST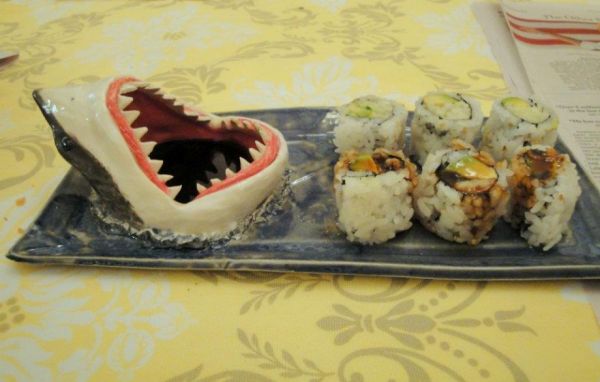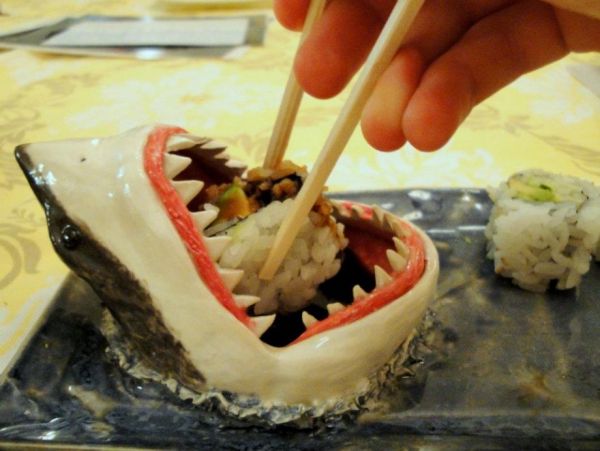 Aviceramics's shark sushi plate looks cute, but use it with care. Watch your fingers while dipping pieces in the soy sauce cup.
Sea Monkeys Big Show Projector
Posted: 01 Feb 2013 07:00 AM PST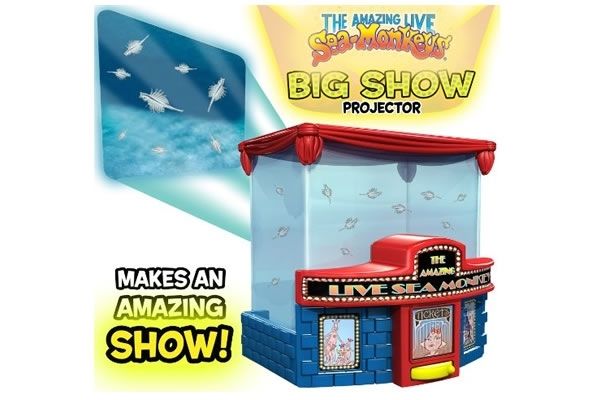 Sea Monkeys Big Show Projector
If you give a sea monkey a big show theater he won't ask you for some popcorn. These sort of brine shrimp don't eat popcorn and they also can't talk. They will, however, swim for you and you can project all that fantastic swimming onto a wall with the tank's built-in projector.
The Amazing Live Sea Monkeys Big Show Projector is a great way to introduce children, and deprived adults, to the amazing world of sea monkeys. The kit includes: tank, food, food spoon, magnifying glass, water dropper, and sea monkey eggs.
Be sure to check out the NeatoShop for more great Classic Toys.
Four Volcanos Erupting in Kamchatka
Posted: 01 Feb 2013 07:00 AM PST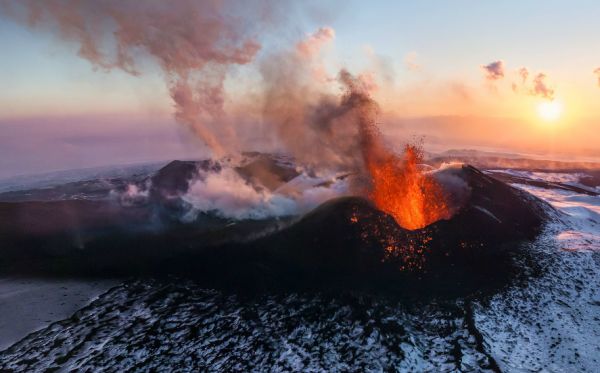 A simultaneous eruption of four volcanoes is taking place on the Russian peninsula of Kamchatka. Despite the fact that all four are within 110 miles of each other, geologists believe that the volcanoes do not share a common magma source, which makes it all the more remarkable.
All four of the volcanoes now erupting have shown significant activity in recent years. Most recently, Tobalchik began spewing lava on Nov. 27 of last year, creating the impressive lava flows visible in the 360 degree video taken by Airpano. Shiveluch, the northernmost of the four, prefers shooting columns of ash high into the air, which it has been doing on a regular basis during the last four years since a magma dome in its crater exploded. Besymjanny awoke with a bang in the 1950s following 1,000 years of dormancy and has been active since then, with huge clouds of ash rising on a regular basis. Finally, the southernmost of the quartet, Kisimen, has been erupting regularly since 2010, and there is concern that it could perform a repeat of the violent explosion which sheered off half of the mountain some 1,300 years ago.
The Russian photography company Airpano flew over the area, taking panoramic shots and a 360-degree video that follows a helicopter visiting all four volcanoes. Link

(Image credit: Airpano)
Alice in Wonderland Wedding Cake
Posted: 01 Feb 2013 06:00 AM PST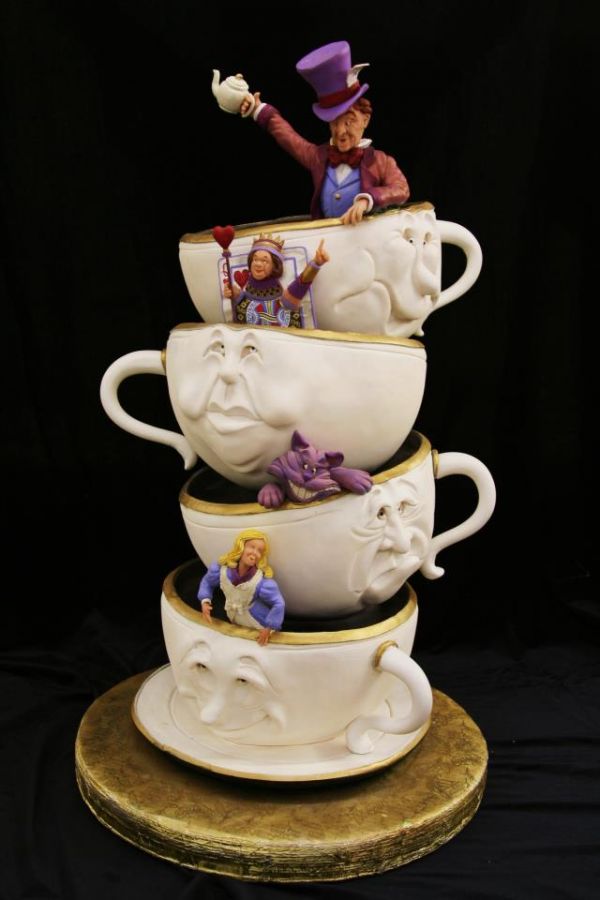 Go down the rabbit hole! You don't know what adventures marriage may bring you. Mike's Amazing Cakes assembled this beautiful wedding cake.
Mothers Superior: Not Your Everyday Nuns
Posted: 01 Feb 2013 05:00 AM PST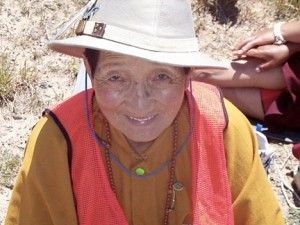 Badass nuns who rode into battle, fought the Klan, and kissed Elvis? These aren't the ladies from Sunday School.

BATTLE HYMN OF THE WARRIOR NUN: Ani Pachen (1933-2002)

At the age of 17, Pachen Dolma learned that her father planned to marry her off. The only child of Tibetan chieftain, Pachen had no intention of letting her family control her fate, so she fled to a monastery. When her father called off the marriage, she agreed to return home, but with a new identity.

Now known as Ani Pachen, or "Nun Big Courage," Pachen balanced her tribal duties with her religious vows. In 1958, when her father died unexpectedly, the young nun was thrust into his leadership role. She was just 25. Even more difficult: The role came as China was moving to subjugate Tibet.

As China's massive army rolled through the land, ravaging monasteries and torturing objectors, Pachen lived up to her moniker. Leading 600 tribesmen on horseback, this courageous nun marshaled the local resistance and used guerrilla tactics to fend off tanks. She stayed off the Chinese forces for nearly a year.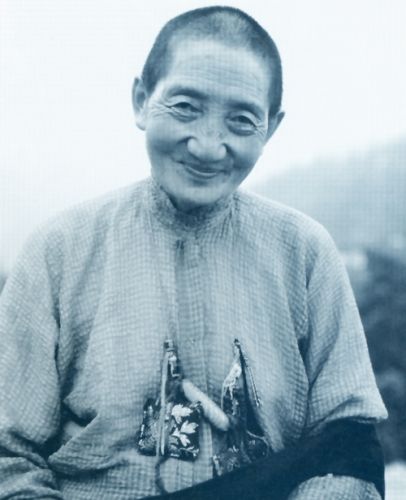 Admirers call Pachen the Tibetan Joan of Arc, another warrior whose winning streak did not end in obvious victory. Pachen was captured in 1959 and sent to prison for 21 brutal years. "When they arrested me, they bound my hands and feet and hung me upside down," she said. "They beat me continuously …they shackled me for a year. They put me in a hole in the ground and forced me to live in my own feces."

But they couldn't break her spirit. After Pachen's release from the Lhasa prison in 1981, she picked up where she left off, staying in the Tibetan capital to protest the Chinese occupation. Then, in 1989, she was tipped off that military forces planned to arrest her again. For the second time in her life, Pachen chose to run. The 56-year-old fled on foot over snow-covered Mount Kailash. Battling fatigue and cold, she bypassed military checkpoints under the cover of night and spent nearly a month trudging across the steep passes toward Nepal.

Pachen lived out the rest of her years in Dharamsala, India, where the Tibetan government resides in exile. Though she devoted herself to a quiet nun's life, her story remains a source of inspiration. As the Dalai Lama wrote in the forward of Pachen's book, Sorrow Mountain: "It is the kind of strength and resilience she embodies that gives me grounds for optimism that ultimately the truth and justice of our cause will triumph."

THE CRUSADING HEIRESS: Katharine Drexel (1858-1955)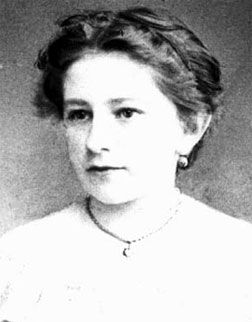 As a young woman, Philadelphia banking heiress Katharine Drexel flirted with the idea of entering a convent, but her high station in life prevented it. Drexel was a typical socialite of her time -she had a coming-out ball and toured Europe- but her stepmother and family helped keep her grounded. The Drexels were extremely devout, which inspired them to spend a good deal of time and money on charitable causes. During her travels, Drexel witnessed the grievous conditions of African-American communities in the South and the horrors of life on Indian reservations.

Drawn to these causes, she wanted to become more involved. But it took two profound events to push her from sympathy to action. When Drexel's stepmother passed in 1883 and her father in 1885, the losses left her shaken. Then during an audience with Pope Leo XIII, the twentysomething was surprised to hear the pontiff make a suggestion: He proposed that she take a vow of poverty and become a missionary.

Moved by the thought, Drexel began religious studies in 1889 at a convent in Pittsburgh. Two years later she founded her own order called the Sisters of the Blessed Sacrament for Indians and Colored People. Over the next few decades, Drexel used resources from her family's fortune to found over 60 schools, predominantly in the American South and West.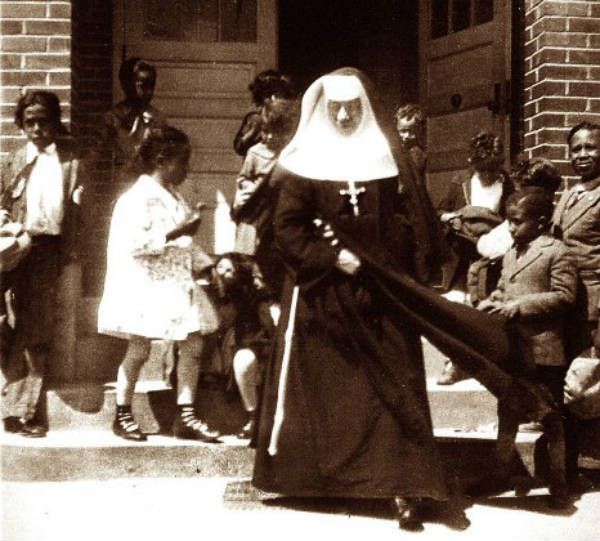 Unfortunately, the segregated South didn't take kindly to white Northerners educating and offering spiritual guidance to ethnic minorities. In Virginia, one of Drexel's school buildings was burned to the ground. In Beaumont, Texas, the Ku Klux Klan threatened her nuns with "flogging and tar and feathers." (A higher power may have intervened; In a Klan meeting soon after, the town's most prominent member was killed by lightning.)

Drexel kept pushing forward, and she found ways to work around discrimination. Instead of seating blacks in the back of the church, she instituted a progressive solution: parallel pews that ran the length of the sanctuary. Black and white churchgoers sat side by side, neither race ahead nor behind.

In 1915, Drexel donated $750,000 to found Xavier University of Louisiana -the only historically black Catholic college in the United States. While she was instrumental in the school's founding, she insisted she not be named in the dedication. She sat in the back row of the auditorium, watching it as an anonymous observer.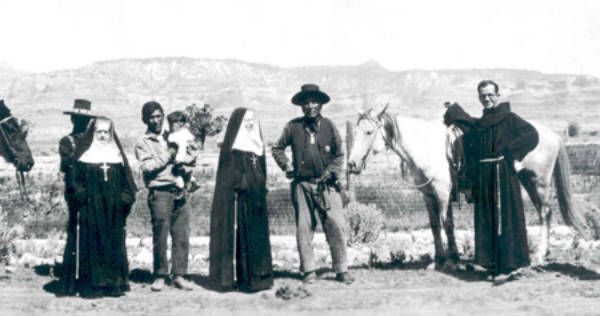 After a debilitating heart attack at age 77, Drexel relinquished control of the order. But she didn't go away. As a young woman, Drexel had hoped to live a cloistered religious life. Now, she had her chance. She lived nearly two more decades, quietly professing her faith. When she died, the church couldn't hold the mourners who traveled to pay tribute. Her coffin was carried by six men: two white, two black, and two American Indians.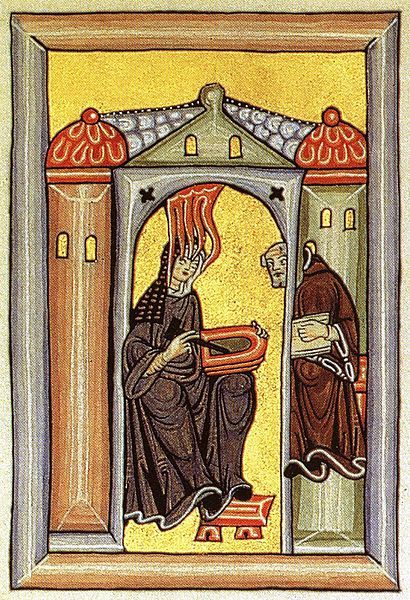 RELIGIOUS ROCK STAR: Hildegard of Bingen (1098-1179)

Renaissance woman hundreds of years before the Renaissance, Hildegard of Bingen experienced visions of "heavenly light" as early as age 3 (author and neurologist Arthur Sacks speculates that she suffered migraines). By the time she turned 8, Hildegard's parents knew their daughter had a calling, so they sent her to Germany's Disibodenberg Monastery.

Here, Hildegard quietly embraced her faith for 35 years. Then one day, she experienced a vision so intense she could no longer suppress her feelings. A heavenly voice told her, "Oh, fragile human, ashes of ashes and filth of filth! Say and write what you see and hear." HIldegard obeyed with vigor. She wrote reams of devotional poetry, sketched a theory of cosmology and collected information on medicinal herbs. She wrote morality plays and composed more than 70 soaring songs that survive to this day.

Hildegard saw this creative supernova as inextricably linked to her religious calling: "Humankind, full of all creative possibilities, is God's work, she wrote. "Humankind alone is called to assist God. Humankind is called to cocreate."

By 1150, Hildegard had attracted so many followers that she broke from the monastery to found her own convent 15 miles away. There, she received and answered hundreds of letters asking for her advice, prayers, and prophesies. Rulers of countries wrote to her. So did church officials and everyday monks and nuns. HIldegard was no demure correspondent; when an abbott complained of rumors about his monastery, she upbraided him for causing the trouble himself.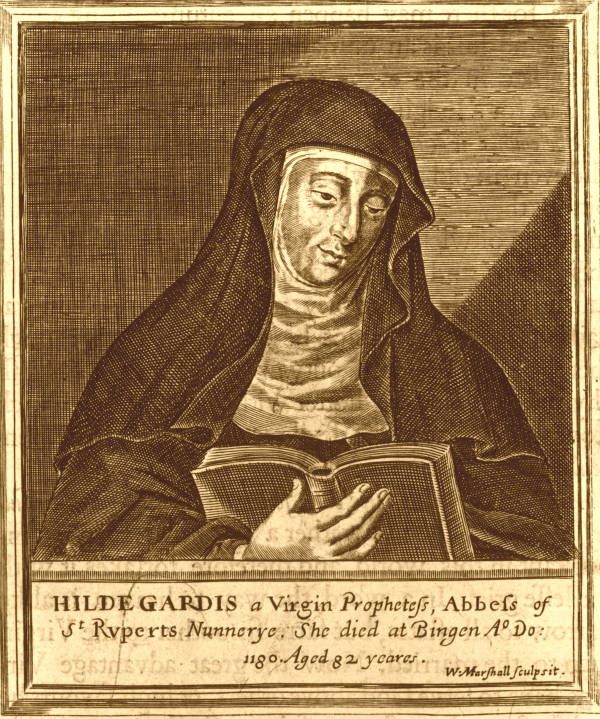 Although church rules forbade women from teaching on religious matters, Pope Eugene III made an exception for Hildegard, believing the rules didn't apply because she was sharing direct revelations from the Almighty. Before long, she'd become a religious rock star. In her sixties, Hildegard took her divine revelations on the road, making four tours of the Rhineland. Crowds formed wherever she went, right up until her death, in 1179. More than 800 years later, Hildegard still has fans in high places. In 2012, Pope Benedict XVI decreed that she be canonized.

THE GENIUS IN THE CONVENT: Juana Inés de la Cruz (1648-1695)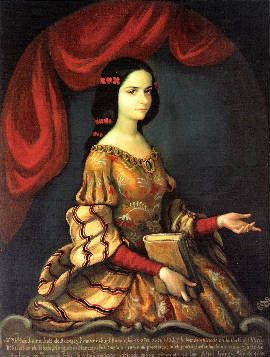 Juana Inés de la Cruz's home life was complicated. A child prodigy who learned to read and write at age 3, De la Cruz quickly picked up Latin and Nahuatl, an Aztec language, and even taught other children. But she was also an illegitimate child. Her mother sent her to live with a succession of relatives, and by her teenage years, she was living with an aunt in Mexico City. Word spread of her intelligence and beauty; before long De la Cruz was presented to the viceroy's wife, Leonor Carreto, for an education and protection. The noblewoman, who had a passion for literature, took De la Cruz into her service.

With such a powerful patron, De la Cruz gained the attention of Mexico City's other nobles. When leading intellectuals -theologians, philosophers, and lawyers- were invited to match wits with the young woman and quiz her intelligence, she blew them away.

Uninterested in marriage, De la Cruz chose the church over a husband. At 20, she entered the Convent of the Order of St. Jerome, where she continued her pursuit of knowledge. She filled her notebooks with mystical romantic poetry, taught, kept up correspondences, and wrote plays. She even assembled a library of some 4,000 volumes -an astonishing feat for the time.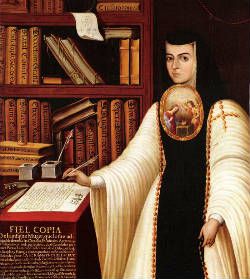 But De la Cruz had an Achilles heel. She was still an intellectual in a society deeply hostile toward women and their education. In 1690, at the request of the deeply conservative bishop of Puebla, she wrote a critique of a famous sermon by Antonio de Vieira. The request was a trap. The bishop published her piece along with a stern rebuke for daring to show her intellectual side. He then insisted that she devote herself to silent piety. Adding to the insult, he published his attack under a female pseudonym, Sor Folitea de la Cruz.

The next year, De la Cruz responded with one of her most important works. In "Reply to Sor Filotea," she made an elegant case for a woman's right to an education, suing her own history and her her pursuit of knowledge as the basis.

But the argument fell on deaf ears. De la Cruz was forced to sign documents, pledging herself to a life of silence and religious contemplation. The thousands of books in her library were sold at a loss. And a few years later, after caring for fellow nuns during an epidemic, she fell ill and passed away.

Though her voice was silenced by the church, De la Cruz's story has lived to inspire. In 1982, Nobel Prize winner Octavio Paz reminded the world of her struggle in his acclaimed book Sor Juana, and she's been upheld as a pillar of early feminism ever since.

HOLLYWOOD HOLY WOMAN: Mother Prioress Dolores Hart (1938- )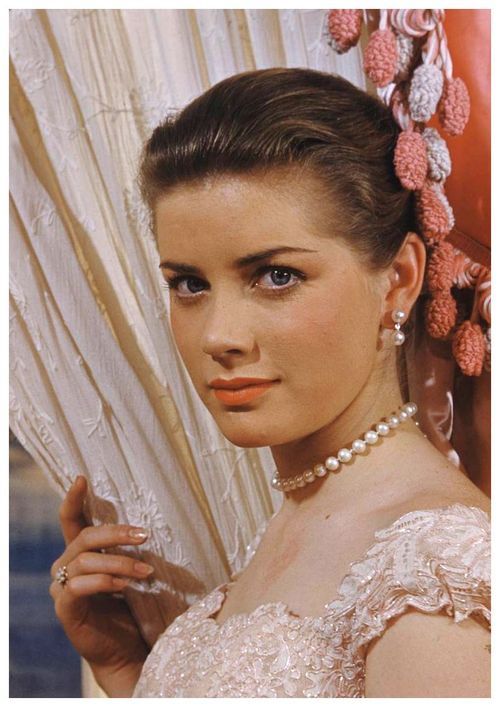 Dolores Hart's star was on the rise during the late 1950s and early 1960s -the young actress made 10 movies in half as many years, sharing the screen with Montgomery Clift, Anthony Quinn, and Elvis, among others. But the devout Catholic, who had converted at age 10, always felt the pull of religious life.

In 1963, at the age of 24, she entered the Abbey of Regina Laudis, a Bethlehem, Connecticut, convent. She left both her career and her fiancé behind, but she didn't exactly abandon either.

"I never felt I was leaving Hollywood," she told the New York Times. "I never felt I was leaving anything that I was given. The abbey was like a grace of God that just entered my life in a way that was totally unexpected -and God was the vehicle."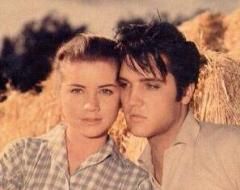 With help from fellow Hollywood actors, including Patricia Neal and Paul Newman, Hart built a performing arts facility on the grounds of the convent that continues to stage Broadway favorites during the summer months. She answers mail from fans, many of whom want to know about her time with Elvis (according to Hart, she and Presley were so embarrassed about sharing a kiss onscreen in Loving You that extra makeup had to be applied to their blushing faces). And until his death, she remained friends and kept in touch with her former fiancé, who never married.

While Hart dropped her membership in the Motion Picture Academy of Arts and Sciences after entering the convent, she was reinstated in 1990 and has voted for the Oscars every year since. She watches DVDs of nominated films in her basement and shares the best ones with her fellow nuns.

In 2012, 50 years after her last Hollywood awards show, Hart walked the red carpet again at the Academy Awards. There, her life -and the convent- were featured in an Oscar-nominated short that took its title from Hart's wry confession "God is the bigger Elvis." [ed. note: You can see the documentary in its entirety at YouTube.]
__________________________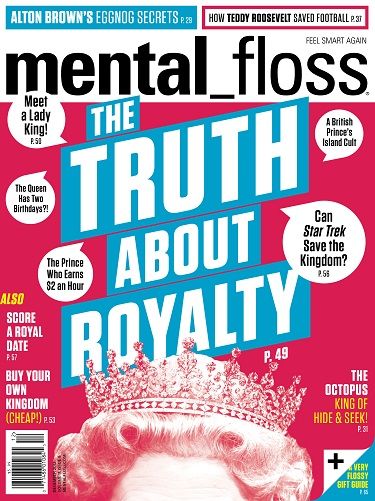 The above article was written by Clay Wirestone. It is reprinted with permission from the December 2012 issue of mental_floss magazine.
Be sure to visit mental_floss' entertaining website and blog for more fun stuff!
You are subscribed to email updates from Neatorama
To stop receiving these emails, you may unsubscribe now.
Email delivery powered by Google
Google Inc., 20 West Kinzie, Chicago IL USA 60610