---
Portrait of Abraham Lincoln Rusted onto the Hood of a '75 Lincoln Continental
Posted: 13 Feb 2013 04:00 AM PST
Posted: 13 Feb 2013 03:00 AM PST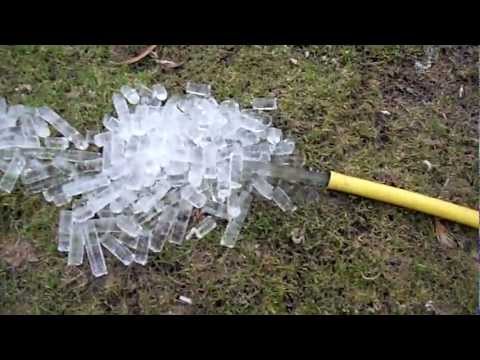 (YouTube link)
This is what happens when you neglect to bring in the garden hose, or at least drain it, before a freezing cold night. I know a couple of fast-food outlets that serve ice shaped just like this. I wonder if they make them with a garden hose! (via reddit)
Retro Weird: Librarians' Workout Video from 1987
Posted: 13 Feb 2013 02:00 AM PST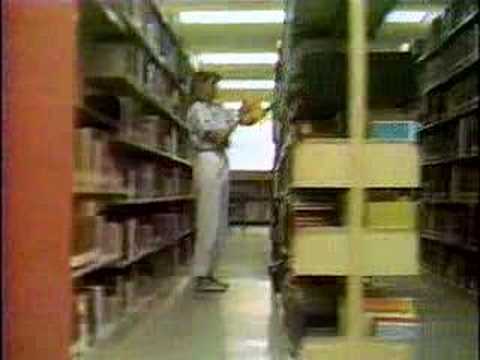 (Video Link)
YouTube member deneui made this bizarrely fascinating video in 1987 while attending Arizona State University. While snapping a riding crop for encouragement, librarian Betty Glover puts her staff through a vigorous workout using common pieces of library equipment.
-via Breda Fallacy
Posted: 13 Feb 2013 01:00 AM PST
Ask any kid: nothing says impermanence like a melting popsicle. Argentinian artist Luciana Rondolini's Calamidad cósmica uses giant melting popsicles to remind us that time is fleeting (and that popsicles would make a great snack later today!)
Link - via designboom
How Likely Are You to Hit a Deer While Driving?
Posted: 13 Feb 2013 12:00 AM PST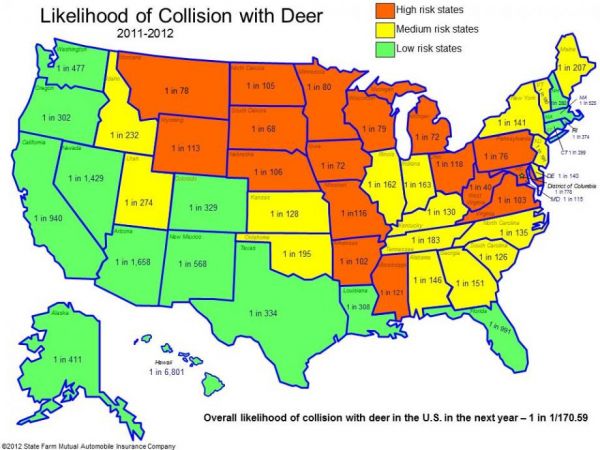 Hitting a deer on the road can be terrible. Your car can suffer terrible damage and there's a real risk of losing control and crashing. And, from the deer's point of view, it's also a decidedly unpleasant occurence.
How likely are you to hit a deer over the course of a year of driving? According to the insurance company State Farm, West Virginia is the riskiest state with a likelihood of 1 in 40. You're probably safe in Hawaii, where it's 1 in 6,801. In the state of New York, it's 1 in 141, so be careful when cruising through Brooklyn.
Link -via Joe Carter | Image: State Farm
Posted: 12 Feb 2013 11:00 PM PST
Do you feel that today's babies don't take mealtime seriously enough? Have you had with them rolling up to the dinner table in pajamas? Now is the time to take a stand against everyday being casual Friday with the Necktie Hip Bib from the NeatoShop. The Necktie hip Bib is a great way to make sure your tot is always dressed for success.
Be sure to check out the NeatoShop for more great Baby & Tot items.
The Wind Waker: Queen Zelda Edition
Posted: 12 Feb 2013 11:00 PM PST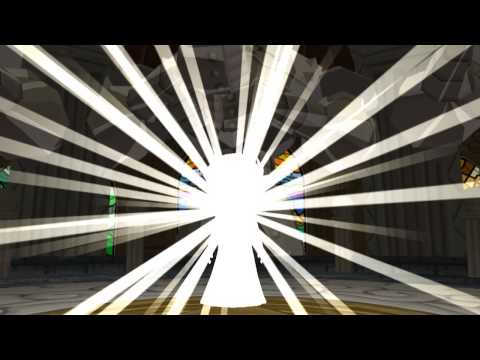 (YouTube link)
Oblivious Films gives us a music video for Queen's "Bohemian Rhapsody" featuring video clips from the Zelda game The Wind Waker. Bonus: the song is the live version from Wembley '86. -via Geeks Are Sexy
Hitler's Last Surviving Food Taster Tells All
Posted: 12 Feb 2013 10:00 PM PST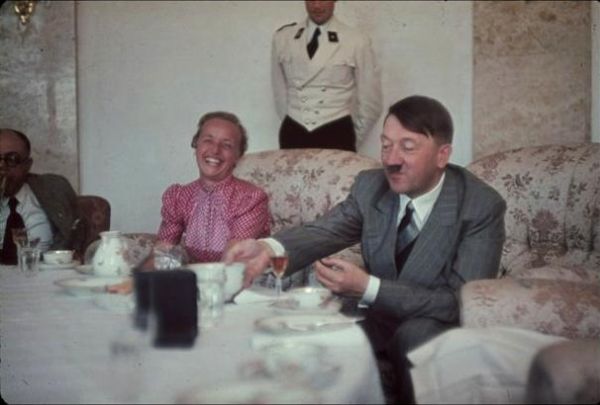 Margot Woelk, 95, was one of a dozen women whose job was to taste the food prepared for Adolf Hitler to detect poisons. She recently descibed to reporters her life at the Wolf's Lair, Hitler's headquarters facility in eastern Poland:
She said: "Between 11 and 12 o'clock, we had to taste the food, and only after all of us had tried it was it driven to the headquarters by the SS.
"It was all vegetarian, the most delicious fresh things, from asparagus to peppers and peas, served with rice and salads. It was all arranged on one plate, just as it was served to him. There was no meat and I do not remember any fish.

"Of course I was afraid. If it had been poisoned I would not be here today. We were forced to eat it, we had no choice."
At the link, you can read descriptions of Hitler's poor table manners and Woelk's escape from advancing Soviet troops.
Your Baby Knows More Than You Think
Posted: 12 Feb 2013 09:00 PM PST

Photo: University of Washington, Institute for Learning & Brain Science
Your baby is smarter than you'd think. A new laboratory technique allowed scientists to peer inside a baby's brain to see what's going on there while you read or talk to it:
Infants as young as 6 months are capable of making predictions based on probability, a higher level of reasoning than is commonly believed possible, researchers have found.

When shown a range of facial expressions, children as young as 7 months cast the longest gaze on the fearful face, similar to adult behavior, which scientists say signals an early sign of emotional processing.

And every parent knows that mimicking a baby's behavior, such as clapping hands, brings the child pleasure. Imaging technology has confirmed that this kind of play activates the pleasure center in the baby's brain, whereas engaging in a mismatched activity doesn't.
Sumathi Reddy of the Wall Street Journal has the full report: Link
Knitted <i>Star Trek</i> iPad Covers
Posted: 12 Feb 2013 08:00 PM PST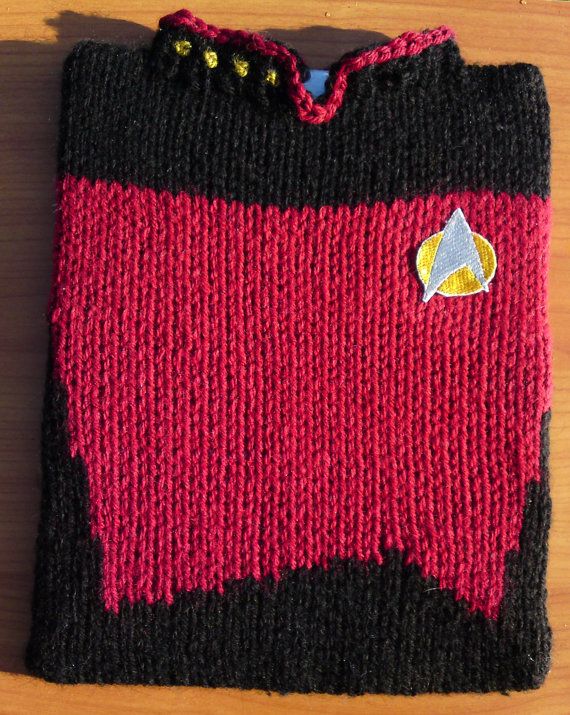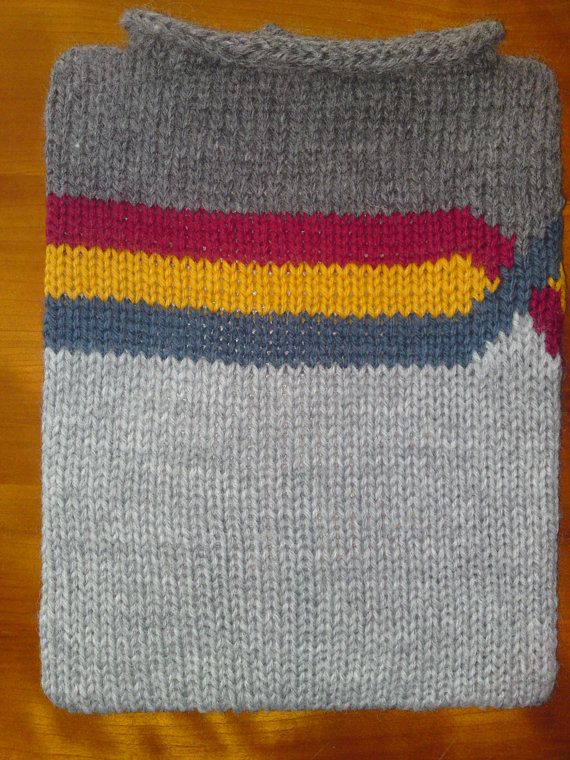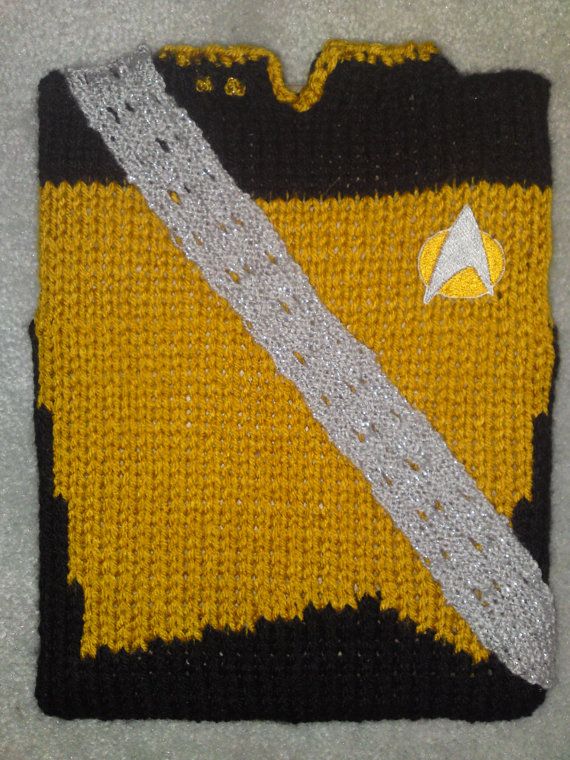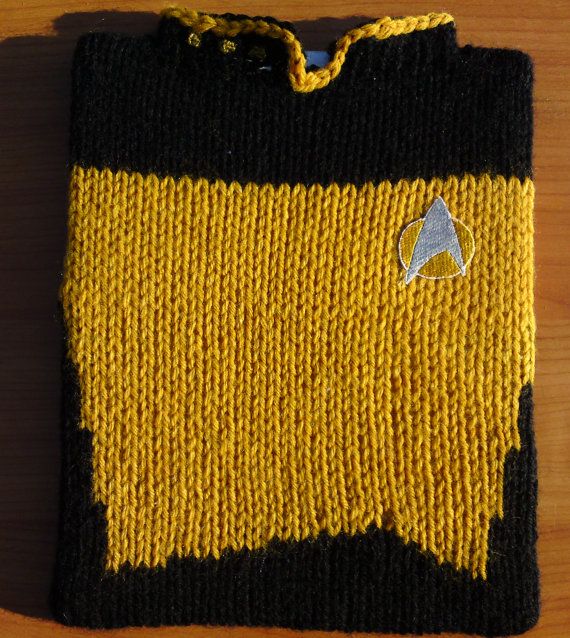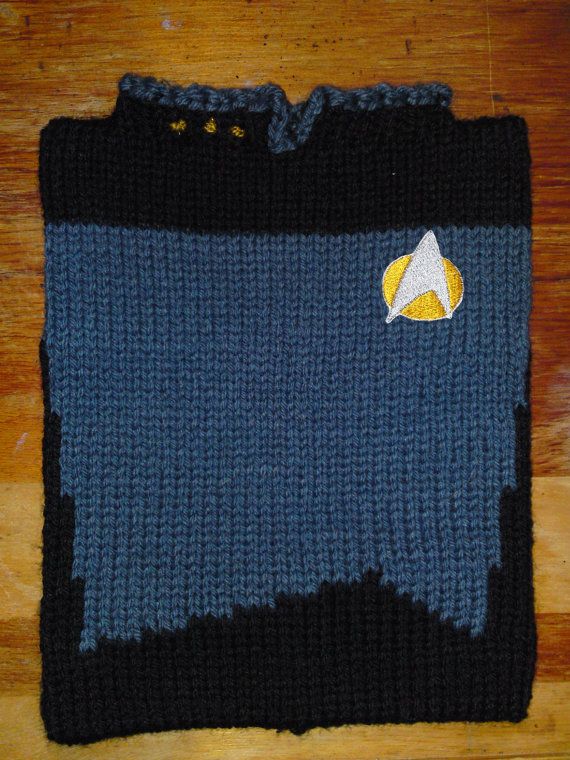 The iPad first appeared on Star Trek: The Next Generation in 2364, so it makes sense to accent one accordingly. Knitter Who made several custom iPad covers styled like the uniforms of the Enterprise-D's bridge crew. Warning: encasing your iPad in a Worf cover voids the warranty.
Link -via Knit Queer
P.S. Be sure to check out our line of iPad acccessories now on sale in the NeatoShop.
Posted: 12 Feb 2013 07:00 PM PST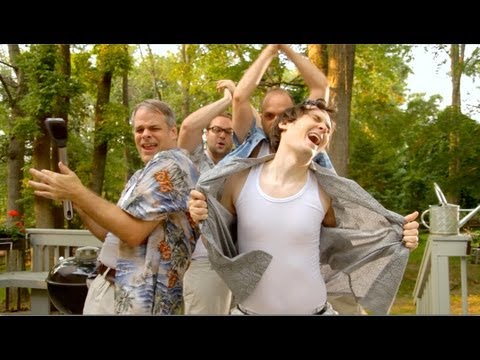 (YouTube link)
Being 45 is so much better than being 15! Here's the soon-to-be-hit song from the group Pushing 40, featured in the web series My Dad Is In A Boy Band. -via Daily of the Day
Why The Empire Strikes Out at the Battle of Hoth
Posted: 12 Feb 2013 06:00 PM PST
He may be the Dark Lord of the Sith and all, but one thing's for sure: Darth Vader ain't no Sun Tzu. The Battle of Hoth should've been an easy win for the Galactic Empire - it has superior fire power and the Rebel Alliance's Echo Base was particularly vulnerable - but missteps almost caused Vader his victory.
Spencer Ackerman of Wired's Danger Room dissected the Battle of Hoth and showed us why we should find Vader's lack of cohesive military strategy disturbing:
From a military perspective, Hoth should have been a total debacle for the Rebel Alliance. Overconfident that they can evade Imperial surveillance, they hole up on unforgiving frigid terrain at the far end of the cosmos. Huddled into the lone Echo Base are all their major players: politically crucial Princess Leia; ace pilot Han Solo; and their game-changer, Luke Skywalker, who isn't even a Jedi yet.

The defenses the Alliance constructed on Hoth could not be more favorable to Vader if the villain constructed them himself. The single Rebel base (!) is defended by a few artillery pieces on its north slope, protecting its main power generator. An ion cannon is its main anti-aircraft/spacecraft defense. Its outermost perimeter defense is an energy shield that can deflect Imperial laser bombardment. But the shield has two huge flaws: It can't stop an Imperial landing force from entering the atmosphere, and it can only open in a discrete place for a limited time so the Rebels' Ion Cannon can protect an evacuation. In essence, the Rebels built a shield that can't keep an invader out and complicates their own escape.

When Vader enters the Hoth System with the Imperial Fleet, he's holding a winning hand. What follows next is a reminder of two military truths that apply in our own time and in our own galaxy: Don't place unaccountable religious fanatics in wartime command, and never underestimate a hegemonic power's ability to miscalculate against an insurgency.
Read the rest over at Wired: Link
Photographer Depicts His Daughter in the Styles of the Old Masters
Posted: 12 Feb 2013 05:00 PM PST
Bill Gekas, an internationally award-winning photographer, feels inspired by the visual ambiances of the Old Masters of Western European painting, particular Vemeer and Rembrandt. He duplicated them magificently in a photo series that includes his daughter and himself:
Using various models, including his five-year-old daughter, Gekas has brilliantly re-imagined the masters, replicating the lighting style for which they are famous. The so-called Rembrandt lighting is characterised by strong window light falling on one side of the subject's face and body, producing shadows amid a rich glow. Gekas uses artificial light to simulate the admired window-lighting effect.

Gallery, Photographer's Website and News Story -via American Digest
Posted: 12 Feb 2013 04:00 PM PST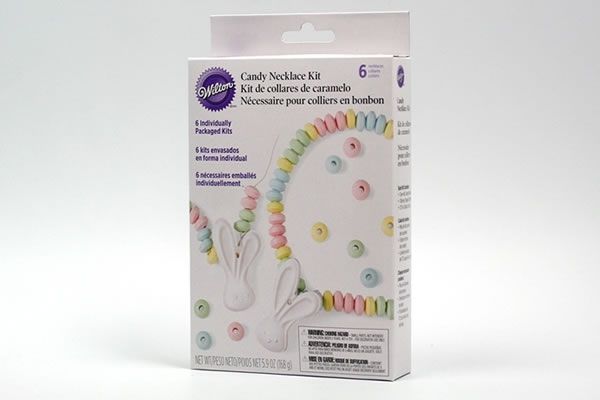 Hippity. Hoppity. Easter is on the way.
Are you looking for a sweet do-it-yourself treat for your family? You need the Bunny Candy Necklace kit from the NeatoShop. Each box includes 6 individually wrapped kits and each kit has everything you need to make a candy necklace.
Be sure to check out the NeatoShop for more great Mints & Candies.
Posted: 12 Feb 2013 04:00 PM PST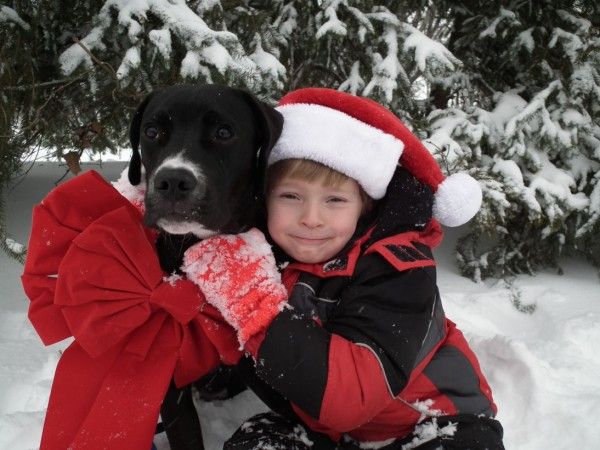 Owen Sherman of Dover-Foxcroft, Maine, just turned seven years old. He asked his friends and family to skip getting him a birthday gift, but instead he requested donations for an animal shelter where he found his best friend, Eli.
Owen, a first-grader at SeDoMoCha Elementary School in Dover-Foxcroft, has bilateral fibular hemimelia — a congenital absence of the fibula bones in both legs. His legs were amputated below the knees when he was 8 months old. He now wears prosthetic legs, which he was walking on as early as 13 months old, according to his mother Barbara Estabrook Sherman.

After the family dog, Sparky, died last year, Owen and his father, Shane Sherman, went looking for a new dog.

"My husband and he went behind my back and searched over the Internet and found Eli," said Sherman. "[Owen] fell in love with Eli sight unseen."

Sherman said Eli, a boxer-lab mix, had to have one of its hind legs amputated.

"We believe he had been abused and somehow an infection set in," she said. "He was given up and he had to have that leg amputated."
Owen and Eli are inseparable. The Underhound Railroad Rescue now has at least $120 coming that would have been spent on Owen's birthday gifts. Link -via Fark

(Image credit: Barbara Estabrook Sherman)
Posted: 12 Feb 2013 03:00 PM PST
What's better than a LEGO Catbus? A LEGO Catbus with moving legs and tail, and bobbing head as it moves! If you love Hayao Miyazaki's 1988 masterpiece My Neighbor Totoro, you'd dig this LEGO Catbus by Tomoyuki Wakata.
See also: Catbus and Totoro items over at the NeatoShop.
More pics and video clip of the LEGO Catbus in action below: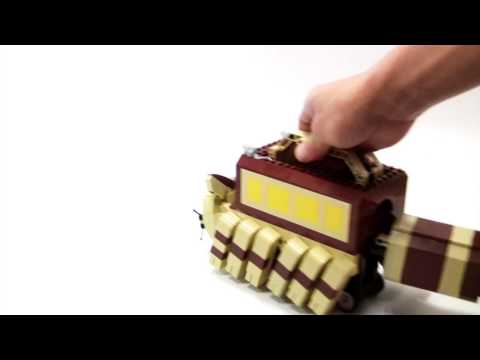 Link [in Japanese] - via Technabob
Posted: 12 Feb 2013 02:00 PM PST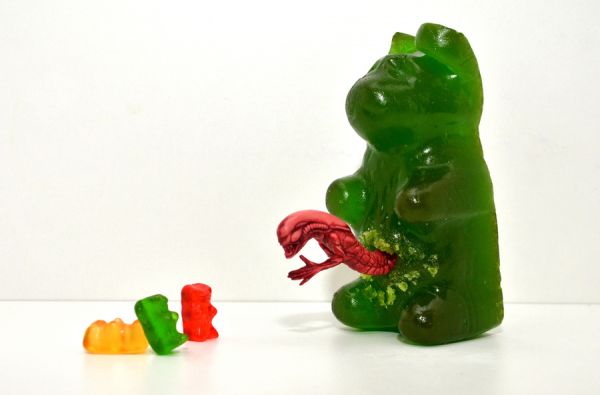 Crummy Gummy sent a picture of his latest work, which is totally sweet if you're an Alien fan or totally disturbing if you're a Gummi Bear fan. He titled it "It's A Boy!" Link
Posted: 12 Feb 2013 01:00 PM PST
Pluto may not be a planet anymore, but it's still got moons. In fact, thanks to images taken by the Hubble Space Telescope, it has two more moons than previously thought. Now, you get to partake in the fun of naming them:
By tradition, the moons of Pluto have names associated with Hades and the underworld. Beginning today, people can vote by visiting: http://plutorocks.seti.org

"The Greeks were great storytellers and they have given us a colorful cast of characters to work with," said Mark Showalter, Senior Research Scientist at the Carl Sagan Center of the SETI Institute in Mountain View, California. He and the teams of astronomers who made the discoveries will select two names based on the outcome of the voting.

Until now, these small moons have been referred to as, simply, "P4" and "P5". Like Pluto's three other moons, Charon, Nix and Hydra, they need to be assigned names derived from Greek or Roman mythology.
Posted: 12 Feb 2013 12:00 PM PST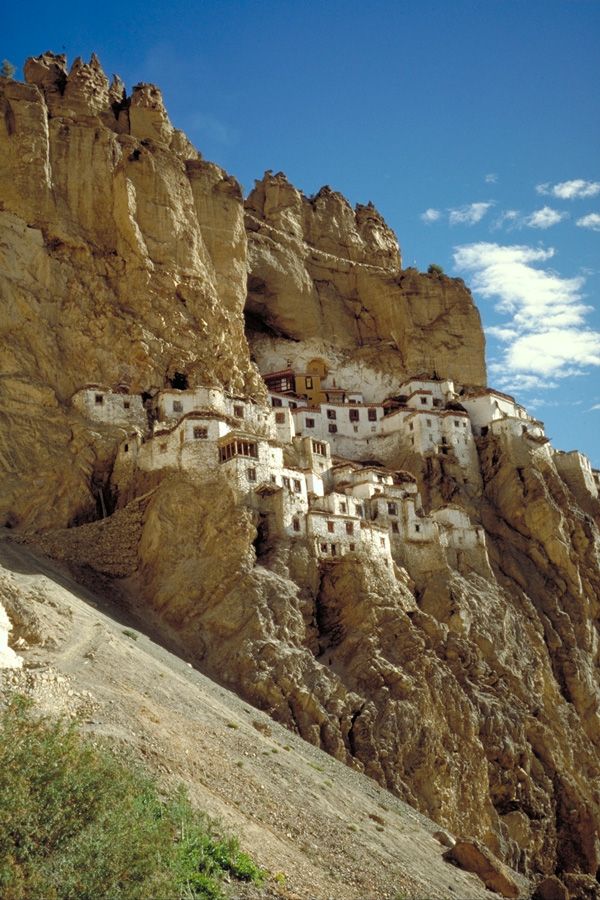 The Buddhist monastery known as Phugtal Gompa was built around a cave system on the sheer cliff of a Himalayan mountain in northern India. The monastery was founded around 1100 CE, although the structure itself took an awful long time to build. Now it is a tourist attraction, 3800 feet up the cliff, and still houses around 70 monks. Read about it and see more pictures at Urban Ghosts. Link
(Image credit: Wikimedia contributor Shakti)
Lightning Strikes as Pope Benedict Resigns
Posted: 12 Feb 2013 11:00 AM PST
Well, someone is certainly upset at Pope Benedict's surprise resignation yesterday. Within hours of the Pope announcing his resignation, lightning struck St. Peter's Basilica. Coincidence? Hmmmm ...
BBC News has the video clip: Link
37 People Who Are Worse At Cooking Than You
Posted: 12 Feb 2013 10:00 AM PST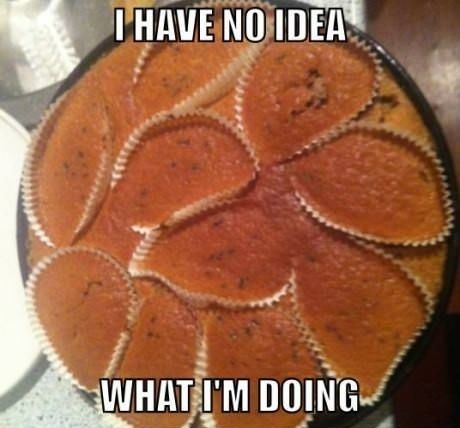 I'm in a position as far as cooking goes -I've done it for almost 50 years, and I've forgotten so many of the silly things that can go wrong. At the same time, my kids are learning to cook, and there are a lot of commonsense rules they just don't know yet, like stir your pasta, don't leave plastic on a hot stove, and you need a muffin pan to make cupcakes. Luckily, in the internet age there are plenty of people willing to share their funniest failures to remind us of what we shouldn't do! Besides, even if you are a lousy cook, these pictures will make you feel like some kind of master chef. Link
Posted: 12 Feb 2013 09:00 AM PST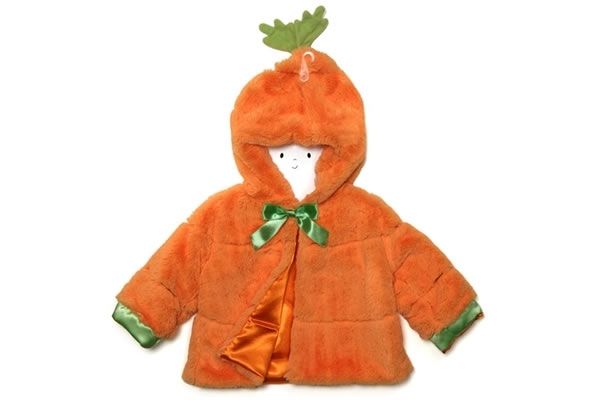 The air is crisp and fresh. You can feel spring right around the corner. Keep your bundle of joy warm and toasty all season long with the Baby Carrot Coat from the NeatoShop. This adorable little jacket looks like your favorite root vegetable. The Baby Carrot Coat is so cute you will just want to eat it up.
Be sure to check out the NeatoShop for more great Baby & Tot items.
Posted: 12 Feb 2013 09:00 AM PST
(YouTube link)
KRTV in Great Falls, Montana, was the victim of a prank in which someone announced over the Emergency Alert System (EAS) that "The bodies of the dead are rising from their graves and are attacking the living." The station quickly posted a message on their website that the emergency was bogus. The TV station is investigating the source of the prank, and so far say that the message did not originate at KRTV. -via Metafilter
Elements - Experiments in Character Design
Posted: 12 Feb 2013 08:00 AM PST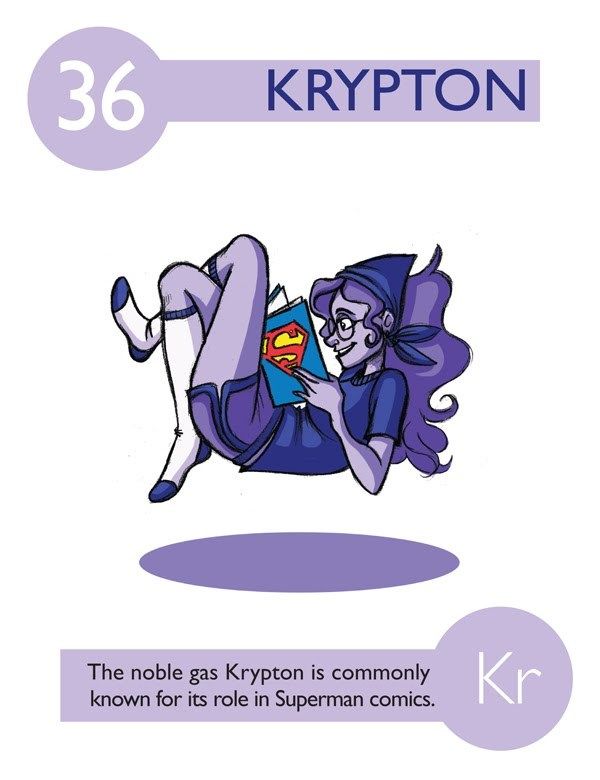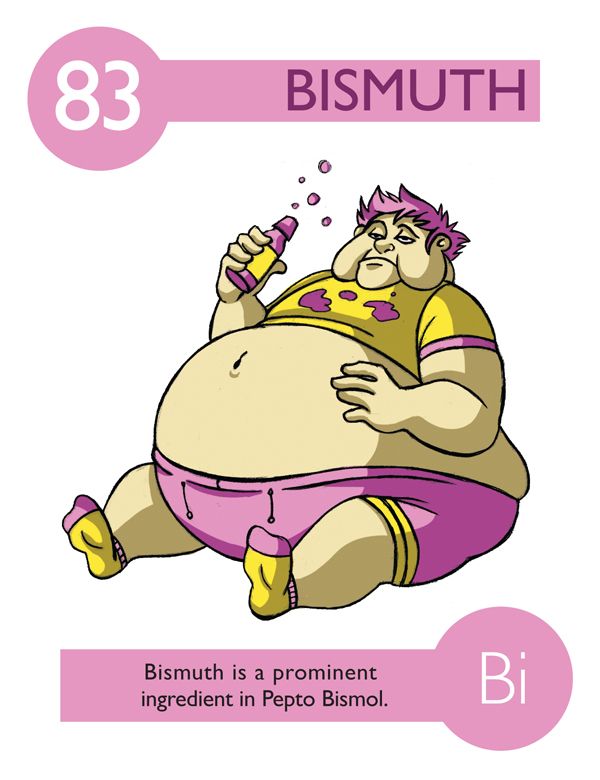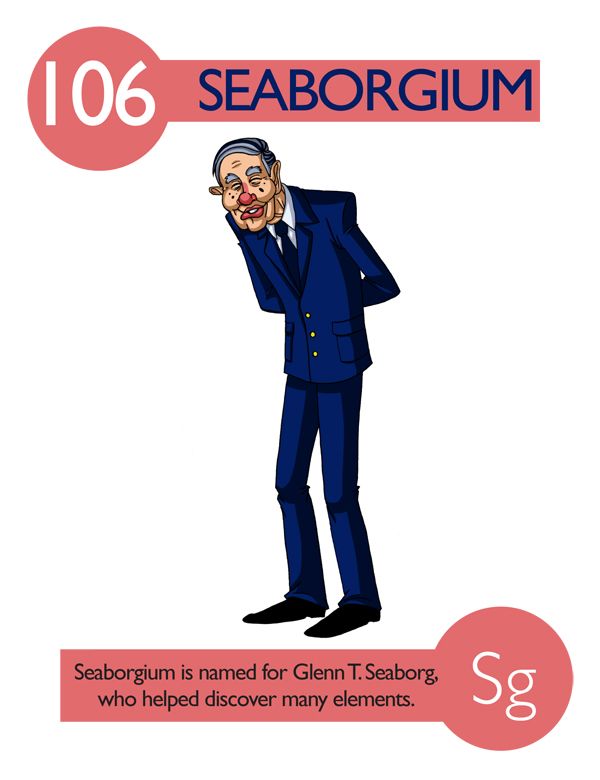 Kaycie D. graduated from the Milwaukee Institute of Art & Design. Her senior thesis was a collection of the elements of the periodic table illustrated as characters. Some are designed around their properties, some around who they are named for, and all contain some information about the element. There are even a few puns included! The project was exhibited at the Discovery World museum in Milwaukee, and now has its own website. Kaycie D. is working on making them into a series of flashcards. Continue reading for more of them.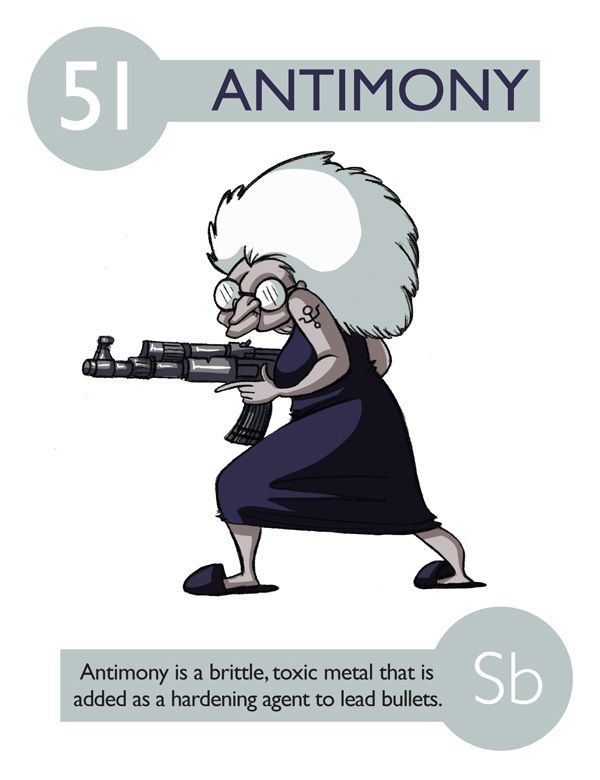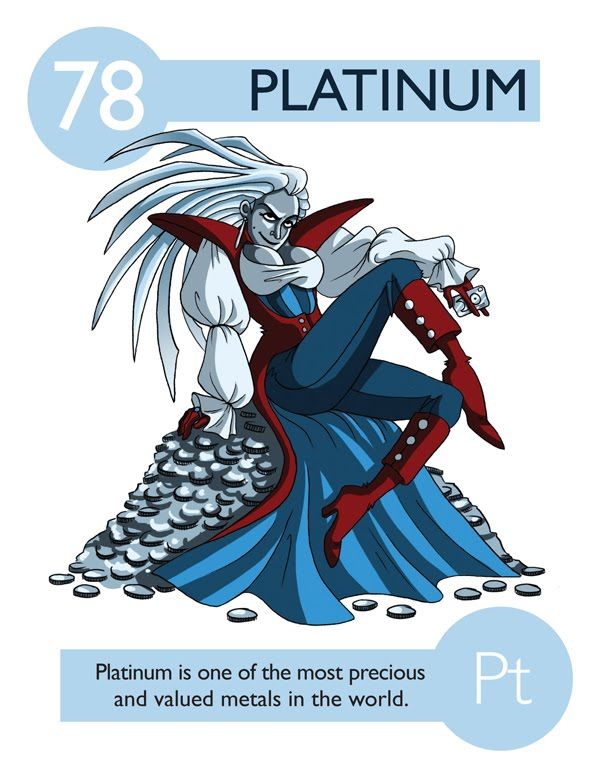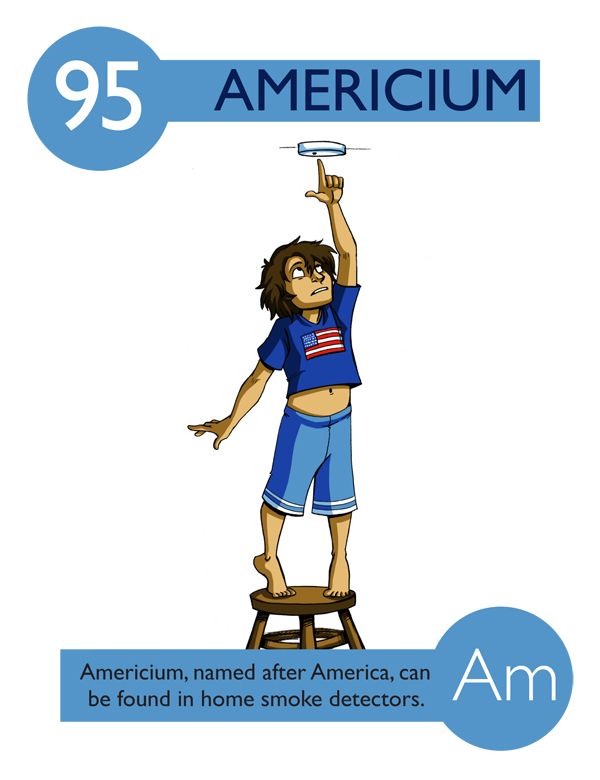 See the entire series at the project site. Link -via Geeks Are Sexy
Posted: 12 Feb 2013 07:00 AM PST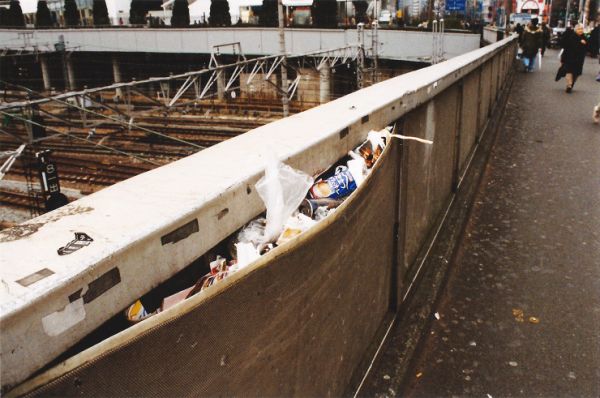 Cabel writes about a phenomena that you've probably noticed at one time or another. See, if trash doesn't hit the ground, it's not littering …at least in some people's minds. So the discarded paper cup or wrapper or bottle gets stuck in some space above ground or in receptacles that aren't trash cans.
Now, I can understand how generalized holes — containers, street light bases, flower pots — become makeshift trashcans. Even if they're obviously in no way trashcans, and likely will never be emptied or cleaned by any human being on earth, and in most cases there's a real trashcan mere feet away, they at least share a vague similarity to the raw concept of a trashcan.
He calls these workarounds "litter plugs," and you can see a photographic collection of trashy yet oddly ingenious litterplugs at his blog. Link -via Boing Boing

Posted: 12 Feb 2013 06:00 AM PST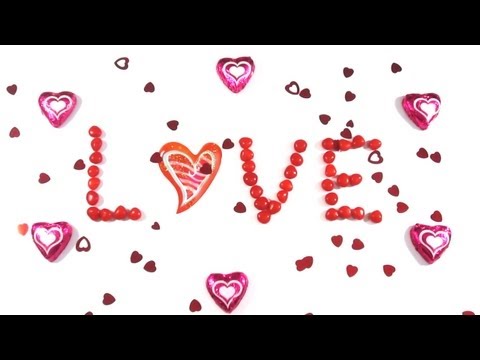 (YouTube link)
Being in love is a wonderful experience! It makes us produce all kinds of nice chemicals that make the world better. Or at least look better! Now if we could just bottle up those chemicals, we've have an instant crime wave when people sneak them into each other's drinks. -via Daily of the Day
Posted: 12 Feb 2013 05:00 AM PST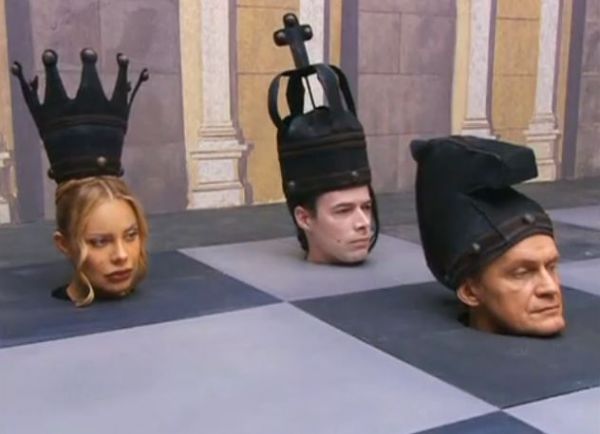 Chess, the great game of simulated warfare, has existed for 1500 years and, according to science fiction, will command humanity's intellectual attraction for at least hundreds more. Standard chess is plenty of fun, but why not mix it up? Here are twelve variations of the game that you might not know about.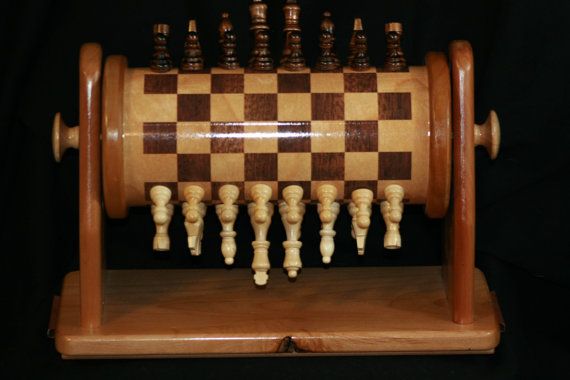 1. 3RD Millennium Chess is played on a single board, but one that's been wrapped into a cylinder. To make it even more complex, knights can move in tandem. Players can move both knights together at the same time on the same square or split them apart for independent movement.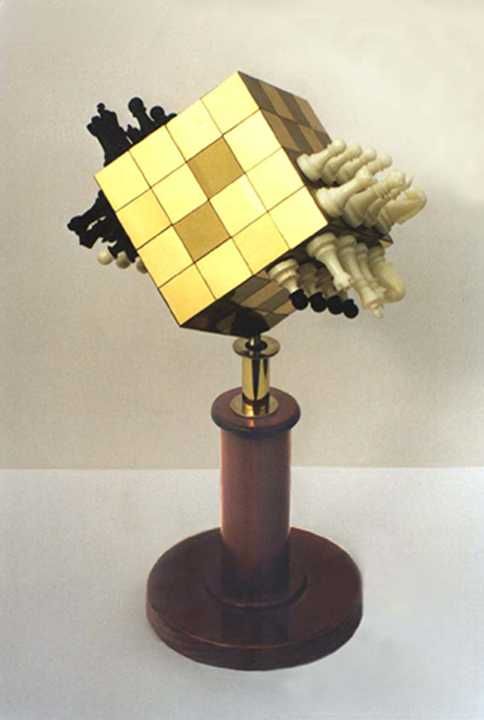 2. Chess Cubic, invented by Robert Bell, wraps a 96-square board around a cube. Kings, queens and bishops are sheltered by pawns, rooks and knights. Pawns are given two different colors to distinguish their directions of movement.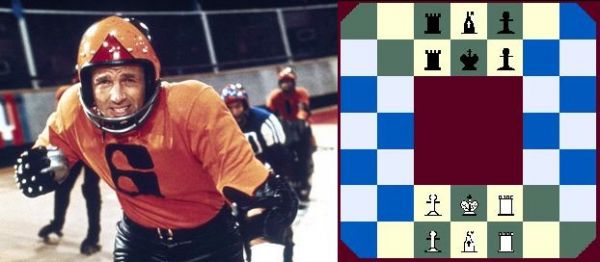 3. Rollerball Chess got its name from the dystopian science fiction movie of the same name. This variant, invented by Jean-Louis Cazaux in 1998, gives each side 2 pawns, 1 king, 2 rooks and 1 bishop. They move on a board resembling a rollerskating rink.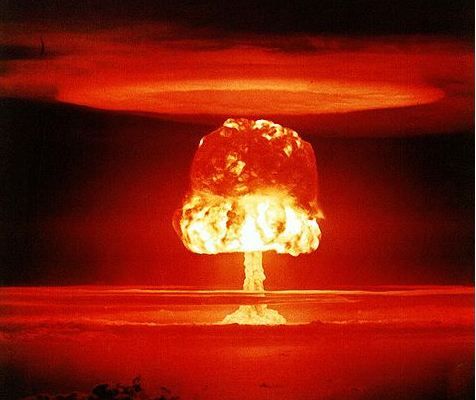 4. Atomic Chess updates this ancient game of war with the deadliest weapons modern technology can build. Captures--all of them--result in atomic explosions which kill all other pieces in the eight surrounding squares. It can turn into a war of annihilation: if both kings are killed simultaneously in an atomic explosion, the remaining pieces must fight to the death.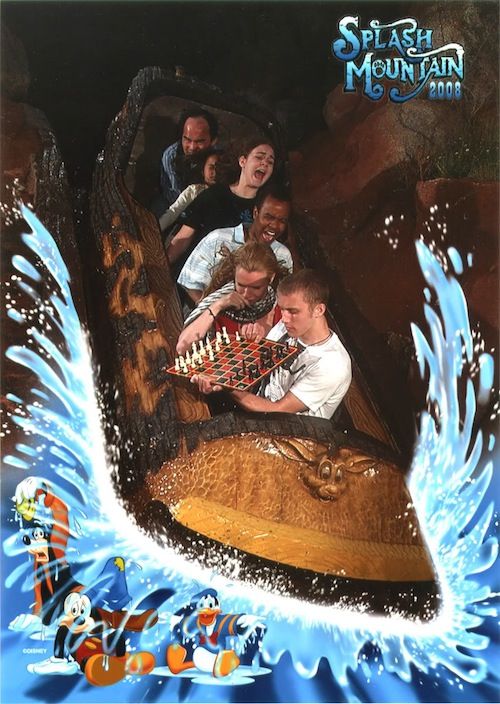 5. The object of the game in Suicide Chess is to lose all of your pieces first. Capturing available opposing pieces is mandatory, so avoid a position of strength.
6. Quantum Chess is a computer-driven variant in which the type of each piece is in a constant state of flux. Is this piece a rook, a bishop or something else? It varies:
In the quantum chess computer game created by undergraduate computer science student Alice Wismath, a piece that should be a knight could simultaneously also be a queen, a pawn or something else. The player doesn't know what the second state might be or which of the two states the piece will choose when it is moved.[...]

Wismath also chose new rules to make the game workable with its quantum twist. For example, her version of quantum chess requires a player to capture the king, which never changes to another piece, instead of merely delivering a checkmate. Also, pieces change states only when they land on black squares.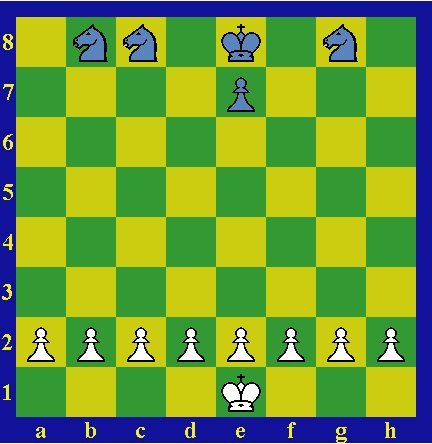 7. The people are revolting! In Peasant Revolt,the pawns have risen up in rebellion against the aristocracy. One side has a king and eight pawns. The other has a king, three knights and a single, loyal pawn.
8. In Stealth Bomber Chess, invented by Jeremy Harper, one pre-selected piece is a suicide bomber. The player may, instead of moving during a turn, detonate the bomb, killing all pieces, except kings, in the eight adjoining squares.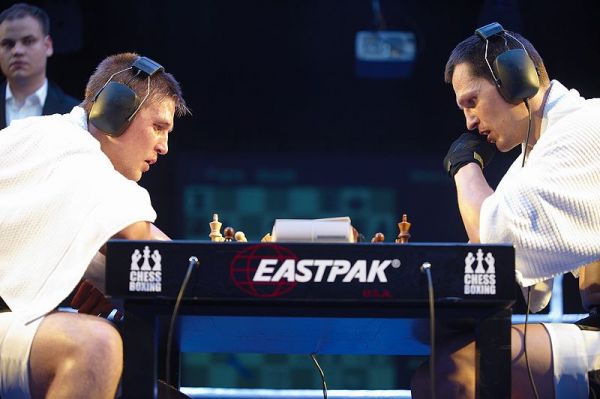 9. Chess Boxing is the ultimate test of body and mind. This sport consists of alternating rounds of chess and boxing. A checkmate or a knockout results in a win:
Chessboxers go through alternating four-minute long rounds of chess and three-minute boxing rounds with a one-minute break in between. A maximum total of 11 rounds are fought out—six rounds of chess and five rounds of boxing. The fight begins with a round of chess. Each player has a respite of 12 minutes during the game of chess, which means the maximum duration of the whole chess game is 24 minutes. A K.O. or checkmate can lead to an early win, and the fight can also be cut short if a player exceeds the chess time limit or the referee decides the fight has to be aborted. If the game of chess ends with a tie, it is settled with the points earned in the boxing rounds. If the boxing fight ends with a tie, the player who had black on the chessboard wins.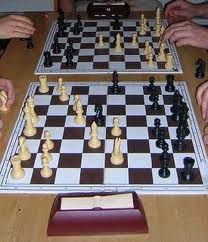 10. In Cannibal Chess, one piece that captures another acquires the movement abilities of the captured piece. And, presumably, the victorious player is required to eat his opponent.
11. Bughouse Chess consists of four players divided into two teams. When one player captures an enemy piece, he gives it to his partner, who can then place it on own board as a friendly piece.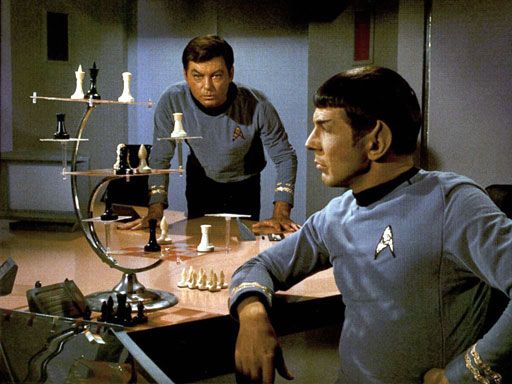 12. Three-Dimensional Chess is perhaps the mostly widely known variant, thanks to its frequent appearance on Star Trek. Fans have made functional rules for this multi-layered game--a most logical choice.
Images: Salter Street Films, Todd Sichmeller, MGM, US Department of Energy, Chess Variants, World Chess Boxing Organization, Online Chess Lessons, CBS.
You are subscribed to email updates from Neatorama
To stop receiving these emails, you may unsubscribe now.
Email delivery powered by Google
Google Inc., 20 West Kinzie, Chicago IL USA 60610