---
Pope Benedict XVI to Resign--The First Papal Resignation in 598 Years
Posted: 11 Feb 2013 04:54 AM PST
The gap b/w papal resignations is roughly equivalent to that b/w the Dec of Independence and when Picard became captain of the Enterprise.

— Dan Lewis (@DanDotLewis) February 11, 2013
#Pope Benedict XVI isn't retiring, he's being rebooted in a new universe with a revamped outfit and all new continuity.

— Superman /Clark Kent (@JerkSuperman) February 11, 2013
The 85-year old leader of the Catholic Church announced that he will resign at the end of the month for health reasons. Here are a couple of my favorite Twitter reactions. This is the first time that a Pope has resigned since 1415. Dan Lewis, the factoid maestro behind Now I Know, points out that this is a long, long time.
Posted: 11 Feb 2013 04:00 AM PST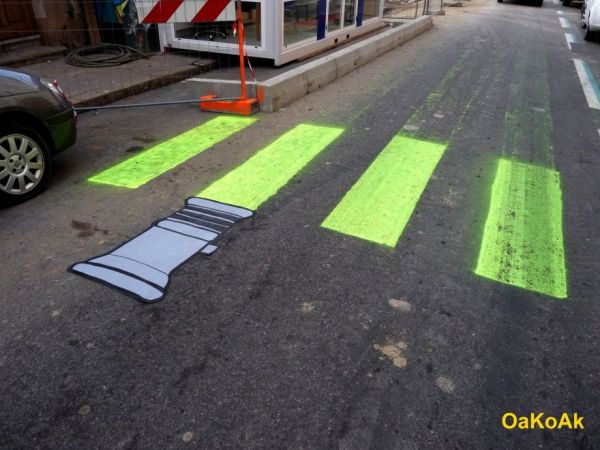 OaKoAk, that brilliant French street artist, has a gift for what some people call "urban interventions." He can spot opportunities in ordinary settings and add small changes that give them radically new meanings. This lightsaber is typical of his work.
Link -via Street Art Utopia
Posted: 11 Feb 2013 03:00 AM PST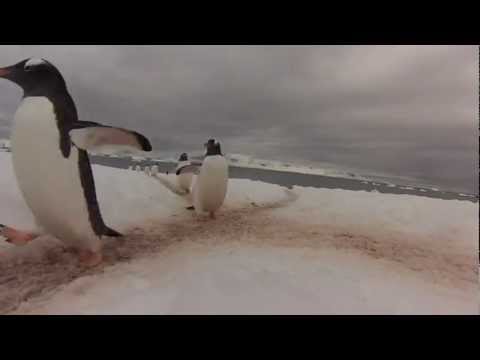 (YouTube link)
Penguins got highways! This crossroad sees a lot of traffic, most of it running smoothly. Don't get lost, little guys! Melissa Brennan shot this footage in Antarctica on her quest to visit all seven continents before she turns 21, which is documented at her blog meanderingmel. Link -via Arbroath
Tea Kettle Helmets and Other Eccentric Hats by Adeela Suleman
Posted: 11 Feb 2013 02:00 AM PST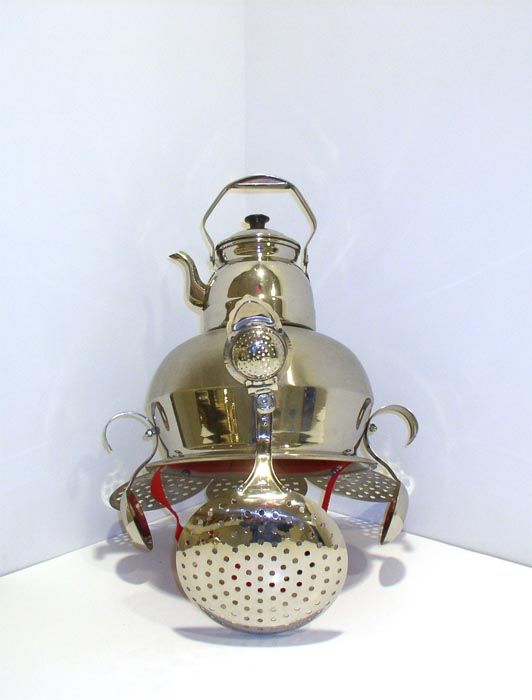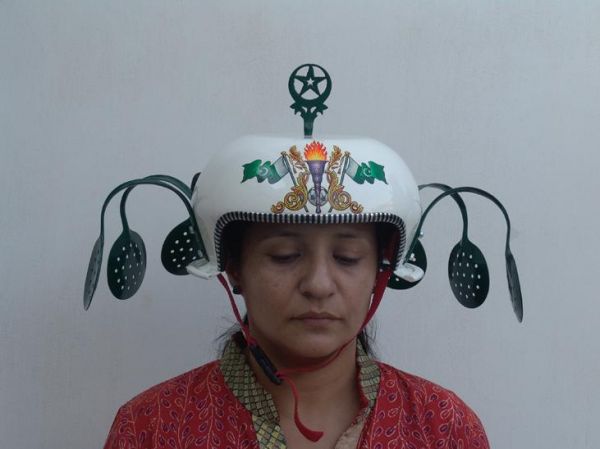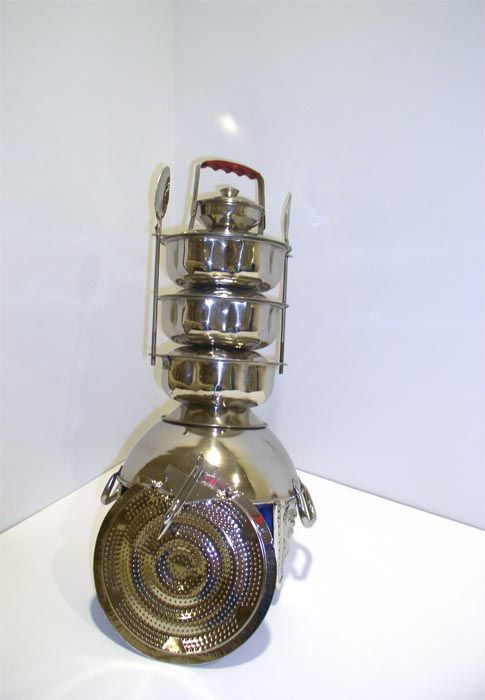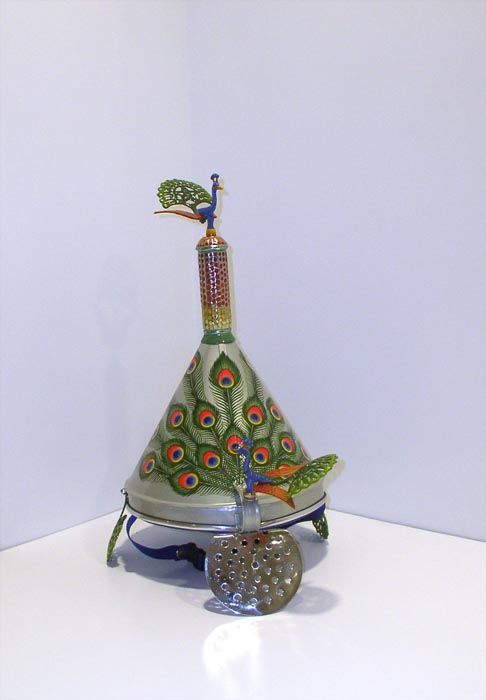 Adeela Suleman, an artist in Karachi, Pakistan, takes found objects and turns them into stylish hats for every occasion. Pots, cooking utensils, shower drains and other household objects accentuate the wearer's personality. I'll take the tea kettle helmet because of the ear protection it provides.
Link -via CollabCubed | Photos: Aicon Gallery
Nature's Great Survivors: Water Bears
Posted: 11 Feb 2013 01:00 AM PST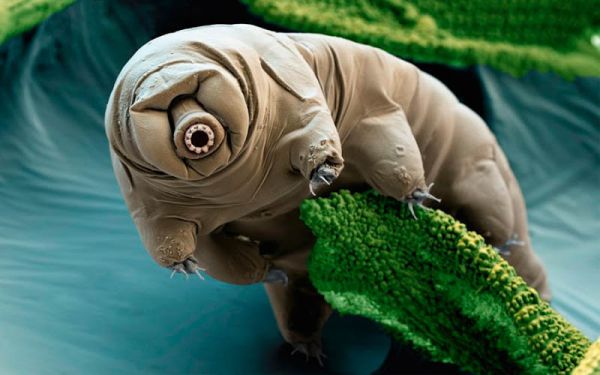 This may look like an origami creation, but it's a tiny animal called a tardigrade or water bear. Water bears are natures great survivors, having been found alive at high elevations, deep in the ocean, dried up and rehydrated, and in extreme heat and cold. They can even survive the vacuum of space! Read about tardigrades and see some awesome photographs at Dark Roasted Blend. Link
Join Me and Together We Can Rock the Galaxy
Posted: 11 Feb 2013 12:00 AM PST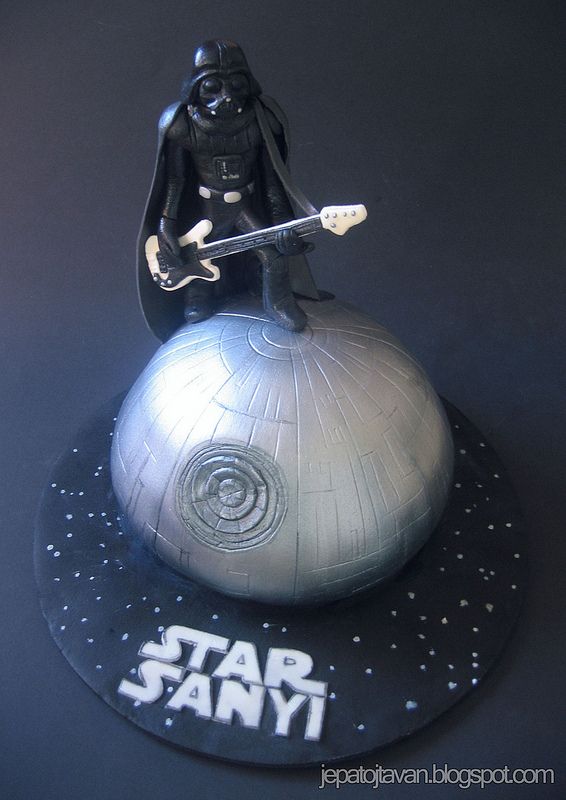 Lord Vader is bringing his new band to Alderaan. It'll blow you away. Pixie Pie made this birthday cake for the bassist of Mátyás Attila Band and followed specific instructions to ensure that Vader is playing a bass guitar.
Link (Translation) -via Between the Pages
Posted: 10 Feb 2013 11:00 PM PST
Attention Romero Britto fans. Now you can have lunch with your favorite pop artist with the Mickey Mouse Lunch Bag from the NeatoShop. This vibrant bag combines Britto's iconic style with everyone's favorite cartoon character.
The Mickey Mouse Lunch Bag is made of neoprene. It has a zippered main compartment and comfy carrying handle.
Be sure to check out the NeatoShop for more great Lunch Bags and fantastic Mickey Mouse items.
Florida Man: the World's Worst Superhero
Posted: 10 Feb 2013 11:00 PM PST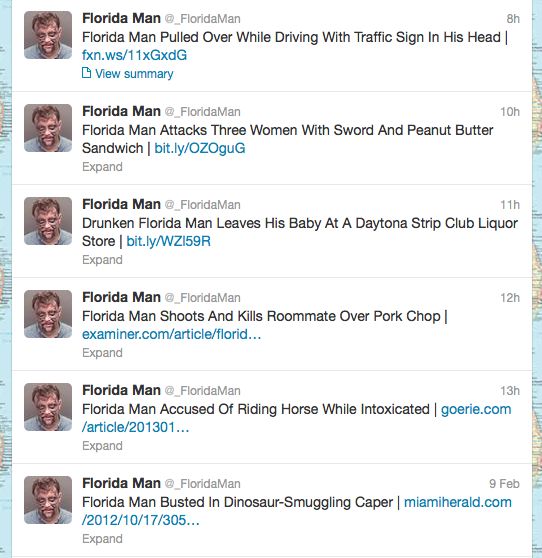 There's Batman, Spider-Man, Superman, and of course, Florida Man. Florida Man is in the news constantly, with headlines enshrined in a Twitter feed dedicated to "the world's worst superhero." Link -via Metafilter
Posted: 10 Feb 2013 10:00 PM PST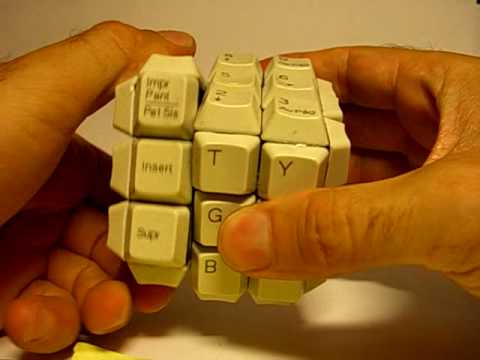 Miguel Alonso has figured out the key to creating a unique Rubik's cube. The only problem? Once you enter the game, there's no ESC. It completely CTRLs you.
Hit play or go to Link [YouTube] - Thanks Michael!
Posted: 10 Feb 2013 09:00 PM PST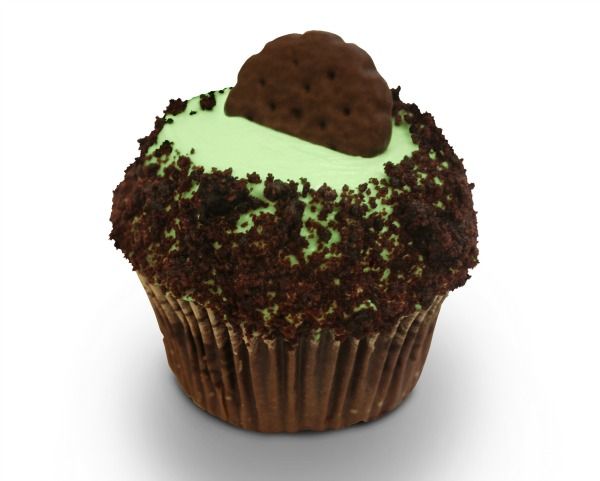 On February 22, the Crumbs Bake Shop chain, in cooperation with the Girl Scouts, will release cupcakes inspired by and made with Thin Mints, the greatest cookies on Earth. That's twelve days from today, so if you're not already standing in line, you're going to have a long wait.
Better Names for Winter Storms
Posted: 10 Feb 2013 08:00 PM PST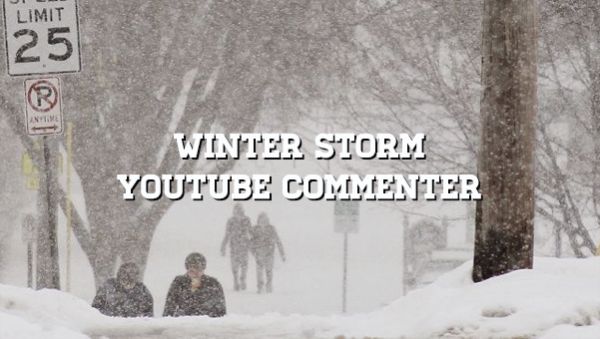 The biggest weather events have names that seem quite innocuous, considering the destruction. Hurricane Sandy reminded us of the Olivia Newton-John character from Grease. Winter storm Nemo brings up a cute little Disney fish. "Snowpocalypse" was good, but it wasn't official. Happy Place came up with a list of names that inspire a more appropriate level of dread, including YouTube Commenter, Facebook is Down, and others that are frankly quite internet-centric. I think we can do better. How about winter storm Lucifer? Winter storm Zuul? Of course, a medium-sized storm could be something like Nellie Olson or Biff Tannen. Can you come up with others? Link
World's Most Unfortunate Butt Dial
Posted: 10 Feb 2013 07:00 PM PST
PROTIP: When smuggling a cell phone in your butt to prison, turn it off. Or you'd get the most unfortunate butt dial ever:
A prisoner at Welikada jail in Colombo, Sri Lanka, got into trouble this week, after he attempted to hide a smuggled cell phone in his rectum.

The Agence France-Presse reports that the 58-year-old convict had concealed the phone, along with a hands-free headset, in his body cavity. The items were discovered when prison guards heard a suspicious ringing.

"Guards knew he had a phone at the wrong end," an unidentified guard told the AFP.

An X-ray taken of the prisoner in a local hospital reveals the phone and handset in all their glory. No word on what happened to the phone in question.
Thousands of Spiders Suspended in Midair
Posted: 10 Feb 2013 06:00 PM PST

(Video Link)
They're everywhere! Spiders are falling out of the sky! There's one on your shoulder right now!
These spiders have spun webs across telephone wires. Just stay inside and hide.
-via The Presurfer
5 Obsessive Weirdos Who Made the World a Better Place
Posted: 10 Feb 2013 05:00 PM PST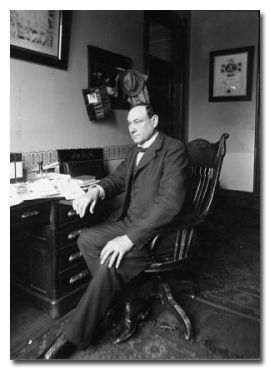 Cracked has another list of interesting historical figures who did some bizarre things that led to the world as we know it. For example, we assume that the food we eat doesn't have a lot of dangerous additives, but it wasn't so before chemist Harvey Wiley had a crazy idea about testing food.
In 1902, Department of Agriculture chief chemist Harvey Wiley got $5,000 from Congress to figure out what was up with the preservatives getting stuffed into food. Only a few years earlier, soldiers fighting in the Spanish-American War complained that their tinned beef tasted like embalming fluid and smelled like human cadavers -- and they would know, on both counts. Soldiers suspected that the meat was laced with boric acid to hide the fact that it was as putrid as the word "putrid" when you say it like this: "peeeeewtrid."

So Wiley gets his $5,000 and sets up a lab full of chimps to systematically study the effects of eating a diet of food filled with additives. WRONG. He asks a regular crew of volunteers from the Department of Agriculture to ingest poisoned food every day for five years -- just to see what happens. Despite having jobs, salaries, and access to regular not-poisoned food, a dozen otherwise sane men volunteered to eat meals laced with borax, salicylic acid, sulfuric acid, sodium benzoate, and formaldehyde. And the meals were just the beginning of the crazy: Each man also had his poop and pee tested daily to see what was coming out. And each volunteer promised not to hold the government liable, no matter what kind of sludge came out of his tear ducts when he cried himself to sleep at night.
He actions led to the birth of the FDA, which we depend on. Other stories tell of the crazy guys who gave us the our dictionary, rubber, and forensic psychology, with the expected hyperbole and language warning from Cracked. Link
Posted: 10 Feb 2013 04:00 PM PST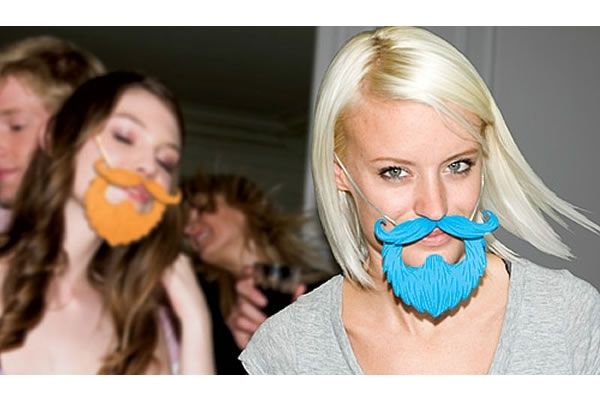 Party hats are so 2012. This years hip parties are all about sporting colorful paper facial hair. Now you too can celebrate in style with your very own set of Awesome Party Beards from the NeatoShop. Each set includes 8 paper beards that easily attach to your head with an elastic band. It's hip to have hair.
Be sure to check out the NeatoShop for more great Party Supplies.
What Happens if You Put a Red Hot Nickel Ball On Top of an Ice Block?
Posted: 10 Feb 2013 04:00 PM PST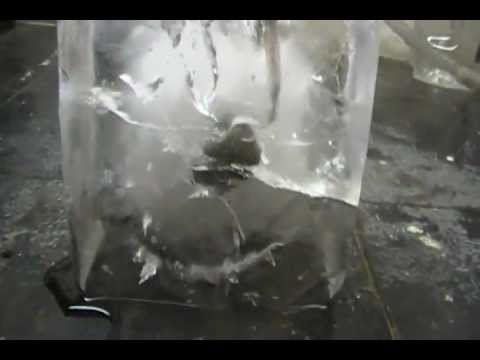 How do you get over a million YouTube views in just a couple of days?
1. Heat a nickel ball with a blowtorch until it's redhot
2. Put it on top of a block of ice
3. ???
4. Internet Profit!
Hit play or go to Link [YouTube]

Posted: 10 Feb 2013 03:00 PM PST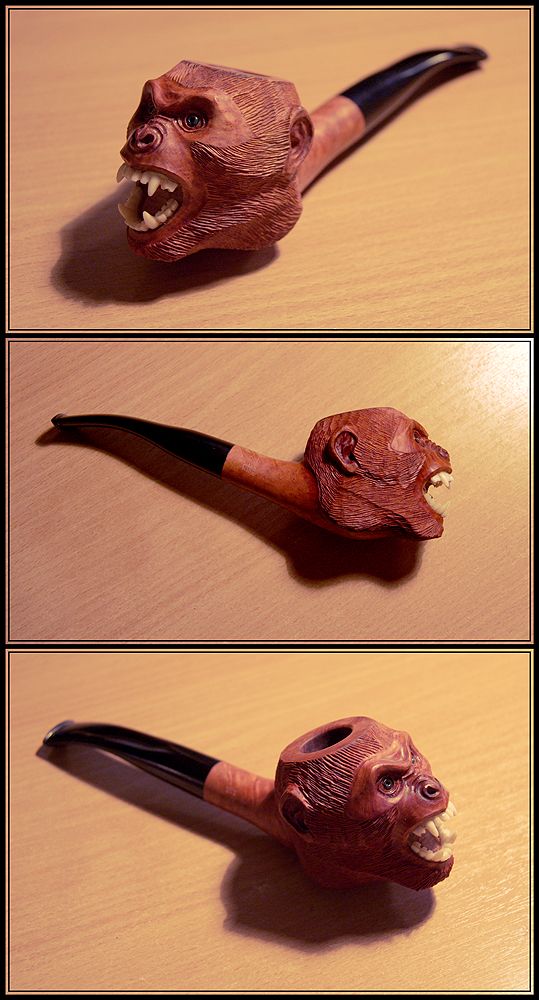 The screaming monkey trying to bite your face off sets just the right mood for a quiet evening with a pipe. This one was carved by A. N. Filimonov, a Russian craftsman who makes custom pipes featuring many animal designs.
Posted: 10 Feb 2013 02:00 PM PST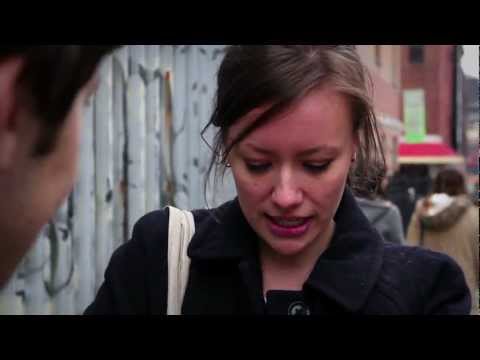 (YouTube link)
Might as well skip all the "getting to know you" rigamarole and go ahead and negotiate how many children you'll have. Ha! My kids will tell you that it was love at first sight when I met my husband, because they were there and saw it. I correct them to say it was "attraction" at first sight, but luckily events transpired that made it necessary for him to get my phone number. -Thanks, Jared!
Forget Smartphones: Cuddlebot has Smart Fur
Posted: 10 Feb 2013 01:00 PM PST
Forget smart phones, here comes smart fur! Anna Flag and Karon MacLean at the University of British Columbia have created Cuddlebot, a furry animal-like machine that intelligently recognizes touch gestures like strokes and tickles and responds to them.
Cuddlebot incorporates smart fur, a conductive fur which incorporates conductive threads sewn into faux animal-like fur, creating a "stroke sensor" circuit. When someone touches the fur, the hand motion changes the resistance in the circuit, which can be analyzed and classified as different kinds of gestures.
Flagg's ultimate goal is to design emotional "haptic creatures" that can be therapeutic in helping people recover emotionally from illnesses and trauma, but we just can't wait till she brings Tribbles to life.
Find out more over at Anna's website: Link - via MIT Technology Review
The Propeller-Driven Camera and 11 Other Photographic Oddities
Posted: 10 Feb 2013 12:00 PM PST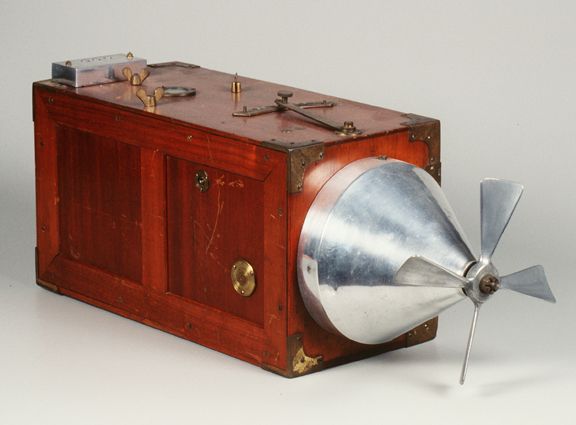 The Williamson Aeroplane Camera doesn't have a propeller so that it can fly. Users of this World War I-era camera would attach it to the bottom of a plane. During flight, the movement of the propeller advances the film.
This is only one of twelve unusual antique cameras which you can find at the link. The others include a camera hidden in a cane and another that could be carried by a pigeon.
Link -via David Thompson | Photo: George Eastman House
Flowchart: Are You Good at Following Flowcharts?
Posted: 10 Feb 2013 11:00 AM PST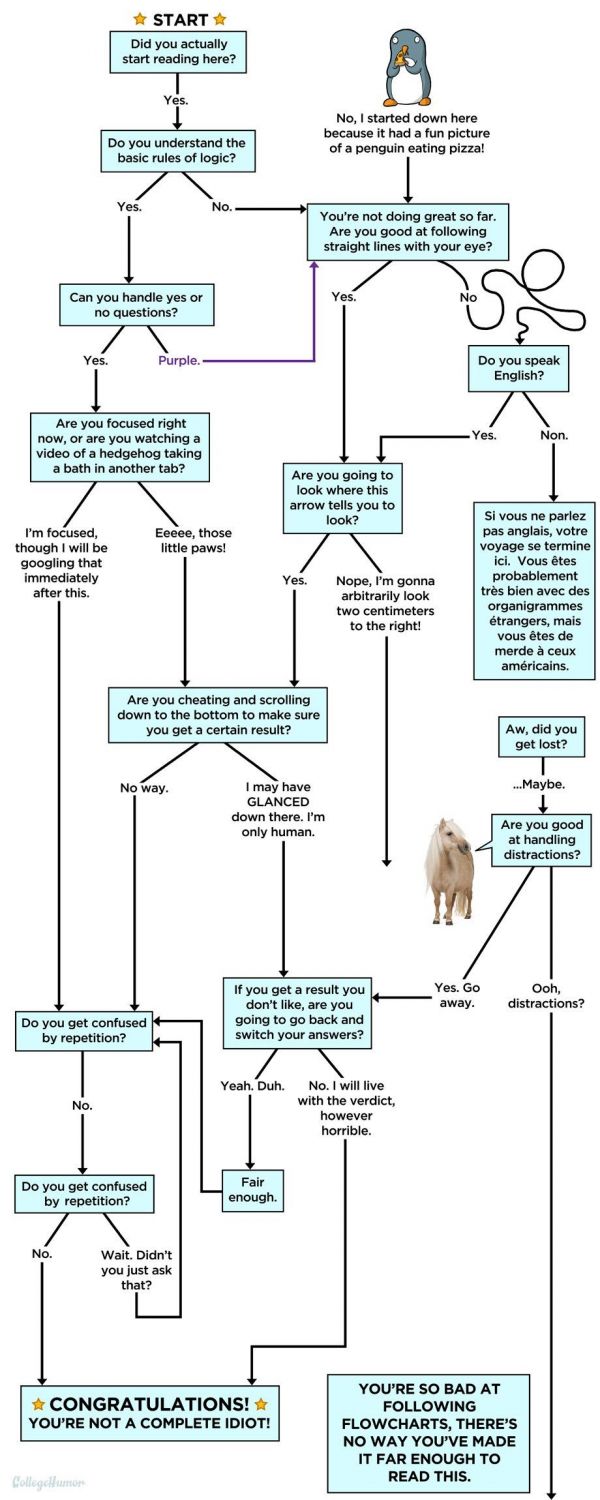 Flowcharts are supposed to help you in making step-by-step decisions to reach a particular goal. Now here's a flowchart from College Humor to help determine whether you know what you're doing when you read a flowchart. If you're not, it won't help you at all. Link -via the Presurfer
Posted: 10 Feb 2013 10:00 AM PST
Move over, Gangnam Style. You're being replaced with this dance move that's coming back in style (after first gaining popularity back in the early 2000s). Here's the Harlem Shake:

[YouTube Clip]
Or if you like that, there's one by College Humor:

[YouTube Clip]
Posted: 10 Feb 2013 09:00 AM PST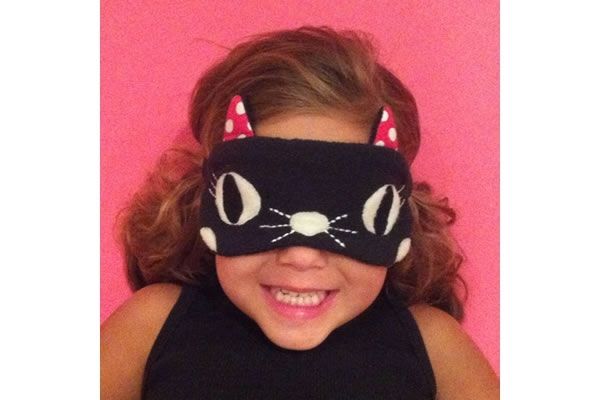 Could you use a good cat nap? Let the Kitty Sleeping Mask from the NeatoShop help you get your Zzz's. This purr-fectly adorable cat shaped mask fits most children and adults. It is made from super cozy fleece.
The Kitty Sleeping Mask is available in: Black, Blue, Orange, Pink, and Yellow. Buy one or collect all 5.
Be sure to check out the NeatoShop for more great Personal Care items.
Modern Churches That Look Like Chickens
Posted: 10 Feb 2013 09:00 AM PST
Posted: 10 Feb 2013 08:00 AM PST
(YouTube link)
A four-legged animal can often get along well on three legs. When a pet only has the use of two legs, its owner can add wheels to the animal's back or front. But what if a cat has only one front leg and one rear leg? On the same side? Caffrey the cat lost his left hind leg to an automobile collision ten years ago. Four months ago, a malignant growth on his left front leg led to another amputation. Caffrey, no longer a young cat, was back on his two remaining right feet within a few days! Link -via Arbroath
Which Would You Choose: Prom or Water Balloon Fight?
Posted: 10 Feb 2013 07:00 AM PST
When Cincinnati's Withrow High School principal Sharon Johnson found that high school seniors were planning a massive water balloon fight at lunch, she made them choose between that and prom.
Guess which one the students chose:
"I didn't think they were going to do it. I really thought they valued their prom," said Johnson.

But toward the end of the lunch period, one student stood up and the water fight was on.

"I think that was the signal. They went haywire," she said. "They had them in backpacks and duffel bags. There was water everywhere, running down the hallway. Kids were getting upset, kids were slipping and falling on the staircase."

About 150 to 175 students were involved, she said.

So Johnson stuck to her guns and canceled prom. Letters were sent home to parents. Johnson said she's only received about three phone calls from parents upset about the issue.
John Karlin, The Psychologist Who Designed the Telephone
Posted: 10 Feb 2013 06:00 AM PST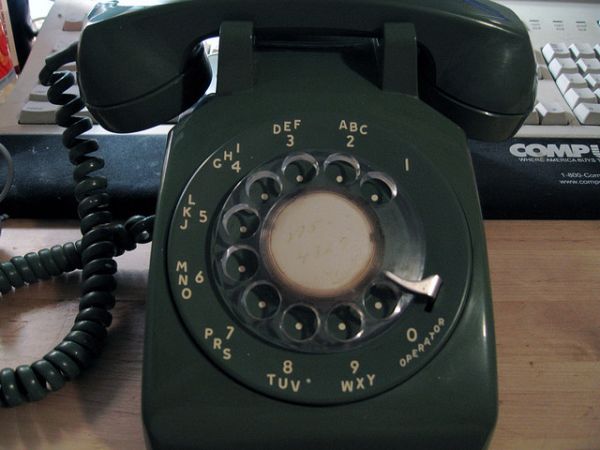 John E. Karlin died two weeks ago at the age of 94. He was a pioneer in the field of using psychology in product design. Specifically, he was responsible for devising many elements of the telephone:
Telephone company executives wondered whether the standard cord, then about three feet long, might be shortened. Mr. Karlin's staff stole into colleagues' offices every three days and covertly shortened their phone cords, an inch at time. No one noticed, they found, until the cords had lost an entire foot.

From then on, phones came with shorter cords.

Mr. Karlin also introduced the white dot inside each finger hole that was a fixture of rotary phones in later years. After the phone was redesigned at midcentury, with the letters and numbers moved outside the finger holes, users, to AT&T's bewilderment, could no longer dial as quickly.

With blank space at the center of the holes, Mr. Karlin found, callers no longer had a target at which to aim their fingers. The dot restored the speed.
Karlin's accomplishments weren't limited to rotary phones. You're probably still using his design for the push-button phone:
Keypad configurations examined included Mr. Mallina's, one with buttons in a circle, another with buttons in an arc, and a rectangular pad.

The victorious design, based on the group's studies of speed, accuracy and users' own preferences, used keys half an inch square. The keypad itself was rectangular, comprising 10 keys: a 3-by-3 grid spanning 1 through 9, plus zero, centered below. Today's omnipresent 12-button keypad, with star and pound keys flanking the zero, grew directly from this model.

Putting "1-2-3" on the pad's top row instead of the bottom (the configuration used, then as now, on adding machines and calculators) was also born of Mr. Karlin's group: they found it made for more accurate dialing.
But Karlin's most lasting impact was the development of all-number dialing. Back in the old days, phone numbers included words as well as numbers. Karlin expanded the number of potential phone listings by making them all numerals. It was not a popular change:
"One day I was at a cocktail party and I saw some people over in the corner," Mr. Karlin recalled in a 2003 lecture. "They were obviously looking at me and talking about me. Finally a lady from this group came over and said, 'Are you the John Karlin who is responsible for all-number dialing?' "

Mr. Karlin drew himself up with quiet pride.

"Yes, I am," he replied.

"How does it feel," his inquisitor asked, "to be the most hated man in America?"
Link -via Althouse | Photo: Bill Bradford
You are subscribed to email updates from Neatorama
To stop receiving these emails, you may unsubscribe now.
Email delivery powered by Google
Google Inc., 20 West Kinzie, Chicago IL USA 60610