---
Posted: 06 Jan 2013 04:00 AM PST
Self-described "brick artist" Nathan Sawaya is known for his incredible art pieces constructed with LEGO. Sawaya was a New York City lawyer until 2004, when he made the courageous decision to make art his profession, even while saddled with $100,000 in debt from student loans. Now that his intricate pieces have garnered attention from clients worldwide, including Donald Trump and Bill Clinton, Sawaya spends six figures on LEGO pieces annually. Some of his large-scale works — such as a six-foot-tall Han Solo frozen in carbonite (shown in the gallery above) and a Tyrannosaurus rex skeleton twenty feet in length — require as many as 80,000 LEGO pieces.

Sawaya's success is a testament to people following their passions, regardless of whether the idea seems likely to bear fruit. He said of his career:
"I had creative periods now and again, but it wasn't until I was practicing law that I really needed a creative outlet. I'd come home from long days at the office and draw, paint, and sculpt from clay, wire--even candy. I liked the concept of something additive in nature--where small pieces lead to a larger form. That's when I thought, 'What about this toy from my childhood?'"
The rest, as they say, was history.
See more of Sawaya's work at his website. Link -via Co.CREATE
This Snack Is Bigger Than The Big Game
Posted: 06 Jan 2013 03:00 AM PST
Posted: 06 Jan 2013 02:00 AM PST
(YouTube link)
Sir David Attenborough introduces us to the fish known as the Sarcastic Fringehead. Not only is it ugly, it's quite aggressive. And wait until you see how it uses it's mouth! This clip is from the BBC series Life. -via reddit
Posted: 06 Jan 2013 01:00 AM PST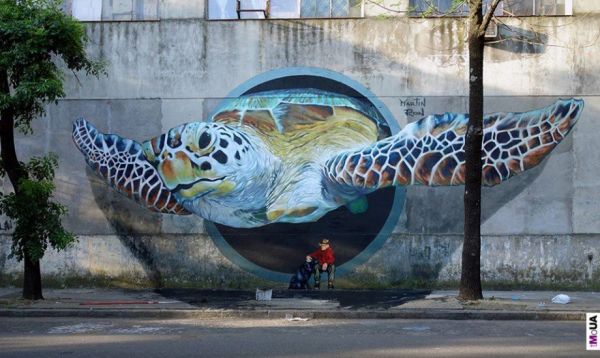 Martin Ron's majestic Pedro Lujan and His Dog decorates a building in Buenos Aires, Argentina. He made it for this year's Meeting of Styles conference in that city. Imagine living in a city where giant turtles slowly swim through the streets.
Link and Conference Website -via Lustik
Hello Kitty Salt & Pepper Shakers
Posted: 06 Jan 2013 12:00 AM PST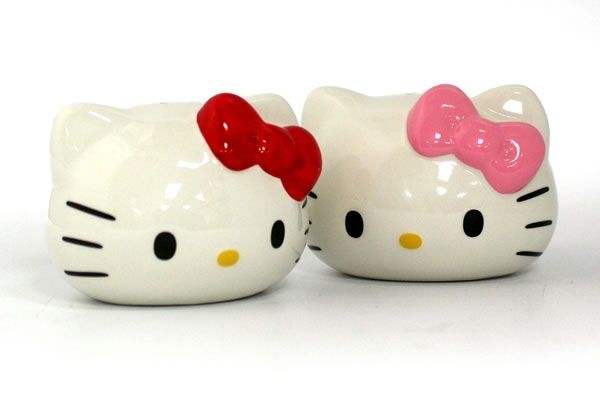 Hello Kitty Salt & Pepper Shakers
Attention Hello Kitty fans! Are you looking for the purr-fect functional accessory for your kitchen table? You need the Hello Kitty Salt & Pepper Shakers from the NeatoShop. This delightful ceramic salt and pepper shaker set features your favorite cool cat.
Be sure to check out the NeatoShop for more great Salt & Pepper Shakers.
Posted: 06 Jan 2013 12:00 AM PST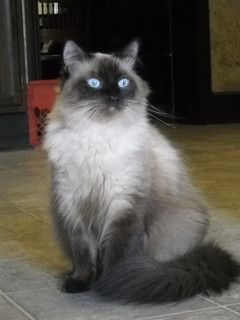 The effect of the Twilight movies lives on, as "Bella" was the top name for dogs in 2012. It came in second for cats -you have one guess as to what was first. Other movies had some influence, as "Katniss" from The Hunger Games gained in popularity, but did not break the top ten.
Top Dog Names:

1 Bella
2 Max
3 Buddy
4 Daisy
5 Bailey
6 Coco
7 Lucy
8 Charlie
9 Molly
10 Rocky

Top Cat Names:

1 Kitty
2 Bella
3 Tiger
4 Max
5 Smokey
6 Shadow
7 Tigger
8 Lucy
9 Chloe
10 Charlie
Beautiful, Fragile Nudibranchs Can Kill You
Posted: 05 Jan 2013 11:00 PM PST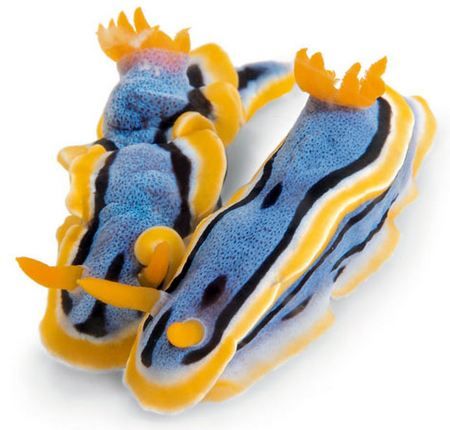 If you're hungry while on the ocean floor, don't chow down on these fellows, no matter how tasty they look. The Chromodoris annae, like many nudibranchs, is soft, colorful and poisonous. Wildlife photographer David Doubilet took photos of many different species. You can view more pictures at the link.
Link -via It's Okay to Be Smart | Photo: David Doubilet
Posted: 05 Jan 2013 10:00 PM PST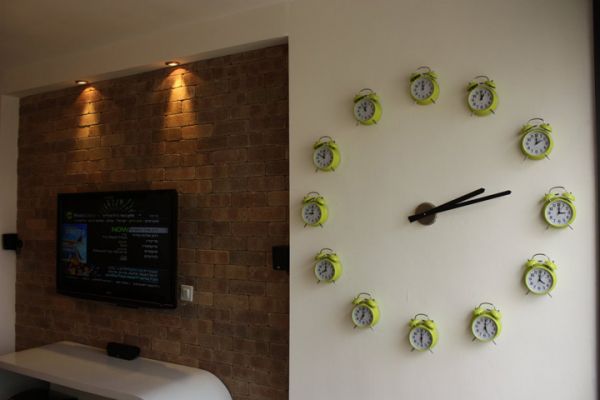 Admittedly, if this were in my house, I'd use the TV to figure out what time it is, but this clock made of clocks is such a beautiful, creative idea! When designer Ron Benshoshan and his girlfriend moved into their first apartment, the place definitely needed work. It was messy, like the previous people who moved there frantically move out, and the design scheme was inconsistent. The clock made of clocks was only part of the major, beautiful changes Benshoshan made. You can see the before and after images at Desire to Inspire.
Link via I Love Creative Designs and Unusual Ideas | Designer: Ron Benshoshan
Startup Companies Replace "Casual Fridays" with "Formal Fridays"
Posted: 05 Jan 2013 09:00 PM PST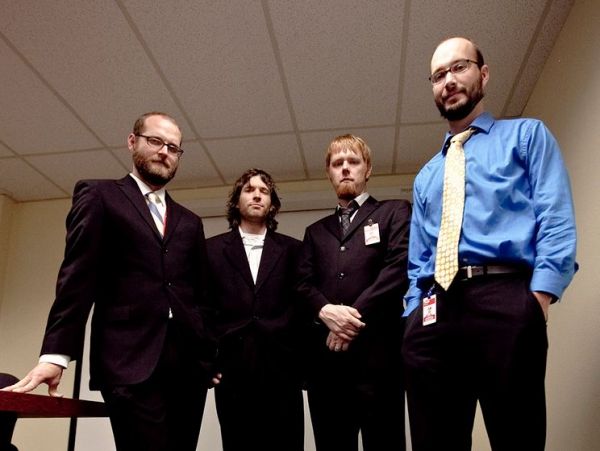 Silicon Valley's startup corporate culture is noted for its downscale fashion and manners: flip-flops, office games and casual decor. If that's the norm, how do you handle casual Fridays? How do you impress others as a nonconformist? By dressing up formally, often with bowties and a tophats:
The trappings of a nonconformist workplace were on display recently at the headquarters of a startup here named Pulse: There was the foosball table, the containers of free M&Ms, the bottle of whiskey on top of the fridge.

And the guys standing around in suits and ties.

It was Friday, after all, and to truly defy conformity at some tech outfits on that day of the week, one must not wear jeans or flip-flops.

Pulse employees were practicing "Formal Friday," dressing in their Sunday best. "It is kind of flipped…because we're super casual the entire week," says Akshay Kothari, co-founder of Pulse, a startup that makes a news-organizing app. "You want to break the monotony."
Watch a video at the link, then go buy a bolo tie for next Friday. Because bolo ties are cool.
Link -via Glenn Reynolds | Photo: Spark Fun Electronics
Posted: 05 Jan 2013 08:00 PM PST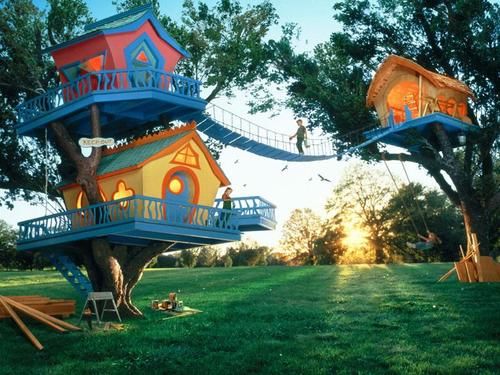 This looks like something right out of a fantasy book. Somewhere in Vermont, a couple of kids had not just one tree house to share, but three separate houses of their own that they could go to and from with a ladder and a bridge. If I had one of these tree houses, I'm sure I'd only ever go home in the winter time or to stock up on food and clean clothes.
Via Fairies, Dragons, and Other Mythological Creatures
Posted: 05 Jan 2013 07:00 PM PST
In Edmonton, Alberta, Daniel Gray and his girlfriend Kathleen Starrie built an amazing igloo with hundreds of colored ice bricks. Ms. Starrie's parents conceived of the project as a way to distract Gray from their daughter. To prepare, they collected hundreds of milk cartons to use as molds for the bricks. Gray, an engineer, embraced the project:
Originally, Gray thought the best way to build the igloo would be to cut each of the ice blocks so they would fit together perfectly. Instead, he used what he now calls "snowcrete" to put the ice blocks together.

"(It) is just snow and water but, it sticks really well to the ice," Gray said, "The snowcrete just shaped and moulded however you wanted so it made it possible."

In total, the group spent about 150 hours carefully putting about 500 ice blocks together, one by one, to build the colourful igloo.
You can watch a video at the news story link.
Link and News Story -via Colossal
Posted: 05 Jan 2013 06:00 PM PST
Posted: 05 Jan 2013 05:00 PM PST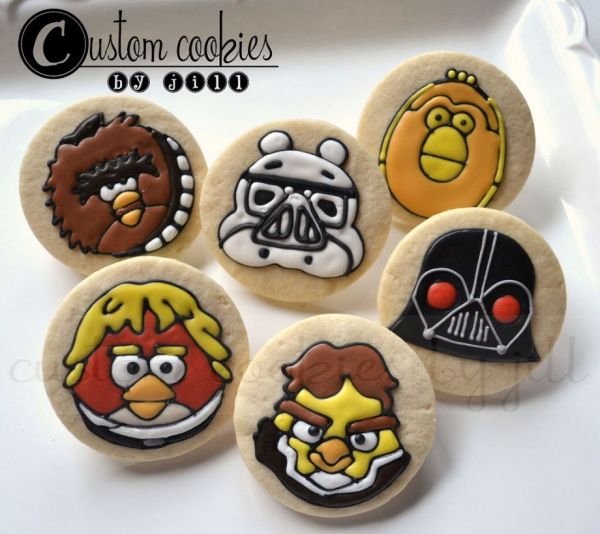 The Chicago-based baker Jill Wagner makes custom cookies for every occasion and theme. Her gallery includes Tom & Jerry, The Lorax, Family Guy and Toy Story cookies. Four of these birds are ready to slingshot themselves at the Death Star.
Gallery -via Between the Pages
Posted: 05 Jan 2013 04:00 PM PST
Photographer Wendi Riggens embraced childhood imagination with her new fairy tale themed series entitled Once Upon A Time. Nine month old Maddie is the star of the show, and she doesn't seem to mind playing dress up one bit!
Sweet dreams, little Maddie, we wouldn't want you to grow up too fast!
See more photos from the session at her site. Link --via Laughing Squid
How to Look Like You Can Solve a Rubik's Cube
Posted: 05 Jan 2013 03:00 PM PST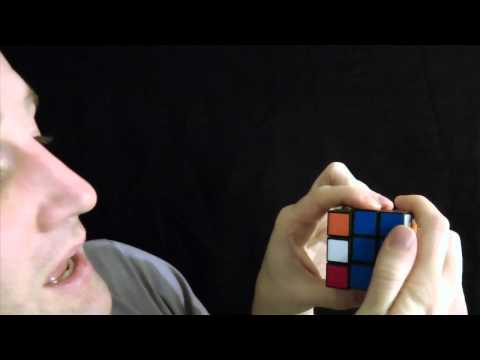 (YouTube link)
Genius. Be sure to show this stunt to someone who hasn't yet seen the video. I won't tell if you won't tell! -via Geekosystem
Wicked Witch of the East Night Light
Posted: 05 Jan 2013 02:00 PM PST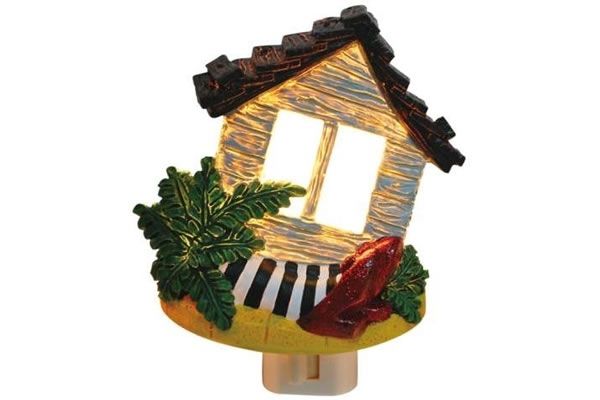 Wicked Witch of the East Night Light
Are you afraid of falling houses and other things that might go boom in the night? You need the Wicked Witch of the East Night Light from the NeatoShop to light your way. This beautiful porcelain night light is perfect for reminding you that there really is no place like home.
Be sure to check out the NeatoShop for more fantastic Wizard of Oz items.
Posted: 05 Jan 2013 02:00 PM PST
Posted: 05 Jan 2013 01:00 PM PST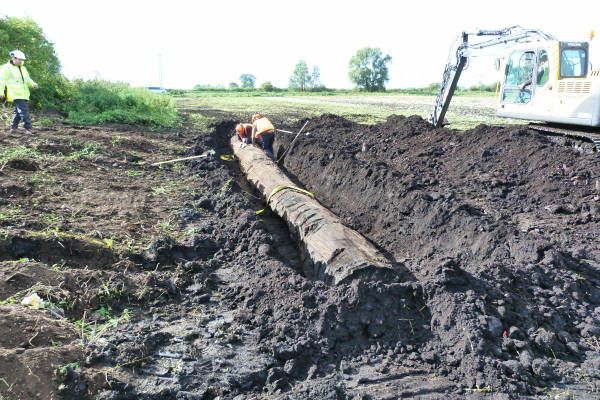 A farmer in Cambridgeshire, England, discovered a massive 44-foot-long oak log in a peat bog last February. The wood had been perfectly preserved for 5,000 years! Cabinet makers Adamson and Low specialize in processing bog wood, and recognized that this one is special, and made special plans for it.
Besides, bog oak is beautiful and historical, but it's first and foremost a carpentry wood, prized for centuries as England's only native black timber. (The tannins in the oak react to iron in the subsoil to turn the wood dark brown or black.) Because the giant oaks were so much larger than they are today, bog oak wood has medullary rays far wider than in modern oak. That makes for a thick stripe grain that looks particularly gorgeous on quarter-sawn boards. Traditional drying methods couldn't preserve it in thick pieces, so its main use was as inlay wood or in the making of smaller decorative or furniture items. It's only in the past 20 years that drying technology has advanced enough to allow the preservation of substantial hunks of ancient wood.

Hamish Low had the ambitious idea to preserve the majesty of this trunk while still tying it into the hundreds of years of British carpentry tradition. He could go ahead and plank the trunk, but instead of dividing the planks into more easily dried boards, they would be kept in their 44-foot lengths. Once dried the planks would shrink, but they'd still be massive and could be used to make a giant table. That huge tabletop could then be exhibited as an example of and tribute to the arboreal giants that once dominated the English landscape. There isn't a single piece of bog oak as such on public display in the UK. Here was the perfect opportunity to rectify that oversight.
The log became known as the Fenland Black Oak as the plans fell into place. A special kiln was built big enough to dry the wood, and the log was removed from its peat bog in September. The table is expected to be ready in the summer of 2013. Its final destination is undetermined, but it will be available for the public to see. Link | Project blog -via TYWKIWDBI
Posted: 05 Jan 2013 12:00 PM PST
10 of the Most Pointless Action Figures Ever Made
Posted: 05 Jan 2013 11:00 AM PST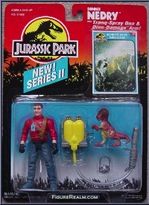 Popular characters as action figures make plenty of sense. Obscure action figures are often works of art, have meaning to someone, or are awesome in their very obscurity. Then there are mass-produced action figures that serve only to expand a series and sell to collectors who are obsessed with a complete set, depicting characters that no one cares about or are impossible to play with. For example, the action figure of Dennis Nedry. Who?
Nedry is the shlubby guy who agrees to steal some embryos from Jurassic Park and sell them to Biosyn, only to wind up getting killed by a seemingly harmless Dilophosaurus. He's played by Wayne Knight, aka Newman from Seinfeld. Of all the characters from the first Jurassic Park movie, he seems like the worst candidate for an action figure — and apparently, the makers of these figures agreed with that, because they chose to make the toys look nothing like Wayne Knight or Dennis Nedry. The Nedry figures are well-built, square jawed and rugged-looking, with a nice shoulder holster and (in one case) cool sunglasses. It's like they're advertising the fact that they had no reason to make an action figure of this guy.
Read about nine more of these at io9. Link
Hungry Polar Bear Tries to Eat Wildlife Filmmaker
Posted: 05 Jan 2013 10:38 AM PST

(Video Link)
Wildlife documentarian Gordon Buchanan traveled to Svalbard for his new series The Polar Bear Family and Me. He did not know that it is customary there to bring a dish to dinner when visiting the polar bears. The mother expressed their displeasure at this breach of etiquette and tried to break through his protective capsule:
Mr Buchanan, who has filmed the world's deadliest creatures for 20-years, described the ordeal as his scariest ever experience.

He said: 'A lot of people think that carnivores are intrinsically dangerous but most aren't - there's a minimal risk and attacks are the exception.

'But polar bears are different, without a doubt she wanted me for lunch. She was so persistent, looking for a weak spot for almost 45 minutes.


'I was terrified and you could hear my heartbeat on the mic. It really was a sensational moment and a worrying situation.
The Horror Short That Inspired del Toro's Film MAMA
Posted: 05 Jan 2013 10:00 AM PST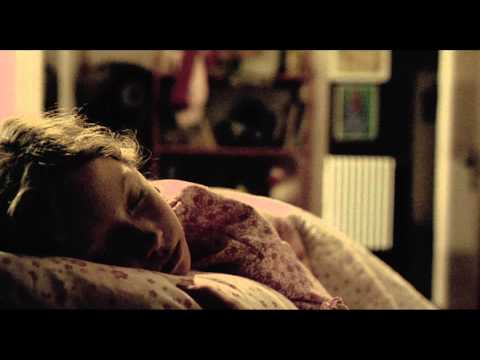 Guillermo del Toro is no stranger to horror, and his fantastically disturbing films find inspiration in the darkest corners of the human psyche.
MAMA is the tale of orphaned children who survived in the wild thanks to a dark presence they call Mama, and the feature length film began as a short film so good it creeped out Guillermo del Toro, which is no small feat.
Do yourself a favor and watch it with the lights on...
--via GeekTyrant
Stay Warm With Tard This Winter
Posted: 05 Jan 2013 09:00 AM PST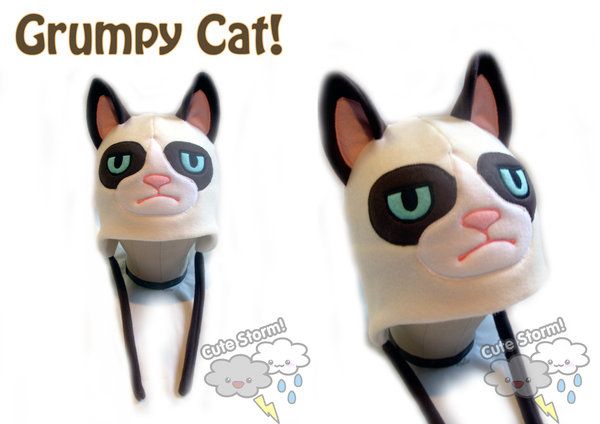 If you ever wanted to be Tardalicious while staying cozy throughout the winter, then head over to DeviantArt user The Cute Storm's page to get your own.
Link Via I Can Has Cheezburger
Don't Worry, it's Just Electrostatic Discharge
Posted: 05 Jan 2013 08:00 AM PST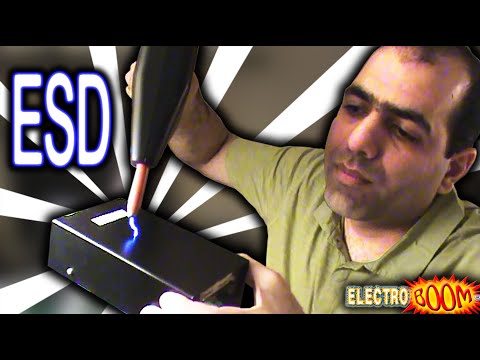 (YouTube link)
Shervin very helpfully explains how professionals test electronic products for resistance to damage from electrostatic discharge (ESD). I learned a lot from this video. See more at ElectroBOOM! Link -via Viral Viral Videos
Posted: 05 Jan 2013 07:00 AM PST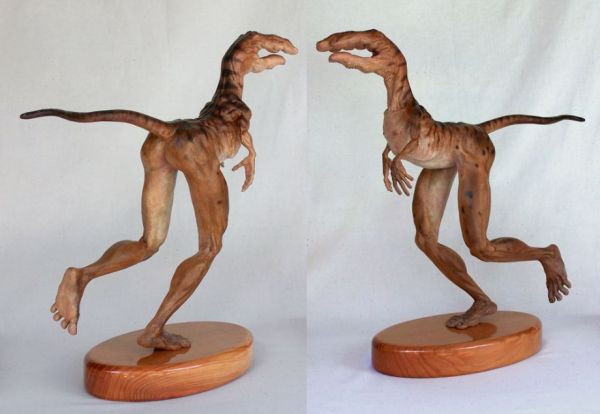 In a strange alternate universe where sock puppets have replaced people, and their ancestors are naked hands, being the ultimate predator means having the strongest grip.
DeviantARTist postapocalypsia sculpted this far out piece as a tribute to the "hand made and hands on aspects of our society." Seems like a handy little fellow to have around!
Posted: 05 Jan 2013 06:00 AM PST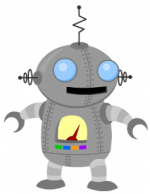 There's a tendency for people to think that sometime after the holidays, everything goes "back to normal." That may be the case as far as your workplace goes, but here at Neatorama, there is never really a "normal" to go back to, because we are constantly working on ways to make your internet experience more enjoyable. I heard Alex say something about "making his plans for the year," which may refer to his diabolical scheme to take over the world, but more likely means there are new and exciting enhancements coming to Neatorama. I have no idea yet whether these will be quantum leaps, paradigm shifts, or just more and better stuff, but I'm sure it will be great for you and everyone who stops by to read Neatorama every day! Right now I want to help you catch up on what you might have missed over the New Year holiday this past week.

Jill Harness introduced us to 11 Seriously Weird Chocolate-Coated Foods. These are the kinds of things you'll see more of in our food blog Neatolicious.

Eddie Deezen gave us two interesting articles: The Record Company That Rejected The Beatles and 10 Facts You May Not Know About James Bond.

Short Story: The Mini told us all about the famous British car, courtesy of Uncle John's Bathroom Reader.

And mental_floss magazine brought us The Haka.

Congratulations to the winners of the Predict Life in the Year 2013 contest! Neatoramanauts The Professor, Craig L, and Azog all won fabulous prizes from the NeatoShop. You'll get a kick out of reading the crazy predictions everyone made for this year!

In the What Is It? game this week, we had a set of National Cash Register grocery store price stamps from the 1920s. The first with the correct answer was mowog, who wins a t-shirt from the NeatoShop! The funniest (yet wrong) answer came from moddycurl, who said, "This was the prototype for the 64 box of crayons, back when the world was all black and white." Yep, that wins a t-shirt, too! See the answers to all this week's What Is It? items at the What Is It? blog.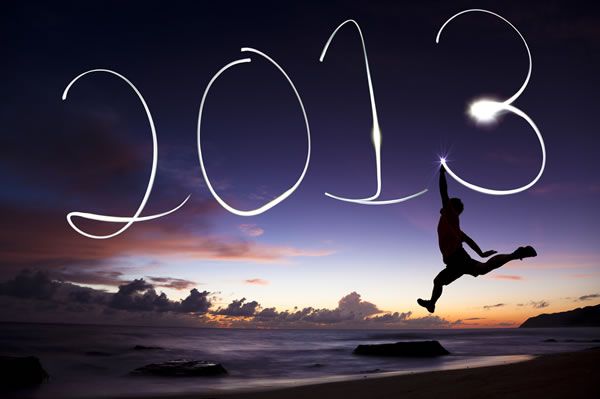 The most-viewed-or-shared post this week was An Apt Description, followed by Happy New Year 2013, Neatoramanauts! and coming in third was the Boba Fett Star Wars Hooded Bathrobe.

The non-contest post with the most comments was 11 Seriously Weird Chocolate-Coated Foods, with Baby's First Handshake coming in second, and then in third place was Kinder Surprise Egg Marriage Proposal.

When you get caught up on what's here at Neatorama, go see what's happening at our Pinterest board, Facebook page, and Twitter feed, where we put extra stuff for those who care to follow. And mobile users: Flipboard makes it easy to keep up with Neatorama. Oh yeah -look for Neatorama in Instagram, too!
Baby and Bottle Salt & Pepper Shakers
Posted: 05 Jan 2013 05:00 AM PST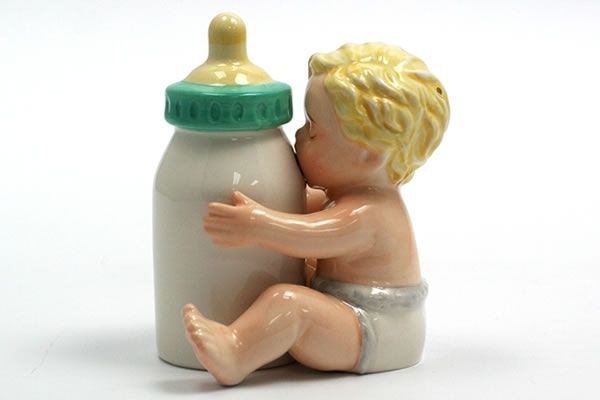 Baby and Bottle Salt & Pepper Shakers
The new year is here. Are you hoping to add a new bundle of joy to your kitchen table? You need the angelic Baby and Bottle Salt & Pepper Shakers from the NeatoShop. This adorable glazed ceramic set features a baby kissing a milk bottle. Magnets hold the shakers together.
Be sure to check out the NeatoShop for more great Salt & Pepper Shakers.
Posted: 05 Jan 2013 05:00 AM PST
You are subscribed to email updates from Neatorama
To stop receiving these emails, you may unsubscribe now.
Email delivery powered by Google
Google Inc., 20 West Kinzie, Chicago IL USA 60610