---
Ketchup and Mustard Salt & Pepper Shakers
Posted: 31 Jan 2013 04:00 AM PST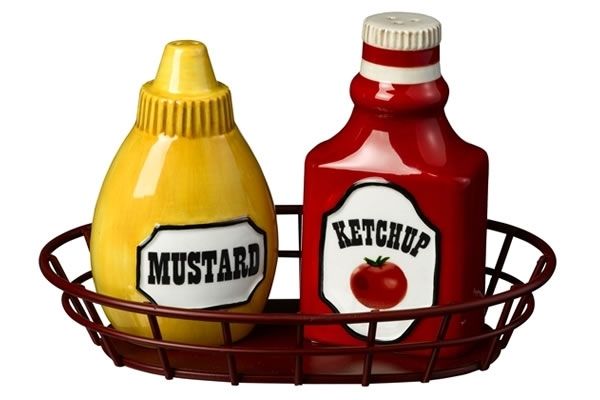 Ketchup and Mustard Salt & Pepper Shakers
Valentine's Day is right around the corner. Are you looking to spice up your relationship? You need the Ketchup and Mustard Salt & Pepper Shakers from the NeatoShop. This adoarable ceramic salt and pepper shaker set comes complete with a basket. It is a great way to tell someone you think you make a terrific pair.
Be sure to check out the NeatoShop for more great Salt & Pepper Shakers.
Posted: 31 Jan 2013 04:00 AM PST
(YouTube link)
The Disney animated short Paperman is up for an Oscar this year. The technique used to produce it is a combination of hand-drawn art and computer animation, giving it the feel of a classic Disney film.
Paperman's seemingly seamless way of blending the personality of hand-drawn animation with CGI in the physical space of the story is the result of new in-house software called Meander, a vector-based drawing program that allows for manipulation of the line after the fact — something that Kahrs described as "just like painting on the surface of the CG."

In practice, it successfully blends the best of both forms of animation together in way they've never been seen before. Depicting George and Meg as flat, drawn characters keeps them safely out of the uncanny valley that even the best CGI sometimes can't avoid and somehow makes them seem more real; other sequences, like the multiple paper airplanes zooming through the air, would be far less convincing and far more time-consuming if rendered without the help of computer generated imagery.
The plot? Boy meets girl, of course. Link
Night Into Day and Into Night Again
Posted: 31 Jan 2013 03:00 AM PST
Not only do the astronauts onboard the International Space Station see the Earth slip from night into day and into night again, but they see it 16 times in a day (well, a day being a period of 24 hours on board the ISS). Watch this mesmerizing video taken by crew of Expedition 34 on January 3, 2013: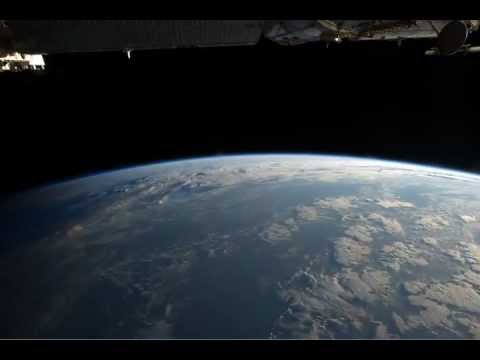 [YouTube Clip - via Universe Today]
This fast-paced video features the ISS completing two and a half orbits around the Earth, crossing the terminator line several times in the process.

The video begins as the ISS is in darkness, and as the moon rises on the left side of the video, the ISS begins to pass over into daylight. Clouds mostly obscure the view during this first daylight pass with the exception of the Caucasus and Elburz Mountains just before the terminator.

The ISS slips back into night as the moon again rises in the left side of the video. As the Station flies back into daylight, the ISS flies over Central America, the Caribbean Sea, and Cuba and Florida before flying over the northern Atlantic Ocean. Most of Western Europe is under cloud, and the first land that can be seen is the Alps Mountains and Croatia.

The ISS then passes over the terminator line again into darkness as the moon rises in the left side of the video. As the ISS passes back over into daylight, clouds obscure most of the Earth until near the end of the video, when it passes over the Baja Peninsula and the southwestern United States.
Posted: 31 Jan 2013 02:00 AM PST
YES! Why doesn't this spinoff exist already?! I want to watch the mecha-focused anime show My Little Gundam. And I want a party cannon, just like Han Jan has drawn it.
Artist's Gallery -via Equestria Daily
Riding Shotgun with Zach Anner
Posted: 31 Jan 2013 01:00 AM PST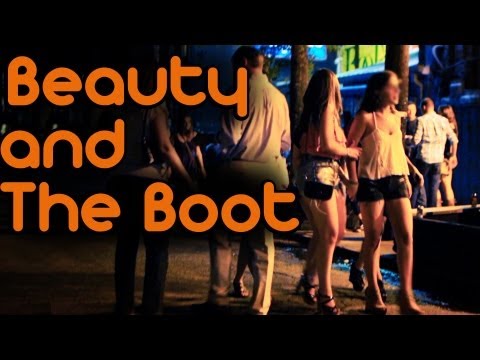 (YouTube link)
It's been a while since we checked in with Zach Anner, the comedian with cerebral palsy who won his own TV series. The problem was that the series was on the OWN network, which few cable companies even carry. Shortly after it was cancelled, Zach partnered with reddit to produce a web series called Riding Shotgun. There are now 25 episodes available on YouTube. In the latest episode, "Beauty and the Boot," shown here, Zach hits the hot spots in New Orleans. Continue reading for a sampling of the others.

Episode #3: Strippers and Raccoons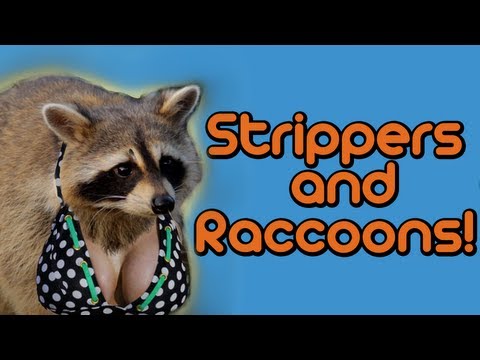 (YouTube link)
Zach meets his first internet host, Veronica in Montreal. It's his opportunity to try pole dancing.

Episode #15: Pussy Galore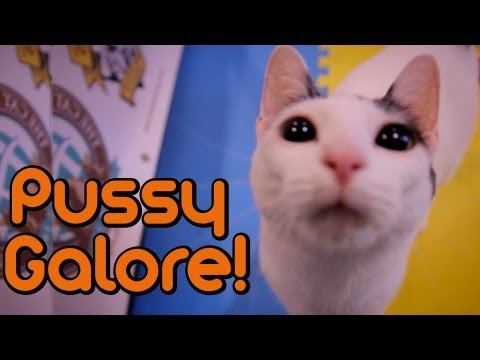 (YouTube link)
Zach attends the Strawberry Fields Cat Show cat show in Baltimore.

Episode #21: Southern Hospitality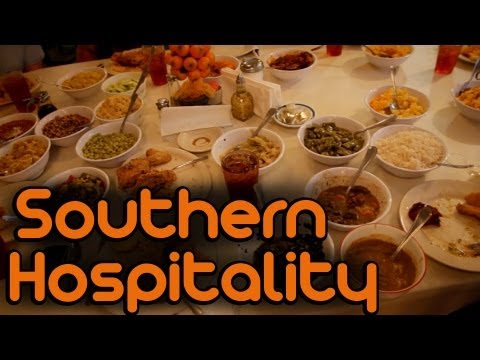 (YouTube link)
Zach and crew arrive in Savannah and eat their way through town.

See all the episodes at YouTube, and bookmark the link to keep up with future shows. Link

See also:Zach Anner's other projects.
Posted: 31 Jan 2013 12:00 AM PST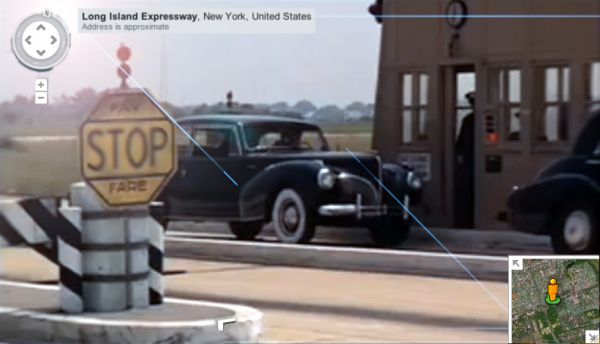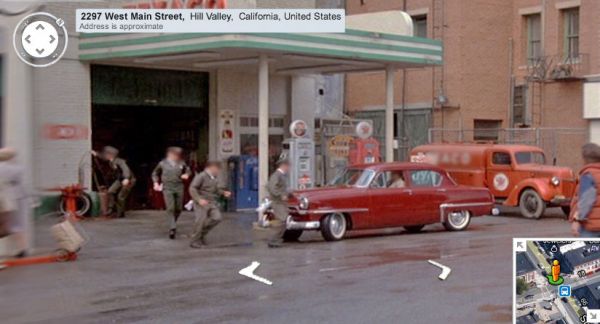 Who needs those fancy movie cameras? To make a movie, all you need is a Google Street View car. Google Street Scene is a site filled with movie scenes as seen through Google Street View. From top to bottom: Dumb and Dumber, The Godfather and Back to the Future.
Link -via Blame It on the Voices
Finding Romance and Other Things to do While Stuck in Traffic
Posted: 30 Jan 2013 11:00 PM PST
Stuck in traffic? Don't fret ... think of it as a possibility for romance! That's what tennis club owner Alexander Erokhiny did during regular rush hours in Moscow:
"When I was stuck in traffic, I spotted this beautiful woman in the car next to me," recalls Alexander Erokhiny. "So I decided to get acquainted with her. I wound down my window, and asked for her mobile number.

"She shouted out the digits and I called her right away. I invited her out to a cafe that very evening. Two years later, Marina and I were married."
That's just one of the many things that Muskovites do while stuck in Moscow's legendary traffic jams. Find out the rest over at the BBC in this report by Steven Rosenberg: Link (Photo: Julia Bogdanovich)
Eggo Waffle Ice Cream Sandwiches
Posted: 30 Jan 2013 10:00 PM PST
Don't Put That In Your Mouth Toothbrush Case
Posted: 30 Jan 2013 09:00 PM PST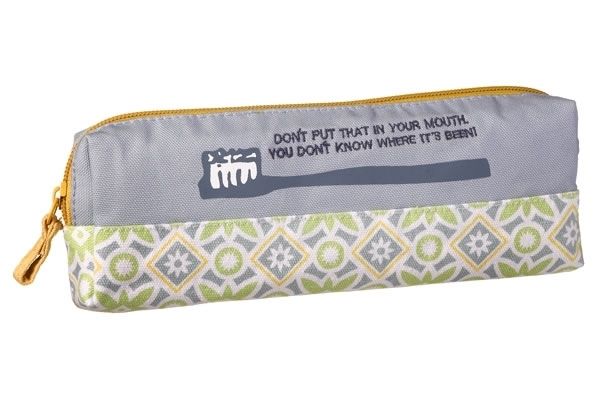 Don't Put That In Your Mouth Toothbrush Case
Both the CDC (yes we mean the Centers for Disease Control and Prevention) and your Mom agree on one fact. You shouldn't share your toothbrush. According to the CDC sharing a toothbrush increases your risk for infections. Or as Mom says, " Don't put that in your Mouth you don't know where it's been!" Regardless of who you trust more we suggest you keep your own toothbrush safe and handy while away from home with the Don't Put That In Your Mouth Toothbrush Case from the NeatoShop. This great little toiletry bag is perfect for keeping your toothbrush with you when you are on the go.
Be sure to check out the NeatoShop for more great Bags & Totes.
Posted: 30 Jan 2013 09:00 PM PST
With Groundhog Day coming up Saturday, sticking little hand-drawn groundhogs on your notes will surely make someone smile. Mark Anderson of Andertoons makes it easy for you with step-by-step instructions in his latest tutorial. Or just follow this animation! Link
Posted: 30 Jan 2013 08:00 PM PST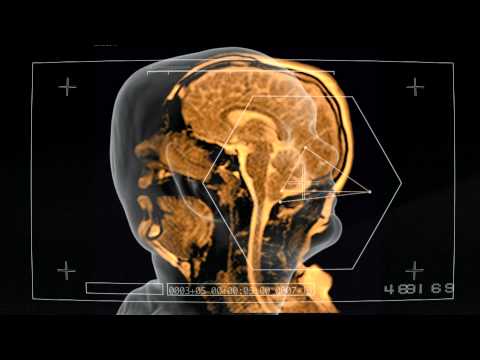 MRI and singing don't usually belong in the same sentence, but it made complete sense to British musician Sivu. He has just released his first YouTube music video and boy, oh, boy, what a music video it is.
The three minute-long video clip of Better Man Than He is composed of MRI images of Sivu's head as he sings. Plus, it's got the best lololo since Trololo. Hit play or go to Link [YouTube]
Posted: 30 Jan 2013 07:00 PM PST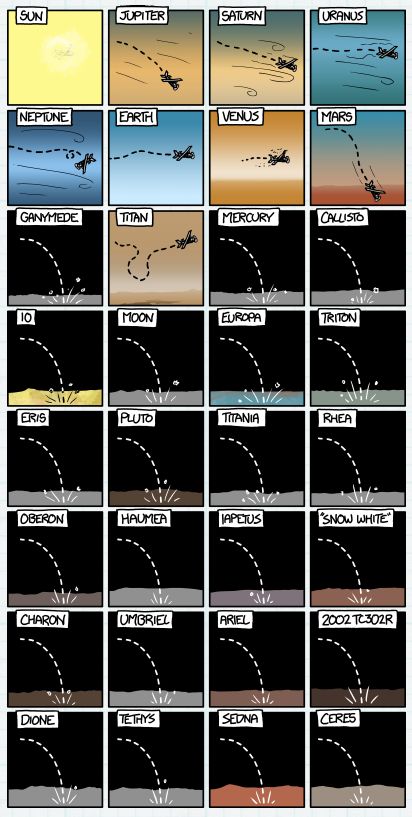 At Randall Munroe's What If? blog, where he researches the oddest questions from readers, he tells us what would happen to a typical airplane if it were flown on other planets and the larger moons in the solar system. For each of the nine heavenly bodies with enough atmosphere to even consider flight, Munroe looks at the pure physics of the flight, and only afterward considers the effects of other conditions, such as temperatures and poisonous gasses. Take Venus, for example:
Unfortunately, X-Plane is not capable of simulating the hellish environment near the surface of Venus. But physics calculations give us an idea of what flight there would be like. The upshot is: Your plane would fly pretty well, except it would be on fire the whole time, and then it would stop flying, and then stop being a plane.

The atmosphere on Venus is over 60 times denser than Earth's, which is thick enough that a Cessna moving at running speed would rise into the air. Unfortunately, the air it's rising into is hot enough to melt lead. The paint would start melting off in seconds, the plane's components would fail rapidly, and the plane would glide gently into the ground as it came apart under the heat stress.

A much better bet would be to fly above the clouds. While Venus's surface is awful, its upper atmosphere is surprisingly Earthlike. 55 kilometers up, a human could survive with an oxygen mask and a protective wetsuit; the air is room temperature and the pressure is similar to that on Earth mountains. You need the wetsuit, though, to protect you from the sulfuric acid. (I'm not selling this well, am I?)
You'll want to read all of them. Link
Posted: 30 Jan 2013 06:00 PM PST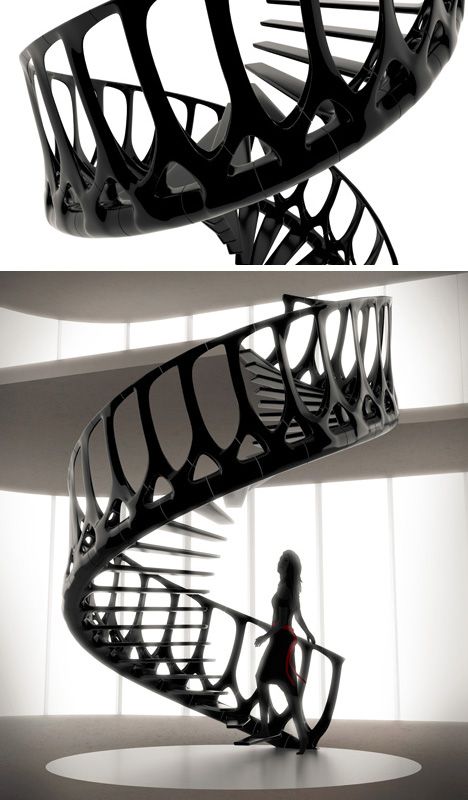 Andrew McConnell's fresh staircase design was inspired by the backbone of a whale:
[...] the Vertebrae Staircase is not simply mimicry of organic form but an exploration in shaping structure. Much of the design work went into refining the single component, or vertebra, that mate with each other creating a unified spine running from floor plate to floor plate.
The Game of Tag That Has Lasted 23 Years (and Counting)
Posted: 30 Jan 2013 05:00 PM PST
In high school, then teenagers Brian Dennehy and friends started a game of tag. Fast forward twenty three years later - the guys are now in their forties - and the game is still on:
The game they play is fundamentally the same as the schoolyard version: One player is "It" until he tags someone else. But men in their 40s can't easily chase each other around the playground, at least not without making people nervous, so this tag has a twist. There are no geographic restrictions and the game is live for the entire month of February. The last guy tagged stays "It" for the year.

That means players get tagged at work and in bed. They form alliances and fly around the country. Wives are enlisted as spies and assistants are ordered to bar players from the office.

"You're like a deer or elk in hunting season," says Joe Tombari, a high-school teacher in Spokane, who sometimes locks the door of his classroom during off-periods and checks under his car before he gets near it.

One February day in the mid-1990s, Mr. Tombari and his wife, then living in California, got a knock on the door from a friend. "Hey, Joe, you've got to check this out. You wouldn't believe what I just bought," he said, as he led the two out to his car.

What they didn't know was Sean Raftis, who was "It," had flown in from Seattle and was folded in the trunk of the Honda Accord. When the trunk was opened he leapt out and tagged Mr. Tombari, whose wife was so startled she fell backward off the curb and tore a ligament in her knee.

"I still feel bad about it," says Father Raftis, who is now a priest in Montana. "But I got Joe."
Russell Adams of The Wall Street Journal has the story: Link - via Boing Boing
From Bomb Victim to Public Garden
Posted: 30 Jan 2013 04:00 PM PST
Many historic buildings in London were damaged or destroyed by German bombs in World War II. Some were later demolished, and some were repaired and restored. An exception was the church of St. Dunstan-in-the-East. Originally built around 1100, only the north and south walls and the tower remained after the Blitz. Too historic to tear down and too expensive to rebuild, it was designated a public park in 1967. Since then, lovely trees and foliage have grown up, making the church a peaceful contemplative place to stop and think, but it still serves as a monument to the destruction of war. See more pictures at Urban Ghosts. Link
(Image credit: Peter Trimming, cc-sa-3.0)
Posted: 30 Jan 2013 03:00 PM PST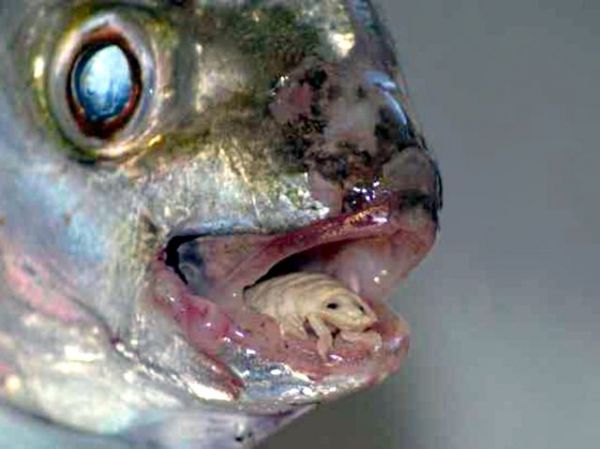 Look at who's come to say hello! It's our dear friend, Cymothoa exigua.
Are you facing a lonely Valentine's Day? You'll never be alone again once Cymothoa exigua crawls into your mouth. This parasite will eat and replace your tongue:
When one of these crustaceans encounters a rose snapper, it enters the fish's mouth and steadily devours the fish's tongue. Once it has done this, the crustacean uses hooks on its underside to attach itself to the floor of the fish's mouth and thereafter serves as a replacement tongue (Figure 2.8).
Move over, Laina. You've got competition.
Link -via WTF, Evolution? | Photo: HypeScience
Posted: 30 Jan 2013 02:00 PM PST
Valentine's Day is coming! Have you been bitten by the love bug? Get your ladybug loving sweetheart a gift she will really love. Get her the Ladybug Bag from the NeatoShop. This adorable purse makes a fantastic fashion accessory. The ladybug handbag really is as cute as a bug's ear.
Be sure to check out the NeatoShop for more great Bags & Totes.
Dog Fonts (Or is it Font Dogs?)
Posted: 30 Jan 2013 02:00 PM PST

Image via Designboom
Vienna-based studio Grafisches Buro released this clever match-ups of fonts and the dogs they embody (or is it the other way 'round?). Question is, what breed of dog is Comic Sans?
Student Project Helps Disabled Kitten
Posted: 30 Jan 2013 01:00 PM PST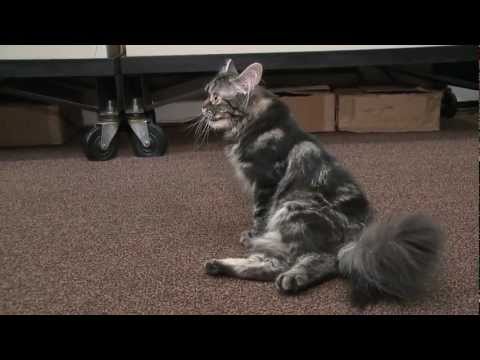 (YouTube link)
Flipper was born with a twisted spine. She's not paralyzed, but her back end doesn't walk on the same plane as her front end. Vets at the Aspen Park Vet Hospital in Conifer, Colorado, considered putting her down, but then decided to seek the help of the the Blitz Robotic Club at Conifer High School.
Club members—some of whom love cats—developed three prototypes that acted as hind legs for the furry feline. She gets into a harness, which helps her stay erect, then with hind legs pumping Flip begins motoring around the clinic.

"This is just the neatest thing," said Jan Gurney. "She loves kicking her back legs to help power the cat-traption around, it gives her so much mobility and in time her legs will get stronger and her spine may also loosen up to allow for her to one day get around on her own."

The kids who build robots used the CAD program to get 3D images of how the chariot of sorts could work.

Zimbabwe Has Only Got $217 Left in the Bank
Posted: 30 Jan 2013 12:00 PM PST
Are you broke? Take heart, it can happen to anybody, including countries. Take, for example, Zimbabwe, which has been rocked by hyperinflation (its inflation rate is a staggering 89,700,000,000,000,000,000,000% since it declared independence - the one hundred trillion Zimbabwe dollar banknote you see above is worthless.)
Well, the Finance Minister of Zimbabwe has just revealed that after paying public workers' salaries last week, the government has exactly $217 left in the bank:
"Last week when we paid civil servants there was $217 (left) in government coffers," Biti told journalists in the capital Harare, claiming some of them had healthier bank balances than the state.

"The government finances are in paralysis state at the present moment. We are failing to meet our targets."
Posted: 30 Jan 2013 11:00 AM PST
There's a "lawn dinosaur" in Redwood City, California named Dug. His family dresses him up for special occasions. Dug has his own Facebook fan page where you can see more pictures, and his own subreddit, too!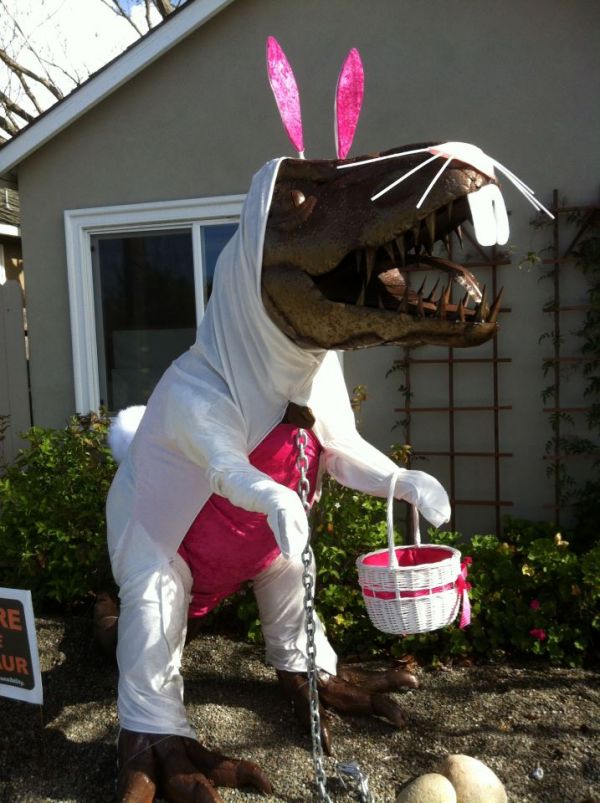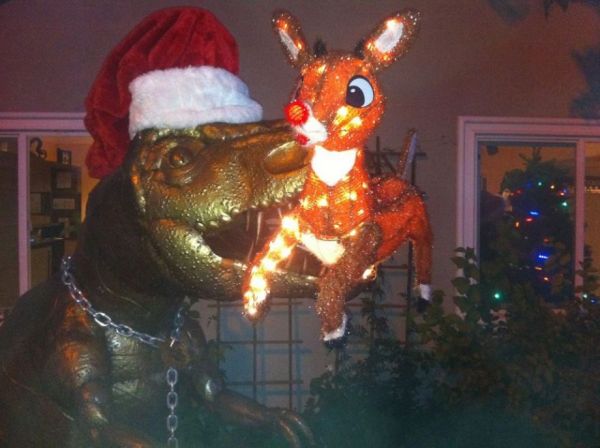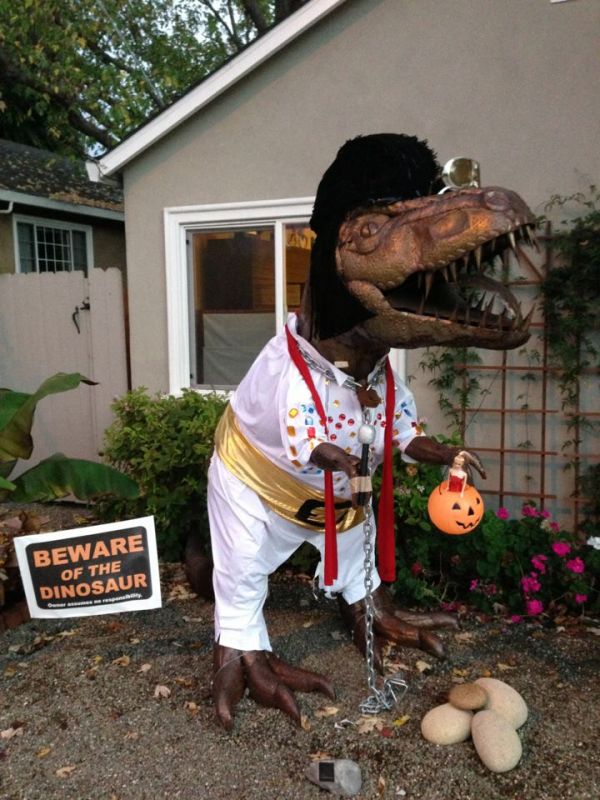 To answer your questions, Dug is made of tin, and was bought at a lawn and garden supply store in California. Link -via reddit
Posted: 30 Jan 2013 10:00 AM PST

Photo: To Mane/Nazare Qualifica
That little speck in the middle of the photograph is pro surfer Garrett McNamara surfing a humongous wave off the Praia do Norte beach in Nazare, Portugal. The wave, reported to be around 100 ft tall, is a record breaker (the previous record, also held by McNamara, was a wave 78 feet tall):
In the small town of Nazaré, on Portugal's Atlantic coast, a single red lighthouse stands at the shoreline. The small road leading to the lighthouse is, on any normal day, completely deserted. But on Monday, hundreds of people packed the road — photographers and spectators — as the huge swells battered the rocky shoreline. But most cameras seemed unable to capture the height of the sea from such a close vantage point — lauded surf photographer To Mane took a much wider angle, ultimately capturing a stunning view of McNamara's ride atop the unfathomable wave.
Nick Carbone of TIME Lightbox reports: Link
Posted: 30 Jan 2013 09:00 AM PST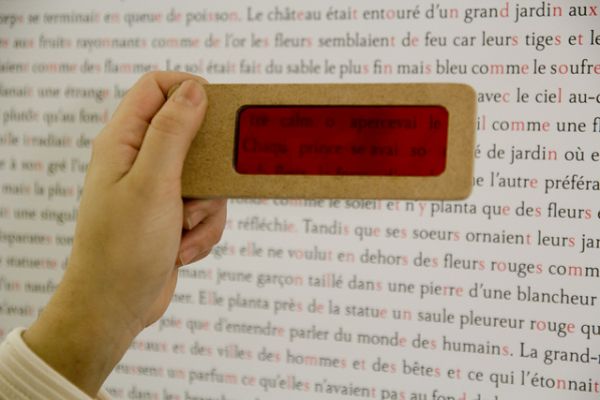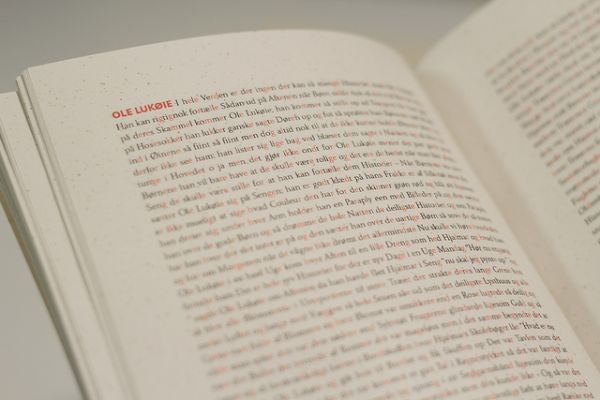 Kenneth Aleksander Robertsen asks:
How much of a language is silent? What does it look like when you take the silence out?
His project, entitled "silenc", is an attempt to answer those questions. He chose a selection of Hans Christian Andersen stories in Danish, as well as French and English translations. He printed editions in which all of the silent letters were marked in red. These become invisible when viewed through a filter.

(Video Link)
Link -via Joe Carter | Photos: Kenneth Aleksander Robertesen
Posted: 30 Jan 2013 08:00 AM PST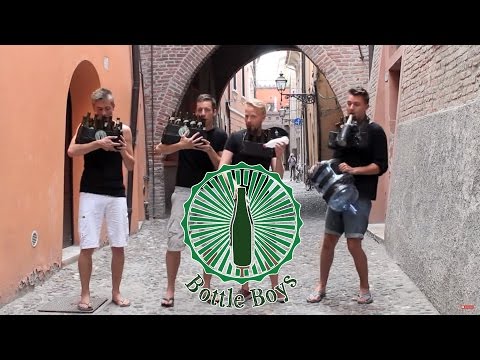 (YouTube link)
Recorded on the streets of Ferrara, Italy by The Bottle Boys, a band out of Copenhagen. -via Tastefully Offensive
Cat in the Hat Dr. Seuss Laplander Hat
Posted: 30 Jan 2013 07:00 AM PST
Cat in the Hat Dr. Seuss Laplander Hat (front and back shown)
Look at me! Look at me! Look at me now! This is a Cat in the Hat Dr. Seuss Laplander Hat. Wow!
We know it is cold and your nose is all runny. But you can keep your head warm with a NeatoShop hat that is funny.
The sun may not shine. The wind may be cold. But the Winterwear from the NeatoShop sure is bold.
Every Cloud Has a Silver Lining. And Bacteria. Lots of Bacteria.
Posted: 30 Jan 2013 07:00 AM PST

Photo: Jeffrey Liao/Shutterstock
Every cloud has a silver lining, and if atmospheric chemist Athanasios Nenes is correct, it has tons of bacteria as well. When Nenes collected air samples from about 30,000 feet over land and sea, he found that the air high above us is teeming with microorganisms:
It's not exactly a friendly place. It's cold, it's dry, and there's a lot of damaging UV light.

But Nenes says the bacteria seemed to be able to handle it. "They were alive," Nenes says. "More than 60 percent of them were actually alive, and they were in an active state that that you could say they should be metabolizing and eating things that are up there."

Back on the ground, other members of the research team used genetic techniques to identify the bacteria. One of them was Georgia Tech microbiologist Kostas Konstantinidis.

"We were able to see at least close to 100 different species, of which about 20 were in most samples," Konstantinidis says. Some of those 100 species were from the ocean. Others came from the soil and from fresh water.

There were even some E. coli. But Konstantinidis says he's not sure yet whether it's a type that makes people sick. The sample is still being analyzed. "My feeling is it will also include pathogens," he says, "but we don't have direct evidence about that yet."
NPR's Morning Edition has the story: Link
The Groundhog Oscillation: Evidence of Global Change
Posted: 30 Jan 2013 06:00 AM PST
There is a fierce debate about whether the earth's climate is changing. In this paper we describe an overlooked -- but reliable -- remote sensing instrument that can provide crucially pertient information. We also describe an extensive long-term data set that was obtained by using the instrument.
A Shadowy Observer
Every year on Groundhog Day (February 2), Phil the groundhog emerges from his burrow in Punxsutawney, Pennsylvania, after a long winter's sleep. Legend has it that if Phil sees his shadow (that is, if Groundhog Day is sunny), he dives back into his burrow, because he knows that there will be six more weeks of winter. If Phil doesn't see his shadow (that is, if the Groundhog Day is cloudy), he (and his adoring public) expect spring to arrive early.
By analyzing the more-than-century-long record of Phil's observations of his shadow, we discovered that there has been a dramatic change in the data pattern over the past two decades. We speculate that this new pattern, which we call the "Groundhog Oscillation," is evidence that the global climate is indeed changing.
This new pattern also suggests that mankind should pay closer attention to what our furry friends are telling us.
The Climate Change Question: Some Background
The scientific community has for many years been investigating the question of climate change. The main objectives have been (a) to prove or disprove the existence of global-scale climate change; (b) to understand the nature and implications of such change if it is occurring; and (c) to determine the extent to which such change occurs anthropogenically (i.e., by the actions of human beings).
---
Figure 1. The Arctic Oscillation (AO) Index, as reproduced from Thompson et al. [2000]. The thin black line is the JFM seasonal mean, while the thick black line is a 5 year running mean. It has been suggested that the trend displayed in the 1980's and 1990's is evidence of climatic change.
After much research and careful data analysis, most of the scientific community now accepts that the global climate (as measurable in aspects such as air temperature patterns, sea-surface temperature and pressure patterns, atmospheric composition, etc.) has been changing significantly over the past hundred years. (It should be noted that, as with all scientific and other questions, there are a few scientists who strongly disagree.)
The changes have apparently been increasing in magnitude during recent decades. One such change has been evident in the past twenty years' values of the so-called "Arctic Oscillation (AO) Index" (see Thompson et al., 2000 for a detailed explanation). The effect is shown graphically in Figure 1. Related research has also suggested potential global change signatures in the Earth's middle and upper atmosphere. Studies involving data obtained from ice core samples, tree rings, and even jellyfish populations reveal similar climatic trends.
However, there is inherent difficulty in doing climate research. This is due to many factors, including the variance that is induced by daily weather activity and that related to local climatological variability. There is continued need for further analysis on temporally long data sets obtained by suitable instrumentation. The instrument we describe here -- Phil -- appears to offer significant advantages over the better-known alternatives.
Instrumentation and Observations
The observations made on Groundhog Day of most every year for over a century have recorded whether Punxsutawney Phil (Marmota monax, also known as the groundhog, woodchuck, or whistle-pig; see Figure 2) "sees" or "does not see" his shadow. Thus, the data represents a series of binary events.
Phil's observations are ideal for global change studies, for a number of reasons:
* There is a temporally long baseline of measurements, extending back to approximately 1888.
* The instrument (Phil) is relatively cheap to maintain (though at times a bit hazardous to an untrained operator).
* The instrument does not require the unnecessary expense of being satellite or rocket borne (nor the further expense that would entail in complying with other standards (PETA, OSHA, etc.).
* The instrument operates at middle latitudes, where upkeep and maintenance are considerably cheaper than at equatorial or high latitudes.
* No (extensive) additional funding is required to maintain the instrument. Public donations and support are nearly sufficient to fund the entire operation (especially with the recent added support due to Phil's Hollywood movie career, which consisted of a starring role alongside Bill Murry and Andie McDowell in the film Groundhog Day).
* The instrument is robust, light (less than 20 lbs.), small (< 3 cubic ft.), and relatively attractive.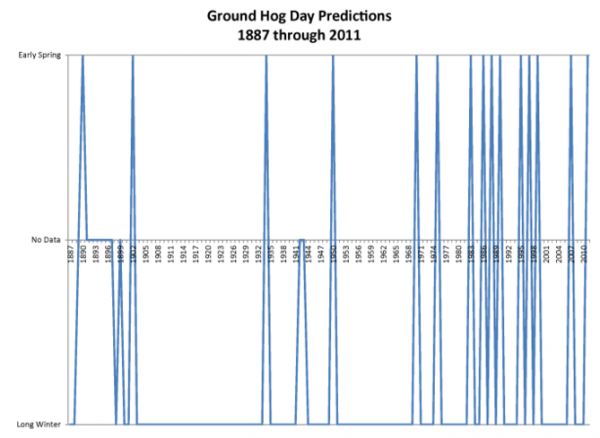 Figure 3. Phil's observations over the past approximately 100 years. Note the dramatic change (i.e., relatively consistent to highly oscillating) in "observation pattern" in recent years. This change is what we refer to as the Groundhog Oscillation (GO). (Image credit:
Nerch
via Wikipedia)
Data Analysis
Phil's observations are depicted graphically in Figure 3. Note that in many of the years prior to 1975, Phil saw his shadow. In those years Phil retreated into his burrow, where he rode out a minimum of six subsequent additional weeks of winter (i.e., there were long winters throughout most of the early and mid 1900's).
In the early 1980s the reported values began varying greatly from year to year. During this period there was roughly an equal chance of Phil seeing his shadow or not seeing his shadow. This new high variability is strikingly different than the relatively consistent values observed in earlier decades. We have given a name to this new, strong, persistent oscillation: the Groundhog Oscillation (or GO, after the AO above).
Discussion and Conclusions
The Groundhog Oscillation is convincing evidence of climate change. This finding is consistent with those of other recent studies. Compare Figure 3 with Figure 1 to see one instance of this.
This raises a number of intriguing questions. Perhaps the most puzzling is this: How is this phenomenon -- the GO - related to sea-surface changes? Phil is normally landlocked in west-central Pennsylvania, so the connection must be complex, and therefore fascinating.
To make further progress in understanding global climate change, we must initiate additional, widespread groundhog observation programs (each calibrated by Phil, of course). In the interest of science, we must place groundhogs at each weather observing station worldwide. Only thus can we obtain and analyze the complete set of data we need to understand global climate change.
It has not escaped our attention that, in Phil, we have discovered a key for easing tensions over politically touchy scientific questions. All the world loves a furry, cute scientific instrument.
(Image credit: Flickr user Jimmy Emerson)
Acknowledgments
The authors thank CG, Punxsutawney Phil, and the Inner Circle for their contributions to this research endeavor. Information on Phil, including his observations, can be obtained at the Punxsutawney Groundhog Club.
Reference
"Annular Modes in the Extratropical Circulation, Part II: Trends" D. W. Thompson, J., J. M. Wallace, and G. C. Hegerl, Journal of Climate, vol. 13, 2000, pp. 1018-1036.
_____________________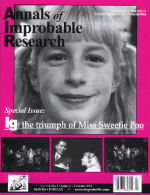 This article is republished with permission from the Jan-Feb 2001 issue of the Annals of Improbable Research. You can download or purchase back issues of the magazine, or subscribe to receive future issues. Or get a subscription for someone as a gift! Visit their website for more research that makes people LAUGH and then THINK.
Posted: 30 Jan 2013 05:00 AM PST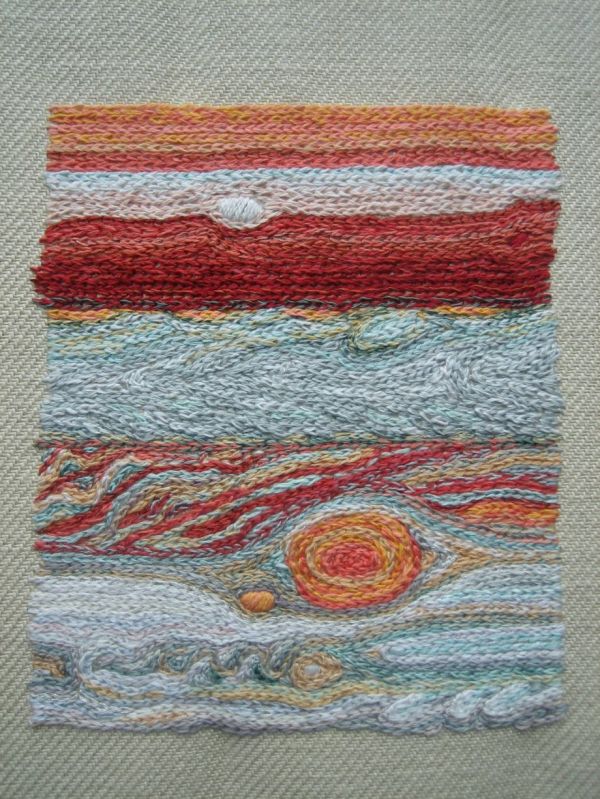 Do you recognize the pattern? It's the Great Red Spot of the planet Jupiter. Pardalote embroidered it in cotton and silk.
You are subscribed to email updates from Neatorama
To stop receiving these emails, you may unsubscribe now.
Email delivery powered by Google
Google Inc., 20 West Kinzie, Chicago IL USA 60610