---
The Remembrance Coffee Table Looks Like a Photo Album
Posted: 03 Jan 2013 04:00 AM PST
Do you have photo albums of your family on your coffee table? During the Christmas season, it's fun to sit and go through them with your family and remember old times. Mitch Steinmetz's Remembrance table reflects this activity. It takes the form of an enormous photo album.
Link and Video -via NMU Salone Satellite
Words and Phrases I've Misused
Posted: 03 Jan 2013 03:00 AM PST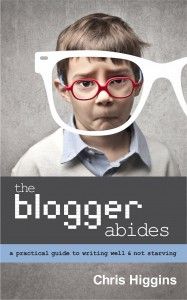 Chris Higgins of mental_floss wrote a book called The Blogger Abides. It's about, you guessed it, blogging! In an excerpt he posted today, he gives many examples of misused words and phrases he's been called out on over the years. A couple of examples:
Tough Road to Hoe

A lot of idioms don't seem to make sense, particularly if you (like me) never really heard them right, and just said what you thought you heard. It's "a tough row to hoe," not "a tough road to hoe." Hoeing a row is something you do in a garden. With a hoe. It's tough. You don't hoe a road. I think maybe I thought it was "a tough road a-ho" for a while, which also seems to mean nothing (unless perhaps that's short for "ahoy"), but maybe in some old-timey slang from my primitive brain it means something…anyway, pro tip: when using some seemingly nonsensical idiom in your writing, Google it first to figure it out what it really is and how to write it properly.

Myriad Plethoras

The word "plethora" traditionally has a negative connotation–so you'd say something like, "I'm pretty sure she's crazy because she owns a plethora of cats and also never wears shoes." In modern usage it's often used much like "myriad," just meaning "a lot of something"–but some readers will freak out, because of its traditional use as "a problematically large number or amount of something." Further, the word myriad actually has a positive connotation–so you'd say something like, "Myriad stars shone from above." (Note: debate rages over the possible uses of the word myriad. In the example just now, I used it as an adjective. It may also be used as a noun, just like plethora: "A myriad of stars shone from above.")

In short: myriad good, plethora bad (due to quantity).
There's plenty more, from the obvious to the totally confusing. Link
Posted: 03 Jan 2013 02:00 AM PST
Kissing Renaissance Dogs Salt & Pepper Shakers
Posted: 03 Jan 2013 01:00 AM PST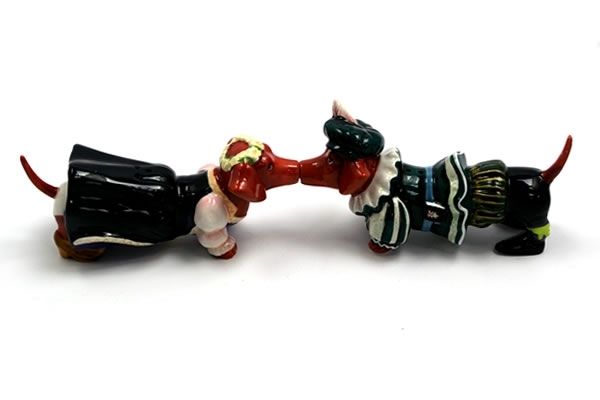 Kissing Renaissance Dogs Salt & Pepper Shakers
Is your kitchen table in need of a little rebirth of style? Reawaken your kitchen spirit with the Kissing Renaissance Dogs Salt & Pepper Shakers from the NeatoShop. This delightful set is perfect for forward thinking individuals who long to add a little flavor and artistry to their home decor. Huzzah!
Be sure to check out the NeatoShop for more great Salt & Pepper Shakers.
Posted: 03 Jan 2013 01:00 AM PST
This lioness reacts to the motions of a toddler on the other side of her glass zoo enclosure. She bats her paw at the window repeatedly as the child giggles and pounds back, joyfully oblivious of her power.

Human Hands Evolved for Punching
Posted: 03 Jan 2013 12:00 AM PST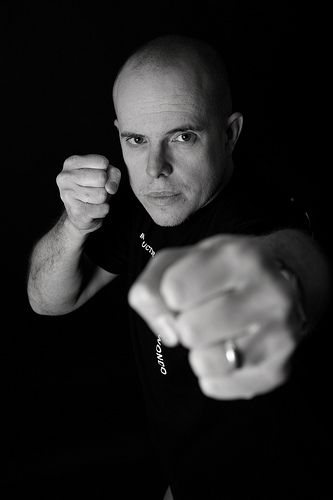 According to the recently published results of a study by biologist David Carrier, the human hand, when formed into a fist, was an evolutionary advantage for early humans:
For this latest study, he and co-author Michael Morgan, a medical student, conducted three experiments. First, they analyzed what happened when men, aged from 22 to 50, hit a punching bag as hard as they could. The peak stress delivered to the bag -- the force per area -- was 1.7 to 3 times greater with a fist strike compared with a slap.

"Because you have higher pressure when hitting with a fist, you are more likely to cause injury to tissue, bones, teeth, eyes and the jaw," Carrier said. [...]

In terms of the size and shape of hand anatomy, the scientists point out that humans could have evolved manual dexterity with longer thumbs, but without the fingers and palms getting shorter.

Gorilla hands are closer in proportion to human hands than are other apes' hands, but they and no other ape -- aside from us -- hits with a clenched fist.
Link -via Ace of Spades HQ | Photo: Adam Merton
Woman Sold Ex's Secret Fishing Spots
Posted: 02 Jan 2013 11:00 PM PST
Selling jewelry or even naked photos of your ex after a bad breakup is understandable. But selling secret fishing spots? Now that's just low.
Read how one Angela Potter exacted revenge on her ex-boyfriend , an avid fisherman, by selling his most prized possession: his secret fishing spots.
Miss Potter was clearing out her garage when she found the GPS markings for fishing spots in the Bay of Plenty and many other areas of the North Island, so she auctioned them off on Trade Me last January and scored herself a whopping $3000. [...]

Miss Potter said she would never have sold the co-ordinates had it been an amicable breakup, however, the man packed his belongings into her suitcase, which had sentimental value, and fled the country.

"When he refused to return my suitcase that's when I sold his co-ordinates," she said. "I didn't list them to be vindictive. I listed them as a bit of a laugh."
Link | Image: Fish Head Sucker from the NeatoShop
Hotel Comes with a Bed Made in an Antique Beer Barrel
Posted: 02 Jan 2013 10:00 PM PST
Retro Travel Posters, <i>Star Wars</i> Style
Posted: 02 Jan 2013 09:00 PM PST
Artist Steve Thomas created this stylized series of Star Wars posters inspired by government-issued tourism promotions for national and state parks between 1930 and 1950. These renderings of memorable places in a galaxy far, far away use the classic fonts and sleek imagery of the vintage posters upon which they are based.
See the collection at the artist's website. Link -via ComicBookMovie.com

(Image credits: Steve Thomas)
Posted: 02 Jan 2013 08:00 PM PST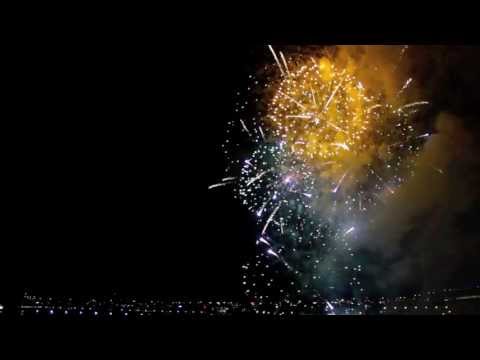 (Video Link)
What do fireworks look like when you see them backwards? Simply beautiful. Julian Tay recorded the New Year's Day fireworks display in Melbourne, Australia and reversed the image.
Posted: 02 Jan 2013 07:00 PM PST
Shoji Takeuchi of the University of Tokyo, Japan, and colleagues, have taken the art of origami to new heights. Or technically, new smalls: the team managed to create microscopic origami folds using tissue cultures:
The team created flat origami designs by cutting thin plastic sheets. Then they grew cells that crossed the seams of the tiny plates. The first clips in this video use animal connective tissue cells, which typically help wounds heal, to make the patterns bend when nudged. But in later examples, the flexible joints fold automatically when rat heart cells are used.

The team hopes the process could eventually help create artificial blood vessels as well as other biological tissue.
New Scientists has the video clip you should watch: Link
Gingerbread <i>Star Trek</i> Communicator
Posted: 02 Jan 2013 06:00 PM PST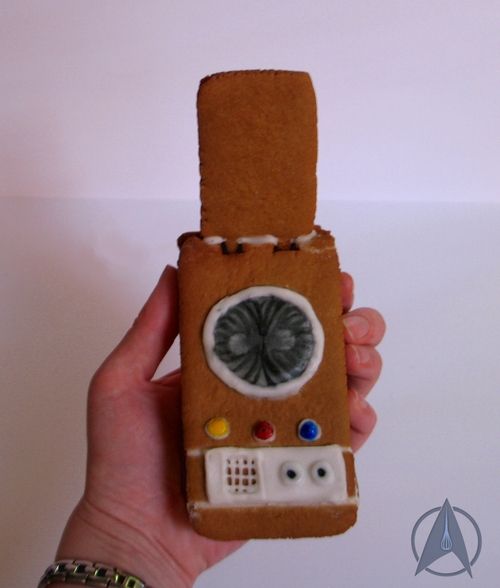 Somehow I have lived the past few years without having ever heard of Food Replicator, a Star Trek-themed food blog. Especially noteworthy is the author's attention to the delicacies of Ferenginar, such as jellied gree-worms. Yummy!
Above you can see a gingerbread version of the standard Starfleet communicators used during the original series. Here's how the author made it:
I cut out the pattern pieces on thick card paper and then used that to cut out the cookie pieces. I froze the dough before cooking as this helps it keep its shape.

I used royal icing (1 egg white, add icing sugar until the desired consistency is reached) for all decorations, as well as for gluing the pieces together.

Toothpicks and scrunched up pieces of plastic wrap are both very useful to use as prop-ups while waiting for the royal icing to dry when gluing the pieces together.
Meet Kidogo, the Tightrope Walking Gorilla
Posted: 02 Jan 2013 05:00 PM PST

Photo: Magnus Neuhaus/Zoo Krefeld
When Kidogo got homesick, zookeepers decided that the 12-year-old gorilla needed a hobby. But what they didn't know was how the gorilla would become quite the tightrope artist. Just look at that form on the slackline!
Der Spiegel has the article and photo gallery: Link
<i>Game of Thrones</i> Paper Snowflake
Posted: 02 Jan 2013 04:00 PM PST
Winter is coming, so let's get crafting! Victoria Remelius made this beautiful paper snowflake modeled on House Stark's direwolf sigil.
Link -via Popped Culture
Posted: 02 Jan 2013 03:00 PM PST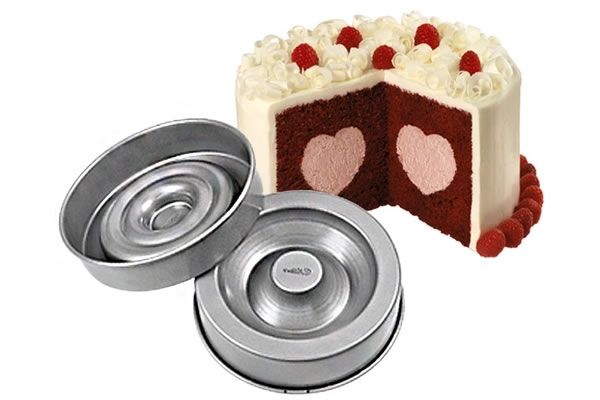 Are you resolved to make the most of the new year and share your whole heart with someone? You need the Heart Cake Pan from the NeatoShop. This fantastic pan lets you create a cake with a heart baked right in the middle. It is a deliciously fun way to show someone you love them, or at least like-like them a whole lot.
Be sure to check out the NeatoShop for more great Kitchen Stuff.
It's a Bird ... It's a Plane ... It's Remote-Controlled Superman!
Posted: 02 Jan 2013 03:00 PM PST
Cyclist Kyle Gough was riding down the Pacific Coast Highway in California when he spotted something unusual flying in the sky. It's a bird ... It's a Plane ... It's Life-Sized Remote-Controlled Superman! Kyle wrote:
I was cycling with my buddy down PCH (Pacific Coast Highway) and during our casual conversation ... Superman flew by. We stopped, got off our bikes just in time to watch him land. After a quick battery change, I grabbed the only thing I had on me (my cell phone, sorry for the shit quality) and took some video of what is EASILY the coolest custom RC plane I've ever seen. Damn near life-size and complete with a cape...
Hit play or go to Link [LiveLeak]
Mom's 18-Point Terms and Conditions for Son's iPhone
Posted: 02 Jan 2013 02:00 PM PST
Like many teenagers, 13-year-old Greg Hoffman wanted an iPhone for Christmas. But to get one, he had to agree to and sign an 18-point set of terms and conditions - not from Apple or the phone company, but from his mom!
"Merry Christmas! You are now the proud owner of an iPhone. Hot Damn! You are a good & responsible 13 year old boy and you deserve this gift," the agreement begins. "But with the acceptance of this present comes rules and regulations."

The first rule on his mother's list: "It is my phone. I bought it. I pay for it. I am loaning it to you. Aren't I the greatest?"

"I hope that you understand it is my job to raise you into a well rounded, healthy young man that can function in the world and coexist with technology, not be ruled by it," Janell Hoffman wrote. "Failure to comply with the following list will result in termination of your iPhone ownership."
The rules include:
1. It is my phone. I bought it. I pay for it. I am loaning it to you. Aren't I the greatest?
2. I will always know the password.
3. If it rings, answer it. It is a phone. Say hello, use your manners. Do not ever ignore a phone call if the screen reads "Mom" or "Dad". Not ever.
Read the rest over at Good Morning America over at Yahoo!: Link | The video clip over at ABC News
New Frontier in Pregnancy Oversharing: The Ultrasound Party
Posted: 02 Jan 2013 01:30 PM PST

Photo: Brandi Simons/TODAY.com
Think that the ultrasound photo shared on Facebook by your pregnant friend is a bit much? You ain't seen nothin' yet. There's a new frontier in the world of pregnancy oversharing ... welcome to the ultrasound party:
Thanks to improved ultrasound technology, parents-to-be can now invite friends and family to share in an intimate viewing of baby in utero.

"It's our opportunity to see those little fingers and toes again," said Kimberly Enderle, a 29-year-old Rogers, Ark., mom due in February who decided to host an ultrasound party just for fun.

With the exception of two women in lab coats and a buzzing console next to the chaise lounge, the Enderles' party was like any other family gathering. Drinks, snacks, friendly banter. Once the machine was ready, though, Kimberly asked husband Jonathon to corral the guests around the two monitors and hit the lights.

Suddenly there was a baby on the screen.
You know what they say. There's no party like an ultrasound party! TODAY has the story: Link
Posted: 02 Jan 2013 01:00 PM PST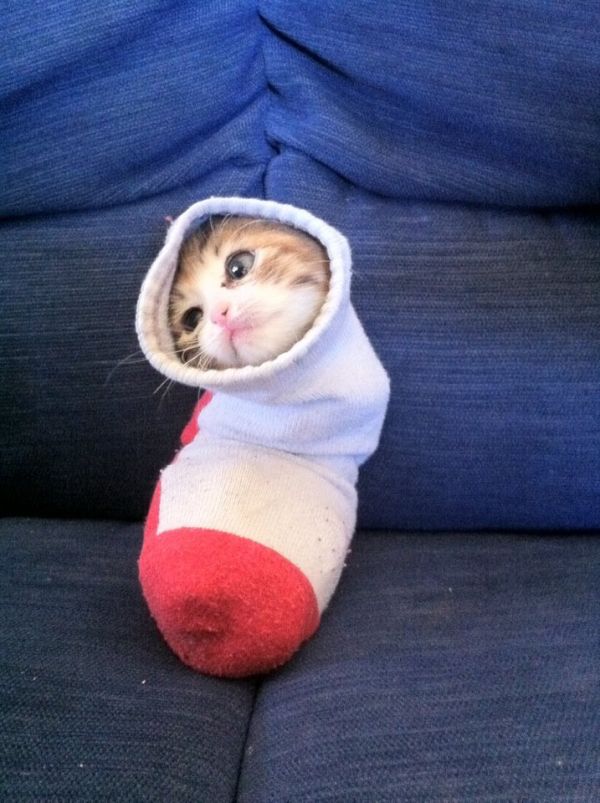 Redditor PseudoLiamNeeson used to put his kitten in a sock to keep her warm. He says that she is bigger now, but still likes to crawls into his sweaters. Link
Oompa-Loompas Sought in Assault Case
Posted: 02 Jan 2013 12:30 PM PST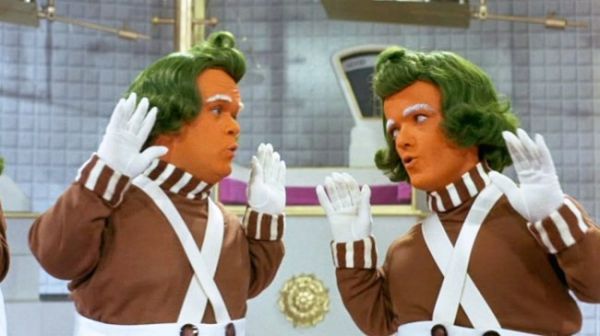 Police in Norwich, Norfolk, England, are looking for two Oompa-Loompas in connection with an assault on a 28-year-old man, who was left with cuts, bruises, and two black eyes. The man was assaulted as he was leaving a kebab shop.
"Police are seeking a group of four people, two of whom were dressed as Oompa-Loompas, who attacked a male on a night out," a spokesman for Norfolk police said.

"Two of the males were dressed as Oompa-Loompas from [the Roald Dahl book] Charlie and the Chocolate Factory, with painted orange faces and dyed green hair and were wearing hooped tops."

The spokesman added: "One of the males in the group then pushed the victim to the floor before he got up. He was then hit on the head, fell to the floor and hit again."
Anyone with information is urged to call the Norfolk police. Link -via Arbroath
Posted: 02 Jan 2013 12:00 PM PST
(vimeo link)
Cross classic giant monster movies like Godzilla with the internet obsession with laser-eyed cats and throw in a large dollop of video game imagery, and you get Catzilla! Who will save the city from the monster cat? Warning: dubstep soundtrack. -via Geeks Are Sexy

Posted: 02 Jan 2013 11:30 AM PST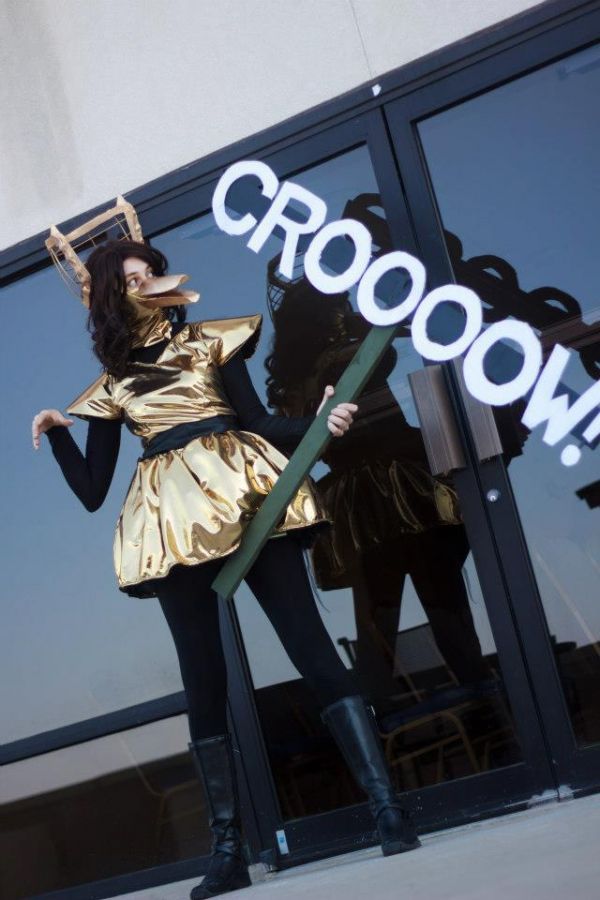 Let's help kiss 2012 goodbye with io9's look back at the year's best cosplay, where sexy, creative and downright creepy collide in costumed craziness you won't be able to unsee.
It's pure chaos in homemade costumes, and even though we've shown a few of the entries here already they're definitely worth a second look!
Posted: 02 Jan 2013 11:00 AM PST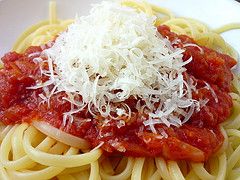 The New York Times sat down with the owners of three Manhattan Italian restaurants to discuss the correct way to eat pasta. They mostly agreed on a few rules: you don't put cheese on a seafood-based dish, you don't break pasta before cooking it, and you don't eat spaghetti with a spoon.
As to the use of a fork plus a spoon for eating pasta, all those at the table were adamant. Spoons are for children, amateurs and people with bad table manners in general.

Egi Maccioni recalled her childhood days of eating pasta. ''My grandparents spent hours teaching me how to eat pasta without using a spoon, how to twirl my fork so that not a strand of spaghetti would be hanging down as I lifted that fork to my mouth.''
Does anyone really ever eat spaghetti with a spoon? The article begins with 1975 advice from Elizabeth Post recommending it, but I'd never heard that before. How you do eat spaghetti? Link -via reddit
(Image credit: Flickr user Dèsirèe Tonus)
POLL: With what do you eat spaghetti?
Fork
Spoon
Fork and spoon
Chopsticks
I hate spaghetti
Old-fashioned Analog Film Editing
Posted: 02 Jan 2013 10:30 AM PST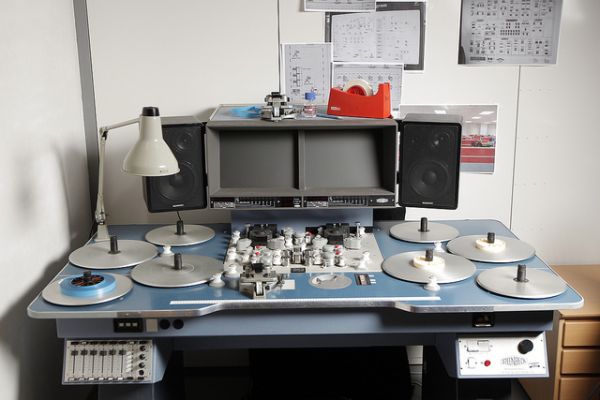 This contraption is a Steenbeck flatbed editor, used to edit motion picture film before it all went digital. The process was unwieldy compared to modern computer editing, but the old methods gave us a hundred years of art.
The table doesn't actually do any editing in and of itself. It merely controls playback. You would shuttle back and forth to the frame around which you wanted to make a cut, then you would place the film into a splicer which would cut the film with a blade and stamp a piece of tape over the seam. So primitive! We were told as film students that editing the old fashioned way at first would force a more sophisticated understanding of editing. Is that true? Does writing on paper force a greater understanding of the written word?
I can't speak to film editing, but as far as sound editing and writing go, I can say that learning it the old-fashioned way first gives a person a great respect for the individual elements of the art. It also helps one to appreciate the ease of more modern methods! Gizmodo has more, including a video of editing film by splicing. Link

(Image credit: Flickr user DRs Kulturarvsprojekt)
Posted: 02 Jan 2013 10:00 AM PST
From Crictor on Vimeo, welcome 2013! May it be a year of astonishingly well timed ping pong ball drops caught on camera. Or well something of that nature.
-Via The Mary Sue
The Surprisingly Manly History of Hot Cocoa
Posted: 02 Jan 2013 09:30 AM PST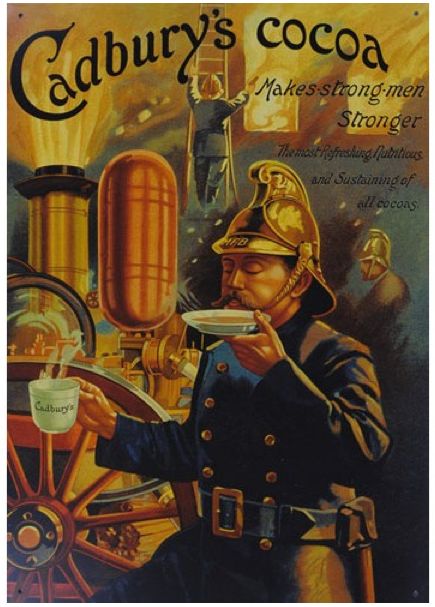 Before chocolate candy was developed, cocoa was almost always a drink. And far before chocolate milk became a kid's staple, cacao was a manly beverage, reserved for warriors.
Cacao was cultivated and consumed by the Olmecs and Mayans, but is most famously associated with the Aztec civilization. Montezuma the II, who kept a huge storehouse of cacao (supplied by conquered peoples from whom he demanded the beans as tribute) and drank 50 golden goblets of chocolate a day, decreed that only those men who went to war could imbibe cacao, even if they were his own sons. This limited chocolate consumption to royals and nobles who were willing to fight, merchants (their travels through hostile territory necessitated their taking up of arms), and warriors. For the latter, chocolate was a regular part of their military rations; ground cacao that had been pressed into wafers and could be mixed into water in the field were given to every solider on campaign. The drink provided long-lasting nourishment on the march; as one Spanish observer wrote, "This drink is the healthiest thing, and the greatest sustenance of anything you could drink in the world, because he who drinks a cup of this liquid, no matter how far he walks, can go a whole day without eating anything else."

All Aztecs thought of both blood and chocolate as sacred liquids, and cacao seeds were used in their religious ceremonies to symbolize the human heart – harkening to their famous ritual in which this still-beating organ was torn from a sacrificial victim's chest. The connection between blood and chocolate was especially strong for warriors, and it was served at the solemn initiation ceremony of new Eagle and Jaguar knights, who had to undergo a rigorous penance process before joining the most elite orders of the Aztec army.
As chocolate was carried around the world, it was changed considerably, but still made into a manly beverage as nutritious sustenance for Arctic explorers and soldiers at war. The Art of Manliness has an extensive history of hot cocoa and its use, including tips for making yours better. Link
Posted: 02 Jan 2013 09:00 AM PST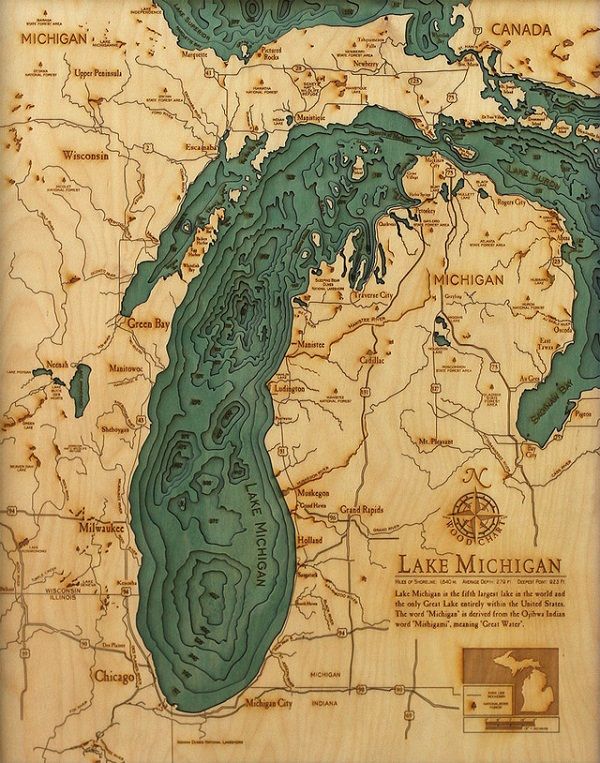 You learn something every day and today is no exception. Today I learned the definition of bathymetry, the study of underwater depth and topography. Below the Boat is a website and a company that makes these beautiful bathymetric charts, as seen above.
The charts are laser-cut into sheets of Baltic birch with hand colored detail. They also have a ton of maps too, from the East Coast to the Midwest and to even the West Coast regions. I particularly like this map of Lake Michigan- a lake I have spent a good deal of my life on, in, and around.
Photo Below the Boat | Via Colossal
It's Time to Play The Music It's Time to Eat Cupcakes
Posted: 02 Jan 2013 08:30 AM PST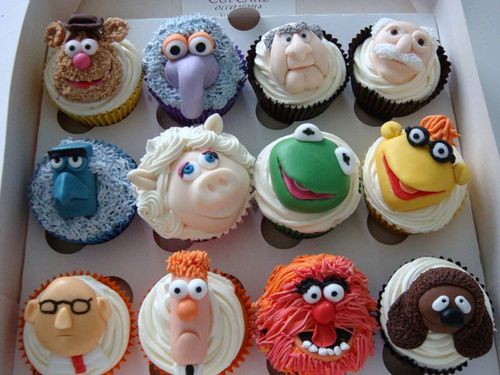 The best thing about this set of cupcakes is that Statler and Waldorf are up there in the top right ready to talk about how terrible the rest of the snacks look.
Richard Feynman's Ode To A Flower
Posted: 02 Jan 2013 08:00 AM PST
(vimeo link)
The more science you know, the more amazing our world becomes. An anecdote from a 1981 Richard Feynman interview for the BBC is illustrated by Fraser Davidson's animation. -via Geeks Are Sexy
Posted: 02 Jan 2013 07:30 AM PST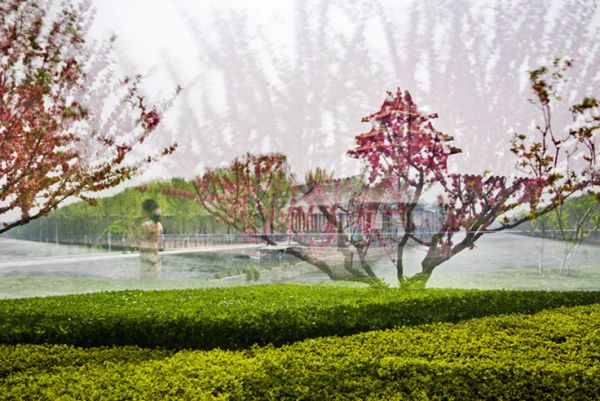 In the series entitled 8 Secondes, photographer Nicolas Ruel takes landscape photographs using an 8-second exposure. During that time, he changes angles to create a double exposure that transforms the scene into a work of art. See images from cities all over the world at his website, as well as other projects using the long exposure technique. Link -via Nag on the Lake
You are subscribed to email updates from Neatorama
To stop receiving these emails, you may unsubscribe now.
Email delivery powered by Google
Google Inc., 20 West Kinzie, Chicago IL USA 60610