---
Posted: 23 Jan 2013 05:00 AM PST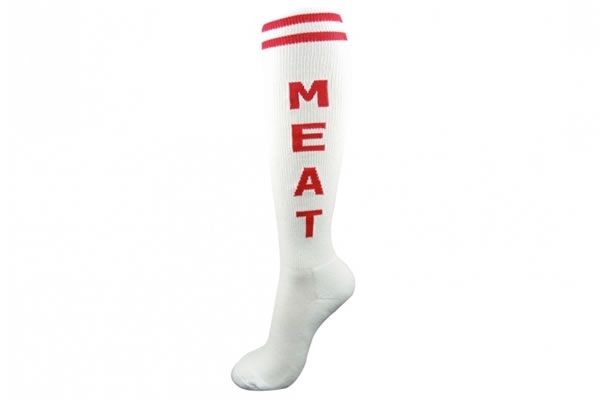 Romantic gifts are overrated. This Valentine's Day get your beefcake something they can actually use. Get them the Meat Socks from the NeatoShop. This satisfying and fun pair of knee-high socks is for both men and women.
Be sure to check out the NeatoShop for more great Footwear.
Posted: 23 Jan 2013 05:00 AM PST
Having long been genuine admirers of the United States Postal Service (USPS), which gives amazingly reliable service especially compared with many other countries, our team of investigators decided to test the delivery limits of this immense system. We knew that an item, say, a saucepan, normally would be in a package because of USPS concerns of entanglement in their automated machinery. But what if the item were not wrapped? How patient are postal employees? How honest? How sentimental? In short, how eccentric a behavior on the part of the sender would still result in successful mail delivery?
Testing the Limits
We sent a variety of unpackaged items to U.S. destinations, appropriately stamped for weight and size, as well as a few items packaged as noted. We sent items that loosely fit into the following general categories: valuable, sentimental, unwieldy, pointless, potentially suspicious, and disgusting. We discovered that although some items were never delivered, most of the objects of even highly unusual form did get delivered, as long as the items had a definitely ample value of stamps attached. The Postal Service appears to be amazingly tolerant of the foibles of its public and seems occasionally willing to relax specific postal regulations.
Procedures
Our research staff began the project by obtaining and reviewing relevant information on USPS regulations and discussing, in a limited and very hypothetical manner, the planned project with USPS 800 number personnel. A group of mailable objects was then assembled, stamped with abundant postage by weight and size, and mailed at public postal collection boxes (when possible to cram the object through the aperture) or at postal stations (if possible). A card was strapped to the object with duct tape or stranded strapping tape, and postage was affixed to the card, except as otherwise noted below.
Senders and receivers were interchangeable; the mailings were double-masked to conceal the identity of our mailing specialists, and gloves were used to prepare the mailings (to avoid fingerprints). In no case was a return address given -each object either went forward to its destination or was lost to follow-up. An object was considered lost if it was not received within the 180-day study parameter. All objects were sent first class using five-digit ZIP codes to actual domestic addresses, and the number of days to delivery were recorded (excluding postal holidays). The condition of the object upon receipt was also recorded, if it had changed, as was any unusual communication, verbal or written, from the postal carrier or counter clerk.
Materials and Findings
The items we mailed fall into several broad classifications, which are described here.
***
VALUABLE ITEMS. These were items that seemed stealable or had some apparent business worth.
Letter with stamp placed at top left corner (incorrect stamp location). Formal business-style letter, to formal business name, in high-quality envelope. Days to delivery, 21. The stamp was crossed out by hand; the top right corner of the envelope was stamped with the following: EVIDENCE POSTAGE WAS AFFIXED, ONE RATE OK'D.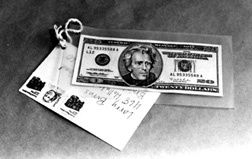 $1 bill. Sealed in clear plastic, with label attached with address and postage. Days to delivery, 6.
$20 bill. Days to delivery, 4.
Football. Days to delivery, 6. Male postal carrier was talkative and asked recipient about the scores of various current games. Carrier noted that mail must be wrapped.
Pair of new, expensive tennis shoes. Strapped together with duct tape. Days to delivery, 7. When shoes were picked up at station, laces were tied tightly together with difficult-to-remove knot. Clerk noted that mail must be wrapped.
SENTIMENTAL ITEMS
Rose. Postage and address were attached to a card that was tied to the stem. Delivery at doorstep, 3 days, beat up but the rose bud was still attached.
Wooden postcard. Dimension 4" x 6" x 3/8", showing a moose and mailed from Maine. Postage used was 20 cents in spite of the added weight, because investigators strongly expected successful delivery in this case. Days to delivery, 6.
Molar tooth. Mailed in clear plastic box. Made a nice rattling sound. Repackaged in padded mailer by unknown individual; the postage and address had been transferred to the outside of the new packaging. A handwritten note in a woman's writing inside read, "Please be advised that human remains may not be transported through the mail, but we assumed this to be of sentimental value, and made an exception in your case." Days to delivery, 14.
Sound-emitting toy. A monkey-in-box toy that, upon shaking, shouted, "Let me out of here! Help! Let me out of here!" Addressed in big letters to LITTLE JOHNNIE. Sound toy was equipped with a new battery. Delivery at doorstep, 6 days.
UNWIELDY ITEMS. These were items that would be a challenge to handle.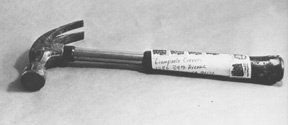 Hammer. Card was strapped to hammer handle; extra-large amount of postage was attached. Never received.
Feather duster. The card with postage and address was attached by wire to the handle. Days to notice of delivery, 6. Clerk at station commented that mail must be wrapped.
Ski. A large amount of postage was affixed to a card that was attached to the ski. The ski was slipped into a bin of postage that was being loaded into a truck behind a station (a collaborating staff member created a verbal disturbance up the street to momentarily distract postal workers' attention). Notice of postage due received, 11 days. Upon pickup at the station, the clerk and supervisor consulted a book of postage regulations together for 2 minutes and 40 seconds before deciding on additional postage fee to assess. Clerk asked if mailing specialist knew how this had been mailed; our recipient said she did not know. Clerk also noted that mail must be wrapped.
Nev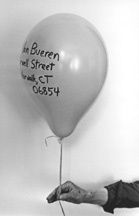 er-opened small bottle of spring water. We observed the street corner box surreptitiously the following day upon mail collection. After puzzling briefly over this item, the postal carrier removed the mailing label and drank the contents of the bottle over the course of a few blocks as he worked his route.
Helium balloon. The balloon was attached to a weight. The address was written on the balloon with magic marker; no postage was affixed. Our operative argued strongly that he should be charged a negative postage and refunded the postal fees, because the transport airplane would actually be lighter as a result of our postal item. This line of reasoning merely received a laugh from the clerk. The balloon was refused; reasons given: transportation of helium, not wrapped.
POINTLESS ITEMS. These were items that looked like a prank.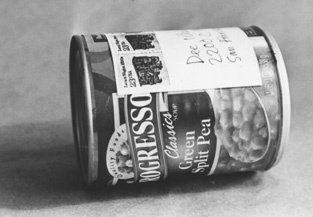 Can of soup. Never received.
Coconut. Fresh green coconut containing juice, mailed in Hawaii. Delivery at doorstep, 10 days.
Brick. Mailed at street corner box with ample postage for weight. Never received.
Lemon. Never received.
Small bag of kitty litter. Never received.
Bald tire. The card with postage was strapped to the tire. Refused at station.
SUSPICIOUS ITEMS. For reasons given.
Sound-emitting toy. Same toy as under "Sentimental" above, wrapped securely in brown paper. Never received.
Street sign. Conceivably a stolen item, or illegal possession. Notice of attempted delivery received, 9 days. Handed over at station with comment that mail must be wrapped.
Box of sand. Packaged in transparent plastic box to be visible to postal employees. Sent to give an impression of potentially hiding something. The plastic box had obviously been opened before delivery and then securely taped shut again. Delivery without comment at doorstep, 7 days.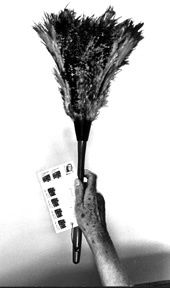 Wrapped coconut. Wrapped in brown paper. Made ample sloshing sound, and round shape seemed suspicious. Attempted mailing at station. Clerk requested identification of object. When told it was a coconut, clerk informed our mailing specialist that a certificate from the US Department of Agriculture would be required before it could cross state lines. Not mailed.
Wrapped brick. Wrapped in brown paper; posted in street corner box with same amount of postage as was strapped to unwrapped brick. Extreme weight for size made package seem suspicious. Notice of attempted delivery received, 16 days. Upon pickup at station, our mailing specialist received a plastic bag containing broken and pulverized remnants of brick. Inside was a small piece of paper with a number code on it. Our research indicates that this was some type of US Drug Enforcement Agency release slip. The clerk made our mailing specialist sign a form for receipt.
DISGUSTING ITEMS. These items were malicious, potentially infectious, smelly, etc.>
Deer tibia. Our mailing specialist received many strange looks from both postal clerks and members of the public in line when he picked it up at the station, 9 days. The clerk put on rubber gloves before handling the bone, inquired if our researcher were a "cultist," and commented that mail must be wrapped.
Large wheel of cheese. The cheese was already extremely ripe (rancid) at the time of mailing. Mailed in cardboard box. The cheese had oiled its way through the bottom of the cardboard box by the time of pickup, 8 days. The box had been placed in a plastic bag.
Dead fish, old seaweed, etc. Mailed in cardboard box. Notice to pick up at station, 7 days. The postal supervisor warned our mailing specialist that he could be fined for mail service abuse, even as a recipient, should this happen again.
***
Summary and Concluding Remarks
First, this experiment yielded a 64% delivery rate (18/28), an almost two-thirds success rate. (For our purposes, "delivery" constituted some type of independent handling by the USPS and subsequent contact regarding the object, regardless of whether we got to see or keep the object or whether it arrived whole.) This is astounding, considering the nature of some of the items sent. This compares with a 0% rate of receipt of fully wrapped packages from certain countries of the developing world, such as Peru, Turkey, and Egypt. Admittedly, those were international mailings, and thus not totally comparable; nevertheless, the disparity is striking.
Second, the delivery involved the collusion of sequences of postal workers, not simply lone operatives. The USPS appears to have some collective sense of humor, and might in fact here be displaying the rudiments of organic bureaucratic intelligence.
Finally, our investigation team felt remorse for some of its experimental efforts, most particularly the category "Disgusting," after the good faith of the USPS in its delivery efforts. We sought out as many of the USPS employees who had (involuntarily) been involved in the experiment as we could identify, and gave them each a small box of chocolate.
We, and all scientists, owe a debt of gratitude to these civil servants. Without them, we would have had but little success in pushing the envelope.
_____________________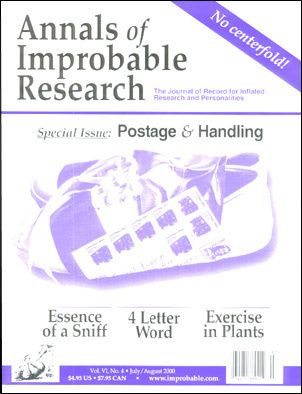 This article is republished with permission from the July-August 2000 issue of the Annals of Improbable Research. You can download or purchase back issues of the magazine, or subscribe to receive future issues. Or get a subscription for someone as a gift! Visit their website for more research that makes people LAUGH and then THINK.
Posted: 23 Jan 2013 04:00 AM PST
That guy who doesn't know when to break eye contact? He's now writing greeting cards. The Daily Odd Compliment is a collection of affirmations that make you feel warm and fuzzy and a bit uneasy inside. Visit it every morning to start out your day the wrong way.
Link -via Pleated Jeans
Posted: 23 Jan 2013 03:00 AM PST
(YouTube link)
This is what it looks like to be eaten by a tiger, minus the screams. A safari park in Wiltshire, England, built snowmen in the tiger enclosure and hid a remote-control camera inside. Turns out the tigers love snowmen -for lunch! Don't miss the closeup shot of those immense choppers. -via Uproxx
Meet Hilda Knott, 85-Year-Old Gamer
Posted: 23 Jan 2013 02:00 AM PST
Who says that video games are only for young people? Meet 85-year old gamer named Hilda Knott.
When asked by Bryony Mackenzie of BBC News what she enjoyed about video games, Hilda replied that she liked finding something in the game and enjoyed getting to the next stage. "I also like having the achievement of finishing the game." Plus, video games keep her mentally active, she said.
If you think that's cute, remember that Hilda has 40 years of gaming experience and will have absolutely no problem kicking your butt playing Call of Duty. More about Hilda over at the BBC: Link [video clip]
Photographs of the Russian Revolution
Posted: 23 Jan 2013 01:00 AM PST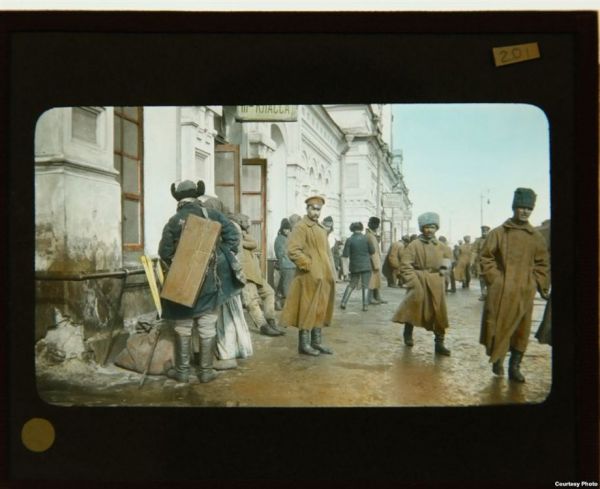 An American pastor named John Wells Rahill went to Russia in 1917 with the YMCA because he wanted to witness the revolution. He took hundreds of photographs in Russia before being evacuated through China and Japan (where he took more pictures). His photographs were hand-colored and converted to magic lantern slides, but in the 1920s, when it became unpopular to have been anywhere near the communist revolution, the slides were hidden. Rahill's granddaughter uncovered them in 2005, and contacted Russian photography aficionado Anton Orlov, who is sharing them now.

Link to story. Link to photographs. -via mental_floss
Mickey Mouse Was in <i>Star Wars</i>
Posted: 23 Jan 2013 12:00 AM PST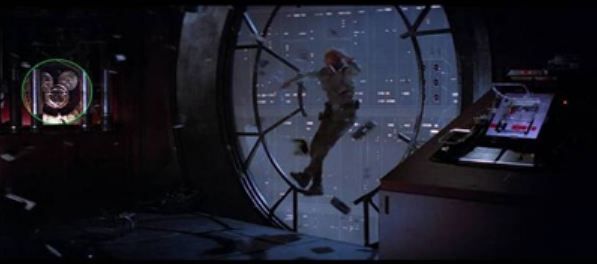 Specifically, he appeared on a display panel in The Empire Strikes Back. And, I would like to note, this Disney icon appeared on an Imperial, not Rebel Alliance, facility.
You thought that Disney only recently bought Star Wars? You were wrong. The secret hand of the mouse has always been there, quietly moving forces and manipulating events.
More Screenshots and Video of This Scene -via Nerd Approved
Posted: 22 Jan 2013 11:00 PM PST

Photo: John Windmill/The Guardian
Well, as long as it's not yellow snow, I guess! And why not? Snow is in great abundance in many parts of the country this winter:
In Denis Cotter's brilliant For The Love of Food, there's a Canadian-inspired recipe for snow cakes. He calls for "fresh fluffy" snow, which is folded into fine cornmeal, dolloped into muffin cases and baked for 15 minutes. Topped with butter and maple syrup, these are surprisingly tasty with a crusty, crumbly texture – and a lot of fun to make.

If you don't mind getting strange looks from your neighbours, there's something magical about going out into the garden and gathering the sparkling stuff for use in the kitchen; it has an ethereal quality, like frozen bubble-bath for fairies. Cotter says: "[In] the early 60s … and before that, it would have been a practical matter. No indoor water or frozen water pipes meant that to make tea or breakfast bread involved going out to scoop up some snow. I don't think many people find themselves in that situation now, so it has become a bit of a cutesy folklore thing."

Another cutesy recipe that's still popular after 200-odd years is maple taffy, also known as sugar on snow. It's made by pouring hot maple syrup on to snow so that it sets instantly. My first attempt left me with a slushie rather than a toffee, so it's important to heat the syrup to the correct temperature, or at least until little bubbles appear. Twirl it around a lolly stick or fork, and eat quickly while still soft, as it will harden.
Sejal Sukhadwala of The Guardian tells us all about cooking with snow: Link
Posted: 22 Jan 2013 10:00 PM PST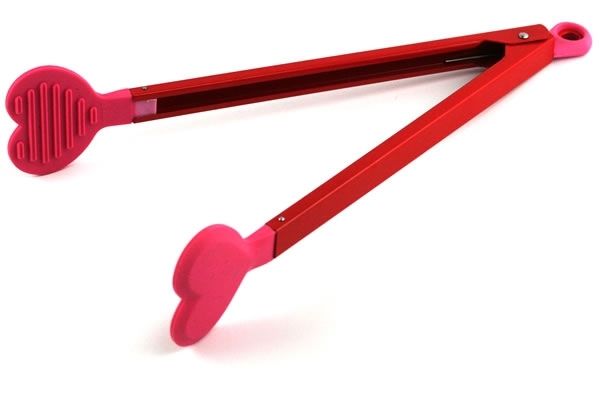 Are you looking to pick up the perfect Valentine's Day treat for your sweet? Let your love shine through with the Heart Tongs from the NeatoShop. This lucious kitchen gadget is perfect for serving up some food for the soul.
Be sure to check out the NeatoShop for more great Kitchen Stuff.
Posted: 22 Jan 2013 10:00 PM PST
Whoa! This animation makes everything so clear, in a way that would be so difficult to explain in words. I watched it over and over, even though it was obviously worth sharing after only one go-round. Not that I ever thought much about keys before, except to not lock them in the car, but I feel so much smarter now!
Link
Posted: 22 Jan 2013 09:00 PM PST
For Brickvention 2013, Australian LEGO master builder Ryan "The Brickman" McNaught built what is probably the largest helicopter ever made out of LEGO bricks. The 4 m (13) long Erickson Air-Crane model is made out of 100,000 bricks (that's a lot of orange bricks!) It took Ryan more than a month to design and build the beast.
Link: Ryan's Flickr Page | Ryan's Official Website - via The Daily What
Nutella Rice Krispie Treats--And a Whole Lot More!
Posted: 22 Jan 2013 08:00 PM PST
Mallow and Co. is a blog devoted to finding new and ingenious variations of the classic Rice Krispie treat. So far, Summer has made Nutella, blueberry muffin, apple cider, cherry pie and gingerbread versions--among many others.
Link -via Tasteologie
Posted: 22 Jan 2013 07:00 PM PST
A fairly new redditor shared some images her father created about twenty years ago that she recently came across. They are funny, some are even punny, and look like a lot of fun to create! It turns out her dad is actor and voiceover artist Dan Gilvezan, known as the voice of Spider-Man, which a quick search confirmed. There's no Photoshop or computer imagery involved (except for the hearts on the snake picture); the scenes were painstakingly created from toys and other household objects. Link

(Images credit Dan Gilvezan)
How Did Holly the Cat Find Her Way Back Home from 200 Miles Away?
Posted: 22 Jan 2013 06:00 PM PST
Well, my cat couldn't even find her litter box half the time, so it's doubly amazing to hear the story of Holly the cat, who made her way home from 200 miles away after getting lost on a family trip.
Warm reunion and all, the question that remains is how exactly did Holly find her way back?
Even scientists are baffled by how Holly, a 4-year-old tortoiseshell who in early November became separated from Jacob and Bonnie Richter at an R.V. rally in Daytona Beach, Fla., appeared on New Year's Eve — staggering, weak and emaciated — in a backyard about a mile from the Richters' house in West Palm Beach.

"Are you sure it's the same cat?" wondered John Bradshaw, director of the University of Bristol's Anthrozoology Institute. In other cases, he has suspected, "the cats are just strays, and the people have got kind of a mental justification for expecting it to be the same cat."

But Holly not only had distinctive black-and-brown harlequin patterns on her fur, but also an implanted microchip to identify her.

"I really believe these stories, but they're just hard to explain," said Marc Bekoff, a behavioral ecologist at the University of Colorado. "Maybe being street-smart, maybe reading animal cues, maybe being able to read cars, maybe being a good hunter. I have no data for this."
Pam Belluck of The New York Times has the story: Link
14 TV Series that Eclipsed their Original Film Versions
Posted: 22 Jan 2013 05:00 PM PST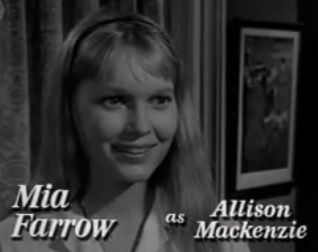 "The movie was better" is what you often hear about a film that was later turned into a TV series. But sometimes that's just not so -usually because a continuing TV series gives us more time to spend with characters and get to know them better. The first example you think of is, of course, M*A*S*H, but there are plenty of others. Looking through the list at the A.V. Club, there are a few TV shows that I'd forgotten were actually movies first. Many of these will be completely unfamiliar to those under a certain age, like Peyton Place.
Grace Metalious' 1956 novel Peyton Place spawned a hit movie, a book sequel, a movie sequel, and controversy across the country from those who found Metalious' frank description of small-town vice—from child sexual abuse to abortion to rampant adultery—a bit too spicy for the Eisenhower era. By the time Peyton Place became a prime-time soap in 1964, the title alone had entered the pop-culture lexicon as shorthand for "shocking." And while the TV series was relatively tame—keeping the routine adultery but losing the more extreme perversion—it had an intense, potboiler quality that makes it compelling even now. (It helps that the show features a young Ryan O'Neal and Mia Farrow, as teenage lovers torn apart by parental pressure and a chain of circumstance.) Peyton Place aired multiple times a week and never repeated, so by the time it ended its run in 1969, 514 half-hour episodes had been completed. The show looks like a 1964 TV series—all backlot-y and Main Street idyllic—except that the characters are all sleeping around and trying to kill each other. It's like the dark side of Mayberry.
The rest of the list is a similar trip down memory lane. Link -via mental_floss
Posted: 22 Jan 2013 04:00 PM PST

Photo: Tepco
He's no Blinky, but Mike the Murasoi is one hot fish! Hot as in radioactive, that is.
As part of its safety plan, Tokyo Electric Power's (Tepco) monitors seafood caught near the Fukushima nuclear plant that experienced a meltdown back in March of 2011:
It was confirmed by Tepco to have amounts of radioactive cesium equal to 254,000 becquerels per kilogram, or 2540 times the limit of 100 becquerels/kg set for seafood by the government.

Scientists in the region are increasingly worried that other fish in the area are feeding off these and other contaminated species.

However, the murasoi specimen caught near Fukushima did not seem to show any major abnormalities in terms of its physical appearance.

Tepco is installing a new series of nets beneath the surface of the water around the 20 kilometer perimeter in hopes of restricting the migration of the contaminated fish outside of the region.
The Daily Mail has more: Link
Posted: 22 Jan 2013 03:00 PM PST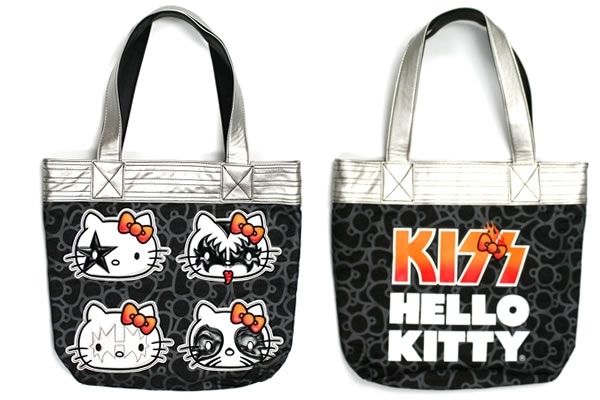 Are you looking for a bag that really rocks? You need the Hello Kitty KISS Tote bag from the NeatoShop. This bangin' bag features Hello Kitty wearing the iconic face paint of KISS. It is the purr-fect gift to steal someone's love this Valentine's Day season.
Be sure to check out the NeatoShop for more fantastic Hello Kitty items.
Posted: 22 Jan 2013 03:00 PM PST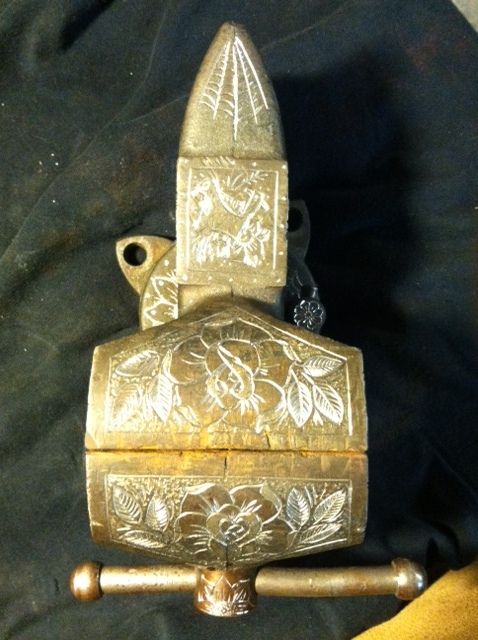 Beauty emerges from your workshop. Why not let beauty reside in it? Matthew Hagermann engraves everything from hammers to tattoo machines. I really like this old vise to which he added a bit of floral flair.
Posted: 22 Jan 2013 02:00 PM PST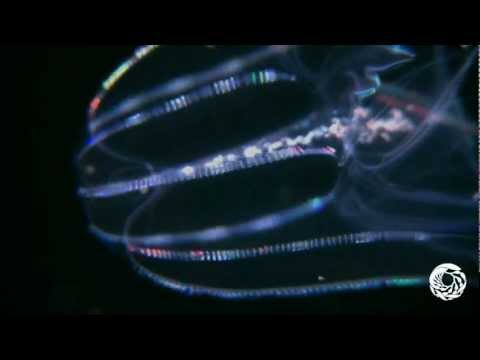 (YouTube link)
This jellyfish has a better light show than the Disco Clam! The Monterey Bay Aquarium tells us a little about the lobed comb jelly:
Comb jellies are beautiful, oval-shaped animals with eight rows of tiny comblike plates that they beat to move themselves through the water. As they swim, the comb rows diffract light to produce a shimmering, rainbow effect. Voracious predators on other jellies, some can expand their stomachs to hold prey nearly half their own size.
Yep, disco cannibals. Which would make a great movie title or band name. Link -via the Presurfer
Posted: 22 Jan 2013 01:00 PM PST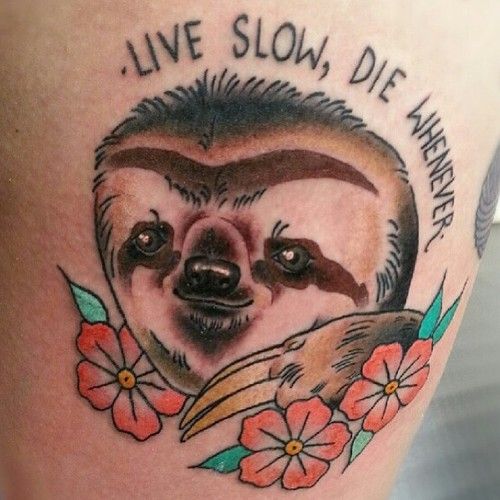 ...and leave a good looking corpse. Prue Eggleston of Lampin Ink in Adelaide, Australia inked this sloth who was born to be wild.
The 16 Strangest Perfumes & Colognes in the World
Posted: 22 Jan 2013 12:00 PM PST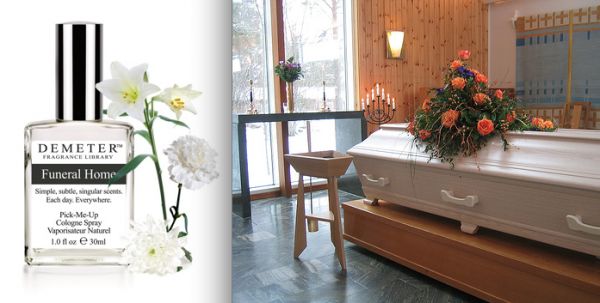 Just in case you want to carry that funeral home scent around with you all day, there's a cologne for that. I can't imagine that it smells like anything other than carnations, but even so it would remind one of a funeral home. That's just one of the The 16 Strangest Perfumes & Colognes in the World, which include various foods, bodily secretions, fictional characters, and other scents that you'd normally want to wash off instead of put on. Link

(Image credit: Flickr user jaspoid one)
Posted: 22 Jan 2013 11:00 AM PST
Posted: 22 Jan 2013 10:00 AM PST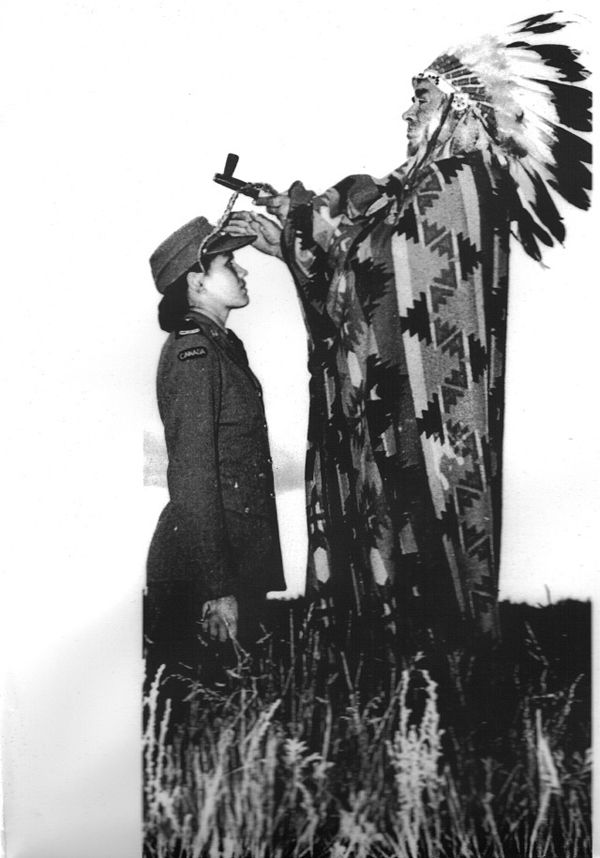 This photo from the Library and Archives of Canada is currently captioned "Mary Greyeyes being blessed by her native Chief prior to leaving for service in the CWAC, 1942. Source: Library and Archives Canada/Department of National Defence fonds/PA-129070." But Mary Greyeyes Reid's daughter-in-law tells a very different story of what happened when it was taken. Mary, a Cree, was the first full-blooded native to join the Canadian Women's Army Corp.
One day her sergeant and two Mounties showed up and said, "We'll give you a good new uniform and a good lunch. We want you to take a picture."

And this is the picture.

They drove over out to the Piapot reserve. The man standing there is a man named Harry Ball. He's a World War One veteran. He wasn't the chief of the Piapot reserve [at the time he was a councilor, and later became chief], but he was a vet. And he happened to be hanging around.

The regalia that he's wearing was cobbled together by the Mounties. They went into people's houses and pulled out a blanket here, an old headdress from a powwow there. And they found a pipe. The stem on it was pieced together with some tape and a bit of twine one of the Mounties had.

And they told them to pose. And this picture is apparently an Indian princess getting a blessing from the chief of her tribe.
That's only a small piece of Mary's story. Read the rest at The Tyee. Link -via Nag on the Lake
Posted: 22 Jan 2013 09:00 AM PST

Image: NASA/JPL-Caltech
This one is pretty cool: a wave in space called a "bow shock".
This wispy yellow arc was created by the massive star Zeta Ophiuchi (centre), which emits about 65,000 times more light than the sun. The star is speeding through space at more than 85,000 kilometres per hour - possibly because of the gravitational recoil it experienced when a former companion star exploded in a supernova.

Zeta Ophiuchi sloughs off a strong wind of charged particles that compresses the gas and dust in front of it, creating a curved feature called a 'bow shock' that resembles the shape that water takes in front of a speeding boat (or in this case, a bird's profile).
From the NewScientist: Link
Posted: 22 Jan 2013 08:00 AM PST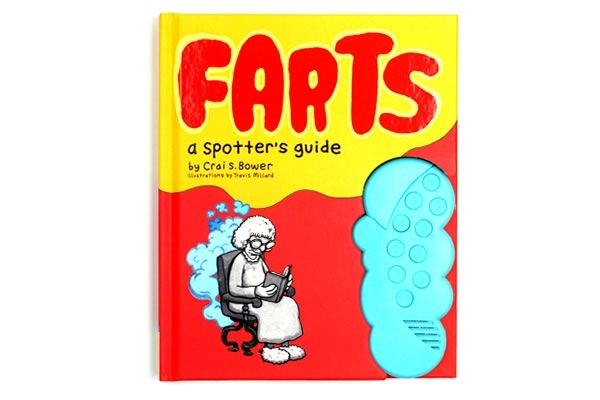 Do you have trouble identifying farts or who they came from? Learn the fine art of of fart identification with the Farts: A Spotter's Guide book from the NeatoShop. This insightful book features full color illustrations and a built-in audio player with 10 different fart sounds. Now you can discover the difference between the gentle hiss of a silent and deadly fart and a seismic blast.
Be sure to check out the NeatoShop for more great Books.
Musicians' Occupational Hazards
Posted: 22 Jan 2013 08:00 AM PST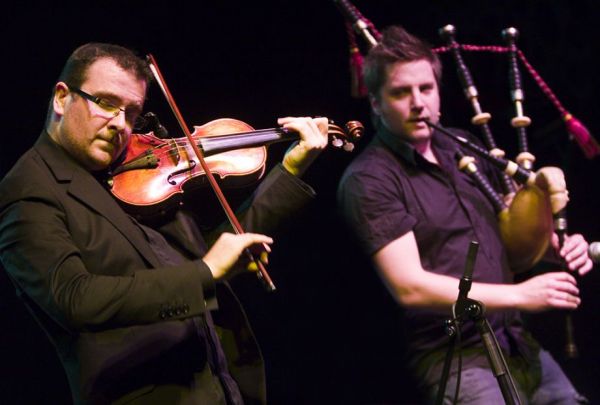 (Image Credit: designfolk via Compfightcc)
Recent studies have found that professional musicians often suffer from some very real -but very odd- ailments. Here are a few.

FIDDLER'S NECK

The name might sound silly, but according to a study of regular violin and viola players by Dr. Thilo Gambichler of Oldchurch Hospital in London, the friction of the instrument's base against the left side of the neck (for right-handed players) can cause lesions, severe inflammation, and cysts. What's worse, said the study, published in the British medical journal BMC dermatology, it causes lichenification -the development of a patch of thick, leathery skin on the neck, giving it a "bark-like" appearance.

GUITAR NIPPLE

A similar report in the United States cited three female classical guitarists who suffered from traumatic mastitis -swelling of the breast and nipple area- due to prolonged friction from the instrument's body. The condition can strike male players, woo.

BAGPIPER'S FUNGUS

Recent medical reports have detailed the dangers of playing Scotland's national instrument. Bagpipes are traditionally made of sheepskin coated with a molasses-like substance called treacle. That, the report said, is the perfect breeding ground for various fungi, such as aspergillus and cryptococcus. Bagpipers can inadvertently inhale fungal spores, which, according to Dr. Robert Sataloff of Thomas Jefferson University Hospital in Philadelphia, can lead to deadly lung -and even brain- diseases.

TUBA LIPS

Many long-term tuba players develop an allergic reaction to nickel, and ingredient in brass. The allergy can result in dermatitis of the lips and can sometimes develop into chronic eczema. Strictly speaking, the condition can also affect the chin and hands, and can be contracted from any number of brass instruments (but "tuba lips" is more fun to say).

See also:The Coming and Going of Cello Scrotum
_________________________
The article above is reprinted with permission from Uncle John's Fast-Acting Long-Lasting Bathroom Reader.

Since 1988, the Bathroom Reader Institute had published a series of popular books containing irresistible bits of trivia and obscure yet fascinating facts.


If you like Neatorama, you'll love the Bathroom Reader Institute's books - go ahead and check 'em out!
The Alcordion: An Accordion Perfect for Drinking Vodka While Playing Music
Posted: 22 Jan 2013 07:00 AM PST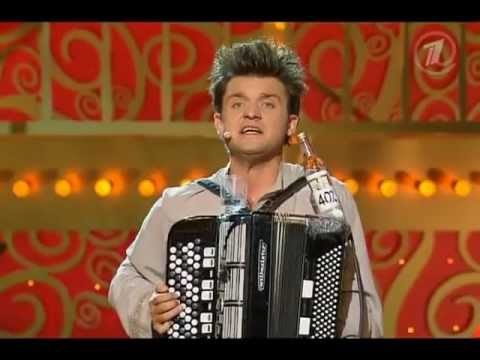 (Video Link)
And Ivan Zamotaev is the master of this instrument. Watch him play selections from Bach, Jesus Christ Superstar, The Star-Spangled Banner and popular ringtones all while pouring and drinking alcohol without breaking tune.
Russia's Got Talent? You bet it does!
-via The Presurfer
Why You Truly Never Leave High School
Posted: 22 Jan 2013 06:00 AM PST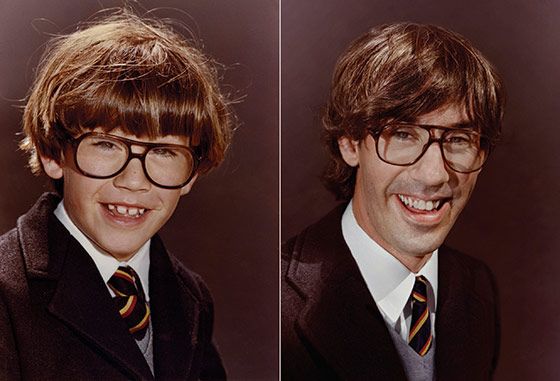 Science knows that our teenage years are extremely important in determining who we are. It's the time our bodies become adult and our brains rewire themselves to give us a sense of adult identity. It's also the time we learn our place among other people in the world, explore what to do with our lives, and begin mate selection. Through most of history, these changes would occur in the context of the larger world, among family and community. But in the last 100 years or so, we've expanded the role of education so much that teenagers spend about 16 hours a week interacting with adults and 60 hours a week with other teenagers who are just as clueless. This is akin to throwing them into a crucible, a "Roman amphitheater," in which cliques and hierarchies are determined by arbitrary standards such as athletic prowess, looks, or family wealth. The experiences of high school can leave scars for the rest of one's life.
In 2000, three psychologists presented a paper titled "Peer Crowd-Based Identities and Adjustment: Pathways of Jocks, Princesses, Brains, Basket-Cases, and Criminals," which asked a large sample of tenth-graders which of the five characters from The Breakfast Club they most considered themselves to be, and then checked back in with them at 24. The categories were "immensely predictive," according to Jacquelynne Eccles, one of the authors. (Criminals were still most apt to smoke pot; male jocks still had the highest self-esteem.) But one datum was interesting: At 24, the princesses had lower self-esteem than the brainy girls, which certainly wasn't true when they were 16. But Eccles sees no inconsistency in this finding. In fact, she suspects it will hold true when she completes her follow-up with the same sample at 40. "Princesses are caught up in this external world that defines who they are," says Eccles, "whereas if brainy girls claim they're smart, that probably is who they are." While those brainy girls were in high school, they couldn't rely on their strengths to gain popularity, perhaps, but they could rely on them as fuel, as sources of private esteem. Out of high school, they suddenly had agency, whereas the princesses were still relying on luck and looks and public opinion to carry them through, just as they had at 16. They'd learned passivity, and it'd stuck.
From my vantage point, 24 seems awfully young to say that anything "stuck," but I'm no scientist. Besides, my high school was so small that everyone had to wear more than one label. Still, now that my kids are in high school, I can see the findings of the many different adolescent studies cited in this New York magazine article playing out in their experiences. How has your high school experiences shaped your life afterward? Link -via Metafilter

(Image credit: Irina Werning)

Previously at Neatorama: Irina Werning"s Now and Then Photography.
Grown Man Refused to Eat When Forbidden to Play Video Games
Posted: 22 Jan 2013 05:00 AM PST
Throwing tantrums when not allowed to play video games ain't exactly a new thing for parents, but there's a small twist in what the Yang family in Chongqing, China, is facing:
Yang Yang (pseudonym) was at home playing video games all day last Wednesday. Unhappy that her son was gaming all day, as well as worried for his well-being, Yang's mother wanted him to take a break.

After a failed attempt by the her mother to get Yang Yang to relax, Mr. Yang became fed up with his son's attitude and barged into his room. Seeing his son's room covered with snack wrappers and empty soda bottles, Mr. Yang asked Yang Yang how long he's been playing. He flippantly replied "not long."

Angered by his response, Mr. Yang seized Yang Yang's keyboard and smashed it to the ground. Shocked and angry, Yang Yang gave his father a death stare only to be told by his father "The heck are you looking at? Time for Dinner."

As soon as Mr. Yang left Yang Yang's room, he locked the door.

Yang Yang, a man in his twenties, locked himself in his room, inside his parents house, for a whole night, refusing to eat or drink anything.
Eric Jou of Kotaku has the full story. See if you can guess who folded first: Link
You are subscribed to email updates from Neatorama
To stop receiving these emails, you may unsubscribe now.
Email delivery powered by Google
Google Inc., 20 West Kinzie, Chicago IL USA 60610