---
First Class Mail: 5 Letters That Changed History
Posted: 07 Dec 2012 05:00 AM PST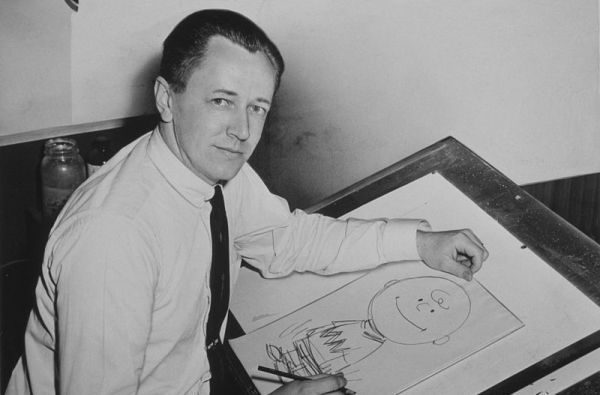 Hidden out of the public's sight, tucked away in the deepest of archives, lie stacks of correspondence that changed the world (or at least tried). Here are a few of our favorites.

The Last Days of Charlotte Braun

In November 1954, Peanuts creator Charles Schulz debuted Charlotte Braun, a pushy air-raid-siren version of Charlie Brown who shouts EVERYTHING SHE SAYS.

The character arrived in the fourth year of the strip's 50-year run, just as Peanuts was becoming a hit. Schulz was experimenting with his medium, even depicting adults in one strip -an oddity in its knee-high view of the world, and "something I never should have done," he admitted.

Braun was another failed experiment, making just 10 appearances over two months. After receiving a letter from fan Elizabeth Swaim complaining about the obnoxious character, Schulz got the hint. His playful response:
I am taking your suggestion regarding Charlotte Braun and will eventually discard her. If she appears anymore it will be in strips that were already completed before I got your letter or because someone writes in saying that they like her. Remember, however, that you and your friends will have the death of an innocent child on your conscience. Are you prepared to accept such responsibility?
Schulz, who once called Peanuts "the cruelest strip going," ended his letter with a hand-drawn flourish: an ax in the head of Charlotte Braun!

Annie Oakley Tried to Enlist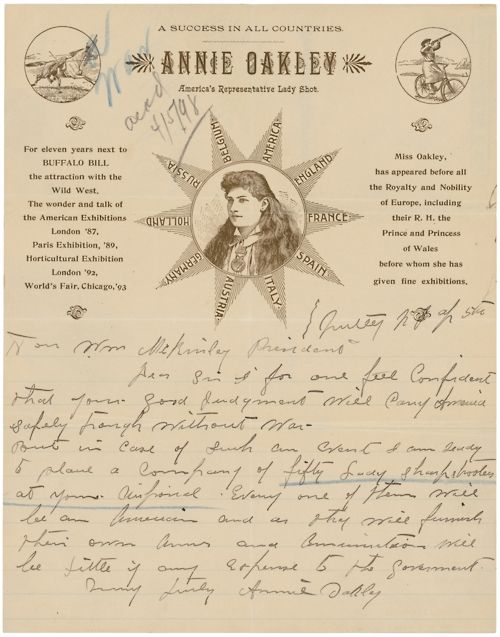 Fervor around the impending Spanish-American War was running high in April 1989- but three weeks before the war broke out, famed sharpshooter Annie Oakley took her patriotism further than most. Bored from 13 years of touring with Buffalo Bill's Wild West Show, where she routinely wowed crowds by shooting holes in playing cards tossed in the air, the 37-year-old Oakley wrote President McKinley about putting her talents to better use:
I for one feel confident that your good judgment will carry America safely through without war. But in case of such an event I am ready to place a company of fifty lady sharpshooters at your disposal. Every one of them will be an American and as they will furnish their own arms and ammunition will be little if any expense to the government.
But Oakley and her recruits never went to war, and in fact, there's no record of a response from McKinley -although he might have smelled a publicity stunt. After all, the grandstanding newspaper tycoon William Randolph Hearst had just offered McKinley an entire cavalry regiment -which would be akin to Rupert Murdoch whipping up a tank battalion.

Oakley's interest in defending her nation was sincere, however. Over the course of her career, she taught thousands of women how to shoot. And two decades later, still amazing crowds with her shooting feats, she wired Secretary of War Newton Baker with a similar proposition, this time for World War I: "I can guarantee a regiment of women for home protection every one of whom can and will shoot if necessary." Baker didn't take Oakley up on her offer, either.

The Fan Who Put a (Real) Gun in James Bond's Hands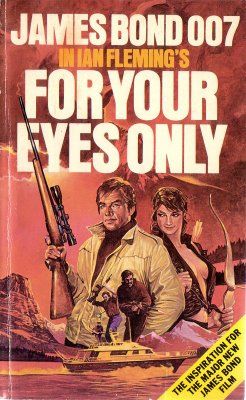 "Everything I write has a precedent in truth," novelist Ian Fleming claimed. Indeed, the James Bond creator had spent six years as a Naval Intelligence officer. For all his experience in spying and counterintelligence, though, Fleming had one notable shortfall: he didn't know much about guns.

One fan noticed. In May 1956, after the release of the fourth Bond novel Diamonds Are Forever, engineering analyst and amateur firearms expert Geoffrey Boothroyd wrote Fleming, chastising him for Bond's petite firearm: "I dislike a man who comes in contact with all sorts of formidable people using a .25 Beretta. This sort of gun is really a lady's gun, and not a really nice lady at that."

Fleming replied to Boothroyd just a week later, plainly delighted and willing to switch James Bond to his now-iconic Walther PPK:
I really am most grateful for your splendid letter of May 23rd.

You have entirely convinced me and I propose, perhaps not in the next volume of James Bond's memoirs but, in the subsequent one, to change his weapons in accordance with your instructions.

Since I am not in the habit of stealing another man's expertise, I shall ask you in due course to accept remuneration for your most valuable technical aid.
Boothroyd went on to a advise Fleming for years, and despite Fleming's offer, the arms expert refused compensation. Undeterred, the novelist repaid Boothroyd with something even better. In Dr. No, Fleming debuted a new character -Bond's brilliant armorer and gadgeteer Major Boothroyd, a.k.a. "Q."

Alexander Hamilton's Election Scheme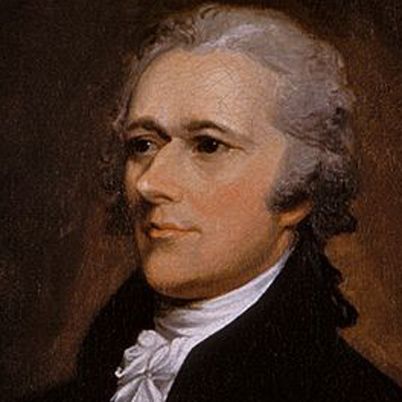 The U.S. presidential election of 1800 was famously bitter: incumbent Federalists ran headlines like AMERICANS BEWARE and warned that Thomas Jefferson and his fellow Republicans stood for a "tempestuous sea of anarchy and misrule; for arming the poor against the rich; for fraternizing with the foes of God."

After Federalists in key swing state New York lost elections -which chose presidential electors- their strategist Alexander Hamilton became frantic. (It didn't help that his Republican counterpart was his mortal enemy Aaron Burr.) In a May 7, 1800 letter to New York governor John Jay, Hamilton proposed stealing the election. By hastily reconvening the recessed Federalist state assembly, they could cast electoral votes before new Republican representatives took office.
The very high probability is that this [election] will bring Jefferson into the Chief Magistracy, unless it be prevented by the measure which I shall now submit to your consideration, namely the immediate calling together of the existing legislature. They ought not to hinder the taking of a legal and Constitutional step, to prevent an Atheist in Religion and a Fanatic in politics from getting possession of the helm of the State.
Cooler heads prevailed. Jay jotted on the note: "Proposing a measure for party purposes [which] I think it [would] not become me to adopt." Jefferson did indeed become president -and despite Hamilton's fears, the republic still stands.

A Rare Encounter With Emily Dickinson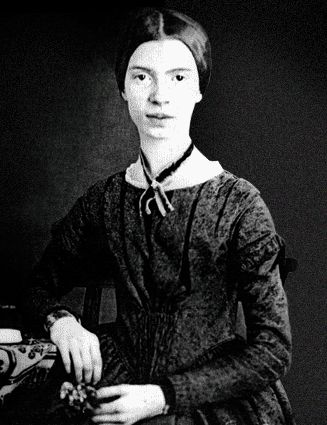 In 1862, editor Thomas Wentworth Higginson received this auspicious request: "Are you too deeply occupied to say if my Verse is alive?" Higginson, a prominent Abolitionist essayist, had just urged Atlantic Monthly readers to pursue their literary ambitions. Answering the call was an unknown and virtually unpublished poet named Emily Dickinson.

Though somewhat baffled by her stirringly spare poetry, Higginson was impressed -and his encouraging reply sparked decades of correspondence. But it wasn't until after Dickinson's death in 1886 that Higginson managed to shepherd her poems to publication. Living for nearly her entire life in her father's home in Amherst, Massachusetts, Dickinson had steadily refused publication or visitors.

But in 1868, the 38-year-old poet made an exception. "You were not aware that you saved my life," she wrote Higginson. "To thank you in person has been since then one of my few requests." On August 16, 1870, Higginson walked up to "a large country lawyer's house" and sent his card up from the parlor. Writing to his wife that night, he described what happened next:
A step like a pattering child's in entry & in glided a little plain woman with two smooth bands of reddish hair & a face little like Belle Dove's; not plainer -with no good feature- in a very plain & exquisitely white pique & a blue net worsted shawl. She came to me with two day lilies which she put in a sort of childlike way into my hand & said "These are my introduction" in a soft frightened childlike voice- & added under her breath Forgive me if I am frightened; I never see strangers and hardly know what to say-
Higginson found the meeting exhausting: "I never was with anyone who drained my nerve power so much," he admitted, adding, "I am glad not to live near her." So was Mrs. Higginson. "Oh, why do the insane so cling to you?"
_______________________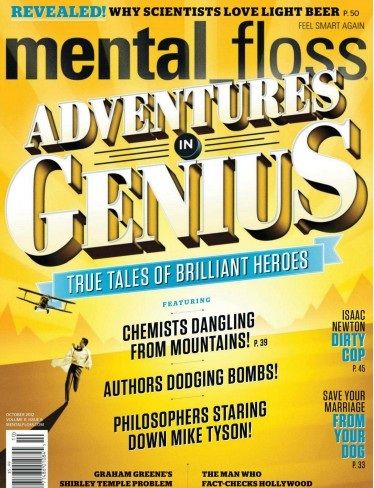 The article above, written by Paul Collins, is reprinted with permission from the October 2012 issue of mental_floss magazine. Get a subscription to mental_floss and never miss an issue!
Be sure to visit mental_floss' website and blog for more fun stuff!
Posted: 07 Dec 2012 04:00 AM PST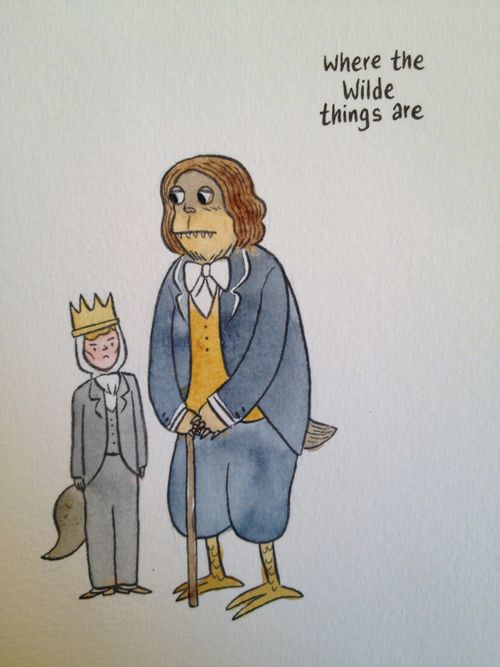 And when he came to the place where the wilde things are they roared witticisms and gnashed their terrible quips. Lucy Knisley imagines a journey to where the Oscar Wilde things are. Max appears dissatisfied with it.
Link -via School Library Journal
Posted: 07 Dec 2012 03:00 AM PST
(YouTube link)
What a pampered parrot! His owner built a vehicle he can control with a joystick, and motor around by himself. If you're impressed with that, wait until you see the computerized autonomous docking ability. See, parrots have a tendency to leave their Birdbuggies just anywhere, so this contraption takes itself home! -via Viral Viral Videos
The Burger That's So Hot You Have to Sign a Waiver Before Eating It
Posted: 07 Dec 2012 02:00 AM PST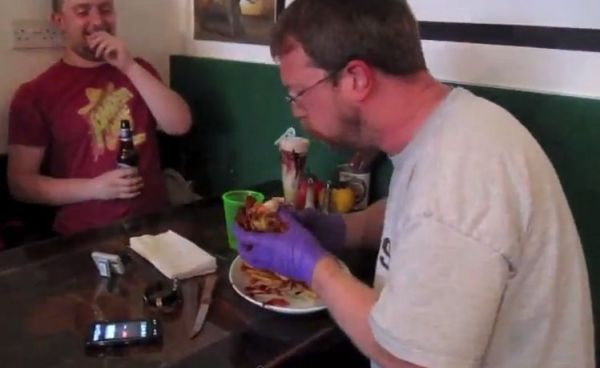 No, Atomic Burger insists, they're not kidding. If you want to eat the Fallout Challenge -- a burger rated at millions of Scoville units, you'll have to sign a waiver of liability. You also have to wear gloves because otherwise you'll burn your hands with that thing that you're about to put inside your body.
But enduing that experience, assuming that you actually survive, is worth the pain. That's because you get a free t-shirt and your name on the restaurant's Wall of Flame:
Just one in ten of the 500 people who've taken the challenge have completed it so far, with Mr Bunce admitting he could only manage a quarter of the burger.


He added: 'We did a four-week special of the Fallout Challenge, but after the special came to an end we had so many people asking to do it, it ended up becoming a permanent fixture on our menu.

'The sauce in the burger contains a variety of chillies including the Ghost Chilli and the Scotch Bonnet. But what gives the sauce a real kick is the Ghost Chilli extract which registers at 4.2 million Scoville units.
Link -via Official Website -via That's Nerdalicious! | Image: Atomic Burger
WWII War Paint: How Bomber-Jacket Art Emboldened Our Boys
Posted: 07 Dec 2012 01:00 AM PST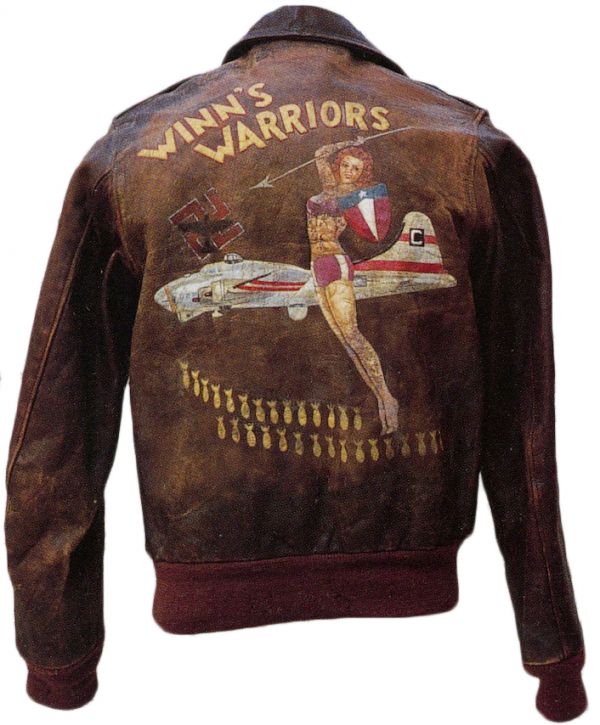 As we reflect on the significance of Pearl Harbor Day, we can learn more about one of the iconic artistic relics of World War II: the decorated leather bomber jacket. The Army Air Corps was filled with new pilots, some just teenagers, who dressed up those jackets with mission counts, cartoon characters, caricatures, and sometimes nudes.
"I've talked to people who, when they got back from the war, hung their jacket up in the closet because they wouldn't dare ever wear it in public again," says John Conway, co-author of Schiffer Books' American Flight Jackets and Art of the Flight Jacket. "When you're a teenager and you're 3,000 miles from home, having a naked lady painted on the back of your jacket is not that big a deal. But you wouldn't want your mom to see it."

You might think the concept of personalization would be frowned on in the U.S. military. After all, aren't soldiers stripped of their identities in boot camp, where they dress in uniform, fall in line, follow orders, and work as a cohesive unit? Conway's co-author Jon Maguire says American soldiers have always held on to their individuality in some way.
Read how the jacket art came about, how it evolved, what the brass thought of it, and read some individual stories of America's flying warriors -plus see lots of jacket art at Collector's Weekly. Link
Posted: 07 Dec 2012 12:00 AM PST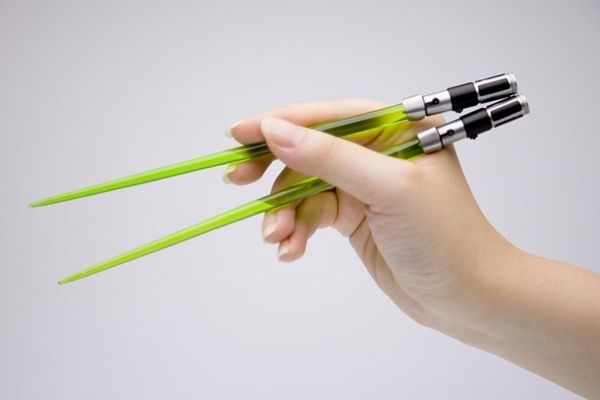 Yoda Ligthsaber Chopsticks - $9.95
Looking for an out of this galaxy holiday gift are you, hmm? You need the Yoda lightsaber Chopsticks from the NeatoShop. Yeessss. Shaped like Yoda's lightsaber, this great pair of chopsticks is. Strong with this pair of chopsticks, the force is. Yeessss.
Be sure to check out the NeatoShop for more fantastic Star Wars items.
Norman Rockwell's Optimus Prime
Posted: 07 Dec 2012 12:00 AM PST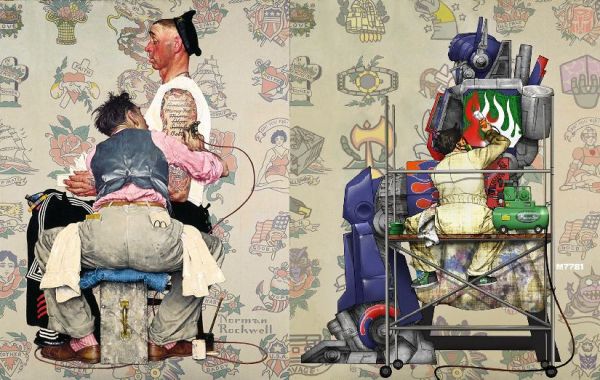 The always brilliant Marco D'alfonso, master of the mashup, imagined Optimus Prime in Norman Rockwell's 1944 painting The Tattoo Artist. The best part is D'alfonso's subtle references in the background matching Rockwell's original work. You can view a much larger version at the link.
Link and Norman Rockwell Original -via Super Punch
Posted: 06 Dec 2012 11:00 PM PST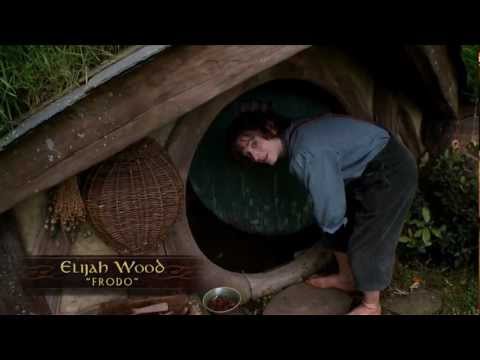 (YouTube link)
Yeah, we've laughed at how New Zealand is going nuts to promote the movie The Hobbit, but there's something special about the locations selected for the film. In this video from Air New Zealand, filmmakers, crew, and actors talk about the wonderful place that became Middle Earth. -Thanks, Cole Stryker!
Incredibly Cool Horror Movie Poster Redesigns
Posted: 06 Dec 2012 10:00 PM PST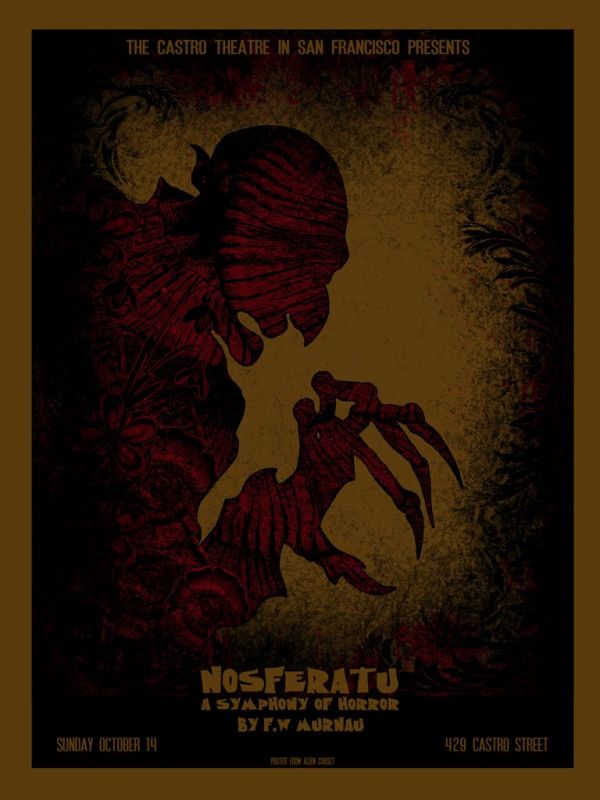 Movie posters are cool, horror movie posters are even cooler, and these artsy re-designs by David O'Daniel are the coolest!
They're minimalist with lots of style and really cool color schemes, check out the awesome posters for Jaws and The Birds at the link below, they're truly terror-ific.
Link --via GeekTyrant
How Do You Describe Color to Blind People? Badly.
Posted: 06 Dec 2012 09:00 PM PST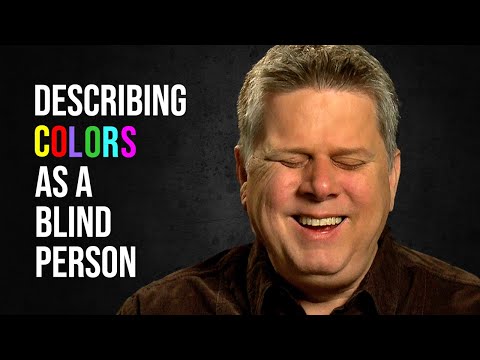 (Video Link)
"Color is hard. How do you sighted people keep them all straight?" Tommy Wilson has been blind since birth. He produces handy videos that explain that experience to sighted people, such as how he cooks food and what it's like for him to dream.
How do we sighted people explain the concept of color to him? Apparently not that well, as Wilson explains in this humorous video.
-via Daily of the Day
Visualizing U.S. Births and Deaths in Real-Time
Posted: 06 Dec 2012 08:00 PM PST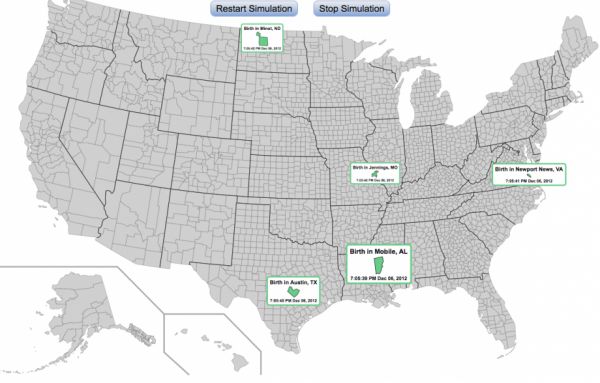 On average, a baby is born somewhere in the U.S. every ten seconds, and someone dies every 13 seconds. You can watch that happen in real time with the simulation map on Google Drive. These are not actual births and deaths, but enough US Census statistical and geographical data are entered to give you a general idea of how often it happens. Watching the actual simulation at the link is mesmerizing. Nowhere Near Ithaca tells a bit about the project and how the data was compiled. Link -via Metafilter
12 June 1942: RAF Drops French Flag on Occupied Paris, Strafes Gestapo HQ
Posted: 06 Dec 2012 07:00 PM PST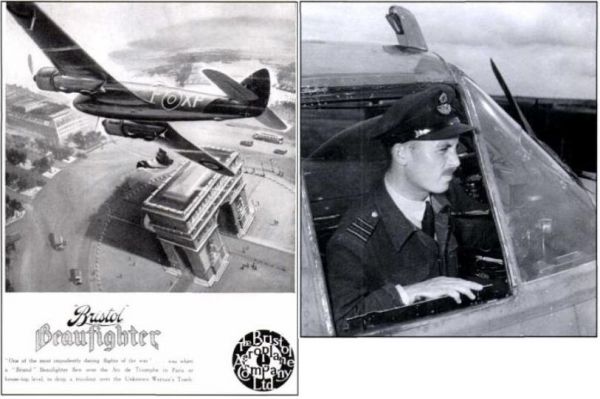 Although it was reported publicly at the time, Wing Commander Ken Gatward's incredible act of badassery on 12 June 1942 fell out of the public eye until his medals recently came up for auction. During the war, he and his crew flew right over Paris in the middle of a German parade and dropped a huge French flag on the Arc de Triomphe. Then he started killing Nazis. The Daily Telegraph describes the battle:
The British had been informed the Germans held daily parades down the Champs-Elysees and he was asked to strafe the parade. [...]

After reaching Paris, he flew at just 30ft before Ft Sgt released the flag down the flare shute and over the Arc de Triomphe.

Mr Grinter said: "It is an amazing story - one of those that makes the hairs on the back of your neck stand up.

"He flew down the Champs-Elysees at second floor window height. It was an incredible act of bravery and a real audacious attack.

"He attacked the Gestapo HQ and SS troops were seen to run for their lives. As he turned for home the Germans came out and shook their fists at him.

"The attack gave Parisians one of the greatest thrills of the war and had a huge effect on the morale of the French and at home."
Gatward was awarded the Distinguished Service Order and twice awarded the Distinguished Flying Cross for his actions during the war.
Link -via Ace of Spades HQ | Images: Beaufighter Squadrons by Simon Parry
Posted: 06 Dec 2012 06:00 PM PST
Christmas Gifs is a collection of festive animated pictures (gifs) from a wide variety of well-known artists and illustrators. Click on one you like, and you can easily send it to someone. A few are borderline NSFW. The gif shown here is "Rooftop Rollin'" by Ryan Todd.
Link
-via
Laughing Squid
Posted: 06 Dec 2012 05:00 PM PST

Photo: Patrice Laroche
Patrice Laroche is here to tell us how to make a baby. It's a lot easier than I thought, it doesn't involve birds or bees! Ahh you know it's late in the day when people start throwing around corny jokes like that.

Photo: Patrice Laroche
Link | Via Modern Met
Posted: 06 Dec 2012 04:00 PM PST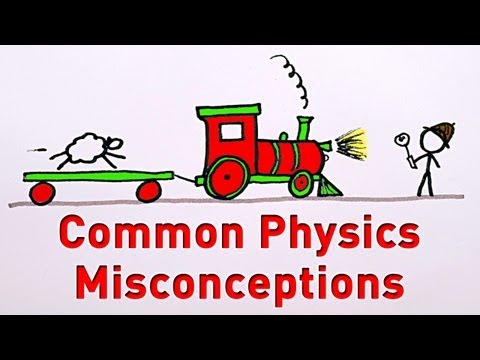 (YouTube link)
Minute Physics quickly lets us in on some slight but important differences in what we thought we knew and what really is. Since I never studied physics, a lot of this was new to me. -via Daily of the Day
The Force is Strong: Yoda Tattoo
Posted: 06 Dec 2012 03:00 PM PST
UV Tattoos have always seem pretty gimmicky to me, until now. Finally a use of the glow in the dark ink that actually makes sense! Done by tattoo artist Kennith Bryan of Intimate Body Art Studios. Really great work, I am sure Yoda would approve. In this case, this dedicated Star Wars fan is definitely doing and not trying.
Via Obvious Winner
Posted: 06 Dec 2012 02:00 PM PST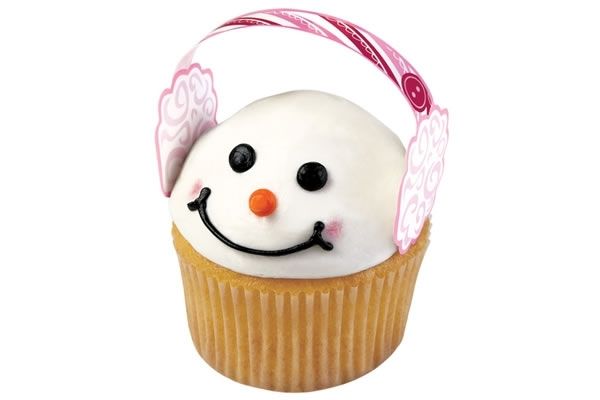 Fun Pix Earmuffs for Cupcakes - $3.45
Boy it's getting chilly out there. Are you worried that all your beloved cupcakes are going to catch cold? Dress them up in the Fun Pix Earmuffs for Cupcakes from the NeatoShop. These great paper earmuffs are perfect for adding a little warmth and personality to your favorite sweet treat.
Be sure to check out the NeatoShop for more fun Baking Supplies and fantastic Holiday items.
Posted: 06 Dec 2012 02:00 PM PST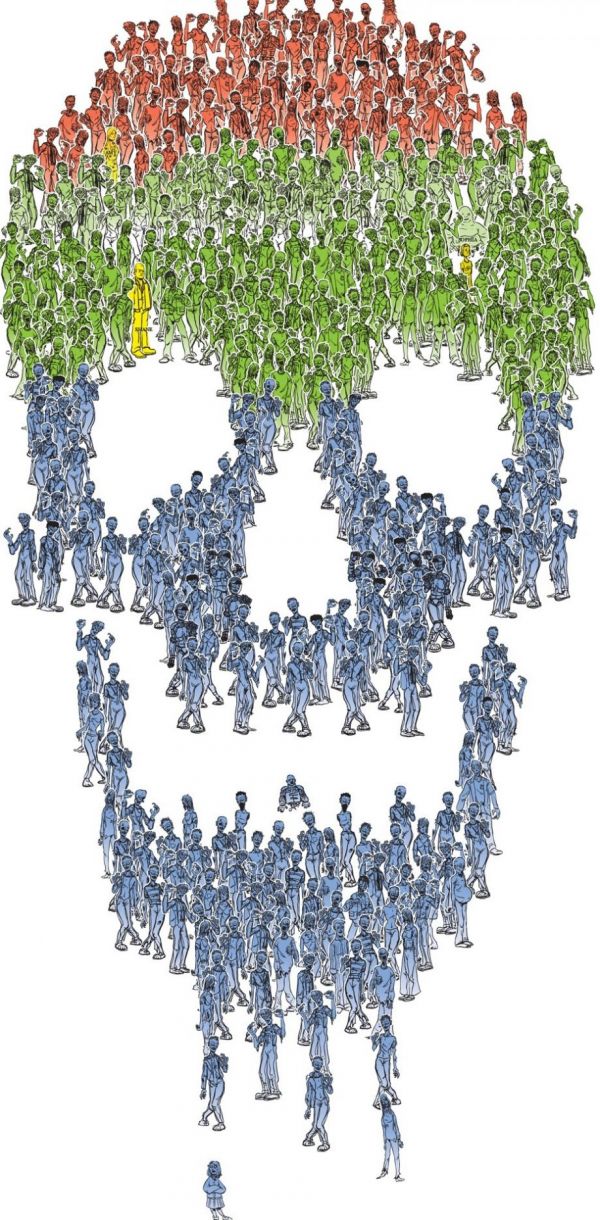 The National Post has a graphic depiction of the zombie kills from all 27 episodes of 2.5 seasons of the TV show The Walking Dead. It's separated into four parts; the skull here is made of the first section, zombies killed by season (the yellow ones are main characters). You can also see a breakdown of each zombie and who killed it with what weapon, then a breakdown of the weapons by season, and then which characters do the most zombie killing. It's a lot of statistics that should keep a math geek/Walking Dead fan busy for a while. Link -via Digg
Posted: 06 Dec 2012 01:30 PM PST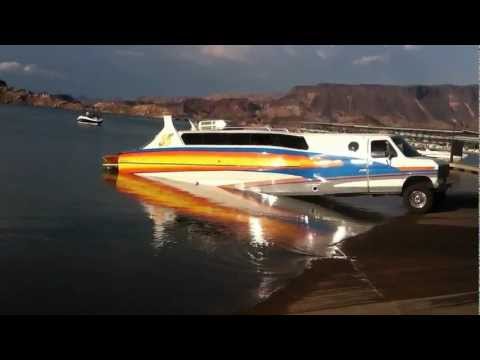 Youtube Link
The title of the video says it all - Coolest Guy At The Boat Ramp. He really is. I didn't really get it until the 1:30 mark, but it was totally worth it. It's apparently an RV Boat Combo, I would love to take a trip up to [insert generic lake name], anyone down for some tubing?
Via Picks and Flicks
Posted: 06 Dec 2012 01:00 PM PST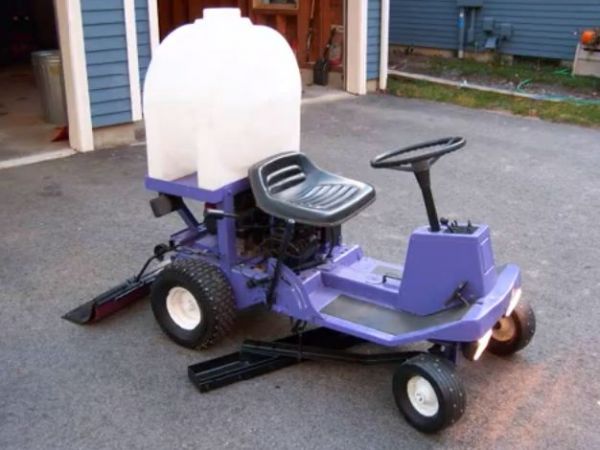 What can you do with a riding lawnmower with a blown engine? Instructables member web4deb turned hers into an ice resurfacer. Here's how:
Stripped off all the old mower decking and non-important parts and repainted it purple.
Put on a small surplus engine.
Made a scraper blade by grinding an edge into a piece of steel and mounted it to the lifter handle that was used for the mower deck.
Found an old water tank and mounted it on the back. Then took a piece of copper pipe and drilled little sprayer holes into it.
Added a squeegee mate that could be raised and lowered.
Studded the tires with short stainless steel screws.
Added some front and rear lighting for night-time driving. No Zamboni is complete without the blinking light!
Watch a video of it in action at the link.
Dragon Cake for a Birthday Boy
Posted: 06 Dec 2012 12:30 PM PST

Photo: Astro-Lopithecus
It's been a while since we posted about it, so we decided to bring it up again! Check out this amazing dragon cake. I see the D20 in the clutches of the dragon and that tells me this was most likely created with Dungeons and Dragons (or something equivalent) in mind. I would like to pretend for the time being that it is really Smaug, if that is okay with you guys. Made by Mike's Amazing Cakes for the birthday boy John Doty.

Photo: Astro-Lopithecus
Link | Via Nerdalicious
Magnetic Alignment of Fish in a Barrel
Posted: 06 Dec 2012 12:00 PM PST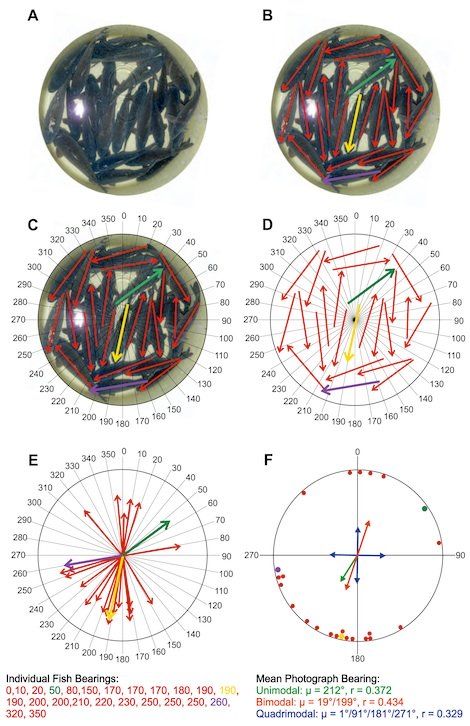 Scientists from the Czech Republic and Germany studied how carp arrange themselves in 80 different barrels while waiting to be sold at the traditional Czech Christmas sale last year. They observed fish in 817 samples over seven days. What diid they find?
We found that carps displayed a statistically highly significant spontaneous preference to align their bodies along the North-South axis. In the absence of any other common orientation cues which could explain this directional preference, we attribute the alignment of the fish to the geomagnetic field lines."
Was the research tough? It was as easy as counting fish in a barrel! Link
Church Comprised of Half a Million Matchsticks
Posted: 06 Dec 2012 11:30 AM PST

Photo:PIOTR STASIUK
While Wieslaw Laszkeiwick may use a whole lot of matchsticks, I bet he wouldn't appreciate you playing with fire anywhere near his creations. Here we have just one of the matchstick structures, a replica of the Church of St. Nicholas in Zamosc, that Laszkeiwisk has built in his workshop. A workshop that has has spent over 40 years creating these magnificent buildings.
This church is about 5 feet tall and is made up of almost half a million matchsticks. Not all matches are created equally however, and one match can make a huge difference.
"Not all the matches are suitable, it depends on the manufacturer," he says. "Some of them cannot be polished, some cannot be formed. You have to know which one to use for forming, which one to use to be polished, which one can be carved – this kind of match has to be soft, has to be from a different kind of wood. Different wood structures meet in matches; you need to know how to sort them. Because if you don't know your matches, you can use one wrong match and then not be able to polish the whole structure because one match is wrong."

Photo: PAP
Link | Via Oddity Central
You Can Shave With Bacon Goodness
Posted: 06 Dec 2012 11:00 AM PST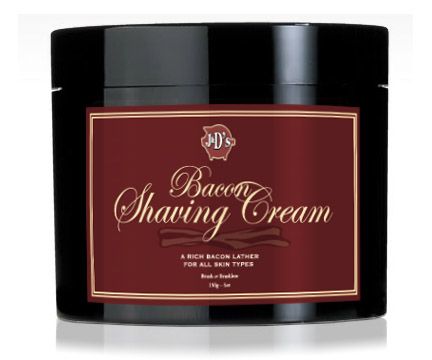 Is eating pounds of bacon seasoned with bacon salt and a dessert of bacon candy, then brushing your teeth with bacon still not leaving you with pork fat oozing through your pores? Well, until that does happen, you can at least use the next best thing to lubricate your face while shaving -bacon shaving cream! Huzah JD's for introducing yet more bacon products in our life.
Link Via The Consumerist
Posted: 06 Dec 2012 10:30 AM PST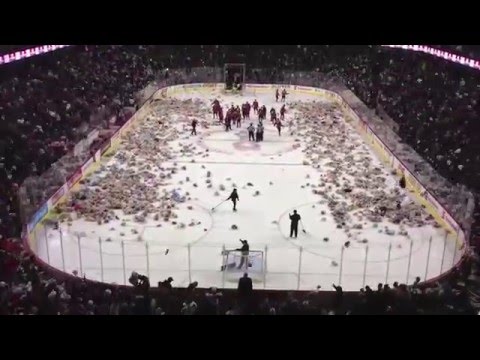 Youtube Link
Just look at all the teddy bears! The Calgary Hitmen, a Canadian hockey team, hold a charity event for kids in need. Once a year people are invited to bring teddy bears to the stadium and throw them into the rink, this year they collected 25,000 teddy bears. It took nearly 45 minutes to clean them all up.
Link | Via Blame It On The Voices
Posted: 06 Dec 2012 10:00 AM PST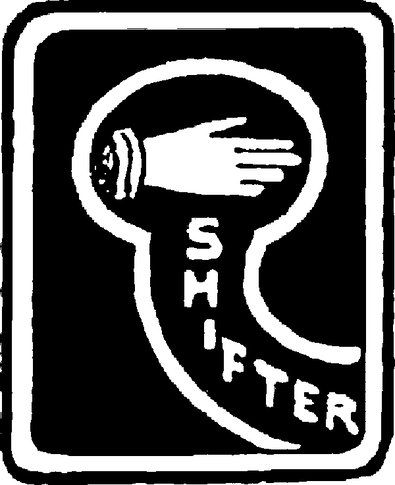 The Shifters was a name of a group of young people who called themselves that for a few months in 1922. Some considered them a subset of flappers, but men were welcome to be Shifters. Newspapers covered the group as if they knew what the culture meant. No one knows who started the fad, and there was no organization behind it. And, like many fads among young people, the Shifters died out as soon as the media paid attention to them. It was a sort of "secret society" of cool, hep people "in the know," but we still know rather little. One of the fascinating things about the Shifters was their method of recruiting new members.
Central to the Shifters' rapid growth was a pyramid scheme of enrollment and enrichment that was encapsulated by the Shifter motto, "Get something for nothing."

A Shifter would tempt a victim into joining, swear her to secrecy, make her pledge to "be a good fellow" and demand an initiation fee of anything from 5 cents to $6. The newly minted Shifter was then dismissed to find fresh victims and make good her investment.

According to The Border Cities Star, "down in New York one stenog. cleaned out 1,200 persons in the Woolworth building offices during her membership campaign, and naturally collected 1,200 dollars."
As time went by, established businesses wanted in on the game as well, and they manufactured Shifters pins, patches, and hats to sell. A lot of money changed hands, but when the Shifters were seen as mainstream, they disappeared. On to the next fad! The New York Times Sunday Review has the story, plus lists of "Shifter slang" terms, which may or may not be accurate, but it's fun to read. Link -via Metafilter
(Image credit: the New York Public Library)
How to Make Shotgun Shell Christmas Lights
Posted: 06 Dec 2012 09:30 AM PST
About this time of year, most of us are thinking "What can I do with all of these spent shell casings that I've accumulated this year?" That's a big pile of material that you shouldn't just throw away. Beretta Fleur turns hers into Christmas lights. You can find instructions on how to make your own at the link.
Link | Photo: Beretta Fleur
Simon the Reversible Baby Rattle
Posted: 06 Dec 2012 09:00 AM PST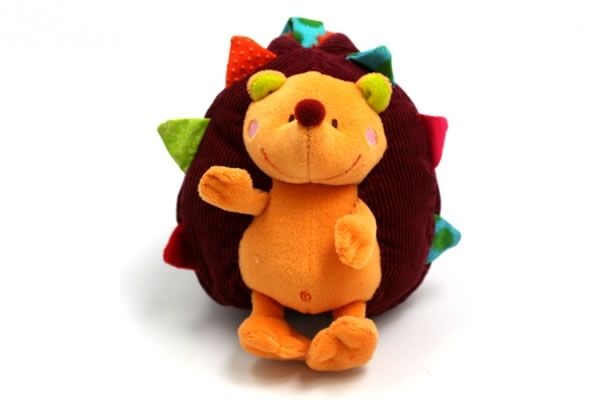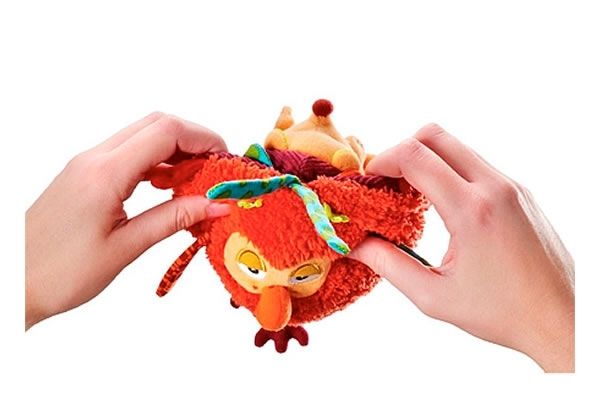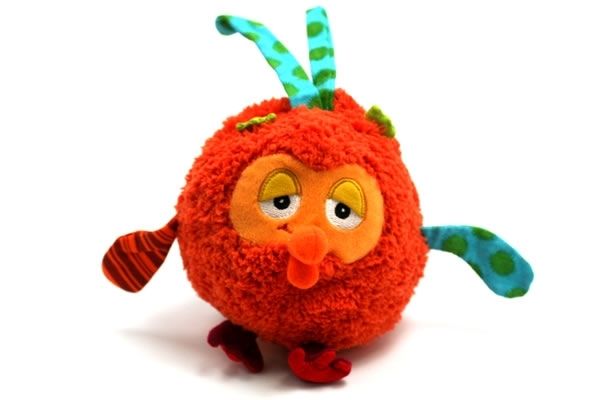 Simon the Reversible Baby Rattle - $24.95
The holiday season is here! Are you still looking for a perfectly unique gift for the extra special baby in your life? You need Simon the Reversible Baby Rattle from the NeatoShop. This darling baby rattle easily transforms from a hedgehog to a Dodo bird and back. Now you can have two beautiful little toys in one convenient and super adorable package.
Be sure to check out the NeatShop for more great Toys & Games.
New Zealand Charity Teaches Dogs How To Drive
Posted: 06 Dec 2012 09:00 AM PST
An animal adoption organization in New Zealand is teaching dogs how to drive, with their paws on the pedal steering straight towards the nearest cat.
As if driving around town wasn't dangerous enough, now we'll have to contend with canine drivers who brake at the scent of fast food!
--via Geekologie
Star Wars Reviewed by a Newbie
Posted: 06 Dec 2012 08:30 AM PST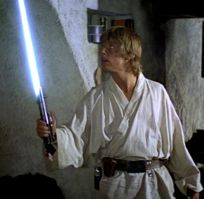 Allison Keene, who writes about TV for Collider and mental_floss, grew up without ever watching a Star Wars film. She sat down and watched every one of them in release order, and wrote up her impressions as a 21st-century newbie. What's interesting is that she thought she knew a lot about the series, because she knew what people talked about on the internet. But that's completely different from seeing the films. She says after the first one:
A-ha! Moment: I was floored by how many pop culture references come out of this movie alone, are there any in the other movies? "These are not the droids you are looking for," "a great disturbance in the Force," "may the Force be with you," "the Force is strong with this one," etc.

WTF? Moment: I think I've always conceived of Darth Vader as being some all-powerful evil villain, and to see him just hanging around the council, running his own errands and in fact getting in a fighter jet to go out on an attack run himself confused me greatly. Doesn't he have minions for that sort of thing? Also I expected his voice to sound like something in between Christian Bale's Batman and Tom Hardy's Bane, but he was quite normal, which disappointed me a bit.
And even that's funny, that the voice of James Earl Jones may sound "quite normal" now that everyone has heard him so much. In 1977, it stood out from every other voice on the planet. Keene wrote up all six movies, which are posted at Collider in reverse (blog) order. Link
You are subscribed to email updates from Neatorama
To stop receiving these emails, you may unsubscribe now.
Email delivery powered by Google
Google Inc., 20 West Kinzie, Chicago IL USA 60610