---
"Imagine": John Lennon's Signature Song
Posted: 04 Dec 2012 05:00 AM PST
Neatorama presents a guest post from actor, comedian, and voiceover artist Eddie Deezen. Visit Eddie at his website.
Many great composers, like many great actors and many great painters, have a signature work. And so it is with the Beatles. Although, strangely, two of the three prolific Beatle composers have as their "signature" song a non-Beatles tune. Paul McCartney, of course, achieved his greatest heights as a composer with his 1965 Beatles classic "Yesterday." Not so with George Harrison, who penned "My Sweet Lord" in 1969, right after leaving the band. Likewise, John Lennon wrote his most famous and beloved song two years after the Beatles split up, in 1971.

"Imagine," besides the above, is also, unlike Paul's and George's songs, hotly debated as to its true meaning. To its millions of fans, "Imagine" is a lovely anthem of peace, freedom, harmony, and a oneness of all mankind. To its many detractors, it is communistic, socialistic, anti-religion, and anti-American.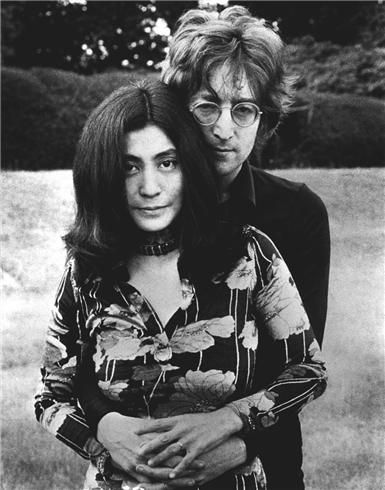 Interestingly, John Lennon, a huge egomaniac, was to admit taking full credit for the song when, in truth, his wife Yoko Ono was its co-composer. According to John, "The lyric, the concept, came from Yoko. But in those days I was more selfish, more macho, and omitted to mention her contribution. But it was right out of her Grapefruit book -there's a whole pile of pieces about imagine this and imagine that." Lennon was referring to Ono's 1964 book of poetry, and more specifically, a poem within called "Cloud Piece." "Cloud Piece" contains phrases like "Imagine the sky crying" and "Imagine you're a cloud." Lennon, in fact, had the lyrics of "Cloud Piece" printed on the back of the Imagine album upon its release.

"Imagine" was originally released as a single in America on October 11, 1971, peaking at #3 on the charts. It came out in the U.K. four years later, on October 25, 1975, topping out at the #6 spot on the British charts. It hit #1 in Canada and was to be Lennon's only #1 song in Australia.

Like so many great Beatles songs, ardent fans will often argue over the true meaning of "Imagine." Always the most political of the Beatles, Lennon once confessed to being "an instinctive socialist." He also once stated that "Imagine" was "virtually a communist manifesto, even though I'm not a communist and do not belong to any movement."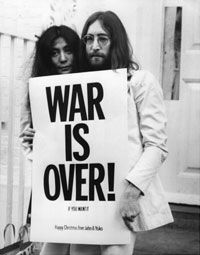 The song was written during John's most overtly political period (the late 60s-early 70s). He seemed to almost backtrack from any communist or political idea in his later years regarding "Imagine." The overt "communist manifesto" line was never repeated in any later Lennon interview, and indeed, after this early period, any political claims attached to the song can scarcely be found. In one of his last interviews, he simply stated that "Imagine" was "as good as anything I'd written with the Beatles." According to Yoko, the song was "just what John believed -that we are all one country, one world, one people. He wanted to get that idea out."

John and Yoko also made a promotional film to accompany the song. In the beginning of the film, John and Yoko are seen walking together in cowboy and Indian garb, respectively. It is thought that this was to show the song's peaceful coexistence theme. (Note: the "cowboy and Indian" angle is a fascinating one, albeit possibly completely coincidental. In watching the video, yes, John and Yoko look uncannily like cowboy and Indian from the back, but they also just look like John and Yoko taking a stroll, with John wearing a big hat. Judge for yourself.)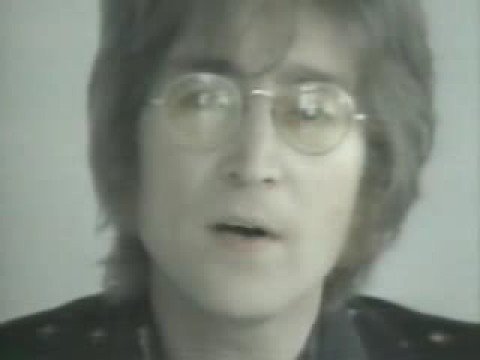 (YouTube link)
The two are then seen walking in the garden of their home. Then upon reaching the front door, they disappear, reappearing with John singing the song seated at his white grand piano. As he sings, Yoko opens the shutters in the room, letting the sunlight come in. This obviously symbolizes letting in the light of truth, peace, enlightenment, et al.

Yoko, who owns the rights to all John's post-Beatle songs, says the single request she gets most often is from musicians who want to record their own version of "Imagine." However, they request permission to omit the line "And no religion, too." Yoko says she never allows this liberty, choosing to keep the song in its original state.

"True" or "hidden" meanings aside, the song seems to strike some universal familiar chord with people around the world. Ex-president Jimmy Carter says, "In many countries around the world …you hear John Lennon's song "Imagine" almost equally with national anthems."

"Imagine" is, along with "Instant Karma" and "Give Peace a Chance," one of three Lennon solo songs in the Rock and Roll Hall of Fame that "shaped rock and roll." Rolling Stone ranked "Imagine" #3 on its list of 500 Greatest Songs of All Time. After the tragic death of John Lennon, "Imagine" was re-released in England and hit number one on the charts for four weeks straight. It replaced John's 1980 song "Woman" at the top spot. In a strange (and sad) coincidence, this was the first time an artist replaced himself as number one on the British charts since 1963, when The Beatles achieved the rare feat with "She Loves You" and "I Want to Hold Your Hand."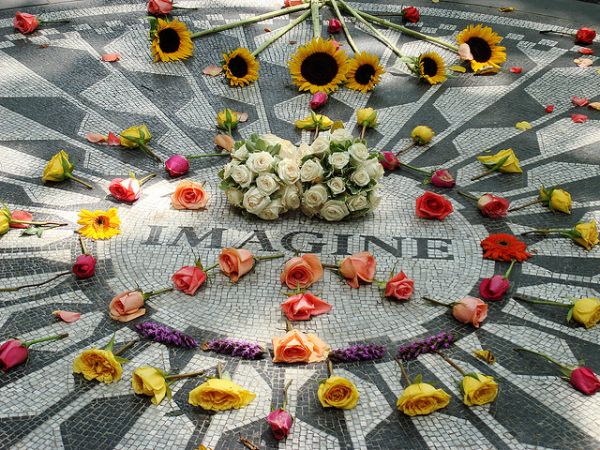 (Image credit: Flickr user somethingstartedcrazy)
Go See The Batmobiles On Display
Posted: 04 Dec 2012 04:00 AM PST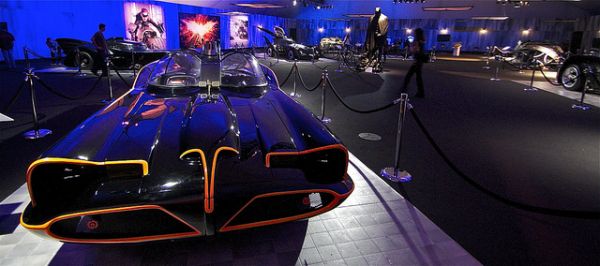 John recently posted an article about how you can actually buy the original Batmobile, but for those without the cash, you can at least still go see the classic cruiser and all the other Batmobiles as well, including the new Tumbler from The Dark Knight Rises at an exhibit in LA created to help promote the DVD release.
If you can't make it to Los Angeles to see the cars, you can also always download the free Dark Knight Rises FX app on iTunes, where you can at least see a picture of yourself in the Tumbler, as well as put yourself in a Gotham's Most Wanted poster. The app also syncs with the Blu-ray, so if you're gonna get the movie, which is incredibly awesome, you should definitely download it.
Data, Geordi LaForge and Neil deGrasse Tyson
Posted: 04 Dec 2012 03:00 AM PST
Celebrity physicist Neil deGrasse Tyson hosts a podcast called Star Talk. He recently invited Data and Geordi LaForge, the actors who played Brent Spiner and LeVar Burton on Star Trek: The Next Generation,* onto the show. You can listen to it at the link.
*I reject your reality and substitute my own.
Why is The Hobbit making some moviegoers sick?
Posted: 04 Dec 2012 02:00 AM PST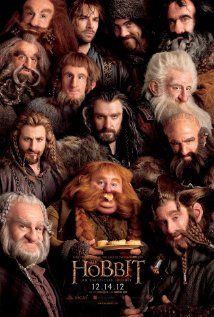 The Hobbit: An Unexpected Journey is set to hit theaters on December 14th. Some audience members at advance screenings are reporting nausea, migraine headaches, and general queasiness after watching it. The film was shot at 48 frames per second, twice the normal rate, to achieve an unprecedented feeling of reality. But that can backfire.
When you watch a film, explains Adrian Bejan, a professor of mechanical engineering at Duke University, your eye combines "long and fast horizontal sweeps with short and slower vertical movements to process the picture." But this faster camera speed "requires the eye to sweep up and down faster than usual in close-ups to absorb unparalleled detail on a big screen," causing a significant amount of cognitive and eye strain. This technique "works for the big snowy mountains, but in close-ups the picture strobes," said one moviegoer. "I left loving the movie but feeling sick." Another audience member was more blunt: "My eyes cannot take everything in, it's dizzying," he said. "Now I have a migraine."
Read more about it at The Week. Link
Tokyoflash Treasure Hunt #22: Winners
Posted: 04 Dec 2012 01:00 AM PST
Last month, we had a great Tokyoflash Treasure Hunt (here's the answer page). Congrats to the winners! Did you win? See below:

Clown TARDIS T-Shirt by Mike Jacobsen
Here are the NeatoShop winners (picked at random using the random number generator at random.org):
Be sure to check out the NeatoShop for Funny T-shirts and more neat items for Christmas!
The grand prize winner is bug, who won the Kisai Maze LCD Watch from Tokyoflash!
Congratulations to the winners and thank you to everyone who played! Stay tuned for the next awesome game with awesome prizes, only on Neatorama!
Eleventh Doctor TARDIS Wheelchair
Posted: 04 Dec 2012 12:00 AM PST
Posted: 03 Dec 2012 11:00 PM PST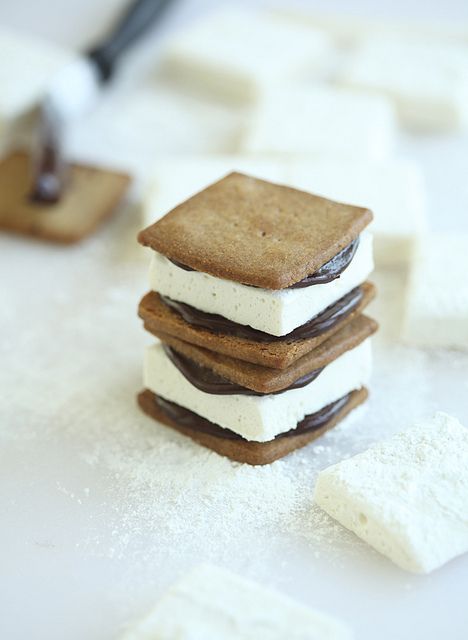 Homemade marshmallows are the bomb. If you've made them already, you might want to branch out into odd flavored marshmallows, like this recipe that flavors them with legal distillery moonshine. Smooth! They could go into the s'more shown, which also feature homemade graham crackers. The recipe is from Caitlin Freeman of Blue Bottle Coffee. Link -via Laughing Squid
Posted: 03 Dec 2012 10:00 PM PST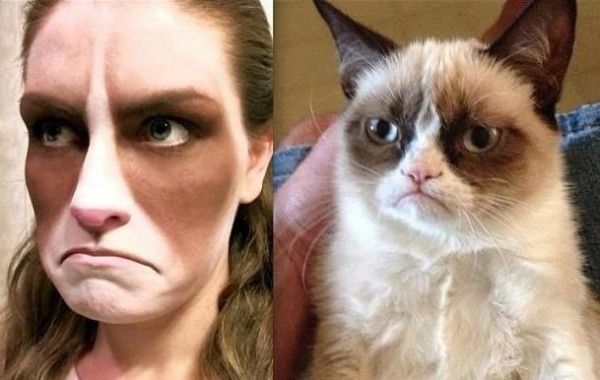 Imitation is the sincerest form of flattery. One more human joins the legion of fans assembled by Tard, the Internet's own Grumpy Cat.
-via Fashionably Geek | Photo: unknown
Posted: 03 Dec 2012 09:00 PM PST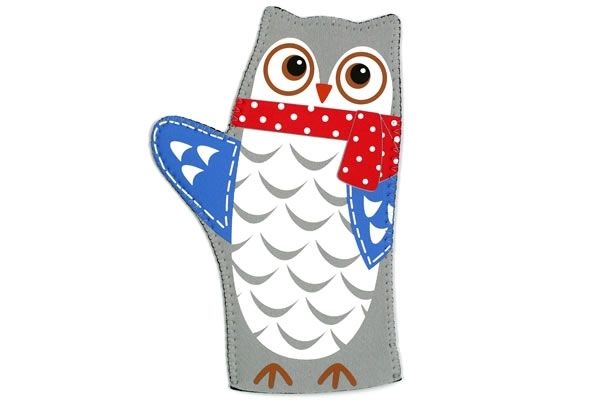 Snowy Owl Mitt - $11.95
Do you know someone hoo-hoo desperately needs a new oven mitt? This holiday season get them the Snowy Owl Oven Mitt from the NeatoShop. This fantastic mitt, with non-slip textured grip, makes a fine feathered friend in the kitchen.
Snowy Owl Salt & Pepper Shakers and Snowy Owls Measuring Cup Set also available. Buy all 3 and make it a very wise set.
Be sure to swoop on over to the NeatoShop for more great Kitchen Stuff and Owl-standing Owl items.
Posted: 03 Dec 2012 09:00 PM PST
First of congratulations to Matt for getting a cat, he probably needs it after that terrible terrible week of depressing comics from Cyanide and Happiness. I wonder what would happen if I brought my dog with me to work.. que Scrubs-esque day dream. I probably wouldn't get a whole lot done, end up playing let-go-of-that for most of the time.
Revolver's Detachable Buttstock Doubles as a Canteen
Posted: 03 Dec 2012 08:00 PM PST
This unusual pistol is a Colt 1851 Navy Revolver. That model was made in massive quantities for two decades and used long afterward. What makes this particular variant unusual is that it comes with a detachable hollow pewter buttstock. There's a plug on the top that you can open to fill it with water.
Link -via Pocket Pistols, Historic Firearms, & Curiosities
Full Size "Minimalist" Christmas Tree
Posted: 03 Dec 2012 07:00 PM PST

Photo: Occupy Christmas Party
Okay, maybe not so much a minimalist Christmas tree as a cheap bastard Christmas tree. Aptly named the "Real Steel" Christmas tree after the Rock 'Em Sock 'Em Robots movie with Hugh Jackman. It was found as part of a list of some great examples of people being indifferent about the Holiday Season.
Link | Via Hyper Vocal
Posted: 03 Dec 2012 06:00 PM PST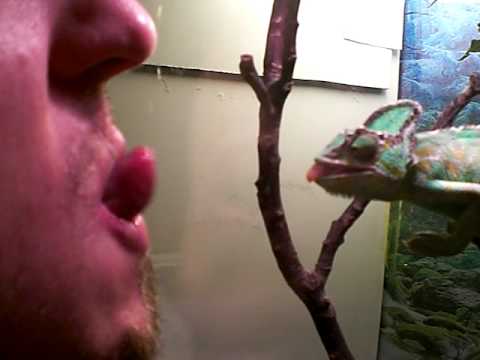 (Video Link)
Do you want to flirt effectively with a chameleon? Stick your tongue out and wave it around. Watch this chameleon respond to the seductive human's wiles.
-via Daily of the Day
Posted: 03 Dec 2012 05:00 PM PST
Posted: 03 Dec 2012 04:00 PM PST

(Youtube Link)
Game of Thrones has released a first look trailer of the upcoming Season 3. I am really freaking excited. Normally I refuse to see a movie / TV show because I am too dedicated to the book, well it works the other-way-round with Game of Thrones.
I didn't know about the series until I watched the first HBO season, and I was hooked. I love the characters and the especially the actors too much to read the books- if I read them, their characters will take on a life of their own and I feel like I would be slighting the people I have come to love. Seriously Emilia Clarke, I will marry you.
The problem with that is I have to wait like a whole year until I can learn what happens next! What a bummer. Thankfully, as time marches on, we are getting closer and closer to the most promising season yet. March 31, 2013 - save the date.
Via Flavor Wire
Posted: 03 Dec 2012 03:00 PM PST
Some people love weapons, I think most are dangerous and I would end up being the kid who shot his own eye out (Christmas Story reference), but I get it. Weapons are cool. (Photo: BladesUSA)
Here we have the BladesUSA Hk-6090 Fantasy Sword. Made with hard-anodized black stainless steel, a 17-3.7 inch blade (27.25-inch overall), a hi-tech strap, and an ergonomic grip. The ergonomic grip proving the weapon to be dangerous but sensible. It's a replica of a Full Tang Arm Blade Sword from the Blood Rayne video game series.
At only $18.39 on Amazon it's a steal, if you are into this sort of thing. You might be thinking, who would really want something like this? Well a professional Ninja of course.
That is only the beginning of the review, read the post in its entirety here.
Link | Via Super Punch
Posted: 03 Dec 2012 02:00 PM PST

Photo: Inn at Laurel Point
Canada has a National Gingerbread Showcase every year, apparently. This year one of the entries was a beautifully delicious looking Millennium Falcon titled "Canoe Wars" and made by the Canoe Brewpub.
As one person commented, Santa can indeed deliver presents much faster in a Millennium Falcon.
Link | Via Nerdalicious
Posted: 03 Dec 2012 01:30 PM PST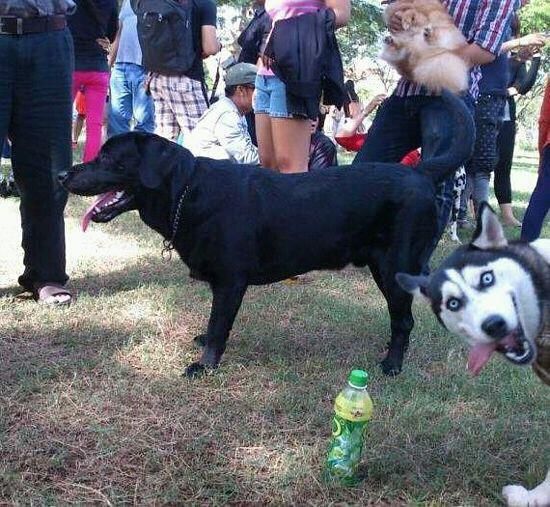 He wants his picture taken, too! Link -via Blame It On The Voices

15 Modern Quirky Fun Gift Wrapping Papers
Posted: 03 Dec 2012 01:00 PM PST

(image via: minieco)
If you are anything like me, you don't like most wrapping papers. For one, most are too main stream, too accepting of socially standardized aesthetic qualities. Also, way overpriced - I like the cheap free stuff. I run a tight ship and an even tighter budget. Normally I go with either butcher paper or newspaper, but now I think I have found something I like even more.
Check out this list of 15 Modern Quirky Fun Gift Wrapping Papers, most of which offer free templates.

(images via: heyook)
Star Wars Poster Retro Bowler Handbag
Posted: 03 Dec 2012 12:30 PM PST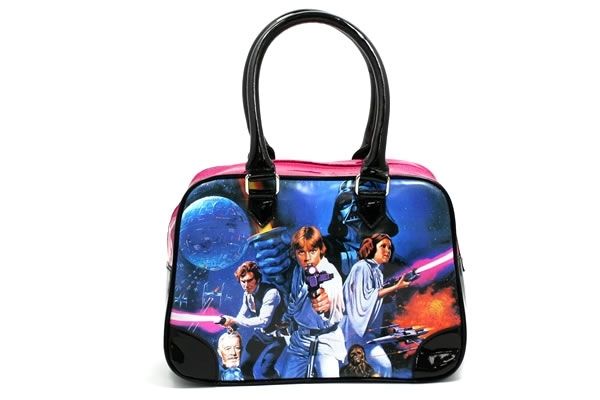 Star Wars Poster Retro Bowler Handbag - $45.95
The holiday season is upon us, but all hope is not lost. You do not have to travel to galaxies far, far away to find the perfect gift for your favorite Star Wars fan. Behold the Star Wars Poster Retro Bowler Handbag from the Neatoshop. This amazing purse features a classic Star Wars poster design on front with sparkly hot pink sides. The force is strong with this handbag.
Star Wars Poster Clutch Wallet also available. Buy both and make it an out of this world set.
Be sure to check out the NeatoShop for more fantastic Star Wars items and great Bags & Totes!
22 Funny Family Christmas Card Ideas
Posted: 03 Dec 2012 12:30 PM PST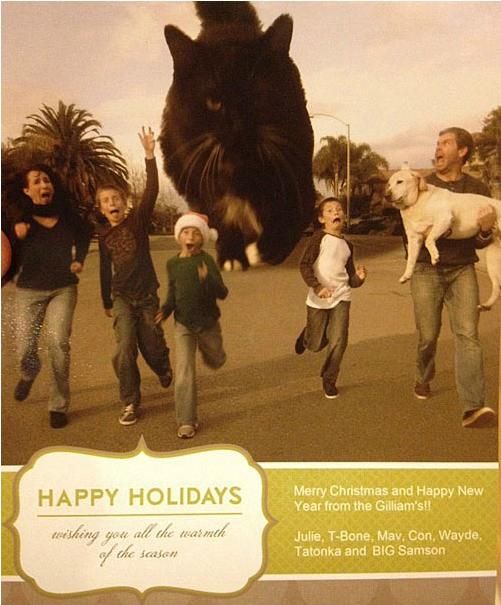 When you take a family portrait for your Christmas cards, stop and think about how much they look like every other personalized Christmas card your friends will receive. Unless it's funny. If your funny card turns out goofy, dumb, adorable, or cringeworthy, at least it will be memorable. My brother, the graphic artist, sent out cards with their first child's sonogram on it, altered a bit so she was wearing a tiny red Santa hat. That was 15 years ago, and she is still properly embarrassed about it. Check out a whole slew of other strange and memorable ideas for family Christmas cards at Pleated-Jeans. Link
Posted: 03 Dec 2012 12:00 PM PST

Photo: ShutupLori
Want to keep your beer cool in style? Look no further than the Pirate Chest Cooler. Just an ordinary Igloo cooler, some ordinary wood and paint, turned into an extra-ordinary pirate booty beer cooler. See what I did there? Thanks to Redditor ShutUpLori you can have one now too.
Link | Via Foodiggity
Posted: 03 Dec 2012 11:30 AM PST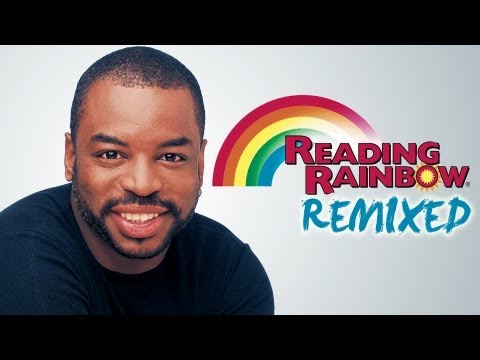 (YouTube link)
John D. Boswell (also known as melody sheep, who gave us the Symphony of Science videos) autotuned and remixed Levar Burton in Reading Rainbow for PBS Digital Studios. I never saw the show, but I hear it gets younger folks all nostalgic. And how do you think that makes me feel, that I'm too old to be nostalgic about something? -via Flavorwire

Posted: 03 Dec 2012 11:00 AM PST

Photo: BARAD-DÛR BOX SET
I watched Elf last night, you know the movie with a young Zooey Deschanel and Will Farrell, this reminds me of a scene from that movie. Buddy (Will Farrell) stays up all night beautifully decorating a Christmas store, well I am sure some gleeful employee of whatever store this is was doing just about the same. Only when this employee woke up I am sure there wasn't a beautiful Zooey Deschanel singing in her raspy voice while showering in the women's locker room. What department store has a locker room?
Link | Via Obvious Winner
Posted: 03 Dec 2012 10:30 AM PST
Be careful what you wish for. You may get it! From Doghouse Diaries. Link -via Tastefully Offensive

Posted: 03 Dec 2012 10:00 AM PST

Photo: Martyn and Debz
The North Koreans always have something strange up their sleeves. Whether it is recording 11 holes-in-one on a golf course by their deceased leader Kim Jong-il or trying to build weapons of mass destruction, their government is always up to something.
North Korean historians are now claiming they have discovered a "unicorn lair."
A report released by the History Institute of the DPRK Academy of Social Sciences claims that archaeologists discovered the lair of the mythical animal just outside a temple in the capital Pyongyang.

And, unsurprisingly, the lair - according to the report - means that Pyongyang was the focal point of an ancient, united Korea.
Pyongyang is the capital city of the Democratic People's Republic of Korea (North Korea) for those of you who didn't know. A bit of a coincidence wouldn't you say?
Some people are saying the story has been produced as a retaliation for the fiasco involving The Onion, a Chinese newspaper, and a certain Kim Jung Eun. If you missed that news you can check it out here. Really I could see it going either way. It wouldn't be the first time for some outlandish claim to come out of North Korea.
Posted: 03 Dec 2012 09:30 AM PST

How much of a college football fan are you, really? This year's Heisman Trophy winner will be announced this Saturday. Mental_floss is challenging you to recall the other winners of the past thirty years in today's Lunchtime Quiz. How many of their last names can you rattle off in 6 minutes? If you can name any of them at all, you've got me beat! If you can name half, you can consider yourself a true football trivia buff. Link
Posted: 03 Dec 2012 09:00 AM PST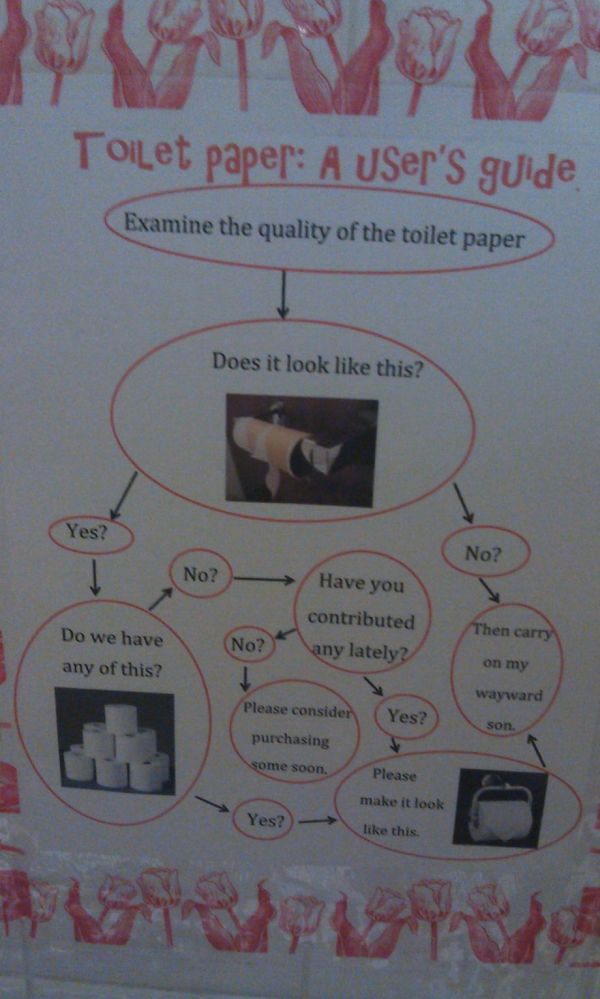 There's no indication of who made this flow chart, but it sure is a handy guide to hang in a shared bathroom. That is, if any of your roommates will actually read it! Link
Posted: 03 Dec 2012 08:30 AM PST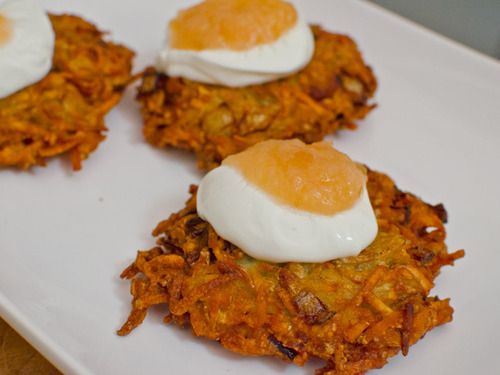 Chanukah is next week, which gives you just enough time to perfect your latkes (unless they are already perfect, in which case a little practice still doesn't hurt). In a post titled The Complete, No-Nonsense, Slightly Neurotic Guide to Making Great Latkes, Max Falkowitz of Serious Eats gives you more than just a recipe; he explains the tricks behind making real latkes that aren't potato pancakes or hash browns, plus warnings about the many things that could go wrong and how to avoid them. Link -via Metafilter

(Image credit: Max Falkowitz and Sam Soboliewski)
The Gangnam Style Parody Mashup
Posted: 03 Dec 2012 08:00 AM PST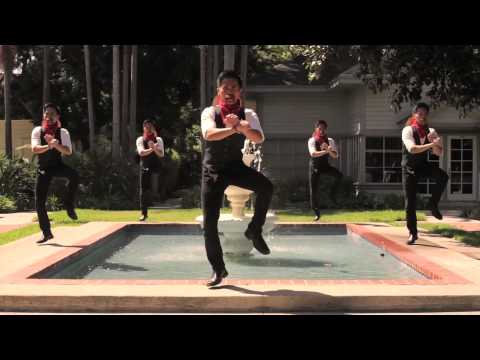 (YouTube link)
"Gangnam Style" by PSY is the number one most viewed YouTube video ever -but that's just the original official music video. Another metric of its success is how many other people went to the trouble of making their own version of the video, and we will probably never know exactly how many of them there are. Patrick Peris spliced a bunch of the best of them together. There's a list of source material at the YouTube page. -via Digg
You are subscribed to email updates from Neatorama
To stop receiving these emails, you may unsubscribe now.
Email delivery powered by Google
Google Inc., 20 West Kinzie, Chicago IL USA 60610