---
Posted: 27 Dec 2012 05:00 AM PST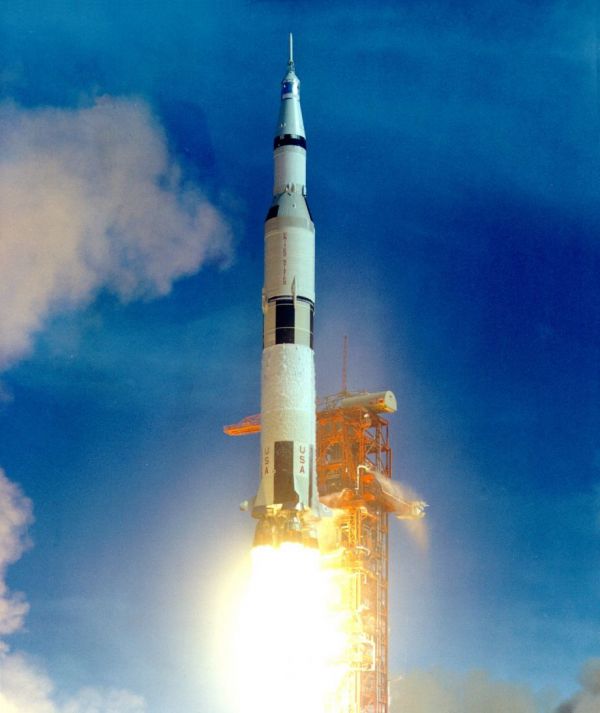 Neatorama presents a guest post from actor, comedian, and voiceover artist Eddie Deezen. Visit Eddie at his website.
We've all seen the classic countdown, you know, in every film about astronauts, every TV documentary about astronauts, every cartoon about astronauts, and even on I Dream of Jeannie. And live from Kennedy Space Center, too!

10-9-8-7-6-5-4-3-2-1 …Blast off!

Well, interestingly enough, the creator of the classic countdown didn't work at NASA or Cape Kennedy. The creator of the countdown was actually a motion picture director, His name was Fritz Lang.

Lang's claim to fame hitherto was the silent film M (1931) starring Peter Lorre. He also directed another well-known silent film called Metropolis (1926). Both films are now considered classics by film scholars and movie fans the world over.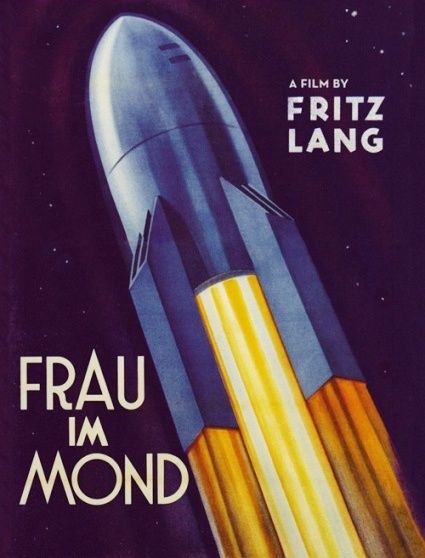 In the late 1920s, Lang directed one of the very first science fiction films. It was called Lady on the Moon (1929), sometimes known as The Woman in the Moon. A highlight of the film was the launch of a mammoth rocket which looked uncannily like the ones we later launched from Cape Canaveral.

It occurred to Lang that suspense could be created by switching from the conventional. So instead of the expected "one-two-three" count preceding the movie rocket launch, Lang used exactly the reverse. Thus, the first countdown occurred 80 years ago. In a sci-fi movie!

Soon science imitated art and the reverse countdown, as we know it, became standard operating procedure on all rocket launches.

When Hitler and the Nazis came to power in Germany, they used some of Lang's other rocket launch props in their experiments. Ironically, this occurred after Lang himself had been forced to flee Nazi Germany for his life. The generally accepted (but unconfirmed) story is that Lang was summoned to the office of HItler's Propaganda Minister, Joseph Goebbels, in 1934.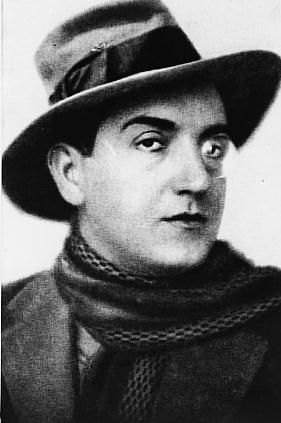 Goebbels had two messages for Lang. The first was that his film Dr. Mabuse (1933) was to be banned in Germany because of "incitement to public disorder." The second message was that Goebbels was so impressed by Lang's films, he wanted to make him the head of a German film studio.

Lang, having a Jewish background, must have been scared out of his wits during that meeting! He had actually already planned to leave Nazi Germany, but he now realized he had to get out as soon as possible. Since the meeting with Goebbels ran so late, the banks in Germany were all closed by the time it ended. So, having no choice, and fearing the "discovery" of his Jewish blood, Lang fled that very night -with no money.

Lang's wife, Thea Von Harbou, had sympathized with HItler's cause and joined the Nazi Party in 1932. The two divorced in 1933.


Frau im Mond (1929)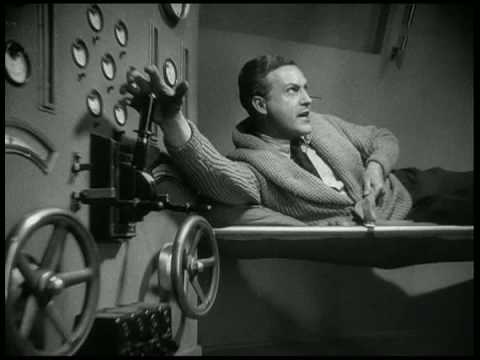 (YouTube link)
Amazingly Detailed Eggshell Sculptures
Posted: 27 Dec 2012 04:00 AM PST
Chinese artist Wen Fuliang doesn't see eggshells as trash, he sees them as a sculptural medium. His incredible sculpting skills began when he was laid off from his job as a woodcarver, and now he sees eggs as more than just an ingredient in Fu Yung.
Here's more on these delicate works of art:
Using chicken, goose and duck eggs, he empties the content of the eggs with a syringe, before using a fine diamond bit on an electric rotary tool to delicately carve the designs on the intricate shells.

The process, according to The Daily Mail, is "incredibly time-consuming", and requires Fuliang to gently secure the eggshell in one hand, and skillfully use the rotary tool in the other.
Link --via DesignTAXI
Posted: 27 Dec 2012 03:00 AM PST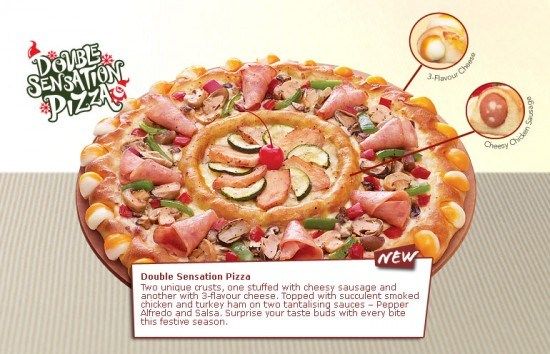 Pssshhh...stuffed crust is so old hat. If you really want a surprising fun pizza treat, try this Pizza Hut monstrosity with two types of stuffed crusts -one with cheesy sausage and another with 3-flavor cheese. As if that didn't give you enough variety, it also has two sauces, pepper alfredo and salsa. As weird as all of this seems, the cherry still seems like an insane addition.
Unfortunately, you'll have to fly out to Singapore if you want to try a slice, but isn't that a small price to pay when it comes to this kind of culinary adventure?
Link Via The Consumerist
Ten Weirdest Fashion Trends From Around The World
Posted: 27 Dec 2012 02:00 AM PST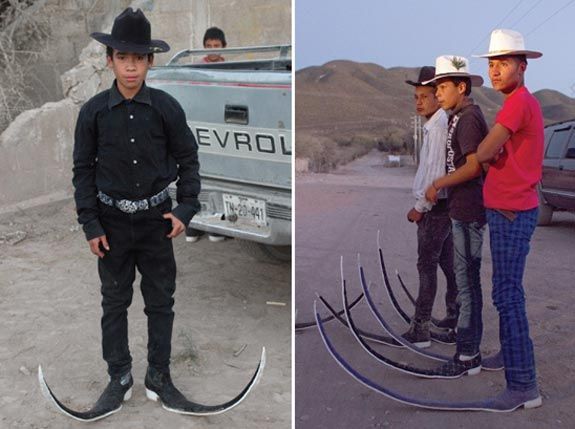 Fashion trends come and go, and it's generally assumed that the strangest styles emerge from high fashion haute couture houses.
But the fact is- most strange fashion trends come from countries not normally thought of as fashion forward, like Mexico's pointy elf boot trend or South Africa's Metalheads.
Take a visual tour of the ten weirdest global fashion trends, maybe you'll find your new style for 2013!
Posted: 27 Dec 2012 01:00 AM PST
Looking for a fun way to make your horderves sing? You need the Retro Glass Platter from the NeatoShop. This great platter can also be used as a chopping board. It is sure to be a hit at your next karaoke night.
Be sure to check out the NeatoShop for more fantastic Kitchen Stuff.
Posted: 27 Dec 2012 01:00 AM PST
This picture of a Winnie the Pooh flash mob may be Photoshopped, but that doesn't make it any less surreal, amusing, and/or terrifying. I feel sorry for the woman in the black skirt in the middle of this picture. Doesn't it look like six or seven Pooh's are coming toward her?
Via The Official Neil Gaiman Tumblr
Eleven Food Trends That Need To Die In 2013
Posted: 27 Dec 2012 12:00 AM PST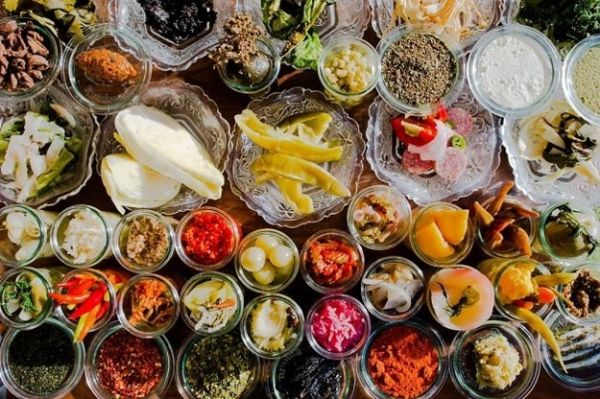 I'm sure all foodies are familiar with the food trends that made it on the hit list for 2013.
Some seem to have come out of nowhere (maximum kale), some have been resurrected as a food trend over and over again (pickling everything, Jell-O shots), all need to die in the new year.
There's bound to be more culinary trends comin' round the mountain, folks, let's put these old chestnuts in the fire where they belong!
Baby Jesus Soothed with Bagpipes
Posted: 26 Dec 2012 11:00 PM PST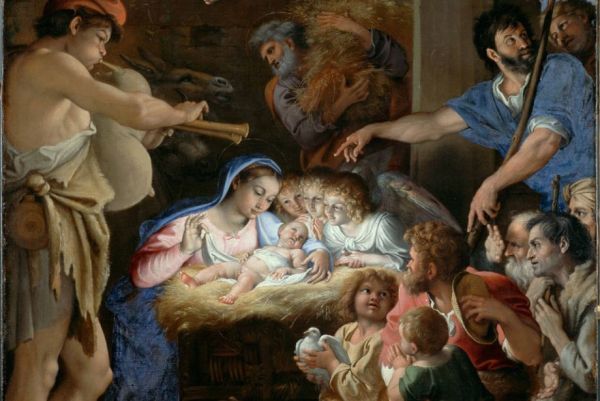 This painting, The Adoration of the Shepherds, is (of course) owned by the National Galleries of Scotland. It shows one shepherd worshipping the newborn Jesus with his bagpipes. The Seventeenth Century Italian painter Domenichino understood that nothing settles a baby like gentle tones from the old pipes.
Link -via TYWKIWDBI | Photo: National Galleries of Scotland
Posted: 26 Dec 2012 10:00 PM PST
We don't usually post infographics on Neatorama. For one, their quality varies widely and we've been harrassed enough by unscrupulous SEO people who want us to post their infographics that we've placed a sitewide ban on them, but let me make a brief exception for this one I found at David Eaves' Infographic Directory blog (it's a pretty neat blog, if you like infographics).
I mean, how could I not? This infographic by the Australian beermaker Bondi tells us that wombat poops out a cube-shaped poo. Just think about it. A cubic poop.
So, how does a wombat poo a square poop? With difficulty, you might want to say, but no. They poop with delight:
After a bit of googling, we found this video clip by Robyn Lawrence that
shines some light
upon this mind-boggling question (go science!):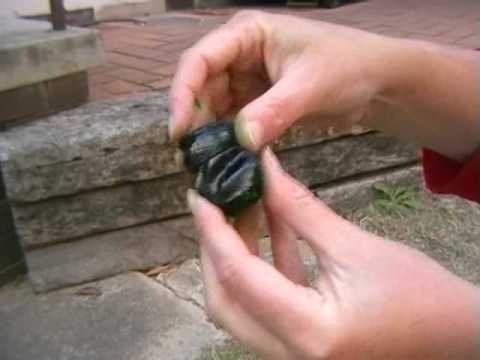 Artists Say Bye to Hostess with Old School Hostess Ads
Posted: 26 Dec 2012 09:00 PM PST
Back when Hostess wasn't having all the issues they're having now, comic artists used to draw scenes featuring a Hostess product in some shape or form for advertising. As a farewell to Hostess, The Comics Should Be Good! blog over at the Comic Book Resources website featured an art challenge with the following theme:
In honor of the sad news of Hostess Brands going out of business, the theme (which was suggested by a lot of people) is to pick a comic book character that you'd like to see our artists do an old school Hostess ad for. You can also name which Hostess product you'd like to see the character sell, but that's optional.
The pictures above are the sketches artists drew in reponse to the challenge. View many more images over at The Comics Should Be Good! Blog: Link - via The Official Neil Gaiman Tumblr
Posted: 26 Dec 2012 08:00 PM PST
Love Sudoku but can't deal with all those numbers? Try this one instead: Our friends over at Conceptis has a nifty new game called Color Pic-a-Pix, which is like Sudoku crossed with paint-by-numbers. It's a fiendishly fun game that's easy to play.
The object of the game is to solve a hidden picture by coloring the square blocks. Clues are provided in the rows and columns (the numbers correspond to the total number of colored squares in that column or row). Pick the color with your mouse and then click the square to fill it in with that color. It's easy enough to figure it out yourself as you play (though the game does get progressively more and more challenging).
Give it a try:
Play it over at Conceptis: Link - Thanks Gil!
Wait, You Forgot One Last Present!
Posted: 26 Dec 2012 07:39 PM PST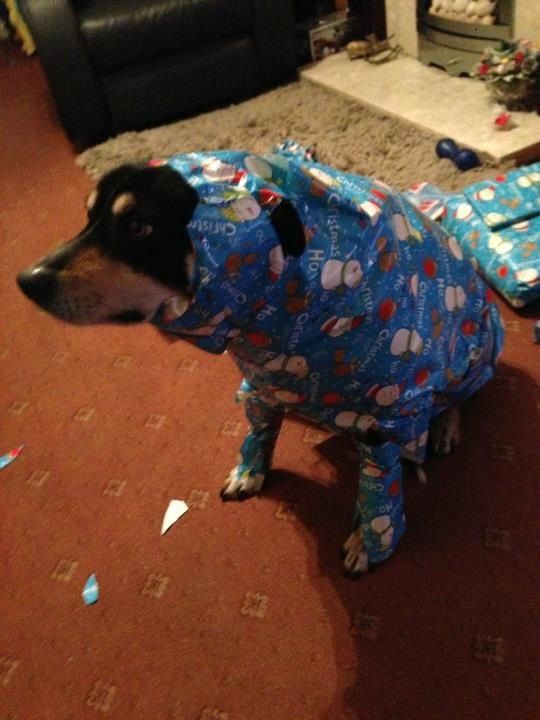 If you wrap up a new family pet and put them under the Christmas tree don't be surprised if they get tired of waiting and unwrap themselves.
Make sure you include a gift receipt with each pet you give as a present, because some critter gifts lose their new pet smell in transport and may be too stinky to keep!
Posted: 26 Dec 2012 07:00 PM PST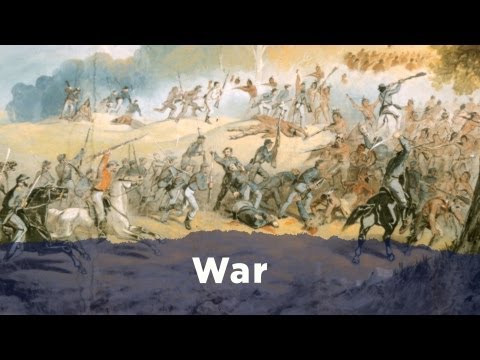 (YouTube link)
150 years ago today, 38 Dakota men were hanged in Minnesota for actions during the U.S.-Dakota War of 1862. It was the largest mass execution in U.S. history. Of the 392 prisoners of war who went to trial, 303 were sentenced to hanging. President Lincoln commuted all but 39 of the sentences, and one man got a last-minute reprieve.
At 10:00 am on December 26, 38 Dakota prisoners were led to a scaffold specially constructed for their execution. One had been given a reprieve at the last minute. An estimated 4,000 spectators crammed the streets of Mankato and surrounding land. Col. Stephen Miller, charged with keeping the peace in the days leading up to the hangings, had declared martial law and had banned the sale and consumption of alcohol within a ten-mile radius of the town.

As the men took their assigned places on the scaffold, they sang a Dakota song as white muslin coverings were pulled over their faces. Drumbeats signalled the start of the execution. The men grasped each others' hands. With a single blow from an ax, the rope that held the platform was cut. Capt. William Duley, who had lost several members of his family in the attack on the Lake Shetek settlement, cut the rope.

After dangling from the scaffold for a half hour, the men's bodies were cut down and hauled to a shallow mass grave on a sandbar between Mankato's main street and the Minnesota River. Before morning, most of the bodies had been dug up and taken by physicians for use as medical cadavers.
The war between the Dakota Indians and white settlers is one rarely covered in U.S. history classes. Read the story of the executions at the Minnesota Historical Society. Link -via Metafilter, where you'll find more resources.
Caution: Road is Slippery When Covered with Mucus
Posted: 26 Dec 2012 06:00 PM PST
New Trampled Snow Art from Simon Beck
Posted: 26 Dec 2012 05:00 PM PST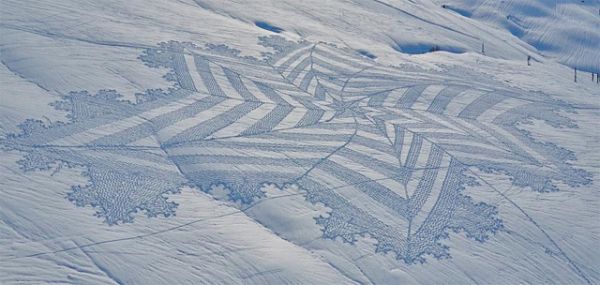 Simon Beck makes art by stepping in snow. Even with sturdy snowshoes, it's hard work, and takes a special talent to get it right. Beck (previously on Neatorama) has been busy the past few weeks tramping out new designs in the snow at Les Arcs ski resort in France. You can see some of the best at Colossal. Link
Posted: 26 Dec 2012 04:00 PM PST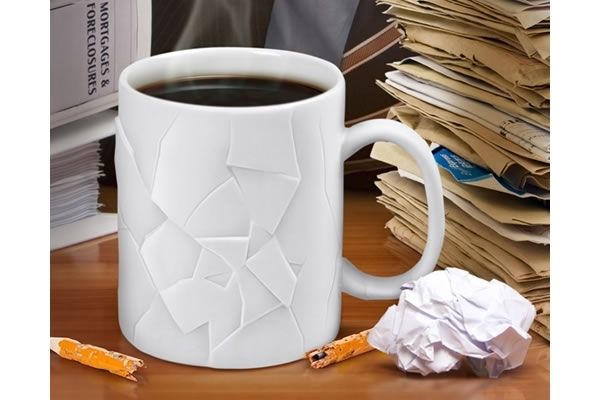 The holidays are over. Are you having trouble getting back to the daily grind? Express your inner angst with the Cracked Up Coffee Mug from the NeatoShop. This mug looks like it has been shattered and glued back together. It makes the perfect post holiday gift to yourself.
Be sure to check out the NeatoShop for more great Glassware & Drinkware.
Colonel Meow Is A Terrible Gift-Giver
Posted: 26 Dec 2012 04:00 PM PST
Colonel Meow is known for being even angier and meaner than Grumpy Cat and it's easy to see why when you watch him exchange presents with his best friend Boots.
Via Laughing Squid
Woman Crashes Car into House in Order to Distract the Police
Posted: 26 Dec 2012 03:00 PM PST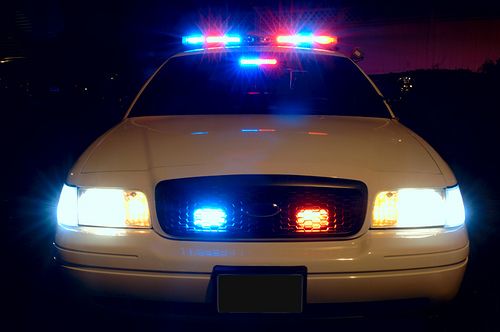 A drunk driver in Red Hook, New York noticed that police had pulled over a friend of hers for drunk driving. She immediately swung into action, deciding that the best way to distract the police officer was to get him to chase her instead:
[...] she drove past a Red Hook, N.Y., police officer on a winding country road at nearly 100 mph, lost control and smashed through the door of the house, narrowly missing homeowner June Lawson, Red Hook town police said.

Sarnowski started driving at the high speed to distract the town officer who had pulled over a friend of hers for possible drunken driving, police said.
She was unsuccessful. The police arrested both drunk drivers.
Link -via Dave Barry | Photo: davidsonscott15
Posted: 26 Dec 2012 02:00 PM PST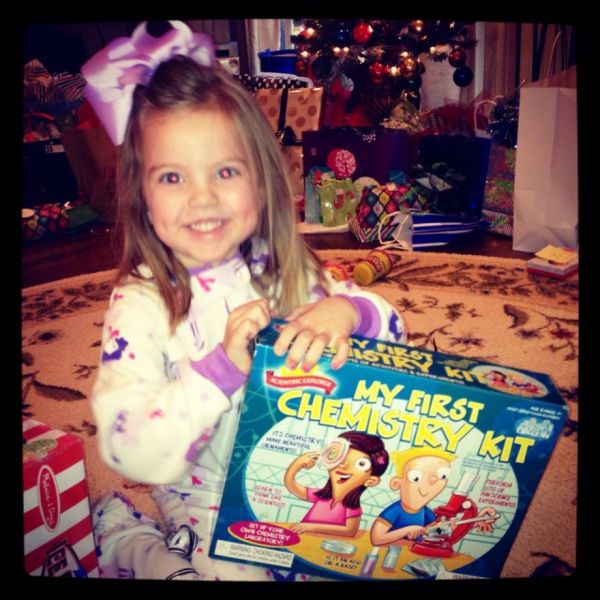 Behold, the joy of science! Redditor templ001 posted this photo of his niece Laeana with the most awesome present Santa Claus left. Oh yeah, she also got Barbies and stuff. Link
Santa Solo Frozen in Carbonite
Posted: 26 Dec 2012 01:30 PM PST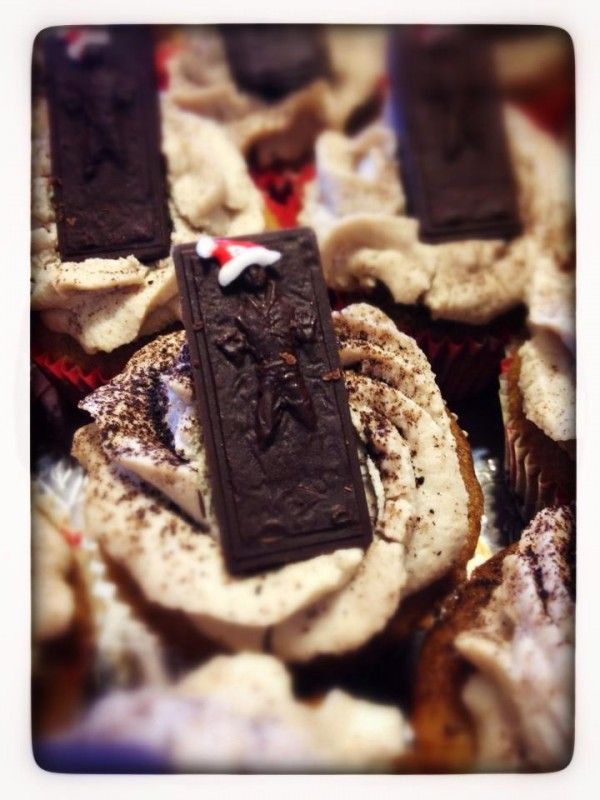 "I will not give up my favorite Christmas cupcake. I like Solo where he is." Nonetheless, I think that the mightly Jabba will soon gobble up Heather Creegan's funny cupcakes.
Posted: 26 Dec 2012 01:00 PM PST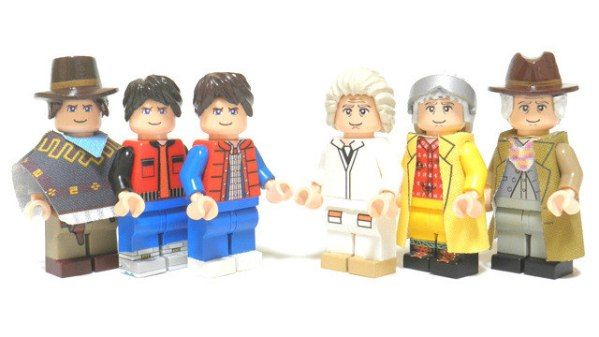 Suggested by fans, the LEGO company will be rolling out a Back to the Future LEGO Set in mid-2013. And better yet, the designers are donating their royalties to the Michael J. Fox Foundation for Parkinson's research. Link
Posted: 26 Dec 2012 12:30 PM PST
Posted: 26 Dec 2012 12:00 PM PST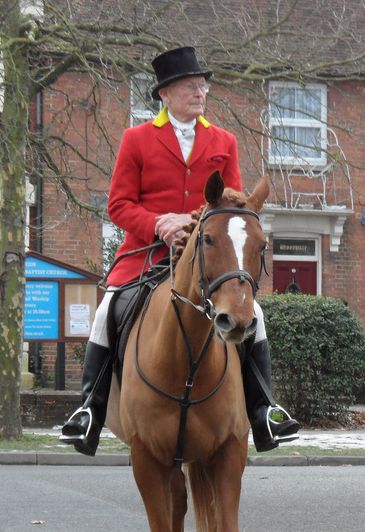 The day after Christmas is Boxing Day, a holiday observed by a large part of Europe and most of the former British Empire -except for America, who broke away fairly early. Mental-floss has a roundup of Boxing day facts for those who aren't familiar with the customs of this odd holiday.
Boxing Day is observed every year on December 26. Before it took on its feistier name, the holiday was known as St. Stephen's Day.
*
Many historians think the holiday's name is derived from the church practice of opening alms boxes the day after Christmas and distributing money to the poor.
*
Historically, British employers followed the church's lead by sliding workers and servants gifts or cash on December 26. Merchants tossed servants a few coins, too, for bringing in a household's business.
And there's more. Who knows? You may want to try out the traditions. Link
(Image credit: Flickr user rubyblossom)
Royal Mail Plans to Release <i>Doctor Who</i> Stamps
Posted: 26 Dec 2012 11:30 AM PST
You'll be able to communicate across space but not time using stamps from the UK's Royal Mail. That agency plans to release stamps in March showing all eleven known incarnations of the Doctor and four of his enemies:
Andrew Hammond of the Royal Mail said the commemorative selection "pay tribute to the brilliant actors that have played the Doctor over the years, as well as the adversaries that helped make the show so popular"
The Bloody Truth About Serbia's Vampire
Posted: 26 Dec 2012 11:00 AM PST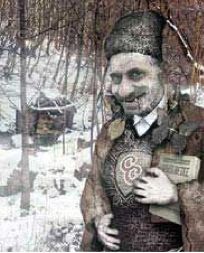 Last month, we posted a story about the Serbian village of Zarožje, when town officials issued a warning about a vampire that may have been disturbed. To get the lowdown on such superstitions, National Geographic News talked to Mark Collins Jenkins, author of the book Vampire Forensics, and forensic archeologist and anthropologist Matteo Borrini.
Is it crazy that the town council issued a public health warning?

MCJ: Historically speaking, it's not that crazy. In past centuries, outbreaks of vampire hysteria, especially in Central and Eastern Europe, often coincided with outbreaks of tuberculosis and deadly plagues. Peasants had no other way of explaining why everyone was dropping dead but by blaming it on witches and vampires or other supernatural creatures. In 19th-century New England, tuberculosis wasted entire families, one after another. Superstitious people believed that the first to die was somehow feeding on his surviving family members. (Related: "'Vampire of Venice' Unmasked: Plague Victim & Witch?")

Why did people begin believing in vampires?

MB: Especially between the 16th and 18th centuries, little was known about what happens to the body after death. During plagues and epidemics, mass graves were continually reopened to bury new dead. People sometimes exhumed the bodies of the diseased to look for possible causes. Reports about vampires describe exhumations weeks or months after death, during the body's decay.

MCJ: Bodies weren't embalmed back then. They rot, to be quite frank, in grossly different ways. If a bunch of people in the village started dying in mysterious ways, they'd dig up the first one to die, see that his corpse didn't look quite right, assume that was blood flowing down those cheeks (it's called purge fluid in modern forensics, a natural byproduct of decomposition, but it's not blood), and generally burn the body. End of vampire.
Read the rest at NatGeo. Link
Artist Carves Beautiful Designs Into Mushrooms
Posted: 26 Dec 2012 10:30 AM PST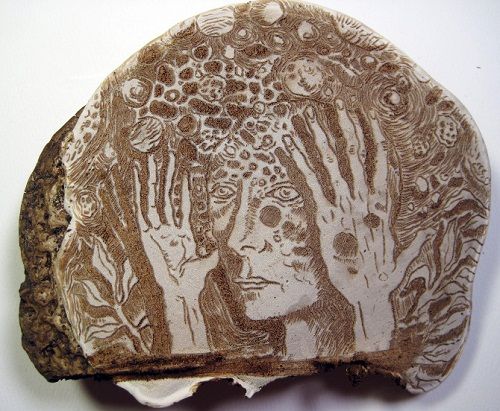 You might say artist Corey Corcoran is a fun guy, because he creates works of art on mushrooms.
Corey has chosen the Artist Conk mushroom as his canvas, and he carves images into the surface which are very intricate but still retain a sense of the natural texture.
His works are rotting away as we speak, so check them out before they're reclaimed by the earth.
Link --via DesignTAXI
Posted: 26 Dec 2012 10:00 AM PST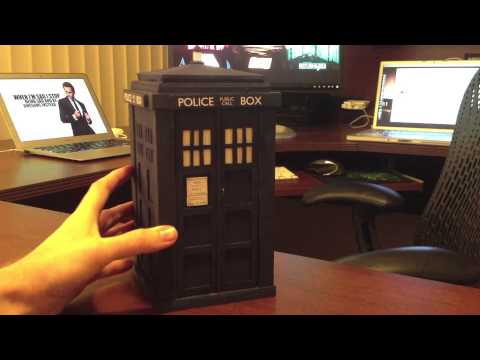 (YouTube link)
The running joke on the TV series Doctor Who is that the time machine disguised as a police call box is bigger on the inside than on the outside. Greg Kumparak built a model TARDIS that really is bigger on the inside, by using augmented reality technology. Read about how he did it at his site. Link -via Metafilter
Posted: 26 Dec 2012 09:30 AM PST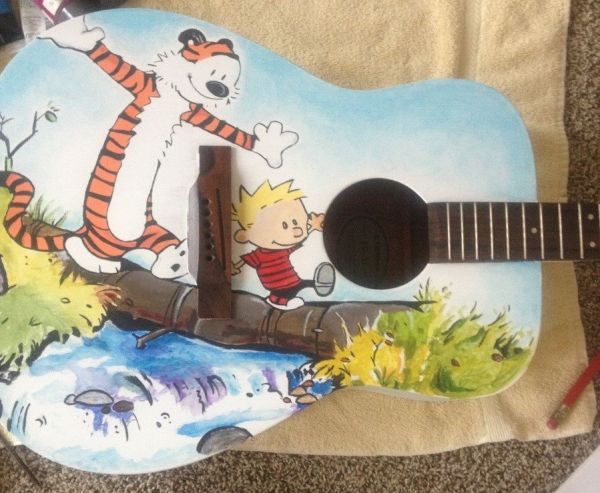 Redditors BigWiggly1 and ellepea27 are refinishing a guitar. BigWiggly1 sanded and primed it. Ellepea27 then painted this charming scene on the top with acrylic. They've ordered a transparent pickguard so that the image will be on full display when they've finished the project.
Link -via Comics Alliance
Seven Islands Overrun By Animals
Posted: 26 Dec 2012 09:00 AM PST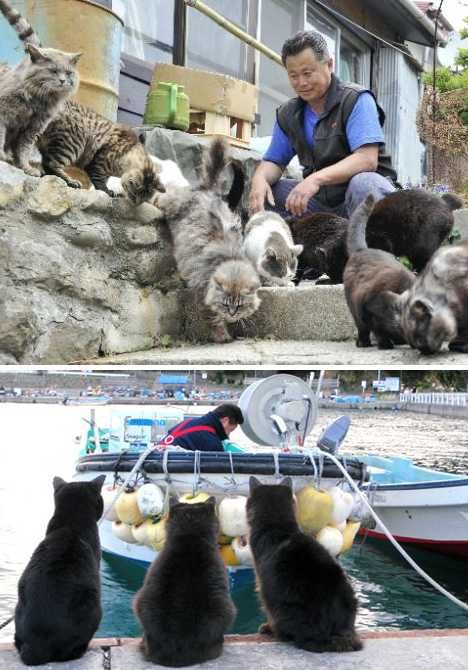 Sometimes when humans migrate, to an island for instance, they bring animals with them that aren't native to the destination, and the balance of nature becomes severely out of whack.
Visit the seven islands featured and you'll find a whole lot of one kind of animal, from the cats of Tashirojima, Japan to Kaua'i, the chicken island of Hawaii. It's an extremely photogenic crime against nature!
Posted: 26 Dec 2012 08:30 AM PST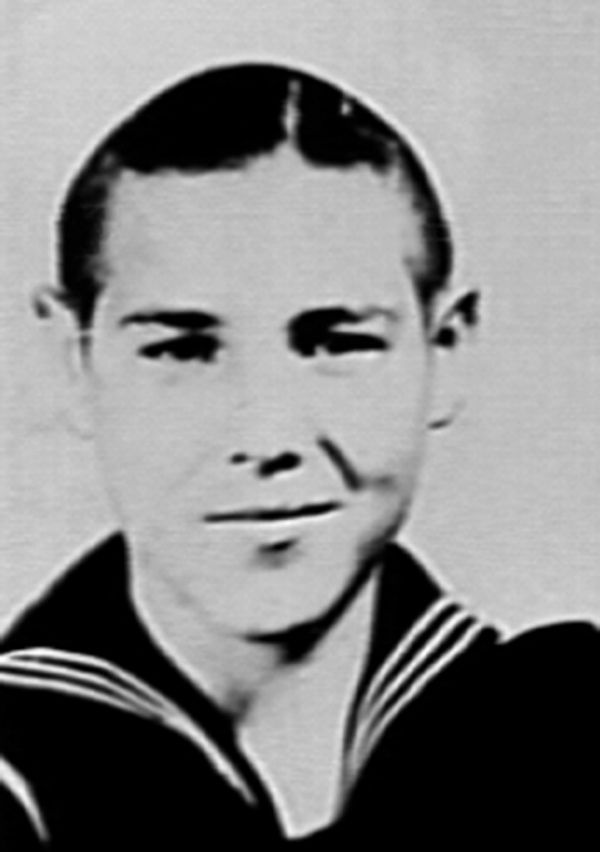 Calvin Graham was only 12 when he became a seaman in the United States Navy. He had already left home to escape an abusive stepfather, and the military was desperate for manpower right after the Pearl Harbor attack that drew the US into World War II. Graham was assigned to the USS South Dakota, which was full of new recruits when it set off for the Pacific theater. In November, Graham turned 13 and the ship was involved in the Naval Battle of Guadalcanal.
Later that evening the South Dakota encountered eight Japanese destroyers; with deadly accurate 16-inch guns, the South Dakota set fire to three of them. "They never knew what sank 'em," Gatch would recall. One Japanese ship set its searchlights on the South Dakota, and the ship took 42 enemy hits, temporarily losing power. Graham was manning his gun when shrapnel tore through his jaw and mouth; another hit knocked him down, and he fell through three stories of superstructure. Still, the 13 year-old made it to his feet, dazed and bleeding, and helped pull other crew members to safety while others were thrown by the force of the explosions, their bodies aflame, into the Pacific.

"I took belts off the dead and made tourniquets for the living and gave them cigarettes and encouraged them all night," Graham later said. "It was a long night. It aged me." The shrapnel had knocked out his front teeth, and he had flash burns from the hot guns, but he was "fixed up with salve and a coupla stitches," he recalled. "I didn't do any complaining because half the ship was dead. It was a while before they worked on my mouth." In fact, the ship had casualties of 38 men killed and 60 wounded.
Graham first received a Bronze Star and a Purple Heart. Then he was jailed for lying about his age. When he was released, his was stripped of his medals, his military benefits, and even any record of serving. When he turned 17, he joined the Marines to avoid being drafted by the Army, since he had no military record. It took many years, but Graham finally received an honorable discharge from the Navy in 1978, and the last of his medals were restored in 1994. Read Graham's story at Smithsonian's Past Imperfect blog. Link
You are subscribed to email updates from Neatorama
To stop receiving these emails, you may unsubscribe now.
Email delivery powered by Google
Google Inc., 20 West Kinzie, Chicago IL USA 60610