---
Posted: 26 Dec 2012 05:00 AM PST
The following is an article from Uncle John's 24-Karat Bathroom Reader.
With CDs and digitally distributed music, album covers aren't as important or as memorable as they once were. But from the 1950s to the 1990s, some became iconic pieces of popular art unto themselves, and many have great stories about how they came to be.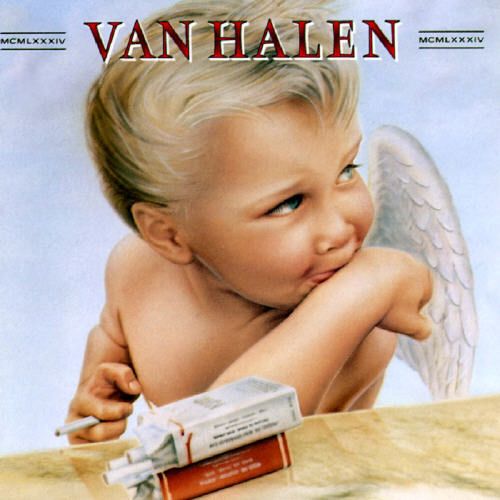 Artist: Van Halen

Album:1984 (1984)

Story: When the art department at Warner Bros. Records asked Van Halen what they wanted for the cover of their sixth album, singer David Lee Roth said, "Dancing chrome women." (He didn't say why.) The Warner Bros. art department brought in Margo Nahas, an airbrush artist and cover designer with a knack for photo-realism. They'd used Nahas before -she'd done Stevie Wonder's Journey Through the Secret Life of Plants and Autograph's That's the Stuff, which actually did depict a metallic woman. Nahas signed on, but after a few weeks, she just couldn't get the chrome women to look real enough to suit her. So she sent her portfolio to Van Halen, hoping it would give them some ideas. But instead of being inspired, they picked one of Nahas paintings that was already done: a winged cherub smoking a cigarette. Naha had painted it from a photograph she'd taken of a friend's four-year-old son (holding candy cigarettes). 1984 went on to sell 10 million copies.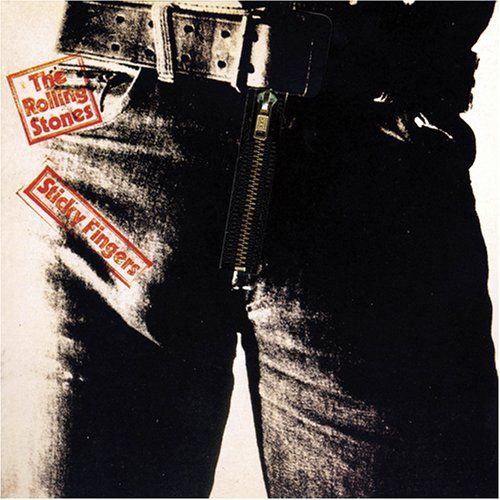 Artist: Rolling Stones

Album: Sticky Fingers (1971)

Story: The Rolling Stones liked to shock and titillate, and they aimed to do the same with the cover of Sticky Fingers. They knew they'd get something controversial if they hired legendary pop artist Andy Warhol to design it. Warhol's idea: a photo of a man's crotch in a pair of tight blue jeans. Warhol then hired several male models and invited them all to his New York studio, The Factory, for a photo shoot. In all, six men were photographed, but Warhol never took notes about who they were and never revealed whose image actually ended up on the album cover. Among the candidates: Jay Johnson, the twin brother of Jed Johnson, who was Warhol's lover at the time, as well as Painter Corey Tippin. (It definitely wasn't, as an urban legend suggests, Mick Jagger.) But a crotch wasn't suggestive enough for Warhol. He designed the jeans on the cover to include a real, working zipper. When zipped down, a glimpse of white cotton underwear was revealed with the message "This photograph may not be, etc." After the first pressing, the real zippers were replaced by a picture of a zipper because the real ones were too expensive to produce (and they damaged the record inside).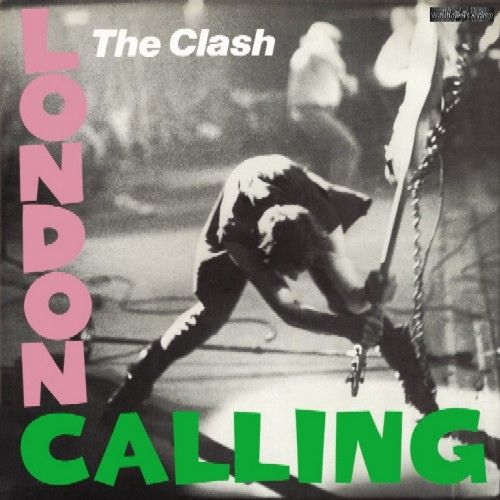 Artist: The Clash

Album:London Calling (1979)

Story: The British punk band hired photographer Pennie Smith to take pictures during their 1979 U.S. tour. At a show in New York City's Palladium theater, Smith snapped a shot of bassist Paul Simonon hunched over, about ready to smash his instrument in a moment of urgency, anger, and passion -a very punk moment. Later that year, when the band was trying to decide on a cover shot for their upcoming album London Calling, they asked Smith for her tour shots. All four band members agreed on the shot that best represented their music and its destructive, cathartic, cynical emotions: the one of Simonon about to smash his bass. Smith thought it was a terrible shot (it was slightly out of focus). All the better, thought the Clash, and CBS Records agreed.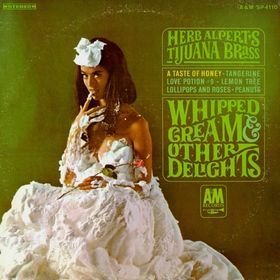 Artist: Herb Alpert and the Tijuana Brass

Album:Whipped Cream & Other Delights (1965)

Story: Can you guess what 1960s band rivaled The Beatles in album sales? It was the Tijuana Brass, an instrumental group popular with adults. In 1965 A&M Records' head Jerry Moss suggested to Alpert (also an A&M founder) that the Tijuana Brass should do an album of food-themed songs. They had a lot of familiar standards to choose from- "Whipped Cream," "A Taste of Honey," "Tangerine," and "Lollipops and Roses," among others, and Alpert titled the album Whipped Cream & Other Delights. A&M art director Peter Whorf had an idea for the cover that was very edgy for its time: a naked woman covered in whipped cream, giving the camera a seductive look. He set up a shoot with Dolores Erickson, a model who'd appeared in ad campaigns for Max Factor and on other A&M albums (she was a friend of Alpert's). Two notable facts about the naked woman in whipped cream: 1) she wasn't really naked -she was wrapped in a white cotton blanket; and 2) She wasn't really covered in whipped cream -it was shaving cream, which doesn't disintegrate under hot studio lights as quickly as the dairy stuff. (She was also about three months pregnant.) Alpert and Moss had major reservations about the image -they thought it would get censored, or at the very least, rejected by older, conservative listeners. Neither thing happened. Whipped Cream & Other Delights sold six million copies. The most memorable part of that album? The cover.


Artist: The Who
Album:The Who Sell Out
Story: In 1967 The Who were preparing their first album for Track Records, a new label formed by the band's managers. They had complete creative freedom, and guitarist Pete Townshend, the band's primary songwriter, decided they'd do a concept album about the increasing commercialization of rock music. Between the songs were real jingles recorded by a real jingle-recording company for real products, implying that the band had "sold out." The Who wanted the sleeve to look like the band had sold out as well, so graphic designers David King and Roger Law came up with an idea for four panels, each depicting one of the four members in an advertisement for one of the products mentioned in the album's jingles. Rock photographer David Montgomery shot the four scenes: One the front, Townshend applies a giant stick of Odorono deodorant to his underarm, and singer Roger Daltrey sits in a bathtub full of Heinz baked beans. On the back, drummer Keith Moon uses a giant tube of Medac pimple cream, and bassist John Entwhistle wears a leopard-skin Tarzan suit and stands next to a bikini-clad woman in a parody of the Charles Atlas bodybuilding product ads. While the cover helped propel the album to the Top 20 in both the U.S. and Britain, the band was sued by makers of the real products for copyright infringement. The disputes were settled, but Medac had to be changed to Clearasil for the album's release in Australia. (Another problems: the beans that Daltrey sat in arrived in two giant, frozen cans, and he claimed to have caught a mild case of pneumonia.)
___________________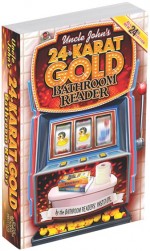 The article above was reprinted with permission from Uncle John's 24-Karat Bathroom Reader.
Since 1988, the Bathroom Reader Institute had published a series of popular books containing irresistible bits of trivia and obscure yet fascinating facts. If you like Neatorama, you'll love the Bathroom Reader Institute's books - go ahead and check 'em out!
Four Stormtroopers And That One Guy
Posted: 26 Dec 2012 04:00 AM PST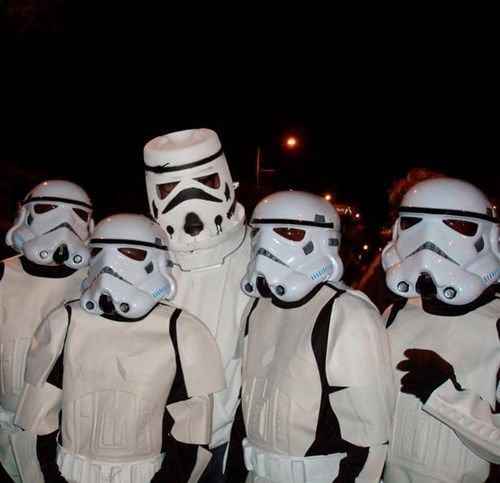 You know how there's always that one guy in the group who's constantly messing up and making all of his friends look bad?
Well, when you're dressed like Stormtroopers that one guy sticks out like a sore thumb with a painted bucket on his head.
Don't invite that one guy to your costume party, or you may have to photoshop him out of all your pictures!
Posted: 26 Dec 2012 03:00 AM PST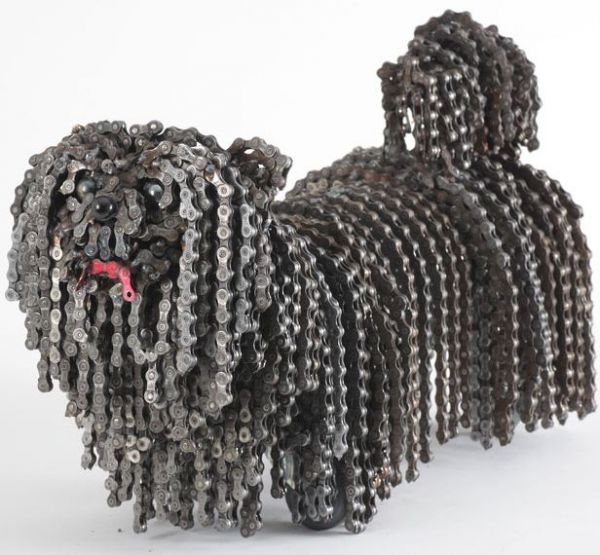 With scavenged bicycle chains, gears and other parts, Israeli artist Nirit Levav creates sculptures of shaggy dogs. From a distance, they're impressively realistic.
Artist's Website -via Lustik
Posted: 26 Dec 2012 02:00 AM PST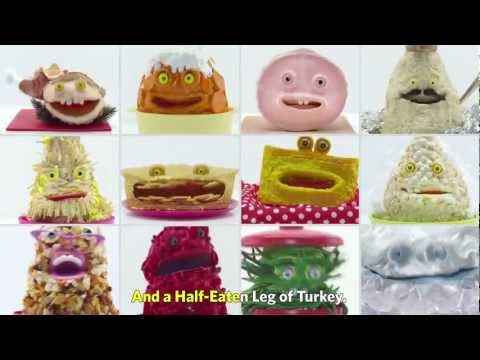 (YouTube link)
This ad get pretty yucky as it goes along. It bet it causes quite a few people to head for a restaurant after Christmas. You can see a longer version http://youtu.be/te0631C8Dz8 if you really want to. -via Daily of the Day
Posted: 26 Dec 2012 01:00 AM PST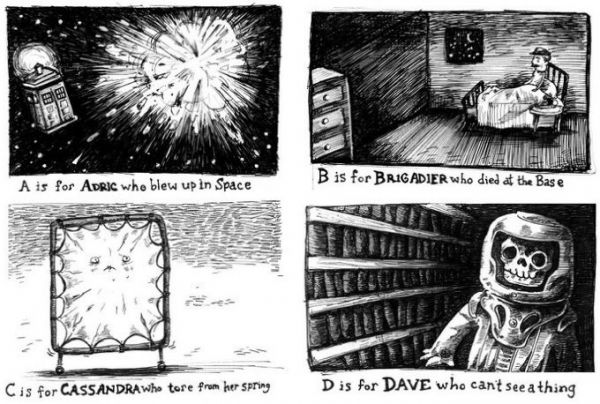 Edward Gorey's The Gashlycrumb Tinies is an alphabet book that describes the ghastly fates of unlucky children. Eat Toast created this alternative version for the Doctor Who universe. You can view the rest at the link.
I'm at a loss to understand why anyone would want to be the Doctor's traveling companion. There's no money in it, but there are terrible risks. If you fly around in a time machine, why not use it to become fantastically wealthy? Rory and Amy in particular needed to be slapped around with a hardbound copy of The Rules of Acquisition.
Posted: 26 Dec 2012 12:00 AM PST
(YouTube link)
It's almost 2013, and once again, Rhe DeVille has updated my favorite New Year song, this time as a club mix and a story in the video. When the credits roll, the song is not over. Let's hope your new year is this happy! -Thanks, Rhe!
Posted: 25 Dec 2012 11:00 PM PST
Mark Sparfel, a French artist, transforms old, discarded furniture into animal sculptures. Some of them appear to be almost leaping into action in what Sparfel calls "poetry made from wood."
Link -via Design Boom
Amazing Looking Street Cart Serves Up 3D Printed Chocolate
Posted: 25 Dec 2012 10:00 PM PST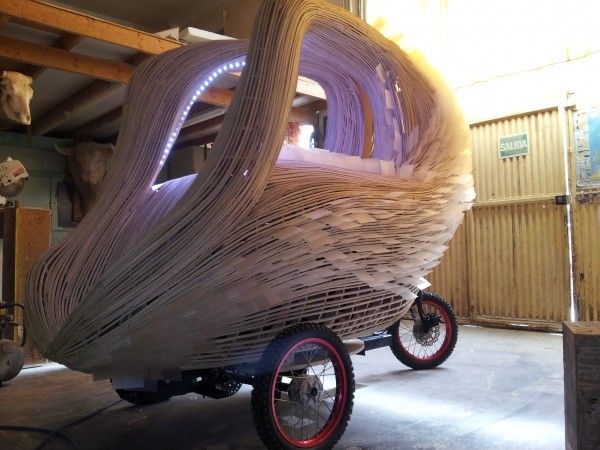 Robots in Gastronomy want to bring their delicious 3D printed chocolate art to the people, so they built this unique looking cart to drive their MakerBot 3D printer around town.
They premiered their chocolate printing cart at the Istanbul Design Biennial in October, and hope to have these wooden art carts ready to hit the streets by 2013.
If the shape of the cart doesn't get people's attention the chocolate treats it prints out certainly will, read on at the link below if you want to see the kind of sugary goodness this crafty cart will be printing for the people.
Amazing Norwegian Kicker Can Put a Football Anywhere He Wants
Posted: 25 Dec 2012 09:00 PM PST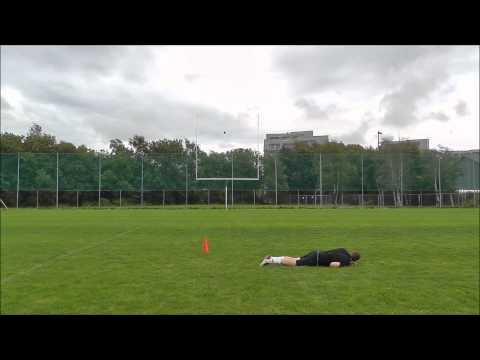 (Video Link)
Thanks to this viral video, Norwegian football player Havard Rugland has been offered the chance to tryout with the New York Jets:
The video shows the 27-year-old performing some outrageous tricks and kicks, from nailing 60-yard field goals to soccer-style scissor kicks and volleys with American footballs. [...]

Rugland has no prior American football experience but kicking coach Michael Husted says that if he continues to develop, he could reach the NFL.

"Havard has incredible talent as a kicker," Husted, who played nine seasons as an NFL kicker, told the Seattle Post-Intelligencer newspaper. "He has a cannon for a leg. As he continues to refine his technique, he could be one of the strongest kickers in the NFL."
I can believe it--especially after watching his last kick in the video. Is that real? I mean, can a human being actually do that intentionally?
Posted: 25 Dec 2012 08:00 PM PST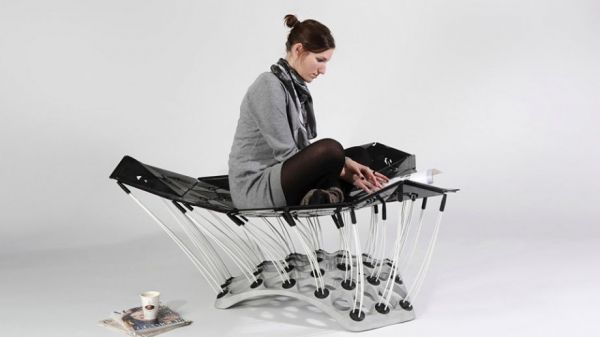 Are you tired of feeling grounded while you're sitting on your duff?
Plant your kiester on the 1001 chair and you'll feel like you're surfing on a cloud, as 90 elastic rods suspend you above the ground in floating comfort.
The chair was created by Thomas Hiemann and Markus Dilger, and so far they have no plans to manufacture the chair, but maybe public interest via the interwebs will convince them to get these neat seats into retail stores so we can all float on.
Posted: 25 Dec 2012 07:00 PM PST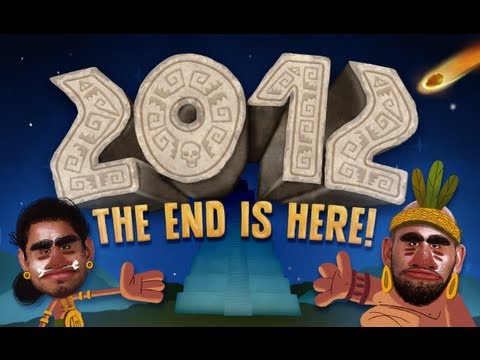 (YouTube link)
Jib Jab's annual year-end wrap-up is one for the records, just like 2012 was.
Wedding Bouquet Christmas Tree Ornament
Posted: 25 Dec 2012 06:00 PM PST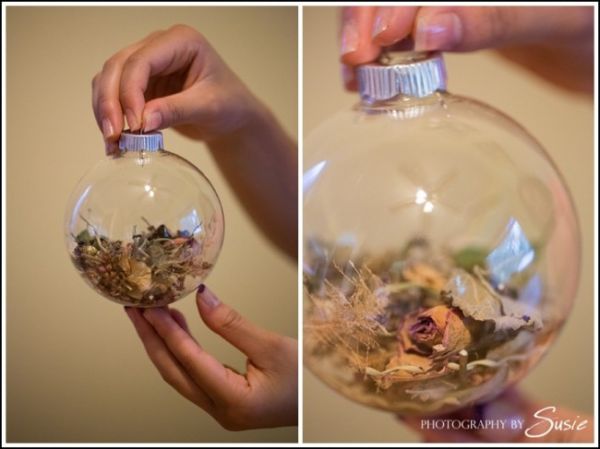 Was your wedding close to Christmas? If so, you may wish to remember both happy occasions as Susie did. She dried her bridal bouquet, then cut off the leaves, berries and flowers. Susie writes:
After I filled it up, I put the top back on the ornament, and voila! I have a wonderful keepsake for my Christmas tree this winter. It's so great, because now I have my bouquet preserved, and it's not sitting around collecting dust anymore.
Link -via Offbeat Bride
Posted: 25 Dec 2012 05:00 PM PST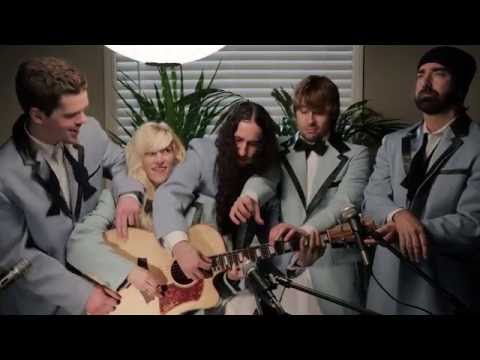 (YouTube link)
YouTube asked its most viral participants to star in a mash-up of culturally defining moments of 2012. That includes, PSY, Freddie Wong, Rhett & Link, Felicia Day, and more. Can you spot all the viral references of the year?
Posted: 25 Dec 2012 04:00 PM PST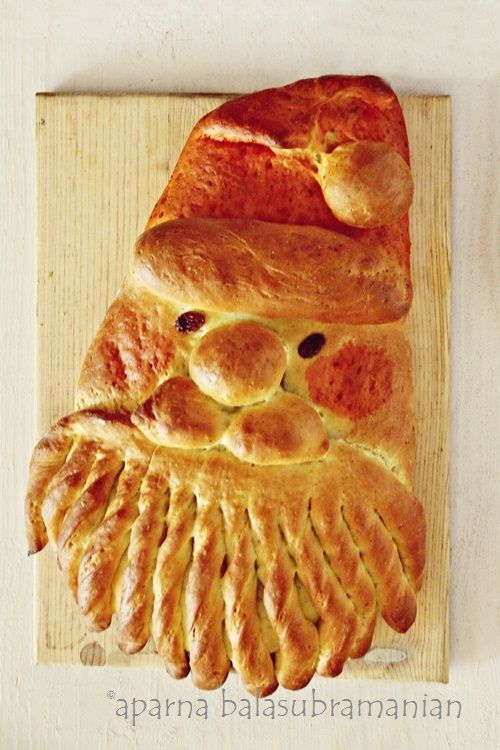 If Santa's belly shakes like a bowl full of jelly, then spread some of it on this loaf made by Arpana Balasubramanian. Her Santa Claus bread consists of layers arranged to look like the jolly old elf. You can find her recipe at the link.
Link -via Tasteologie
Marvel's Awesome 2012 Holiday Cards
Posted: 25 Dec 2012 03:00 PM PST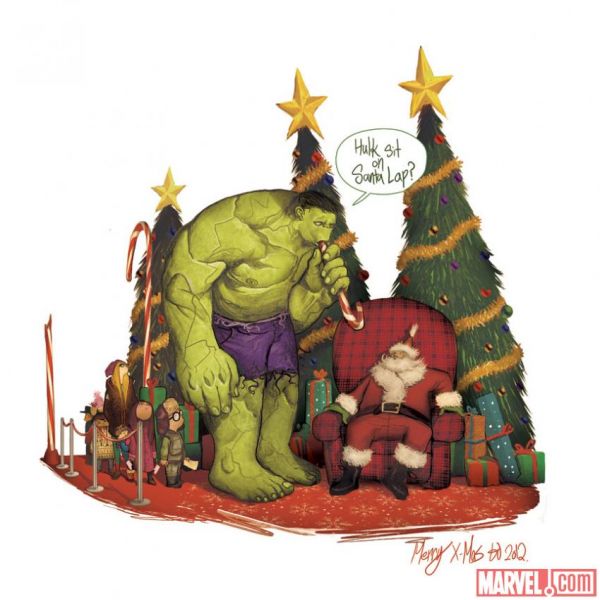 The Marvel Comics company celebrated the 2012 holiday season by creating some really neat cards which feature art from some of their top artists, such as Neil Edwards, Mike del Mundo and Pepe Larraz just to name a few.
The cards feature Marvel characters getting into the spirit of the season in the most superheroic way possible, and they're so cool you'll want to print them out for yourself!
20 Adorable Videos and Photos of Critters Celebrating Christmas
Posted: 25 Dec 2012 02:00 PM PST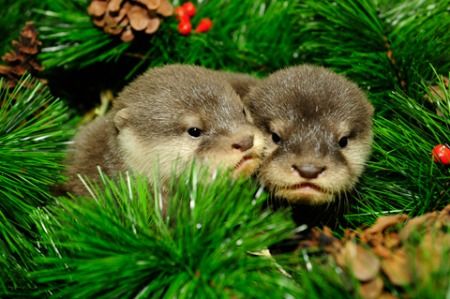 We've already posted videos and photos of animals having a happy holiday season, but just in case you still need more adorable holiday images, this Oddee article is stuffed with 20 fantastic pictures and videos of critters having a happy Christmas.
Posted: 25 Dec 2012 01:30 PM PST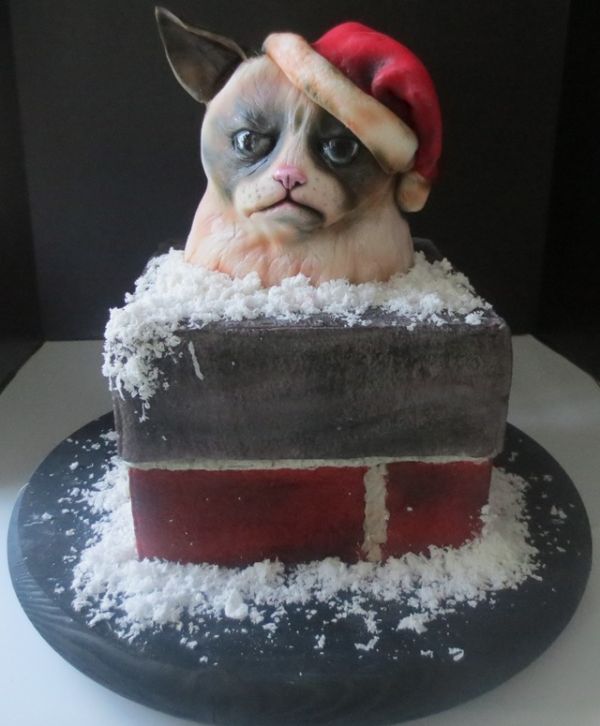 Like the Grinch, Tardar Sauce just had to discover the spirit of Christmas before getting into the right mood. Also, not get stuck in a chimney. There's nothing to do about that problem until the morning. Cake artist Julie F made this delectable grump.
Leonard Nimoy's Ballad Of Bilbo Baggins
Posted: 25 Dec 2012 01:00 PM PST
Geek icon Leonard Nimoy is apparently a bit of a Tolkien nerd, and once upon a magical turtleneck wearing time he recorded a little ditty called The Ballad Of Bilbo Baggins.
Enjoy with your favorite dwarf and a good deep mug of beer.
--via GeekTyrant
Man Discovers That Santa He Visited 13 Years Ago Is His Father-in-Law
Posted: 25 Dec 2012 12:30 PM PST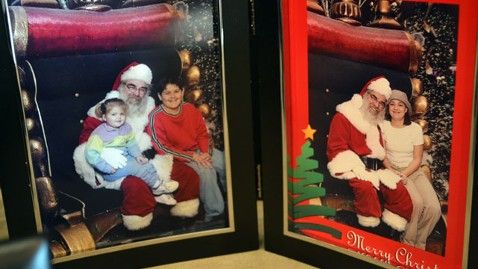 Chris Burd, 27, was engaged to his fiancée when he and his relatives were looking through his old childhood photos. They noticed that one of them, taken when he was 13 years old, showed him sitting on the lap of a mall Santa Claus. That Santa Claus was his own future father-in-law:
"My mom was going through old photos and said she thinks one of my old Santa pictures was me sitting on my fiancé's dad's lap," Chris told ABCNews.com. "And I just told her she's nuts. So later in the week I went over to the house and saw it and decided it wasn't him. But later on, I took a closer look and was like, 'Oh my God. That's Liz's dad."

Chris and Liz Burd had just gotten engaged last December, right around the same time Chris's mother, Charlene Burd, was pulling out pictures from past Christmases to use for a holiday scrapbook gift.

"Right after we got engaged, my now-mother-in-law was looking through pictures and at first glance was like, 'No, that cannot be,'" Liz said. "In the six years we had been together, this picture had never come up. She [Charlene] looked closely and thought, 'Wow. That looks like Elmer."
Link -via The Mary Sue | Photo: Liz Burd
9 Adorable Videos of Critters Celebrating Christmas
Posted: 25 Dec 2012 12:00 PM PST
You've seen pictures of critters getting ready for Christmas, but now it's time for some video footage of animals actually celebrating the holidays. Consider it our gift to you.
Here are red kangaroos, chimps, bears, meerkats and more enjoying a little bit of holiday enrichment treats at the Taronga Park Zoo in Sydney.
Cats love Christmas trees, even if it's only because they provide them with an excellent place to hide during the hectic holiday season.
What do big cats want for Christmas? Presents, of course, and thanks to lionstigersandbears.org we now know how cute they are when opening their gifts.
Most pooches are content to sit around and wait for the holiday season, but this family of canines was willing to pitch in to help get their house ready for Christmas.
I don't know about you guys, but I have a hard time not imagining Chris Farely reading the title of this last one in the same tune as his "fat guy in a little coat" bit from Tommy Guy.
Unlike their big cat counterparts, a cat's favorite part of Christmas aren't the gifts, but the boxes that hold them. Here's Tink and Ranj enjoying all the fun the holidays can offer.
If you can't wait for the Super Bowl only because you're dying to tune into the Puppy Bowl, well, this should hold you over in the meantime.
Not everyone is excited to see Santa. In fact, little Dexter here is downright terrified of him and ready to protect his turf from the fat man.
And here are some more big kitties celebrating the best way they know how -by destroying everything they set their eyes on.
Merry Christmas!
Posted: 25 Dec 2012 11:30 AM PST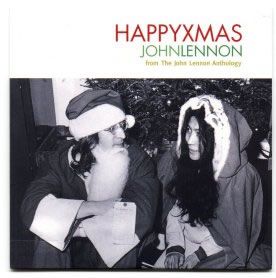 Neatorama presents a guest post from actor, comedian, and voiceover artist Eddie Deezen. Visit Eddie at his website.
John Lennon and the Beatles have a fairly substantial number of Christmas-themed records. The Beatles recorded a special Christmas record for their fans every year from 1963 to 1969. These seven records are not only very funny, but are now quite nostalgic to listen to, so many years after the band's breakup.

After the Beatles split in 1969, three of the four Beatles paid Christmas a special tribute on record. Paul McCartney's "Wonderful Christmastime" (1979) is typical McCartney lighthearted entertainment. It has remained a classic annual song at Yuletide. Ringo Starr recorded a full Christmas album in 1999 called I Wanna Be Santa Claus. Only George Harrison omitted a Christmas record or album from his solo resume. George did, however, put out that rarest of rare, a New Year's Eve record, called "Ding Dong Ding Dong" in 1974.

In 1969, John Lennon and his wife Yoko Ono had giant poster-billboards put up around the world in various major cities featuring the inscription (in black letters on a stark white background) "War is over! If you want it. Happy Xmas from John and Yoko." The posters appeared in Paris, London, Hollywood, Athens, Tokyo, Berlin, Rome, and Toronto. Perhaps most pointedly, one also appeared in Times Square, New York, directly across the street from a Marine recruiting center. This was right in the heart of the most political phase of Lennon's fascinating career (the late '60s and early '70s).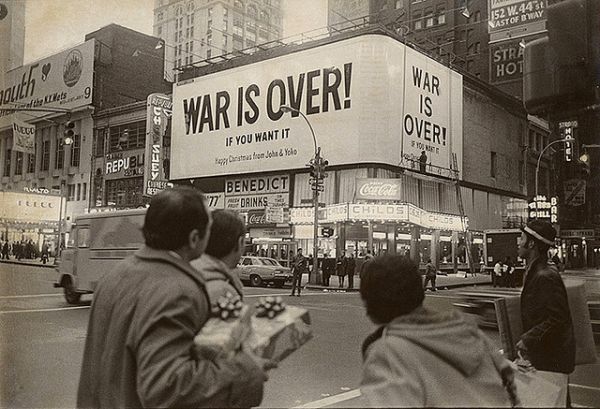 John and Yoko jointly composed a song to go along with the posters in a New York City hotel room. The song's actual melody and chord structure were taken directly from a folk song about a race horse called "Stewball."

The John and Yoko song, called "Happy Xmas (War is Over)," was recorded at the Record Plant in New York City over October 28th and 29th in 1971. The song was produced by John's old friend Phil Spector. It featured four guitarists: Hugh McCracken, Stuart Scharf, Chris Osborn, and Teddy Irwin. Famed bassist Klaus Voorman was scheduled to play, but his plane was delayed on the day of recording and an unknown player filled in for him. Nicky Hopkins played "keyboards, chimes, and glockenspiel" along with Yoko. Jim Keltner played drums. The Harlem Community Choir (30 kids strong) sang the chorus. When the song was released, it was credited to John & Yoko/Plastic Ono Band with the Harlem Community Choir.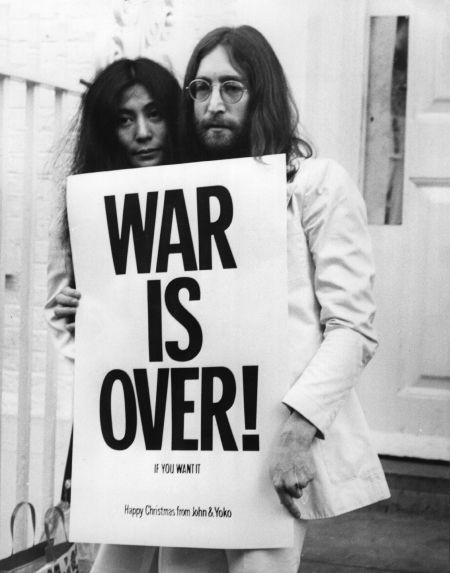 The song begins with whispers: Yoko whispers "Happy Christmas, Kyoko" (to her daughter) and John whispers "Happy Christmas, Julian" to his son. These whispers have been mistakenly credited as "Happy Christmas, Yoko" and "Happy Christmas, John" by incorrect sources.

The song was originally released by Apple Records on green vinyl in December of 1971. Yoko's "Listen, the Snow is Falling" was its B-side. Probably released too late to gain any traction, the song failed to chart on the Billboard Hot Singles chart in the US in 1971. It wasn't released in the UK at all that year. It did reach #3 on Billboard's Christmas singles chart. It hit #36 on the Cash Box Top 100 singles chart. It was to peak at #4 the next year in the UK.

After John Lennon's tragic death in December of 1980, the song was re-released and almost went to #1 on the UK charts (it crested at #2, behind "There's No One Quite LIke Grandma" by the St Winifred's School Choir).

"Happy Xmas (War is Over)" was voted the #9 favorite Christmas song of all time by music channel VH1 in 2004. It is one of the rare Christmas records to use the shorter "Xmas" spelling on its label instead of the more usual and traditional "Christmas."

Never one to shy away from "borrowing" and being influenced by other sources, John Lennon was also very honest and forthright about admitting such. Possible influences on "Happy Xmas (War is Over)" include Phil Och's 1968 song "The War is Over." John also may have been inspired by the Doors' 1968 song "The Unknown Soldier," in which Jim Morrison cried out at the end "War of Over!" Also, Sly and the Family Stone's 1968 song "Everyday People" may have given John the "white, black, yellow, and red" folks line.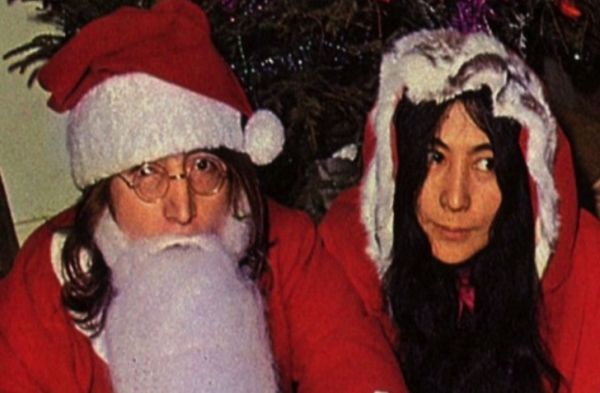 There is one last interesting point about "Happy Xmas (War is Over)." It is Yoko Ono's finest-ever performance. Instead of the usual Yoko screeching shrieking, et al, we all all so accustomed to, her voice is actually quite pleasant on this record. She sings fairly evenly and smoothly and warbles very nicely as the song's female lead.

Although the song is overtly political, it is not usually though of as a "political song." Rather, like another of John's political manifestos "Imagine," recorded that same year, "Happy Xmas (War is Over" has remained a Christmas holiday standard for forty years and is still going strong.

The official video for "Happy Xmas (War is Over," produced in 2003, contains images that may be disturbing for some viewers.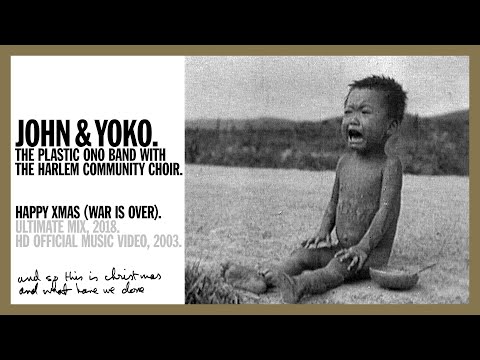 (YouTube link)
Posted: 25 Dec 2012 11:00 AM PST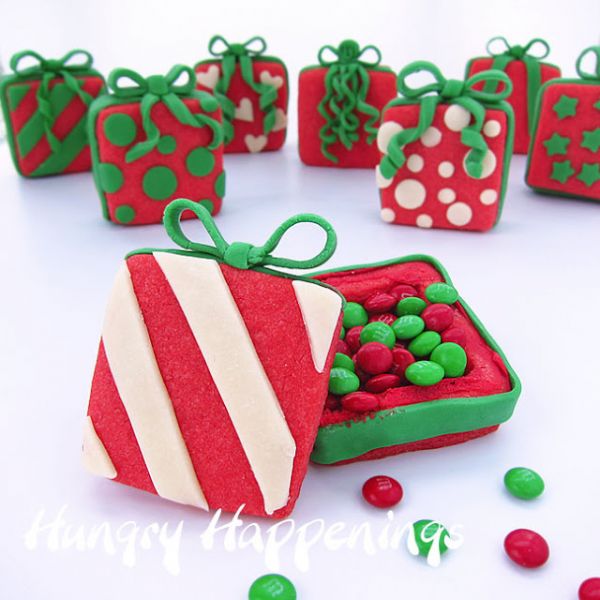 Everyone needs a nice gift for Christmas, but if you can't afford to buy them something, these great present cookies will provide a great treat packed with surprises.
1898: The First Christmas Movie
Posted: 25 Dec 2012 10:30 AM PST

(Video Link)
Long before Miracle on 34th Street and It's a Wonderful Life, there was Santa Claus. Not only was this the first Christmas movie--it was among the first movies on any topic ever made. George Albert Smith, a British pioneer of filmmaking, produced it in 1898. This short film was a technical marvel of its age:
What makes this treatment considerably more interesting than a conventional piece of editing is the way that Smith links the shots in terms of both space and time, by placing the new image over the space previously occupied by the fireplace, and continuing to show the children sleeping throughout (their bed occupies the left-hand side of the screen throughout the entire film). Santa then emerges from where the fireplace used to be, distributes the presents, and disappears via another jump cut.

This is believed to be the cinema's earliest known example of parallel action and, when coupled with double-exposure techniques that Smith had already demonstrated in the same year's The Mesmerist andPhotographing a Ghost, the result is one of the most visually and conceptually sophisticated British films made up to then.
Link -via Nag on the Lake
Posted: 25 Dec 2012 10:00 AM PST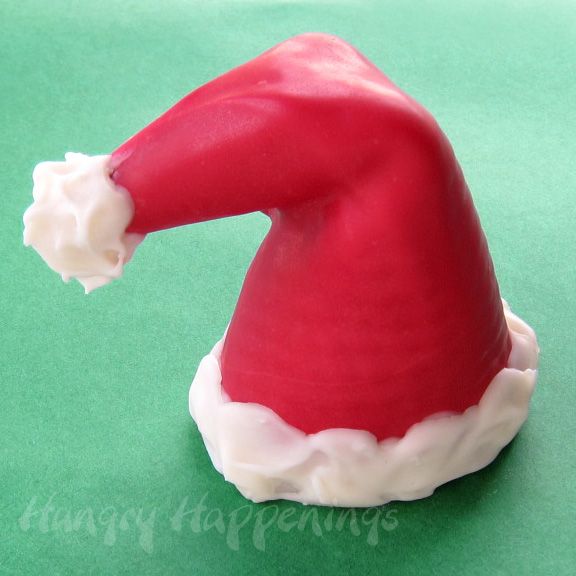 All you need to make your own great Santa hat is a little water to bend the cone and some warm red melting chocolate to add some color. Holiday Happenings has all the details to make your own.
Posted: 25 Dec 2012 09:30 AM PST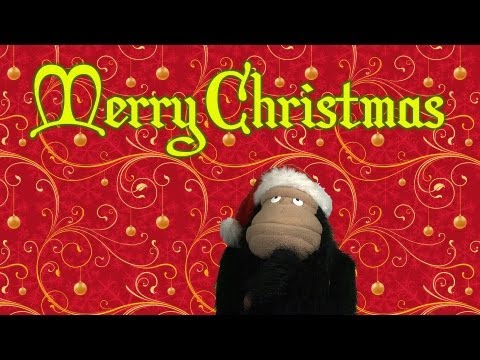 (YouTube link)
Sure, you can sing along, even if you don't know the words …because there aren't any! A Christmas treat from Glove and Boots. -via Tastefully Offensive

Posted: 25 Dec 2012 09:00 AM PST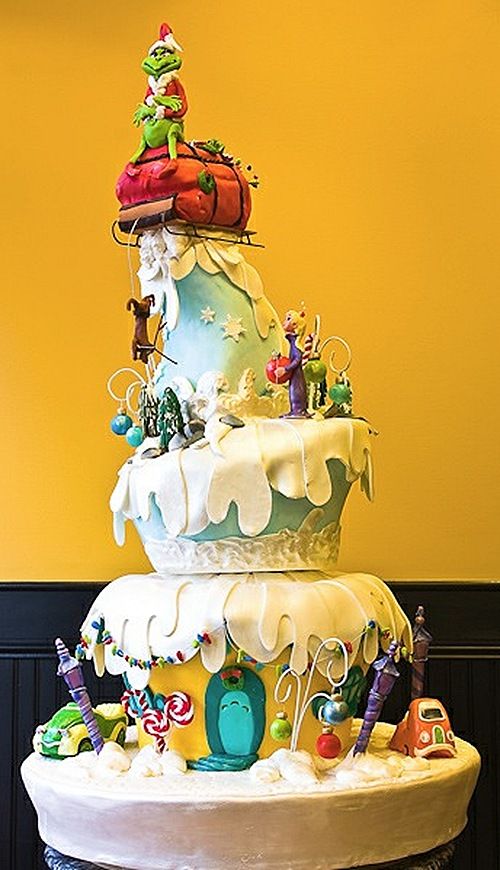 Every detail of this great amazing Grinch cake is simply amazing from the Whoville home at the bottom to the massive mountain with Max hanging off the edge to the Grinch's grouchy mug. With a cake this fantastic, you'd better re-read the story to everyone around before cutting into it, just so everyone can recall just how many details are incorporated into the design.
Sir Christopher Lee's Heavy Metal Christmas Album
Posted: 25 Dec 2012 08:30 AM PST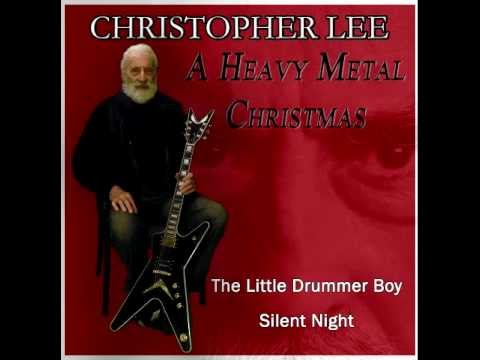 Sir Christopher Lee wants you to have a rockin' good Christmas, so he's released a heavy metal holiday album that will burn those boring old Christmas songs down.
Mr. Lee has been working with heavy metal artists such as Rhapsody of Fire since 2005, and his first solo metal album Charlemagne: By the Sword and the Cross won him a Spirit of Metal Award in 2010.
Have yourself a very heavy metal Christmas with the brutally noble sounds of Christopher Lee!
--via Radio Times
The Story of the Christmas Truce
Posted: 25 Dec 2012 08:00 AM PST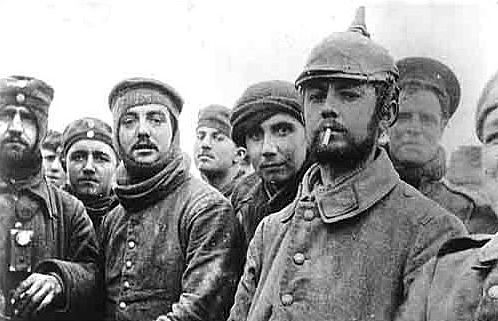 Of all the stories that came out of World War I, the one about the Christmas truce is the one we most enjoy retelling. It wasn't an official truce -in fact, officers on both sides were appalled and took steps to make sure it never happened again. After all, we can't have soldiers from enemy sides drinking and singing together! But it happened on that magical Christmas Eve in 1914, in several areas of the front lines between British and German soldiers.
The first signs that something strange was happening occurred on Christmas Eve. At 8:30 p.m. an officer of the Royal Irish Rifles reported to headquarters: "Germans have illuminated their trenches, are singing songs and wishing us a Happy Xmas. Compliments are being exchanged but am nevertheless taking all military precautions." Further along the line, the two sides serenaded each other with carols—the German "Silent Night" being met with a British chorus of "The First Noel"—and scouts met, cautiously, in no man's land, the shell-blasted waste between the trenches. The war diary of the Scots Guards records that a certain Private Murker "met a German Patrol and was given a glass of whisky and some cigars, and a message was sent back saying that if we didn't fire at them, they would not fire at us."
Some of the German soldiers spoke enough English to communicate, and whiskey and Christmas carols were understood by both sides. Another thing the soldiers had in common was soccer, and there are several reports of Christmas games. Alas, by Christmas evening all had returned to their respective trenches, and the war resumed on the 26th. Read the entire story of the Christmas truce at Past Imperfect. Link
These Chinchillas Don't Wish You A Merry Christmas
Posted: 25 Dec 2012 07:30 AM PST
Zeon and I tried to put together a special Christmas video of our chinchillas for all of you readers, but Chachi and Cinderella just weren't having it. He barked the whole time and she suspiciously eyed the tree, ignoring the delicious papaya treats underneath.
Posted: 25 Dec 2012 07:00 AM PST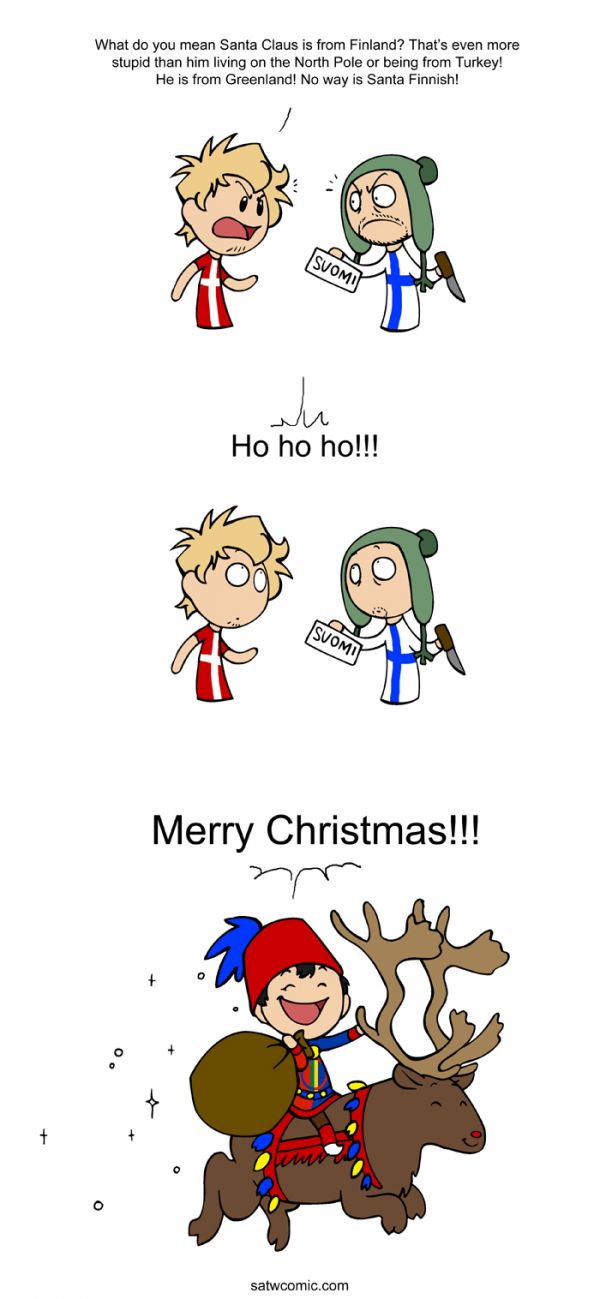 Although Santa Claus supposedly lives at the North Pole, many nations would love to claim him. Scandinavia and the World (SATW) is a webcomic that helps explain the dynamics of the different nations of Scandinavia, and often other European nations, to English speakers. A couple of years ago, it laid the question of Santa's ethnic origin to rest. Sort of.
Everybody knows Santa's sledge is pulled by reindeer, lives somewhere cold and even the Finns say he lives in Lapland.

In other words, Santa is a Sami. Just look at this [link] and deal with it.

The Sami people are the "Indians" of the North and they belong in the same group as Native Americans and Aboriginals. They live in Lapland, an area that stretches from north Norway over Sweden and Finland to Russia.
You are subscribed to email updates from Neatorama
To stop receiving these emails, you may unsubscribe now.
Email delivery powered by Google
Google Inc., 20 West Kinzie, Chicago IL USA 60610