---
An Affordable Brew Your Own Beer Kit
Posted: 23 Dec 2012 05:00 AM PST

Photo: Williams-Sonoma
As both a long time hobbyist and long time beer drinker, I have always considered making my own beer. So you can imagine my delight when I stumbled on this inexpensive Beer Making Kit, well my excitement was palpable. At only $39.95 I think it is quite a steal.
Kit includes: 1-gal. glass fermenting jug. Screw-cap stopper. 3-piece chambered air lock. Racking cane. 4' tubing. Tube clamp. 12" laboratory thermometer. Sanitizer packet. Ingredient mix.
There are also step-by-step instructions to guide you through the process. Sure there may be some additional equipment -pots and pans and stuff- that may be needed, but were talking about brewing beer here. That is at least a 30 day commitment.
Have any of you guys ever brewed your own brew? Tell us about it in the comment section! I am very tempted to start it up myself, so your input may actually influence my decision.

Photo: Williams-Sonoma
Posted: 23 Dec 2012 04:00 AM PST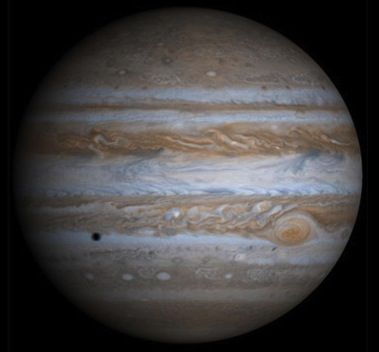 Tuesday evening, after you've had Christmas dinner with the family, go outside set up the telescope if you have one. Jupiter and the moon are having a Christmas conjunction.
For anyone who gets a telescope for Christmas, the timing is perfect. Jupiter and the Moon are among the most satisfying targets for backyard optics. A quick sweep of the telescope from Jupiter to the Moon and back again will reveal Jupiter's storms and cloud belts, the Moon's mountains and impact craters, and of course the four Galilean satellites circling the giant planet like a miniature solar system.

Jupiter's trademark Great Red Spot will also be on display--and it is worth a look. Astronomers recently announced that the enormous swirling storm, twice as wide as the planet Earth, is "spinning up."

Actually, explains planetary scientist Glenn Orton of NASA's Jet Propulsion Laboratory, "the Red Spot is shrinking." He likens it to "the iconic picture of a figure skater pulling her arms in to spin faster. As the size contracts, the spin rate increases."
Even if you don't have a telescope, you'll still be able to see Jupiter, although not the red spot. Link

(Image credit: NASA/JPL/University of Arizona)
12 Awkward Days Of Xmas By The Miskreant Puppets
Posted: 23 Dec 2012 03:00 AM PST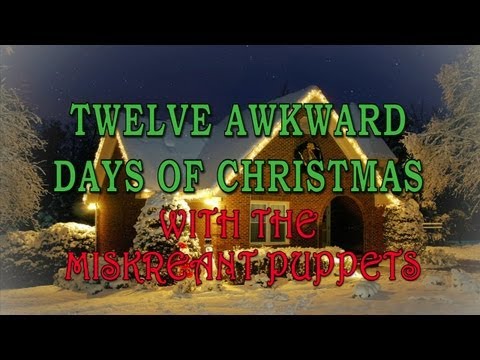 Yuletide greetings from the Jim Henson Company aren't always aimed at children, because adults love them some Xmas time too.
Here's a holiday puppet video made especially for grown folks, courtesy of the Miskreant Puppets and the Nerdist channel.
Hide yo mom, hide yo kids, this video has six monkeys smoking and a weasel in a bikini!
(may be considered NSFW by more conservative audiences)
--via Topless Robot
Posted: 23 Dec 2012 02:00 AM PST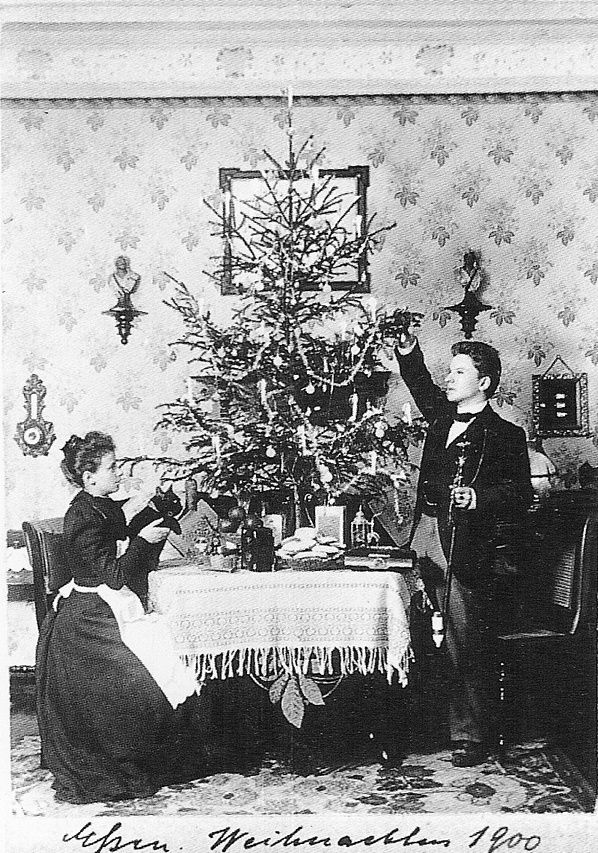 Anna and Richard Wagner married in 1900. From that year until 1942, the German couple had their picture taken in front of their Christmas tree every Christmas Eve. Retronaut has eight of those pictures, with commentary about how the photos show the effect of history on the couple. Link -via Everlasting Blort
Love Notes By Madeleine Flores
Posted: 23 Dec 2012 01:00 AM PST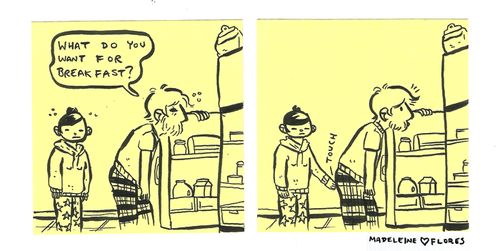 When your significant other is a cartoonist moments of your life may be turned into comic strip panels and shared with the world, and that's not always a good thing.
In the case of these adorable Post-It note cartoons by Madeleine Flores, however, it's a fitting tribute to love and being comfortable with each other's butts, and that's just too precious to care about who reads them!
Link --via Super Punch
Posted: 23 Dec 2012 12:00 AM PST
Even if your Christmas dinner is at a fast food joint, you can still have a Christmas tree, as designers Malte Bruns and Jyrgen Ueberschär demonstrated. This French fry sculpture was their 2008 contribution to Oh Tannenbaum!, an annual Christmas tree design competition.
Link | Project Website (Translation)
Posted: 22 Dec 2012 11:00 PM PST
(YouTube link)
The Duane Brown family in Stafford, Virginia, is renowned for their annual holiday light show. Their 2012 decorations feature 22,000 lights dancing to a variety of synchronized music. You're welcome to go by, up through New Year's Day, but please bring something for the Fredericksburg Area Food Bank. Link -via Laughing Squid
Weird Cartoon Faces All Drawn By An Algorithm
Posted: 22 Dec 2012 10:00 PM PST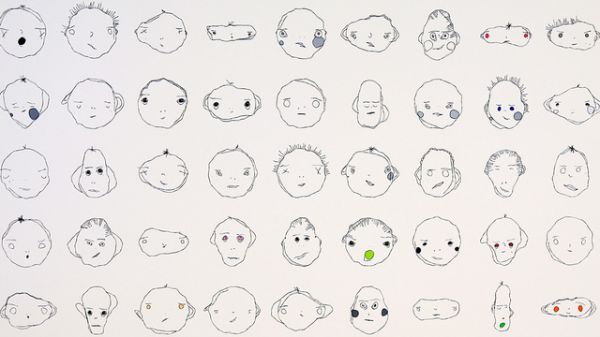 In the future all cartoons and comics will be drawn by robots, and they will be extremely strange looking and incomprehensible to humans.
Want proof? Check out these odd cartoon faces which were all drawn by a computer via code written by Matthias Dorfelt.
Why did he make his computer produce drawings that look like the work of a five-year-old?:
Computer generated images have a certain aesthetics to them that make them immediately recognizable as such by the trained eye. Weird Faces Study is an attempt to combine my old interest in illustration with programing, to create something procedural that has a truly individual artistic touch to it and is not instantly recognizable as a generative art piece.
10 Pictures of Precious Animals Ready for Christmas
Posted: 22 Dec 2012 09:00 PM PST
These little critters aren't in it for the presents or the giant feasts, they're simply here enjoying (or, in a few cases, being miserable) the holiday spirit. So sit back, relax and enjoy the Christmas weekend with a few of the cutest holiday critters around.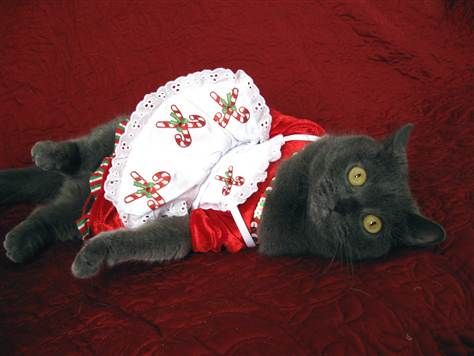 MSNBC requested readers submit pictures of their furry companions to be included in the site's Christmas critters post and Rhonda Schuldt was all to happy to send in this great picture of her little Leena all dolled out in her Christmas dress.
Coco here was also part of the MSNBC bounty. According to her owner, Liz Knight-Erb, it took quite a lot of yummy bribes to get Coco to leave her Santa suit on long enough to get her Christmas photo taken.
Denise Cox sent MSNBC this adorable image showing Alice hanging around waiting for Santa.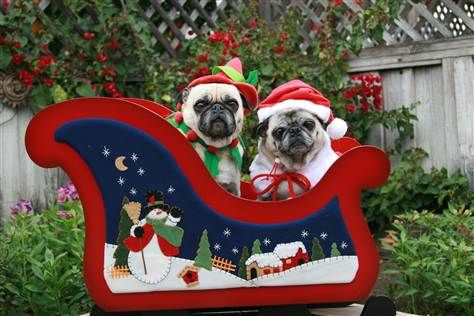 For some reason the person who submitted this image of their adorable little pugs to MSNBC wanted to stay annonymous. If they were my babies, I'd be bragging to the whole world.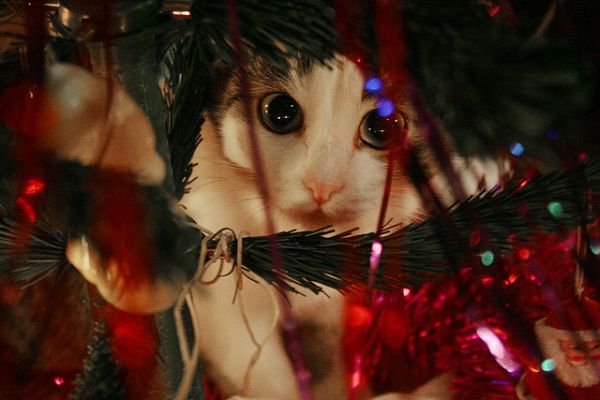 I don't know the names of this Christmas angel, but I certainly appreciate Ambrosio Photography for sharing this image with the world.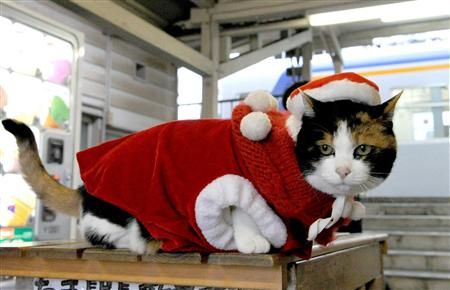 And here is the famous feline Japanese station master, Tama, posing in her Christmas finery.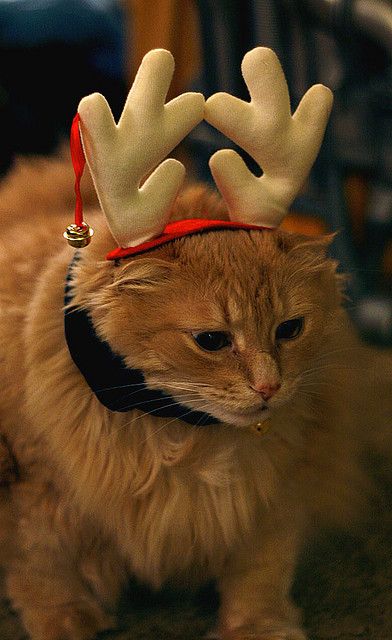 As I said above, not everyone looks excited about Christmas and Link just wasn't feeling the holiday spirit when Flickr user windy234 dressed him up like a reindeer.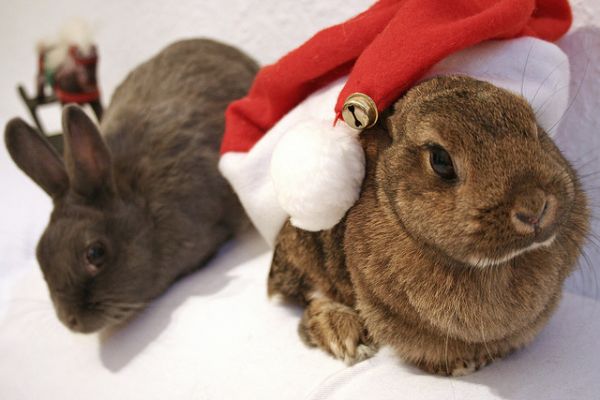 Maja und Cora certainly took well to dressing up for the occassion. I think Flickr user Astrid Kopp must have told them about the naughty and nice lists.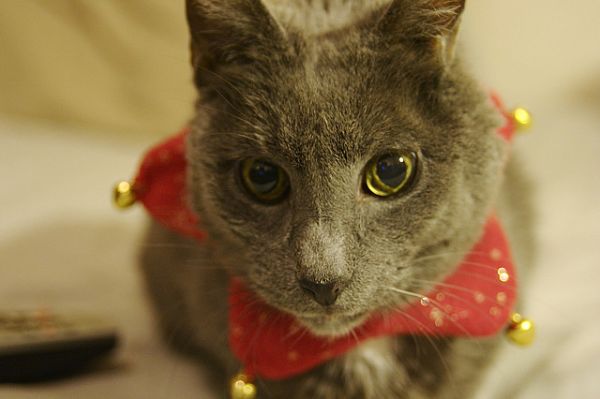 And, amazingly, Ollie didn't seem to mind either the collar or the jingle bells Flickr user joce01_y put him in, maybe he knew how great he looked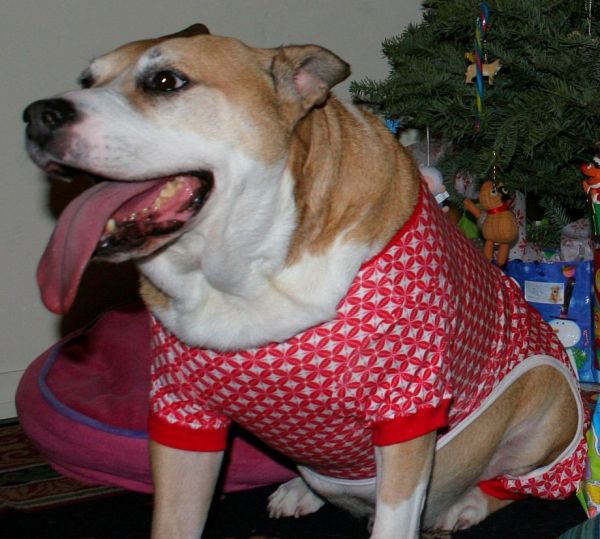 And lastyly, here is my own chubby little Percy wishing you all a very Happy Holidays.
And by the way, if you want your critter to be featured on the Lifestyles of the Cute and Cuddly (whether or not he or she is decked out for the holidays), just send your images to jill@neatorama.com.
Paraphernelia- Short Film About A Boy And His Robot
Posted: 22 Dec 2012 08:00 PM PST
With all the craziness and harsh realities trying to trample on our good vibes these days, it's nice to know that watching a fun little video like Paraphernelia (by John Williams) can still raise our spirits and show us that all is not lost.
The premise:
When young Atari Withers gets annoyed with the little robot that follows him everywhere, he tries to leave it, sell it and smash it up... But this robot is more than just a toy.
We hope you enjoy this imaginative trip to the lighter side of life!
--via GeekTyrant
Basset Hound Puppy Thinks Christmas Is Meh
Posted: 22 Dec 2012 07:00 PM PST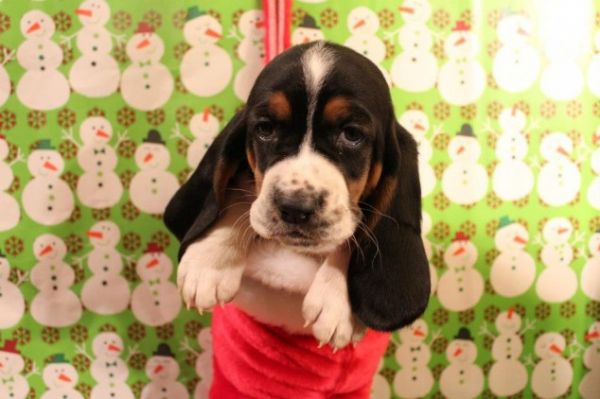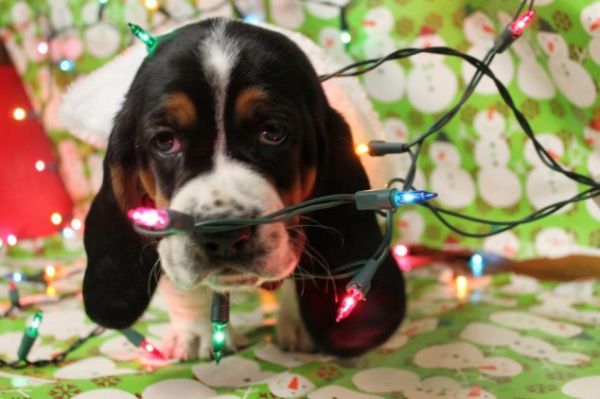 Christmas is just another day for this floppy eared basset hound pup, and he is unmoved by all the decorations, lights and holiday cheer. In fact, he'd trade the whole darn holiday for a liver flavored treat!
Posted: 22 Dec 2012 07:00 PM PST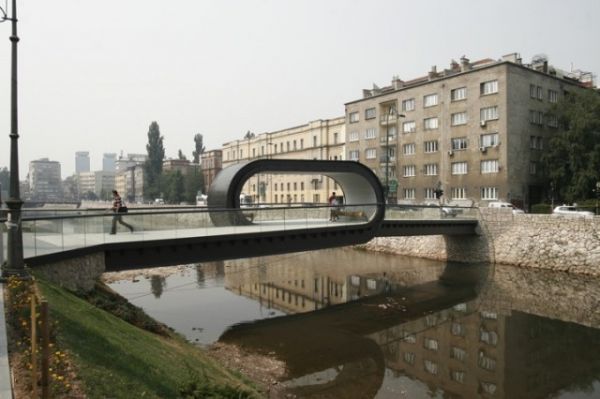 This bridge that might have been designed by stuntman Evel Knievel lies in Sarajevo, Bosnia. It's called the Festina Lente Bridge--a name that means "make haste slowly." Amila Hrustic designed it for pedestrian use, so park your motorcycle before crossing.
Link (Translation) | Designer's Website
Supernatural Surrealism By Mike Davis
Posted: 22 Dec 2012 06:00 PM PST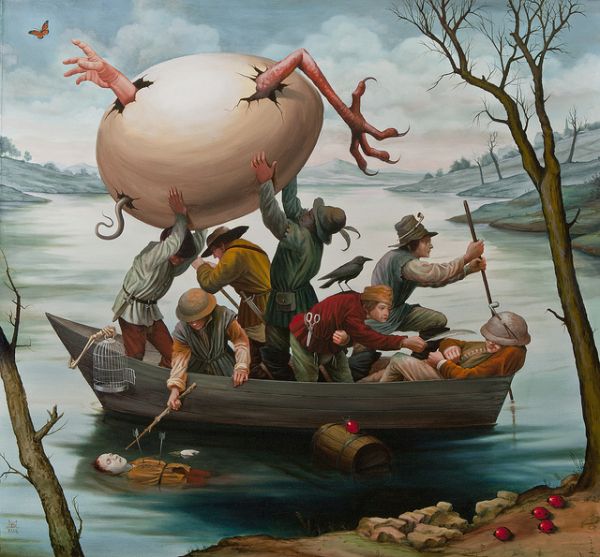 Surrealism is a hard genre to define, and every artist approaches the creation of surrealist works in their own way.
Some go for all out oddity, others simply tweak reality to their liking, while painter Mike Davis likes to tell a strange little tale with each of his pieces.
His works depict a fairy tale world gone mad, and they demand a second look in order to absorb all the minor details and get an overall sense of what's happening in each scene.
(may be NSFW due to artistic nudity)
Link --via Hi Fructose
Posted: 22 Dec 2012 05:00 PM PST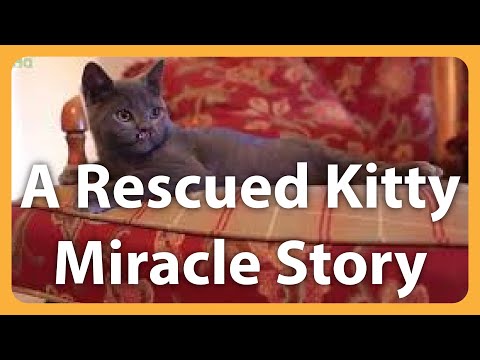 (YouTUbe link)
Lazarus was a starving stray kitten with a cleft palate. Now he's a healthy half-grown cat with a home and family! See more of Lazarus at his Facebook page. Link -via Buzzfeed
For Sale on eBay: Lamborghini That Just "Needs a Good Buffing and an Oil Change."
Posted: 22 Dec 2012 04:00 PM PST
How to Make Your Tree Ready to Exterminate
Posted: 22 Dec 2012 03:00 PM PST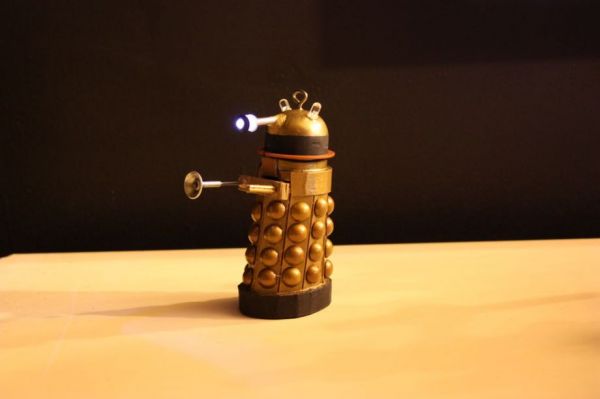 Not only is this little Dalek a great way to make your Christmas tree a little more deadly, but it's easy to put together on your own and enjoy a little Doctor this year.
Chicken Coop, Scale Model of Chicken Coop
Posted: 22 Dec 2012 02:00 PM PST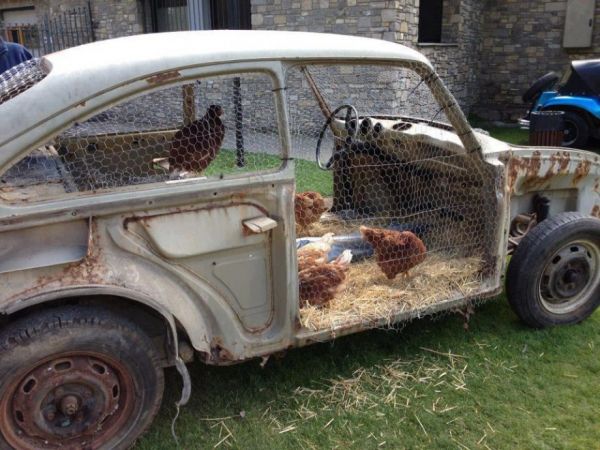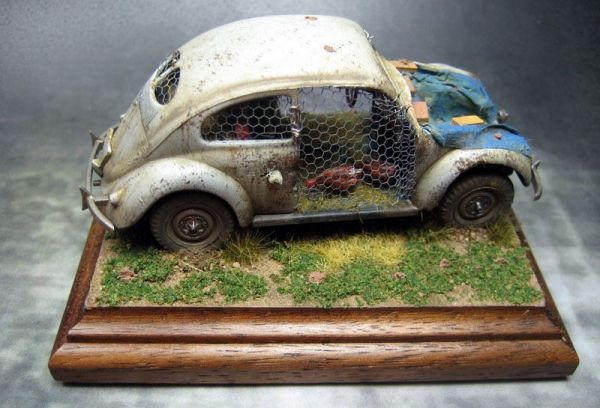 A few weeks ago, Paul Overton--the Dude of Dudecraft--posted a photo of a chicken coop built into an old Volkswagen. The image captivated Justin McCoy, who crafted a detailed 1:48 scale model of it. Every bit of the original is carefully duplicated, right down to the chicken poop.
Link | Justin McCoy's Photostream
Snow Fall: The Avalanche at Tunnel Creek
Posted: 22 Dec 2012 01:00 PM PST
The New York Times has a six-part multimedia presentation detailing the story of 16 skiers and snowboarders who were caught in an avalanche last February in the Cascade Mountains. The series includes awesome graphics, slideshows, videos, and a compelling narrative by John Branch that follows the events from the point of view of the survivors and rescuers. Not everyone survived. The story opens with professional skier Elyse Saugstad.
She had no control of her body as she tumbled downhill. She did not know up from down. It was not unlike being cartwheeled in a relentlessly crashing wave. But snow does not recede. It swallows its victims. It does not spit them out.

Snow filled her mouth. She caromed off things she never saw, tumbling through a cluttered canyon like a steel marble falling through pins in a pachinko machine.

At first she thought she would be embarrassed that she had deployed her air bag, that the other expert skiers she was with, more than a dozen of them, would have a good laugh at her panicked overreaction. Seconds later, tumbling uncontrollably inside a ribbon of speeding snow, she was sure this was how she was going to die.
In the series, you'll learn about the history of Tunnel Creek, how avalanches occur, and the story of the rescue, as well as those of the skiers. Link -via Ed Yong
(Image credit: Washington State Department of Transportation)
Fantastically Fun Burger Creations
Posted: 22 Dec 2012 12:00 PM PST
Look out, it's Crabzilla, filled with crab meat, lemon, lettuce, mango, oranges, and tomatoes. Not your style, well don't worry, Thomas and Quentin of Fat and Furious are sure to have something that will impress both your tastebuds and your eyes, like the fancy Bun, James Bun below with gold tinfoil-wrapped patties, quail eggs, lettuce, crème fraîche, and mini-octopi.
Posted: 22 Dec 2012 11:00 AM PST
It was just ten years ago that events proved the Maya correct. Every now and then we still enjoy a laugh at those who thought that the world would not end. Let's check in with Funny or Die's action news team to find out how the human race has been eking out a marginal existence since then.
Video Link -via VA Viper
The 6 Most Embarrassing War Stories of All Time
Posted: 22 Dec 2012 10:00 AM PST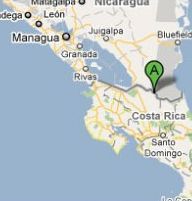 Odd things happen in the confusion of war, or training for war, or even peacetime that resembles war. An example of the latter happened in 2010, when Nicaraguan commander Eden Pastora and his men accidentally invaded Costa Rica, supposedly because of a border error in Google Maps.
It's not clear why he decided to consult an Internet atlas instead of official military charts (which clearly depict the borders that both countries recognize). It's also not clear why it took him so long to figure out where he was. At one point, they took down a Costa Rican flag and replaced it with a Nicaraguan one, presumably because the flag wasn't represented by Google Maps so they assumed it had been erected by mistake. That's like walking into someone's house, throwing out all of their family photos to put up pictures of you and your grandparents, and then trying to tell the police that Mapquest is to blame for giving you shitty directions back to your apartment.

In Pastora's defense, the Google Maps view of the border between Nicaragua and Costa Rica is off by about 3,000 meters (around a mile-and-a-half) in Nicaragua's favor. In Google's defense, their maps are meant to locate Burger Kings, not plan military patrol routes for rival South American nations.
But that's just one embarrassing story. Read the rest of it and five more at Cracked. Link -via Unreality
Posted: 22 Dec 2012 09:00 AM PST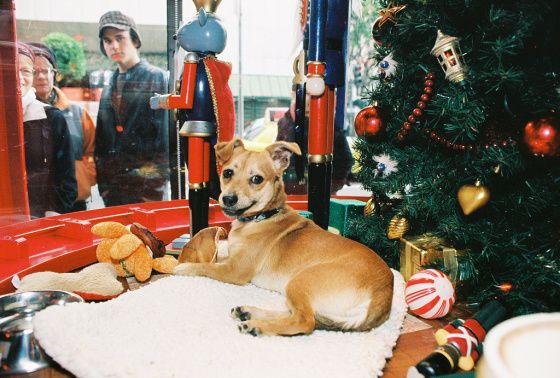 Every Christmas, Macy's on Union Square partners up with the San Francisco SPCA to help introduce visitors and locals to the many adorable adoptable animals available at the shelter. As if the critters weren't cute enough on their own, the background decor makes each window memorable. In fact, you can actually watch the critters in the windows on the live webcams available at the SPCA's website.
Link Via Cute Overload
Posted: 22 Dec 2012 08:00 AM PST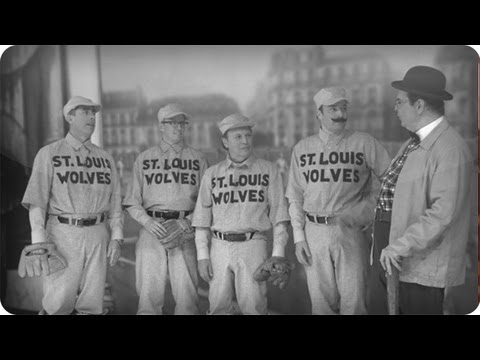 Old time comedy routines don't come much more recognizable than that old chestnut "Who's on first?", and lovers of classic funny are always waiting for a chance to put their own personal spin on the tried and true routine.
Join fellow funny fans Jerry Seinfeld, Jimmy Fallon and Billy Crystal as they take a crack at the comedy big leagues with "Who's on first- the sequel".
--via Laughing Squid
16 of the Scariest Santa Pictures Ever
Posted: 22 Dec 2012 07:00 AM PST
Almost everyone has a childhood picture of themselves perched up on Santa's lap and while the youngsters sometimes cry and sometimes smile, Kris Kringle usually maintains his jolly expression of glee. But sometimes Santa just isn't the Old Saint Nick we've come to love. Sometimes he's downright creepy and here's the proof. Here are some of the creepiest Santa photos in order of "kind of weird" to "better sleep with the lights on tonight."
Special thanks to Creepy Santa Photos for their impressive collection of horrific images of Mr. Claus.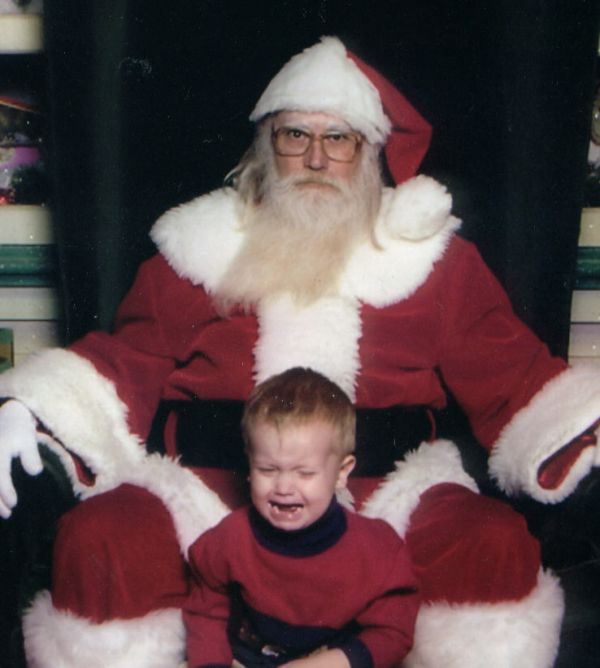 The only explanation I can think up for everyone's expression in this photo is that Santa just told Flickr user RaGardner4's son Dylan he's on the naughty list and whatever put him there angered Santa to his very core.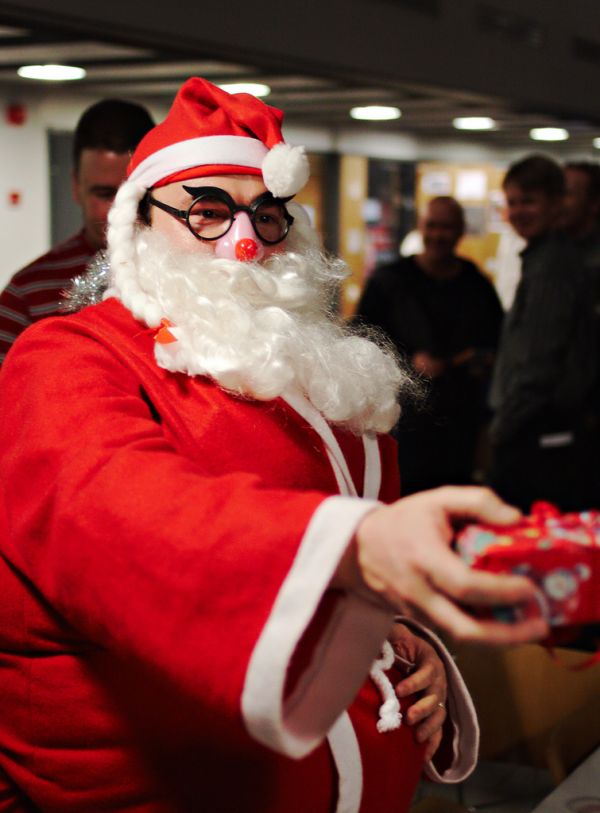 I have no idea what's going on with this Finnish Santa spotted by Flickr user esaskar. Is he trying to be incognito? Maybe he's trying to be funny? Or maybe that's just what Finns think American Santas look like. Whatever the case, the end result is just plain odd.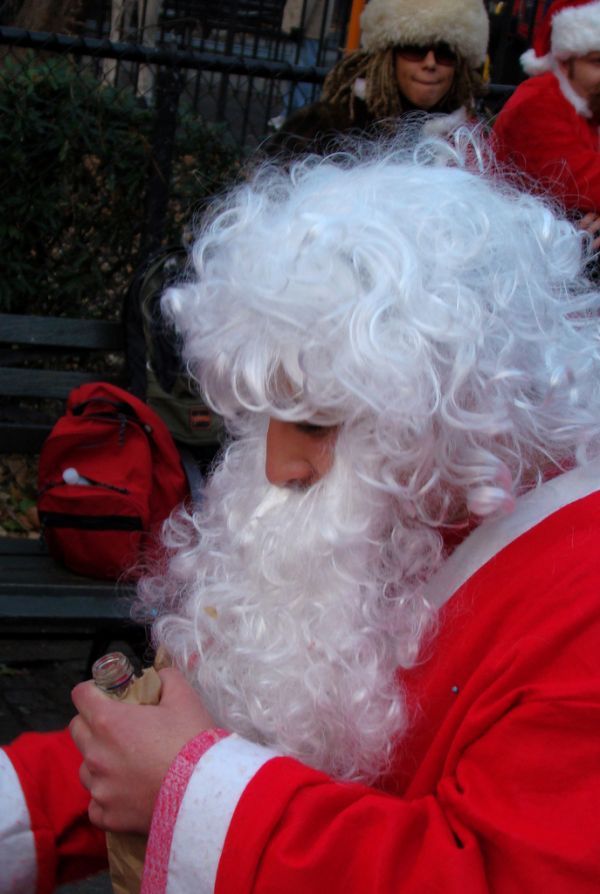 Here's a sadly stereotypical Santa picture –Old Kris Kringle curled up with a bottle of booze. Thanks for confirming all the tales istolethetv.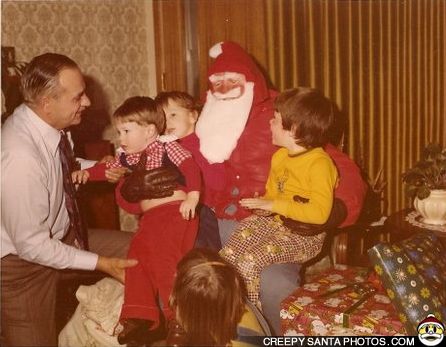 While Santa masks are usually horrifically terrifying for no good reason, at least this Santa has a reason for looking so evil –it was apparently so cold in Edmonton that even Jolly Old St. Nick had to wear facial protection that made him look like a masked murderer. Of course, this isn't even close to the worst Santa mask anyway, as you'll see a few images down.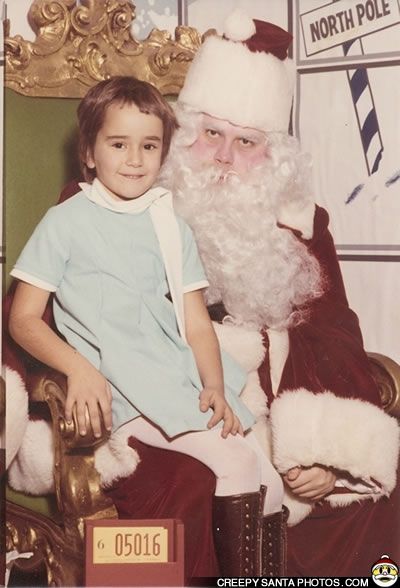 Not only is this guy making a creepy face, but he also looks just like the killer from Silent Night Deadly Night. Fortunately, Arleen was too young to have seen that movie at the time. Of course, these days she wonders, "I don't know how my mother let me sit on his lap!"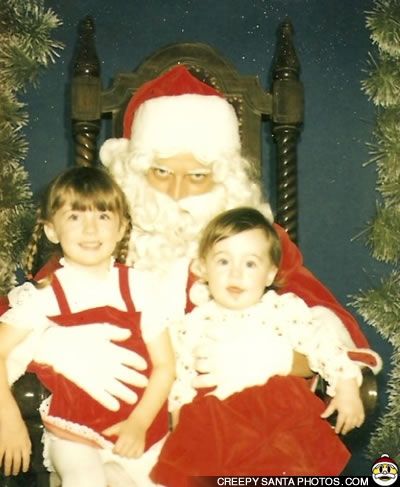 I don't know about you guys, but I wouldn't be surprised to see this picture included with a letter telling the two girl's parents where to leave the ransom if they want to see Carol and her sister again. But hey, at least the girls look happy here.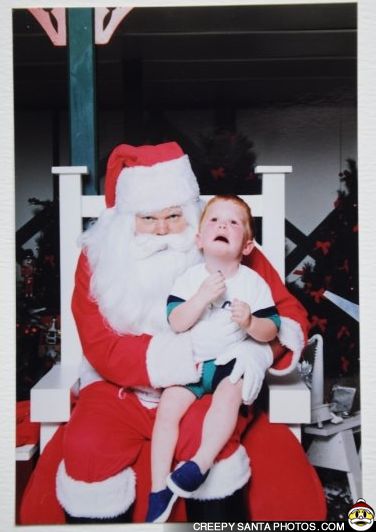 Many creepy Santa pics still include a child that is blissfully ignorant of how evil the man behind them looks. This is not one of those photos. Indeed, poor little Zak looks like he's being kidnapped for ransom money by this gruff-looking Mr. Claus.
This might just be the most evil-looking Santa I've ever seen. Interestingly, while both of the girls look happy, the one on the right, Lori Jean, looks like she's ready to worship Satan right beside Mr. Kringle.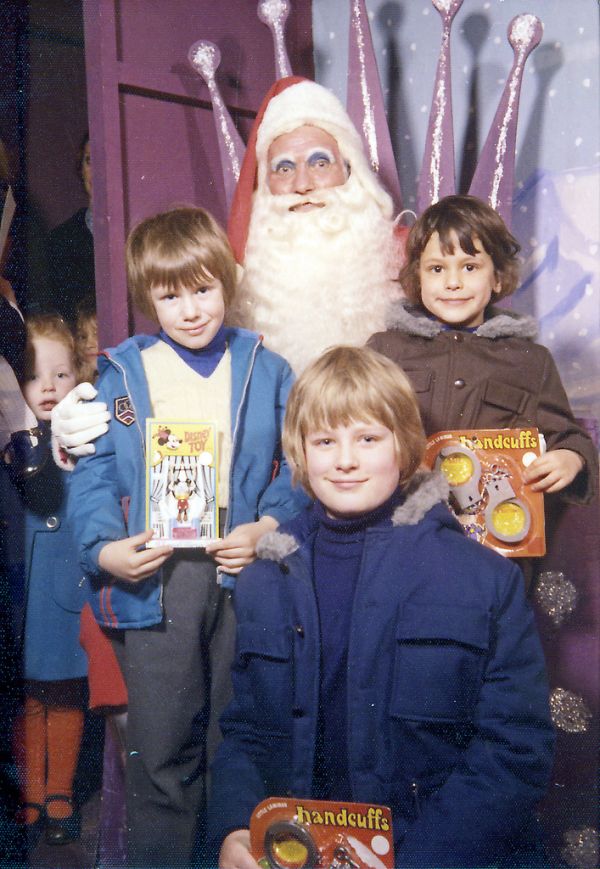 Flickr user Dean Ayres' childhood Santa photo wouldn't be that bad if it weren't for that blue eye shadow. Do any of you have any idea why on Earth Santa would be wearing turquoise make up? Also, the two boys who got handcuffs, are those gifts for naughty or nice children?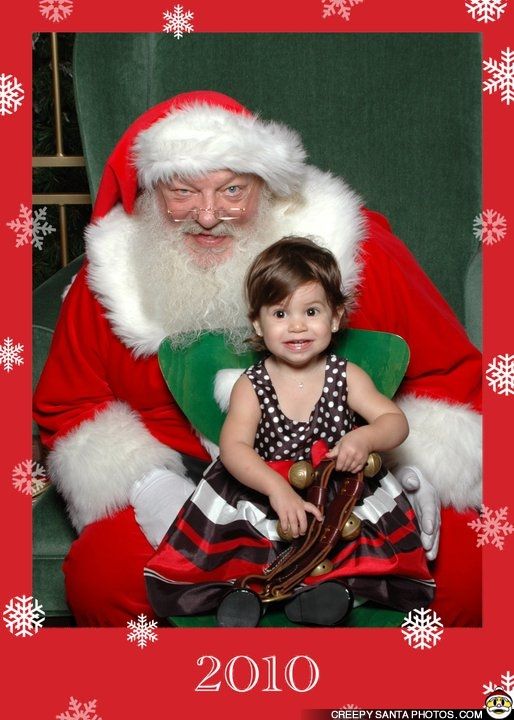 With a Santa that looks this lecherous, is it any wonder some children sat on their own chair instead of his lap? Apparently Jessica's little girl is a good judge of character because she wouldn't take a picture anywhere near this Santa, so they had to sneak him in the background to get this photo.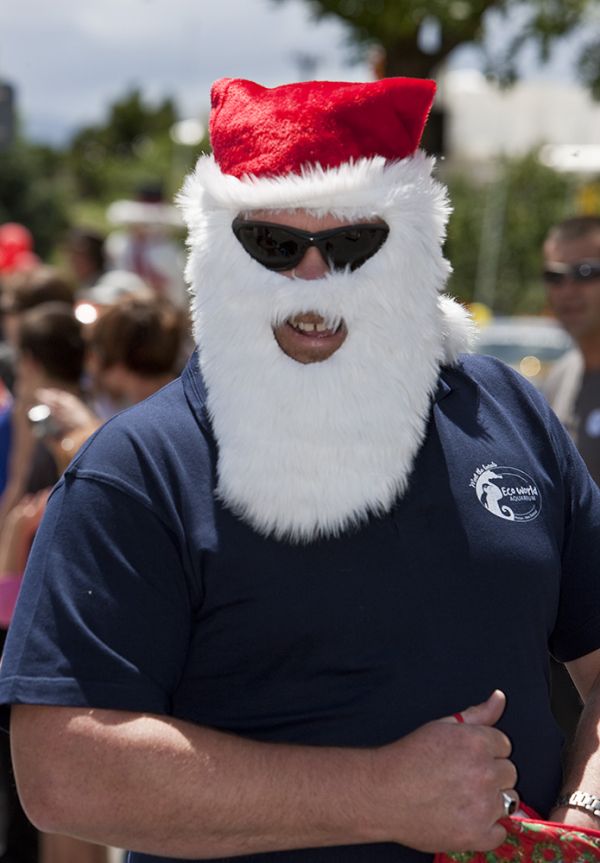 This picture by Flickr user Trevor Dennis makes me think Santa joined the witness protection program at some point. He must have seen something he shouldn't have when popping down the wrong chimney.
The sunglasses under the facial hair seem odd enough, but that beard looks more like a ski mask gone wrong than a Santa disguise.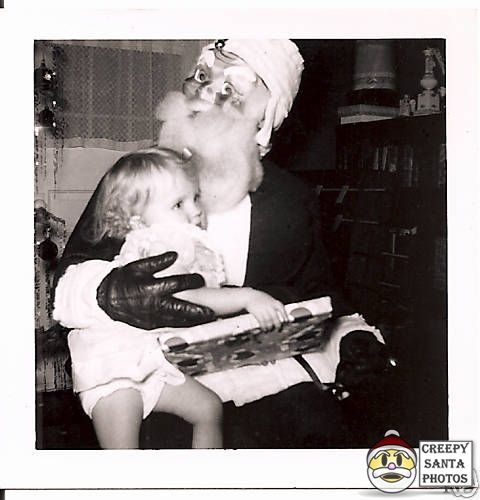 Whoever thought that Santa masks were a better alternative than a fake beard must be blind or utterly insane. Just looking at this picture makes me want to run the other way and hope that The Doctor will jump in to save the little girl from this Pilot Fish –sorry non-Whovians, you're just not going to get that.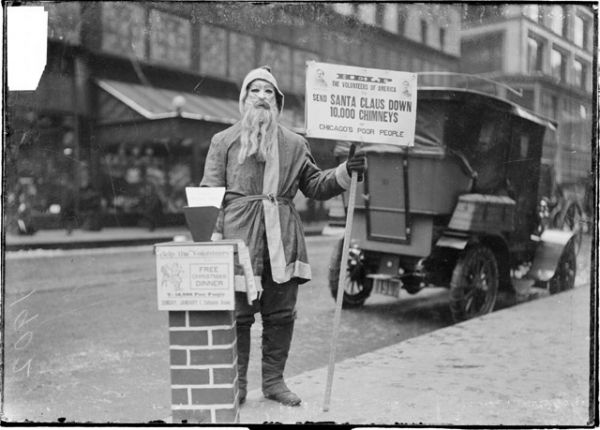 In case you actually needed further proof that Santa masks should just out rightly be illegalized, just look what happens when the mask is a bit too big for the man in question. All I can say is thank God the modern Salvation Army bell ringers don't wear these monstrosities.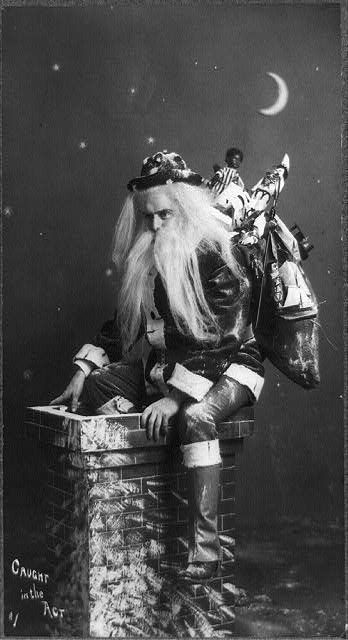 If Santa looked like that in modern Christmas movies, I think kids would stay up at night in horror rather than excitement as they went to bed expecting him to come down the chimney.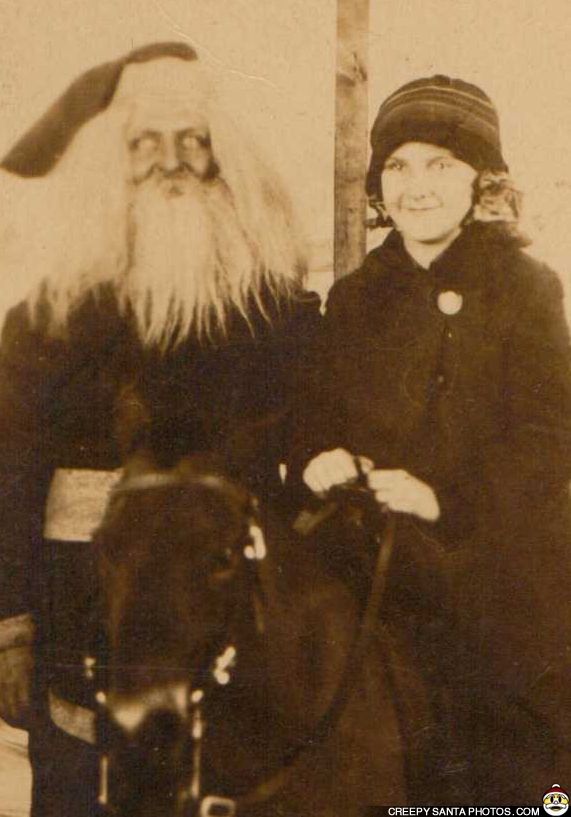 There are plenty of early photographs of people posing with deceased relatives so they could have one last nice photograph. This Mr. Claus looks so cold and lifeless that I can't help but wonder if they just let all the youngsters take their Santa photos with a dead Kris Kringle. Whatever the story behind this picture, the end result is horrifying.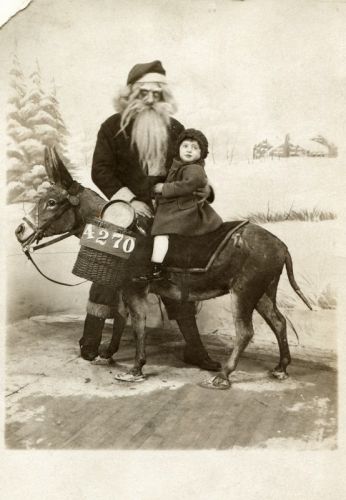 Again, this vintage Santa picture is simply terrifying and the bearded man looks more like a monster than St. Nicholas. Even the taxidermied donkey looks more alive than this Santa Claus.
Think your Santa pictures are worse than some of these? Feel free to upload them and share them in the comments. If yours is scary enough, maybe we'll even feature it on the site.
Posted: 22 Dec 2012 06:00 AM PST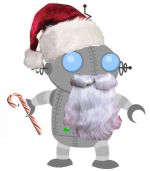 As we go into the long Christmas weekend (for most people), first we want to wish all of you a wonderful holiday, however you celebrate: by eating delicious food, spending time with family, helping the kids wait for Santa, touring your hometown's decorations, singing carols, delivering gifts, and/or gathering with fellow believers to celebrate the birth of Christ. When you get a little downtime during the festivities, you can turn to Neatorama for your dose of distraction, entertainment, and edification. Yes, we have lots of fun stuff planned, even over the holiday while other sites are taking it easy. And you can also catch up on some of our exclusive features you may have missed during last week's rush.

As Hanukkah drew to a close, Adrienne Crezo posted the story of How a Beautiful Widow Defeated a General and Inspired a Hanukkah Tradition.

Jill Harness told A Few Tolkien-rific Facts About the Book Version of The Hobbit.

Eddie Deezen let us in on the details behind A Charlie Brown Christmas.

The Life and Times of Jar Jar Binks came from Uncle John's Bathroom Reader.

The Annals of Improbable Research brought us Military Experiments on Fruitcake.

Breaking into Mecca, the adventures of Sir Richard Burton came from mental_floss magazine.

And Adrienne gave us our latest book excerpt in 5 Life-Saving Techniques for Surviving a Garden Gnome Attack During the Holidays. You can still leave a comment under that post for your chance to win a copy of the book! And speaking of giveaways...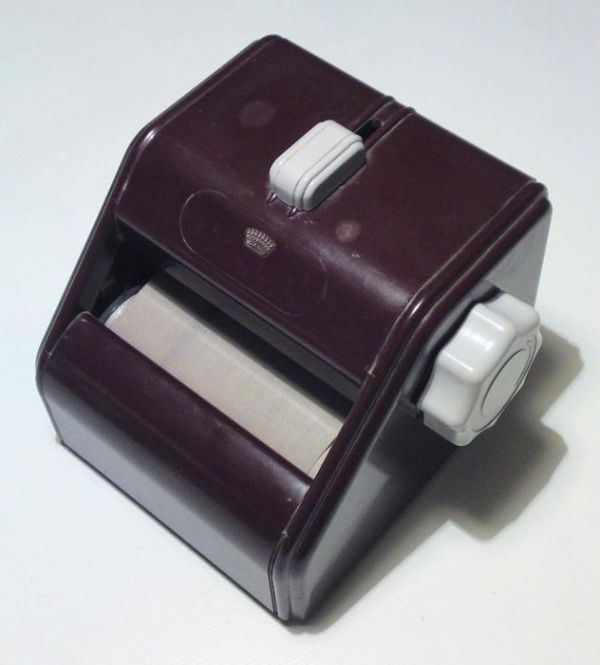 In the What Is It? game, the previously-unknown object is a tie press. This week, H.Walter was the first person who knew the answer, and wins a t-shirt from the NeatoShop! The award for the funniest answer goes to Kevin George, who said,
It's a prehistoric typewriter. Before language was developed, there was only one letter in the alphabet. You would type that letter by pressing the button on top. The knob on the side advanced the paper. You could type out your story: Oo oo ooooo!
He wins a t-shirt, too! Thanks to everyone who played along this week. You find the answers to all the mystery items of the week at the What Is It? blog.
Congratulations to the winners of Neatorama's 'Pin To Win' Contest - Holiday Edition. The pinboards that won are:
ERMAGHERD NERTERRURRMURR CHRERSTMERS by Alejandra Narváez. She won this prize.
Neato musical holiday gifts we would like to give to our members by Seattle Musicians. They won this.
Ralphie, forever and always by Selina Garcia. Here's her prize.
That's a contest we'll have to do again!
The Mayan apocalypse did not happen yesterday as scheduled, but it gave us plenty to talk about. We posted several updateson the non-event and introduced the I Survived the Mayan Apocalypse T-shirtfrom the NeatoShop.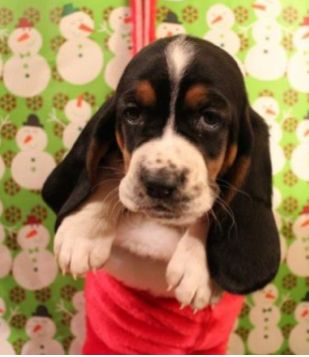 If you're wondering where all the cute kittens and puppies wearing Christmas hats are, check out the sub-blog Lifestyles of the Cute and Cuddly, where you'll find plenty. And if you need some holiday recipes to impress your family, you'll find them all together at the sub-blog Neatolicious. Check out the Halloween blog, NeatoBambino, and Mad Skills for even more to read and enjoy! And we also have extra fun stuff at our Facebook page, where lots of Neatoramanauts jump in and discuss what's going on at Neatorama.


Merry Christmas from Neatorama!
Posted: 22 Dec 2012 05:00 AM PST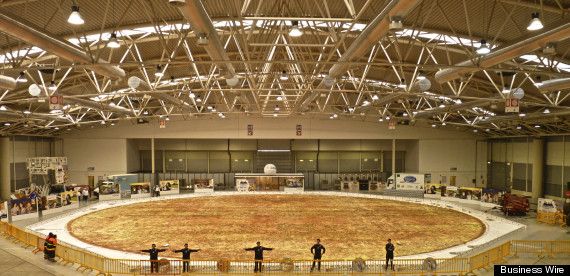 Five Italian chefs with big dreams and a whole lotta dough teamed up and broke the record for the world's largest pizza by creating this 131 foot, fifty one thousand pound behemoth.
Dubbed 'Ottavia', this mega-pizza broke a record which stood since 1990, and thereby earned a name that pays homage to first Roman emperor Octavian Augustus.
You are subscribed to email updates from Neatorama
To stop receiving these emails, you may unsubscribe now.
Email delivery powered by Google
Google Inc., 20 West Kinzie, Chicago IL USA 60610