---
A Few Facts About Larry Hagman
Posted: 26 Nov 2012 05:00 AM PST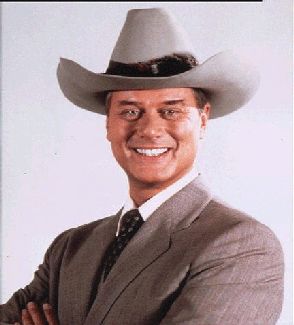 Neatorama presents a guest post from actor, comedian, and voiceover artist Eddie Deezen. Visit Eddie at his website.
TV fans the world over mourned the passing of Larry Hagman, who succumbed after a long, hard-fought battle against cancer on Friday, November 23rd. Rarely does an actor get to create an iconic role in his or her career, whether in television or film, but Larry created two. From 1965 to 1970, he played the nice guy, easygoing Major Tony Nelson on the beloved sitcom I Dream of Jeannie. Then from 1978 to 1991, he did a complete about-face and gained TV immortality as the nasty oil baron John Ross (J.R.) Ewing on the soap opera Dallas. Both of these diverse roles made Larry popular with millions of TV fans around the globe.

Although he garnered his greatest fame from television, Larry also had a distinguished career in movies. His film resume includes Fail Safe (1964), Harry and Tonto (1974), Superman (1978), JFK (1991), Nixon (1995), and Primary Colors (1998). Here are a few facts you may not have known about one of TV's all-time greats, Larry Hagman.


* He was the original anti-smoking crusader. Long before it became fashionable to campaign against cigarettes, Larry was a staunch crusader against the evils of smoking. As a teenager, a girl offered Larry a feel of her breast if he's smoke a cigarette. Being a guy, Larry couldn't resist her offer, but he hated the experience of smoking and never smoked another cigarette for the rest of his life. He was to become a virulent anti-smoking advocate and was the chairman of the American Cancer Society's "Great American Smoke-Out."
* He had eclectic tastes. Larry lived life to the fullest. His many hobbies included collecting canes, hats, and flags. He was a devout art collector and also loved motorcycles, especially his beloved Harley. He also enjoyed skiing, fishing, sailing, backpacking, and touring around in his custom-designed motor home. In one of Hollywood's longest-ever marriages, Larry and his wife of 58 years, Maj, lived in a home in Ojai, California, which they called "Heaven."
* He was in the Air Force before he became Major Nelson. Yes, everyone knew him as Major Nelson on I Dream of Jeannie, but Larry had actually served four years in the U.S. Air Force (1952-1956). He spent most of his time in the service stationed in England, staging, performing in, and directing shows for his fellow servicemen.

* He refused to speak one day a week. Larry had to yell too much while filming an episode of I Dream of Jeannie in the '60s and thereafter would always take one day a week off from speaking and go completely silent for a 24-hour period -for the remainder of his life.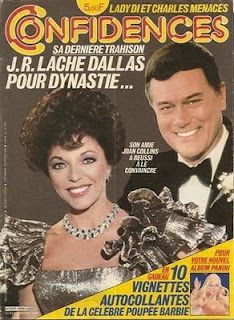 * The ladies always liked Larry. While serving in England in the '50s, Larry dated a sexy young actress named Joan Collins. Thirty years later, in the 1980s, while Larry was the biggest star on TV as J.R. on Dallas, Joan Collins was to reign as TV's top female star as Alexis Carrington on another weekly nighttime soap opera, Dynasty.

* He loved parades. Larry loved to stage parades near his home on Malibu Beach. He loved to parade wearing different hats from his collection. Larry also sometimes enjoyed walking around the beach in a gorilla suit.

* He made requests of autograph seekers. Like any celebrity, Larry was often asked for autographs by his fans. But unlike other stars, Larry would always ask the person to either sing him a song or tell him a joke in exchange of this signature. He explained that he was "getting something back" from the autograph seekers. He eventually stopped the joke-telling custom because his fans kept telling dirty jokes.

* He once offered to pay for Robert Downey Jr.'s drug rehab bill. In 1996, Robert Downey, Jr. asked to borrow $100,000 from Larry. Instead, Larry offered to pick up the tab for Downey's drug rehab program.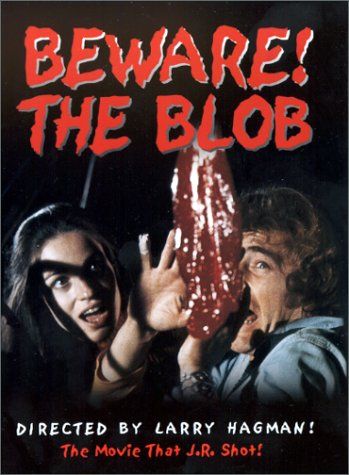 * He was also a director. Universally known as an actor, Larry was also a TV and film director. He directed two episodes of I Dream of Jeannie as well as 32 episodes of Dallas. In 1972, he made his film directorial debut with the low-budget horror flick Beware! the Blob. He jokingly would refer to the films as "the film that J.R. shot."

* J.R. was close friends with Archie Bunker. One of Larry's closest friend in real life was Carroll O'Conner, TV's Archie Bunker of All in the Family. Larry Spoke at O'Connell's funeral on June 26, 2001.

* Good Choice. In 1978, Larry was offered two TV series, one being Dallas, a nighttime soap opera. The other was a new sitcom called The Waverly Wonders. Luckily for Larry, he opted for the former. Dallas was to run for 13 seasons and became of one TV's most popular series ever, while The Waverly Wonders faded into TV oblivion after a few short weeks.


* He holds the record for "greatest number of consecutive appearances by a leading actor in an hour-long prime time dramatic series." Larry was the only cast member to appear in all 357 episodes of Dallas during its 13-year run.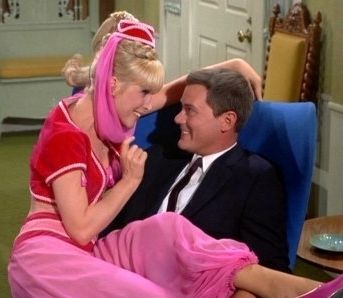 * When asked about I Dream of Jeannie, Larry would always respond with his three pat answers. He said, "I always get asked the same three questions about I Dream of Jeannie, and the answers are:

1. Yes, Barbara Eden was as beautiful in real life as she was on the show.

2. No, she never showed her belly button on the show.

and

3. No, we didn't."

(Larry called his I Dream of Jeannie co-star Barbara Eden "the most beautiful girl in the world."
Posted: 26 Nov 2012 04:00 AM PST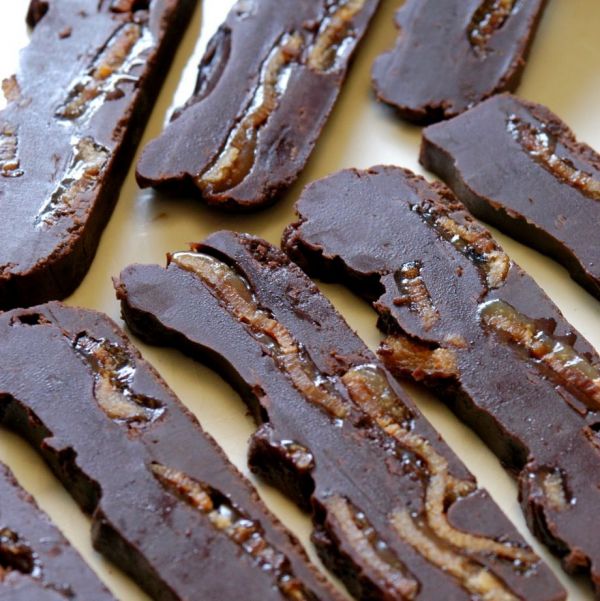 If you like fudge, smokey meats and salted caramel then you'll love this caramel, bacon fudge -I say "salted caramel" because you know the bacon will add a nice salty flavor to the concoction.
While Jules Food doesn't have a recipe, that's only becase they say it is too easy to need one. They do have advice to make your own though.
Posted: 26 Nov 2012 03:00 AM PST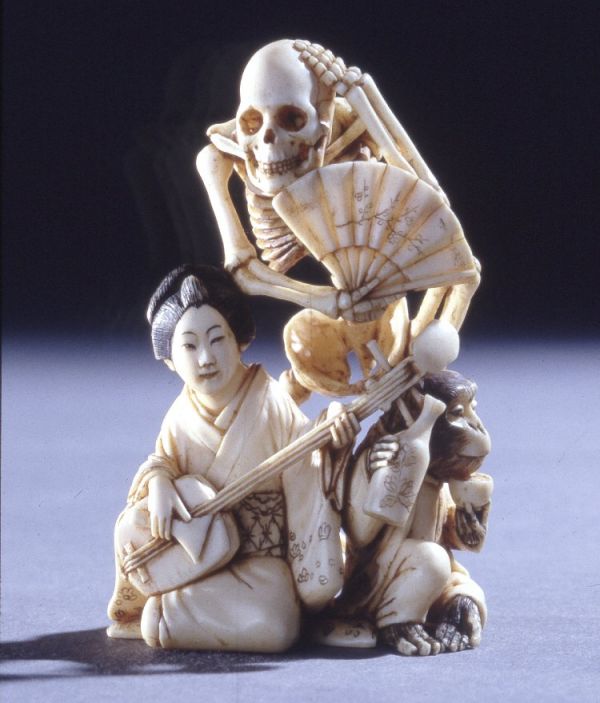 This ivory netsuke--a small sculpture that serves as a purse--was made by Gyokkosai during the Nineteenth Century. It shows a woman playing playing a samisen, a monkey drinking sake and an animated skeleton holding a fan. The attention to detail is amazing, particularly on the ribs and fingers of the skeleton.
Link -via Wunderkammer | Photo: British Museum
Posted: 26 Nov 2012 02:00 AM PST
(YouTube link)
The redneck rapper Krispy Kreme put his Christmas wish list into song. Ya think he's a little obsessed with pro wrestler John Cena? -via The Daily What
Posted: 26 Nov 2012 01:00 AM PST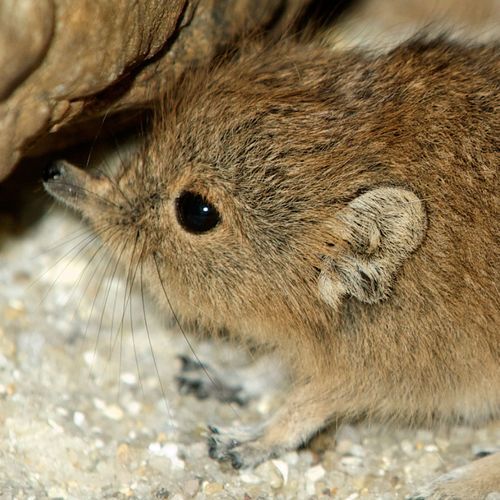 Elephant shrews are not only adorable, they are also fascinating creatures. For example, they are actually more closely related to elephants than shrews.This little guy was just born at the National Zoo and the staff there must be proud of how cute he ended up.
Restaurant Sues Phone Book Company For Placing Its Listing Under "Animal Carcass Removal" Section
Posted: 26 Nov 2012 12:00 AM PST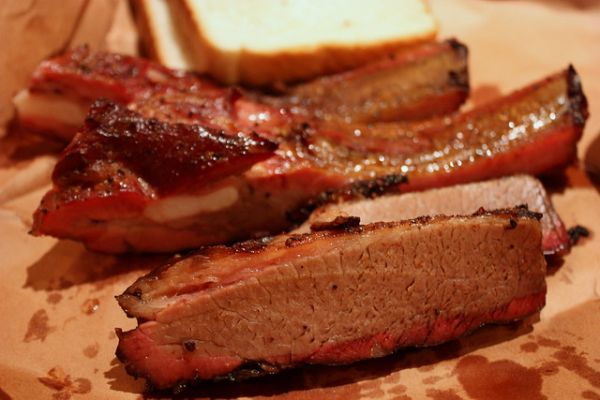 In an apparent attempt to compete with Yelp, the publisher of a phone book listed a Montana barbeque restraurant under the section for businesses that dispose of dead animals:
Lacey's lawsuit claims a Dex salesman deliberately published the free listing under the "Animal Carcass Removal" section after he refused to buy an advertisement in the phone book. The salesman no longer works for the company.

Lacey claimed the negative publicity caused business to drop off at his Bozeman and Belgrade restaurants and his brand's reputation to suffer. His lawsuit alleged negligence, defamation and slander, among other charges.
The two parties settled out of court.
Link -via Dave Barry | Unrelated photo via goodiesfirst
Posted: 25 Nov 2012 11:00 PM PST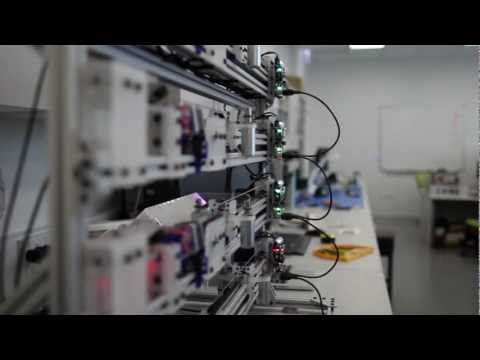 (YouTube link)
MechBass is a robotic bass guitar may put bass players out of business. James McVay put it together for his engineering honors project at Victoria University of Wellington, New Zealand. Witness it playing the Muse song "Hysteria." There's lots more about the machine at Hack A Day. Link -via Flavorwire
Posted: 25 Nov 2012 10:00 PM PST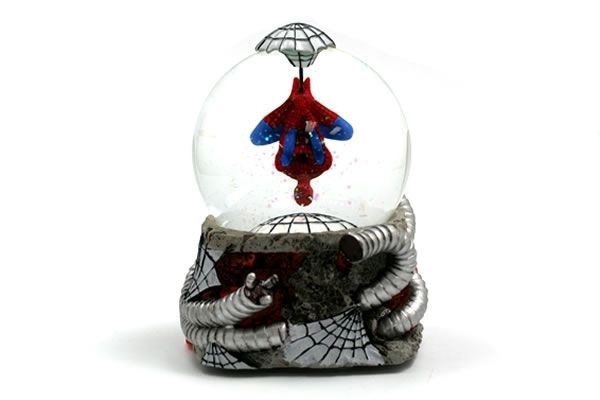 Spider-Man Snow Globe - $34.95
Spider-Man, Spider-Man he does what ever a spider can. He hangs upside down as glitter flies. He makes a great surprise. When you need a great gift there is no hang-up. Look out! Here comes the Spider-Man Snow Globe from the NeatoShop.
Be sure to check out the NeatoShop for more fantastic Spider-Man items.
NeatoShop Cyber Monday Mystery Bonus
Posted: 25 Nov 2012 10:00 PM PST
Hello Neatoramanauts! Just a reminder that we're having a Black Friday to Cyber Monday Mystery Bonus going on over at the NeatoShop!
Every order placed till the end of Monday, Nov 26, 2012 (PST) will automatically receive a Free Mystery Bonus.
What will you get? It's a secret! That's the whole point of the "mystery" in Mystery Bonus. In the past, we've given away awesome stuff like the hottest gadgets, geeky watches, and more ...
If you haven't placed your order, please visit the NeatoShop and take care of your Christmas shopping. May we suggest the Stocking Stuffers, New Items and Bestsellers categories? Get neat gifts for your favorite geeks, zombie lovers, photographers, and more. Your loved ones love Hello Kitty? We've got tons of that and other cute stuff over at our Hello Kitty and Cute Store sections!
Your purchase helps support Neatorama and indie artists - so thank you in advance for shopping with us. Place your order at the NeatoShop today!
Posted: 25 Nov 2012 09:00 PM PST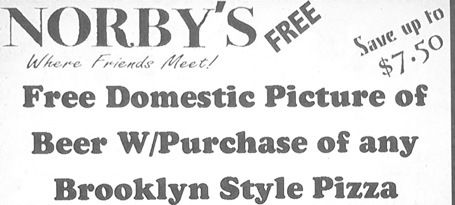 Remember the eBay scams where the small print would say "this auction is for the picture of the computer only"? That's what this reminds me of -but I'm sure the original idea was to say "pitcher" of beer. Spotted at Criggo. Link
An Empty Calorie Snack Any Fox Could Enjoy
Posted: 25 Nov 2012 08:00 PM PST
This little guy was saved from a fur farm when he was just a kit, ever since he was a youngster, his favorite snack has been marshmallows -although he only gets them here and there because they are pretty much pure sugar.
25 Things You Might Not Know About The Evil Dead
Posted: 25 Nov 2012 07:00 PM PST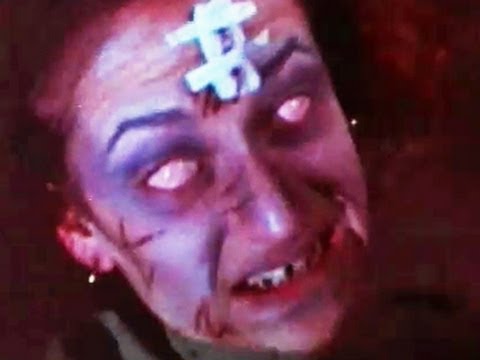 Sam Raimi's seminal horror flick The Evil Dead launched the career of an actor by the name of Bruce Campbell, brought a twisted sense of humor to horror flicks and led the way for the catchphrase treasure troves Evil Dead 2 and Army of Darkness.
If you've seen the flick a hundred times you may think you know everything there is to know about The Evil Dead, but check out this list of 25 lesser known facts about the Evil Dead and see if you really do know it all!
Posted: 25 Nov 2012 06:00 PM PST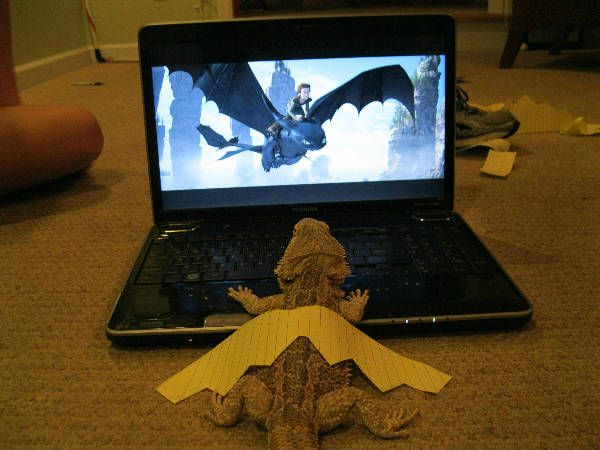 Hey, dragons are lizards, aren't they? Even little lizards need someone to look up to (and maybe a nice warm keyboard to lie on). Link
Doctor Offers to Inject Poker Players with Botox for the Perfect Poker Face
Posted: 25 Nov 2012 05:00 PM PST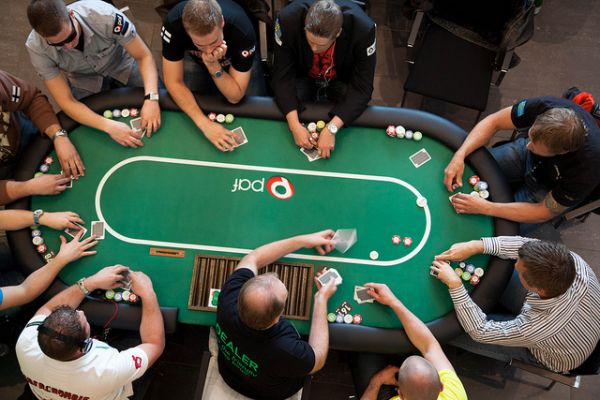 Would you like to have a emotionless face, devoid of expression? If you're a professional poker player, the answer is yes. That's why Dr. Jack Berdy of New York City offers a service that he calls "Pokertox":
"Very few people can maintain a real poker face,'' said Berdy. "They have some 'tells,' some expression that gives away that they have a good hand or a bad hand'' to an opponent. [...]

"We can inject Botox appropriately'' so the other player doesn't get the message that they're angry, disappointed or happy.

"What someone sees across the table is no movement,'' he said.

Pokertox costs an average $600 to $800 and lasts three to four months, he says.
Link -via Ace of Spades HQ | Photo: Play Among Friends
Posted: 25 Nov 2012 04:00 PM PST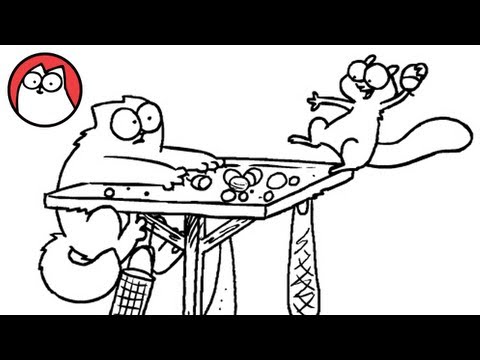 (YouTube link)
Simon's Cat tries to catch a squirrel, but he's not the skinny, agile, outdoor cat he thinks he is! Artist Simon Tofield teaches us to draw the squirrel, too. Continue reading for a short tutorial.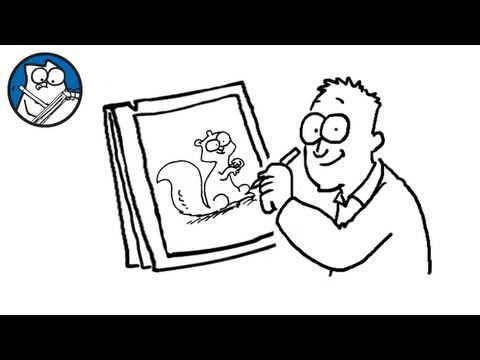 (YouTube link)
-via Laughing Squid
You Can Now Buy Soil from Justin Bieber's Hometown
Posted: 25 Nov 2012 03:00 PM PST
Shut up and take my money! Ebay seller thatsridonculus offers a vial of dirt from Stratford, Ontario--the hometown of Justin Bieber. It's now priced at a mere $39.99!
And that's just the beginning. Think of the potential resale value!
Link -via Daily of the Day
Posted: 25 Nov 2012 02:00 PM PST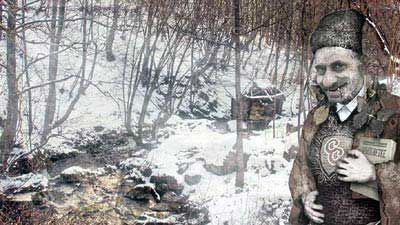 The well-known Serbian vampire Sava Savanović lived in a water mill near the village of Zarožje. The Jagodic family bought the mill and turned it into a tourist attraction. However, they neglected to keep the mill in good repair, because they were afraid of disturbing the vampire. Recently, the structure collapsed and fears that Savanović is looking for a new home have locals terrified. The local council advised citizens to guard against vampire attack.
Local mayor Miodrag Vujetic admitted: "People are worried, everybody knows the legend of this vampire and the thought that he is now homeless and looking for somewhere else and possibly other victims is terrifying people. We are all frightened."

He added that it was all very well for people who didn't live in the area to laugh at their fears but he said nobody in the region was in any doubt that vampires do exist.

He confirmed that the local council had advised all villagers to put garlic on their doors and windows to protect them from the vampire as it was well known they can't stand the smell.

He added: "We have also reminded them to put a Holy cross in every room in the house."
Garlic has been selling like hotcakes in Zarožje. Link -via Arbroath
Posted: 25 Nov 2012 01:00 PM PST
(vimeo link)
The heroic Viewmaster robot takes pity on the cassette tape, because he knows what obsolescence feels like. MIEW produced this video as a tribute to the audiocassette on the occasion if its demise. -via Geeks Are Sexy
Posted: 25 Nov 2012 12:00 PM PST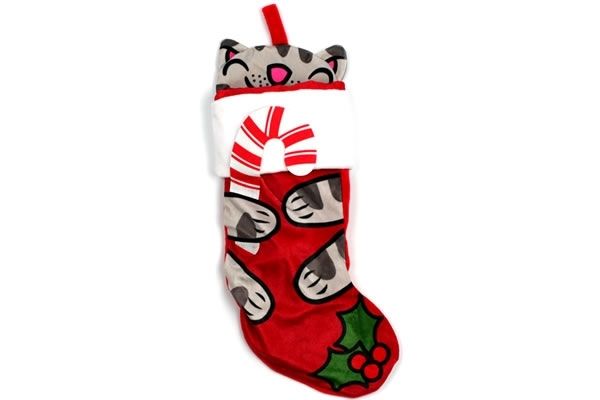 Soft Kitty Stocking - $19.95
Attention The Big Bang Theory fans! Are you on the prowl for the purr-fect Christmas stocking? Behold the adorable Soft Kitty Stocking from the NeatoShop. This great stocking will bring you both comfort and joy.
Sheldon Bazinga! Stocking also available. Buy both and make it an amazing holiday set.
Be sure to check out the NeatoShop for more fantastic The Big Bang Theory items and great Christmas stuff.
Posted: 25 Nov 2012 12:00 PM PST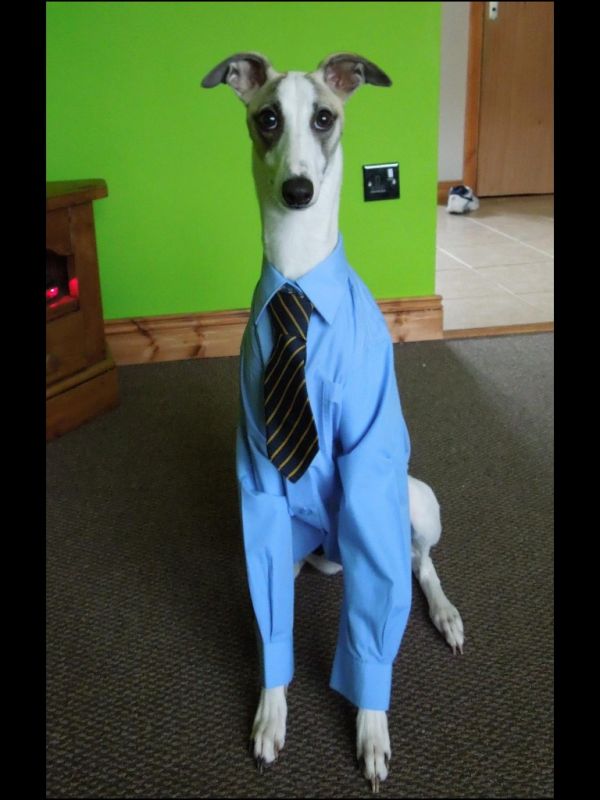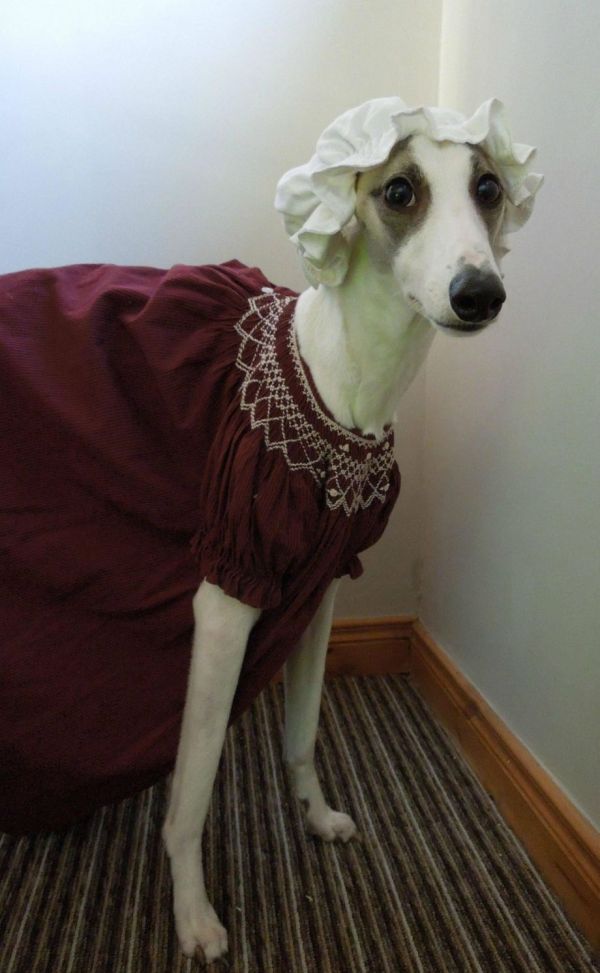 Rcrowley32 is an American living in Belfast with her husband and four children. Every week she takes a picture of their dog Bones dressed up in human clothes and puts it in her kids' lunches to surprise them. The top picture is the school uniform. The second picture was for the day after Thanksgiving, which is a regular school day in Ireland. Redditors are demanding that she now submit a new picture every Friday. Link
Posted: 25 Nov 2012 11:00 AM PST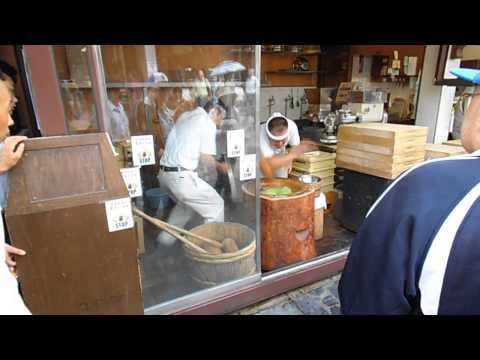 (Video Link)
YouTube member Celloshredder visited Japan and noticed confectioners/street performers making candy. They're hardcore about it! Watch two of them take split-second turns hammering the mixture with their hands and a wooden mallet.
-via Yababoon
Posted: 25 Nov 2012 10:00 AM PST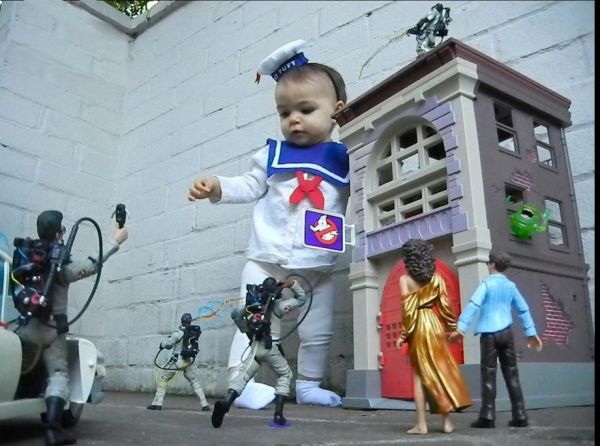 Dan Milano, writer, puppeteer, and voice actor for Robot Chicken and Greg the Bunny, made his baby daughter into the Stay Puft Marshmallow Man! Here she is, among the other Ghostbusters characters, recreating the climactic scene from the movie. Link -via Blame It On The Voices

Posted: 25 Nov 2012 09:00 AM PST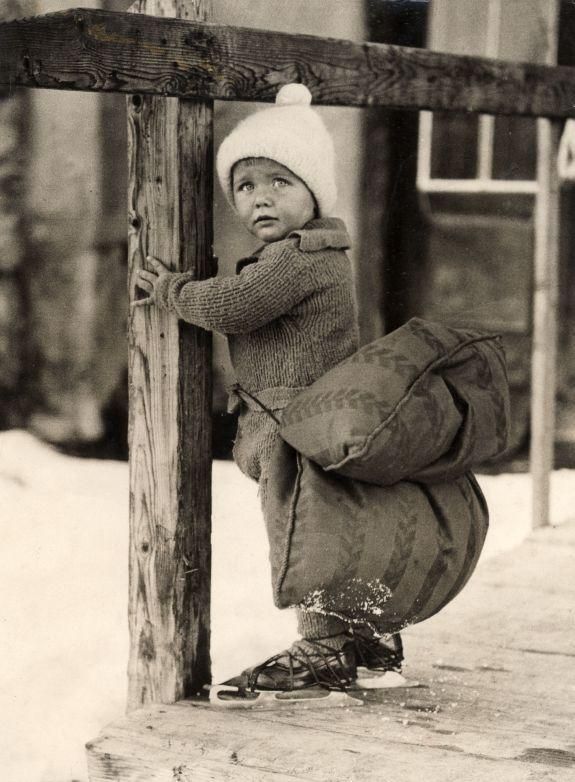 This photo is from the Netherlands, dated 1933. The little cutie looks a bit apprehensive, but you know his whole family enjoys ice skating, so he's got to get into the groove sooner or later. Luckily, he has something to fall back on! Link
Posted: 25 Nov 2012 08:00 AM PST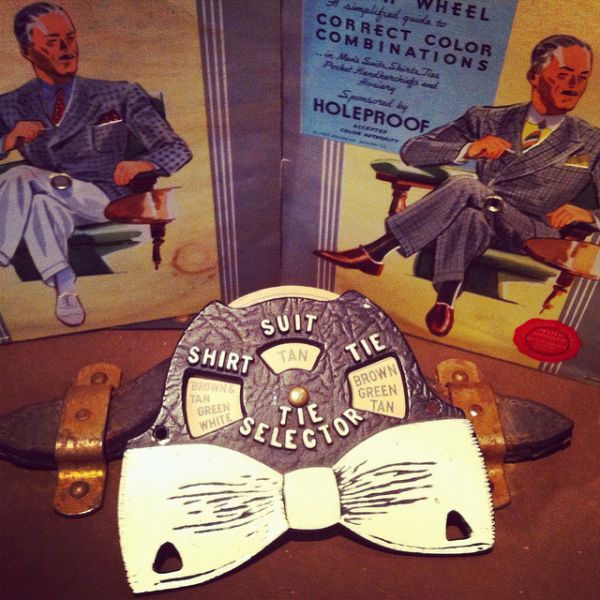 Fine and Dandy is a new menswear shop in Hell's Kitchen for dapper chaps who want to look sharp. Among their tools is a vintage bow tie selector--a handy gadget that helps customers select matching colors.
Link -via Paul Overton | Photo: Rose Callahan
Posted: 25 Nov 2012 07:00 AM PST


Google has a font generator that looks up each of your letters in its image search and produces them from the results for your words. Not only that, but your results will change every time you do it! Link -via the Presurfer
Combination Flashlight/Handgun, c.1922
Posted: 25 Nov 2012 06:00 AM PST
Many modern handguns come with rails for mounting accessories, including lights. This object, patented by S.P. Cottrell & Son, is an early attempt to provide both illumination and protection. It's a .22-caliber 7-shot revolver built onto a heavy flashlight. The trigger is folded along the bottom.
Link -via Pocket Pistols, Historic Firearms & Curiosities | Photo: Gregg Martin Auctions
Posted: 25 Nov 2012 05:00 AM PST
Before Thanksgiving weekend is over, you should take a minute to be thankful for awful cakes that make us laugh. Cake Wrecks has two, count 'em, two roundups of badly decorated Thanksgiving cakes. Most try to render the image of a turkey, but don't quite make it. I think that's what this cake is supposed to be, but it really reminds me of a snail. And how did they spell Thanksgiving? I'm not sure.

Link

Link to more
You are subscribed to email updates from Neatorama
To stop receiving these emails, you may unsubscribe now.
Email delivery powered by Google
Google Inc., 20 West Kinzie, Chicago IL USA 60610