---
Posted: 19 Nov 2012 05:00 AM PST
The following is an article from Uncle John's 24-Karat Bathroom Reader.
Here's the strange story of a family-owned business so dysfunctional that business schools teach it as a lesson in how not to run a company.
FOOT SOLDIER

Not long after the end of World War I in 1918, an 18-year-old German soldier named Adolf Dassler returned to his hometown of Herzogenaurach, in northern Bavaria. Shoemaking was the biggest industry in the area, so it was no surprise when he decided to become a cobbler.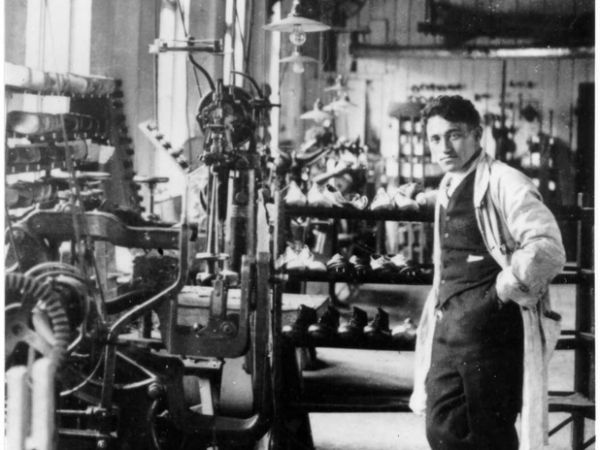 Dassler started small, working in an empty laundry shed behind his parents' house. There he constructed his first shoes -work shoes- out of leather scraps salvaged from wartime army helmets and other gear. His interest soon turned to athletic footwear. An inveterate tinkerer, he made his first sports shoes for his friends. But as his designs improved, his reputation spread beyond Herzogenourach, and he soon had more work than he could manage by himself.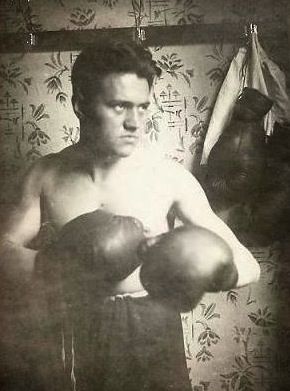 In 1923 his boisterous older brother Rudolf joined his business. "Rudi" handled sales while "Adi" made the shoes. In 1924 they formalized their partnership by founding the Dassler Brother Shoe Company. Two years after that, they moved their growing business into a factory on the other side of town.
PARTY POOPERS

When Hitler seized power in 1933, Adi and Rudolf joined the Nazi Party. They certainly benefitted from Hitler's use of sports as a propaganda tool. But they weren't the most dedicated of party members, something that became clear during the 1936 Summer Olympics, held in Berlin. Hitler intended the Olympics to serve as a showcase for the Nazi doctrine of Aryan racial superiority, but all the Dasslers cared about was getting Jesse Owens, the famous African-American track-and-field star, to wear Dassler Brothers shoes in the games. He did, and won four gold medals. Owens' victories gave the company its first international exposure. Soon athletes from all over Europe began making their way to tiny Herzogenaurach whenever they passed through Germany, to get a pair of Dassler Brothers shoes.
CAIN AND ADI

The brothers really had very little in common: Adi loved nothing more than to sit at his workbench and tinker with his shoes. Rudi, on the other hand, was a people person, but also short-tempered and loudmouthed. Their personalities complemented each other during the early years of the business. But as Germany moved closer to war in the late 1930s, their relationship became strained, made worse by the fact that they, their wives, their children, their parents, and all their siblings all lived together under the same roof in a villa in Herzogenaurach.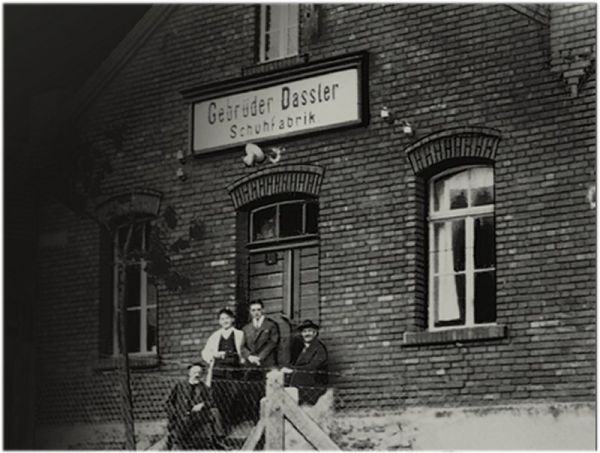 In December 1940, Adi was called up for military service, but he managed to get an exemption after just three months in uniform, perhaps with help from Rudi, who may have pulled strings from Herzogenaurach. If so, that probably made Rudi all the more bitter when he was called up for military service in 1943 and couldn't get out of it. He was convinced that Adi and his wife Kathe had schemed to get him sent to the front so that Adi could have the business to himself. Rudi retaliated by trying to get the factory shut down so that Adi would also be sent to the front, but he failed.

OH BROTHER

In early 1945 Rudi deserted his post in Poland, fleeing just ahead of the advancing Russian army. He returned to Herzogenaurach, where a doctor friend declared him unfit for military service due to a frozen foot, but he was soon arrested by the Gestapo for desertion. He blamed that on Adi, too. There may actually have been some truth to Rudi's belief that Adi was out to get him, because not long after Rudi was released by the Gestapo, he was arrested by the Allies, this time on suspicion of working <em>for<em> the Gestapo. According to the report filed by the American investigating officer, both Adi and Kathe told investigators that Rudi had worked for the Gestapo. Result: Rudi spent a year in a POW camp. How did Adi spend the year? Rebuilding Dassler Brothers by selling athletic shoes to American GIs eager to buy the same kind of shoes that Jesse Owens had worn.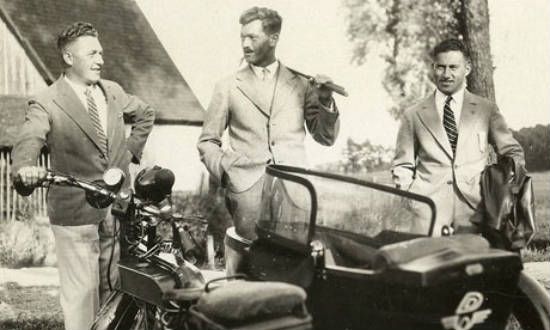 Rudy is on the left, Adi is on the right.

PAYBACK

Rudi retaliated in the summer of 1946, when Adi was hauled before the local denazification committee. Had Adi been classified as a Belestater, or "profiteer," he could have lost control of Dassler Brothers -in which case Rudi might have been appointed to run the company -or he could have been stripped of ownership entirely.

Rudi appeared before the committee and did his best to paint Adi in a bad light, in the hope of assuming sole control Dassler Brothers. And then he rejoined his wife and children under the same roof as Adi and his family. But not in the villa. That had been seized by American occupation forces, who would be living in it until further notice. For the time being, Rudi and his family, and Adi and his family, and their widowed mother, and their other siblings, would all squat together in makeshift accommodations in a Dassler Brothers shoe factory. All the while, the brothers battled each other in public for control of the company.

SPLITSVILLE

Adi beat the rap in November 1946, when the denazification committee classified him as a Mitlaufer, a "follower," or a Nazi who had not actively contributed to the party or profited from his association with it. He would not be barred from running Dassler Brothers.

But by that time neither of the brothers believed they could work together, and they decided to split the company in two. Rudi took the first step, moving his family and his mother (who sided with him) to new lodgings on the other side of the Aurach River, which runs through Herzogenaurach. He and Adi spent the next year and a half dividing the Dassler Brothers assets between themselves. Adi named his new company after himself, combining the first three letters of his first and last names to get Adidas. Rudi took two letters from his first and last names to get "Ruda." Then he decided that Ruda sounded pudgy and un-athletic, so he changed his company's name to the more powerful-sounding Puma.

Neither brother may have realized it at the time, but the Dassler family feud was just getting started.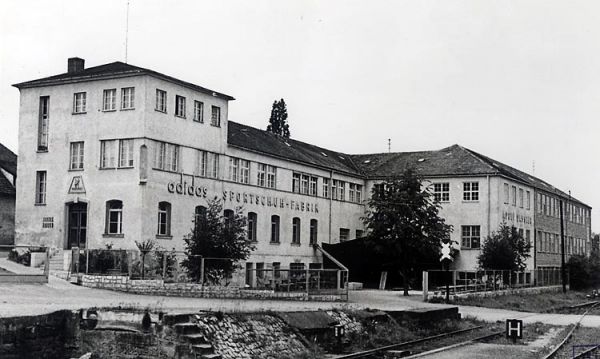 STRIPS AND STRIPES

Now that Adi and Rudi Dassler had split their shoe company into two new ones, both men wanted to be sure that customers would be able to tell Adidas and Puma shoes apart. It had been common practice for many shoemakers, the old Dassler Brothers company included, to sew vertical stripes of leather onto the sides of shoes to give them structure and strength. The strips weren't too noticeable, because they were the same color as the rest of the shoe.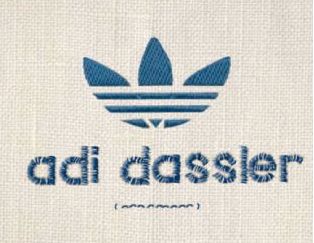 Adi Dassler decided that the strips -which were painted white or some other color to make them look like stripes- would be the Adidas trademark. He made up sample shoes with two, three, four, five, and six stripes apiece, then asked his wife Kathe and her sister Marianne to pick which ones they liked best. Two-stripe shoes were out: Some Dassler Brothers shoe designs had used two strips of leather, so Rudi would have grounds to fight a two-stripe trademark if he wanted to.
Kathe and Marianne felt the shoes with four or more stripes looked too busy. They picked three stripes, and Adidas shoes have been made with them ever since. Over at Puma, Rudi played with a few designs, including a puma jumping through a capital "D," before eventually settling on the company's signature "formstripe," a horizontal stripe that begins at the back of the shoe, then widens as it move forward along the side of the shoe before turning town toward the sole.

SPLIT PERSONALITIES

When the Dassler brothers divided their company in two, the employees had to choose whether they wanted to work for Adi at Adidas or Rudi at Puma. Most of the technical people stayed with Adi; most of the sales force and administrators went with Rudi. That might seem like a formula for faster growth at Puma, since Rudi's people knew how to move the merchandise, but it wasn't. Adi's constant tinkering in the factory and also on the playing field, especially when the teams he supplied had really important games, proved the deciding factor. Adidas developed a reputation for superior designs that helped it grow into a major European brand. Puma was left to play catch-up. It grew, too, but at a slower pace, and remained primarily a national brand with strong ties to German soccer clubs.

THE TOWN OF BENT NECKS

As the years passed and Adidas and Puma loomed ever larger over the economy of tiny Herzogenaurach, the entire town was drawn into their feud. Nearly everyone worked at one company or the other (or was related to someone who did), so few people could avoid choosing a side. Dating, even socializing, across company lines was frowned upon. Marrying someone from the other side was out of the question. Herzogenaurach became known as "the town of bent necks," because people looked down to see which shoes people were wearing before engaging them in conversation.

Adidas people bought their bread from bakers who sided with Adidas, bought their meat from Adidas-friendly butchers and drank in Adidas-only beer halls. Puma workers did the same. Which bus a child took to school depended on whose side their parents were on, and so did the gang the kid joined. The rivalry that started soon after birth went all the way to the cemetery: Each side had its own tombstone carvers. And when Adi and Rudi died four years apart in the 1970s, they were buried in opposite corners of Herzogenaurach cemetery, as far apart as possible. They had carried their feud to the end of their lives, and the same was expected of everyone else.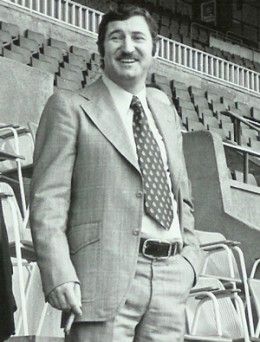 THE ENEMY IS US

Had Adi and Rudi been able to patch up their differences in their lifetimes, and had their descendants not carried the feud into the next generation, the global athletic shoe business might look very different today. But they didn't. The brothers couldn't even limit themselves to fighting each other. Adi fought with his son and heir, Horst Dassler, finally banishing him to France, where Horst was put in charge of a shoe factory that was losing money. Horst turned it into a moneymaker, then built Adidas France into an operation that rivaled the rest of Adidas. But none of it was good enough for Adi. Writing from Herzogenaurach, Adi disowned his son in one angry letter after another.

Horst was so certain that Adi would throw him out of the company that he began diverting millions of Adidas dollars into his own sporting goods businesses, so that he'd have somewhere to go when he got tossed out. He concealed his activities behind shell companies and front men for several years. And though his scheming eventually was exposed, he never did get thrown out of Adidas. After Adi died in 1978, Horst battled his four sisters for control of Adidas, winning the fight in 1984 when his mother sided with him against his sisters.

THE CUB

Over at Puma, Rudi's relationship with Armin Dassler, his oldest son and heir, was no better. Rudi routinely belittled him in front of other company executives, and Armin chafed at his father's overbearing nature and outmoded ways of doing business. Armin could see what his cousin Horst was accomplishing at Adidas, and it drove him crazy that he couldn't do the same at Puma. Armin finally banished himself to Salzburg, Austria, to run a Puma factory there. When the Austrian athletic shoe market proved less profitable than expected, Armin started selling shoes to the U.S. market, something Rudi had expressly forbidden. Armin actually had to go behind Rudi's back to introduce his father's shoes to the largest sporting goods market in the world.

The relationship between father and son never did improve. When Rudi died in 1974, Armin was stunned to learn that Rudi had written him out of the will. Only a legal technicality allowed Armin to inherit a controlling 60 percent interest in Puma against his father's dying wishes. Armin's younger brother Gerd inherited the other 40 percent.

THE LIGHT STUFF

The constant battles between Adidas and Puma, and the battles within both companies, distracted them from a larger threat by a onetime University of Oregon track-and-field coach named Bill Bowerman and his former athlete Phil Knight.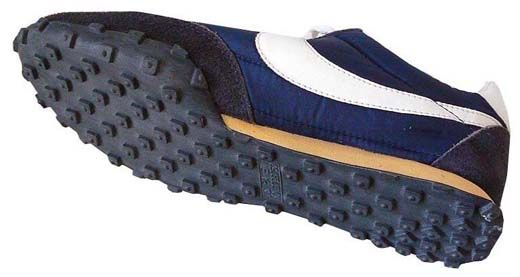 Bowerman was a lot like Adi Dassler: He liked to tinker with shoe designs. He thought ordinary athletic shoes, like the ones made by Adidas and Puma, were too heavy. He believed that if shoes were lighter, his athletes would be able to run faster. So in the early 1970s he invented a shoe he called the Waffle (so named because he made the shoe's revolutionary urethane sole in his wife's waffle iron).

Phil Knight's company, Blue Ribbon Sports, imported Tiger brand athletic shoes from Japan. But he wanted his own line of shoes, and he thought Bowerman's Waffle design had promise. He arranged for some of his Japanese suppliers to manufacture Waffles in their factories. Knight considered naming the new brand Dimension Six, but an employee suggested naming it after the winged goddess of victory in Greek mythology, Nike. That sounded better. In time Knight would rename the entire company Nike …but only after he'd paid a graphic design student named Carolyn Davidson $35 to come up with a logo -the Nike "Swoosh."

MEANWHILE, BACK IN GERMANY

Nike Waffles hit the market in 1974, the same year that Armin Dassler took the helm at Puma. It wasn't long before some Waffles found their way to Herzogenaurach, along with warnings from alarmed Puma and Adidas distributors in America that Nikes were a serious problem that needed to be dealt with immediately.

Neither Horst Dassler at Adidas nor his cousin Armin at Puma saw the Waffle as much of a threat. It went against everything the companies understood about good athletic shoe design: They were too light, weighing little more than bedroom slippers; they were too flimsy; and the soles were made in a waffle iron. Both Horst and Armin gave Nikes a quick once-over, had a good laugh, and went back to fighting each other.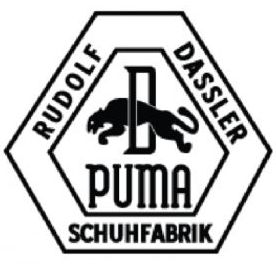 LOSING GROUND

Puma was the first company to feel the full impact of Nike's rise. Armin waited five years before responding to the threat and then, in 1979, he replaced his U.S. distributor in an attempt to boost the company's flagging American sales. When that failed he spent millions of dollars buying out the new distributors. That didn't work either, and when he tried to sell Pumas through mass-market discounters like Kmart, all it did was tarnish Puma's image, which got even worse when Foot Locker and other athletic shoe retailers retaliated by dumping the brand.

In 1986 Armin took Puma public, hoping that listing shares on the Frankfurt stock exchange would bring in money from outside investors. But as soon as outsiders realized how much money Puma was losing, thanks to crashing sales in the U.S., the company's stock price collapsed. In September 1987, Deutsche Bank seized control of the company to prevent it from going under. Then it fired Armin Dassler and his sons Frank and Jorg. Puma was a Dassler company no more.

DOUBLE TROUBLE

By the time Adidas finally came up with a lightweight running shoe to compete against the Waffle in the late 1970s, Nike dominated the market. When Nike introduced the Air Jordan basketball shoe in 1985, it pushed Adidas off American basketball courts as well, racking up $100 million in Air Jordan sales the first year alone.

When Reebok, a British shoe company with just $300,000 in sales in 1980, introduced a shoe designed specifically for the aerobics craze, Adidas declined to offer a competing product, because aerobics was not a "sport." By 1987 Reebok had grown into a $1.4 billion-a-year business. Two years later it was the largest athletic shoe company in the world.

AUF WIEDERSEHEN

Horst Dassler didn't live to see Adidas' day of reckoning; he died of cancer in 1987 at age 51. His death sparked another family battle for control of the company, this time between his two children (Adi, Jr. and Suzanne), who owned 20 percent of Adidas shares, and his four sisters, who controlled the other 80 percent.

Through 1988 Adidas was still the largest sporting goods company in the world, just slightly ahead of Reebok and Nike. But by the end of 1989 it had fallen behind both companies and even behind the Converse shoe company, and sales continued to fall. A plunge from first place to fourth in one year was more than Horst Dassler's sisters could stomach. Mindful of what happened to their cousins over at Puma, they decided to unload Adidas while they still had something to sell. On July 4, 1990, they sold their shares to a French industrialist for $273 million. By then Adi Jr. and his sister Suzanne had already sold most of their shares to pay their inheritance taxes. The Dassler era was over.

LIFE AFTER DASSLERS

Reebok's reign at the top did not last. By the late 1990s, it had slipped to a distant third behind Nike and Adidas, and it never caught up again. In 2005 it was acquired by Adidas, but as of 2011 Nike was still larger than its two rivals combined. In 2007 Puma was acquired by the French conglomerate Pinault-Printemps-Redoute (PPR), which also owns Gucci, the Italian luxury-goods label.

Both Adidas and Puma are still headquartered in Herzogenaurach, though shoes are no longer made in the village. Now that the factory jobs are gone, the rivalry that divided the town for decades has largely disappeared. Today Rudi's grandson Frank Dassler, fired from Puma in 1987, works for Adidas.

About the only time the rivalry resurfaces is when tradespeople hired to work in the Adidas or Puma headquarters show up wearing the wrong kind of shoes. That's a tradition that dates back more than 60 years, when laborers deliberately wore the wrong shoes when working in Adi or Rudi's homes -they knew that if Adi saw Pumas in his house or Rudi saw Adidas in his, they'd give workers a free pair of the right kind of shoes. "Rudolf simply could not stand the fact that someone was wearing an Adidas shoe in his private home," Frank Dassler says.
___________________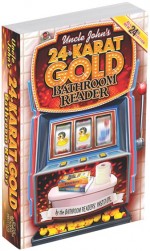 The article above was reprinted with permission from the newest volume of the Bathroom reader series, Uncle John's 24-Karat Bathroom Reader.
Since 1988, the Bathroom Reader Institute had published a series of popular books containing irresistible bits of trivia and obscure yet fascinating facts. If you like Neatorama, you'll love the Bathroom Reader Institute's books - go ahead and check 'em out!
Posted: 19 Nov 2012 04:00 AM PST
(YouTube link)
This intergenerational mashup was performed at the American Music Awards last night. If you're a little burned on "Gangnam Style" but want to see what Hammer does with it, you can skip to the middle of the video. Oh, the awards? Wikipedia has all the winners. Link
Posted: 19 Nov 2012 03:00 AM PST
Jill's daughter loves to color, but makers get expensive and can make a mess. Her solution was to cover an old coffee table with a chalkboard:
Right now she has been happily drawing for an hour and letting her imagination run wild. What's more is that chalk is …… Drum roll….. Easy to clean up!

Even if you don't have children this table would be great for college and high school students. Not to mention for adults too! A coffee table you can write on when you REALLY need to remember something or just like to doodle. Don't forget those annoying moments when you need to write something down but can't find a pen or paper.
Link -via Offbeat Mama
Cockatoo Sings "Gangnam Style"
Posted: 19 Nov 2012 02:00 AM PST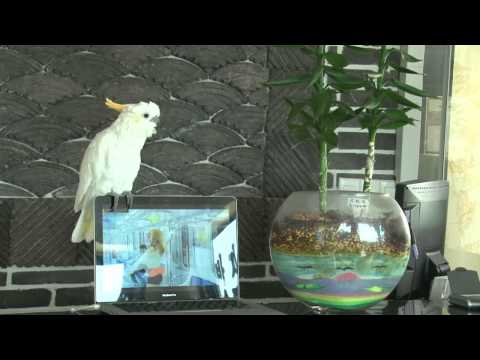 (YouTube link)
Someone's been playing that video waaaay too much. -via Tastefully Offensive
The Perfect Advent Calendar for The Alcoholics In Your Life
Posted: 19 Nov 2012 01:00 AM PST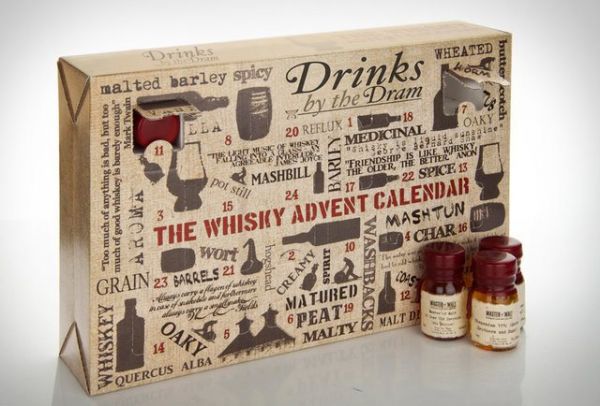 Think advent calendars filled with candy are too kiddy? Well then, why not try filling them with booze instead? With the Whisky Advent Calendar, you get 24 shot-sized bottles each featuring a different sample of whisky. While the company won't tell precisely what is in the box ahead of time, they do give you one hint:
Behind one of the doors is a sample of 50 year old Scotch whisky, the full-sized bottle of which is worth £350!
They also have a Ginvent calendar for those who aren't too big on Scotch and bourbon.
Link Via Laughing Squid

10 Pictures That Prove George Lucas Used To Be One Cool Dude
Posted: 19 Nov 2012 12:00 AM PST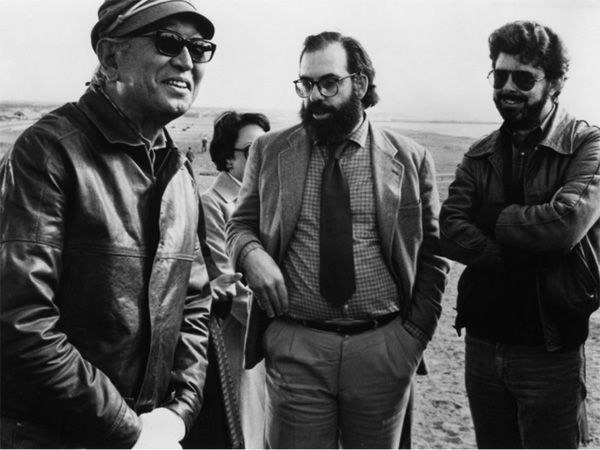 Ah, those were the days! Sometimes it seems like the world is divided into two parts: those people who were introduced to Star Wars as the movies came out starting in 1977, and those whose childhoods were filled with prequels. These pictures will introduce the younger generations to the cool Lucas, the man who hung out with Francis Ford Coppola and Akira Kurosawa, as in the above picture. See the rest at Gamma Squad. Link
Posted: 18 Nov 2012 11:00 PM PST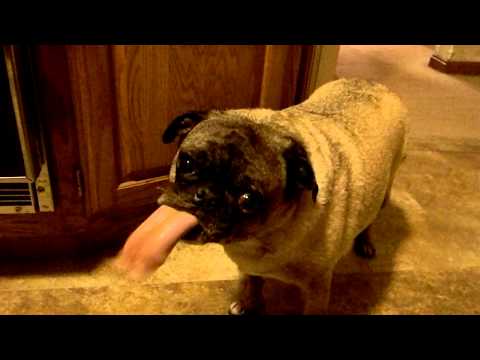 At first glance, Sophie looks like any other pug, but give her a little peanut butter and you can quickly see that despite her grandfather's claims to the contrary, her great great grandmother had an affinity for the long necks and long tongues of giraffes.
Unusual Pistol Can Be Cocked and Fired One-Handed
Posted: 18 Nov 2012 10:00 PM PST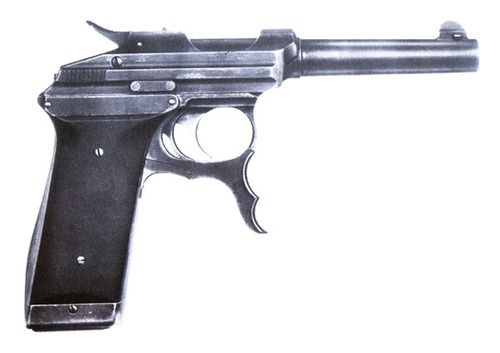 Clever, isn't it? This 1907 design from White-Merrill was made for horse cavalry soldiers who needed a one-handed weapon:
The unusual feature of this pistol was the provision of a finger-operated lever beneath the trigger guard, which, when squeezed, drew back the slide to allow the weapon to be cocked with one hand. This feature is said to have been provided for the benefit of the US Cavalry, who could thus retain control of their horse while cocking the pistol.
It could fire ten .45-caliber rounds fed individually or with a stripper clip.
Link -via Rare, Antique & Beautiful Firearms
Casting Live Versions of Animated Classics
Posted: 18 Nov 2012 09:00 PM PST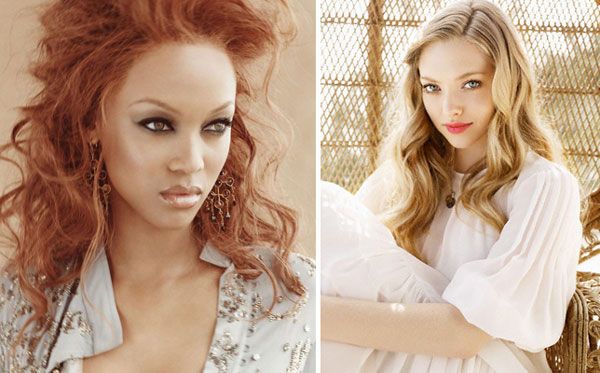 The news is out this week that Tim Burton may be directing a live-action version of Pinnocchio starring Robert Downey, Jr. as Geppetto. That's an interesting casting choice, to be sure, but they said the same thing when Downey was cast as Charlie Chaplin, Sherlock Holmes, and as Iron Man, which all make sense after we saw them. Emily Temple at Flavorwire considered how other animated characters might be cast in live-action films if they were to be made today. For example, if The Little Mermaid were a live-action film, Tyra Banks might made a great Ursula. Ya think? After all, there's no law that says the evil octopus has to be fat. Link
Kissing Elves Salt & Pepper Shakers
Posted: 18 Nov 2012 08:00 PM PST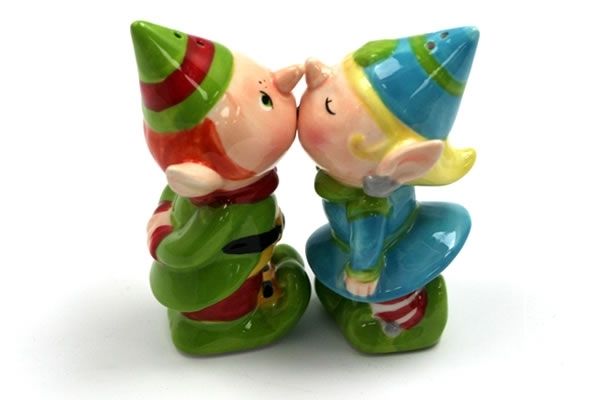 Kissing Elves Salt & Pepper Shakers - $10.95
Christmas is right around the corner. Are you looking to add a little bit of naughty and nice to your kitchen table? You need the Kissing Elves Salt & Pepper Shakers from the NeatoShop. This cheerful glazed ceramic set is held together by magnets.
Be sure to check out the NeatoShop for more fantastic Salt & Pepper Shakers.
Posted: 18 Nov 2012 08:00 PM PST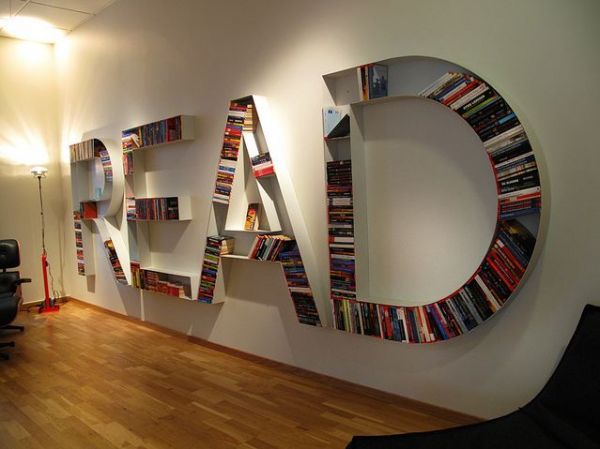 While some parts of this bookcase may prove impractical for storage, its purpose for your life will always be clear. Kim Yokota spotted it in a department store in Stockholm.
Link -via School Library Journal | Photo: Kim Yokota
New Findings on Tycho Brahe's Death
Posted: 18 Nov 2012 07:00 PM PST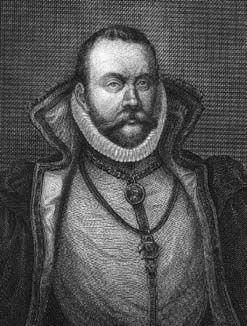 New findings have been released on the 300-year-old mystery of Tycho Brahe's death. The Danish astronomer died 300 years ago, and for a long time it was assumed that he succumbed to an infection from a burst bladder after a particularly long banquet, because it would be considered rude to get up and go relieve himself. But in 1901, evidence of mercury was found in Brahe's hair, leading many to believe he was poisoned, possibly by his assistant, Johannes Kepler.
But as tantalizing as this 17th-century murder mystery sounds, new findings seem to indicate that it's probably not true. A team of Danish and Czech scientists conducted new tests of Brahe's clothing, bone and hair samples after his body was again exhumed in November 2010. In doing so, they concluded that there was insufficient mercury in his system to cause death.

"There was mercury in the beard, you will also have traces of mercury if you have a beard," said lead investigator Dr. Jens Vellev, from Aarhus University in Denmark, to BBC News. "But the amount of mercury was as you see in people [alive today]."

"It is impossible that Tycho Brahe could have been murdered," Vellev added. He also discounted the possibility death from a combination of other toxins: "If there were other poisons in the beard, we would have been able to see it in the analyses."
So maybe he really did die from holding it in too long. Link
Posted: 18 Nov 2012 06:00 PM PST
(YouTube link)
The kitten just wants to have a nice nap with a warm body to snuggle with, but that puppy won't stop wiggling! -via Daily of the Day

Monstrous But Realistic Baby Dolls
Posted: 18 Nov 2012 05:00 PM PST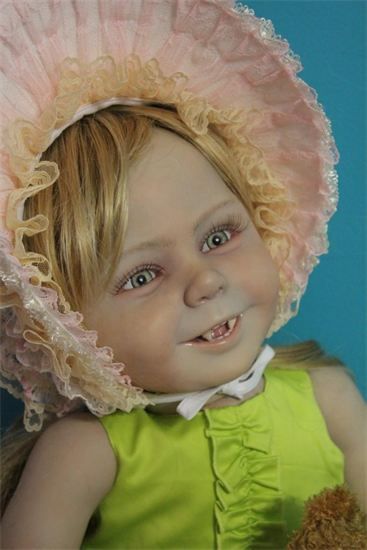 At some point, every parent thinks that s/he's somehow brought a demon into this world. They'd be more convinced if their children looked this this doll on a regular basis. Bean Shanine, the artist behind The Twisted Beanstalk Nursery, makes baby dolls that are both cute and terrifying.
Posted: 18 Nov 2012 04:00 PM PST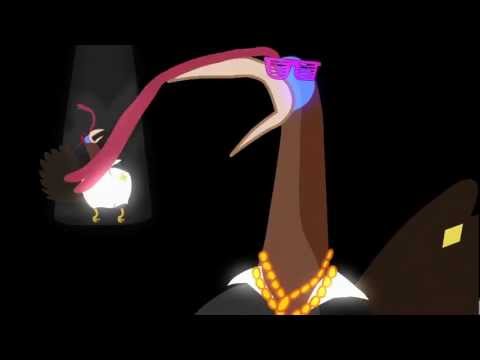 (YouTube link)
The turkeys' first dub step video from a few months ago got 2.5 million views, so they were under pressure to give their audience more. I think it went to their heads.
Posted: 18 Nov 2012 03:00 PM PST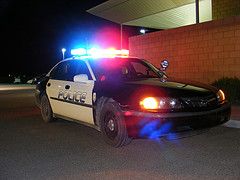 In 2008, a man in Salinas, California stole a truck. He made a bad decision and ended up with even worse luck:
Thirty-three-year-old Edward Bishop told police he stole the pickup Saturday, then, while sitting outside a convenience store, a man with a gun hopped in and ordered him to start driving.
Then it got even worse...or better, depending on your point of view:
The pickup ran out of gas and the gunman ordered Bishop to get out and push, but Bishop ran away and called police.
Both thieves were later arrested.
Link -via Legal Juice | Photo: banspy
The Hazards of Growing Up Painlessly
Posted: 18 Nov 2012 02:00 PM PST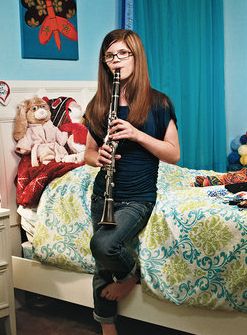 Ashlyn Blocker is 13 years old and has never felt pain -physical pain that is. She has "congenital insensitivity to pain," meaning that although she can feel pressure and temperature up to a point, but not pain. Her condition is thought to be caused by a gene mutation. While the inability to feel pain may sound like a nice disability, it's caused all kinds of problems for a child growing up without feedback in an injurious world.
There was the time she burned the flesh off the palms of her hands when she was 2. John was using a pressure-washer in the driveway and left its motor running; in the moments that they took their eyes off her, Ashlyn walked over and put her hands on the muffler. When she lifted them up the skin was seared away. There was the one about the fire ants that swarmed her in the backyard, biting her over a hundred times while she looked at them and yelled: "Bugs! Bugs!" There was the time she broke her ankle and ran around on it for two days before her parents realized something was wrong. They told these stories as casually as they talked about Tristen's softball games or their son Dereck's golf skills, but it was clear they were still struggling after all these years with how to keep Ashlyn safe.
Ashlyn's parents founded Camp Painless But Hopeful in Georgia, to connect others with the condition, a few who also tell their stories in this article at the New YOrk Times. Link -via Jason Kottke

(Image credit: Jeff Riedel for The New York Times)
Posted: 18 Nov 2012 01:00 PM PST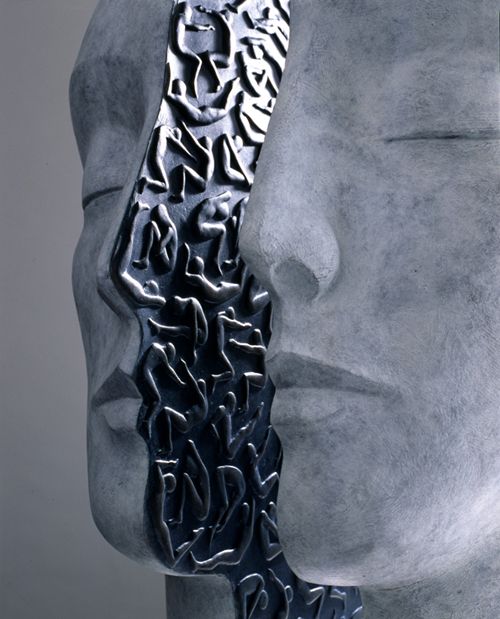 Glenys Barton's "Within" is a bronze sculpture about two and a half feet high. A pamphlet for an exhibition in London, Ontario explained its meaning:
The outer calm of the immaculate features contrasts with the inner activity, a metaphor for stresses within the mind that are more often than not at odds with the way in which the self presents to the world.
Pamphlet and Link -via Wunderkammer| Photo: Anne Hardy
Posted: 18 Nov 2012 12:00 PM PST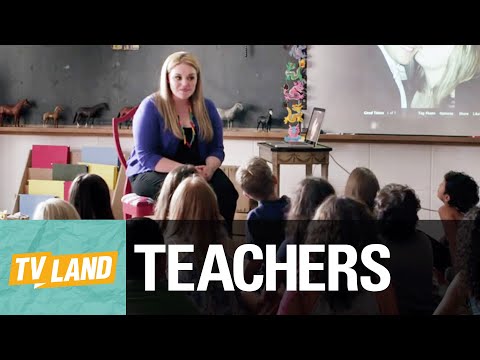 (YouTube link)
They always told you, keep your professional life and your personal life separate. In some professions, that should be a no-brainer. This video is part of a web series called Teachers. -via Unique Daily
Trend: Digital Wills to Protect Your Online Content after You Die
Posted: 18 Nov 2012 11:00 AM PST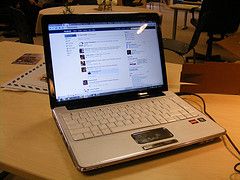 If you die, can your friends and relatives get onto your Facebook wall to let people know that you've passed? More importantly, can they access and delete your collection of untalented and somewhat unsettling My Little Pony: Friendship Is Magic sketches on deviantArt? There are now companies set up to make sure that your digital legacy can be reached and managed after you, the keeper of the passwords, have died:
By accessing the information from a secure server, an executor can erase secret email folders, close subscriptions to gambling or pornography websites or remove photographs from Facebook pages.
The "digital wills" keep passwords in a secret location but can allow paying clients to update them. When they die, a named guardian can access the information when a death certificate is presented. [...]

Cirrus Legacy, one of Britain's first digital legacy companies, has more than 500 clients after being founded earlier this year.
POLL: Have you made your online content accessible after you die?
No, it should die with me.
Yes, I've made arrangements.
Posted: 18 Nov 2012 10:00 AM PST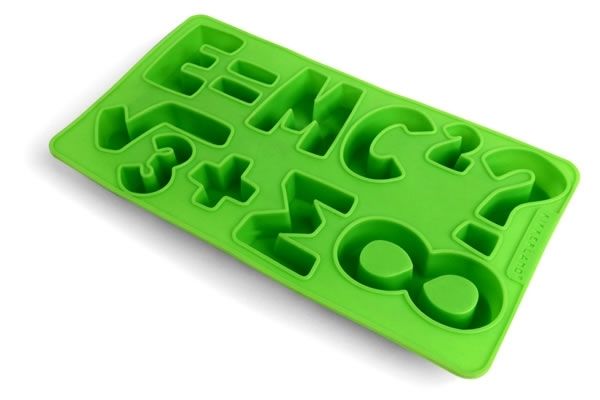 Cool Science Ice Tray - $5.95
Are you looking for an ice tray that fits perfectly with your geeky persona? You need the Cool Science Ice Tray from the NeatoShop. This refreshing ice tray makes ice cubes shaped like math equations.
Be sure to check out the NeatoShop for more cool Ice Trays.
Posted: 18 Nov 2012 10:00 AM PST
In a project called Family Tree, photographer Bobby Neel Adams combined photos of family members to show how much they resemble each other. There is no Photoshop involved, just combined, hand-torn portraits. All of the photographs are of parent-child, and a couple are opposite sex pairings. Link -via reddit
Previously:Bobby Neel Adams' Age Maps
The Goofiest Villains And Monsters In Horror Movie History
Posted: 18 Nov 2012 09:00 AM PST
Horror movies have featured some pretty horrifying creatures over the years, and they've also let some real turkeys take center stage.
Flavorwire presents a supercut of the goofiest monsters and baddies ever featured in horror movies, and when they say goofy they mean utterly ridiculous!
--via Flavorwire
Posted: 18 Nov 2012 07:00 AM PST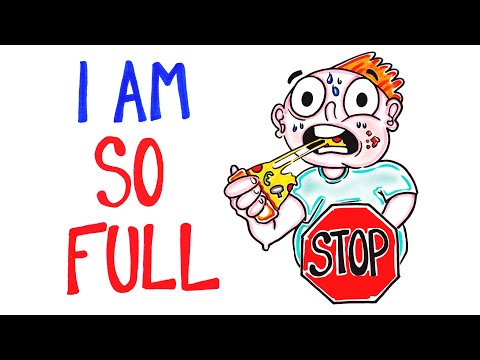 (YouYube link)
As we prepare to celebrate a holiday that centers around eating, we look forward to mass quantities of turkey, gravy, and pie. And no matter how much rich food you eat for Thanksgiving at the main meal, there always seems to be room for pie. Even outside the holidays, we reach for more Cheetos than should be necessary to make us full and happy. Why do we eat so much? AsapSCIENCE explains what's going on. -via Irene's Internet
Posted: 18 Nov 2012 06:00 AM PST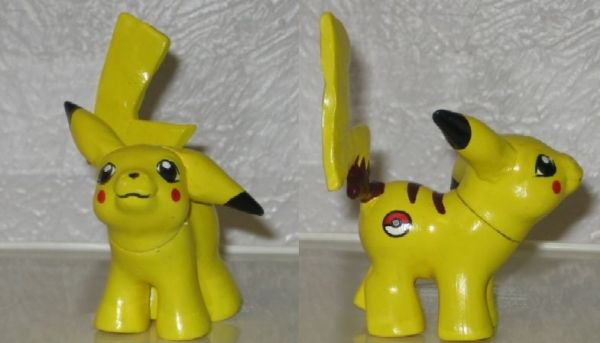 "Gotta catch all the ponies!" Dusty Gusty's Pika Pony won't stay in a Poké Ball, but he will bear one as a cutie mark.
You are subscribed to email updates from Neatorama
To stop receiving these emails, you may unsubscribe now.
Email delivery powered by Google
Google Inc., 20 West Kinzie, Chicago IL USA 60610