---
Posted: 14 Nov 2012 05:00 AM PST

Commentary on Esther the Cold War Kitty
by Alice Shirrell Kaswell, AIR staff
The book Esther the Cold War Kitty is legendary. Written at the height of the Cold War, it was intended as propaganda for children in the West. Some historians suggest that the book was written by Soviet agents intending that the West would publish it and then suffer public embarrassment. Other historians dismiss this latter view as nonsense. For reasons that have not yet been made public, the book was never published. The true identity of the author has never been revealed.
We have obtained a copy -- one of the three copies known to be in existence -- of the book. As a public service, in this issue of the Annals of Improbable Research, we present three of its chapters: "Esther the Cold War Kitty," "Esther and the Gear Factory," and "Esther and the Oil Field."
First, though, here is a perhaps relevant document produced by the CIA. It was made public under the Freedom of Information Act (the legwork in unearthing it was done by Jeffrey Richelson, a senior fellow at the National Security Archive in Washington). Shortly after its release in 2001, a report about it in The Guardian explained that:
[A] memo dated 1967 on "Views of Trained Cats" looks into the possibility of surgically inserting microphones and transmitters into cats and using them as walking bugs. The operation was codenamed "Acoustic Kitty" and was a resounding failure.

Having wired their first trained cat for sound, they released it near a park with strict orders to eavesdrop on two men on a bench, but the poor animal was run over by a taxi before it had taken more than a few steps towards its target.

The CIA researchers came to the conclusion that they could train cats to move short distances, but that "the environmental and security factors in using this technique in a real foreign situation force us to conclude that for our (intelligence) purposes, it would not be practical."
A section of the document is reproduced below.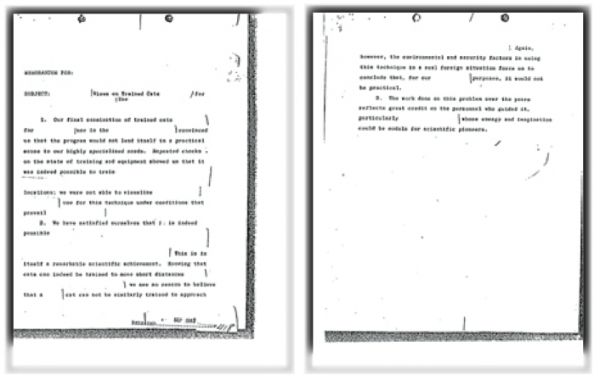 Questions abound. Was the Acoustic Kitty project related to the Esther the Cold War Kitty book? Or was it in some way a reply to, or reaction against it? Was either project entirely the work of western operatives, or was one or both in some way an attempt by the Soviet Union to gull its rival into doing something that might look foolish to the American public? Perhaps we will never have definitive answers to any of these wonderings. Nonetheless, both Esther the Cold War Kitty and the Acoustic Kitty project are fascinating research objects for historians and students of international relations.
(Thanks to investigator Charles Bergquist for bringing the Acoustic Kitty project to our attention.)
Esther the Cold War Kitty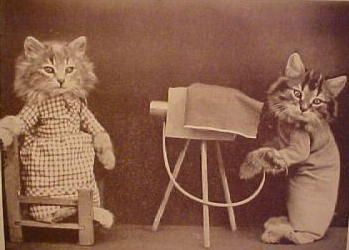 The cat's out of the bag -- almost literally -- now that the U.S. and Russia have declassified some of their cold-war spy reports. But until now, nobody has reported on the littlest, the warmest, the cuddliest, the most technologically surprising secret of them all. It is time for the world to know about Esther, the Cold War kitty.
Esther was the West's secret weapon. With her Minox subminiature camera, she kept an eye on the skulkings and plottings of the Soviet leadership. Josef Stalin, his successor Khrushchev, and the entire leadership of the KGB spy organization loved Esther. They treated her as an honored and pampered guest. They never suspected that the lovable, furry kitty-cat was a subminiature techno spy.
Esther's story is unlike any other. She was an ordinary cat, living an ordinary life, until one morning in 1947. Suddenly, through no fault of her own, Esther found herself on an airplane to Vienna.
In the years right after World War II, the Austrian capital city was a place of intrigue, seething with spies from the Soviet Union, England, the United States, France, and other glamorous countries.
The night before her adventure began, Esther had gone to sleep on a pile of nice, rumpled shirts. The shirts belonged to a house guest who just happened to be a top U.S. spy. When the spy packed his luggage in the pre-dawn darkness, he unknowingly packed Esther. Esther was notorious among her friends for being able to sleep through almost anything.
When she awoke the next day, Esther was in the American consulate in Vienna. The Ambassador and his favorite spy were delighted to meet Esther, and they spent several minutes petting her and giving her treats. But the Ambassador and the spy were preoccupied with a problem. They couldn't figure out how to get inside the Soviet embassy and take photographs of the Soviet ambassador and his favorite spy.
Suddenly, the two men had a brainstorm. They would have Esther take the photos! Who would suspect an innocent- looking kitty of being a big-time spy? It was a brilliant idea.
The Ambassador showed Esther a very special camera. It was a beautiful little machine, a tiny, kitty-sized Minox (see photo below). The Minox had been designed a decade earlier in Latvia by a Swiss inventor named Walter Zapp. The camera was a mere 75 millimeters long, 13 millimeters high, and 28 millimeters wide -- just perfect for a cat. It weighed 180 grams, and used very small film, just 8 by 11 millimeters. With a Complan 15mm F3.5 (4Ele, 3Grp) lens, a Galilei Bright flame finder, a 0.2 - Infinity thumb wheel dial, shutter speeds from 1/2-1/1000 s, and the ability to shoot from as close as 0.2 m, the Minox was ideal for Esther. All it needed was a way for her to snap the shutter. Esther herself helped devise a paw-activated trip mechanism.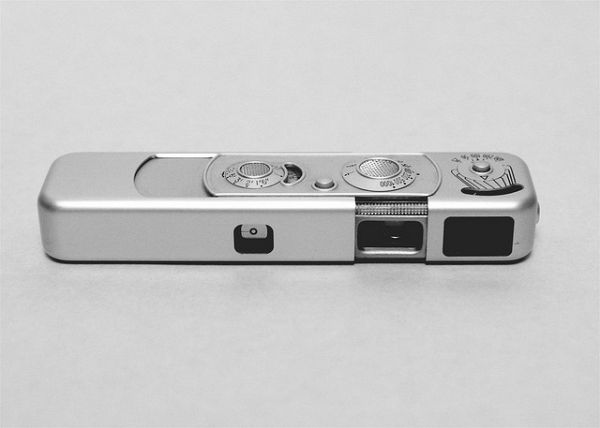 (Image credit: Flickr user David Bruce)

Esther was more lovable than any cat on the Continent. With the Minox strapped under her leg, she could go anywhere and take pictures of anything. And she did. Esther was a personal houseguest of both Stalin and Khrushchev. She attended Communist party congresses and top-secret military meetings.
Because Esther was an extraordinarily furry cat, no one ever noticed that she came equipped with a Minox. The furriness did create one problem, though -- a big one. Most of Esther's photographs show more fur than anything else (see example, right). Of the more than twenty thousand pictures she produced, only a handful show anything that a human being can recognize. Esther died in 1962. Had she lived and worked a mere three decades later, new image processing technology would have been available to turn her furry photos into useful strategic tools. For Esther the Cold War kitty, opportunity came too soon.
Esther and the Soviet Gear Factory
The photographs you see here were taken in 1948 at a gear factory near Omsk, in the Soviet Union. The photographer was Esther, the Cold War kitty. Esther was a lovable, furry cat who became Josef Stalin's favorite pet. Secretly, though, she was a spy for America. Stalin and the other Soviet leaders took Esther everywhere, and everywhere she went Esther took pictures with her Minox subminiature camera. The Omsk gear factory photographs were one of her triumphs, because they revealed a great secret the Russians didn't want the West to know.
Stalin always loved to visit gear factories. That's because his name, "Stalin," is a Russian word that means "steel." Good gears are made of steel, you know.
The visit to the Omsk gear factory began as a typical Stalin trip. The great leader packed a box lunch and some snacks, and a snuggly blanket for Esther so she would be comfortable on the long train ride. Stalin and Esther rode right up in the front car, with the engineer. Stalin got to flick the train whistle switch on and off the whole time. Esther slept through it (she could sleep through anything). When the train arrived in Omsk, Stalin let everyone on the train touch his mustache. Then he and Esther went over to the gear factory, where he let everyone in the factory touch his mustache. Then he toured through the factory, flicking all the switches on and off. The factory workers applauded and cheered. It was a fun time for everybody.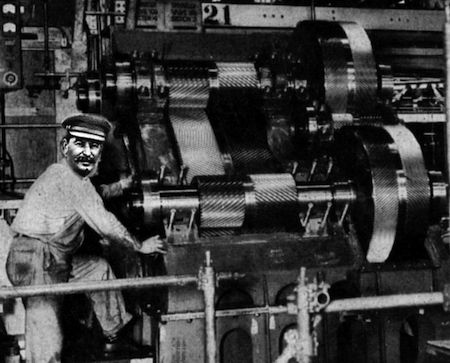 There was hard work to be done, too. The first photo shows Josef Stalin disassembling a double- reduction locked-train speed-reduction gear. This particular photograph is important evidence. If you look very, very, very carefully, you'll see that this particular double-reduction locked- train speed-reduction gear has tiny words printed on it. They say "MADE IN AMERICA." Thanks to Esther's photograph, the West discovered that the Soviet Union had been stealing American high-tech secrets! And that Josef Stalin knew about it!
And that's not all Esther discovered. On this particular visit, she apparently crawled into a sunny corner of the factory and dozed off. Stalin went home to the Kremlin, not noticing that his beloved kitty had been left behind. Esther spent the next two days at the factory.
This was a fortunate thing for England and America. The second photograph shows what the factory was like on a typical work day. You can see everybody standing around in a big group. That's what the workers did every day, all day. The factory director always read aloud to them from Josef Stalin's best-selling book "How to Design and Manufacture Gears." Out of respect for Stalin, the workers would remain standing while they listened. The best part was chapter 43, "Tooth Proportions for Cross-Helical Gears and Double-Enveloping Worm Gears." Everyone agreed it was a corker.
The factory workers enjoyed hearing their director read Stalin's book to them, over and over and over again. But they were a little sad because their feet hurt, and because they never had time to make any gears. Maybe that's why the Soviet Union had to steal gears from the United States.
Now, there WAS one Russian gear factory where they DID make gears. It was in Novosibirsk.
The factory director there didn't know how to read, so the workers never got to hear Stalin's book. Instead, they sat down and made gears. They made them of iron. One worker made the iron gear hubs. Another worker made the iron gear teeth. A third worker glued the gear teeth onto the gear hubs, then washed the whole thing in nice, clean water to make it shiny.
It was a really small factory -- three workers and an illiterate director. Esther never got to visit the place, because Stalin never went there. This was a small failing in her otherwise sterling career.
Esther and the Soviet Oil Field
You wouldn't think that oil and gasoline would interest a cat, and ordinarily you'd be right. But there was nothing ordinary about the career of Esther, the Cold War kitty.
Equipped only with her Minox subminiature camera, her cuteness and charm, and an abundance of fur, Esther lived and traveled with Josef Stalin, Nikita Khrushchev, and other Soviet leaders. She saw and photographed every Russian secret, great and small. This humble kitty took more than twenty thousand pictures. The pictures showed mostly fur, because Esther was a very furry kitty indeed. But there was valuable information in some of them, if you looked carefully.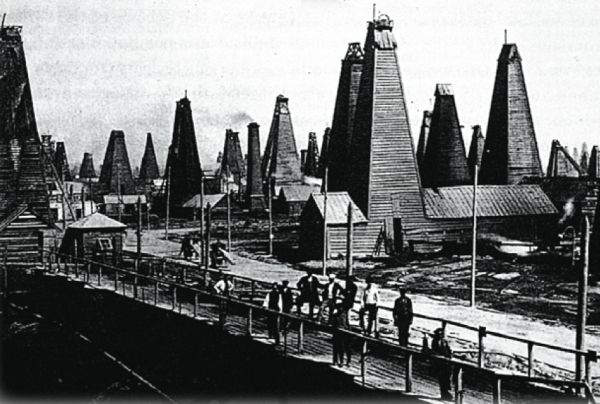 The picture you see here was one of Esther's early triumphs. It shows the oil fields at Baku. Every summer from 1947 to 1951, Esther went to Lake Baku, with Josef Stalin. Stalin liked to go snorkeling and build sand-castles and fly kites, while Esther cat-napped on a plush linen blanket on the beach. It was a fun time for everybody.
People outside the Soviet Union were very, very eager to see what was happening at Baku. Newsreel producers were desperate to get film of Stalin frolicking in the sun and sand, because he was a big international celebrity. Western governments and business leaders, though, needed to know about the oil situation.
Russia was powered by oil and coal. They used the oil to make gasoline and specialty lubricants and paraffins. Most of Russia's oil came from Baku and the other oil-producing fields of the Chechen-Ingushetiya region. When the cold war began, no one in America or England knew how much oil the Russians had. The West was worried. Maybe Josef Stalin had so much oil that he would become the richest man in the world. If that happened, he would be able to do lots of bad things, and cause lots of trouble, whenever he wanted. It was a scary situation.
Esther's photograph of the Baku oil fields made the West very happy. It shows lots of big wooden buildings that have oil pumps in them. They look like they could pump a whole lot of oil out of the ground. That would be a frightening thing, wouldn't it, if Josef Stalin were getting all that oil every day, and he could do whatever he wanted with it? But you don't have to worry about that, because the picture tells a very different tale.
Long, long ago -- about 1890 -- the oil fields at Baku were pretty new, and the oil pumps there were pretty small, and pretty rickety. Sixty years later, when Esther was doing her spying in Russia, the oil industry outside Russia had invented big, shiny oil pumps that were very powerful, and could pump lots of oil.
But the oil pumps in Baku were NOT big, or shiny, or powerful. Look at Esther's photograph carefully. The oil pumps you see there are small and rickety. They are the same old oil pumps from 1890. What Esther showed was that Russia was very behind-the-times, and was only using dinky old pumps.
So the Soviet Union wasn't producing very much oil at all. And so Josef Stalin would NOT become the richest man in the world, as well as one of its most powerful men. And so he would NOT be able to do lots of bad things, and cause lots of trouble, whenever he wanted. The situation was not so scary, after all.
Once the Western leaders saw this photograph, they were able to stop worrying about the Soviet oil industry. They could relax, and find other things to worry about. And this was all thanks to the valiant work of Esther the Cold War kitty, and her Minox subminiature camera.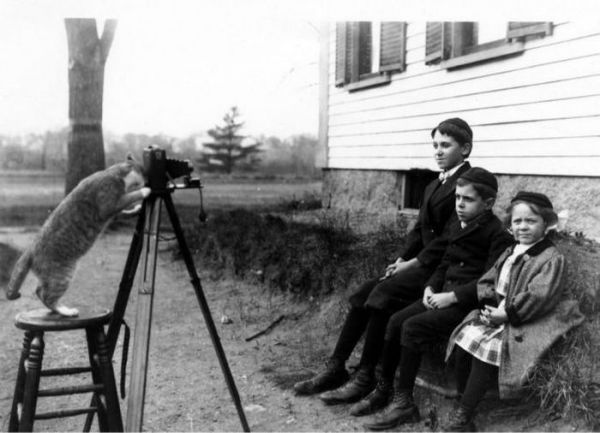 _____________________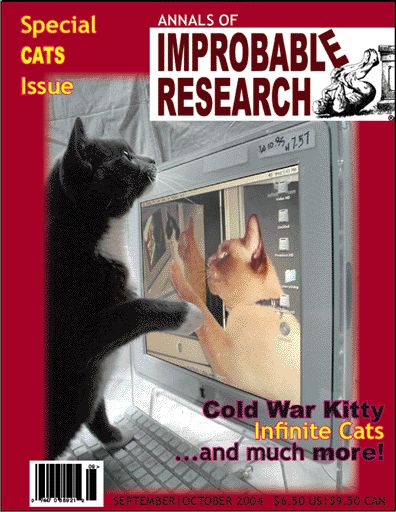 This article is republished with permission from the September-October 2005 issue of the Annals of Improbable Research. You can download or purchase back issues of the magazine, or subscribe to receive future issues. Or get a subscription for someone as a gift!
Visit their website for more research that makes people LAUGH and then THINK.
Dream Homes Built for Books and the Nerds Who Love Them
Posted: 14 Nov 2012 04:00 AM PST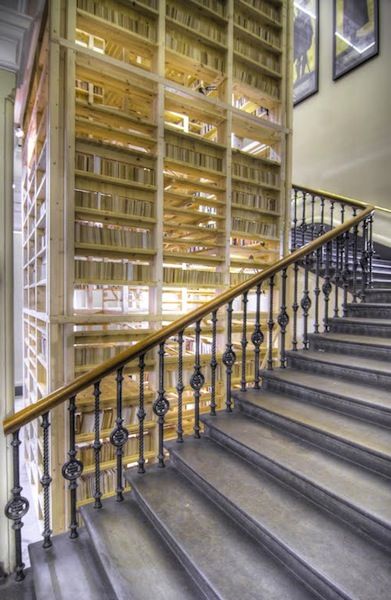 In an article last week, we read about how Ed Bernays convinced architects and builders to include bookshelves in new homes, in order to sell more books. There's a big difference between including them and designing a home around bookshelves, but some bibliophiles have done just that. See thirteen gorgeous interiors dominated by books and the awesome installations and fixtures to store them in at Flavoirwire. Link
Perfect Cookies For Your Disney Took Over Star Wars Party
Posted: 14 Nov 2012 03:00 AM PST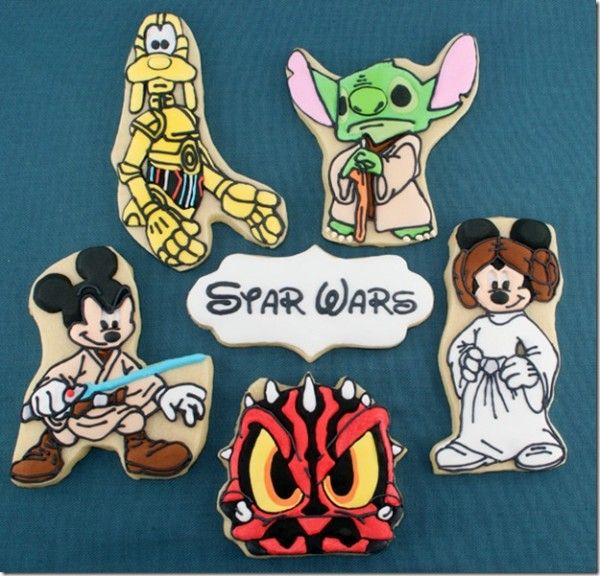 There have been plenty of Star Wars/Disney mashups since the company bought the rights to the sci fi franchise, but these cookies look particularly good -possibly because they were based on a set of Disney pins that were released long before the buy out.
Or maybe it's me just because I'm a sucker for Stitch.
Who Has The Cuttest Bottom in the Animal Kingdom?
Posted: 14 Nov 2012 02:00 AM PST
When I was a youngster, my school had an anti-smoking ad that said "butts are gross" and showed a bunch of animal booties. The only problem? I thought most of them were actually adorbale. While it didn't make me want to smoke, it sure didn't convince me that butts were indeed cute.
These days, I know I'm not alone when it comes to thinking that some critters have absolutely adorable booties. That being said, the real question is which little fuzzball has the cutest bottom? Well, Neatonauts, what do you think?
Rabbits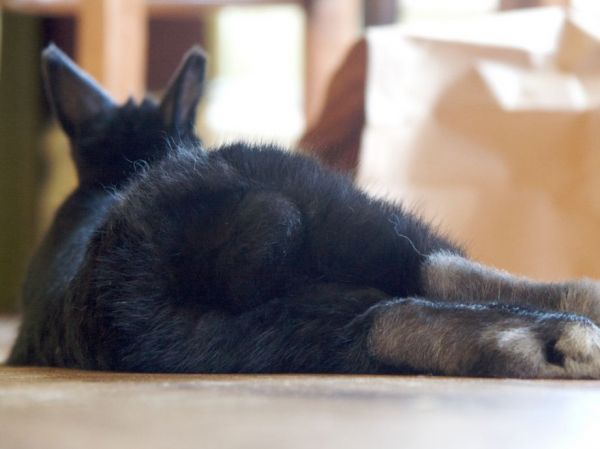 Image Via foonus [Flickr]
Elk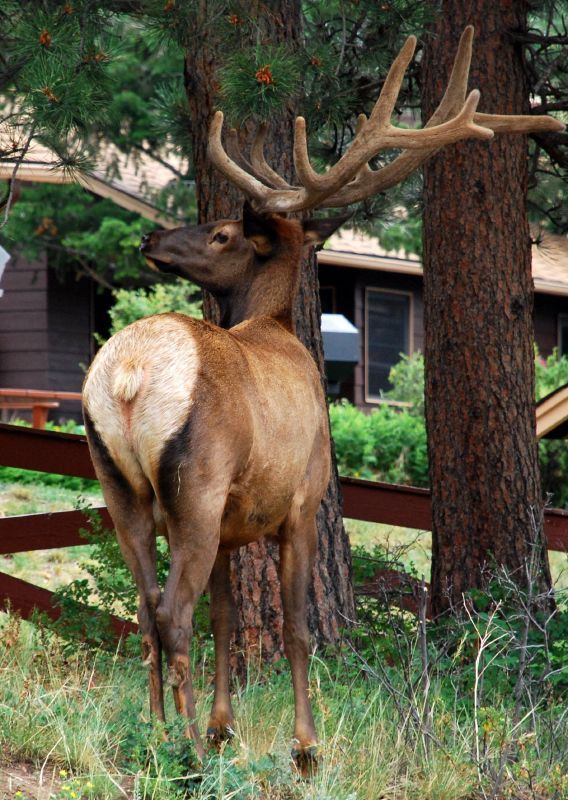 Image Via Malingering [Flickr]
Ducks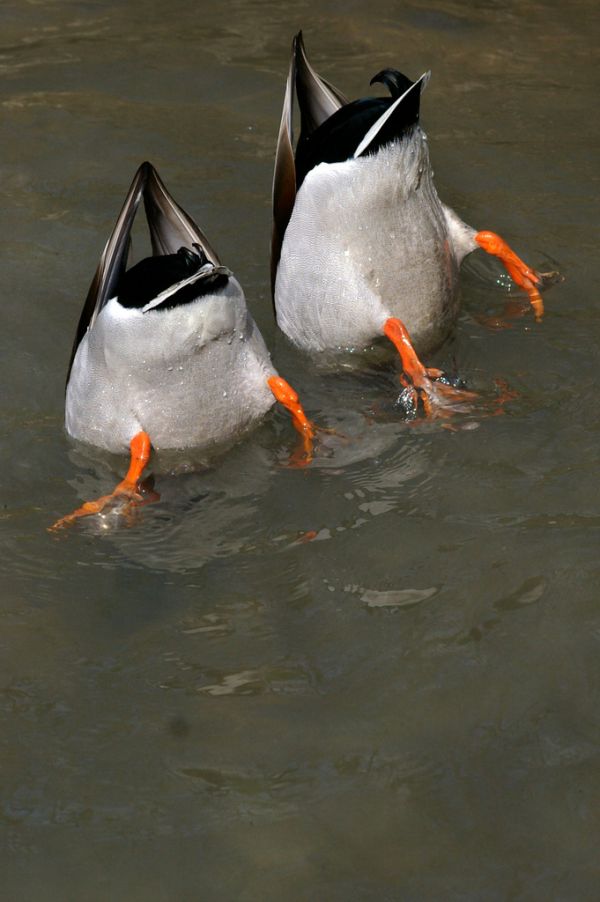 Image Via Daveybot [Flickr]
Corgis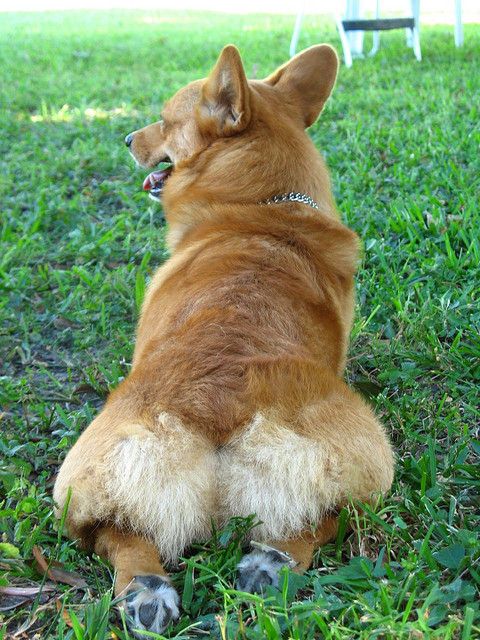 Image Via nikoretro [Flickr]
Babies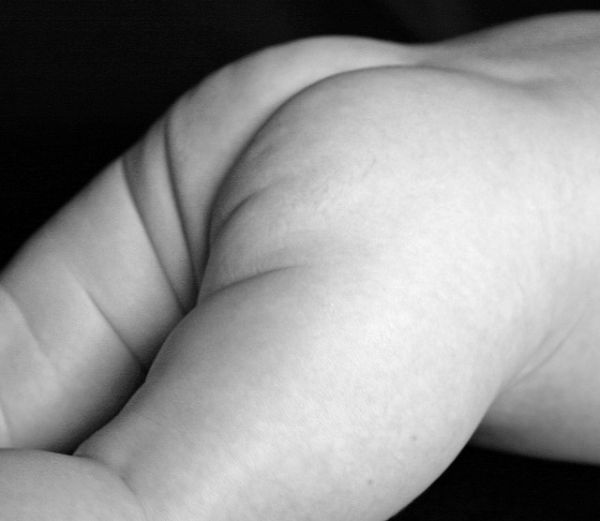 Image Via photosavvy [Flickr]
Sheep
Image Via Glisglis [Flickr]
Elephants
Image Via Artbandito [Flickr]
Zebras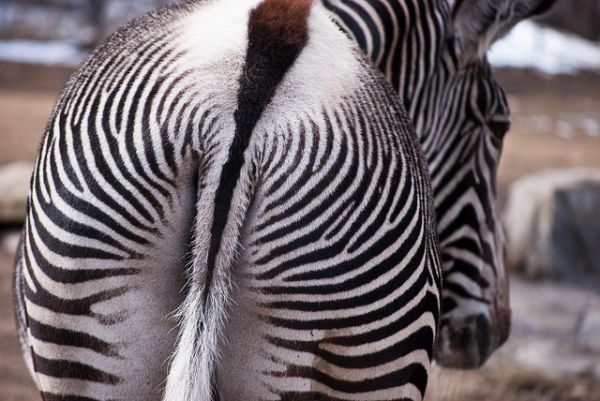 Image Via Carol Browne [Flickr]
Here's your turn to cast your votes! Or, if your favorite critter booty isn't here, let share your opinion in the comments.
POLL: So Who Has the Cutest Booty
Rabbits
Elk
Ducks
Corgis
Babies
Sheep
Elephants
Zebras
Posted: 14 Nov 2012 01:00 AM PST
(YouTube link)
A Swedish TV ad for who-knows-what features skydiving cats in formation, with the best soundtrack possible. Let us hope they all landed on their feet just as they should. -via Warming Glow
Posted: 14 Nov 2012 12:00 AM PST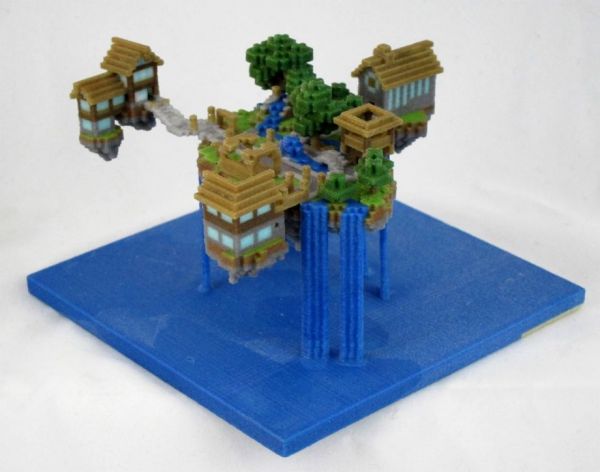 Ever wish the beautiful (or creepy) world you've created in the game Minecraft were real? It can be -just not life size. Minecraft World Exporter is a tool you can use to download the data, then you can upload it to FigurePrints, a 3D printing company who will make your world real. Yesm they do World of Warcraft models and Xbox Live avatars, too. Link -via The Daily What
Chocolate And Pop Rocks Potato Chips
Posted: 13 Nov 2012 11:00 PM PST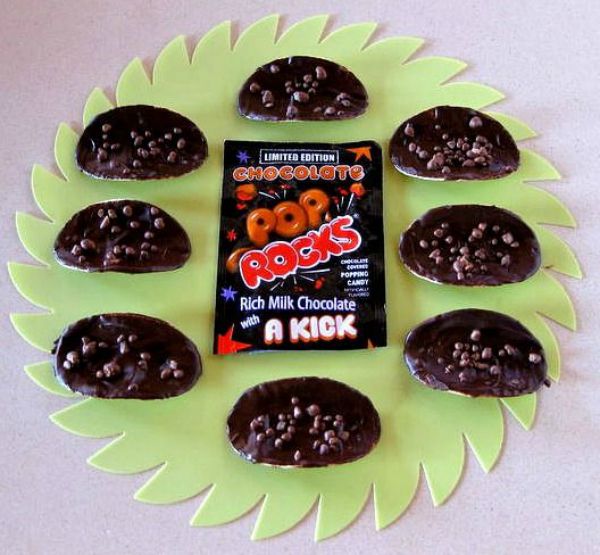 I didn't even know they had chocolate Pop Rocks, which makes sense since they are limited edition apparently. If you do come across them though, you can always use this recipe to make your own tasty chocolate Pop Rocks potato chips.
Posted: 13 Nov 2012 10:00 PM PST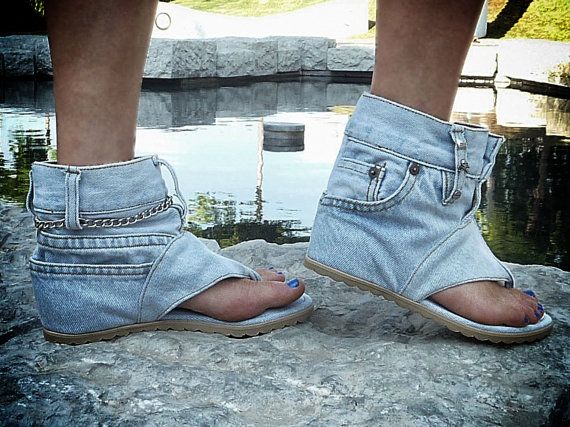 Are these boots, sandals, or blue jeans? Actually, they are all three. Danielle make the shoes out of vintage jeans, and no two pairs look exactly the same. They're available through her Etsy store DaniKshoes. Link -via Laughing Squid

Posted: 13 Nov 2012 09:00 PM PST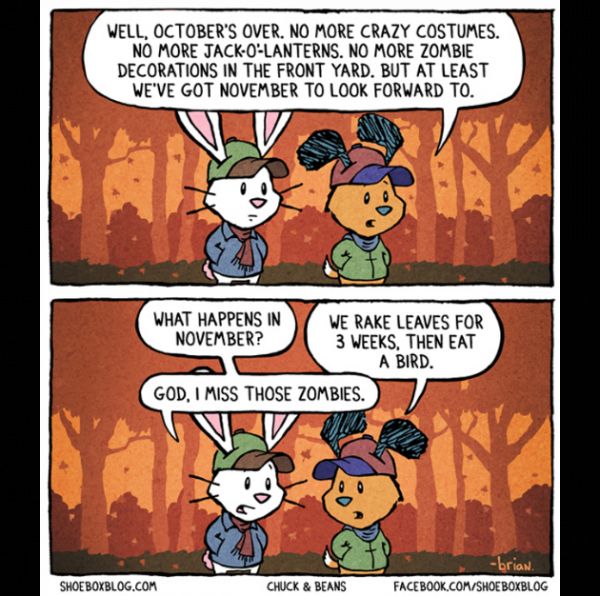 Chuck and Beans are obviously suffering from post-Halloween depression, which is characterized by an acute lack of people dressing up like monsters and nothing to look forward to but a massive turkey dinner.
No wonder the stores are already advertising their Christmas merchandise, November sucks!
Link --via Tastefully Offensive
Hello Kitty Nerd With Glasses Crossbody Bag
Posted: 13 Nov 2012 08:00 PM PST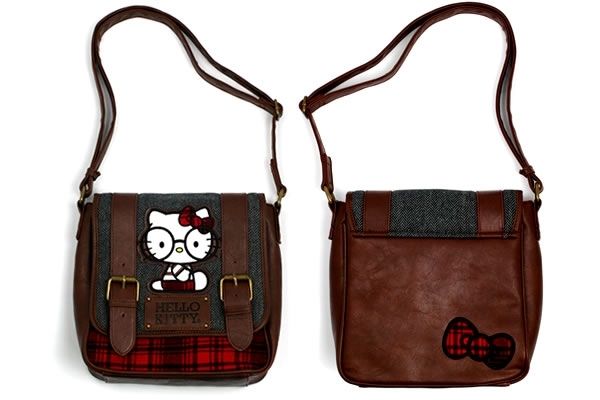 Hello Kitty Nerd With Glasses Crossbody Bag - $54.95 (front and back shown)
Attention Hello Kitty fans! Are you on the prowl for the purr-fect bag? Behold the adorable Hello Kitty Nerd With Glasses Crossbody Bag from the NeatoShop. This fantastic purse features Hello Kitty wearing oversized glasses.
Hello Kitty Nerd With Glasses Clutch wallet is also available. Buy both and make it a fabulous set.
Be sure to check out the NeatoShop for more delightful Hello Kitty items.
Posted: 13 Nov 2012 08:00 PM PST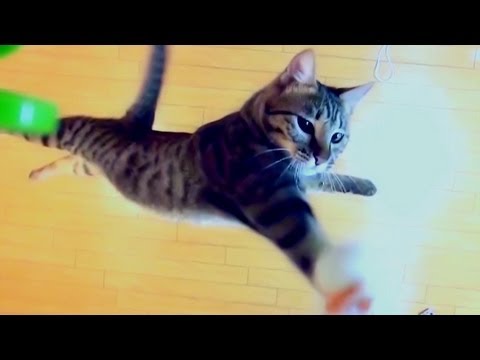 (YouTube link)
The higher the objective, the higher the cat jumps. That's what they do. How high can he go? -via Blame It On The Voices
Posted: 13 Nov 2012 07:00 PM PST
Photographer Lalage Snow has put together a stunning project, titled We Are The Not Dead, featuring portraits of British soldiers before, during, and after deployment in Afghanistan. While this project does mark a striking resemblance to other series, it still captures a sort of haunting change in the faces of these young men.
Snow's series accompanies each triptych with quotes from each of the servicemen that gives a great deal of insight into their mental and emotional state at each given time. Sergeant Alexander McBroom's first portrait, before deployment, features him bravely saying, "I am not worried about going out - it is my job after all." Three months later, he is quoted as saying, "It has been an eye opener." And, finally, another four months after, he says, "It is always that fear, that apprehension, what is going to happen if I get blown up?" Having gone through life-altering trials and warfare, it is no surprise that fear is no longer a foreign feeling to these courageous men.

Snow's intention with the series is to not only honor their bravery by featuring them, but to also draw attention to every soldiers' psychological transformation. She says, "It was a very personal project and stemmed from having embedded with the military on and off for 4 years in Iraq and Afghanistan and bearing witness to how many young men return as shadows of their former selves and, in many cases, with deep, psychological scars. As the body count of British servicemen killed or wounded rose and the political ramifications of the British army's presence in Afghanistan became increasingly convoluted, more and more soldiers felt like they didn't have a voice, or at least, weren't being listened to. We Are The Not Dead is an attempt at giving the brave young men and women the chance to explain how it really is."
Check out the entire series here.
-Via My Modern Met
Posted: 13 Nov 2012 06:00 PM PST
Posted: 13 Nov 2012 05:00 PM PST
I have a feeling that by the time the artist were done with their grocery list, the store was closed.
Now if only I could get a copy of this list, as I am too lazy to ever write grocery lists and always end up shopping with my stomach. Believe me, that 1/2 pound of mesquite smoked turkey is much less appetizing if you forget to buy the bread.
-Via Books & Cupcakes
Posted: 13 Nov 2012 04:00 PM PST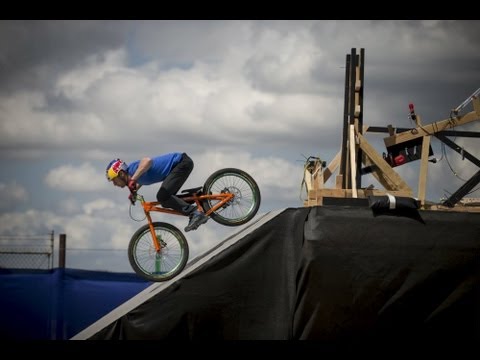 (YouTube link)
Red Bull has produced another human-powered Rube Goldberg contraption (see the first one here), this time using professional athletes of all kinds. Find out all about them, and about the project, at the project site. Link -via Laughing Squid
Posted: 13 Nov 2012 03:00 PM PST
Can I just... ...have one? I'll take that maroon, red, white, and orange revolver in the middle there. Looks so sweet!
Darren Lago: Candy Colts, 2012. Tinted resin, glass. 13.5 x 25.5 x 4.5cm
Well we might have a problem as it turns out they are made of tinted resin and glass. Oh well. The repetition is reminiscent of Andy Warhol's Revolver pieces. Does this work strip the gun of it's power, being made of candy and all, or does it empower the iconic image in our gun obsessed culture? Thoughts?
-Via Things Organized
Hopefully It Tastes Better Than It Looks
Posted: 13 Nov 2012 02:00 PM PST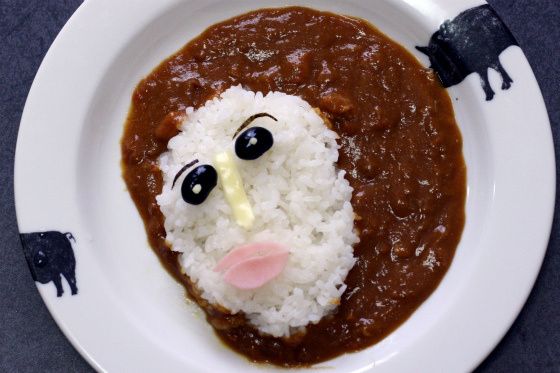 Just because the Jesus fresco was botched doesn't mean this curry that looks like it will taste like a terribly screwed up work of art.
Posted: 13 Nov 2012 01:30 PM PST
I find auto correcting humor particularly hilarious just because it is something that happens to me all the friggin' time. Apparently on various types of smart phones you can change the auto correcting functions to change words into other things you would prefer. I wouldn't know anything about that as I have a Sadberry - I mean Blackberry. So a great way to prank friends is to change these settings on their phones while they are distracted. Like changing now into meow. Hilarity will ensue.
Check out a whole page worth here. Warning NSFW - Very Strong Language.
-Via Hyper Vocal
Posted: 13 Nov 2012 01:00 PM PST
Not too long ago I posted about a women who was ordered to wear a sign that says "Only an idiot would drive on the sidewalk to avoid a school bus." Remember? Well here she is, Cleveland woman Shena Hardin, holding that court ordered sign. If you forgot, she was ordered to hold the sign because she drove on the sidewalk repeatedly to avoid a stopped school bus. Oh sweet justice, you are too kind.
-Via Hyper Vocal
The Bad Astronomer Gets a Tattoo
Posted: 13 Nov 2012 12:30 PM PST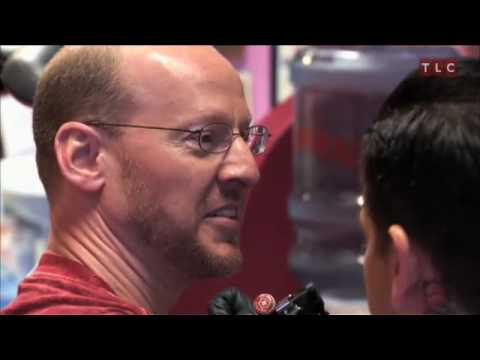 (YouTube link)
Phil Plait of Bad Astronomy Blog got a tattoo of a meteor hurtling toward Earth. The process was recorded for the show L.A. Ink, but was cut before it aired. Luckily, the segment was posted on YouTube. Read about how the tat came about at the blog. Link

Speaking of Bad Astronomy, the blog has moved from Discovery magazine to Slate magazine. You can follow Dr. Plait there now. Link
Posted: 13 Nov 2012 12:00 PM PST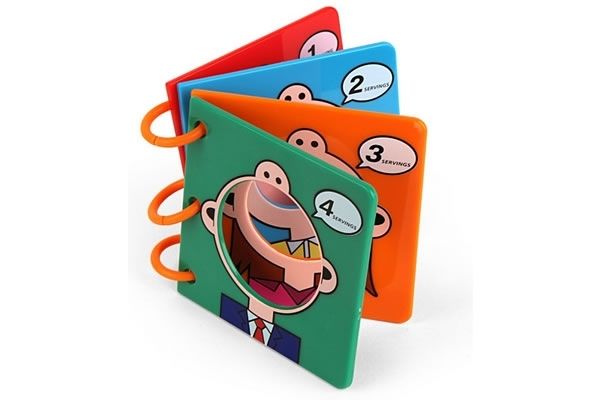 Spaghetti Measure - $7.95
Are you hungry for a more accurate way to measure out your pasta? You need the Spaghetti Measure from the NeatoShop. This great plastic flip book allows you to easily measure out 1,2,3 or 4 servings of uncooked spaghetti. The Spaghetti Measure is fantastic way to get kids involved and excited about cooking.
Be sure to check out the NeatoShop for more deliciously fun Kitchen Stuff.
Posted: 13 Nov 2012 12:00 PM PST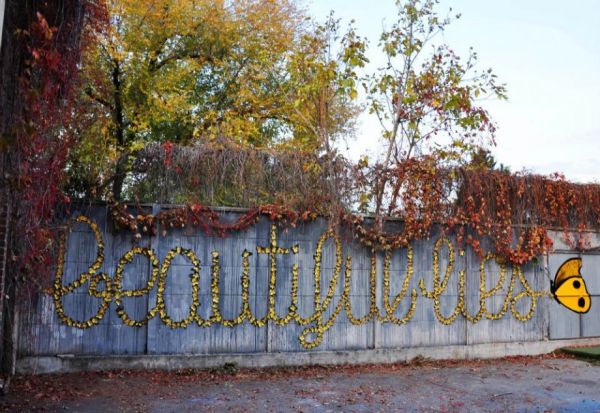 Spanish street artist eme decorated a wall in Torino, Italy with hundreds of paper butterflies. "Beautiful lies"? What does it mean?
Artist's Facebook Page -via Vandalog
Don't Bet Against Your Children
Posted: 13 Nov 2012 11:30 AM PST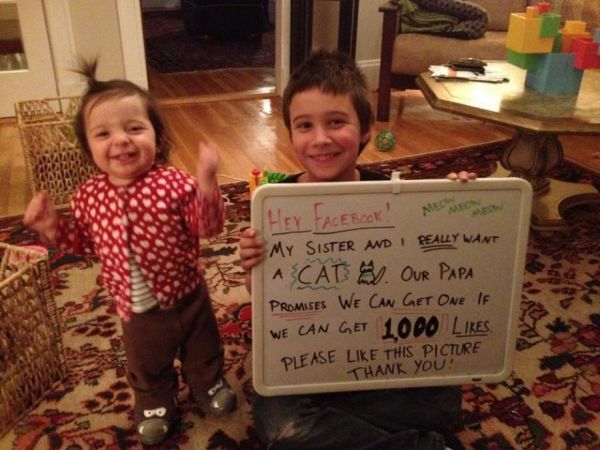 Seven-year-old Remi Urbano has been begging for a cat for a while. His dad, Dan, kept saying no, but then agreed to buy a cat if a picture of Remi and his little sister pleading for a cat got 1,000 Facebook likes. You can probably guessed what happened.
November 5th @ 6PM
Posted by Dan's wife with the headline "Dan thinks there is NO way we can do this. I say there is. Help us out. We really want a cat named Hairy Pawturrr. If you can't like, share. Shares count too! Thanks so much everyone!!"

Hairy Pawturr … HAIRY PAWTURR! If those little kiddies weren't enough, how can you pass up on having a small kitten in this world named Hairy Pawturr!! (not to mention the HA HA to the face of the man who belittles social media). Of course, I did my part to 'like' and 'share'. I didn't think much about it until 10PM that night when I checked the photo again. It was just under 900 shares and 400 likes. I snickered and anticipated the look on Dan's face in the morning.

November 6th @ 9:30AM
The post had gone viral and it exploded to over 20,000 shares and likes—not to mention a following on the Ellen DeGeneres Facebook page. It was total insanity, but also total hilarity to hear Dan say, "Maybe I under shot it".
The picture now has over 100,000 likes. Remi's new cat is named Hairyette Pawturr, and you can see pictures of her with the kids. Read the family's recap of the story at their blog. Link -via Daily of the Day

(Image credit: Marisa Papile Urbano)
How to Make a Serving Dish from a Vinyl Record
Posted: 13 Nov 2012 11:00 AM PST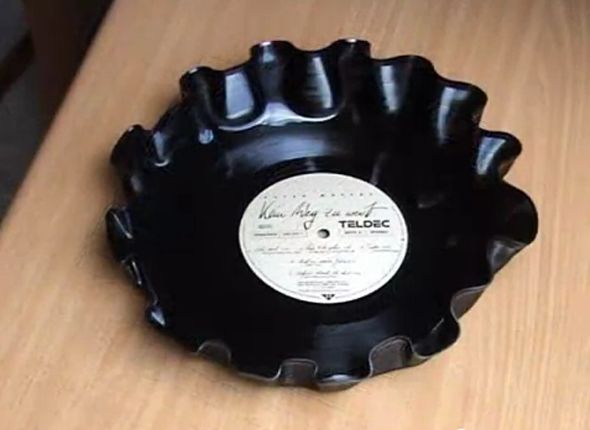 This simple craft requires an oven, a cookie sheet, a pot and a vinyl record. First bake the record until it softens. Then press it over an overturned pot and bake it some more. Then it should be soft enough to shape with your (covered) hands.
Video Link -via Foodiggity
The Most Misunderstand Political Campaign Song in History
Posted: 13 Nov 2012 10:30 AM PST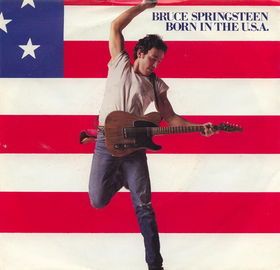 Neatorama presents a guest post from actor, comedian, and voiceover artist Eddie Deezen. Visit Eddie at his website.
Without question, the most misunderstood political campaign song in history is Bruce Springsteen's "Born in the U.S.A." Used in countless political rallies over the past 25 years, Springsteen's classic rock song is considered by many to be the ultimate "All-American" song. Many fist-pumping, beer-drinking fans at baseball games all over America have sung along with the tune's catchy chorus, not realizing the true meaning of Springsteen's popular tune.

All-American tune? Quite the contrary, Springsteen's song is an angry diatribe against America's treatment of Vietnam veterans. It also deals with the effects the war had on America, and would seem to be, at least partially, about a friend (or friends) of Springsteen's who had been killed serving in the war (although the lyric in question may be hypothetical; see the third verse below).
Born down in a dead man's town
The first kick I took was when I hit the ground
You end up like a dog that's been beat too much
Till you spend half your life just covering up
*
Got in a little hometown jam
So they put a rifle in my hand
Sent me off to a foreign land
To go and kill the yellow man
*
I had a brother at Khe Sahn
Fighting off the Viet Cong
They're still there, he's all gone

He had a woman he loved in Saigon
I got a picture of him in her arms
"Born in the U.S.A." was initially written in 1981. It was recorded in 1982 in New York. It was to be the first song on the title track of Bruce's Born in the U.S.A. album. The album (and the song, the first written for the album) were both smash hits. The album went multi-platinum, selling 18 million copies. The song became an instant classic, is huge popularity attributed, in part, to the fact that the song is hymn to the greatness of America.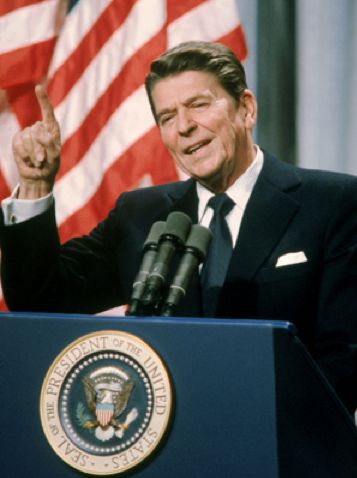 In 1984, during his campaign for the presidency, Ronald Reagan used the song briefly as a campaign song. Reagan was quoted as saying, "America's future rests in a thousand dreams inside our hearts. It rests in the message of hope in the songs of a man so many young Americans admire: New Jersey's own Bruce Springsteen. And helping you make those dreams come true is what this job of mine is all about." Springsteen, a devout liberal, had the Reagan campaign stop using his song.

Walter Mondale, Reagan's Democratic opponent, quickly seized on the opportunity and said Bruce supported him for president. Springsteen's manager, John Landau, issued a quick denial, and the Mondale campo issued an apology and correction. Either way, it was hardly a campaign-turning event, as Reagan went on to carry a record 49 states in November of 1984.

To this day, "Born in the U.S.A." is construed as a "pro-America" tune. Like it or not, the song is very catchy. Part of the song's confusion probably lies in the unintelligibleness of Bruce's voice and the singing of the song's lyrics. His voice is strong and passionate, but many of the words are garbled and hard to decipher. But whereas the song is hard to understand, the catchy repeated lyric "Born in the U.S.A." is clear as a bell.

Critic Marcus Greil says about "Born in the U.S.A.": "Clearly the key to Bruce's popularity is in a misunderstanding. He is a tribute to the fact that people hear what they want to hear." Bruce, seemingly a genuinely nice guy, is still a bit angry about the song's misunderstood intention to this day. He considers the song one of his best, but it bothers him that it is so widely misunderstood.

Says The Boss: "In my songs, the spiritual part, the hope part, is in the choruses. The blues, your daily realities, are in the details of the verses. The spiritual comes out in the choruses, which I get from Gospel music and the church." He is very clear in his statement about "Born in the U.S.A." Far from being a happy, peppy "rah-rah America" song, the song has a much darker side.
Bruce elaborates: "'Born in the U.S.A' is about a working class man [in the midst of a] spiritual crisis, in which a man is left lost …it's like he has nothing left to tie him to society anymore. He's isolated from the government, isolated from his family, to the point where nothing makes sense."


Bruce Springsteen and the E Street Band, East Berlin 1988

(YouTube link)
Adjustable Birthing Chair, c. 1750-1850
Posted: 13 Nov 2012 10:00 AM PST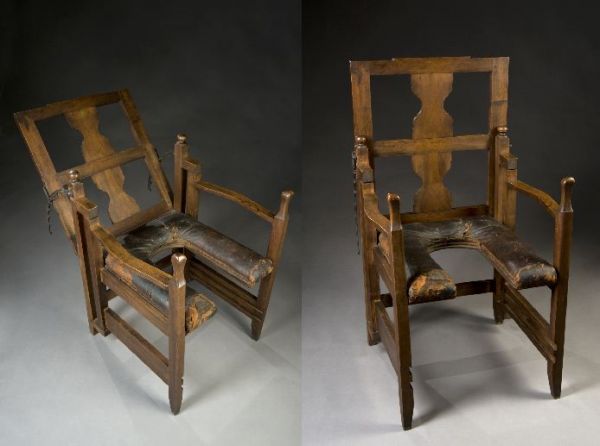 This chair, made of wood, leather and iron, offered optimal birthing comfort two centuries ago:
The seat shape allows a clear route for the emerging baby and access for those assisting the birth. The chair is also known as a parturition chair. They were used from ancient times until the 1800s. The grooved parts on the bottom of the frame were used for leg rests, which the mother would use for support and to press against.
Link -via Curious History | Photos: The Science Museum
Why Do Trees Topple in a Storm?
Posted: 13 Nov 2012 09:30 AM PST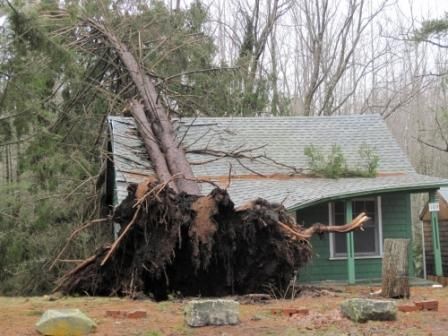 It takes a volcano or a nuclear explosion to bring down a forest of trees, but a thunderstorm or snowfall will uproot trees in your neighborhood. Hurricane Sandy toppled over 8,000 trees in New York City, and thousands of others elsewhere. But many stayed put, so what causes one tree to fall and another to survive? Author Mary Knudson asked plant physiologist Kevin T. Smith, arborist William E. de Vos, and other experts.
The answer from Smith is not very comforting: "The first thing to know is that all trees have the potential to fail at some level of force from wind, snow, ice, either singly or in combination," he says. One main reason, all three experts agree, is the phenomenon known as "windthrow" which uproots a tree. "The tree trunk acts as a lever and so the force applied to the roots and trunk increases with height," says Foster. "Taller trees are more susceptible to windthrow."

"The roots of trees can extend 1-2.5 times the radius of the branches and many urban areas do not allow this extensive development," answers de Vos . "The problem lies mostly with trees that have been developed around and had roots cut, crushed or torn in the process. There may be ensuing decay."
There are other factors, such as the tree species, the sogginess of the ground, and more, which you can read about at Scientific American. Link -via Boing Boing

(Image credit: Kevin T. Smith)
Posted: 13 Nov 2012 09:00 AM PST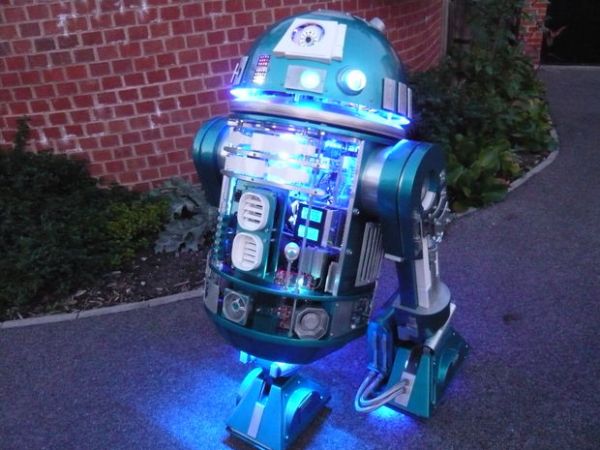 Not only would this thing look great for a party, but she even has a smoke machine inside that would make any party atmosphere even more amazing.
10 Chemical Compounds with Immature Jokes for Names
Posted: 13 Nov 2012 08:30 AM PST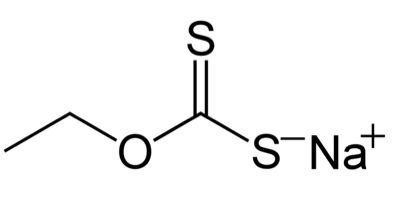 Scientists have a sense of humor like everyone else -and sometimes they use it to for names that will used for ever. However, there are cases where there's a perfectly logical explanation for a name, but the result is still a junior high school joke. Take SEX, for example.
For the record, SEX is a compound used primarily in ore mining; because it is attracted to metal of various types (copper, nickel, lead, gold, etc), SEX is added to slurries to extract bits of ore from water. Technically speaking, one could say that SEX is a tool used by gold diggers.
Oh yeah, it stands for sodium ethyl xanthate. That's just one of ten minerals with funny names, explained at Geeks Are Sexy. Link
Posted: 13 Nov 2012 08:00 AM PST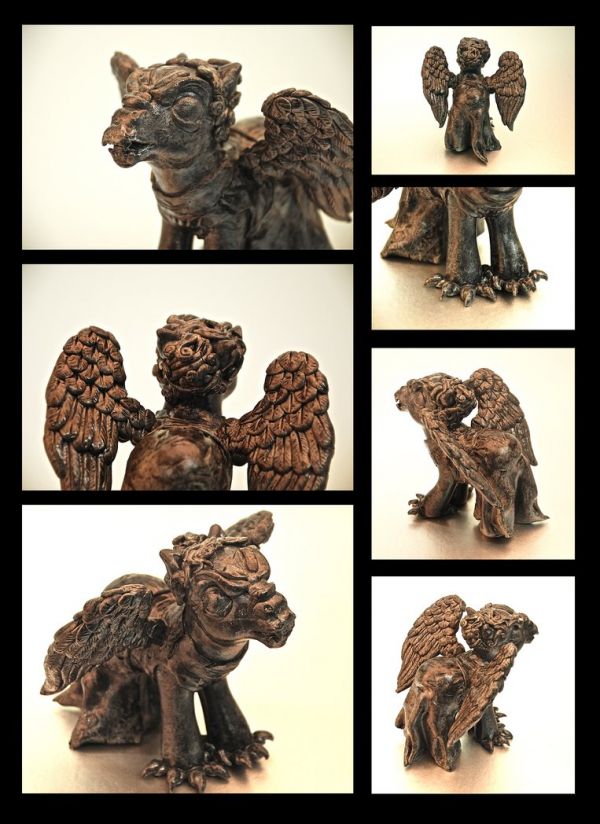 This cute pegasus pony by EatToast wants to be friends. But relationships have to be deliberately cultivated and built. A suggestion: start yours with a trust fall.
Link -via Borderline Artistic
You are subscribed to email updates from Neatorama
To stop receiving these emails, you may unsubscribe now.
Email delivery powered by Google
Google Inc., 20 West Kinzie, Chicago IL USA 60610